Workplace Inspiration
Top Professional Office Decor Ideas for Your Workspace

Autonomous
|
Aug 27, 2021
5,953 Views
In older days, nobody knew that office décor, furniture, and environment impacted productivity. But as health and wellness in the workplace are getting acknowledged more, there are now many types of research that study the influence of office atmosphere on the well-being and health of employees. This means that professional office design and a modern office design have a lot to do with the way employees behave and perform in the workplace.
As much as this is beneficial for the employees, it is also a rising challenge for employers to create workspaces that are ergonomically friendly and cost-effective. Organizations can no longer opt for congested designs or only consider the organization's goals and savings in the long run. Rather they need professional office design and affordable office decor, which gives a great impression. Moreover nowadays being comfortable must be the topmost priority of modern workplaces.
How to Decorate a Professional Office?
While a professional and modern office decor could be hard to achieve in the budget, you can make sure to opt for the best items with the right planning and proper selection of items. Here are some professional office decor ideas for work that will give your workplace a new look of modernism and work effectiveness.
Layout
Before you go for any other option or item, the first rule is to pay attention to the layout. Yes, modern offices are not like old workplaces where the layout has nothing to do with productivity. Instead, the new types of workplaces, such as hybrid work arrangement, co-working, and hot-desking, to name a few, are all based on the type of office layout your organization chooses.
If you are planning an open space layout, then the furniture choice would be different, while for a workplace that needs some focused corners while some chit-chatty corners for team collaboration, there needs to be a mix of types of the furniture item.
Furniture
After deciding the proper layout with creative professional office decor ideas for work, the next approach would be to purchase the furniture. It would help if you began with furniture that is attractive, durable, timeless, and comfortable. By opting for colors that go with various themes, you can make a one-time investment. Black and white furniture are easy to pair with any paint job or theme plan. They are also easier to clean and affordable to order in bulk.
Other important factors include the different types of furniture. While the common goal could be to shop for ergonomically friendly products, you can opt for a combination of friendly desks.  Smart desks that offer height adjustability, standing desks, corner desks to let the introverted crowd work in the corner, and some old-school conventional desks for people who are not up for standing while working yet.
You can also set up private productive workstations with the help of a work pod or if you are looking for a dual or triple monitor setup, then opting for something as a SmartDesk Corner or a monitor arm in a few places is a good idea. The point here is to have diversity in the workplace to find something useful for everyone.  
The second important factor for professional office décor is the need for professional chairs. Ergonomic chairs give the advantage of being fit for all due to their adjustable features. Rather than buying various chairs in different classes, you can buy ergonomic office chairs. Everyone can set them according to their comfort levels; after all, ergonomic chairs offer better posture and make employees more productive.
Lighting
Proper lighting in the workplace is an integral part of professional office décor. Proper lighting in the workplace makes all job activities simpler. Approximately 85 percent of information is received via the sense of sight. Eye tiredness and headaches can be reduced by using proper lighting that is free of glare and shadows.
Most workplaces must opt for daylight for maximum efficiency and cost-effectiveness since daylight is associated with the maximum comfort level and minimum strain on the eyes. Other ways of properly lighting a workplace are to opt for naturally close lights or even set up LED desk lamps for workstations that aren't rich in light. 
Storage Options
Part of professional office decor ideas for work is to provide all the facilities a workplace has and make sure the organization doesn't spend too much on spending. For instance, a space-friendly optimum way of having storage options in the workplace is to go for filing cabinets rather than building entire shelves.
You can also allocate a separate filing cabinet to each desk, making it easier to manage personal documents. This will allow all employees to manage their respective documents rather than shuffling through them to locate the right one.
Less is More
Having too much can give rise to too much stress. Don't overcrowd your workspace with unnecessary items. Keep your desk and floor surfaces free of clutter, papers, and stacks of books. Make sure your workspace is functional for sitting or standing at your workstation and that it's simple to get in and out of. Also, try to make it easy for folks to come in or sit down and meet with you.
Decorate the Walls
Wall may become one of the most interesting professional office decor ideas for work. Other than nice calming paint, going for some art on the wall is the proper approach. You can go with motivational quotes or even some inspirational sayings. Welcoming your employees with something motivational can have a great impact on their minds.
Hygiene
A successful organization pays close attention to the health of employees. Hygiene in the workplace is an important factor that has gotten even more important since the pandemic. As the back to work scares most of us, you can keep employees satisfied with the proper hygiene standard.
There are various ways to encourage safety in the workplace. For starters, going for a socially distanced layout, working on regular sanitation routines, and taking feedback from employees about their satisfaction level regarding the health measures in the workplace.
Atmosphere
Other than physical factors, the atmosphere in a workplace is a result of various factors and should be noticed in your professional office decor ideas for work. While the management should encourage a strong communication network, employees must be treated as team members and not workers. The higher authority must act as a leader rather than a dominating boss, and by fostering a culture of open communication, employees will feel more valued and heard.
Benefits of an Ergonomic Office
Getting yourself an ergonomic office has become the latest fad these days. The reason behind that is the myriad of physical and mental health benefits that such an office offers. You can achieve them by using certain office décor ideas for work.
What you get in return is increased productivity, reduced health risks like that of diabetes and heart health,  and a happier and better routine. The outcome of this is that you will have a better work-life and will not enter the burnout phase.
Everyone loves to enjoy all the perks mentioned above because they like getting noticed by their employers to get appreciation and promotion in the long run. The question that arises is how they can attain these health benefits.
So, the easy way is to invest in ergonomic office accessories for your affordable office decor. We have listed some of the most vital ones below; these will help you attain your desired productivity and comfort. 
Investing in Ergonomic Office Accessories
The following accessories will help you showcase your full potential in your office decor ideas for work, so let's have a look at them. 
1. Carpio Ergonomic Wrist Rest by DeltaHub
Office workers often feel their wrists getting numb when they work for extended hours. To solve such a situation, the Autonomous has come up with an idea of Carpio Ergonomic Wrist Rest. This desk accessory can be one of the best desk accessories when it comes to relieving pain. The best part about getting this ergonomic wrist rest is that your wrists would no longer get numb, and you will avoid any further wrist injury.
This wrist rest is designed to have a silicone pad that provides you with a comfortable platform to place your wrist on. This will ensure that you don't have any wrist injury as physicians have designed it, especially for your wrist's protection. Since it is pretty small in size, you can easily carry it in your pocket even. 
2. Keyboard and Mouse Platform by Mount-It!
Having a separate keyboard and mouse platform is one of the office desks must haves. MountIt! has designed a special keyboard and mouse tray that will help you have your keyboard and mouse at a specified place so that you can avoid clutter on your desk.
All you'll need to do will be to place your keyboard and mouse on the attached platform and clear up some space on your desk. This will positively impact your productivity by ensuring you have a clear mind while you work. 
3. Ergonomic Keyboard
The idea of having an ergonomic keyboard has become the buzz of the town. Like any other office worker, you can have one for yourself too. To make it easier for you to pick the best option, we have shared some options below for your office decor ideas for work. 
Ergonomic Keyboard for PC by Matias
The Matias programmable Ergo Pro Keyboard for PC is a mechanical keyboard that is designed to be ergonomic and responsive so that you can have a fluent work experience. Since it is split into two, you can place this split keyboard at an angle that you find the most comfortable. 
ErgoTKL Split Mechanical Keyboard by Cloud Nine
This is the best item for your professional office design. The Cloud Nine Ergonomic Split Mechanical Keyboard is known for its compact design. Suppose you have a small office, then you will need accessories that you can adjust in smaller spaces. This TKL keyboard is the peripheral that will help you best in such a situation. Since this keyboard is also a split keyboard, you can easily place it the way you like. 
4. Lumbar Support Pillow
A comfortable lumbar support pillow has to be one of the must-have office desk accessories. We have listed two of the considerable options below to help you best. 
Autonomous ThermalComfort: Personal Climate Control
The Autonomous ThermalComfort: Personal Climate Control is among the best lumbar support pillows that you can get. The best part about this pillow is that it uses multiple levels of heat and massage vibrations to ensure that you don't feel sore or any pain while sitting for extended hours. This heated lumbar support will ensure that you do not encounter any muscle injury at work and have a comfortable experience overall. 
ErgoFoam Lumbar Support Pillow
If a heated lumbar support pillow is not your thing, you may consider using this ErgoFoam Lumbar Support Pillow. The job of this accessory is similar to the previous one. However, it does not use any heating mechanism to provide relief in pain; instead, it has an ergonomic foam that provides you with the desired rest and comfort you want at work. 
5. Desk Converter
You cannot miss this furniture in your office decor ideas for work. A desk converter comes in handy for those users who are not interested in buying a new motorized standing desk. This equipment is among those work desk accessories that will help you meet up the requirements of an ergonomic office setup without investing a bigger sum of money in buying new furniture. 
Standing Desk Converter by Mount-It!
The standing desk converter is a manual desk height converter. All you need to do is place your PC and its peripherals like keyboard and mouse on the desk converter's platform. Next, you are supposed to adjust the height the way you want to to match your modern office decor. 
Electric Monitor Riser by Mount-It!
The electric monitor riser by MountIt! is a motorized standing desk converter that lets you adjust your monitor's height electrically. The biggest benefit of getting such a desk accessory is that it will help you save space on your desk and have a clutter-free work environment.
In addition, it will also make it easier for you to adjust the height of your monitor to ensure you have corrected your professional office decor ideas and ergonomics. So, overall you can expect to have a professionally aligned ergonomic workplace with 9the help of such accessories.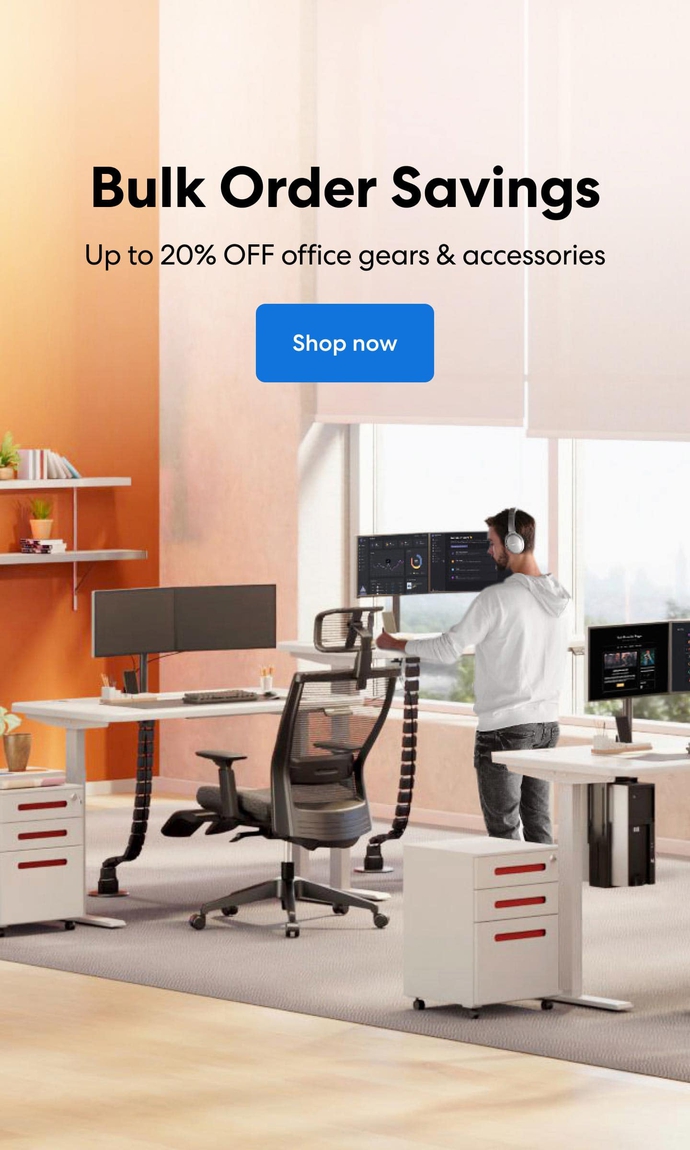 Subcribe newsletter and get $100 OFF.
Receive product updates, special offers, ergo tips, and inspiration form our team.