Smart Products
9 Best Ergonomic Standing Desks in 2023 (Rating/Review)

Autonomous
|
Jun 17, 2021
3,976 Views
You may not realize sitting at your desk in your office every day is hurting you. Sure, every moment you sit there is another dollar in your pocket, but it could also mean another crick in your neck or ache in your back. Now, you don't have to quit your office job to fix this problem. What you need is an ergonomic standing desk.
An ergonomic standing desk is an adjustable workstation able to conform to certain health needs. This includes increasing movement by being able to stand easily while still completing your work. It  also helps with posture and can overall heighten your office performance.
If you are an office worker who is seated most days, ergonomic standing desks are for you. Allowing your body more movement throughout the day increases energy which translates to the ability to be more efficient during work.
Many of you probably knew that already but understand it's very hard to take effective breaktime every hour to move when you have loads of work to focus on. With an ergonomic standing desk you can do it all; get your physical activity in without sacrificing any time put towards your work.
Before you learn about which ergonomic stand desks are the best for you, you first need to understand how to properly use your desk and which common mistakes to avoid.
How To Use Your Desk Properly
How you set up your ergonomic desk is vital to your future experience with it. If the setup of your ergonomic standing workstation is wrong, it has the potential to not benefit you.
As mentioned earlier, this workstation increases your ability to stand while still doing your work. When you do stand, you have to do it the correct way. The chair allows you more movement, but it doesn't fix your posture. This is something you have to pay attention to. When standing, make sure your body forms a vertical line with your elbows in. This means no rounded shoulders; your spine should be straight. This especially helps alleviate back pain.
Next, it's very important that your desk is specific for your needs in terms of height and reach. The good thing is that the best ergonomic desks are adjustable. This allows you to personalize your desk to fit your requirements. It is also important that you don't have any pressure on your wrists. To do this, make sure your hands are around the level of your elbows and that your monitor is only around 20 inches away from you.
Continuing off of that, monitor placement is very important. Not just for your reach but the angle of your neck. Many office workers are staring at a downward angle to see their computer for hours on end. This contributes to neck pain. For optimal health benefits, your monitor should be right in front of you, possibly a little lower for people with glasses. This helps make sure your neck isn't in a bad position when standing up or sitting down.
Just like the monitor, the placement of your keyboard and mouse are important too. The same goes for other desk accessories you use frequently. Again, your hands must be at a close to level with the desk and your elbows close to your body. The keyboard, mouse, and other desk accessories should be at a comfortable distance where you can easily reach and maintain good form for the most part.
The last thing to consider that can boost the benefits of your ergonomic desk in your ergonomic standing workstation is a good pair of shoes. Your shoes should be comfortable and supportive. Did you know shoes are one of the main causes of back pain? Picking the right shoe is very important, especially if you are going to stand more with your ergonomic standing desk.
Best Ergonomic Standing Desk For Your Workstation in 2022
Following the advice above can help maximize your experience with your own ergonomic standing desk for an ergonomic standing workstation. Now that you understand how to properly use one, let's determine which ergonomic standing desk of 2022 is the best for you.
1. Autonomous SmartDesk Core
This durable, adjustable ergonomic station is another top-standing desk of 2022. It's the perfect desk for any office, at home, or work. It can lift up to 265 pounds, has an adjustable height between 29.4¨ and 48¨, and the tops come in a variety of colors.
Out of more than 1000 reviews, the SmartDesk Core is rated at 4.8/5 stars. Customers love the build quality and confirm that it is indeed very durable. Many customers agree that their new station offers them the flexibility to rotate between standing and sitting. Does this sound perfect for your own office?
2. Autonomous SmartDesk Pro
The Autonomous SmartDesk Pro is one of the most popular and powerful electric standing desks for offices in 2022. It's newer to the market and ultimately an updated version of the amazing SmartDesk Core. It, too, is equipped with amazing features meant to optimize your comfort. This desk may look light but it's effortlessly able to handle up to 310 pounds on its whopping 6 feet of space. There is easily enough room for two monitors if need be, on this office smart desk.
Out of almost 1000 reviews, this ergonomic adjustable height desk rates a high 4.8/5 stars. Customers rave that not only is the desk a great aesthetic, but it has boosted their productivity during work considerably, all for an affordable price!
3. Autonomous SmartDesk Corner
This ergonomic sit-stand desk is very versatile and designed to fit any corner of your office. The build of this desk makes it so there is more room for your workspace. It's perfect if you would like a smart desk but don't want to take up too much of your office. Like the others, it has a great design and sturdy build that includes anti-rust properties. Its versatility doesn't affect any of its lifting ability as it can lift up to 440 pounds! This is a powerful standing desk!
Customers love the L-shaped build and the amount of desk space. They applaud the affordable price for such a high-quality desk. Desk owners rated the SmartDesk Corner a 4.7/5 stars. A couple of customers found the assembly a bit difficult but concluded that the end result was worth it.
4. Uplift V2
This ergonomic standing desk is one of the top sit-stand desks of 2022. While it is easy to underestimate this desk by just looking at it, don't be fooled by its thin, sleek structure. The Uplift V2 was built with great focus on its quality and stability.
Customers loved how easy it was to set up and how quickly it was delivered. It is rated almost perfect by just under 10000 reviews with a 4.9/5. This is an ideal desk for your home office and the desk comes in over 10 different color options.
5. ApexDesk Elite Standing Desk
This ergonomic standing desk prioritizes desk space. It's able to lift up to 235 pounds while adjusting from 29¨ to 49¨ quietly and quickly. The ApexDesk Elite Standing desk can hold up to three computers and is one of the largest standing desks in the market.
Rated a 4.9/5 by a little over 1000 customers, the price is a little on the expensive side, but current owners have deemed it worth the price. Customers liked that the ergonomic sit-stand desk was very easy to build, and many recommend it to their friends and family.
6. Fully Jarvis Bamboo Standing Desk
As it says in the name, this table is made entirely from bamboo. This makes it eco-friendly. It's available in the original electric desk, a contoured version, and an L-shaped corner version.
This ergonomic sit-stand desk is more for aesthetics and eco-friendliness than an electric desk. It was rated 4.8/5 stars; customers loved how adjustable it was and how quiet the motor was when it moved.
7. Branch Electric Standing Desk
The Branch Standing desk is known for being one of the tallest ergonomic adjustable height desk options able to fit people up to 6'8 in height! In addition to that, its adjustable table is stain and impact resistant, so you don't have to worry about spills and such. Even at its tallest height, this workstation maintains stability. There are two types you can purchase: Team Plus Model or an Executive desk. This is the perfect addition to your work office.
Rated 4.8/5 stars by its customers, this desk came with simple directions that made it easy to set up. New owners applauded its ability to be quiet when adjusting its height.
8. FlexiSpot EN1
The FlexiSpot EN1 is known for its high quality at a very affordable price. Its motor is quiet, and it comes with a detector that lets you know when it's time to switch between sitting and standing. The ergonomic adjustable height desk is pretty sturdy but is known to be a bit unstable at its full height.
Customers rated this ergonomic adjustable height desk 5/5 stars loving its sturdiness and the quietness of the desk, all for a great price!
9. Steelcase Ology Smart Standing Desk
This desk is a little more expensive than the rest but very worth the investment. The Steelcase Ology Smart Standing Desk is able to connect with your phone through an app. An OLED screen monitors the desk height and gives you reminders of when to sit or stand. It tracks the amount of time you are at your desk and how long you've been sitting or standing. You are even able to personalize your space with activity goals and height adjustments.
There are even more amazing features and, compared to other standing desks of this quality, the Steelcase Ology is pretty affordable. Customers love the smart technology that allows them to easily track their progress and complete their goals!
Common Mistakes
Now that you have all the information on the best ergonomic standing desk for an ergonomic standing workstation of 2022, you are able to make a more informed choice on which would better fit your needs. With that being said, there are some common mistakes electric desk owners have to watch out for after receiving their ergonomic standing workstations.
Many customers make the mistake of standing too long. There should be a balance between sitting and standing, starting with standing a total of two hours a day and working your way up to four hours a day.
It's also very important to have your office standing desk at the right height or else it could affect your posture and potentially not even benefit you at all. Even if your desk is at the right height, your posture is still important. That's why it's important not to have bad posture while sitting or standing and to have the right ergonomic standing desk position.
What You Need in Your Office
Finally, these are some essentials you should have to really optimize your purchase and add to your home or work ergonomic workplace!
Less is also more in terms of objects, but some important things are a computer or laptop. A laptop height could be too low, if so, consider adding a laptop stand to your office to elevate it. A monitor mount or arm is useful as it allows you to position your monitor wherever is best for you.
An ergonomic chair to go with your desk would complete your ergonomic workspace. It's very adjustable and comfortable; it leads to fewer back and neck problems! You are going to be fully amazed by how much your life changes with one of these desks.
Evidently, a keyboard and mouse are necessary for your computer. Further purchasing a mouse and keyboard mount platform would be great too. It allows you to be able to sit in the right position and lower your wrist pain. It's just one more advantage of an ergonomic sit stand desk.
None of these objects would be useful if you didn't have an ergonomic sit-stand desk, and luckily, you have just read a whole list of the best ergonomic standing desks in 2022! Pick which one is best for you and start your journey to more activity, higher energy, and better posture today!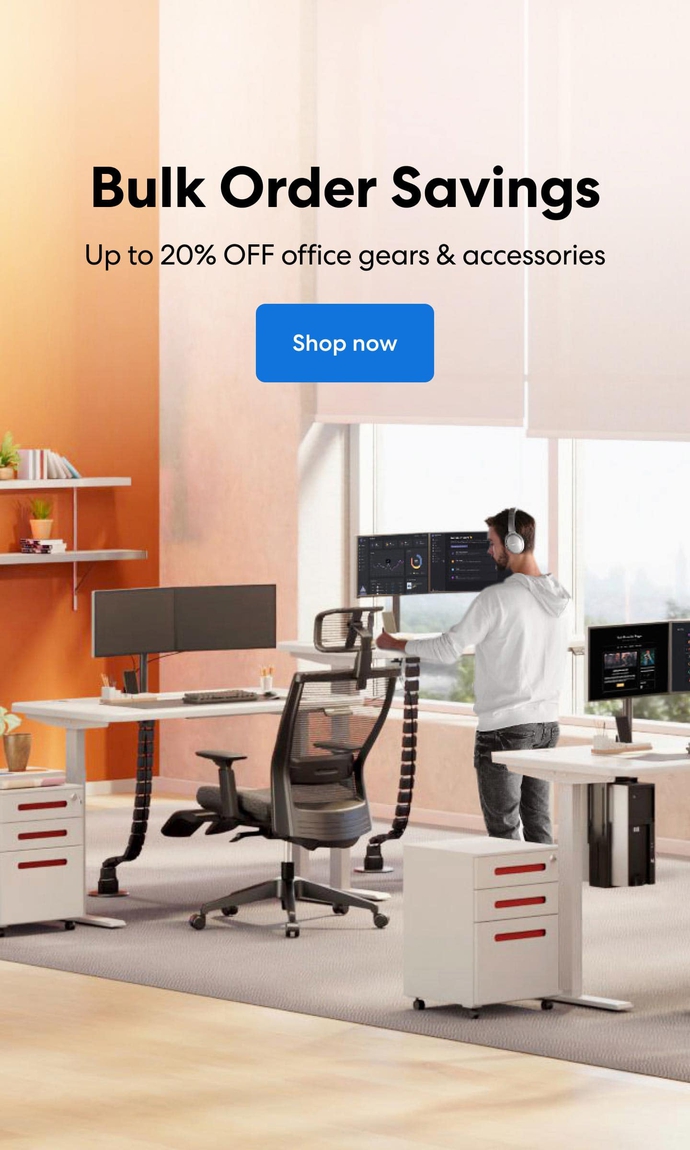 Subcribe newsletter and get $100 OFF.
Receive product updates, special offers, ergo tips, and inspiration form our team.