There are a lot of amazing desks out there, with one of the best being L-shaped standing desks. They aren't your typical desk shape and have several key differences when compared to normal desks that might make them perfect for you. Make sure to not rule out a good L-shaped adjustable desk whenever you are out looking. They can provide some real benefits for you if you give the odd shape a chance.
Before we look into the best L-shaped desks of 2021, let's analyze why an L-shaped adjustable desk holds some advantages for you.
Benefits of L-shaped Adjustable Standing Desks
One of the biggest benefits of having an L-shaped standing desk is the space that they can take up. Due to their odd shape, they can easily slide into an office corner and still be snug and comfortable. This makes them perfect for small spaces that might need a little extra space management, and it allows you to take full advantage of the corners in your office.
L-shaped sit-stand desks are almost like having two desks in one, and they provide a lot of storage space both in front of you and to your side. Instead of having stacks of paper sitting around and piling up on the front of your desk, you can put everything to your right side, allowing your mind to stare straight ahead and focus on what is the most important. The right side of an L-shaped adjustable desk tends to be longer than the front side, giving you another perfect space for storage of your items.
Having two separate surfaces on which to store items gives you a space for your computer and a space for your paper. Instead of storing both of them on the same desk and dealing with clutter, you can divide both parts of your desk into sections. If you are managing multiple projects or need to set something aside until later in the day, this can be a massive lifesaver to reduce clutter and stress in your workplace.
Finally, if you happen to be working closely with another officemate, or working in an open office floor plan, corner standing desks are very easy to slide against one another. You can have two L-shaped sit-stand desks be put together without causing any friction between you and your co-worker, or each of you can take one of the sides.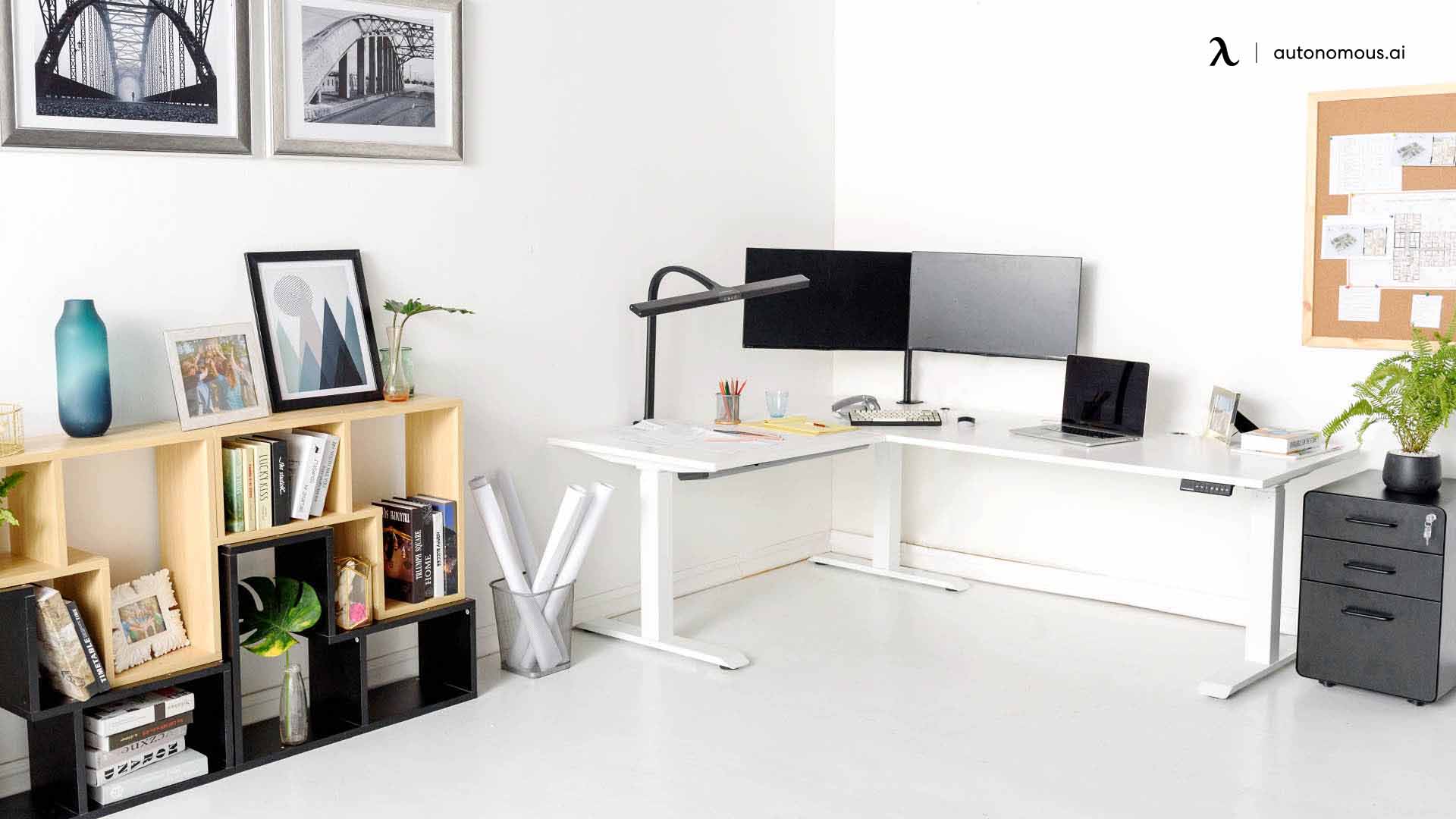 As you can probably tell, having an L-shaped adjustable desk can be a massive improvement over regular desks, and you can get them to be adjustable as well. This means you can raise and lower the desk height to meet your own ergonomic needs, and not only boost your productivity, but your comfort level as well.
Now that you know of all the benefits that a L-shaped adjustable height desk can provide you, let's look at some of the best L-shaped adjustable desk offerings on the market in 2021.
Top 9 L-shaped Adjustable Height Desks for 2021
1. The Autonomous L-shaped Smart Desk
This L-shaped standing desk is the height (literally!) of L-shaped smart desk technology. It is a desk that is customizable and versatile, while also designed to help you reap the benefits of an ergonomic workplace. Along with the steel frame, it also has a three-motor system which allows you to easily switch from a standing desk to a sitting desk. It has a massive amount of space, and the L-shaped adjustable desk is perfectly adjustable, so you can go from seated to standing to back again.
The durability and weight capacity that the desk provides is huge, and the motors are smooth and silent. You won't need to worry about disturbing your co-workers or having all the items on your desk jostle and move every time you want to adjust the height a few inches.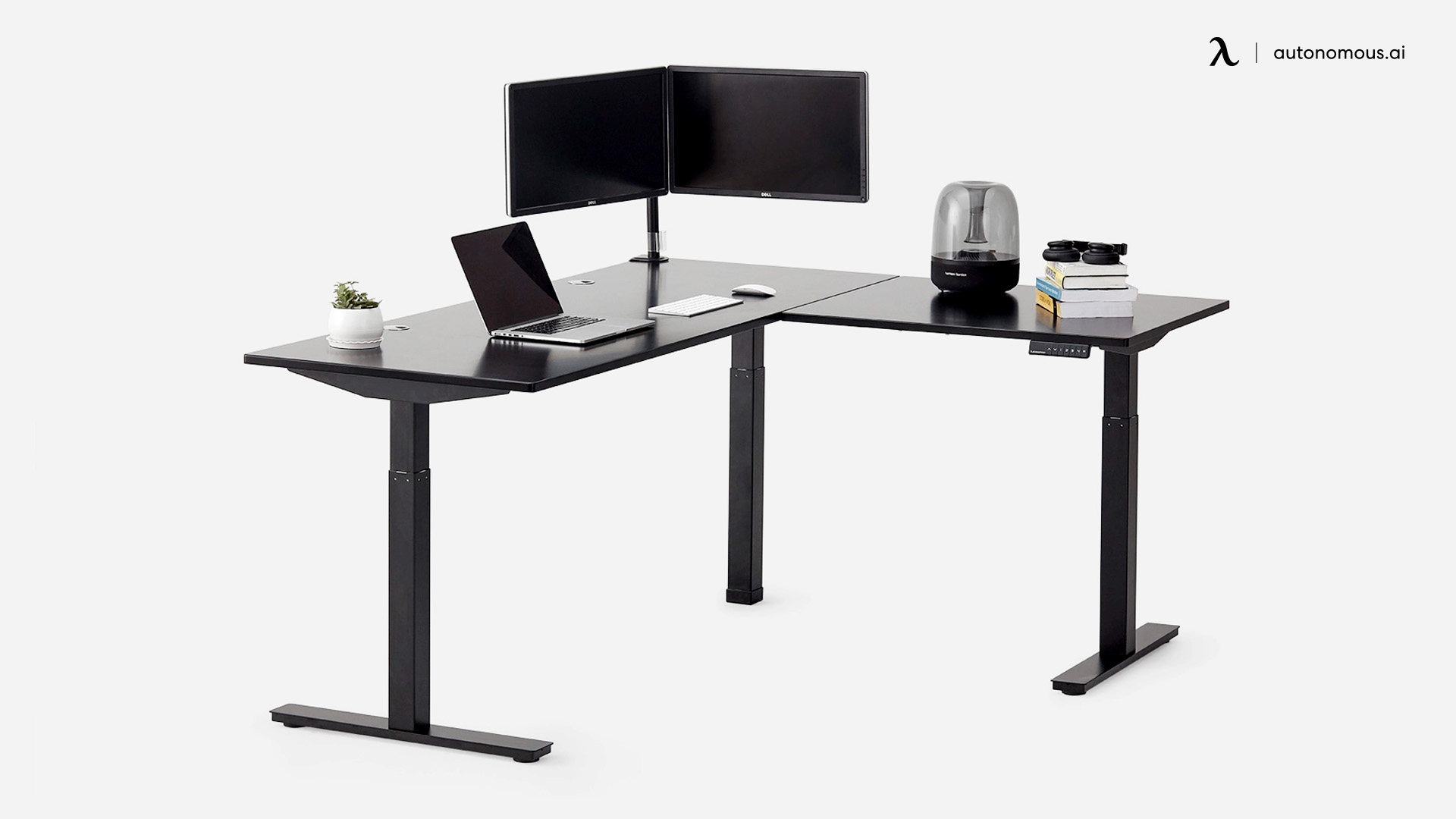 2. Flash Furniture Glass Computer Desk
This desk is perfect if you are a bit of a minimalist at heart. It's a simple glass-topped steel desk that measures 48 inches across and 83.5 inches wide, with a 29-inch height. The L-shaped sit-stand desk can easily fit a few computer monitors with room to spare, and the glass top makes it look very elegant. It also comes with self-leveling floor guides to ensure that it does not wobble during use.
Unlike some of the other offerings on this L-shaped adjustable desk list, it does not come with any external storage, but there's enough space to place a small storage cabinet underneath the desk if you find things getting too cluttered for you.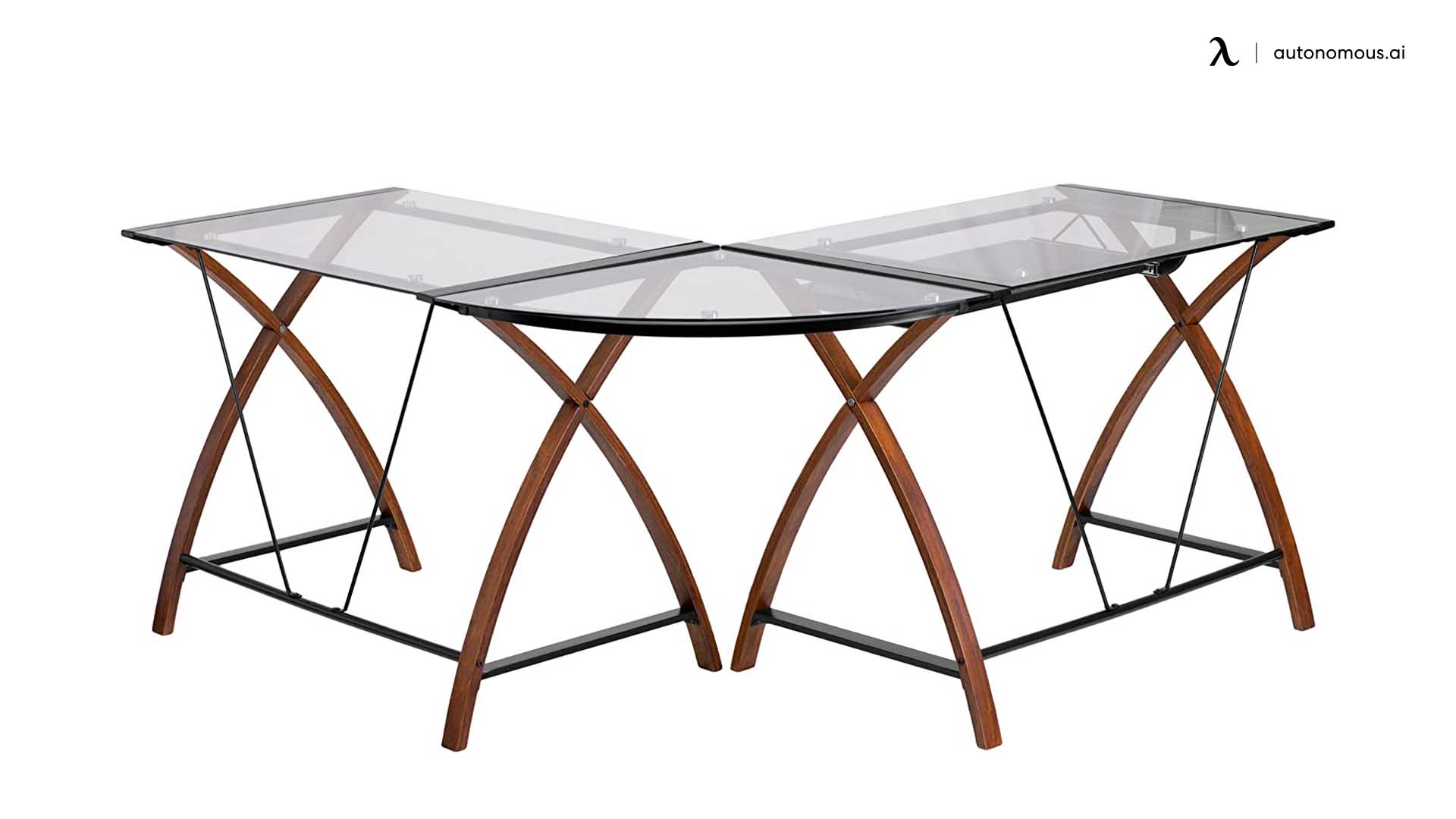 3. TribeDesigns Modern L-shaped Desk
Modern is certainly one way to describe this desk because it has everything you could ever want. It comes with a swivel that allows you to make the desk straight, perfect if you want to have everything in front of you or just want to change things up a little. It can also be easily rotated and measures 55.12 inches on both sides. Along with all the ample space for your items on the desk tables themselves, the modern desk also comes with a 900-pound weight capacity thanks to its steel frame. This L-shaped adjustable desk is suitable for multi-monitor desk setup.
Finally, if that wasn't enough storage for all your needs, there's a two-tiered storage shelf underneath the desk to further provide storage options, allowing you to have a space for seldom used papers, electronics, and office supplies. This L-shaped standing desk is one of the most versatile on the market and can work with any office space.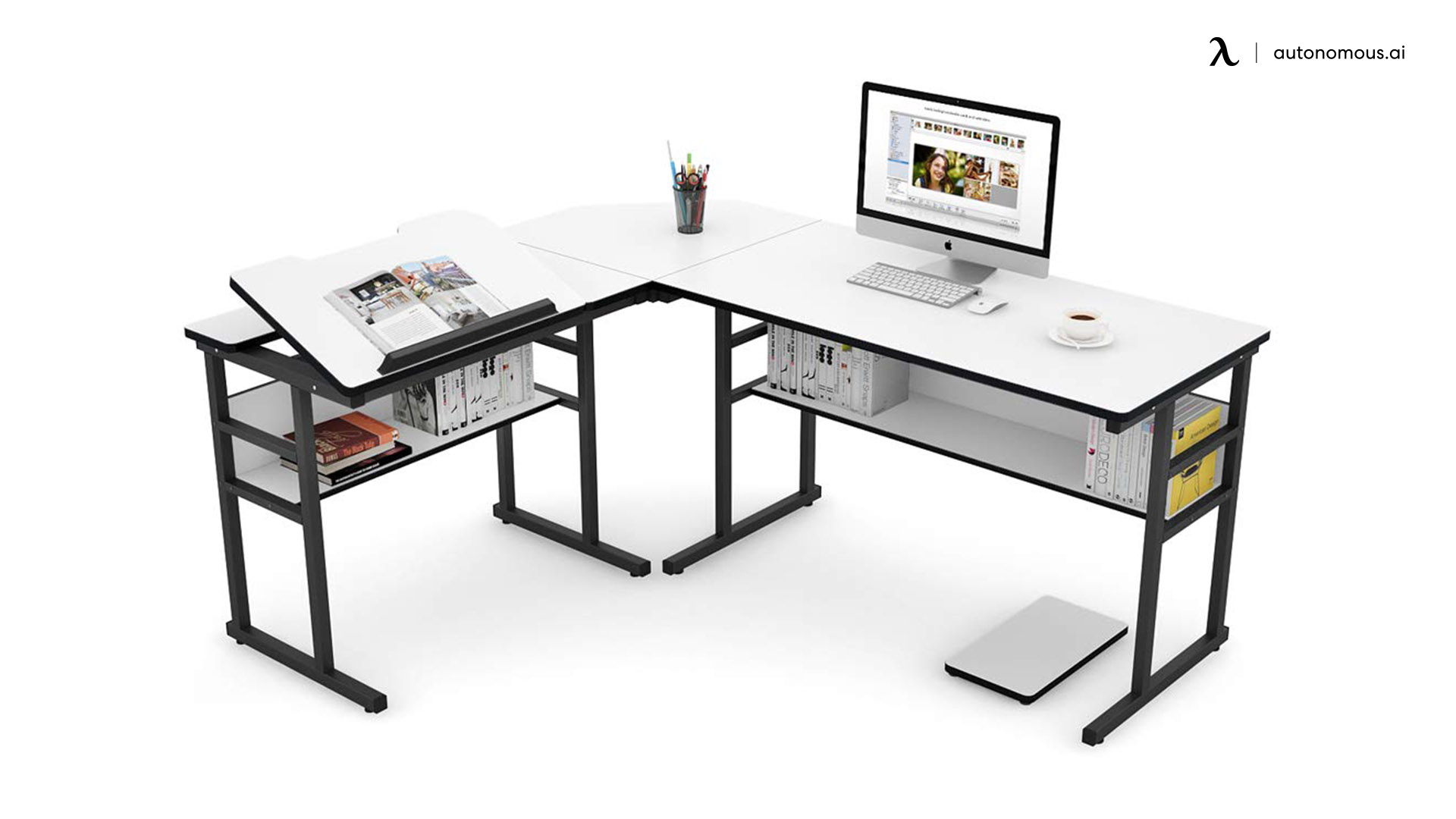 4. Walker Edison Furniture Company Desk
This L-shaped sit-stand desk has a few extra goodies in store if you really want a customizable experience. It is 51 1inches long and made from a mixture of tempered glass and steel, giving it the perfect weight limit to hold multiple monitors comfortably, along with anything else your job requires. It also comes with a CPU stand so you can place your CPU under your feet without any worry and comes with a sliding keyboard tray that can be mounted to either side of the desk.
The keyboard tray is completely adjustable, allowing for you to find the perfect ergonomic position for your ergonomic keyboard without putting undue strain on your wrists or causing you to have to hunch over. You have a lot of options with this L-shaped adjustable desk, and you can easily customize it to fit all of your needs. That customizability is why it is on this list!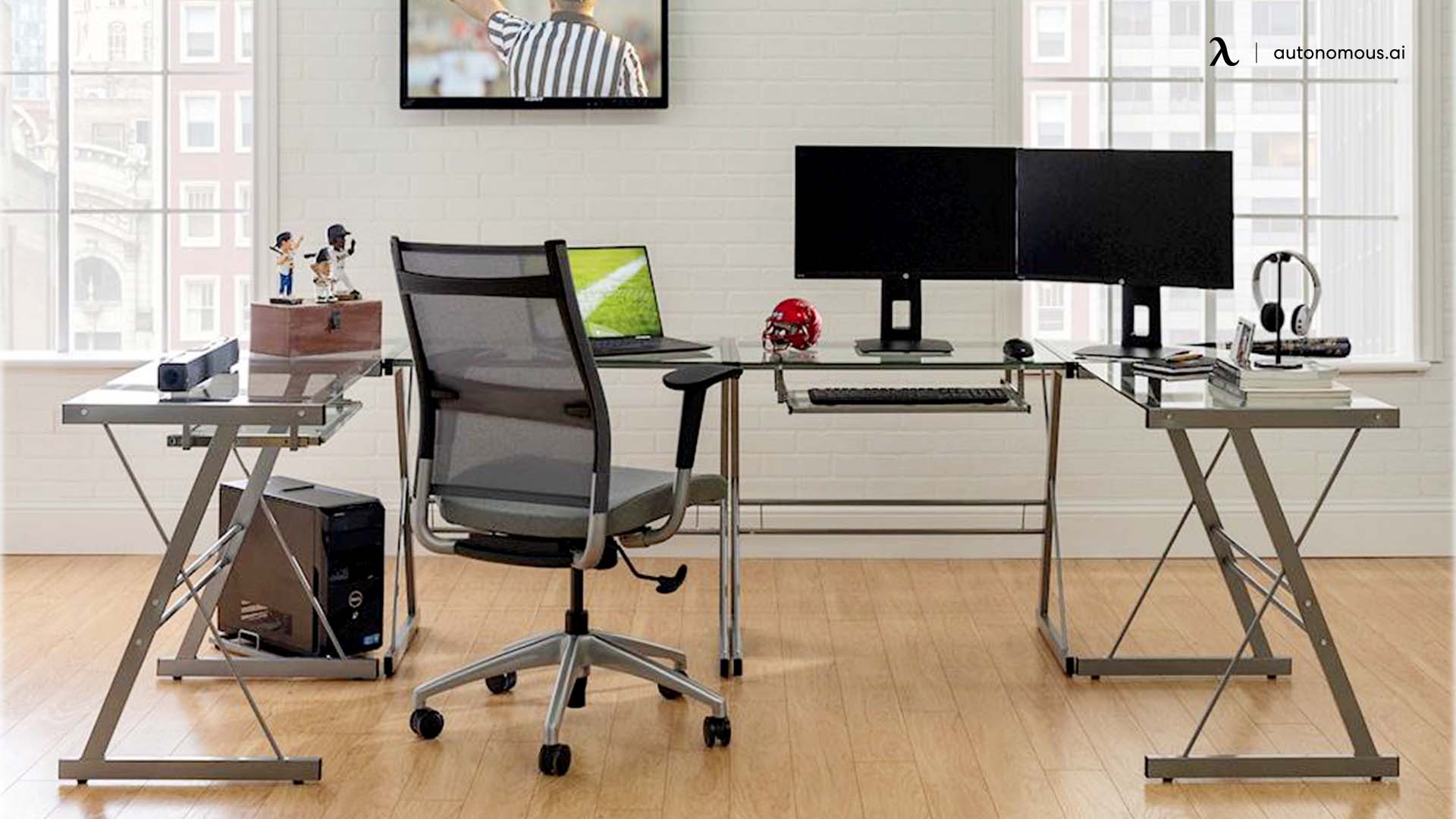 5. Uplift L-shaped Custom Sit and Stand Corner Desk
If you are looking for a standing desk that can be adjusted on the fly, this one might be the best for you. The Uplift L-shaped custom sit and stand corner desk can be adjusted quickly, with the three-motor system changing the desk height at a speed of 1.5 inches per second, all without disturbing your workspace with noise or undue movement. It can be raised to its max height of 50 inches or a minimum height of 24.4 inches, or anywhere in between, giving you the perfect ergonomic setup.
The L-shaped adjustable height desk does take a while to put together, but if you are looking for a great desk with some serious height customizability to it, then this is the perfect L-shaped adjustable desk for you to use. It also comes with a 530-pound carrying capacity, so you can place anything you need to place on the desk and know that it can stay still.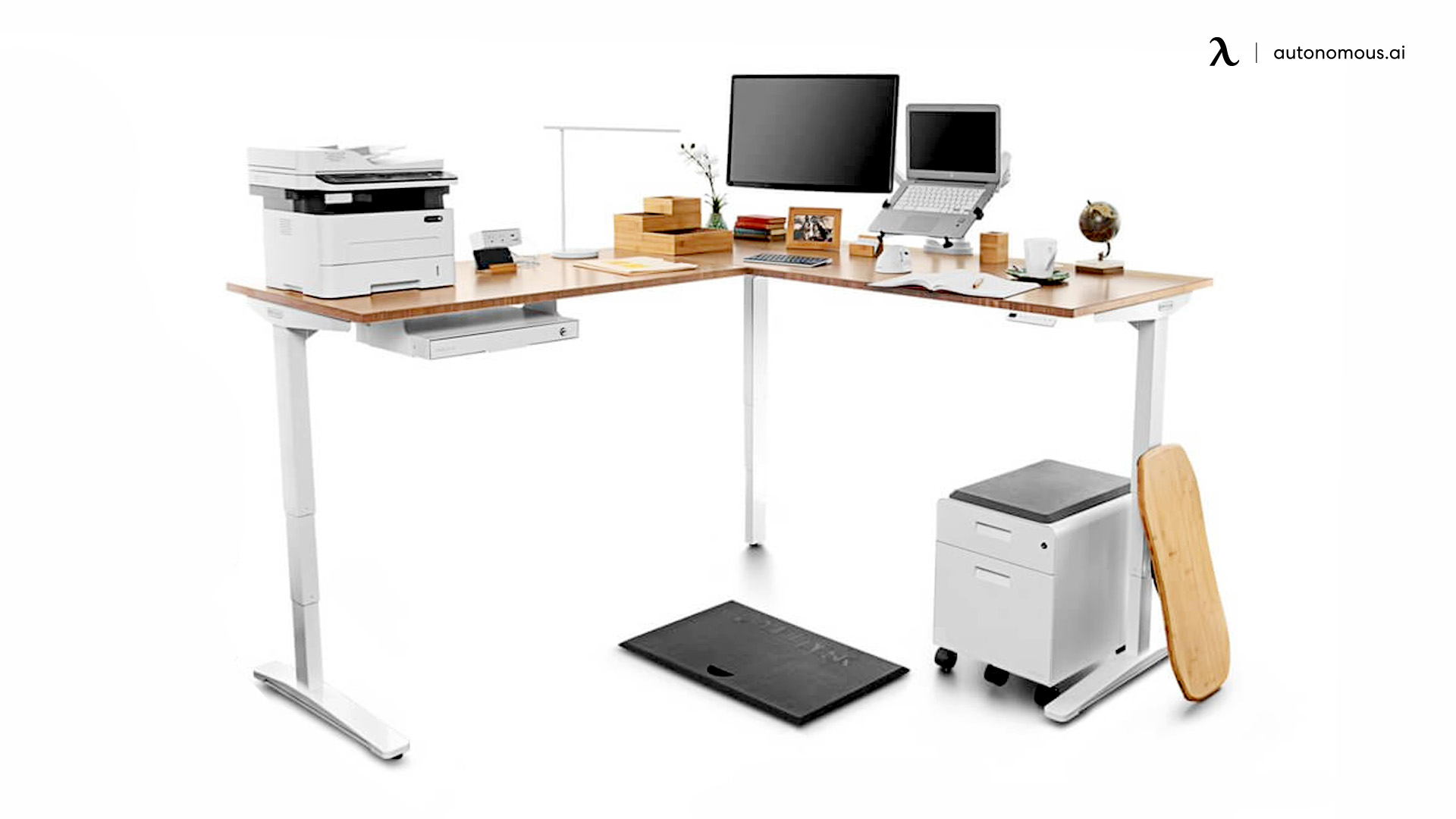 6. Uplift Curved L-shaped Stand-up Desk
This L-shaped adjustable height desk is fairly large with a 47 by 72-inch length, which is one of the biggest on this list! It also comes curved, so rather than sitting at a straight edge while working, you fit comfortability into a small semi-circle that is curved into the front of the desk. It isn't the most customizable desk, and we aren't sure what benefit the curves are supposed to offer aside from looking cook, but it is built on a three legged base and really does look unique. If you want your office to have something that no one else does, this might be the perfect desk for you.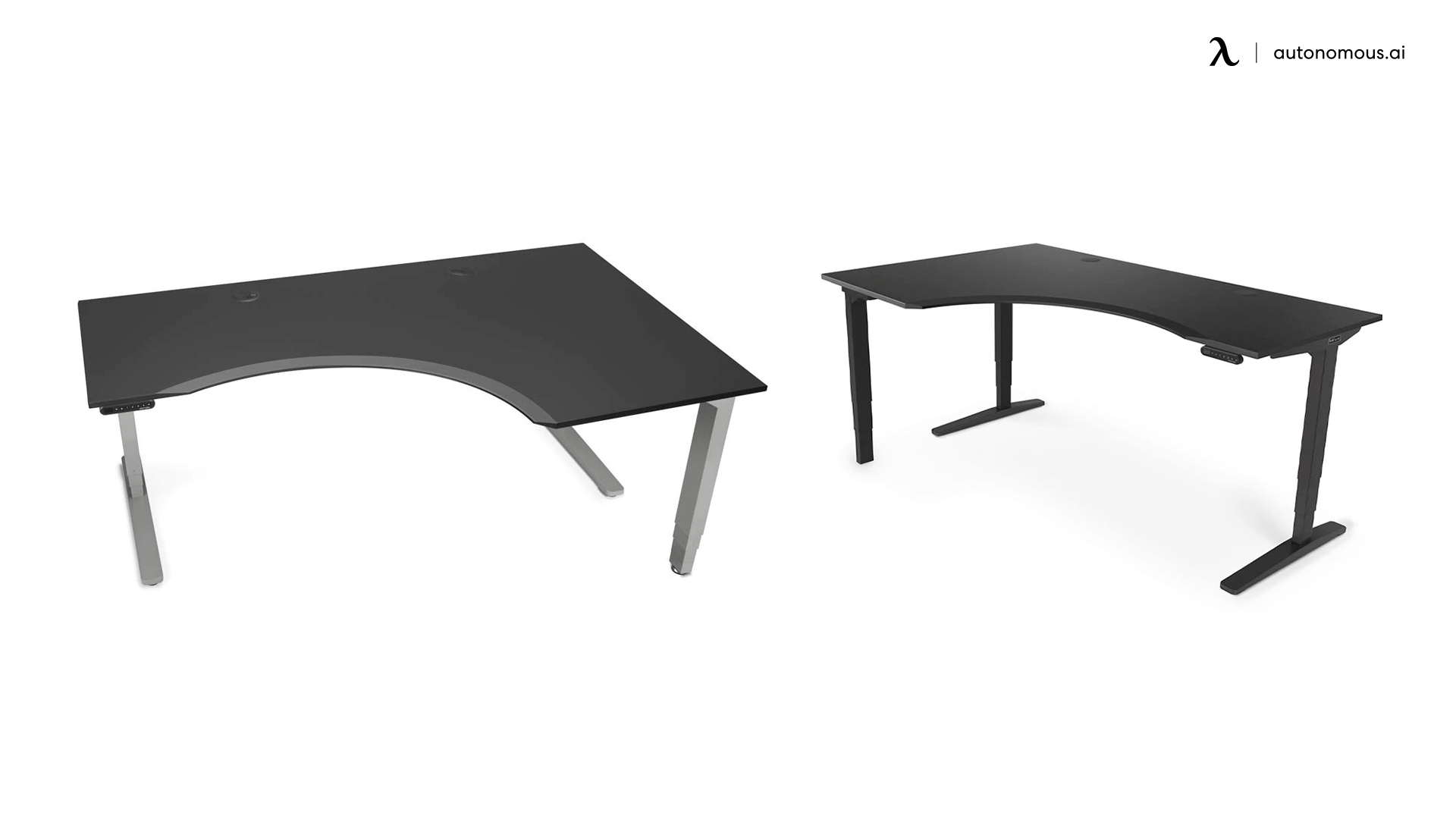 7. Eureka Ergonomic L-shaped Standing Desk for Corner Configurations
The first Chinese, non-made in America product on this list, don't be afraid by where it is assembled. Unlike a majority of poorly made and designed foreign desks, this one actually is pretty good and provides a lot of benefits if you are looking for an amazing L-shaped adjustable desk. This L-shaped standing desk only comes in 60 inches by 42 inches size, so it is a lot smaller than some of the other showings, but sometimes smaller is better if your office space calls for it.
It has a very high quality two-legged design that can still support a computer, monitor, and other items without too much trouble. It might be suited more as a personal desk since the L-shaped arm is very short compared to the main desk, but if you need a wide working space and want a good quality small desk, this one is for you.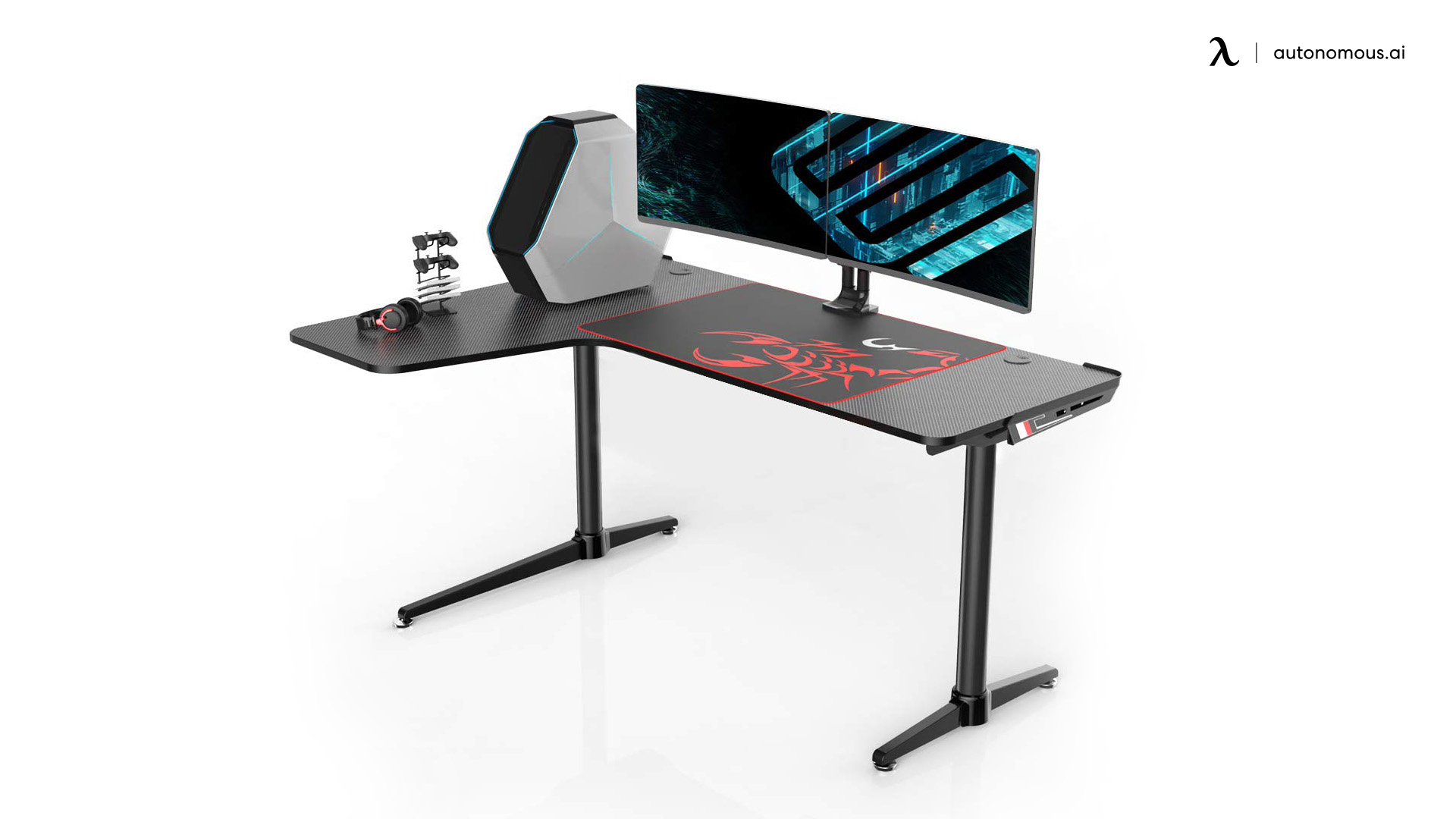 8. SHW Vista Corner Desk
This L-shaped sit-stand desk is perfectly modular, dividing into three sections for easy assembly and coming in with a beautiful smoked glass top. It does take more time to screw together and assemble than some of the other desks on this list, but it also takes advantage of limited space to really bring your room together.
It also comes with a very handy footrest to help you sit comfortably during those long office hours, and it looks nice. Plus, you can detach and rearrange each of the three sections if you want a bit more customizability. It's like having one of those DIY standing desk frame.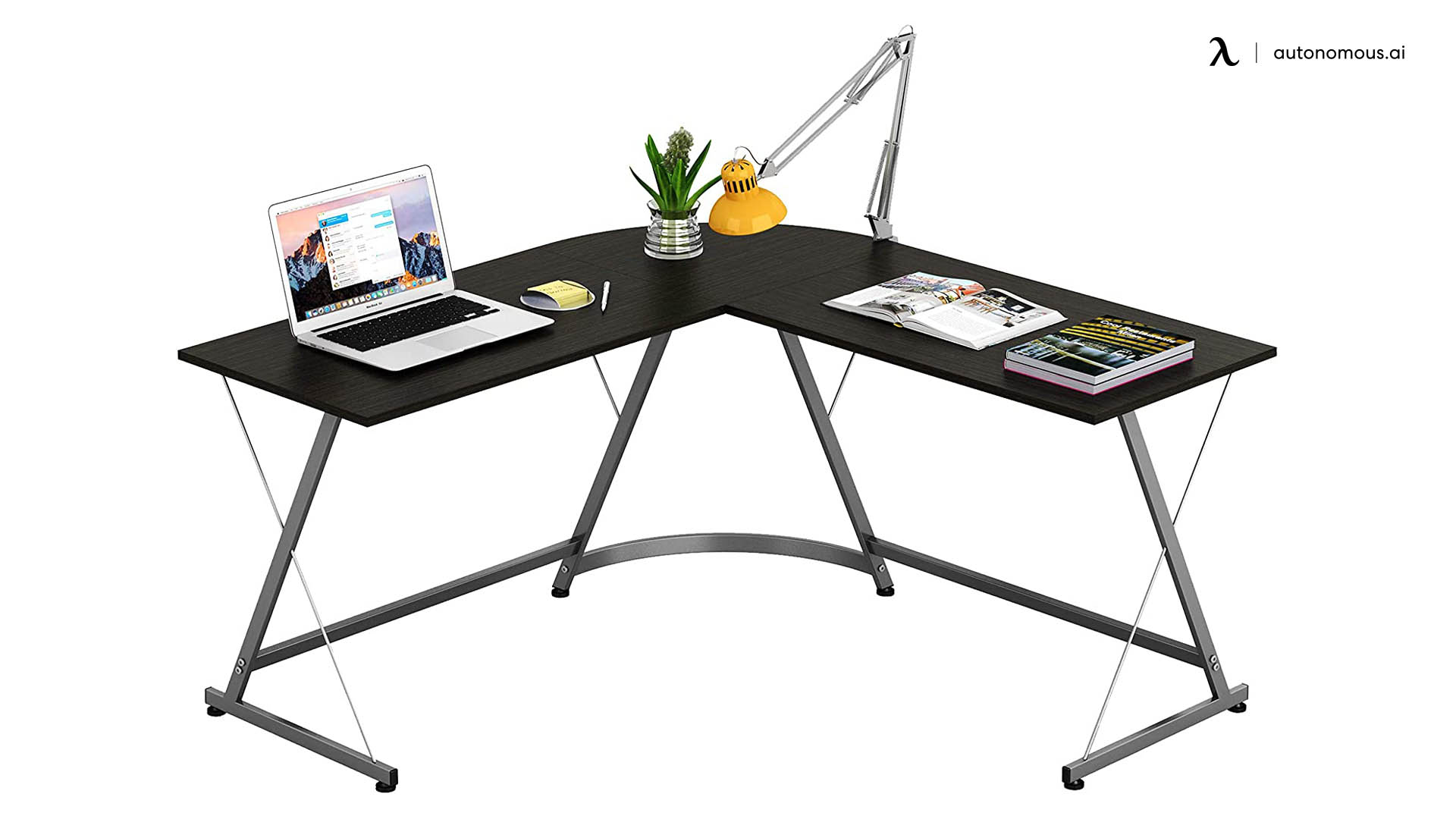 9. VertDesk V3 L-shaped Adjustable Desk
This adjustable L-shaped standing desk allows you to have total customizability over where you sit and stand throughout the workday. The desk is motorized with a traditional push button start like all the other adjustable desks out there, but it also comes with Siri support for your hands-free needs.
All you need to do is say 'hey Siri' and say that you would like to stand up or sit down, and the desk can automatically move to one of 22 different preselected size configurations! How cool is that!
It is very customizable with over 11 finishes and 2 colors to pick from, and like the other desks on this list, it has the weight to carry anything you might need in a corporate environment. The L-shaped adjustable height desk also has a solid construction with only the best outer steel and the best internal components to make sure that it lasts through dozens of uses.
This L-shaped sit-stand desk also comes with a 10 year warranty on the frame, seven years on the electronics, and five years on the surface parts. Not many desks offer a warranty like that!
It also comes with a 30-day money back guarantee, where you can easily return it if you don't like the desk. With all that risk is taken from the equation, there's no reason not to give this standing L-shaped desk a try!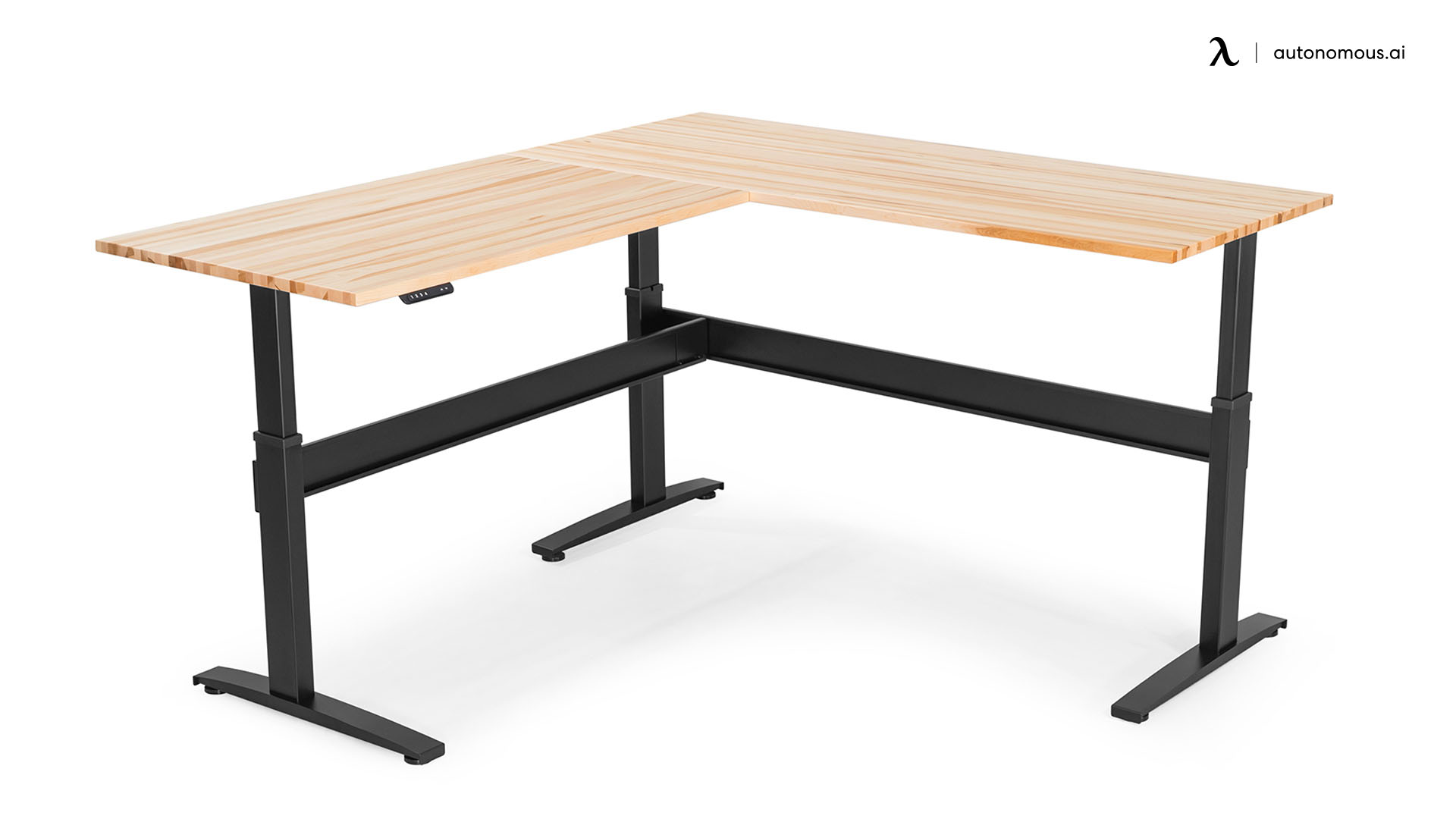 Buying the Perfect L-shaped Desk
As you can see, there are several options available if you are looking for an amazing L-shaped adjustable desk. Like buying DIY standing desk kits, to narrow it down, measure your office space, figure out what you are using the desk for and what you might need it to carry on a day-to-day basis, and look at your personal style.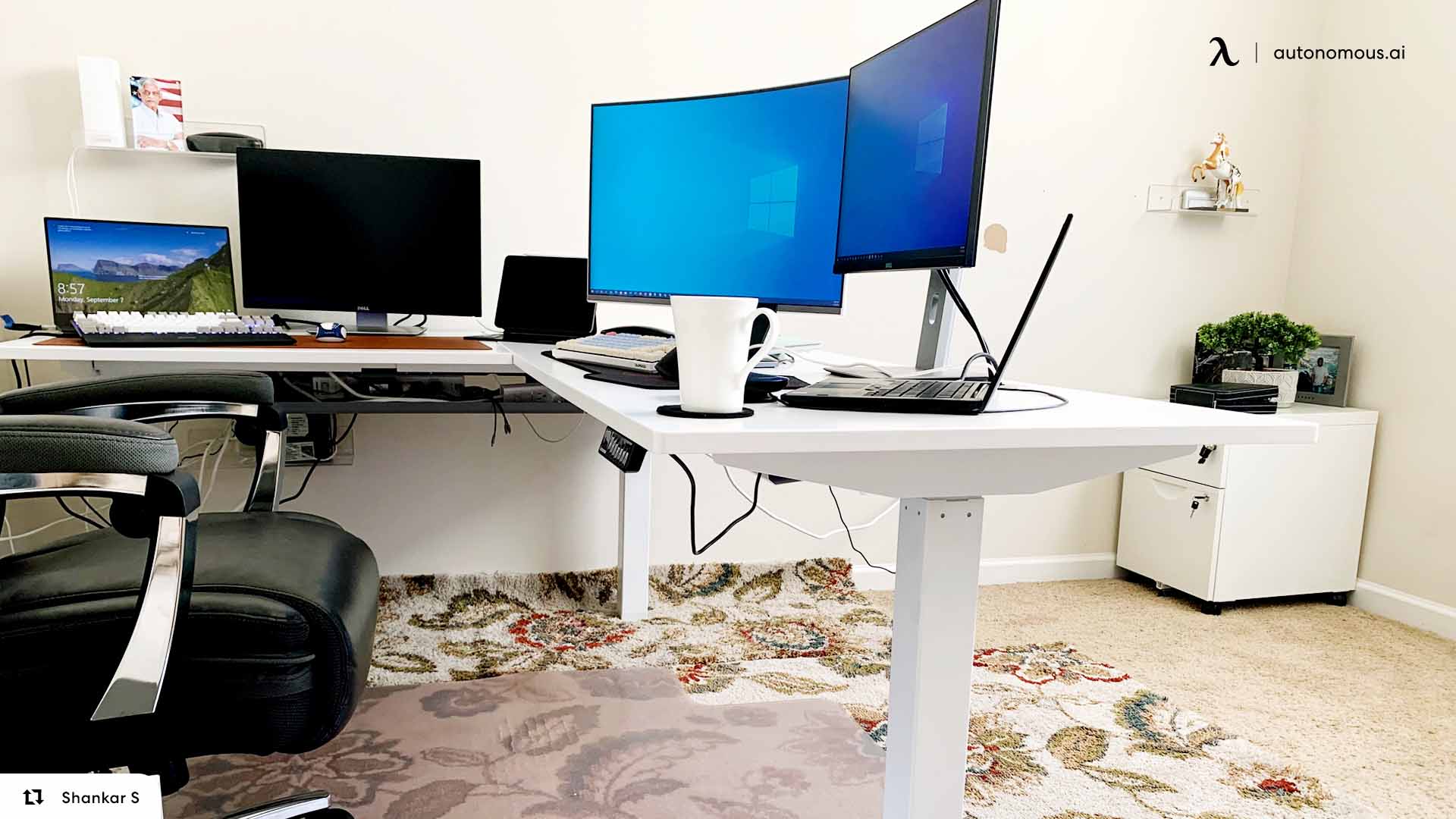 Getting a good L-shaped adjustable desk can not only increase your productivity and comfort but can also make sure that you enjoy coming to work every day. Instead of shuffling your papers around, feeling cramped, and constantly having to stand up to walk away from an uncomfortable desk, you can sit down and feel good. You can also stand up and let the adjustable and ergonomic design do its thing to help you stretch and stave off the afternoon drowsiness.
Instead of fighting your desk, make it work for your needs and inside of your space. That's the best benefit of an L-shaped sit-stand desk to help you know why you should use an L-shaped standing desk, and that's why you should choose to invest in one. Pick the one that works for you and watch how your workday starts to improve.
Get exclusive rewards
for your first Autonomous blog subscription.

WRITTEN BYAutonomous
We build office products to help you work smarter.
Coming at You Live from Autonomous' Social Media!
Please fill the information below.
Thank you!