Workplace Inspiration
9 Best Pieces of Office Furniture for Small Spaces
1,462 Views
Cost and space are the two major governing factors that define the selection of office furniture. Although comfort comes first, for an employer setting up a workplace, he has to take care of the comfort while thinking about the budget and space. After all, this is what the whole concept of hybrid working environment is about. Office furniture for small spaces is specifically designed to offer more functionality than the square footage, but in no way does it mean that it is uncomfortable or unpleasant.
Many best ergonomic chairs are both space-friendly as well as relaxed. The same is the case with an adjustable standing desk for small spaces and even an L-shaped standing desk that revolves around the idea of minimizing square footage and maximizing efficiency.
Besides that, as the pandemic hit, the transition to work from home has been difficult for many people, especially those limited on space. Setting up a home office is not always about cost; but it is more about finding the right corner in your home that is peaceful and noise-free. Thanks to the space-saving home office furniture and many desk chairs for small spaces, this transition somewhat improved.
If you have been waiting to be a part of the smart crowd and looking for a desk and chair for small spaces, then gladly, your search ends here. Here are some of the best and space friendliest options that are versatile and flexible for your tiny workspace.
Best Office Furniture for Small Spaces
The best kind of office furniture for a small space is the one that isn't hard on your body and gives maximum comfort. Small office furniture offers limited space as they don't have extra spacious seats or features that could cover a greater area. The great thing about ergonomics is that it can provide comfort due to the scientific approach embedded in the furniture and space itself.
1. Rotating Desks
Rotating desks have width and length management options based on the user's choice. They have extra space in case of extra work. Rotating desks are an optimum solution to a tiny workplace, and they also don't cost much.
2. Folding Desks
A folding desk is an optimal solution to productivity as well as saving some space. Folding desks have foldable legs that bend when unused. This desk can be opened and closed according to the user's needs, and they are a great, versatile option for home office desk setups. The only drawback of a folding desk is that since the legs fold and open continuously, they aren't as strong as a solid desk.
3. Ergonomic Chairs
Ergonomic chairs come in many shapes and sizes, but they all are comfortable and ideal for conforming to body shape. The market is full of various ergonomic chairs that are both space-saving and good for health.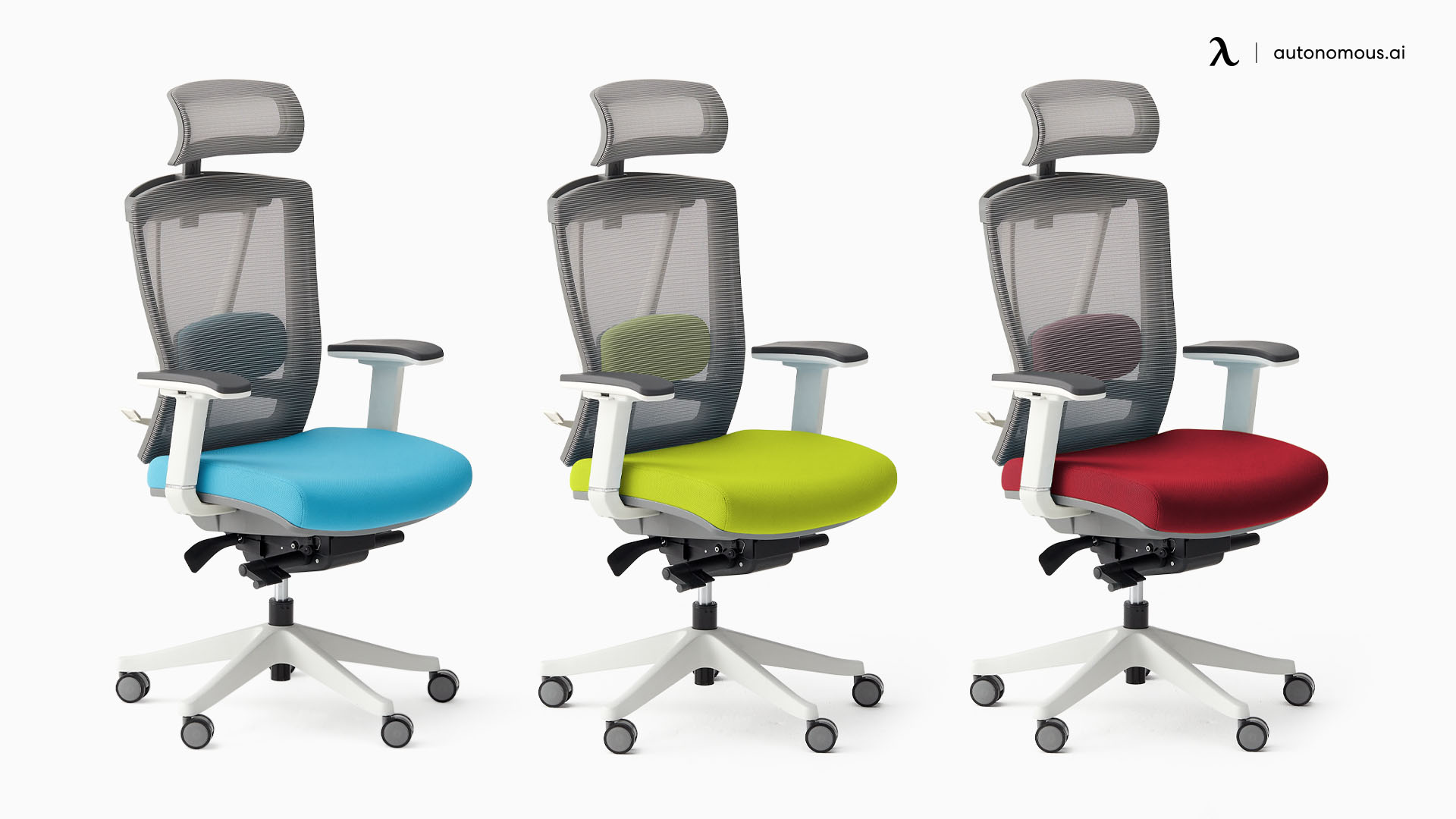 ErgoChair Recline and ErgoChair Pro is a medium-sized office chair with a tall back but not so wide for extra space. It has a mesh back with no cushioning, so you can pair it easily with a tiny computer. Moreover, the chair has footrests that are foldable to save space, and the seat is also tiny but curved enough to give maximum comfort to the bottom.
4. Multi-Purpose Shelves
Offices and workspaces that are limited in space cannot allocate individual storage cabinets for each purpose. This becomes hard, especially when there are many different documents to be managed and kept separately. Multi-purpose shelves offer vertical storage space, thus proposing more space for the minimum area. Offices can use multi-purpose shelves as storage shelves and even for decoration purposes.
5. Standing Desks
SmartDesk Pro is a standing desk with all the features of a great work desk. It has a height-adjustable system and a smooth platform that supports enough weight for your desktop and accessories. The legs are strong and sleek to reduce the used square footage and provide the maximum surface area. This piece of office furniture for small spaces is one of the top picks amongst space-friendly office furniture items.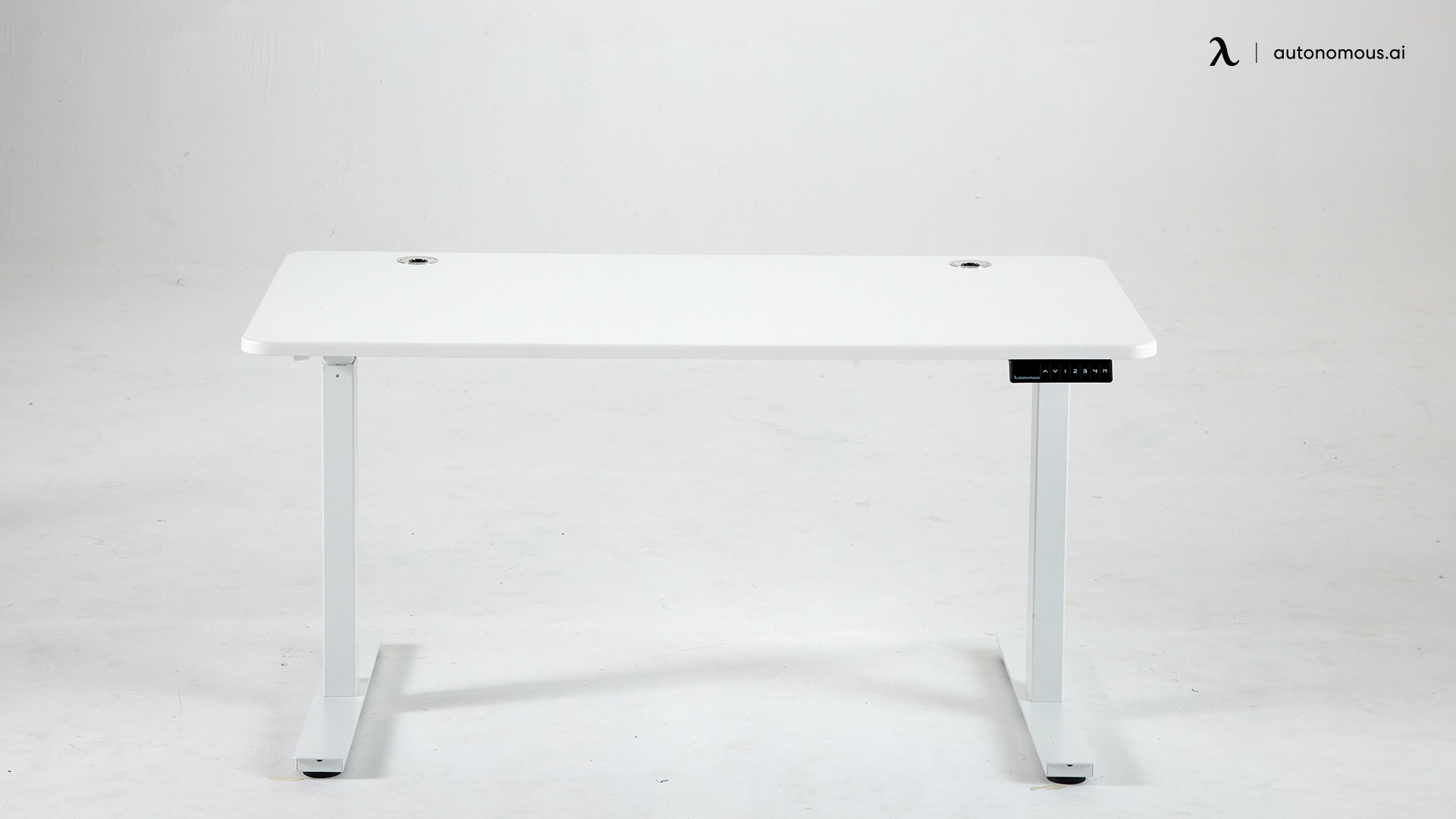 6. Compact Computer Desk
Just as the name suggests, compact computer desks are space-friendly and spacious enough to set up your workstation. Compact computer desks come in all shapes and sizes, and they don't occupy a large area in the room. They also come with various features such as drawers, built-in shelves, keyboard trays to save space and increase functionality. Compact computer desks are usually lightweight and easy to move.
| | |
| --- | --- |
| Desk top | |
| Dimensions | 43"L x 24"W x 1"H |
| Colors | White, Black |
| Material | Warp-proof MDF wood |
| Desk frame | |
| Lifting capacity | 265 lbs |
| Material | SPCC steel |
| Colors | White, Black, Grey |
7. Floating Desk
A floating desk is a platform that can be mounted on the wall at a certain height. A floating desk does not have legs or any bottom support, so the weight capacity is limited, but they are ideal for light-duty work and small home office setups. Some floating desks also come with drawers and bottom shelves to increase the storage area. It is such an ideal option for office furniture for small spaces.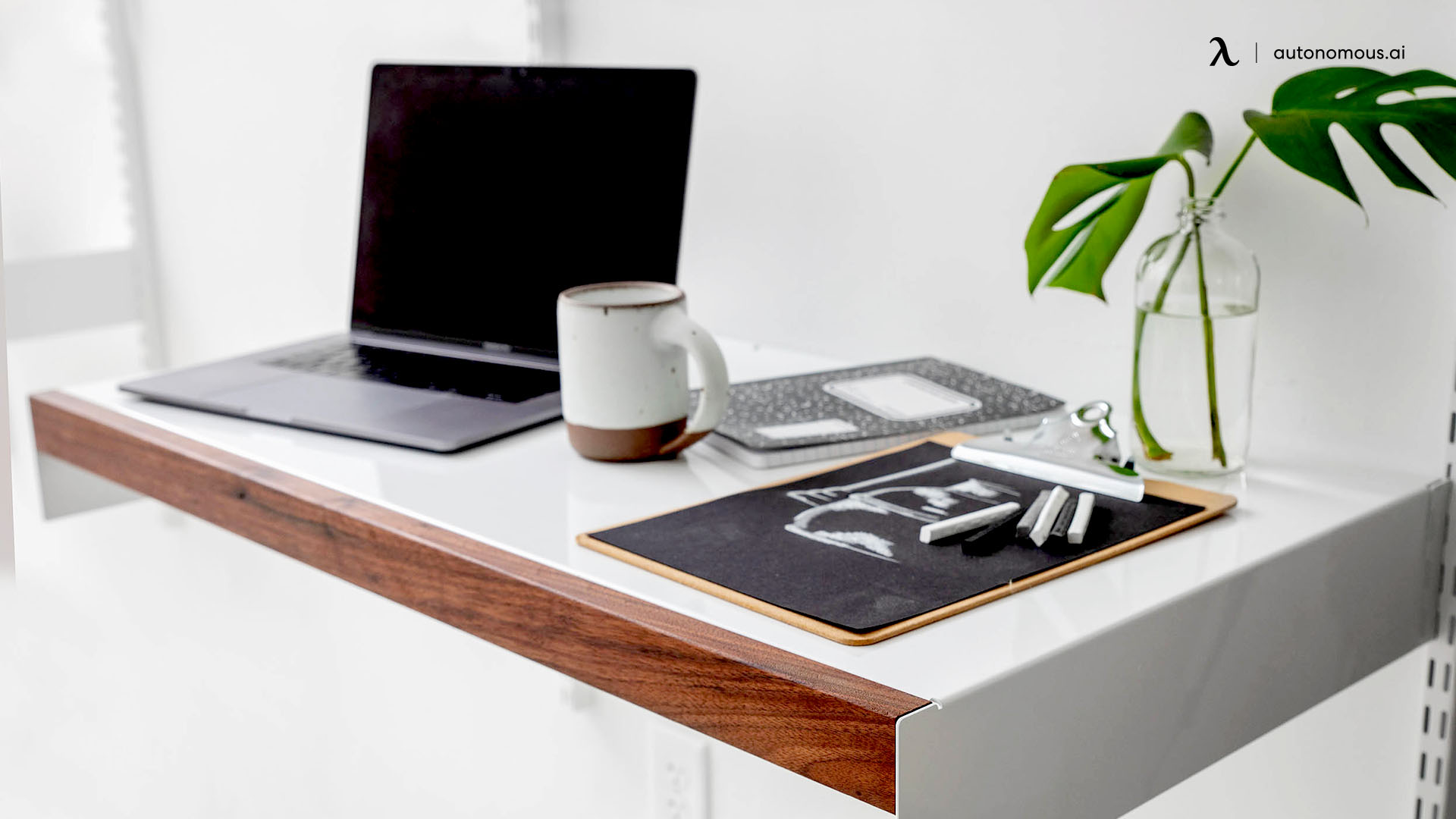 8. Filing Cabinet
Office furniture isn't just about the office desk and chair. It's about all the tiny furniture items that make up most of the workspace. Cabinets are an important part of a workspace required to keep important files and documents. This filing cabinet from autonomous will adjust and slide under your desk to provide enough room for all your important files and documents. The drawers are spacious to hold all necessary stuff while you can easily slide it under the work desk and save space.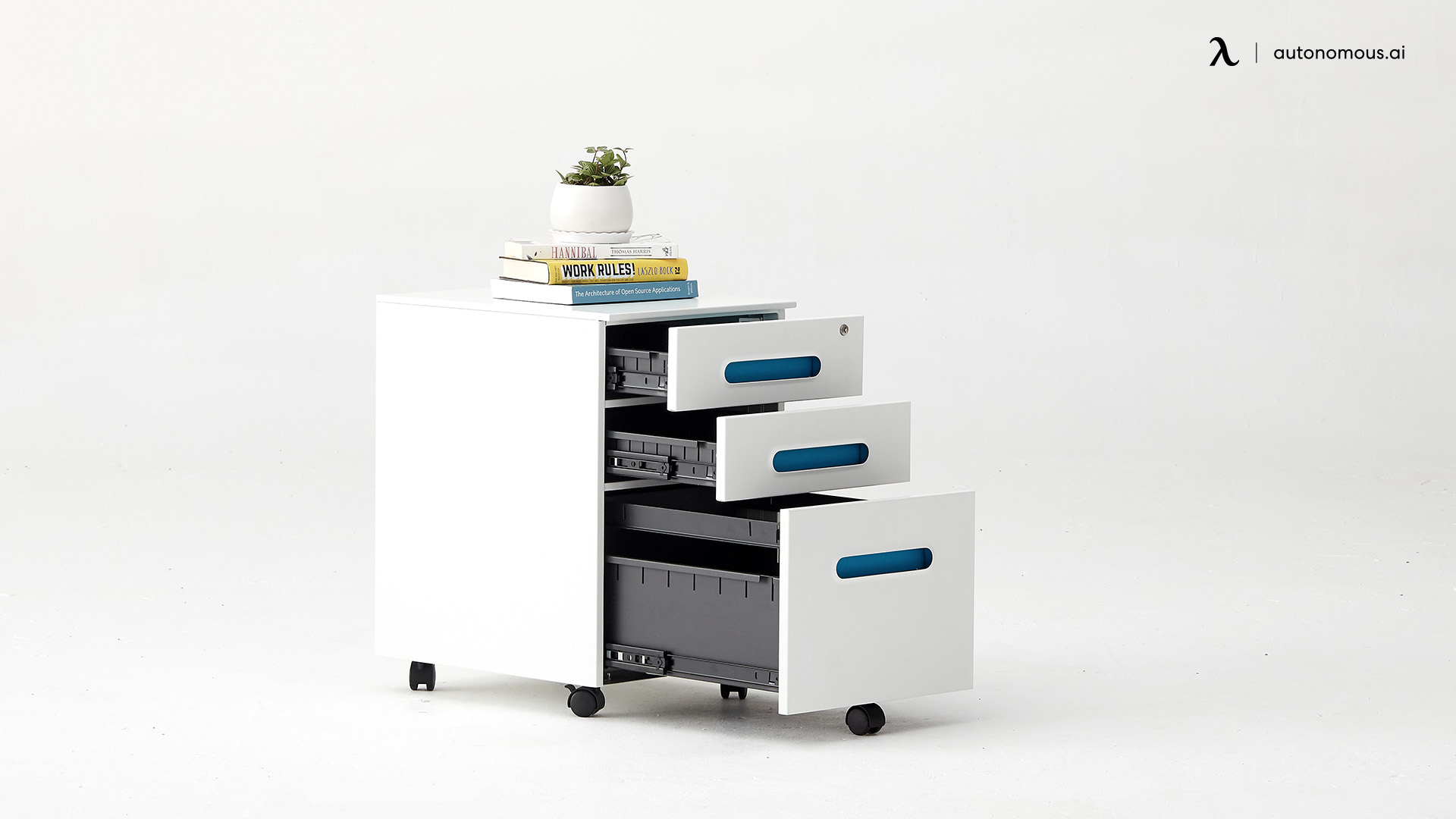 9. Corner Desk
A corner computer desk helps to make the most of the space in any house or workplace. Another advantage of angular workstations is that they provide more work surfaces than traditional tables or desks. Some corner workstations are ergonomically built to alleviate body strain and boost productivity. You should own one of this office furniture for small spaces.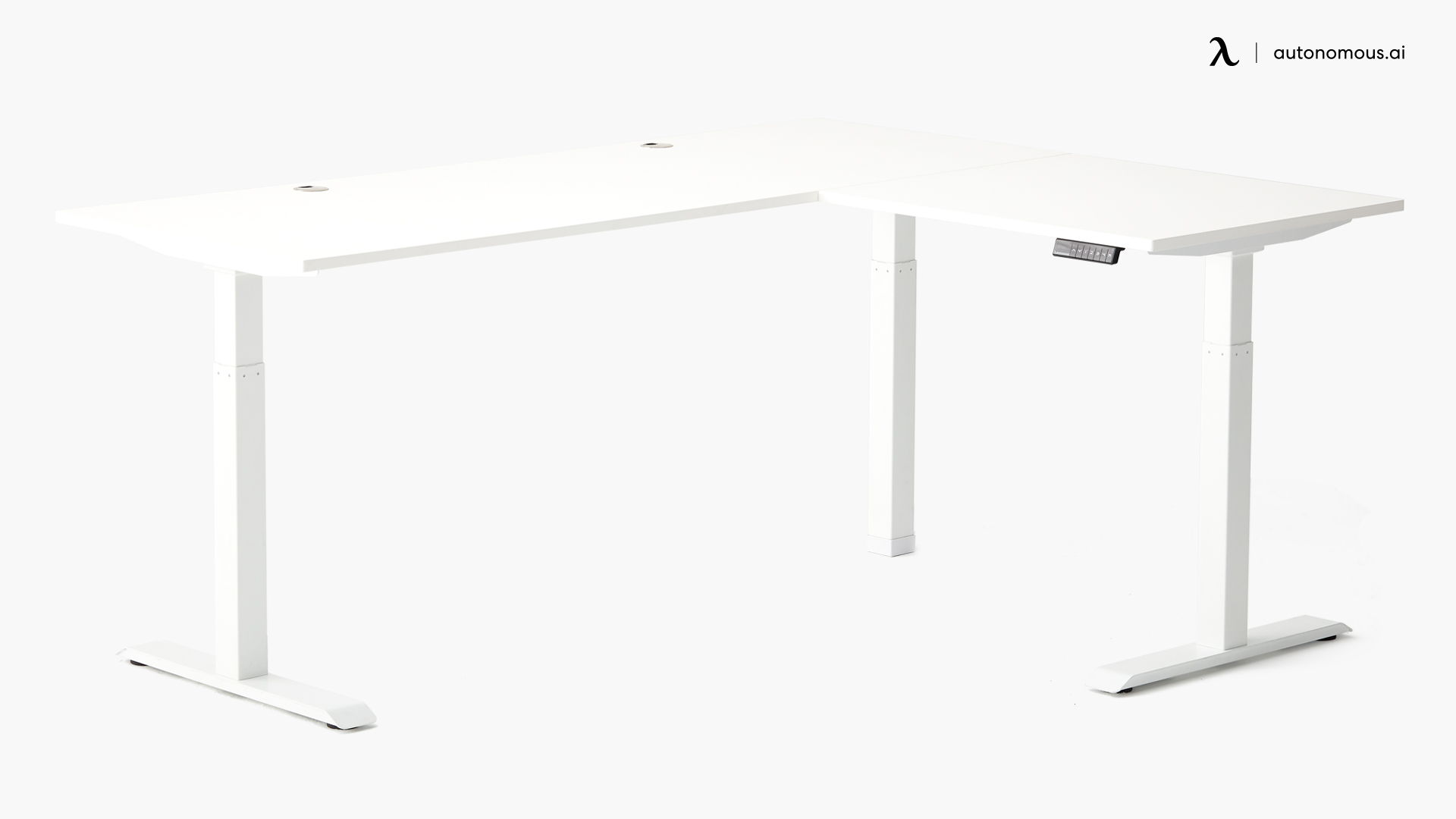 Overhead shelving and storage units, retractable file cabinets, discrete holes for data connections, and pull-out keyboard trays are all significant characteristics of this computer desk type.
How to Choose Office Furniture for Small Spaces?
An ergonomic office chair is a must-have whether you have hundreds of square yards or a few feet for your workstation. Without an ergonomic chair, your workspace won't be kind to you, nor will you experience better productivity even in the quietest corner. Choosing small space office furniture should never be about comfort, and that's a given. However, it would help if you were looking for smaller options in size but don't compromise on functionality in any way.
Hey, you have special pricing through your company.
Get exclusive rewards
for your first Autonomous blog subscription.
WRITTEN BYAutonomous
We build office products to help you work smarter.