Workplace Inspiration
9 Space-Saving Office Furniture Pieces - Make Room for Productivity

Autonomous
|
Dec 6, 2022
3,488 Views
Cost and space are the two major governing factors that define the selection of office furniture. Although comfort comes first, for an employer setting up a workplace, he has to take care of the comfort while thinking about the budget and space. After all, this is what the whole concept of hybrid working environment is about. Office furniture for small spaces is specifically designed to offer more functionality than the square footage, but in no way does it mean that it is uncomfortable or unpleasant.
Many best ergonomic chairs are both space-friendly as well as relaxed. The same is the case with an adjustable standing desk for small spaces and even an L-shaped standing desk that revolves around the idea of minimizing square footage and maximizing efficiency.
Besides that, as the pandemic hit, the transition to work from home has been difficult for many people, especially those limited on space. Setting up a home office is not always about cost; but it is more about finding the right corner in your home that is peaceful and noise-free. Thanks to the space-saving home office furniture and many desk chairs for small spaces, this transition somewhat improved.
If you have been waiting to be a part of the smart crowd and looking for space saving furniture for the office as a desk and chair for small spaces, then gladly, your search ends here. Here are some of the best and space-friendliest options that are versatile and flexible for your tiny workspace.
Best Office Furniture for Small Spaces
Office furniture layouts don't always get the consideration and planning they need. It's merely a matter of gathering some things and placing them in space, right? If only everything were that easy. The feng shui office layout can also prove to be very beneficial for some. 
You could visit other conventional businesses or work from home and suspect that the standing desk or ergonomic chairs are just randomly placed. You may be astonished to learn that everything was carefully planned out in advance to result in what you see. However, a corner desk setup with an L-shaped standing desk also looks perfect and saves space. 
Of all, if you work in an office and are not part of the HR department, your worries may not extend much beyond how your office is furnished. However, if you work in human resources or operate a firm, you may need to consider investing in wholesale office furniture, general office lighting, and other significant planning components, you can also get a standing desk converter to work better. 
The best kind of office furniture for a small space is the one that isn't hard on your body and gives maximum comfort. Small office furniture offers limited space as they don't have extra spacious seats or features that could cover a greater area. The great thing about ergonomics is that it can provide comfort due to the scientific approach embedded in the furniture and space itself.
1. Rotating Desks
Rotating desks have width and length management options based on the user's choice. They have extra space in case of extra work. Rotating desks are an optimum solution to a tiny workplace, and they also don't cost much.
2. Folding Desks
A folding desk is an optimal solution to productivity as well as saving some space. Folding desks have foldable legs that bend when unused. This desk can be opened and closed according to the user's needs, and they are a great, versatile option for home office desk setups. The only drawback of a folding desk is that since the legs fold and open continuously, they aren't as strong as a solid desk.
3. Small Ergonomic Chairs
Ergonomic chairs come in many shapes and sizes, but they all are comfortable and ideal for conforming to body shape. The market is full of various ergonomic chairs that are both space-saving and good for health.
ErgoChair Recline and ErgoChair Pro is a medium-sized office chair with a tall back but not so wide for extra space. It has a mesh back with no cushioning, so you can pair it easily with a tiny computer. Moreover, the chair has footrests that are foldable to save space, and the seat is also tiny but curved enough to give maximum comfort to the bottom.
4. Multi-Purpose Shelves
Offices and workspaces that are limited in space cannot allocate individual storage cabinets for each purpose. This becomes hard, especially when there are many different documents to be managed and kept separately. Multi-purpose shelves offer vertical storage space, thus proposing more space for the minimum area. Offices can use multi-purpose shelves as space-saving furniture for the office: storage shelves and even for decoration purposes.
5. Compact Computer Desks
Just as the name suggests, compact computer desks are space-friendly and spacious enough to set up your workstation. Compact computer desks come in all shapes and sizes, and they don't occupy a large area in the room. They also come with various features such as drawers, built-in shelves, keyboard trays to save space and increase functionality. Compact computer desks are usually lightweight and easy to move.
This compact, steady desk may fit in your area while yet offering ample workspace for working, reading, or writing. lifetime-lasting construction. It is one of the top office furniture for small spaces and areas. 
6. Floating Desk
A floating desk is a platform that can be mounted on the wall at a certain height. A floating desk does not have legs or any bottom support, so the weight capacity is limited, but they are ideal for light-duty work and small home office setups. Some floating desks also come with drawers and bottom shelves to increase the storage area. It is such an ideal option for space-saving furniture for the office. 
7. Filing Cabinet
Office furniture isn't just about the office desk and chair. It's about all the tiny furniture items that make up most of the workspace. Cabinets are an important part of a workspace required to keep important files and documents. This filing cabinet from autonomous will adjust and slide under your desk to provide enough room for all your important files and documents. The drawers are spacious to hold all necessary stuff while you can easily slide it under the work desk and save space.
8. Corner Desk
A corner computer desk helps to make the most of the space in any house or workplace. Another advantage of angular workstations is that they provide more work surfaces than traditional tables or desks. Some corner workstations are ergonomically built to alleviate body strain and boost productivity. You should own one of this space-saving furniture for the office. 
Overhead shelving and storage units, retractable file cabinets, discrete holes for data connections, and pull-out keyboard trays are all significant characteristics of this computer desk type.
9. Mobile/ Rolling Desks
Tips to Layout Small Office Furniture
The Selection of Furniture
There should never be a justification for choosing poor office furniture in your office furniture arrangement. First and foremost, you should always prioritize smart office furniture. In this approach, you may be sure that the parts you've picked have ergonomic qualities that will promote the user's health and well-being. A mobile height adjustable desk can solve a lot of your space problems.
Light Is Important
You should pay attention to office desk lighting since it has positive effects on your eyes and brain. It is a component of the ergonomic spectrum for a reason. What you need is a setup that enables the desk's overhead artificial lighting to work in harmony with any available natural illumination. Good lighting also helps you in office storage and organization. 
Avoid Skipping Relaxation
Working hard is important, but so is relaxing, therefore the area must also include a place to release stress. If you are in charge of setting up a typical workplace, be sure to provide a location for taking breaks. Using space saving furniture for the office can provide you with enough space. 
Nothing that makes individuals think about their jobs should be in that area to help them remember this. In reality, several businesses have embraced a clever concept that supports this tactic. The purpose is to deter work from being introduced into these types of prohibited areas.
Think of the People
When organizing your office furniture arrangement, keep this in mind. Prior to now, it was stressed how important it is to make sure the smart small office furniture that is chosen, best suits the area. This argument is similar to the previous one in that it emphasizes the need of making sure that the choices made complement the individuals who will be utilizing the furnishings. 
Advantages of Space-Saving Furniture For The Office
Cost Effісіеnсу
Space-saving furniture is gaining popularity and is priced similarly to more traditional furniture. Your furniture may be both reasonably priced and visually pleasing. 
Same Space, Different Feel
In just a few easy steps, you can transform your kitchen into a living room. Give your kids permission to study in your room. Depending on the usage, all of this is feasible, and you may radically alter how a space feels and appears!
Reduce Clutter
You may utilize your office furniture in small space to make the most of your space and make sure you only retain what you need. Keeping your storage more organized may reduce clutter while creating a modern and lovely appearance. 
Accessibility
A mansion in the middle of the city would be beyond the means of many of us. However, making creative use of the space may meet your family's demands and provide opportunities for your living situation. Let the kids play freely in the playroom, which will eventually serve as your workplace. 
FAQs
What is Space Saving Furniture for the Office?
In order to create the illusion of a larger room, space saving furniture is used. The finest appearance is achieved by learning how to arrange office equipment properly. Additionally, it helps improve workflow for whoever may be utilizing the area when done well.
Why Go for Space Saving Furniture for the Office?
If you live in a tiny house or apartment, you are aware of the difficulties involved. The main problem is that there isn't enough room for all the furniture you need to furnish your work-from-home office so that it is both aesthetically pleasing and useful. What you need is small office furniture. Read on to learn more about small office design ideas. 
How Important is Space Saving Furniture for the Office?
Today's space saving furniture for the office eliminates the need to compromise between comfort and space. Without breaking the bank, you may make the most of the little space you have. 
How to Choose Office Furniture for Small Spaces?
An ergonomic office chair is a must-have whether you have hundreds of square yards or a few feet for your workstation. Without an ergonomic chair, your workspace won't be kind to you, nor will you experience better productivity even in the quietest corner. Choosing small space office furniture should never be about comfort, and that's a given. However, it would help if you were looking for smaller options in size but don't compromise on functionality in any way.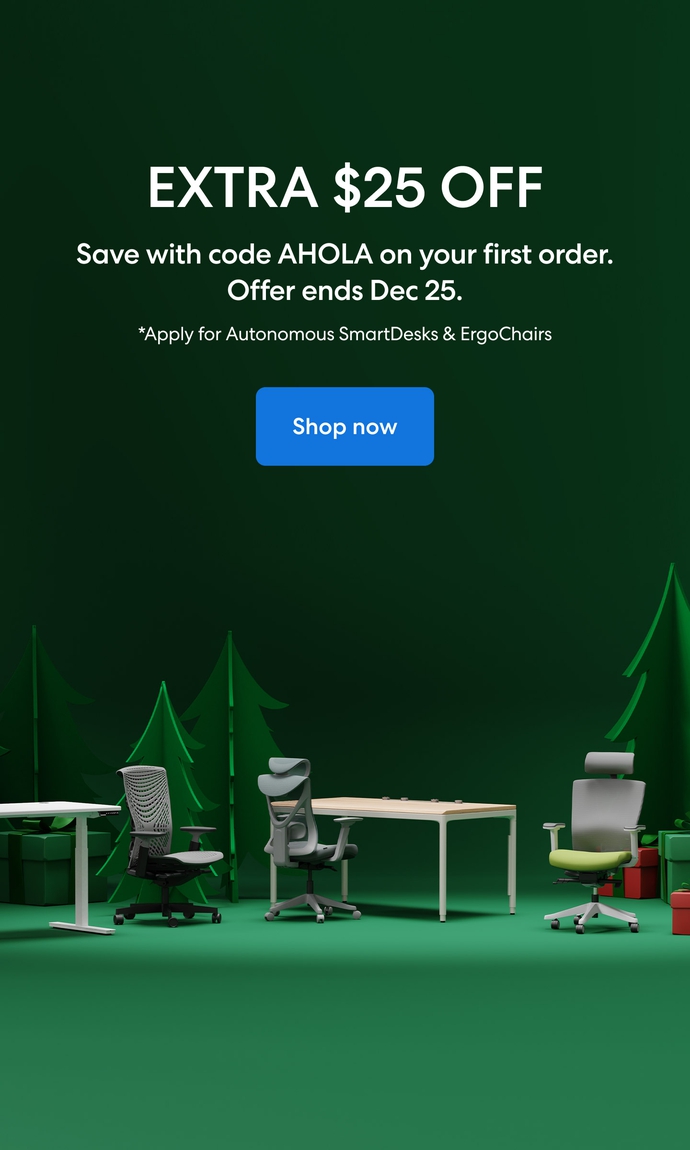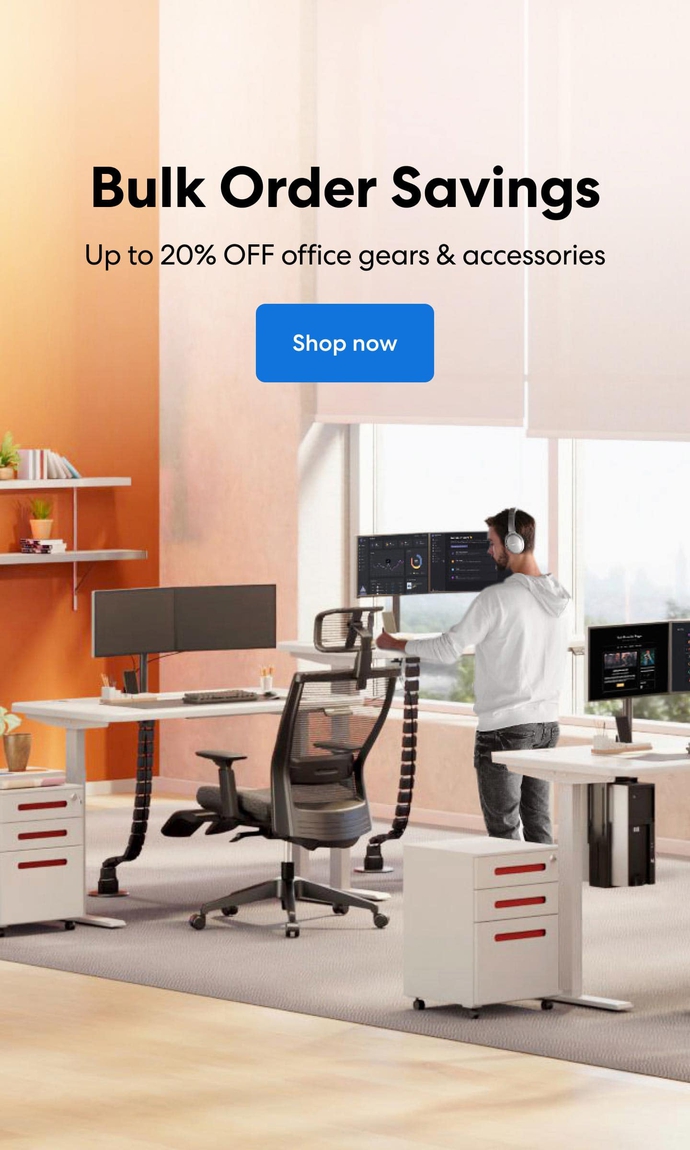 Subcribe newsletter and get $100 OFF.
Receive product updates, special offers, ergo tips, and inspiration form our team.