Workplace Inspiration
Adding a Second Story to Your Single-story Home

Autonomous
|
Jun 10, 2023
255 Views
Are you thinking of adding a second floor to your single-story home? It can be a great way to make more space for your family or even add value to your property.  
You could also try buying a larger house, but it usually comes with towering costs. Adding another level to your single-story home design is ultimately a big decision, and there are several things to consider before taking the leap.
What You Need to Consider Before Adding a Second Story to Your Property?
Building a second story on top of your one-story home can be an excellent way to increase your living space.  
However, it requires proper planning, research, and preparation to ensure that you get the best possible results. By considering the following tips, you can expand your property in a cost-effective and efficient manner, enhancing your lifestyle and home value. 
Design
Single-story homes are often coveted for their simplicity, so adding a second story can drastically change the look of the property. If you're going for a modern single-story home design, you'll want to make sure the second level fits the overall aesthetic of your house.
Long-term Plans
On another note, you'll want to make sure that adding a second story is actually the right choice for you.  
Single-story homes can be incredibly charming, and if your property is modern and sleek, you may not want to disrupt its aesthetic by going up.  
However, if you're looking to expand your living space or simply add value to your single-level tiny home, adding a second story may be the perfect solution. Whatever your reason, be sure that it makes sense for your lifestyle and goals. 
Approvals
You also need to consider the neighborhood's zoning regulations and laws. Before you begin the design process, it's important to check with your neighborhood directives about any building permits you'll need.  
In some cases, you might need engineering or seismic approval, depending on the zone compliance process that applies to your city. 
Look into the local government policies about the home's square footage limits and zoning laws to avoid violating them while adding a new story. Ensure that you comply with the building codes, safety regulations, and homeowner's association rules.
Overall Expenses
Costs are another important factor to keep in mind. The national average for adding a second story to your single-story home can cost around $1,400 for permits, but the rate can go higher depending on the location of your property.  
Expenses can vary depending on the layout and structure of the house, as well as the materials and labor that you choose. If you're looking for a more cost-effective option, consider building off-site with modular construction. 
Foundation
Adding a second floor needs a sturdy and robust foundation. Before starting the renovation project, you need to check if your current footing can handle the weight of the additional floor or if it needs reinforcement.  
Consult with a certified builder or qualified engineer to ensure the existing soil is stable for the new story. If the foundation is weak, you might have to give up the renovation idea altogether.
Architecture
Next, you'll want to consult with an architect to help you with your second-story designs. You can either remove the roof and build another floor, which means you'll be building over your existing foundation, or build off-site and install a modular second level later.  
The latter option largely depends on your preferred layout as well as the structure of your one-story home.  
If you're looking to add a second floor over another room in the house, such as your garage, the project will likely be smaller and more cost-effective. Homeowners also need to factor in variable expenses such as stairs, doors, and additional rooms.
Hotel Rental Costs
Don't forget to consider where you'll stay in the meantime. Unless you're adding a second floor to a non-essential part of the house, you (and your loved ones) might have to stay elsewhere until the project is complete.   
This means you'll have to think about additional hotel rental costs and arrange temporary accommodation for your furry friends (if you have any).  
Budget-friendly Alternative to Building a Second Story
Do you want more living space in your property without dealing with the hassle and expense of building a second story? We have good news - there is a simple and affordable solution: prefab accessory dwelling units (ADUs).  
What Are ADUs?
Such units are pre-built structures that you can install in the same property as a stand-alone family home.  
They also come in various forms. Whether you need a portable home office pod, a corporate pre-built studio, or a tiny house in your backyard – there's something for everyone. Prefab ADUs are affordable, easy to install, and completely customizable to fit your needs. 
You can have the added space you need without having to move to a larger home or build  a second floor over the existing foundation.
Inexpensive
One of the most attractive things about prefab home additions is their affordability. They are priced much lower than the cost of building a traditional extension of your home.  
Plus, with pre-built options, you save money on labor and material costs. You don't have to worry about permits and inspections either, as the units are already up to code and ready to use.  
Complete Privacy
One of the biggest benefits of an affordable prefab ADU is the added privacy they provide. With a second story, you may have to deal with your neighbors peeking in, but with an ADU, you have complete control over who enters your space.  
These units also offer a unique and modern design, making your backyard stand out in your neighborhood.  
The best part is that you can use an ADU however you want. Turn it into an outdoor home office if you want to work in peace. On the other hand, you can earn passive income by renting out the unit as an Airbnb! 
Pre-customized
With a prefab ADU, you can have all the benefits of a second story without the cost and hassle. 
These units are pre-built and customizable, so you can choose from different brands and quality levels to find the one that best suits your needs. 
Many prefab ADUs even come with in-built furniture pieces, lighting, and even air conditioning. 
The Best Prefab ADUs in 2023
With more and more people working from home, the demand for functional and stylish backyard office plans has never been greater.  
It is no secret that building a modern single-story home extension can be a costly endeavor, especially considering the many building codes and permits you need to get approval for. 
That's where prefab ADUs come into play – a cheaper and better alternative to a second story. As you look for practical backyard cottage ideas, consider the latest products from Autonomous.  
1. Autonomous StudioPod
Our first pick is the StudioPod. This prefab ADU's contemporary and minimalistic design is perfect for those who love a modern aesthetic.  
With built-in fittings, lighting options, and a vent, you won't have to worry about additional expenses on installations. Plus, its integration with a state-of-the-art air conditioner and door lock technology makes it comfortable and safe to use. 
The Autonomous StudioPod is a multi-purpose extension that can serve as your home studio, office, bedroom, or entertainment room. It's the perfect solution for those who need a convenient setup without sacrificing space or comfort. 
One of the best things about the StudioPod is its compact size. Designed to fit in your backyard, this unit can be easily installed anywhere in your single-level tiny home. It's also super easy to set up, so you can start using it right away. 
However, don't let its size fool you. This product has everything you need to make it a comfortable and practical living space. It comes with a convertible sofa bed, foldable coffee table, convenient bookshelf, and more.  
What's more, this unit has mood lighting with three different color modes. The feature creates a relaxing ambiance that helps you focus on your work or get a good night's sleep.
When it comes to its build, the Autonomous StudioPod has a vinyl siding layer that is both waterproof and weather resistant. This feature makes it perfect for outdoor use, as it can withstand harsh weather conditions.  
The pod also features eco-friendly honeycomb paper, which provides excellent soundproofing and insulation. 
Last but not least, the StudioPod comes with a sturdy steel frame that provides flat and stable support. It's truly an all-in-one solution, providing homeowners with optimal comfort, convenience, and practicality.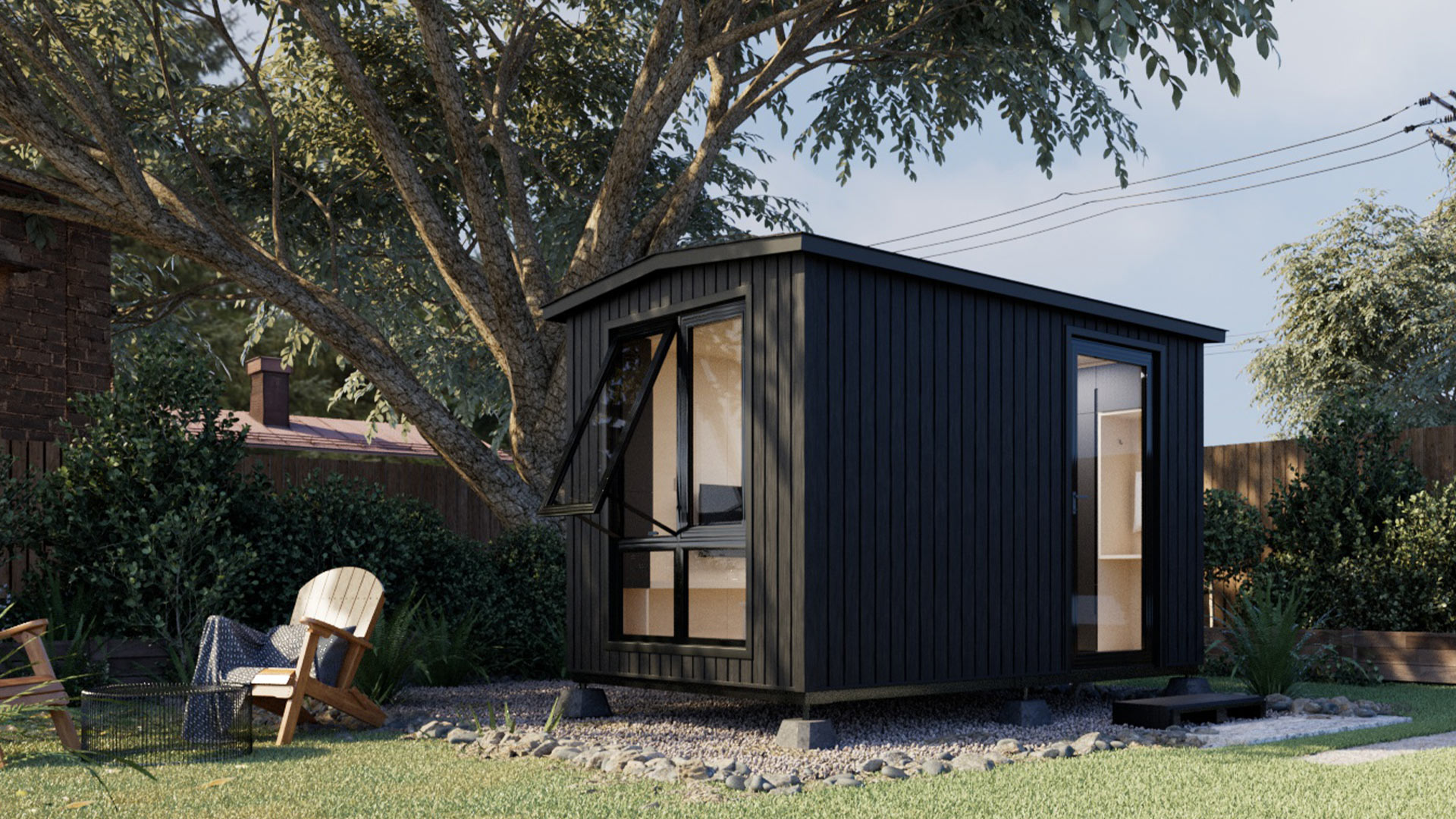 Dimension
8'4"W x 12'6"L x 9'10"H
Floorspace
105 square feet
Ceiling height
7'3"
Weight capacity
2.9 tons
Pedestal
18"W x 43"L x 7"
Window & door material
Powder-coated aluminum,  5/16" tempered glass
Material
Siding: plywood 1/2", steel frame, honeycomb paper, plywood 3/8", bitume, housewrap, vinyl siding
Roof: roof shingles
Floor: plywood
Pedestal: steel frame & wood plastic composite
Electrical devices
RCB, Wall outlet, Ceiling light switch, Ceiling light, Ventilator switch, Ventilator, Ethernet wall port, 66ft power cable with 2 connectors
Include
Optional: Cabinet, Desk, Small & Big Bookshelf, TV Shelf, Foldable Sofa Table, Convertible Sofa Bed. Always included: Electrical Cabinet
Power input
Maximum voltage : 110V AC (US standard)
Maximum current : 25A
Maximum power dissipation : 2750W
2. Autonomous WorkPod
Are you tired of working in a cramped, noisy, and uncomfortable space at home? Look no further than the Autonomous WorkPod! 
This unit is a sound-insulated, weather-proof, and humidity-resistant all-terrain external office that is perfect for your backyard space. It features floor-to-ceiling windows that provide plenty of natural light and give you the feeling of working in the great outdoors. 
The WorkPod is wired with universal outlets, so you can conveniently plug in all your work equipment with ease. There are also built-in furniture pieces in this ADU, such as a bookshelf and cabinet, making this external office a complete package.  
In terms of illumination, the Autonomous WorkPod offers warm lighting that creates a calm and cozy ambiance. You can also choose different modes to suit your activity, whether you're working, taking a break, or just chilling. 
The wooden frame of the product is made of plywood, honeycomb paper, and bitumen, which makes it durable and stable. On top of that, the vinyl sidings on the exterior are sleek and modern, while the wood grain finish gives it a unique and aesthetic touch. 
Dimension
8'6''W x  11'9''L x 11'H
Ceiling height
6'10'' to 9'4''
Window material
Wooden frame, 5/16" tempered glass
Door material
Anodized aluminum frame,  5/16" tempered glass
Material
Siding: bitumen, housewrap, vinyl silding
Roof: bitumen, housewrap, shingles roof
Floor: plywood
Balcony: composite wood
Include
Optional: SmartDesk Connect, ErgoChair Pro+, Dual Monitor Arm, Cable Tray, Steel Cabinet, Anti-Fatigue Mat. Always included: Electrical Cabinet & Bookshelf
Floorspace
98 square feet
Capacity
2.9 tons
3. Autonomous WorkPod Lite
Meet the Autonomous WorkPod Lite - the sleek and affordable solution for your space needs. This prefab ADU boasts a minimalistic design that can blend seamlessly with any home decor. It's an accessible and budget-friendly option for anyone wanting a private workspace without breaking the bank. 
With the WorkPod Lite, you can create a separate workspace without disrupting your home's aesthetic. Its design ensures that it can easily fit in your backyard or any outdoor space while providing a quiet and distraction-free environment. 
Not only is this workspace functional, but it also looks great with its matte black exterior and door lock for added security. With privacy at the forefront, you can finally concentrate on your tasks without interruptions. 
The steel framing with layers of plywood, bitumen, vinyl sidings, and honeycomb paper properly insulates and sound proofs the structure. All the building materials make this all-terrain pod both durable and sturdy. It also has a shock-absorbing and sturdy base to withstand any weather conditions.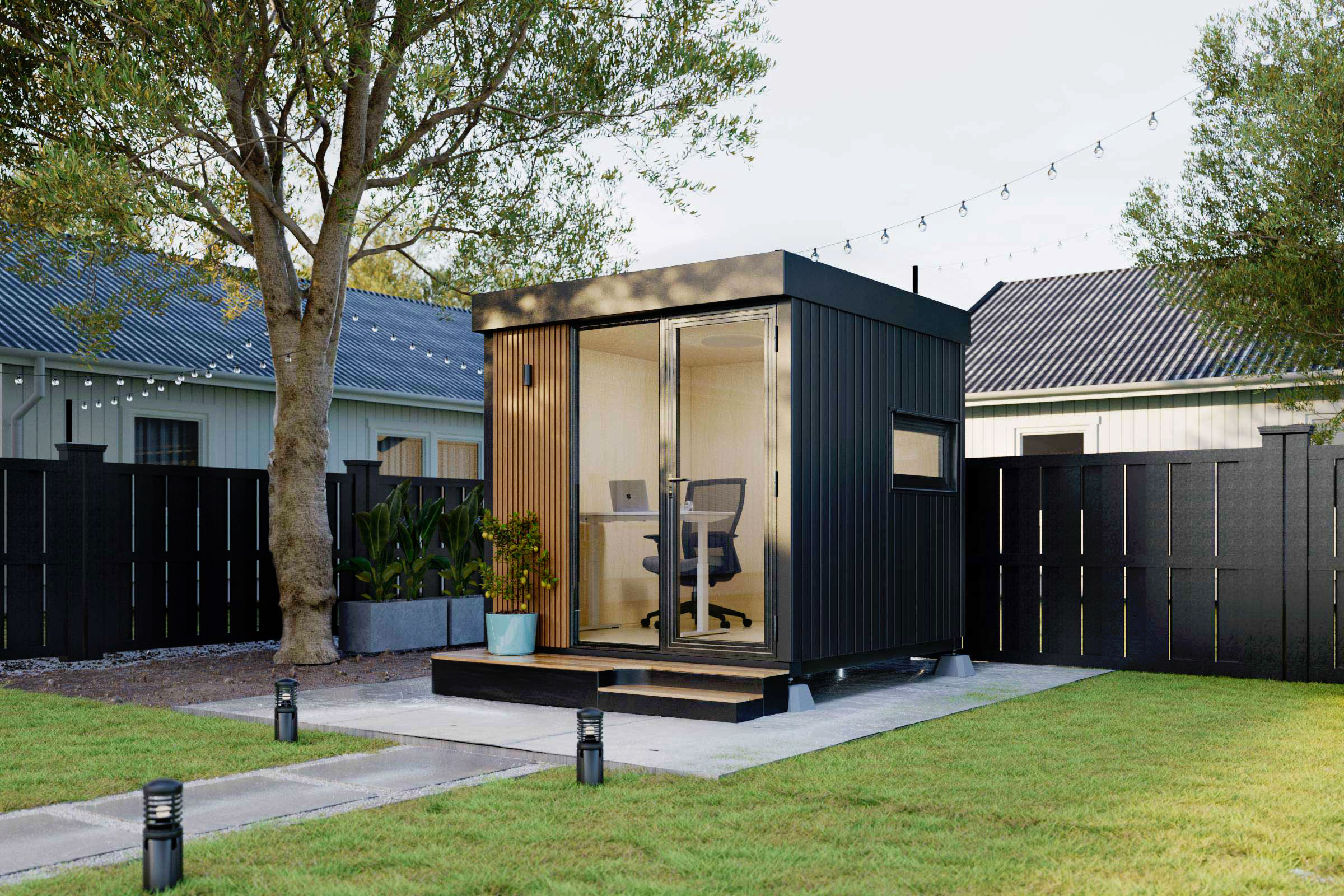 Dimension
8.7"W x 8.12"L x 9.3"H
Material
Window and door: powder-coated aluminum, 5/16-inch tempered glass
Siding: plywood 1/2-inch, steel frame, honeycomb paper, plywood 3/8-inch, bitume, housewrap, vinyl siding
Roof: metal roofing
Floor: plywood
Balcony and Pedestal: steel frame and wood plastic composite
Pedestal
24"W x 103"L x 9"H
Electrical devices
RCB, Wall outlet, Ceiling light switch, Ceiling light, Wall light, Ethernet wall port, 66ft power cable with 2 connectors
Weight capacity
2.3 tons (including Pod body)
Floorspace
80 square feet
Ceiling height
7.3-inch
Final Words
Adding a second story can be a fantastic way to modernize your single-level tiny home, create more space, and increase your home's resale value.  
However, building another floor can be a costly and time-consuming process. You need to follow many building codes and permits, too, making the extension project even more complicated.  
Fortunately, prefab ADUs may just be the affordable and ideal option you've been looking for! ADUs (Accessory Dwelling Units) are typically small, independent extensions that can be added to your property to provide a separate living area, workspace, or studio.  
Whether you need space for a guest house, WFH office, or just some extra living area, ADUs are the perfect solution for homeowners.
One of the best things about ADUs is that they are quick to build and can be customized to fit the needs of your family. 
They are weather-proof and cheap, making them an excellent option for homeowners who want to add space to their homes without breaking the bank. Plus, since most models are pre-built, you don't have to worry about any construction delays or expensive building permits. 
If you're looking to expand your home on a budget, prefab ADUs are the way to go. Don't let the idea of building a second story scare you away from upgrading your home. 
Instead, consider opting for budget-friendly prefabricated units. Why wait? Start improving your space and invest in a pre-built ADU today!
Video ads for product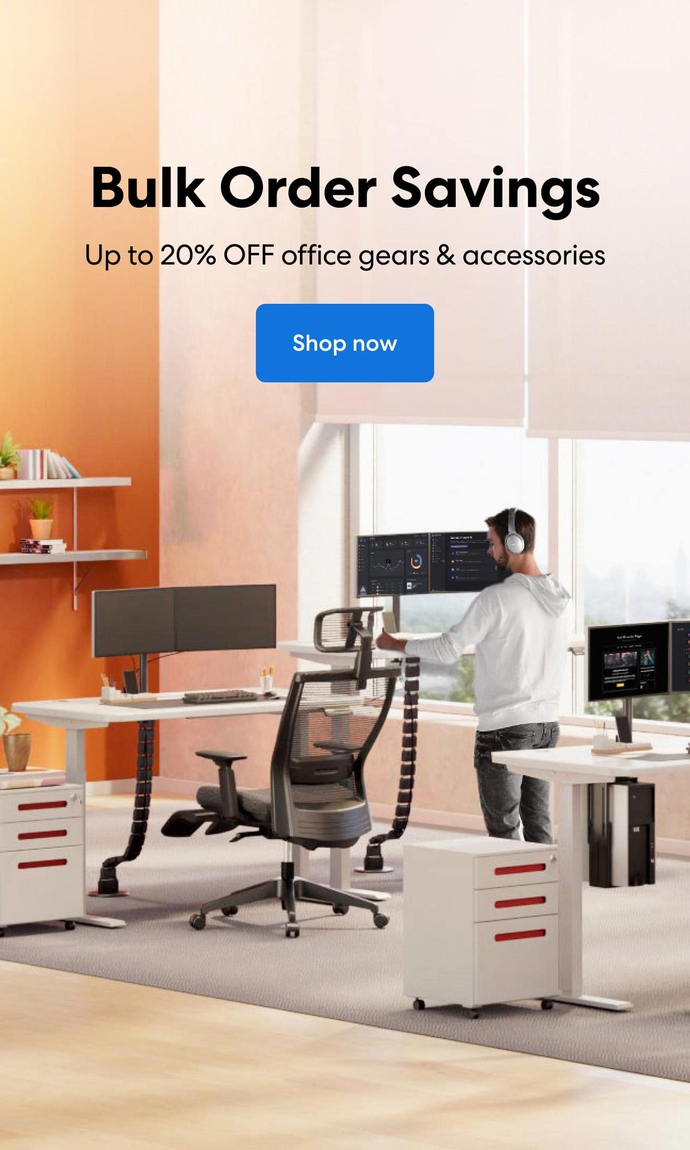 Subcribe newsletter and get $100 OFF.
Receive product updates, special offers, ergo tips, and inspiration form our team.