If you want to be at your best, you need a creative environment regardless of the type of job. Colors in the environment and an intangible sense of unique office décor with cohesiveness facilitate innovation, collaboration, and comfort among business owners, employees (both on-site and remote), and even clients visiting the land of business.
An environment in which creative activity occurs is defined as a physical, social, and cultural one. We highlighted some smart aesthetic cool office desk décor choices in the workplace below that help boost creativity and innovation. The ideas of unique desk décor aid better concentration that help you become more deeply absorbed in creative work.
Get Rid of Clutter
There will inevitably be a pile of files, papers, and boxes after a while. It will take you no time at all to keep your workspace looking clean and organized by setting aside 20 minutes each day to clear out office junk. Here are some more tips for decorating your office at work & organizing your workspace with unique desk accessories.
Space Personalization
Whether you are designing a whole office or just a desk, you should add a few personal touches with unique desk items. Bring in souvenirs, photographs, artwork, etc. Adding some home elements to your desk or office can be useful, even if it's best to keep work and personal lives separate.
Yes, inspirational quotes printed on paper can, at times, be embarrassing. But many people find your office interior design motivating. Go ahead with your decorations as long as they don't distract your colleagues and they make you feel good.
Easy Desk Customizations
Raising your monitor to eye level is probably the easiest customization you can make to your desk. Consider buying a second monitor if you own a laptop. In addition to looking badass, dual-screen workstations boost productivity and reduce neck strain.
Easy Chair Customizations
Think about replacing your hard plastic or wooden chair with an ergonomic seat if you use one. Despite their price tag, a comfortable chair is worth the investment. An example would be the Autonomous ErgoChair Pro, Knoll Generation Chair, the Herman Miller Sayl Chair, or the Herman Miller Aeron Chair.
There are so many options available these days for swagged-out chairs, couches, tables, etc. You will find furniture that speaks to your brand, whether it's animal print ottoman chairs or architectural chaise lounges. Autonomous, Wayfair, and Houzz are good places to find unique pieces online.
Search Your Local Art Communities for Extraordinary Pieces
If you'd like to support some local artists through your unique office decor, we suggest using it as an excuse. See if you can customize some pieces by checking out galleries in your area to find artists who create artwork that matches your office style. Tailored color schemes for offices for your company could also extend its reach to a whole new audience, depending on the line of work you are in.
Statement Floor Rugs
Rugs are one of the best ways to define various spaces without restricting movement. If your space is large and divided into several sections, use rugs to separate those areas. It is still possible to add rugs in a smaller office. Put one under furniture or outside your office door to act as a nice accent. A few can make a huge difference in your unique office decor.
Wall Art
You can enhance your workspace with hanging art if you're looking for great small office decor ideas. Whether you go bold or simple, you are sure to find works that brighten your day every time you walk by them.
It is possible to incorporate canvas prints with productive colors into your office's walls to express your business's vision and personality. Your photo or artwork will look more appealing if printed by an artist using modern technology. The prints produced embody your company's ideals and motives in a stunning and eye-catching way.
Try Table with Outstanding Accents
Abstract art can be overwhelming to some people, but if placed in the right location at the right angle, a funky accent table can make an amazing centerpiece for your office and frequently serve as a great conversation starter when you greet new clients.
Try a Wall with Accents
You can leave one wall light and neutral when you want to add some office desk colors to your space without overwhelming your senses. Throughout your space, choose a few vibrant colors for your unique office decor. Point team members towards healthy snacks with a bright orange backsplash.
If you work on team projects, incorporate warm colors like reds and yellows to stimulate productivity. It would help if you made your break room a relaxing environment by using cool colors (such as light blue and green).
Mirrored Reflections
Mirrors can completely transform your workspace. A well-placed mirror can make a room appear more elegant and spacious. Adding them to your modern white desk can give your workspace an air of professionalism and refinement, and they can also make any space appear larger, making it feel more open and inviting.
Adding Bookshelves
Keep up with the latest professional development and business books on a bookshelf in the community room or meeting space if your office likes to stay on top. Stack some books on a coffee table in a common office area that pertains to your company's purpose and encourage creative thinking if there is no space for this.
Stylish Trash Cans
Why not make your office trash cans look good? You need them around, so why not make them pleasing to look at? There are many choices for your office aesthetic, from stainless steel to a top-loading design.
Adding Fresh Flowers
Flowering is a happy thing to add to your office interior design ideas. You like how it looks, you like how it smells, and you like the way it makes you feel. Place vases around your home for a calming effect that everyone will enjoy. Add plants to your office for a fresh new look. You can naturally separate spaces with potted plants. Potted plants are also good for the air in your office.
Mix and Match Funky Furniture
Crazy-looking couches are hard to resist, are they not? Funky furniture in your office space ideas, such as blue lamps and patterned curtains, will transform your traditional workspace into a modern office that your friends will envy. The addition of "out there" furniture creates a more informal environment that promotes collaboration among your team. Let's consider this in your unique office decor plan.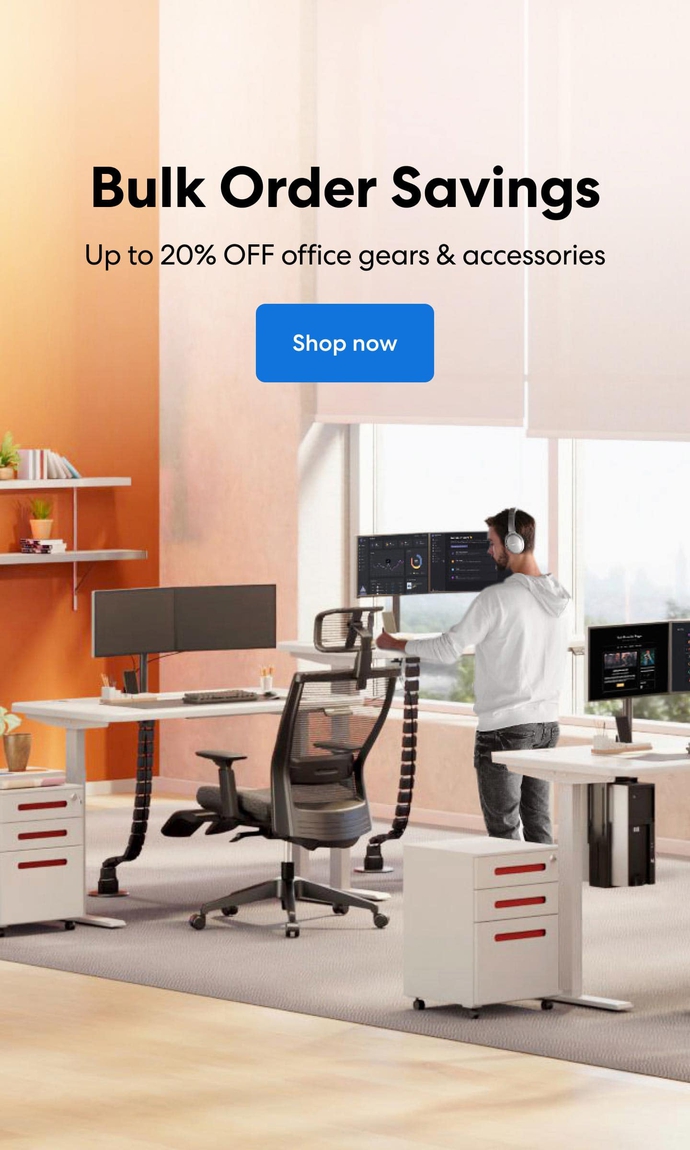 Subcribe newsletter and get $100 OFF.
Receive product updates, special offers, ergo tips, and inspiration form our team.