Smart Products
Autonomous ErgoChair Pro + Review: Fishbone Ergonomic Design

Autonomous
|
Nov 3, 2020
11,284 Views
Office chairs and desks have gone together for a very long time. Unfortunately, many people have had unbearably uncomfortable experiences with the chairs that they use in their workspaces. This Autonomous ErgoChair Plus review should help you to understand why such a chair design is one of the best options you could hope for. 
Why should you get an Ergonomic Chair?
One of the main problems here is that sitting for long periods is not a particularly healthy thing. You would have an adjustable standing desk in a perfect world, which allows you to alternate between seated and standing positions as necessary. Standing consistently has its disadvantages, which is another reason for the consistent switching. 
The human body is built for movement, as opposed to any sedentary positions. That's one reason why office workers notice that they start to develop various chronic pains after consistently sitting for long periods. It's not impossible to have a chair that is comfortable enough to promote a productive and pain-free experience as you work. 
However, achieving this feat means that the chair must support proper sitting posture, which allows your body to remain in a natural position. Once your seat can do this well, your chances of developing chronic pain and conditions from progressive damage are lessened.
Autonomous offers several ergonomic chair options, and they rank among the best such chairs you can get your hands on for back pain. The painful experiences you can have from a chair that doesn't support you well can vary, but it's no secret that low back pain is the most common. An ergonomic chair is a perfect solution to tailbone pain, and the ErgoChair Pro + (Kinn Chair) has all the tools to help you achieve continuous comfort.
Autonomous ErgoChair Pro + Review
Without any further ado, it's time to get into the various aspects of this Autonomous chair review. 
1. Specifications 
The first point of discussion in this ErgoChair Pro + review is the physical specifications you can expect to see.  
First, the overall dimensions are 28" L x 28" W x 40" – 44" H. You can further breakdown these dimensions into those of the seat and the back. The seat has dimensions of 19" L x 19" W, and it has a height of 17" – 21". The back dimensions are 20" W x 23" H - high back ergonomic chair that suits well for tall people.
The ErgoChair Pro + comes with a 25-degree tilt range and an armrest height of 7" – 11". There are five caster wheels present, and each of them has a diameter of 2.56".  
There is a Naked TPE version and a mesh version of the ErgoChair Pro +. The former uses 100% TPE upholstery combined with an ABS plastic frame, while the latter uses upholstery that fuses polyester with 100% TPE, combined with the same frame type.  
The color options are organized according to material types, and they are as follows:  
Note that the chair weighs 35.3 lbs., but it can support a workload of up to 350 lbs. The shipping dimensions are 28" L x 17" W x 31" H, and the shipping weight is 45 lbs. This accounts for the packaging and the fact that the chair is shipped in several pieces. Assembly is required, but it's nothing too challenging. 
Note that you get a five-year warranty, and if you want to try the ErgoChair Pro + before you buy it, Autonomous offers a 30-day trial period. 
2. ErgoChair Pro + Packaging 
The packaging is the next aspect of this ErgoChair Pro + review. As indicated before, the Autonomous ErgoChair Pro + is shipped in a disassembled manner. As is the case with most office chairs, it is shipped inside a large box. The box has Autonomous product labeling, including the brand name, alphanumeric identifier, model name, and color. It's a standard box that doesn't take anything away from the protection of the internal components.  
Every office chair part is carefully placed inside designated protective packaging to ensure that the shipping process doesn't cause any damage. Note, however, that the box's size and the type of components included making it possible for them to move around inside the package during transportation.  
Apart from the major components such as the caster wheels, the back, and the armrests, the package also includes the screws you need for assembly. There are also simple instructions to ensure that you don't have a hard time putting it together. 
The full list of pieces included looks like this:
The Back

The Seat

Caster Wheels

The Base

Hex Bolts

Screws

Hex Key

Gas Strut

Instructions  
When you take everything out of the box, you can already see that the design is a very straightforward one.  
3. Assemble the ErgoChair Pro + 
This Autonomous ErgoChair Pro + review wouldn't be complete without a discussion surrounding the ergonomic chair's assembly. One of the things that make many office chairs hard to assemble is the location of the controls when the chair is in its disassembled state. 
Components, such as levers, are used to adjust ergonomic chairs to make them more conducive to your needs. Getting these elements to work means that they must be attached properly to be adequately connected to their designated mechanisms. 
Achieving this connectivity can be an incredibly tough task, which tends to lengthen assembly time. That problem becomes 10 times worse if the DIY office chair scene is not your strong suit. 
Instead of going that route, Autonomous decided to make one simple design choice that results in a smoother and more straightforward experience. All the controls that you need are already attached to the chair.
You can start by aligning the base and back. The back is built to slide into the base, but you need to pay close attention, as there are a couple of holes that need to be properly aligned before it fits in the way it's meant to.  
As is the case with most modern office chair variations, the caster wheels are easily pressed into the base. Once you have put in the five wheels, set the base right side up, and place the gas strut into the empty slot.  
At this point, your chair should be in two major pieces. The first should contain the seat, back, and armrests, while the second includes the base, caster wheels, and gas strut. Take the first piece and place it atop the second, and that should be about it.  
If you have no one to help you, that shouldn't be a big deal. However, aligning the holes for the ErgoChair Pro + back and seat goes much more smoothly with two pairs of hands. 
The whole thing should take you no more than 25 minutes to get through. On average, most people get through the installation process in about 15 to 20. 
4. Adjustability and Features 
How much customization is present, and what kind of features do you get with this chair? These are the questions that this Autonomous ErgoChair Pro + review plans to answer next.
Spinal support designed
The first point to touch on is the excellent spinal support designed into the Autonomous ErgoChair Pro +. The idea is to allow you to achieve an optimal balance, as you work while sitting in your office chair. There is lumbar support present that has been modeled after magnetic fields. Therefore, you achieve a natural sitting posture that takes things one step further by activating your core. Not only are you getting to experience spinal safety and comfort, but you also consistently get support for your activity requirements and well-being. 
The frameless design is one of the best things about the item, and it may very well be the highlight of this ErgoChair Pro + review. Most conventional office chairs have a design that may or may not be compatible with each person that uses it. If it happens to be comfortable for you, then you've hit the jackpot. However, if it's on the uncomfortable side of the spectrum, there's not much you can do about it. 
This is where the ErgoChair Pro + stands out. The frameless composition means that it adjusts itself to the contours of your body. In other words, the ErgoChair Pro + morphs itself to support your unique anatomy comfortably. What is the result of this? Well, you get greater freedom of movement and a more expanded reach than you would with other alternatives.  
Spine support is very important, and that does not only include the lumbar region. The spine begins at the base of your skull, which means that any ergonomic chair that has any hope of being effective is one that needs to support your head and neck well. The TPE headrest offers a perfect balance of resistance and flexibility. While you can move around, it protects your neck and shoulders and actively corrects your sitting posture.
Comfortable spring seat
According to many ErgoChair Pro + reviews, the spring seat is yet another area that proves why the ErgoChair Pro + is one of the best to get your hands on. It has a level of comfort that you could only hope to understand by sitting on it. Not only is it stronger and 10 times as durable as normal mesh or foam seating, but it also manages to be lighter as well. There is a unique 62-spring array present that aims to and successfully delivers the best in seating experiences.
The adjustable armrests
Finally, there's the normal range of motion that you have likely come to expect from office chairs with typical adjusting mechanisms. The ErgoChair Pro + offers immense flexibility in this area too since it is designed with adjustable armrests. Additionally, you can fine-tune the chair's height and the position of the seat.
Sitting Depth & Width
Sitting in an ergonomic position requires some experimenting before you get it right. If your chair can't achieve the positions you need, it may not be the best alternative. That's why the ErgoChair Pro + is designed to offer adjustability in so many different areas, which means people with different needs can all immensely benefit from it.
Certified by BIFMA
Now is a good time for this ErgoChair Pro + review to mention that BIFMA has certified this design. If you are not familiar With the Business + Institutional Furniture Manufacturers Association, it's responsible for setting industry standards in areas, such as office equipment. The Autonomous ErgoChair Pro + met the requirements thanks to its durability and ability to maintain comfort and health. 
You should also note that the chair is eco-friendly, odor-resistant, and easy to clean.  
Pros & Cons of ErgoChair Pro + 
With all the information that this Autonomous chair review has provided on the ErgoChair Pro +, the only thing that's left is to cover the advantages and drawbacks to this well-designed piece of office furniture. How about starting on a more positive note? 
ErgoChair Pro +
The adaptable nature of the ErgoChair Pro + means that it is suitable for just about any office worker who may wish to upgrade to a chair with an ergonomic design.
The placement of controls on the seat before assembly and how the parts are designed makes putting the chair together a breeze for both beginners and experts.
While you get the freedom to move around and adjust the ErgoChair Pro +, its design also works to keep your body aligned healthily.
There are numerous color options available, which means that you can coordinate the aesthetic of your ErgoChair Pro + with the rest of your office furniture.
Though the assembly process is straightforward, one of the first steps can be slightly challenging if you don't have a second person to assist you.
Each component shipped has dedicated protective packaging, but shifting is entirely possible based on the box's size and the way it is packed.
Conclusion 
You've now come to the end of this Autonomous ErgoChair Pro + review. As you can see, it's a well-designed piece of office furniture that is dedicated to helping you to create a healthier and more comfortable workspace. 
It's hard to beat an office chair that adjusts to your body's contours to give you the most optimal experience possible. Additionally, it's packed with amazing features to ensure that you benefit from true ergonomic seating.  
It's not hard to see why the ErgoChair Pro + is one of Autonomous' best designs, and it can make your workday much less painful. If you're still on the fence, feel free to take advantage of the 30-day trial that Autonomous offers.
Video ads for product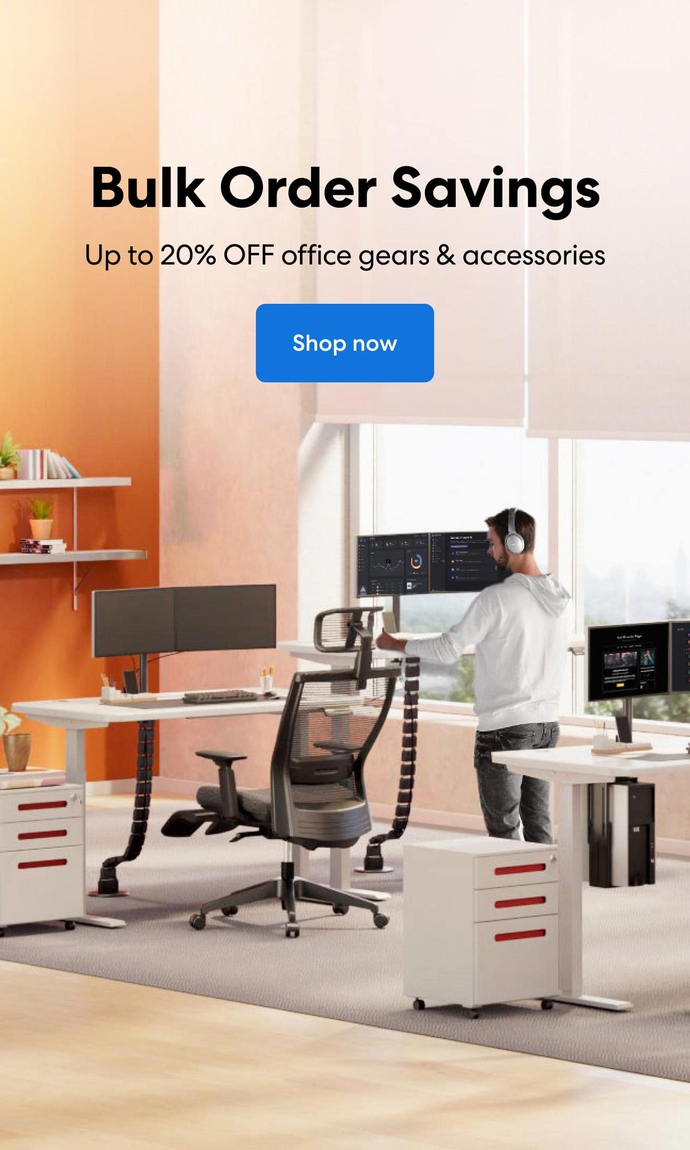 Subcribe newsletter and get $100 OFF.
Receive product updates, special offers, ergo tips, and inspiration form our team.