Work Wellness
Best 15 Best Foldable Treadmills for Running in Small Spaces

Autonomous
|
Jan 25, 2023
640 Views
Having a treadmill is an essential component of home gym equipment that everyone wants to have. However, storage space is an issue sometimes, which causes people to consider other alternatives, such as buying a foldable treadmill instead. 
These days, you can find a really good-quality portable treadmill that is easy to store while not compromising on any of the major requirements of any treadmill. 
This means if you take your time to choose the best foldable treadmill on the market you will not have to worry about weight capacity, speed, or any of those parameters. 
The only problem is that even though the folding treadmill only hit the market recently, its instant popularity means that there are already a lot of options to choose from and not all of them are good choices. 
If you are considering buying a portable treadmill, you have come to the right place. In this article, we will discuss all there is to know about the best foldable treadmill on the market, as well as the things you need to consider before making a purchase. 
The Benefits of a Folding Treadmill
Simply taking a walk is one of the best ways to stay healthy by being active. However, research has shown that the majority of people, especially sedentary workers, do not walk nearly as much as they are supposed to.
In some cases, this is due to various reasons, such as driving to work or living in areas that have poor weather conditions. This is where a treadmill comes into play because it allows you to clock many miles of exercise without ever leaving your home. 
If you do not have the space for a regular treadmill, consider a foldable treadmill, which comes with the following benefits: 
Easy to store even in tight spaces

Can be paired with a standing desk to allow you to walk and work at the same time

You can take it with you on vacation meaning you will not miss out on your daily exercise routine

The best foldable treadmill brands come with all the necessary functions found on ordinary treadmills

There are plenty of great folding treadmill options to choose from at Autonomous

Its small size makes it a lot more affordable than the large traditional treadmills found in gyms 
What To Look For in a Folding Treadmill
If you are to enjoy all the above-mentioned benefits of having a compact treadmill, you have to make sure you choose only the best foldable treadmill you can find. This is easier said than done considering how all these portable treadmill manufacturers claim to be the best in the industry. 
Autonomous has a range of great hideaway treadmill and curved treadmill options to choose from. When making your choice, consider the following factors:
Price Range
The biggest difference between the various fold-up treadmill options in the industry is the price. Your budget will probably play a big role in your final choice as well, so this is something you have to pay particular attention to. 
However, it is not always the case that the more expensive the portable treadmill is the better quality you will get. With a bit of research and patience, you can find a very good mini treadmill at an affordable price. 
Incline Settings
If you are in the mood for a rigorous walk, one way to ensure that you get what you want is to adjust the incline settings. Not all folding treadmills will have this option, and if they do they will have the same incline capabilities across the board. 
In most cases, if you do manage to find a foldable treadmill with incline capabilities, it is likely to cost a lot more than regular options. However, considering that increasing the incline by just 1% will help you burn 10% more calories, it is clear that incline settings are a worthy investment if you are required to pay a little extra for the compact treadmill.
Weight Capacity
Even regular treadmills have maximum weight capacities that they can handle but usually, this is much lower with folding treadmills. In most cases, you will find that a foldable treadmill can only carry at most between 200 Lbs. and 300 Lbs.
Size
The main reason for buying a foldable treadmill in the first place is that you have a space issue and would like to keep your equipment as small as possible. This means you have to take care to choose the right size treadmill out of all the available options.
Speed Settings
Just like incline settings, you have to take care to choose a portable treadmill that can reach the desired speeds needed for effective exercise. Many mini treadmills are great to look at because of the design elements but fall short when it comes to performance. 
The average portable treadmill speed of about 3 mph is just not good enough if you expect to do any actual exercise. Ideally, you should be targeting speeds of about 7.5 mph, similar to what you would get from a good quality WalkingPad treadmill. 
List 15 Best Foldable Treadmills
To make it easier for you to choose the best foldable treadmill suitable for your budget and needs, Autonomous has a list of great options to consider, such as: 
1. WalkingPad Foldable Walking Treadmill C2
Although it only reaches maximum speeds of up to 3.7 mph, this walkable treadmill is a must-have for anyone who wants portability and good quality in equal measure. 
It has a remote control for easy adjusting of the controls. When you are done using it, simply fold it up and store it in a quiet corner thanks to its patented folding technology. You also get to enjoy extra features, such as the foot-sensing speed adjustment. 
Dimensions
Unfolded: 56.9'' L x 20.4'' W x 4.9'' H
Folded: 32.5'' L x 20.4'' W x 5.4'' H
Item weight
48.5 lbs
Color
White / Black
Materials
Panel: ABS plastics
Power
1 HP
Speed range
0.3 - 3.7mph
Weight capacity
220 lbs
Warranty
1 year
2. WalkingPad Foldable Walking Treadmill A1 Pro
When completely folded, the WalkingPad A1 Pro foldable walking treadmill measures only 698 square inches, which is one of the smallest measurements you will find in a treadmill of this quality. 
It comes with great features as well, such as the WalkingPad KS fit app, a four-layer structure, and a maximum weight capacity of 230 Lbs. Get it now from Autonomous and you will receive a one-year warranty as well as the option for free returns within 30 days. 
Dimensions
Unfolded: 56.4" L x 21.5" W x 5" H
Folded: 32.5" L x 21.5" W x 5" H
Walking area: 47" L x 16.5" W
Item weight
62 lbs
Color
Quiet Black
Materials
Running board: HDF
Shell cover: IML injection
Layer: EVA cushion
Power
1.25 HP
Speed Range
0.3 - 3.7mph
Weight capacity
230 lbs
App
WalkingPad KS fit app
Available for both IOS & Android
Warranty
1 year
3. Lifespan Fitness TR1200-Glowup Under-desk Treadmill Base (Omni Hub)
Thanks to the six integrated impact-absorbing shocks that come with the LifeSpan under-desk treadmill, this is one of the quietest treadmills you will get on this list. This means it will be a perfect choice for those who want to do a little bit of exercise at the office without disturbing their colleagues. It has a maximum weight capacity of 350 Lbs. and comes fully assembled so all you have to do is plug it in and start using it.  
Dimensions
Belt size: 20"W x 50"L
Treadmill: 63"L x 28.5"W x 7.25"H
Omni sonsole display: 8.1"L x 5.7"W x 3.2"H
Item weight
114 lbs
Color
Black
Power
115V NEMA 5-15 Non GFI Circuit
Speed Range
0.4 - 4.0 MPH
Weight capacity
350 lbs
Warranty
Frame: 10 years
Parts: 2 years
Labor: 1 year
4. InMovement UnSit Under Desk Treadmill: Under Desk Treadmill
Some treadmills, like the InMovement UnSit under-desk treadmill, are simply designed to work perfectly with a standing desk. This means you get to do your work and clock in a few extra miles of exercise at the same time. The motor is very quiet so as not to disturb your work or that of your office mates. 
Dimensions
Overall: 56"L x 39"W
Walk surface: 30"W x 40"L
Item weight
162 lbs
Power
120VAC - 60Hz - 6amp - 600 watt
Speed range
0.3 - 2.0 mph
Weight capacity
400 lbs
App
Unsit App
Warranty
Labor: 1 year
Parts: 3 years
Frame: Lifetime
5. Lifespan Fitness TR1200-Omni Electric Height Adjust Treadmill Desk
If you are not going to be the only one using your treadmill, having an electric height adjustment function might come in very handy. If this sounds like something you would like, get your hands on the Lifespan Fitness TR1200-Omni Treadmill from Autonomous. It comes with a great one-year warrant which you are unlikely to ever need because of the robust material. 
Dimensions
Treadmill: 68.5"L x 28.5"W x 4.6"H
Desk: 38" - 48"L x 29"W x 40" - 53"H
Walking surface: 20"W x 50"L
Item weight
Desk: 86 lbs
Treadmill: 114 lbs
Console: 1.87 lbs
Colors
White, Silver, Charcoal
Speed range
0.4 - 4.0 mph
Weight capacity
350 lbs
Power
115V NEMA 5-15 Non GFI Circuit
Warranty
Frame: 10 years
Parts: 2 years
Labor: 1 year
6. Treadly 2
Imagine a portable treadmill that is thin enough to be stored right underneath your couch while at the same time having all the great functions that you need for an effective workout. That's exactly what you get with the sleek and immaculately designed Treadly 2. 
7. NordicTrack EXP 7i
Who said you cannot run on a foldable treadmill? The robust NordicTrack is capable of reaching impressive speeds of up to 12 mph. It is a very durable treadmill that can withstand a maximum weight of 300 Lbs. meaning you are free to run as hard as you can without fear of damaging it. 
8. Xterra Fitness TRX3500 Folding Treadmill
Most treadmills that are capable of reaching speeds of 12 mph are very expensive. However, that is not the case with the budget-friendly Xterra Fitness TRX3500 Folding treadmill that uses a 3hp motor to reach great running speeds. 
9. Horizon T101 Treadmill
If this is your first time using a treadmill, you might want to take a few baby steps before going for the more complex exercises. The Horizon T101 treadmill is an awesome choice for beginners thanks to its easy-to-use interface and controls.
10. Sunny Health & Fitness SF-T7718 Pro Treadmill
When space is a big issue you will need a folding treadmill that will fold as flat as possible, which is exactly what you get from the Sunny Health and fitness SF-T7718 Pro Treadmill. Even though it looks very big when in use, you will be shocked at how well it folds and makes storage very easy.
11. Costway Ultra-thin Folding Treadmill
Size is not the only important thing when it comes to a portable treadmill. You also have to consider the weight if you plan on moving it around quite often. The Costway Ultra-thin folding treadmill weighs an unbelievable 60 Lbs. making it very easy to carry around. The only downside of this otherwise great folding treadmill is that the maximum speed is just 5 mph, making it unsuitable for serious running. 
12. Horizon 7.0AT Studio Series Treadmill
How does running at 12 mph at a 15% grade sound? If you think you can manage that kind of vigorous training you should try the Horizon 7.0AT Studio Series treadmill. This machine was designed for maximum performance when you need it most and it shows in the effortless way you can crank up the speed any time you wish. 
13. GoPlus 2-In-1 Folding Treadmill
This is one of the smallest foldable treadmills you will ever get and it fits neatly under the desk to allow you to work and exercise at the same time. It has a special function that allows you to switch between kph and mph, which is not something you will find in most treadmills. It weighs just 70 pounds for easy carrying and runs on a very quiet 2.25 hp motor. 
14. WalkingPad R2 Walk&Run 2in1 Foldable Treadmill
With a great space-saving design and an anti-slip belt suitable for running exercises, the WalkingPad R2 is a must-have accessory for anyone serious about exercising indoors as much as they can. When it comes to storage, all you have to do is activate the folding feature and the treadmill will completely fold in only three seconds. 
15. NordicTrack T 6.5 S Treadmill
In yet another example of how you do not have to spend a lot of money just to have a good quality foldable treadmill, the NordicTrack T 6.5 S treadmill will tick all the right boxes on the essential features of a portable treadmill. Perhaps, its most important feature is that it is very affordable, while also giving those who buy it a 30-day iFit membership. It also has an awesome LCD design which is easy to read and use. 
Final Word
Not having enough space in your apartment or office is no longer an excuse for not exercising. With so many foldable treadmill options available at different prices, you should go out and get one for yourself. 
Not all portable treadmills can deliver what they promise though, so you need to be extra careful when making your choice. One of the safest places to find a good foldable treadmill at a fair price is Autonomous. Visit the website right now and see what is on offer.
Video ads for product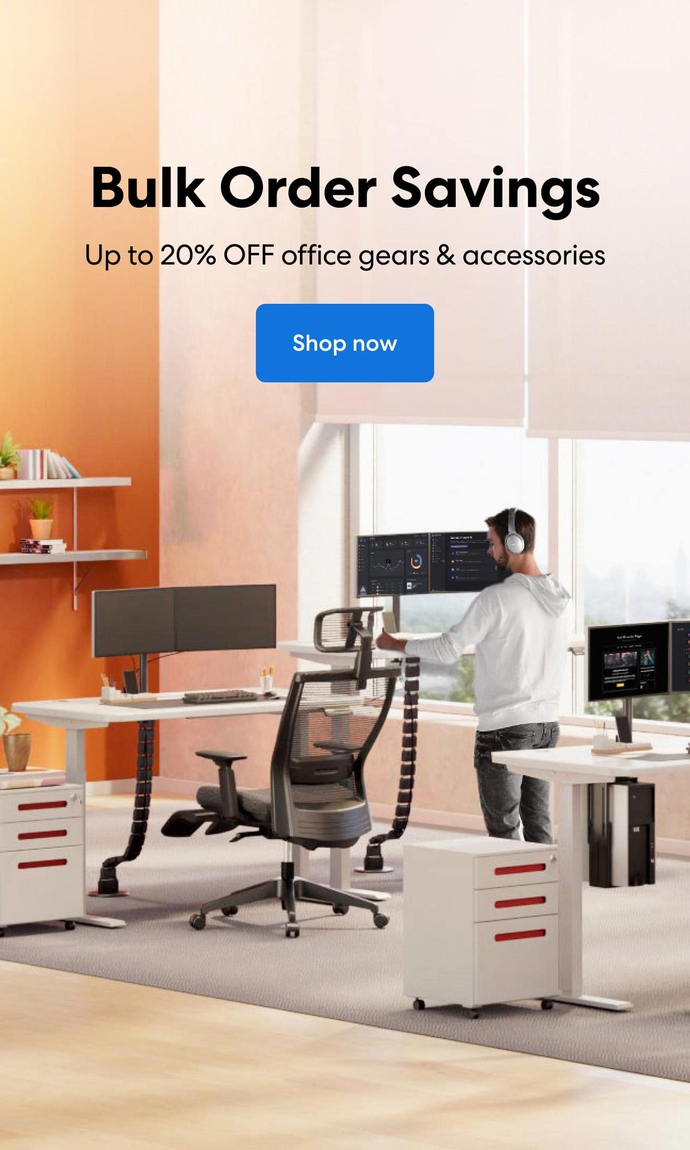 Subcribe newsletter and get $100 OFF.
Receive product updates, special offers, ergo tips, and inspiration form our team.