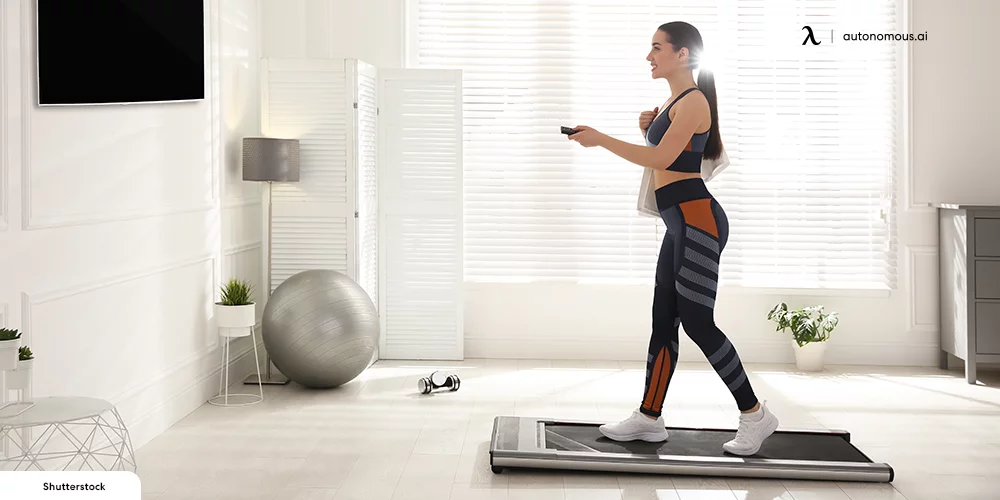 Smart Products
Top 20 Smallest Portable Treadmills for Home Workout

Autonomous
|
Feb 22, 2023
8,106 Views
We all have thought of hitting the gym and working out someplace. Going to the gym 5 days a week is daunting for most of us. The same was the case with us. Getting up in the mornings and going to the gym is not a piece of cake.
According to a solid study by Garage Gym Reviews, over 61% of people in the USA have designated a spot in their homes for working out. A treadmill is an all-rounder gym equipment that helps with your body's overall fitness.
Treadmills have been known as healthy workout equipment for as long as one can remember. They can be considered pioneers of workouts for gyms and even homes. With a treadmill, you can easily add some movement and activity to your daily life and easily exercise those leg muscles and the entire body.  Therefore, we have listed the top smallest portable treadmills for home workouts. Let's check them out!
Benefits of a Mini Treadmill for Home
A treadmill is highly useful for office workers because, after a long day of sitting, they can finally get some movement in their legs and build muscle strength. It also prevents injuries and long-term pain in the lower back. With many benefits of the treadmill for health and fitness and their ease of use, it is recommended to have a mini treadmill at home.
The best portable treadmill for home doesn't occupy much space and is sufficient to give you a healthy workout routine. With a small treadmill for walking, you can work it out anywhere and fold it away once done. 
You can store them in less space and move them after workouts because they are smaller. A tiny treadmill can also be folded. Because they are less expensive than their larger counterparts, they are an excellent way to save money.
Best Portable Mini Treadmill for Every Home & Apartment
1. WakingPad Double-Fold Walk-Run Treadmill X21
WalkingPad X21 is a double-folding walking treadmill with the smartest folding technology. You don't have to worry about the treadmill occupying a large space in your home because the compact design is smart enough to hide away once you are done with it. It has a quick one-touch operation, so the machine is easiest to get a hold of. The treadmill works with a digital smart mobile phone application and has a separate space for your cell phone.
The Frame
Superior looks - Exceptional intellect - Integrated luxury. WalkingPad X21's all-aluminum alloy frame and black coated body are beautiful in appearance and sturdy in performance. The long wearing stability and durability of the X21 is enhanced by the perfect balance of design aesthetic and power. The luxe black powder coated finish enhances the beauty and durability of the alloy frame. And with a sleek operation panel integrated directly into the armrest, operating the treadmill while you're on the move is super easy.
The Motor
The efficient brushless motor of the X21 maintains a constant power output and generates just 75dB of noise at maximum speed under no-load conditions. The motor allows you to walk and run at speeds ranging from 1 - 7.45 MPH without disturbing your neighbors. Whether it's in the living room, basement, garage, or bedroom, you can walk and run at home while the rest of the family sleeps peacefully in the next room.
2. Walkingpad Foldable Walk-Run Treadmill R1 Pro
One of the best walking treadmills for home, the WalkingPad R1 works anywhere in your home. It has a flat surface that can also be set at an easy incline. The treadmill has a 180 degrees design and a 4-layered walking belt to minimize friction and increase the efficiency of your workout. The smart app connection lets you keep track of your workout routine and enjoy a hassle-free follow-up.
The Frame
The R1 frame is constructed entirely from a single piece of aluminum alloy that is light yet mighty robust. With a 440mm wide running platform, the R1 has an impressive load bearing capacity of 242lbs. The unique 180-degree folding design of the R1 Pro reduces the amount of space required and allows the treadmill to be stored in an upright position. With its retractable handrail, the R1 Pro is a popular transitional choice for the WFH or professional office space. In its conventional form where the handrail is extended, it's a treadmill. When the handrails are folded down, the R1 Pro becomes an under desk walking treadmill so you can walk while you work from your desk. The WalkingPad R1 Pro is a popular office-use treadmill, helping break the sedentary nature of daily desk work.
The most impressive feature of the R1 Pro is the innovative technology integrated into its frame. A digital LED monitor display with multi-light adaptation for improved eyesight is set into the base of the treadmill. Simply glance down in front of your stride to check the live progress of your workout. The R1 Pro also offers 3 dynamic speed control options. Smart foot-sensors allow you to control the speed of your treadmill with your feet! Simply pick up the pace or slow down your stride and let R1 Pro do the rest. You can also control the R1 Pro via smartphone connectivity or with the included handheld remote. Choose whichever feels most comfortable and natural.
The Motor
The R1 Pro is equipped with a new 125 HP brushless motor that lets you enjoy exercise in peace. Producing less noise and with a higher load bearing capacity, the R1 Pro has shown steady and reliable performance power after extensive testing and long term use.
3. LifeSpan Fitness TR1200-GlowUp Under-desk Treadmill Base (Omni Hub)
The LifeSpan Fitness TR1200-GlowUp Under-desk Treadmill Base (Omni Hub) brought joy to our customers' household with its amazing modern design.  This treadmill base is designed to be used while you work, so you can exercise and stay active throughout the day without interrupting your work routine. It has a compact design that fits easily under most desks and allows you to walk or jog at a speed of up to 4 mph. It also has a solid steel frame with built-in electric dual motors that offers great performance. It works great when paired with a standing table.
The "Omni Hub" feature allows you to connect the treadmill base to your smartphone via Bluetooth and track your progress using the LifeSpan app. You can also connect it to other fitness tracking devices such as Fitbit or Apple Health. The app lets you set goals, track your steps and distance, and view your progress over time.
The treadmill base has a sleek and sturdy design with a weight capacity of up to 350 pounds. It also has a built-in safety feature that automatically stops the machine if you step off the belt. Additionally, it comes with a console that displays your workout data, including time, distance, and calories burned.
4. Walkingpad Foldable Walk-Run Treadmill R2
One of the best foldable mini treadmills, the WalkingPad R2 for an indoor walking workout, this treadmill from the R series comes as compact as possible. You can use the smart app connection and a 4 layered treadmill belt. The foot sensing speed control and the 1-year warranty on this product make it a reliable purchase. The treadmill folds to 180 degrees and converts into a sleek, stylish walking pad when done.
The Frame
For those who need a smaller treadmill for use at home or at the office, the R2 is engineered with improved folding technology to maximize your space. The WalkingPad R2's innovative hinge design enables it to be folded in under three seconds. And with a floor area of just 0.11 sq.m. (compared to the 0.2 sq.m. footprint of the R1 Pro) can be stored vertically in any hidden nook to conveniently save on space. Like the R1 Pro, this 2-in-1 foldable treadmill can be used as a standalone device with its height adjustable handrail, or as an under desk walking treadmill so you can walk as your work.  
Minimal design, exceptional performance. The R2's aluminum alloy frame with brushed metallic finish is robust, comfortable, and safe. With a generous 610 mm wide belt set at a safe 70 mm above ground, and with added grip on both side footplates, you can enjoy a more comfortable walk/run experience. 
The Motor
The brushless motor features higher horsepower and lower noise output. With no-load and set at its full-speed of 7.45 MPH, the WalkingPad R2 produces only 65dB of sound. You don't need to worry about any more complaints exercising late at night.
5. LifeSpan Fitness TR1200-Power Electric Height Adjust Treadmill Desk
This standup desk treadmill works great for workout as it is portable and easy to store. the LifeSpan Fitness TR1200-Power Electric Height Adjust Treadmill Desk is a great option for anyone looking to stay active while working. It provides a convenient and efficient way to incorporate physical activity into your daily routine, helping you to improve your overall health and well-being. The portable treadmill under the desk  can bear a weight of 350 pounds maximum and runs at a pace of 4 mph.
One of the key features of this product is its electric height adjustment, which allows users to easily adjust the height of the desk to their desired level with the touch of a button. 
The desk is spacious enough to accommodate a computer, paperwork, and other office essentials. It also has a console that displays your workout data, including time, distance, and calories burned.
The treadmill itself is equipped with LifeSpan's Intelli-Step technology, which automatically counts your steps and measures your progress. It also has six compression shocks to absorb impact and reduce stress on your joints.
6. Walkingpad Foldable Walking Treadmill A1 PRO
For those not content with the idea of a basic treadmill, this WalkingPad A1 PRO foldable walking treadmill is the newest solution in the town. One of the most compact mini-walk treadmills, it can fit in any corner and be used on any surface. It is a flat mat-type surface with no top accessory or extra parts.
Pair it with the KS fitness app and fold it into the compact dimension of 690 square inches. The patented foot technology and the smart connection are all there to make your workout hassle-free and ergonomic.
The Frame
No more excuses about not having enough space to get up and get active at home or at the office. Taking up little storage space (less than 0.5 sq.m.) and only 4.7 inches thick (both folded and unfolded), the WalkingPad A1 Pro can easily be hidden away and is the best folding treadmill option for tighter spaces. This under desk treadmill can be easily set up in the office and folded and stored away under desks, sofas, and beds. Say goodbye to a sedentary lifestyle and get your blood flow pumping by walking while you work or while doing other everyday activities like watching television. It just got way easier to hit your daily step count!
Like some of the previous models mentioned above, your walking speed can be automatically controlled via intelligent algorithms programmed right into the mechanics of the device. Bring your steps to the front third of the belt and the A1 Pro will automatically accelerate - Keep your stride within the middle third of the belt to maintain your current speed - And tread back to the rear third of the belt to slow down the pace or if you want to stop your activity. Of course, if you prefer, you can switch off this control mode and choose to operate the speed of your treadmill manually via the included remote - Start, Stop, Accelerate, Decelerate.
The Motor
WalkingPad A1 Pro's brushless motor generates walking speeds of 0.5 - 3.72 MPH. And with super quiet performance thanks to integrated de-noising technology, you can operate the walking treadmill quietly without disturbing others nearby.
7. LifeSpan Fitness TR1200-Classic Manual Height Adjust Treadmill Desk
The LifeSpan Fitness TR1200-Classic Manual Height Adjust Treadmill Desk is another option offered by LifeSpan Fitness that combines a treadmill with a desk. This product is designed to promote a healthy lifestyle by allowing users to walk or jog while they work. This treadmill allows us to easily do desk exercises while working on our laptops or watching a movie. It has a sturdy steel frame and a strong motor for efficient running.
Unlike the TR1200-Power model, the height adjustment on this model is done manually by releasing the locking pins and adjusting the height of the desk to your desired level. The treadmill has a speed range of 0.4 to 4 mph and is equipped with six compression shocks to absorb impact and reduce stress on your joints.
The desk is spacious enough to accommodate a computer, paperwork, and other office essentials. It also has a console that displays your workout data, including time, distance, and calories burned.
8. Walkingpad Foldable Walking Treadmill C2
Are you looking for a mini treadmill for an apartment? Look no further because this is undoubtedly the smartest on our list. The walking pad C2 is as easy and versatile as it could get. It is priced a bit higher but offers you a chance to get a big discount through the Autonomous employee purchase program.
This small treadmill for walking has a 4-layered, secure and strong structure and works with a smart connection. It is patented with foldable technology and has a foot sensing speed control to make up for any missing steps or difficulty in maintaining the pace.
The Frame
The body of the WalkingPad C2 is crafted from ABS plastic and available in an array of fun colors. Whether you prefer to keep things sleek in black and white, or love to inject bold hues like apple red, navy blue and bright summery yellow into the home or office, select a WalkingPad C2 to complement and uplift your living and work space.
Engineered for lighter activity, the WalkingPad C2 is the best treadmill for home use. With its 180-degree folding frame, you can fold up the compact treadmill and store it under your sofa or bed. No matter where you live or how tight your living space may be, you'll be able to find a home for the C2. An LED control panel display is also set into the head of the treadmill. Just look down to the head of the walking pad in front of your stride to check the live progress of your workout.
The Motor
With its noise canceling brushless motor, the C2 produces just 65 decibels when in operation. This walking pad will not disturb your neighbors, even late at night. Producing speeds of 0.5 - 3.72 MPH, accelerate and slow down using 1 of 4 control methods: Smart foot-sensing control, Mobile app control, Handheld remote, or manually on the LED control display.
9. Famistar Folding Treadmill
It is a little higher in price but ideal for those who need the traditional look and functionality of treadmills in their homes. It includes wheels under the base, so if you are in the mood for an outdoor workout, just walk away with the treadmill. The smallest portable treadmill folds up for easy storage, and a notable feature of this treadmill is its extra quiet motor mechanism.
The Frame
The easy fold-up soft drop system is great for home use. When you're ready to get active, one simple kick of the rod will automatically lower the running deck at a slow and safe speed. For superior comfort, the treadmill comes equipped with a 4-zone anti-shock spring system to decrease shock and shake on your knees and stride. Like regular gym treadmills, you can also adjust incline, speed, and monitor your heart rate via the handlebars on either side.
The Motor
An impressively strong 3.25 HP motor can support up to 300lbs and performs smoothly up to speeds of 9 MPH. The motor also drives 15 levels of automatic incline. A powerful machine, this treadmill is a great option to support families with multiple users.
10. Horizon Folding Treadmill
Measuring 70 by 34 by 55 inches, this one is an ideal pick for the best portable treadmill. It has a foldable frame, a built-in device holder, and Bluetooth connectivity so you can listen to music while exercising. It also has incline levels ranging from 0 to 10 degrees, speeds up to 10 miles per hour, and a range of preprogrammed programmes, making it simple to vary your workout regimen.
The Frame
More than just a treadmill, the Horizon Folding Treadmill is a complete workout and entertainment station. Integrated bluetooth speakers with stereo sound and a dedicated smartphone/tablet holder set at an ergonomic height for optimal viewing lets you work out to your favorite online fitness classes, your favorite music streams, and your favorite shows. Whether you like to sweat to music, movies, or on-demand classes, add your own personal twist to take your workout further than ever. The frame also provides a rapid-charge USB port to keep your device fully powered during long workouts.
During your workout, you can quickly shift speed and incline with one-touch keys or via the EasyDial controls. Designed for use together with fitness classes and interval workouts, Horizon's exclusive EasyDial controls simplify speed and incline changes. On the right, roll the dial forward to increase speed and roll it back to decrease speed. On the left, roll it forward to go up the hill and roll it back to come back down.
The Motor
The ultra-quiet motor is a Johnson Drive System that helps you stay in perfect rhythm with a durable and responsive drive motor that recalibrates with every footfall for no lags or surges. The Johnson Drive System also runs at lower RPMs, which keeps the motor cooler for long lasting performance.
11. Nordictrack Treadmill
The NordicTrack is one of the most economical portable treadmills with incline on our list of the best compact treadmills. It's a small device with advanced technology. The simplified dimensions make it easier to put it into a tiny apartment or house. A 10" smart HD touchscreen is also included. The touchscreen is snappy, allowing users to manage various treadmill features directly from the display. The touchscreen allows you to change the belt speed, slope, fan speed, and volume.
The Frame
The only treadmill frame on this list with a built-in touchscreen display and speakers. For a more dynamic and rounded workout routine, you can rotate the 10 inch Tilt & Pivot Smart HD Touchscreen for when you want to step off the treadmill and take a HIIT or yoga class.
The biggest drawcard of the treadmill is that it is truly designed for that true outdoor or gym experience, without having to leave the home. Follow one of the on-demand iFIT studio sessions from your touchscreen and the treadmill's Autoadjust Technology will adjust your speed & incline automatically throughout your trainer-led workouts. No more guesswork or fussy controls. Just get on and go.
The Motor
The treadmill's 3.0 CHP motor with 1.9" precision machined and balanced non-flex rollers has an impressive user capacity of 300 lbs. The motor drives speeds of 0 - 12 MPH as well as 12% incline to -3% decline.
12. Goplus 2 in 1 Folding Treadmill
Users can take a stroll atop five layers of knee-protective padding, which has a collapsible handlebar for further support. An LED display keeps track of speed, distance, and time and connects to your phone to play music. The best part is that this treadmill only takes a few minutes to put together.
The Frame
The adjustable handlebar with integrated touchscreen controls displays live feedback on your distance, speed, time, pulse, and calories burned. Categorized as a 2-in-1, the Goplus treadmill doubles as a traditional treadmill and also an under desk walking pad. Simply remove the handrails and fold the handlebar down when it's time to work and walk. This foldable function of course allows for easy storage underneath your bed or sofa. 
To keep you energized throughout your workouts, you can also connect your smartphone and enjoy perfect sound through the treadmill's built-in bluetooth speakers. The body of the Goplus treadmill is crafted out of Steel, ABS, PVC, and MDF.
The Motor
The Goplus Treadmill's 4.75 HP motor has a user capacity of 265 lbs, powering walking speeds of 0.6 - 10.5 MPH and running speeds up to 10.5 MPH.
13. ProGear 190 Manual Treadmill with 2 Level Incline and Twin Flywheels
This mini walk treadmill from Progear is small and light, and it doesn't need to be plugged in, so you can put it right in front of the TV and follow any workout routine you please. It is also one of the cheapest compact treadmills you will find in the market with all the basic features, although you won't get smart features like connectivity and app control with this one.
The Frame
Crafted from iron and steel, with a powder coated finish and wide side rails for safety. The ProGear Manual Treadmill has a user capacity of up to 230 lbs. The frame provides 2 manual incline adjustments of 6 degrees and 10 degrees, with longer handles and foam grips for added security against falls and loss of balance. The manual treadmill also features a battery operated LCD display to track elapsed time, distance walked, calories burned, and speed.
The ProGear Manual Treadmill folds up for easy storage and transportation. When folded, the treadmill's dimensions are 21" L x 23" W x 51" H with transportation wheels that allow the treadmill to be moved easily from room to room.
The Motor
This manual treadmill is the only option on this list that does not feature a motor. It uses no electrical power and is virtually maintenance free.
14. Costway HP 3-in-1 Small Treadmill for Walking
We can easily work on the DIY treadmill desk and work out because of the accommodating design. It is the best treadmill under a budget that best meets our needs.
15. Lifespan TR5000-Omni Smallest Portable Treadmill
Since we have a small space in our garage, the Lifespan TR5000 is great as a standing desk treadmill. It can go at a good speed but also is a bit noisy at full speed.
16. Horizon Fitness T101 Portable Treadmill
Walking on a treadmill benefits our health greatly, especially after getting the Horizon Fitness T101. This smart treadmill has Bluetooth connectivity and a speed of up to 10 miles per hour.
17. Sunny SF-T4400 Portable Treadmill with Incline
If we had to choose between manual treadmill vs. electric, we would definitely choose the Sunny SF-T4400. It is a budget-friendly option and works great for us with its pulse sensors and multiple modes.
18. NordicTrack EXP 7i - Best Portable Treadmill
If you ask us how to lose weight walking on a treadmill, we will definitely include the NordicTrack EXP 7i. It has a powerful electric motor and integration with an online app which helps me with our workout plans.
19. MaxKare Folding Smallest Portable Treadmill
The MaxKare was the best desk exercise equipment for our workout needs. It has handrail controls and an LCD which helps us track our progress and maintain an effective working out routine.
20. Goplus 2-in-1 Folding Smallest Portable Treadmill
Lastly, we have the Goplus 2-in-1 on the list, which comes with various workout modes. The treadmill has a powerful horsepower motor and is built on an easy foldable design.
Tips for Choosing the Best Mini Treadmill for Your Home
When choosing the best mini treadmill for your home, there are several factors to consider. Here are some key points to help you make an informed decision:
Size and Space
Measure the available space in your home where you plan to place the mini treadmill. Ensure that the dimensions of the treadmill will fit comfortably within that space.
Weight and Portability
Mini treadmills are designed to be lightweight and portable, making them easy to move and store. Consider the weight of the treadmill if you anticipate needing to move it frequently.
Weight Capacity
Check the maximum weight capacity of the mini treadmill. Make sure it can accommodate your body weight, plus a safety margin for added durability and stability.
Motor Power
Although mini treadmills have smaller motors compared to regular treadmills, consider the power of the motor. Look for a model with sufficient motor power to support your workout intensity and desired speed.
Speed and Incline Options
Determine your workout preferences and goals. Some mini treadmills offer various speed and incline options, allowing you to adjust the intensity and challenge of your workouts.
Noise Level
Consider the noise level produced by the mini treadmill. If you live in an apartment or have noise-sensitive neighbors, choose a treadmill that operates quietly.
Display and Features
Evaluate the console and display features. Look for an easy-to-read console that provides relevant information such as speed, time, distance, and calories burned. Additional features like pre-programmed workouts, heart rate monitors, and Bluetooth connectivity may be desirable as well.
Safety Features
Ensure the mini treadmill has safety features like an emergency stop button or safety key that can be attached to your clothing. These features can help prevent accidents and injuries.
User Reviews and Ratings
Read customer reviews and ratings of different mini treadmill models. Pay attention to feedback regarding durability, stability, noise, and overall user satisfaction.
Budget
Determine your budget range before starting your search. Mini treadmills can vary in price, so consider what features are essential for your needs and find a balance between quality and affordability.
By considering these factors, you can narrow down your options and find the best mini treadmill that suits your requirements and fits well within your home.
FAQs
Do small treadmills use a lot of electricity?
The electricity usage of small treadmills varies depending on factors such as motor power, speed, and usage time. Generally, smaller treadmills have lower power requirements compared to larger, commercial-grade models. However, it's advisable to check the specifications provided by the manufacturer to understand the specific power consumption of the treadmill you are considering.
What is the smallest size treadmill?
The smallest size treadmill available can vary among manufacturers and models. There are compact and portable treadmills designed for limited spaces, such as apartments or small home gyms. These treadmills often feature foldable frames or compact designs that allow for easy storage when not in use. It's best to review the dimensions and specifications provided by the manufacturer to determine the smallest size treadmill that suits your needs.
Do small treadmills work?
Yes, small treadmills are designed to provide a convenient and effective workout experience. While they may have a smaller footprint, they can still offer features like adjustable speed, incline options, and various workout programs. However, it's important to consider the intended usage and individual needs. Smaller treadmills may be more suitable for walking, light jogging, or low-impact workouts, rather than intense running or heavy training.
Can you run on a mini walk treadmill?
Mini walk treadmills are primarily designed for walking and light jogging. They generally have limited space and shorter decks, which may not provide sufficient running surface or cushioning for high-impact running. If you are specifically looking for a treadmill for running, it's advisable to consider models designed for running, which typically have longer decks, higher speeds, and additional shock absorption to handle the impact of running motions.
Conclusion
Upon reviewing the best smallest portable treadmills for home and office workouts, we went through various options. However, these top 10 picks were the most fascinating and effective.
Working out is essential to maintain a healthy life, so invest in a portable treadmill that helps you achieve your goals. Good luck!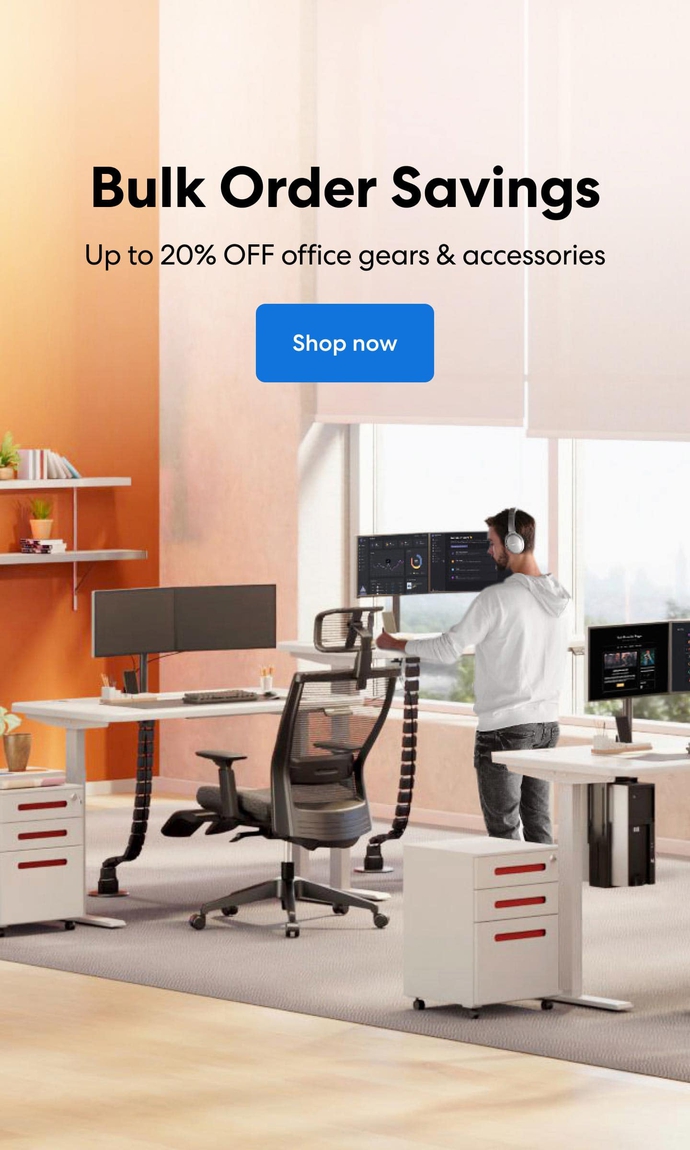 Subcribe newsletter and get $100 OFF.
Receive product updates, special offers, ergo tips, and inspiration form our team.