Smart Products
The 10 Best Portable Mini Treadmills for Home & Apartment
976 Views
Treadmills have been known as healthy workout equipment for as long as one can remember. They can be considered pioneers of workouts for gyms and even homes. With a treadmill, you can easily add some movement and activity to your daily life and easily exercise those leg muscles and the entire body. This article will cover the best mini treadmills for small homes and apartments.
Benefits of a Mini Treadmill for Home and The best Mini Treadmills
A treadmill is highly useful for office workers because, after a long day of sitting, they can finally get some movement in their legs and build muscle strength. It also prevents injuries and long-term pain in the lower back. With many benefits of the treadmill for health and fitness and their ease of use, it is recommended to have a mini treadmill at home.
The best mini treadmill for home doesn't occupy much space and is sufficient to give you a healthy workout routine. With a portable mini treadmill, you can work it out anywhere and fold it away once done.
You can store them in less space and move them after workouts because they are smaller. A tiny treadmill can also be folded. Because they are less expensive than their larger counterparts, they are an excellent way to save money.
10 Best Portable Mini Treadmill for Every Home & Apartment
1. Double Fold Walking Pad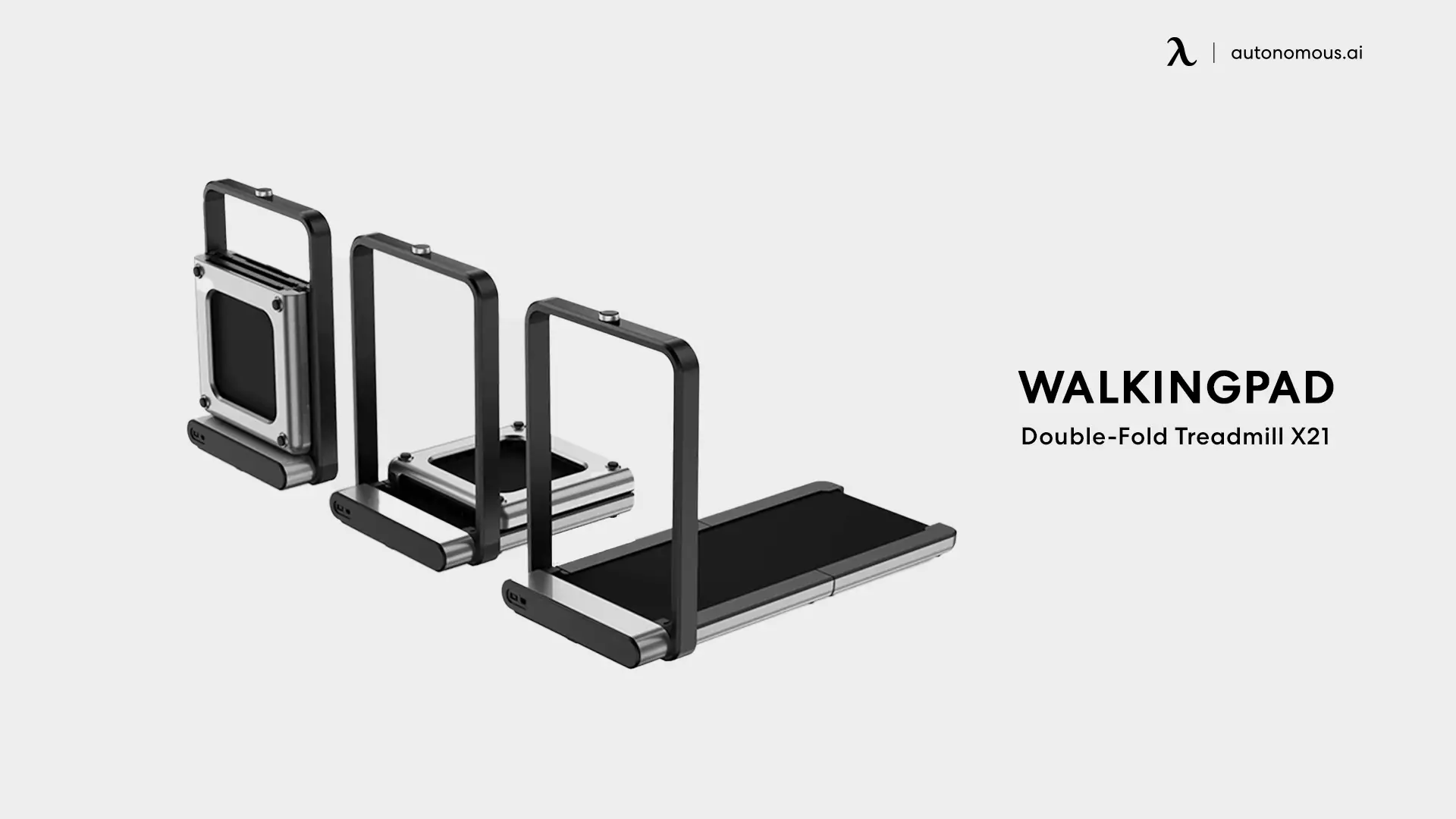 WalkingPad X21 is a double-folding walking treadmill with the smartest folding technology. You don't have to worry about the treadmill occupying a large space in your home because the compact design is smart enough to hide away once you are done with it. It has a quick one-touch operation, so the machine is easiest to get a hold of. The treadmill works with a digital smart mobile phone application and has a separate space for your cell phone.
2. Foldable Walking Treadmill R1
One of the best walking treadmills for home, the WalkingPad R1 works anywhere in your home. It has a flat surface that can also be set at an easy incline. The treadmill has a 180 degrees design and a 4-layered walking belt to minimize friction and increase the efficiency of your workout. The smart app connection lets you keep track of your workout routine and enjoy a hassle-free follow-up.
3. Foldable Treadmill R2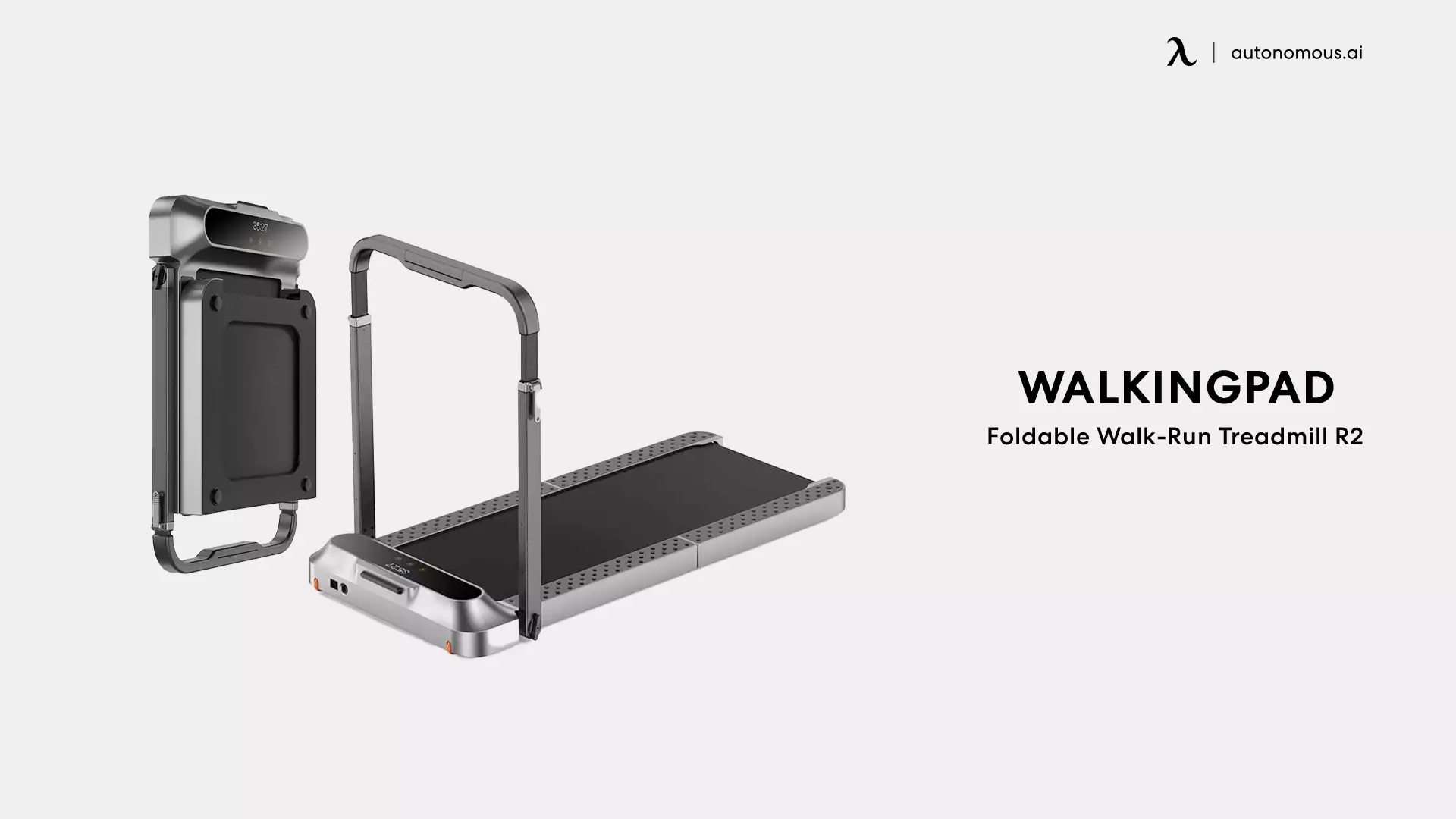 One of the best foldable mini treadmills, the WalkingPad R2 for an indoor walking workout, this treadmill from the R series comes as compact as possible. You can use the smart app connection and a 4 layered treadmill belt. The foot sensing speed control and the 1-year warranty on this product make it a reliable purchase. The treadmill folds to 180 degrees and converts into a sleek, stylish walking pad when done.
4. Nordictrack Treadmill
The NordicTrack is one of the most economical portable mini treadmills on our list of the best compact treadmills. It's a small device with advanced technology. The treadmill is 36 inches broad, 67.5 inches long, and 73 inches tall. These simplified dimensions make it easier to put it into a tiny apartment or house.
A 10" smart HD touchscreen is also included. The touchscreen is snappy, allowing users to manage various treadmill features directly from the display. The touchscreen allows you to change the belt speed, slope, fan speed, and volume.
5. Walking Pad A1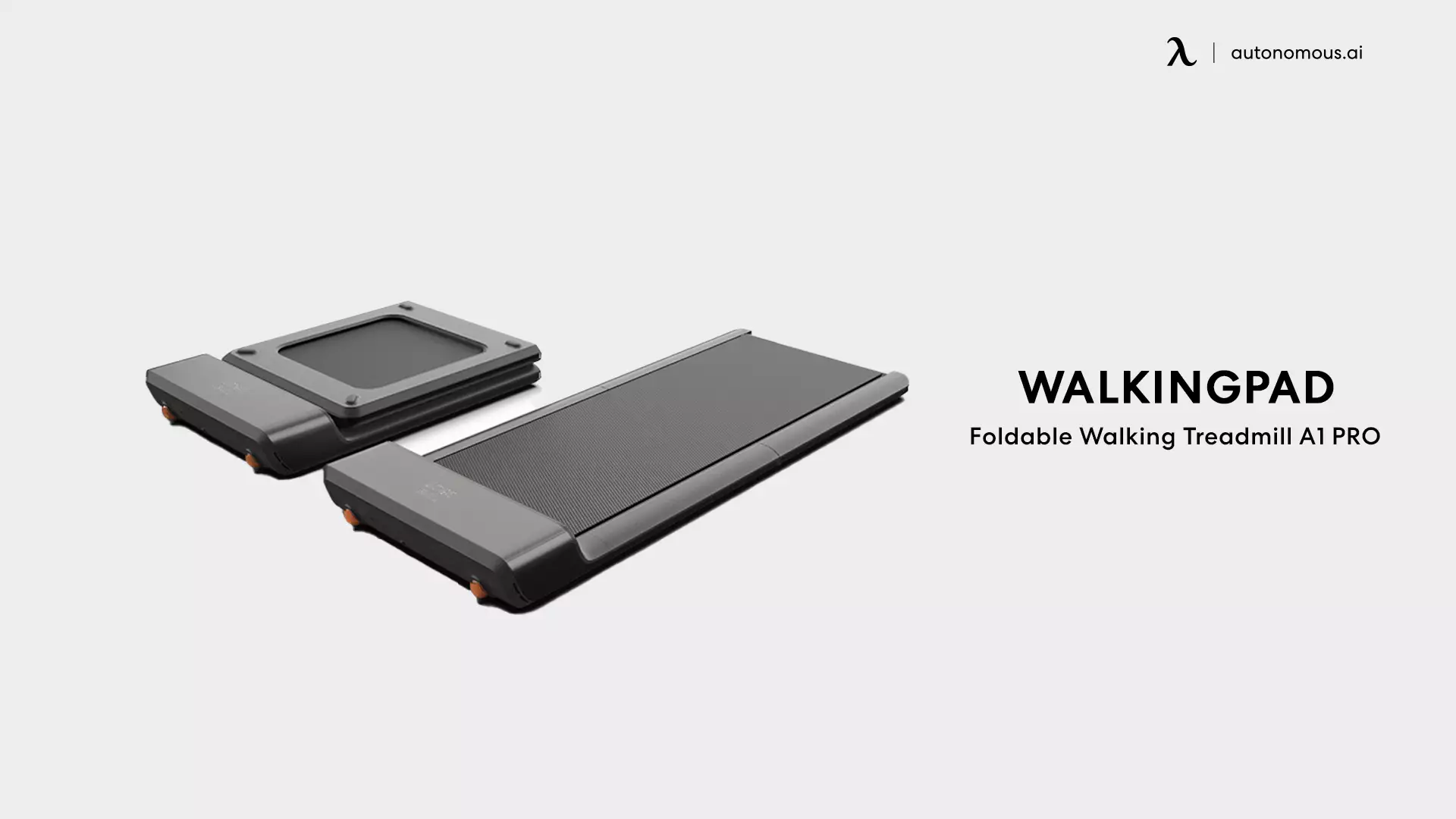 For those not content with the idea of a basic treadmill, this WalkingPad A1 PRO foldable walking treadmill is the newest solution in the town. One of the most compact mini-walk treadmills, it can fit in any corner and be used on any surface. It is a flat mat-type surface with no top accessory or extra parts.
Pair it with the KS fitness app and fold it into the compact dimension of 690 square inches. The patented foot technology and the smart connection are all there to make your workout hassle-free and ergonomic.
6. Famistar Folding Treadmill
It is a little higher in price but ideal for those who need the traditional look and functionality of treadmills in their homes. It includes wheels under the base, so if you are in the mood for an outdoor workout, just walk away with the treadmill. The portable mini treadmill folds up for easy storage, and a notable feature of this treadmill is its extra quiet motor mechanism.
7. Horizon Folding Treadmill
Measuring 70 by 34 by 55 inches, this one is an ideal pick for the best mini treadmill. It has a foldable frame, a built-in device holder, and Bluetooth connectivity so you can listen to music while exercising. It also has incline levels ranging from 0 to 10 degrees, speeds up to 10 miles per hour, and a range of preprogrammed programmes, making it simple to vary your workout regimen.
8. Walking Pad C2
Are you looking for a mini treadmill for an apartment? Look no further because this is undoubtedly the smartest on our list. The walking pad C2 is as easy and versatile as it could get. It is priced a bit higher but offers you a chance to get a big discount through the Autonomous employee purchase program.
This portable mini treadmilll has a 4-layered, secure and strong structure and works with a smart connection. It is patented with foldable technology and has a foot sensing speed control to make up for any missing steps or difficulty in maintaining the pace.
9. Goplus 2 in 1 Folding Treadmill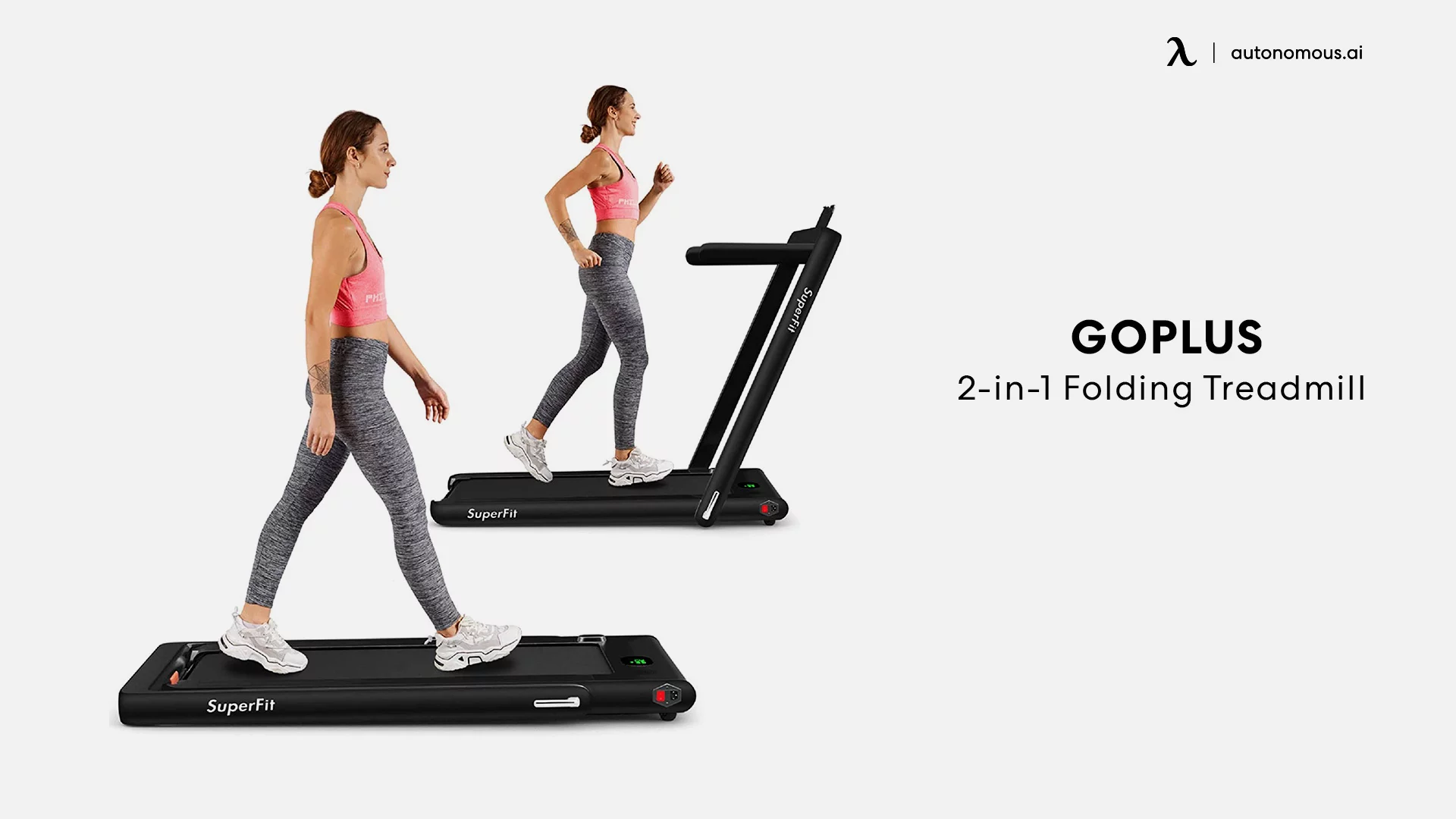 This small treadmill was designed specifically for walking. Users can take a stroll atop five layers of knee-protective padding, which has a collapsible handlebar for further support. An LED display keeps track of speed, distance, and time and connects to your phone to play music. The best part is that this treadmill only takes a few minutes to put together.
10. Progear Manual Treadmill
This mini walk treadmill from Progear is small and light, and it doesn't need to be plugged in, so you can put it right in front of the TV and follow any workout routine you please. It is also one of the cheapest compact treadmills you will find in the market with all the basic features, although you won't get smart features like connectivity and app control with this one.
Hey, you have special pricing through your company.
Get exclusive rewards
for your first Autonomous blog subscription.
WRITTEN BYAutonomous
We build office products to help you work smarter.