Smart Products
Best Ergonomic Office Chair under $300: Top 20 Choices

Autonomous
|
Nov 16, 2020
13,383 Views
Whether you work in a traditional office or a remote one, the chances are that your desk needs to be accompanied by an ergonomic office chair for you to get your work done in the most efficient, productive, and comfortable manner possible. However, getting an office chair requires you to set a budget. Today's budget is $300, which means the focus is on the best office chair under $300. 
What kind of options do you have in that price range? It turns out that getting an ergonomic chair under $300 is not as hard as you may think. There are 20 such options below to help you choose. To take it a step further, the definitive best office chair for under $300 is also on the list. 
Pros & Cons of Using an Ergonomic Office Chair
Pros of Office Chairs 
There are several reasons why having an office chair in your workspace is a convenient thing. Some of these upsides are: 
You help mitigate against a variety of neck and back problems synonymous with sitting on improper office equipment.

Excessive standing can cause a lot of pain for your joints. While excessive sitting is not a good thing either, an office chair provides you an out for the pressure that standing places on your joints. 

You get to maintain full productivity, as you don't waste time focusing on discomfort. 

With the right office chair at your disposal, you get to combine comfort with an aesthetic touch that complements the rest of your environment. 
Cons of Office Chairs 
Naturally, nothing is without its downsides, and office chairs are no different. Here are the drawbacks to consider when you think about buying an office chair: 
You are going to need to have the space to place the chair and move around comfortably. 

Chronic pains, such as low back pain, are often the result of a sedentary lifestyle that includes extended periods of sitting on office chairs.  
Choosing the Best Office Chair under $300
Now it's time to consider the best ergonomic office chair under $300. You should note that all 20 of the options listed are incredible designs that people have used to tremendous effect. So, without further ado, are you ready to jump into the entries? If so, why wait any longer? 
1. Autonomous ErgoStool
Active sitting is a fairly new concept, but the Autonomous ErgoStool does it very well. As sitting for long periods in the traditional sense is unhealthy, the point of this stool is to prevent you from trying to do so, while getting you to engage muscles, such as those in your core. 
Whether you're pairing this stool with a standing desk or a regular one, you're going to find yourself tilting, rotating, etc., which gives you numerous ways to get some exercise in while you work. You are also going to find that you are more likely to stand and move around at regular intervals, which is a very healthy thing to do.  
2. Autonomous MyoChair
The Autonomous MyoChair is a well-designed office chair that can stake claim to being the best office chair under $300. Its features come together in a way that gives what can only be described as toe-to-top comfort. Posture, circulation, and many other things that can become a problem when sitting on office chairs are taken care of by this Autonomous design.
You get tremendous spine, shoulder, and neck support, which keeps you working without worrying about chronic pain. The chair is immensely customizable, making it one of the best options for your home or traditional office setting. There is also a mesh-based back, which helps to keep your temperature in check.  
3. Autonomous AvoChair
Finally, you've arrived at the best office chair for under $300. The first point to mention is that the Autonomous AvoChair is one of the most eco-friendly office chairs that you can find. It's an incredibly ergonomic design that uses minimal, clean, flowing lines inspired by nature. It uses an elastomeric mesh back, which provides as much support as it does temperature regulation.
It sits on a sturdy base, thanks to its aluminium alloy composition. The second advantage of this is that it makes the reclining function that much more convenient. Of course, the soft ellipsoid arm pads also deserve a special mention. 
The attention to detail, customizability, and comfort, all come together to make one unbelievable ergonomic package. 
4. Lorell Executive Office Chair
This office chair is one that is very well suited to both traditional office and home applications. Its design includes a pneumatic height adjustment system, temperature cooling mesh at the back, adjustable armrests, and an adjustable seat and backrest. 
You get granular control over all facets of the chair, which means you can mold it to your needs. It's hard to deny that this is a well put together design for an ergonomic chair on the $300.  
5. Serta Office Chair
While you can use this Serta design in both office and home applications, it's best suited to workspaces in the home. If you're environmentally conscious, you should enjoy this chair, as the bonded leather used is eco-friendly. The active lumbar support moves with the user to provide consistent backing for your spine. 
It features comfortable armrests and a traditional height adjustment mechanism. Recline adjustment is also possible, which complements the level of comfort available.
6. CCTRO Ergonomic Black Mesh Chair
The mesh design implemented in this office chair is one reason why it is a candidate for the best office chair under $300. The attention to adequate ventilation keeps things breathable and cool. Additionally, the stellar lumbar support ensures that your back never has to suffer while you work. 
Thanks to the adjustable backrest's tilt tension, you can reduce your leg fatigue, which means sitting for extended periods is not so hard.  
7. Office Star Ergonomic Chair
This high back design is perfect for people who need proper lumbar support. Apart from ensuring you don't get a bad back, this chair has a sturdy construction that consists of some of the best materials. It's always good to know that the office chair you get is going to be sticking around with you for a while. 
8. Poly and Bark Inverness Ergonomic Chair
This mesh office chair under $300 is the poster child for versatility. It looks great, and it's also very comfortable. There are adjustment mechanisms for your chair's height, armrest height, position, and headrest. It's an ergonomic design through and through, and it's intended to keep you in a comfortable space as you get your work done.  
9. Hon Wave Executive Chair
When an office chair has a weight capacity of up to 450 pounds, you know you're dealing with something on the sturdy side of the spectrum. This design is a strong contender for the best ergonomic office chair under $300. It's conducive to very tall people, very small people, and everyone in between. The double-layered mesh design allows for cushioning and temperature regulation while you work. 
There is also a tremendous amount of back support to keep you feeling great.  
10. Office Factor Leather Office Chair
This is yet another office chair tall people. It has a bonded black leather composition that makes it incredibly comfortable to use. Additionally, it provides tremendous support to the spine, making it an enjoyable experience for the user.  
It also has a fair amount of adjustable features, which allows you to mold it to your seating needs.  
11. La-z-boy Delano Executive Leather Chair
Here is yet another top-tier contender for the best office chair under $300. It's yet another sturdy leather chair conducive to those on the taller or bigger side of the spectrum. The level of spine support and comfort is off the charts, and much of this is due to the ComfortCore Plus material used. Not many office chairs combine firmness with comfort in such a balanced way.  
12. Flash Furniture Hercules Executive Chair
Here is yet another executive office chair high back under $300 with a durable yet comfortable design. Though sitting for long periods is not recommended, this chair was built as if it were designed to accommodate extended seating sessions. It features a high back design and an incredibly comfortable headrest for your needs. 
Its maximum weight capacity is 500 pounds, which should clue you in on its build quality.  
13. Best Office High Back Ergonomic Chair
This chair is best known for the high-quality material used in its composition. It's a leather high back chair with a lot of cushioning to help make you comfortable as you work. It's incredibly easy to maintain, thanks to its oil and water-resistant properties. There is no need to worry about any problems with proper sitting posture, as the lumbar support is designed to keep things in check.  
14. Alera Neratoli Swivel Chair
If aesthetic alone made the best office chair under $300, this swivel chair would probably take the top spot. There is no denying its unique look, thanks to the vibrant red leather cushion seating. It has a compact design, which means that the space requirement is not much. 
Using it helps you to reduce the pressure on your back, and it also promotes excellent circulation.  
15. Viva Office Executive Mesh Chair
If any mesh office chair under $300 could be hailed for its exceptionally unique design, it would be this one. Though it may look strange based on normal standards, the amount of stability and comfort that this chair presents is hard to match. The high back provides a great amount of neck and back support while keeping your spine neutral. 
The breathable mesh fabric helps to regulate your temperature, and the chair provides height adjustment functionality.  
16. Boss Heavy-duty Office Chair
If the name didn't give it away, this chair has a very durable and heavy-duty design. It has a shining leather appearance, which brings off a look that matches the level of comfort that you get from sitting in the chair. It's designed to accommodate both large and small persons, while providing the support needed to the back, neck, and shoulders.
Additionally, it has a pneumatic gas seat lift mechanism, which makes height adjustment a breeze.  
17. Hon Ignition 2.0 Ergonomic Chair
The next contender for best office chair under $300 looks surprisingly plain when compared to the competition. Nevertheless, it stands shoulder to shoulder with its counterparts, based on the functionality that it provides. It's lightweight, and it has a slim mesh back that follows the contours of your spine. The lumbar support is adjustable, so you can always make things a little bit more comfortable.  
18. Gabrylly Mesh Office Chair
The standout quality of this mesh office chair under $300 is the level of customization that it makes available. The pneumatic swivel, the adjusting arms, the height adjustment, the headrest, the lumbar support, etc. are some of the incredible ergonomic features included in this office chair's design.  
While it's not the only chair to have a lumbar support mechanism that curves with the spine, this one is incredibly accurate.
19. Bush Business Office Chair
This leather chair is the definition of soft yet stable. Not only does the lumbar support offer relief and comfort for your spine, but the armrests also have an ergonomic curve and padded leather. Therefore, as you work, it's going to be very hard for your body to slip out of a neutral and comfortable position. 
Height adjustment and an angle-based reclining system are also available to help you customize your experience as you wish.  
20. Space Seating Ergonomic Mesh Chair
Are you looking for a well-designed mesh office chair under $300? While this is by no means the first one on the list, it's a great contender. It may not have many of the bells and whistles that some other chairs do, but it has all the core functionality needed to help you get in productive and comfortable work sessions. 
While it may look unassuming, its weight limit is 400 pounds. The backrest has immense lumbar support, and it's also adjustable. Of course, the mesh fabric is conducive to temperature regulation.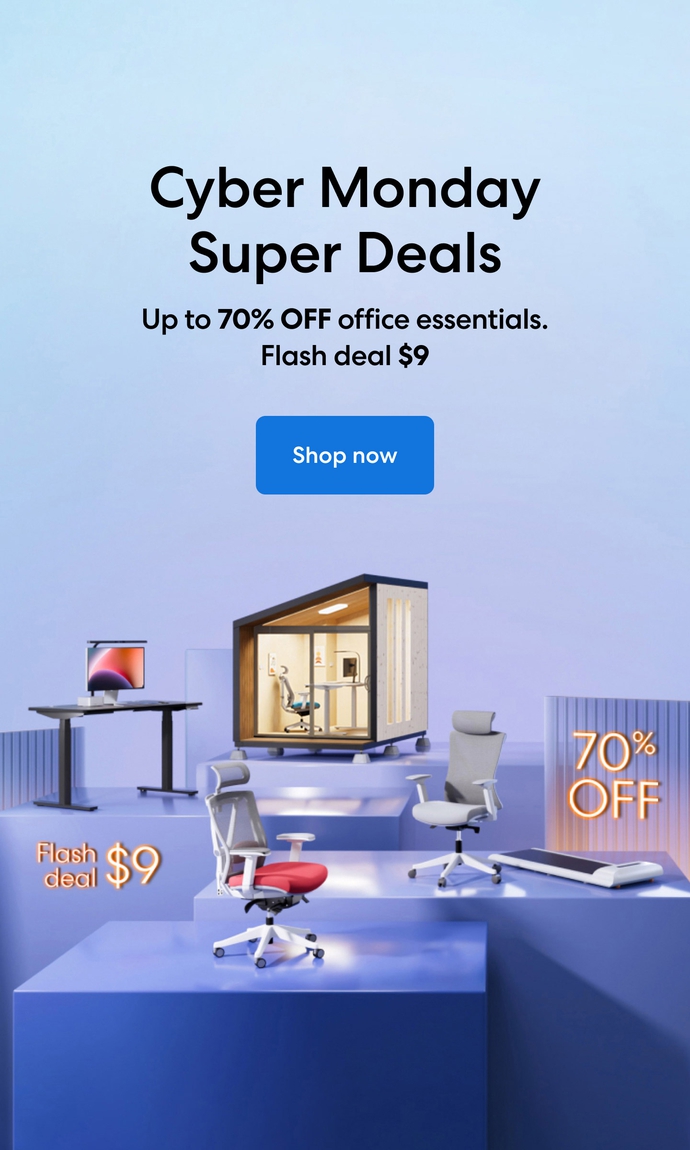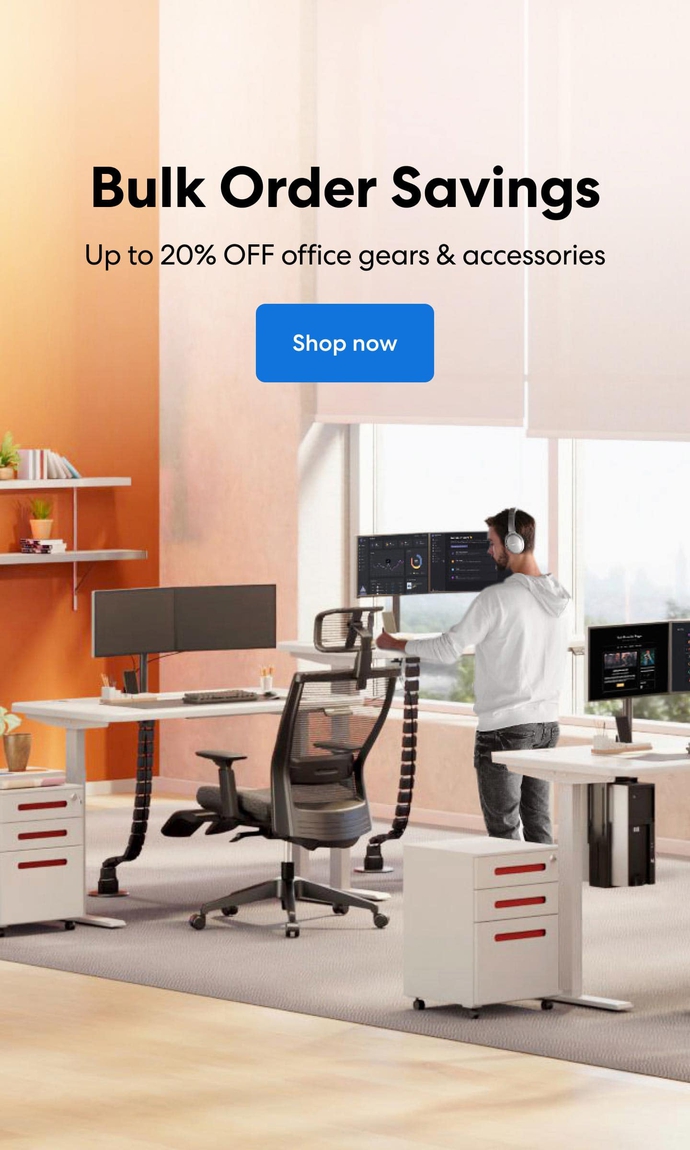 Subcribe newsletter and get $100 OFF.
Receive product updates, special offers, ergo tips, and inspiration form our team.