Smart Products
Best Keyboard Switches: An In-Depth & Easy Guide
772 Views
Choosing your computer accessories like a mechanical keyboard is a real deal whether you are planning your workstation or ultimate gaming setup. You are supposed to choose a keyboard that matches your vibe and lets you type more swiftly. Luckily, mechanical keyboards can be customized using different types of mechanical keyboard switches to optimize your typing experience.
Different mechanical keyboard switches come with different aspects like pressure requirements for the activation of the keys, tactile position, and travel distance. Newbs often confuse mechanical keyboards with membrane keyboards, making it further challenging to select the right mechanical keyboard switch for themselves.
We believe that it is vital for any office worker or gamer to have in-depth knowledge about the different types of mechanical keyboard switches and mechanical keyboards in general. Such things help them compare mechanical vs. membrane keyboards and select keyboard switches wisely. If you think you are lacking on these grounds, you don't need to worry about that because we have got you covered.
This blog is an in-depth mechanical keyboard switches guide where we have shared an unbiased mechanical keyboard switches comparison and discussed what makes a mechanical keyboard different from a membrane keyboard. So, read ahead to enlighten yourself! 
What Makes Mechanical and Membrane Keyboards Different?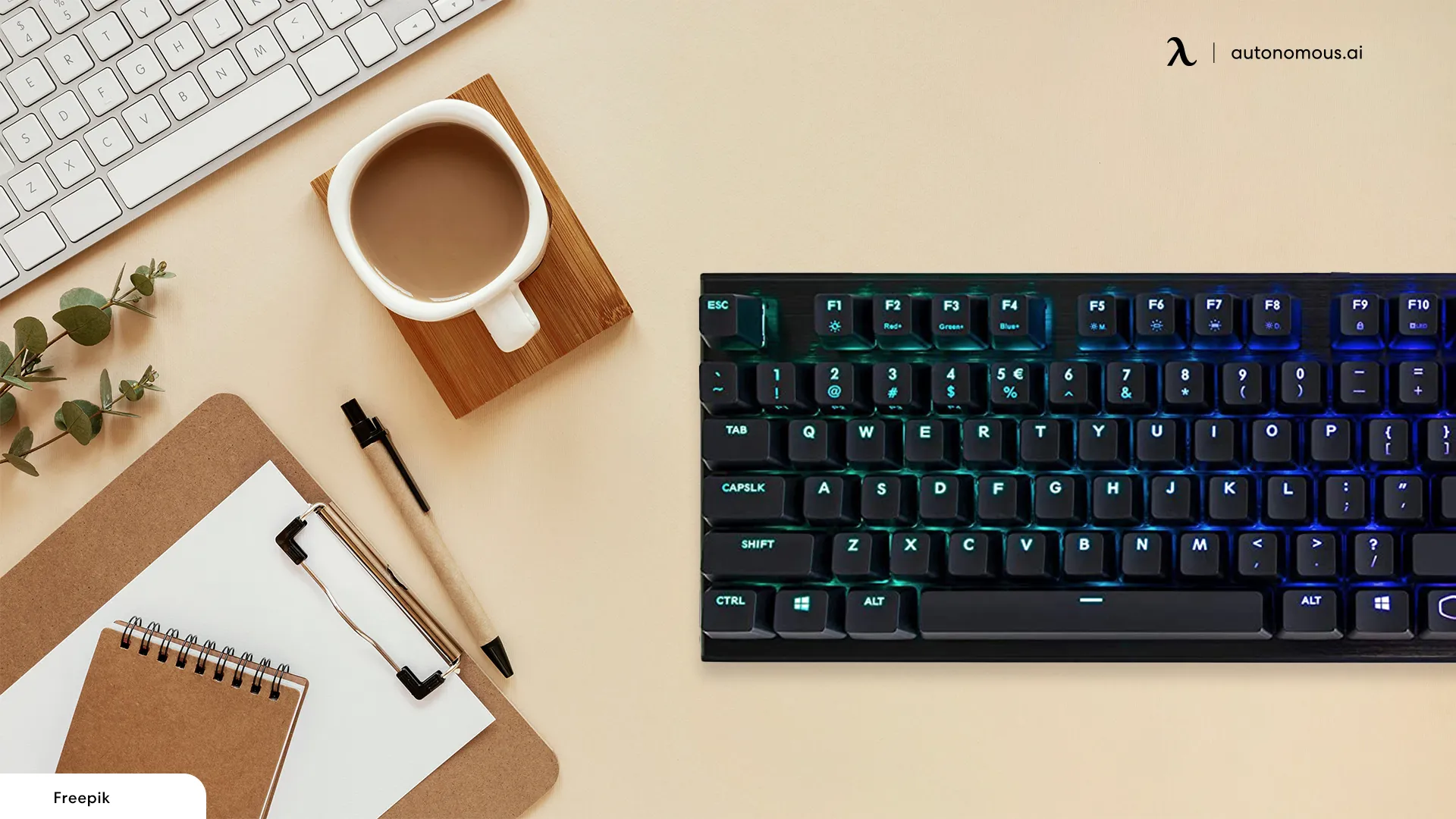 Understanding the two major types of keyboards is important before drawing any comparison between the types of keyboard switches that a mechanical keyboard may contain. Have you ever noticed the keyboard clicking sound in the workplace? It is a mechanical keyboard that makes that noise when you press its keys.
The mechanical keyboards have distinct keys that are each loaded with a spring which makes a noticeable sound when pressed. These keys are not usually quiet, so it is quite noticeable if your colleague is using a mechanical keyboard.
A membrane keyboard, on the other hand, has a very different design and feel. Its keys are designed to be mushier and are comparatively quieter than the mechanical keyboard. Office workers who find the mechanical keyboards' clicking sound annoying and are interested in lighter keyboards often shift to the membrane keyboard.
You will usually find a membrane keyboard in laptops and external keyboards. These keyboards are designed to have a unified circuit board underneath where keys send an electrical signal when pressed. The keypresses are quite smooth with the membrane keyboards and are comparatively more compact than the typical membrane compact gaming keyboards.
The negative aspect of having a membrane keyboard is that you have quite limited customizing available here, and a unified circuit board might impact your precision while playing games. They even lack a key rollover, but all those lacking features make them more affordable, and people with a tight budget go for them.
One thing to note here is that budget is not a problem for every worker and gamer. In fact, most of them are looking for a keyboard that offers them greater customization degree and precision. That's why mechanical keyboards are quite lauded in the market. These highly customizable tactile keyboards are more comfortable and come with a keyboard rollover too. You can change its keyboard switches with different types of mechanical keyboard switches.
Types of Mechanical Keyboard Switches
In general, there are three major types of mechanical keyboard switches. We have reviewed each of them below to help you judge which one would be the most suitable choice for you. 
1.  Linear Mechanical Keyboard Switches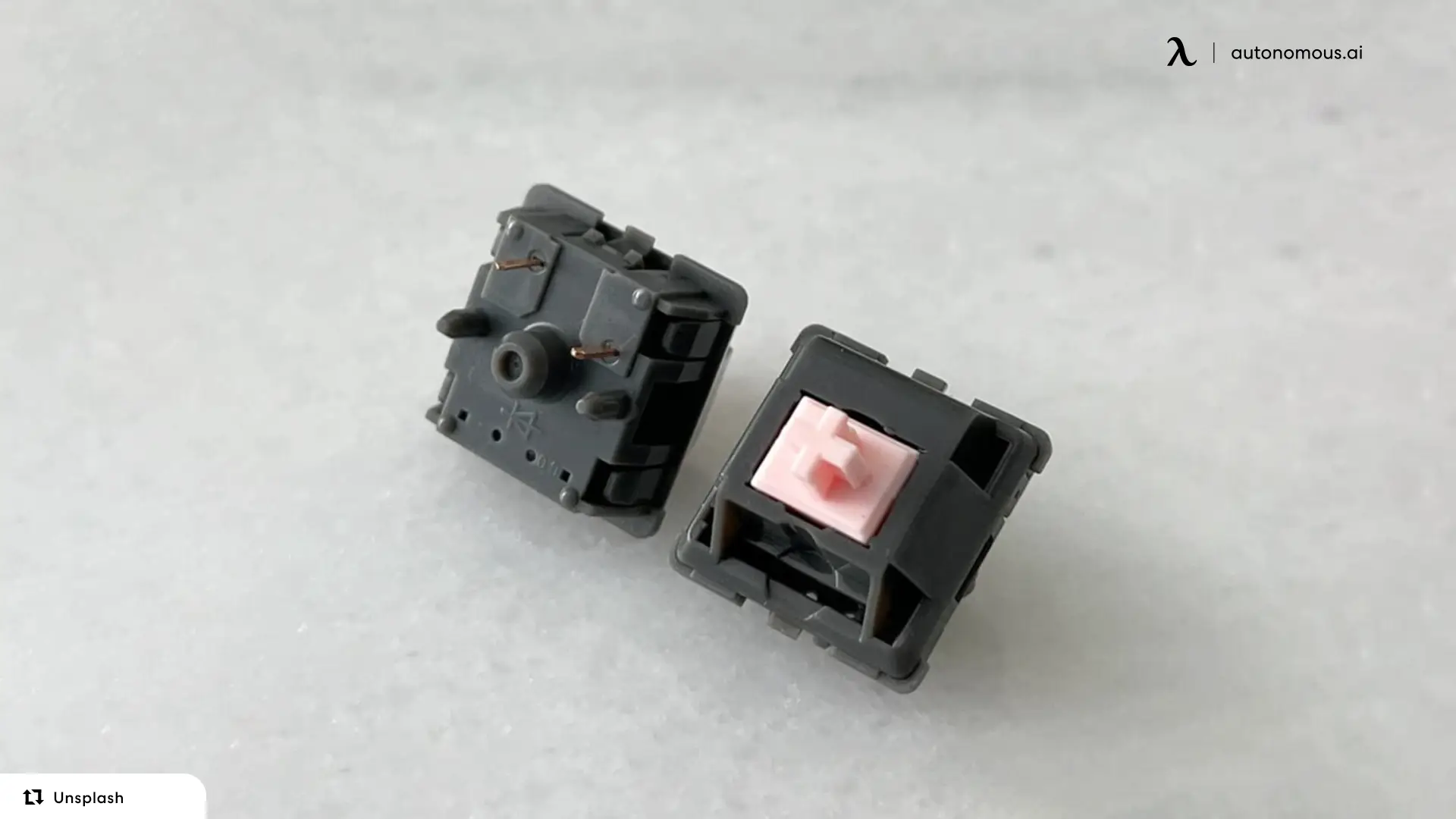 Linear mechanical switches are the most basic keyboard switches. They offer you a smooth typing experience by being easy on your fingers. Gamers usually prefer this type because it is lighter on the finger, and you can press its keys more quickly.
If you are interested in Linear mechanical switches, you can invest in the Gateron switches because they are the most famous linear switches. Featuring a travel distance of 4mm and an activation point of 2mm, these switches make it easier for you to quickly glide your finger over the keyboard. 
2.  Tactile Mechanical Keyboard Switches
Tactile mechanical switches are great for people who are looking to get a satisfying feeling from their keyboards. These switches vibe with you and ensure you have the most satisfying typing experience ever. These keys are ideal for beginners because they come with a bump sensation that lets you know when you have clicked a key without reaching the lowest part. These keys require a slightly higher force for pressing the keys so that it pairs well with the tactile sensation. 
3.  Clicky Mechanical Keyboard Switches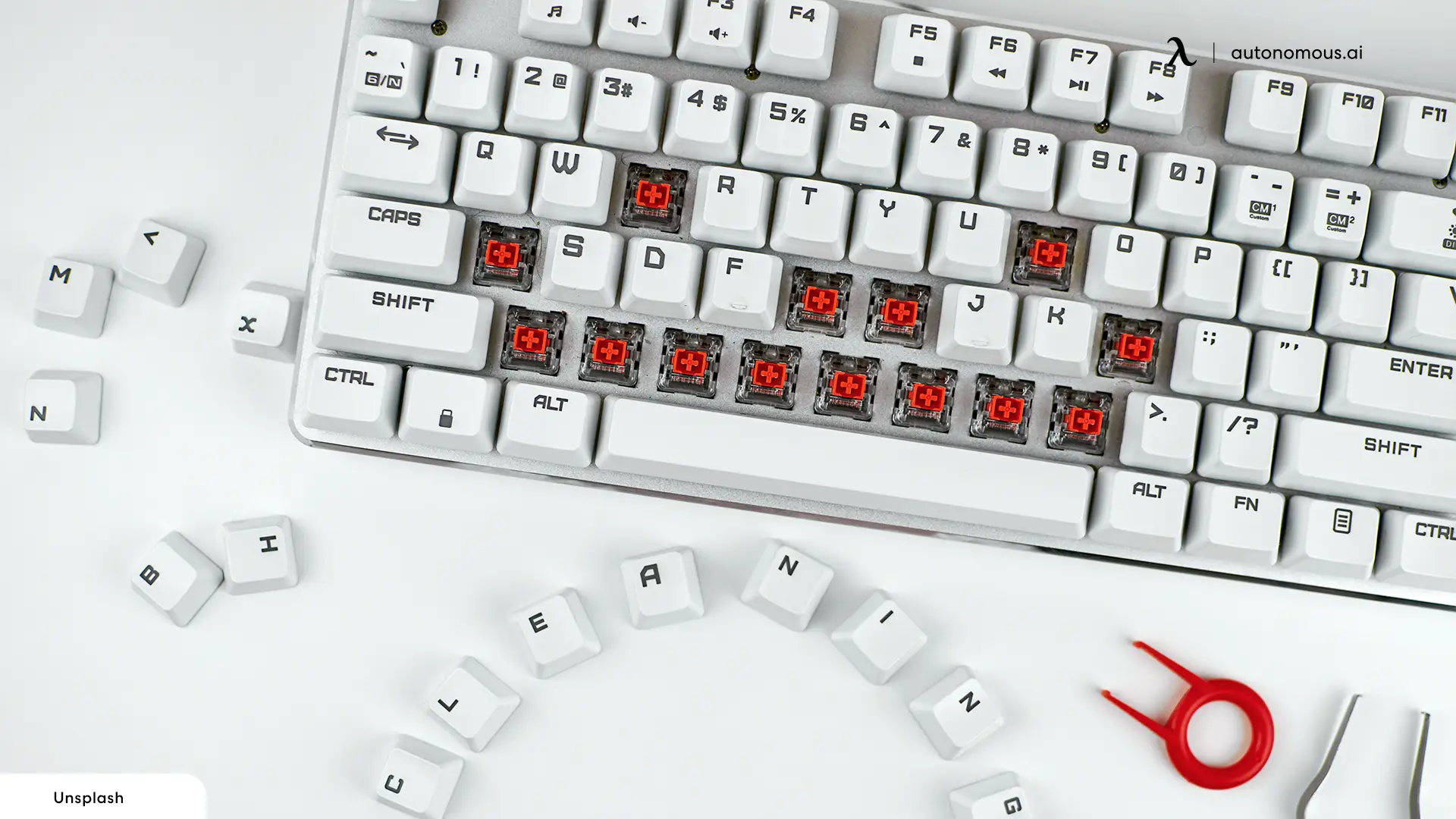 If you find the typing sound satisfying, you can go for the clicky switches that make a very satisfying sound when clicked. Most office workers have reported that these keyboards are fun to work with, and you don't have to press the key too hard to ensure it makes a clicky sound. So, when you are typing on a mechanical keyboard with clicky switches, you will know when you are typing. If you compare them with other key switches, their activation time is longer. 
Wrapping It Up
That's all about the major types of mechanical keyboard switches. We hope that you have a clear idea of the mechanical keyboard, how different it is from the membrane keyboards, and how many types it has. You can select any of the mechanical keyboard switches to customize your keyboard and optimize your gaming experience. All you have to ensure, apart from this, is that you have the best gaming furniture to have an ergonomic gaming experience overall.
Subcribe newsletter and get $100 OFF.
Receive product updates, special offers, ergo tips, and inspiration form our team.
WRITTEN BYAutonomous
We build office products to help you work smarter.