Smart Products
The 6 Best Lamps for Reading: How to Choose a Good One

Charles Ataya
|
May 6, 2021
2,244 Views
Accessorizing your workspace is always a better idea if you want to boost your productivity and make it a more functional space as an office worker. You might have faced problems reviewing documents or reviewing files if there is no lamp for reading on your desk. Office workers often seem dull and uninterested in their work and cannot identify the root cause for this issue.
Often the main reason behind this is poor lighting. You might have heard about the concept of circadian rhythm that our body is active in certain hours and inactive in the other. The journal of circadian rhythm has revealed that workspaces with high correlated temperature fluorescent lights can elevate the productivity and well-being of workers.
It is not necessary that you only need a lamp for reading at night, as reading lamps can be beneficial if you install them in your office desk set up. We know that you must be interested in knowing more about the best reading lamps to make your workspace brighter and more productive, so here we are. Let's have a look at the best ones that we have listed below.
1. Ultra-Wide LED Desk Lamp by Autonomous
The Autonomous' Ultra-Wide LED Desk Lamp has got one of the best lights for reading; that's why we decided to share it first. With an ultra-wide LED strip of 31.5 inches, and the flexibility of adjusting the light temperature between four different temperature ratings, this desk lamp offers a lot of flexibility and comfort to its users.
Since you have the liberty to adjust the brightness as well, it becomes pretty simple for a user to adjust the light round the clock and assure their workspace is never too bright or too dim to harm their eyesight. Overall, its design supports a minimalistic desk setup to avoid clutter.
2. JUKSTG LED Desk Lamp
JUKSTG LED Desk Lamp has a pretty simple design and features. This LED desk lamp comes with touch controls that offer you to adjust the light between four temperature and seven different brightness settings.
With the additional charging port and the automatic power-saving features, this desk lamp becomes a favorable option as a reading lamp.
3. TaoTronics TT-DL16 Metal LED Desk Lamp
TaoTronics TT-DL16 Metal LED Desk Lamp is yet another desk lamp for reading that comes with five different color modes and six brightness levels. The brightness levels for this desk lamp are such that it does not put much stress on your eyes while you read any document, so it will not be wrong to say that it is one of the best desk lamps for eyes.
Although you don't get maximum coverage and flexibility with this variant, the memory function to set a timer of 60 minutes for the active hours and the availability of a USB port to charge small electronics makes this sleek LED desk lamp worth a try.
4. Brightech Circle LED Desk Lamp
Brightech Circle LED Desk Lamp, with its unique design, can be a great addition to your workspace. If you are one of those office workers to whom style and comfort are equally important, you can definitely think of getting this circle desk LED lamp.
Although it may look like a selfie lamp, Brightech Circle LED desk lamp has got one of the best lights for reading and can fit in the smallest of spaces. So, you can rest assured that this desk lamp will not cover much space.
5. Phive Dimmable LED Desk Lamp
Phive Dimmable LED Desk Lamp is a fully equipped desk lamp that will look fairly cool with your modern ergonomic chair and desk setup. Featuring a fast-charging USB port, this desk lamp allows you to charge heavy-duty electronic appliances, including tablets, mobile phones. Having an adjustment for temperature and brightness, this desk LED lamp can be thought of as a good option overall.
6. Cordless LED Desk Lamp by Luxe
Luxe's Cordless LED Desk Lamp is one of the best LED desk lamps as it is an easy solution for those office workers who don't have any electrical port near their office desk. This energy-efficient LED desk lamp offers a bright light of up to 40 hours upon a single charge, so you can think of using it as a suitable desk lamp for reading at night as well as daytime. The best part is, you can always charge this rechargeable light when short on brightness.
The Bottom Line – How to Buy the Best Lamp for Reading
We shared some of the best reading lamps with you to help you accessorize your office space in an ideal manner. Selecting the right lamp for reading is not a difficult task. Apart from the design and flexibility, there are two additional things that you are supposed to check: light color and light temperature.
Typically, cool, bright lights keep an office worker more attentive, but it is always better to buy a desk lamp that has adjustable light intensity and temperature just so you can customize it as per the requirement of the day and task. With this, it becomes easier for you to buy the best lights for reading.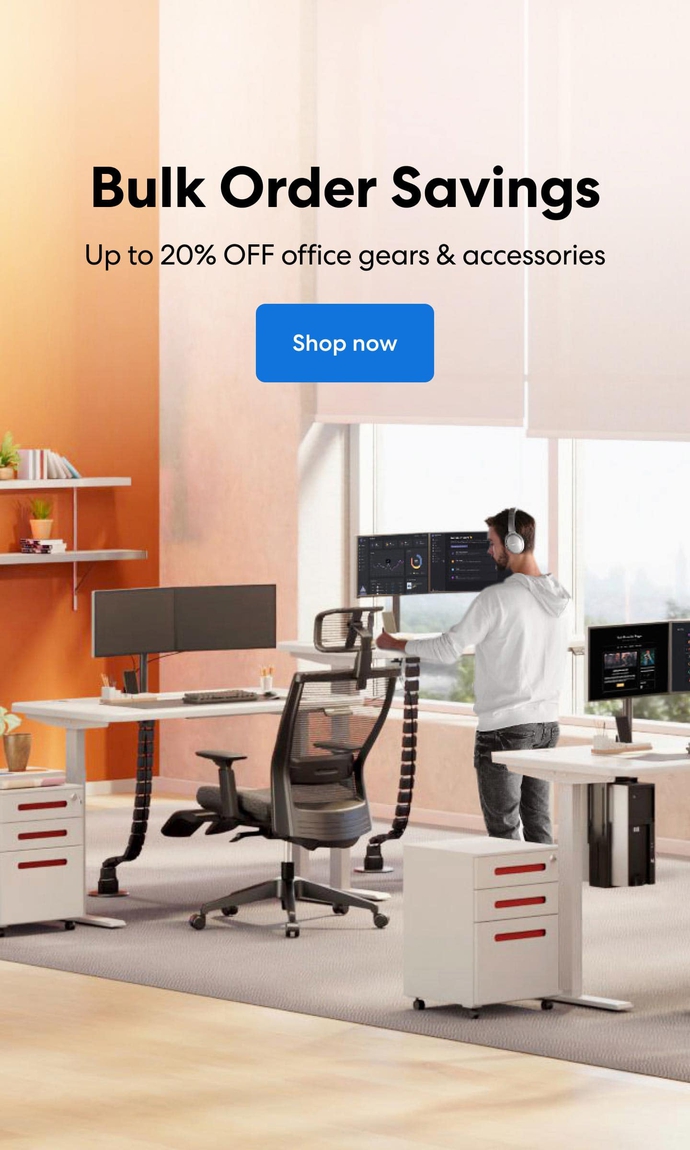 Subcribe newsletter and get $100 OFF.
Receive product updates, special offers, ergo tips, and inspiration form our team.