Smart Products
Laptop Tray for Chair Top Picks: Elevate Your Seating Comfort

Mark Hernandez
|
Oct 25, 2023
994 Views
Table of Contents
Are you tired of uncomfortable work setups while using your laptop? Worry not because we are about to look at the world of laptop trays for chairs using our list of 10 best laptop trays, where ergonomic solutions like computer desks with keyboard trays and portable laptop desks. This list of ours exists to make a modern home office setup whole and complete so that there is no disturbance when you are working.
10 Best Laptop tray for Chairs
1. Mount-It! Rolling Laptop Tray & Projector Cart
The Mount-It! Rolling Laptop Tray & Projector Cart is a versatile and durable solution for professional settings like hospitals, schools, and workplaces. It boasts a large 17.75" x 17.75" tray and a 12" wide smaller tray, both of which can independently tilt up to 45 degrees and adjust in height from 27" to 35". With locking casters and a wide 30" x 22" base, it offers both mobility and stability. It provides a sturdy and adaptable solution for presentations or a mobile office.
2. Modernsolid Mobile Laptop Cart
The Modernsolid Mobile Laptop Cart combines a sleek design with a secure and functional structure for your laptop. Its height is flexible, so you can sit or stand while working if that's how you prefer to do things. Your laptop will be safe thanks to the added security features, such as the burglar-proof bar and the edge stopper. Those who care about workspace adaptability and security will find this cart an indispensable companion.
3. Tatkraft Like Portable Laptop Desk with Mouse Pad
The Tatkraft-like portable laptop desk's adaptability is second to none. You may adjust the tray's rotation and tilt to your ideal position, anything from zero to one hundred sixty degrees. It has exceptional mobility because of its four wheels that can rotate over 360 degrees. Its height is flexible, ranging from 27.6 to 39.2 inches to accommodate seated or standing use.
With the tools and instructions provided, assembly is a snap. The big 8"-10" mouse pad and support for laptops between 7 and 17 inches make this desk an ergonomic and flexible option for any computer user.
4. TigerDad Overbed Bedside Desk Mobile Rolling Laptop Stand
The TigerDad Overbed Bedside Desk is your go-to solution for a versatile mobile workstation, also serving as a computer tray for chairs and a laptop tray for recliner chairs. It accommodates various seating and standing preferences with adjustable height ranging from 23.6 to 35 inches.
This multifunctional piece serves as a laptop cart, rolling tray table, bedside table, or C-table on wheels, offering convenience in any setting. Plus, their customer service is responsive, promising hassle-free replacements for any issues with wheels or screws.
5. Mount-It! Height Adjustable Rolling Laptop Cart
This height-adjustable rolling laptop tray table for the couch is convenient and versatile. The top tray is 24" x 16", making enough room for laptops and a mouse. The height may be adjusted at the push of a button from a sitting or standing height of 23.5" to 39".
It is sturdy, with a broad base and lockable, heavy-duty casters. Because of its height and tilt changes, this cart may function as a laptop desk, a medical tray, or a projector stand. Use this portable desk whenever and wherever you choose.
6. Techni Mobili Rolling Adjustable Laptop Cart, Graphite
If you want to get work done comfortably, get yourself this Techni Mobili laptop tray for a chair. Because of its height-adjustable laptop tray and four caster wheels, you can place your computer exactly where you want it. You can rest easy knowing your laptop is safe and sound thanks to the cart's expanded legs, safety edge stoppers, and swiveling laptop tray.
7. HAOOAH Pneumatic Adjustable Height Desk
The HAOOAH Pneumatic Adjustable Height Desk allows you to work at the most convenient height. Thanks to its gas spring hydraulic lift system, the desk's height is easily adjustable, from 29 inches to 46 feet and 9 inches. The MDF construction gives it a polished air and makes it exceptionally sturdy.
This mobile laptop tray for chairs is ideal for presentations, conferences, or at home. It's soft, simple, and adaptable, making it a great choice.
8. Stand-Up Desk Store Pneumatic Adjustable Tray
Through a foot-activated mechanism, the Stand-Up Desk Store Pneumatic Adjustable Tray provides simple height adjustment, assuring a secure fit for every user. The presenter's shelf is adjustable at three angles (20, 30, and 90 degrees), supporting different working methods. Paper stoppers, rollable wheels for mobility, and non-slip feet for stability are further characteristics. It is BIFMA-rated for safety and durability, and the assembly is a snap. It is a flexible complement to any workstation thanks to its dimensions of 25.5" x 17.5" x 28.5" to 42.5".
9. Mount-It! Adjustable Rolling Laptop Desk
Anyone in need of a convenient and ergonomically sound place to work would benefit greatly from the Mount-It! Adjustable Rolling Laptop Desk. The desk's tabletop is height-adjustable with the press of a foot pedal, so you can easily select the most comfortable working posture for your laptop and keyboard. The four caster wheels allow you to relocate the desk wherever needed.
10. Mount-It! Sit/Stand Mobile Laptop Cart
The Mount-It! Sit/Stand Mobile Laptop Cart is a great choice for many situations. It fits most tablets and smartphones since it has a built-in tablet slot and charging cord holes. It has a weight capability of 17.6 lbs. and a roomy 28" x 19.7" platform, making it perfect for use in hospitals, schools, hotels, and homes. The gas spring mechanism simplifies height adjustment, and the huge casters provide mobility and stability.
Frequently Asked Questions
What's the difference between a standing desk with a keyboard tray and a regular standing desk?
A standing desk with a keyboard tray is designed with an additional sliding tray for your keyboard and mouse, optimizing ergonomics for standing work.
How can I connect a monitor to my laptop for a dual-screen setup?
To connect a monitor to your laptop, use an appropriate cable (e.g., HDMI, DisplayPort, or USB-C) to connect the monitor to your laptop's video output port. Then, configure your laptop's display settings to extend or duplicate the screen as desired. This should work for most laptops, but if it does not, read how to connect the monitor to the laptop.
Conclusion
Choosing the right laptop tray for your home office setup can significantly enhance your comfort and productivity. Whether you want a rolling cart or an adjustable desk, these adaptable options may meet your requirements and let you set up a comfortable, productive office at home.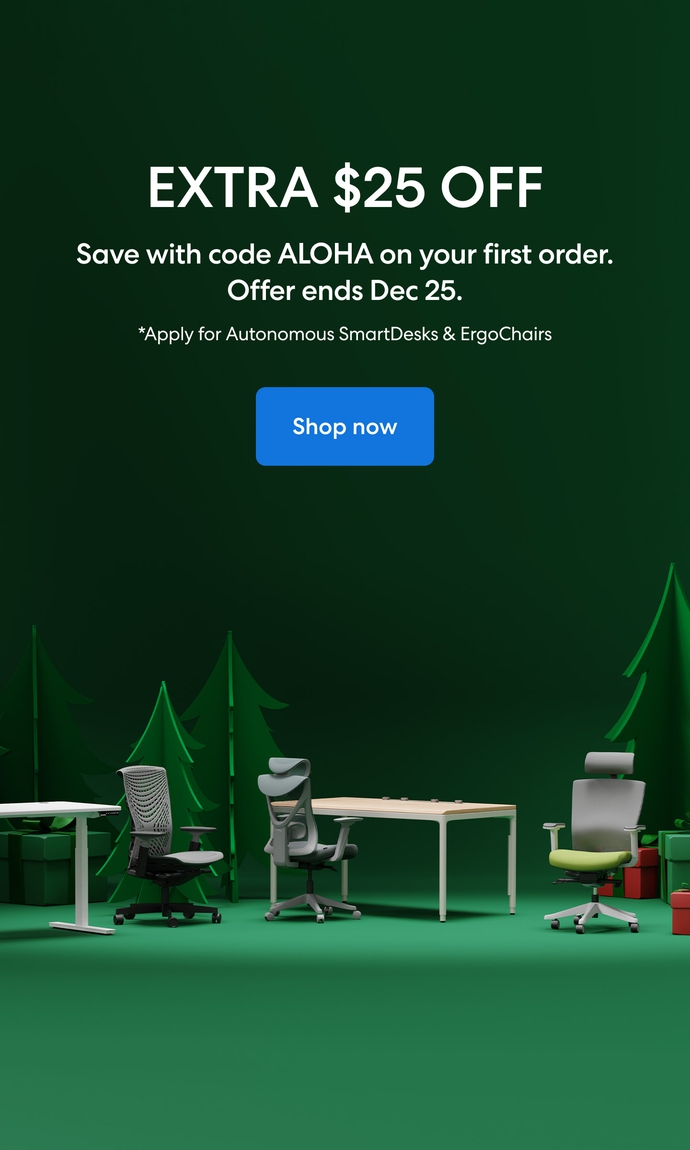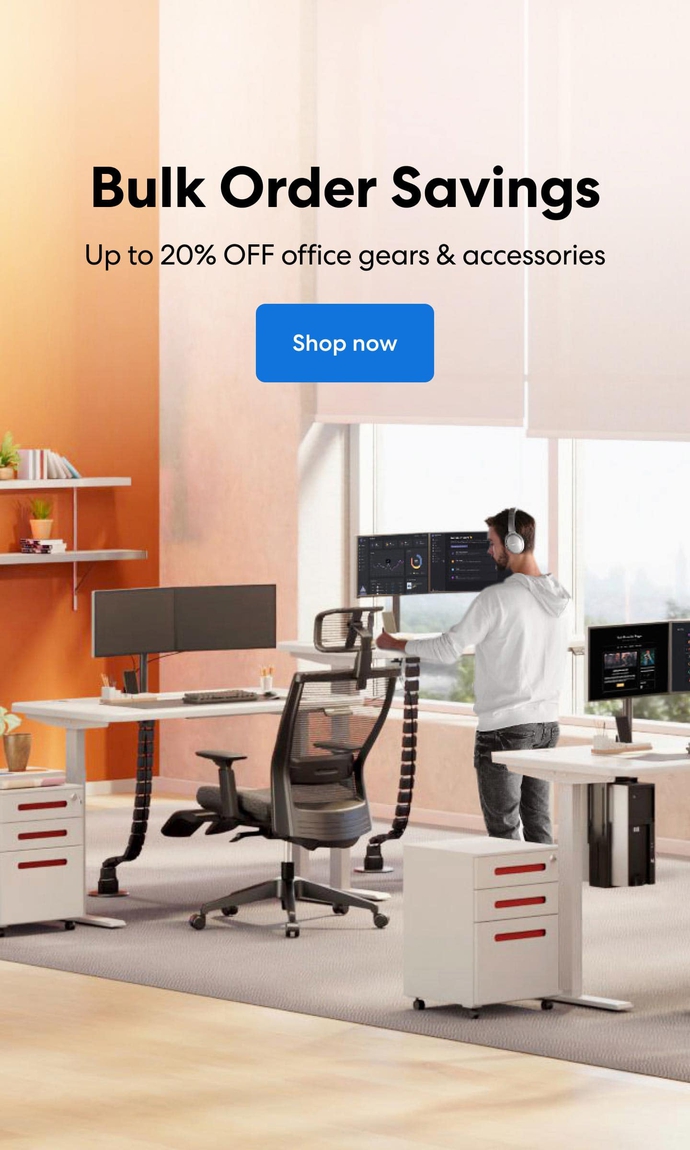 Subcribe newsletter and get $100 OFF.
Receive product updates, special offers, ergo tips, and inspiration form our team.