Smart Products
Best Small Desk Shelf: Top 25 Options to Store Your Office Supplies
618 Views
Whether you work at home or in the office, the last thing you need is a cluttered space with too many things scattered around. Fortunately, with a small desk shelf, you don't have to worry about that! 
Keeping your workstation tidy is visually pleasing and helps you feel comfortable. Moreover, it can increase your productivity and creativity while you perform all your tasks. 
Therefore, if you've noticed that you're having a hard time organizing your workspace, a small shelf for a desk may be everything you need. 
Do you know where to find the best option? You have come to the right place! Here's a list of the top small desk shelves to store your office supplies and keep your space uncluttered!
Top 25 Small Desk Shelves for Your Workspace
1. Length-adjustable Storage Monitor Stand by FENGE
Besides keeping your tools and belongings organized, this monitor stand can relieve work stress. Just as you read! 
While designing this monitor stand and mini shelf for a desk, FENGE considered the needs of workers who spend long hours in front of the computer. 
Therefore, in addition to increasing under-counter storage space, this length-adjustable dual monitor riser with drawer keeps your neck and eyes in a healthy position. Also, it's roomy enough to hold two monitors. 
2. Assembly Monitor Stand with a Drawer by FENGE
The same brand also designed a more modest option for smaller equipment, suitable for people who don't usually have too many tools in their offices but want to keep everything tidy! 
With a beautiful, high-grade design, this stand with drawer not only beautifies your workspace but offers more room for storage and helps you maintain a more comfortable position while viewing the monitor. 
Besides, its length is adjustable, so you can adapt it for various desktops and different length needs. 
3. Small Desk Organizer Shelf by FinerCrafts
Have you had problems with the height of your monitor? There's a potential solution: FinerCrafts' wooden desk riser shelf. 
This item has been designed to match almost any standing desk! Additionally, it provides more tabletop space while raising your monitor to a height that benefits your posture and reduces pressure on your spine. 
If you are looking for a beautiful model that will go well with your office's decor, this may be the one for you. It is available in various color combinations, including natural maple and English walnut with a black or white frame. 
4. Mount-It! Two Tier Monitor Stand with Shelf
Another option worth considering when looking for storage options for your workspace is the Mount-It! two-tier monitor stand with a shelf. 
This small bookshelf desk for a desk is one of the best options you can find on the market, as it provides storage solutions while enhancing the setup's ergonomics.
Furthermore, this item can support almost all monitors or laptops available out there. 
5. Bamboo Desktop Bookshelf with Three Drawers by Maydear
Are you looking for a larger desk organizer shelf for more storage space? If so, you must check out the Maydear bamboo desktop bookshelf with three drawers! 
Although it's huge and has several compartments to store different tools and office supplies, this shelf has a modern style that goes with any decoration.
Plus, it has a multi-layer design that offers different storage options, whether you want to keep books, pencils, and calculators close at hand or only hope to fit some decorative items in there.
6. Extensible Desktop Book Rack with Drawers by Maydear
If you're looking for a small bookshelf for a desk and want to find a beautiful but functional model, you cannot forget this item! 
The Maydear extensible desktop book rack with drawers can fit any table space and has drawers for more storage space! 
In addition, this model is made with durable and eco-friendly premium bamboo, meaning it's the perfect option for those who care about the environment, too. 
7. Bamboo Monitor Stand and Riser by Maydear
The brand also offers its customers this beautiful bamboo monitor riser for those who want to maintain a healthier position while working but are also looking for a practical small desk shelf. 
This item is made of high-quality bamboo. Therefore, it is environmentally friendly and durable.
Plus, it's easy to clean! If you think that keeping things tidy is as difficult as cleaning them, this model is perfect for you! 
8. File and Book Organizer Triangle by Reliancer
While this is not a shelf per se, it has been designed to offer more desktop storage! This item can accommodate your books, files, and folders in an elegant yet efficient way. 
With a lovely design made of high-quality iron, this small bookshelf for a desk is beautiful, sturdy, and durable. 
9. Wood Monitor Stand/Riser by Victor Midnight Black Collection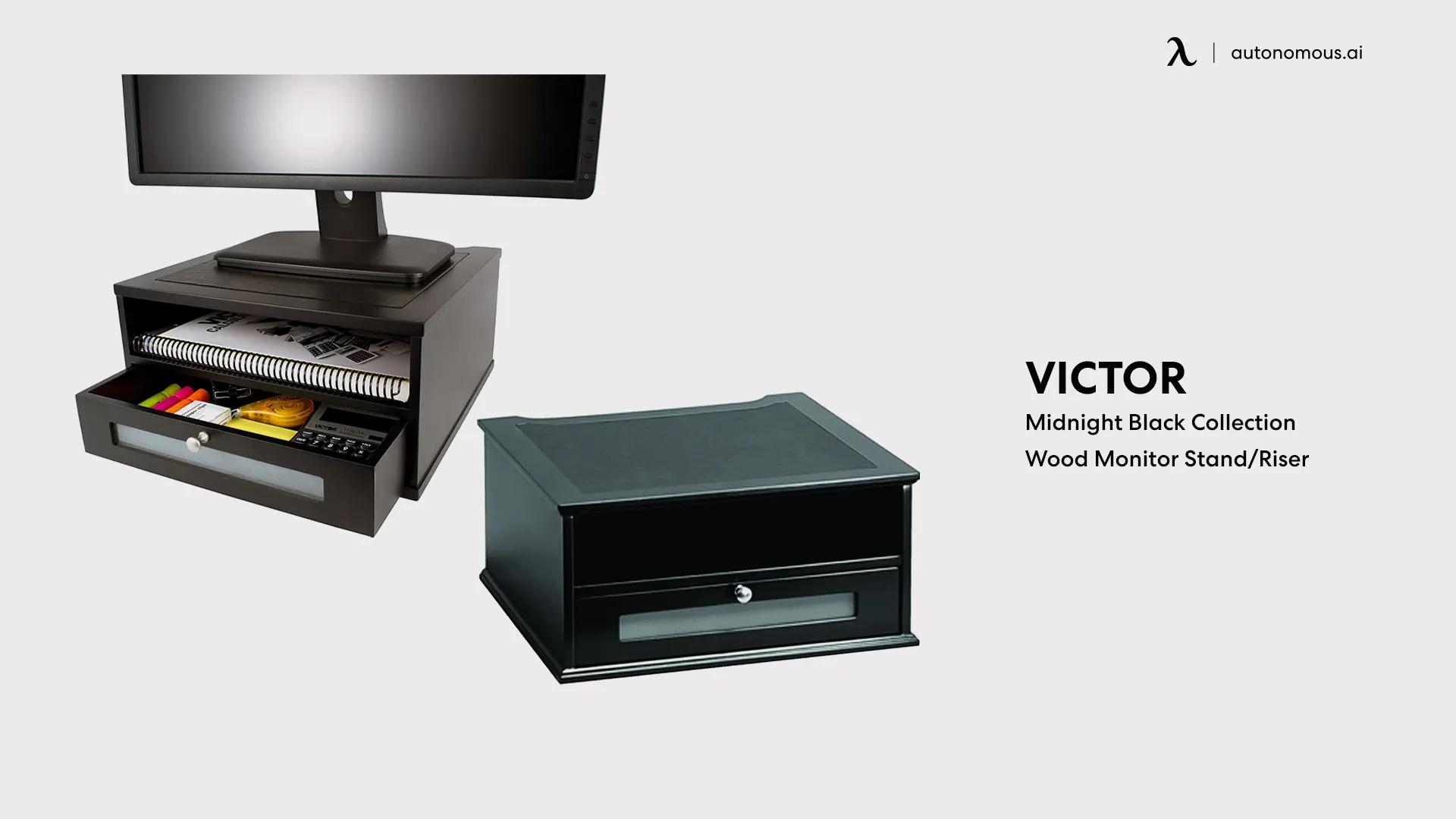 Do you want more storage space and a solution to maintain a healthy posture? If so, this mini shelf for a desk is all you need. 
With this product, you can store all kinds of office supplies, from books and files to stationery items. 
Also, this stand is a monitor riser, too! Therefore, it relieves the tension in your neck and head while you are in front of the computer. 
10. Upgrader Desk Organizer with a Drawer by Marbrasse
Originally designed as a pencil holder, this item has been upgraded and now offers enough space for all kinds of desktop accessories, including pens, files, staplers, and more. 
This organizer has 15 compartments! Therefore, you can be sure that your work tools will be organized at all times.
Also, this upgraded pencil holder is made of high-quality wood! 
11. Locking Drawer Cabinet for Desk Organization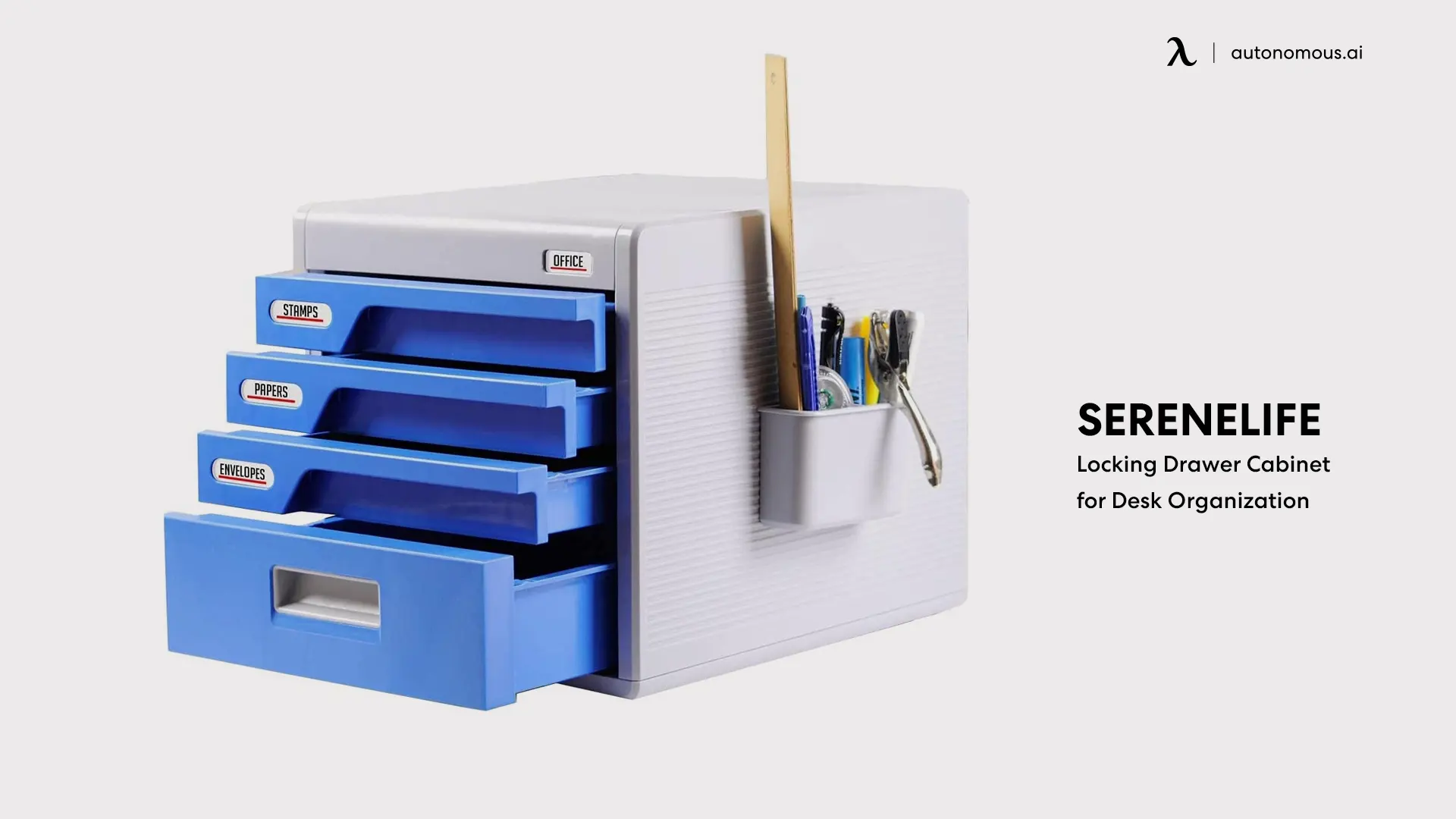 This one is also not a desk shelf but can give you all the storage space you need to keep your tabletop area organized! 
With this compact drawer, which has several compartments for storing stationery items, you can't stop thinking about that annoying problem of stuff cluttering your desk. 
Also, you can lock away your valuable belongings here and rest assured that you can find them any time you need! 
12. Acrylic Desktop Organizer by Kantek
This beautiful acrylic organizer is the perfect solution if your scattered files on your desktop tend to cause a mess. 
Kantek organizer has been specifically designed to organize your files, so you can't expect too much storage space. However, it's perfect for keeping important documents at hand! 
Plus, it's made from acrylic, so it's one of the simplest yet most beautiful options you can find. 
13. Facility Desktop File Tray by Acriment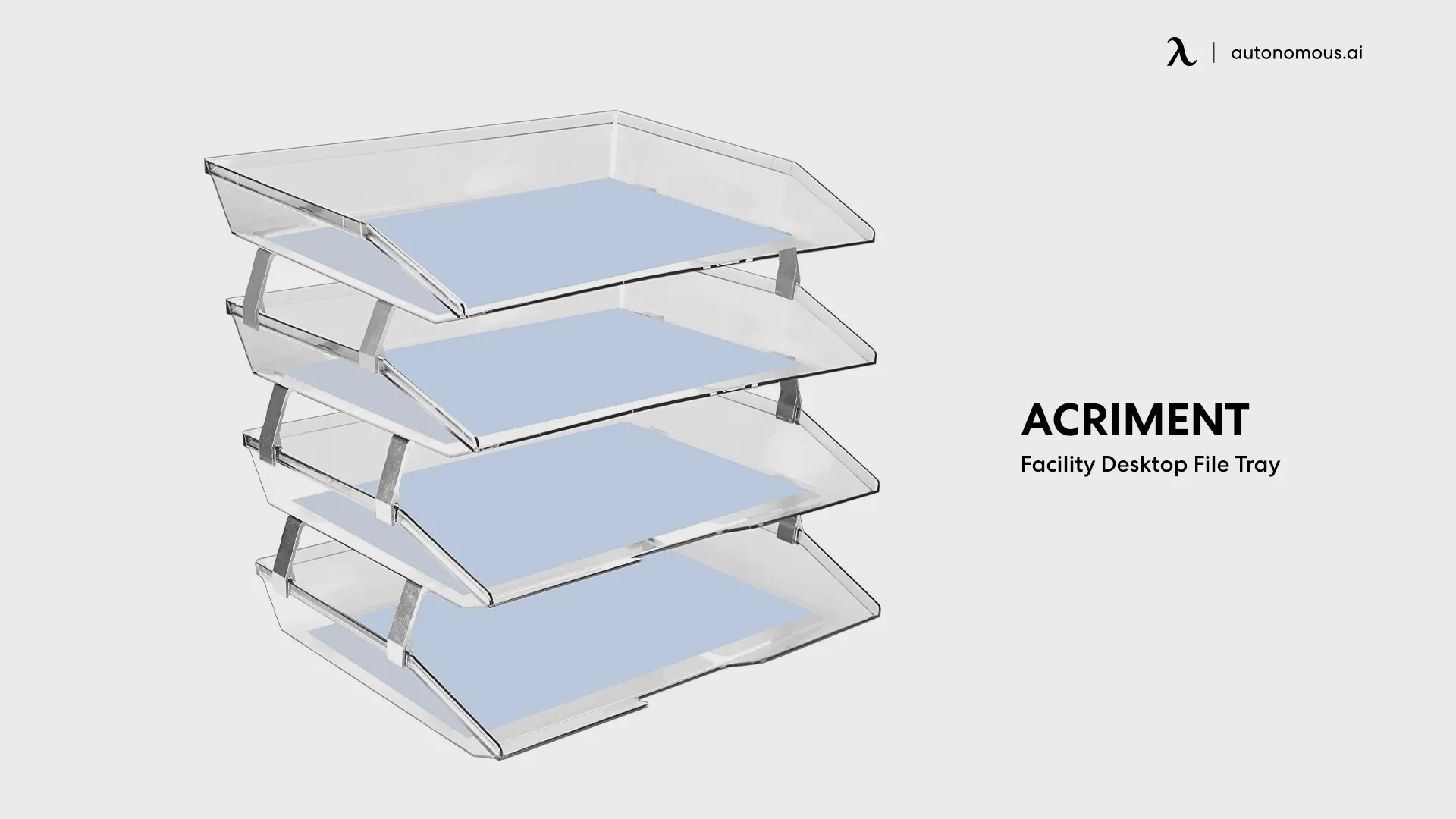 If messy files are seriously a problem for you, you can also consider this item. 
Since it is made of high-quality acrylic with sturdy aluminum brackets, you can be sure that this item will last for years! 
While it has been designed to organize files, with a little imagination, you can put a lot more stuff in there! 
14. Wooden Office Supplies Desk Organizer by Coideal
Do you prefer a mini shelf for a desk with several compartments to store all your work tools? There's one that fits that description perfectly! 
This wooden office organizer by Coideal has several different compartments, including a drawer, two file or folder holders, pen holders, and more! 
If you choose this one, you can be sure that your important office supplies that are easily lost or misplaced will be organized and at hand all the time! 
15. Wood Computer Monitor Riser with Organizer by COOGOU
There are many items that provide storage options and solutions to increase comfort and ergonomics while you work. One of them is this wooden computer monitor stand/riser by COOGOU! 
Besides raising your workspace to an eye level, this monitor riser has a built-in small desk shelf with several compartments to store all your office supplies! 
16. 4-Shelf Desktop Organizer by Victor Wood Midnight Black Collection
If you have large files or folders and don't know where to store them, this 4-shelf organizer is perfect for you! 
It's roomy enough to store up to two books in the same compartment! Also, it has a sliding tray at the bottom where you can store other desk supplies. 
With this small shelf for a desk, you won't have to worry about losing your pens, highlighters, or paper clips again! 
17. Elisa Multi-Compartment Desktop Organizer by Bigso
Another option with multiple storage spaces you can check out is this one made by Bongso. 
Thanks to its practical design with seven different compartments, this item is perfect for organizing all kinds of accessories and office supplies, including pencils or markers, files, folders, and more. 
18. Mesh Organizer for More Storage by Mind Reader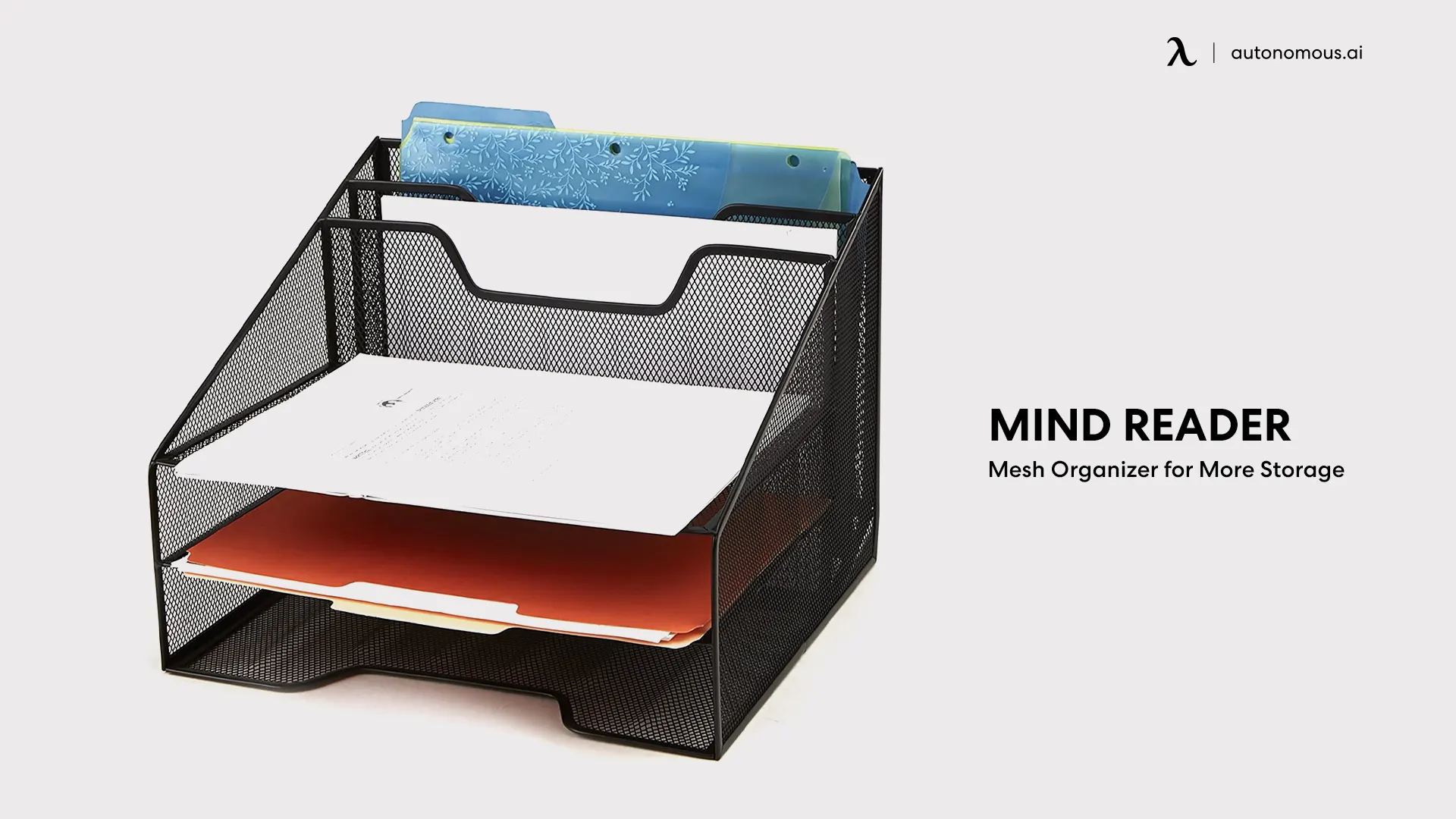 Among the most popular storage solutions for offices, there are mesh organizers! If you like them, Mind Reader has an option you should consider. 
This item has been designed to store files and folders. However, it can also double as a small bookshelf for a desk! 
19. Storage Rack for Desks by Jerry & Maggie
If you are looking for a simpler but more beautiful and practical option, this wooden, small desk shelf is the one you need! 
Thanks to its multi-purpose design, you can store both books or files and office supplies there. Also, you can add some decorative elements to give your office a personal touch. 
It's made of wood and can be a great addition to any type of workstation! 
20. Large and Adjustable Desktop Shelf by Ikee Design
Besides being beautiful and durable, this desk organizer shelf can make your life so much easier! 
It has everything you need to store your office supplies, including two regular drawers, two mini drawers, two holders for phones or other items, a tray for books, and more! 
21. Mesh Six-Slot File Organizer by AmazonBasics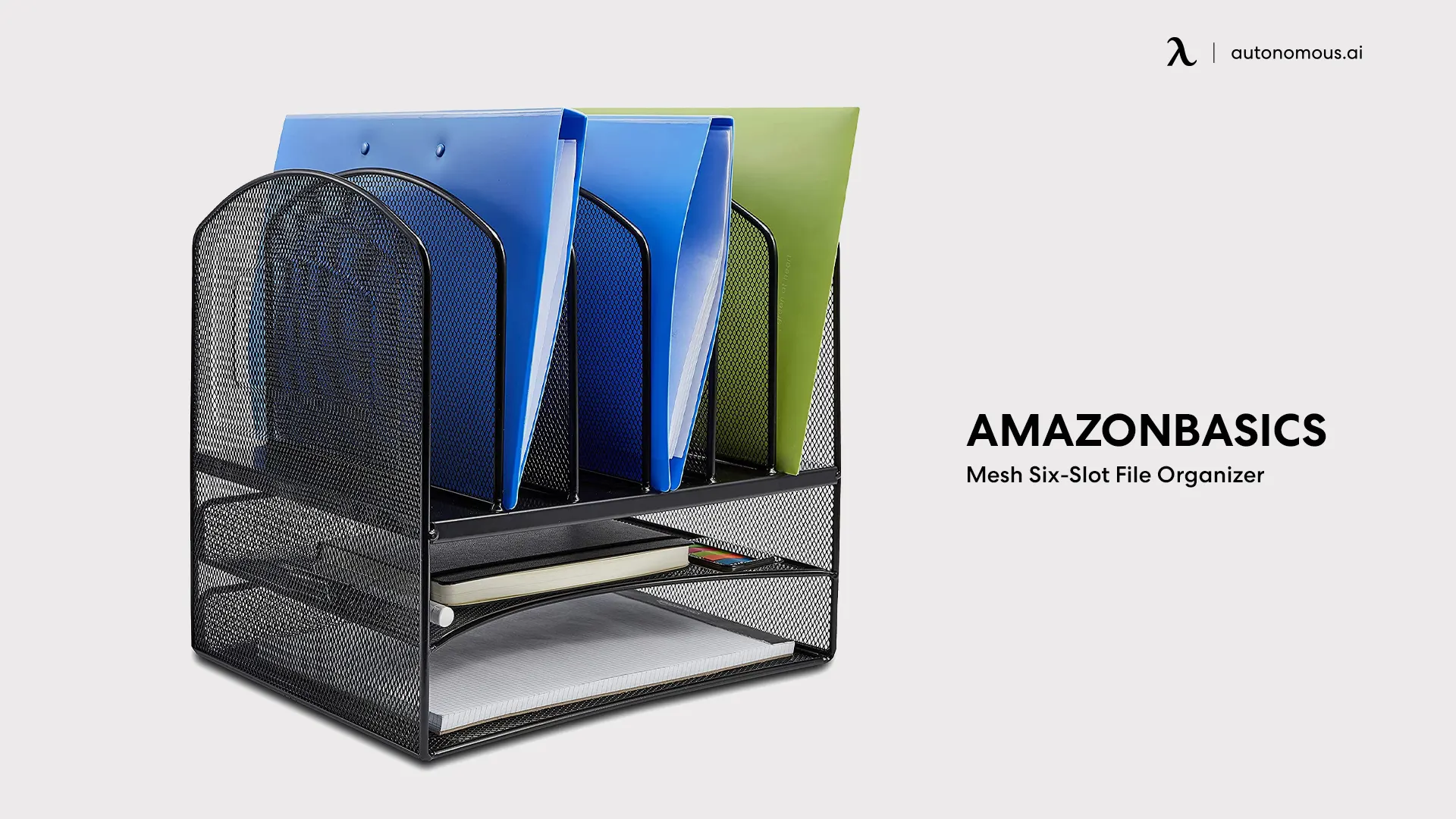 Do you usually handle a lot of paperwork during your working day? There doesn't have to be a mess on your desk! 
With this mesh file organizer, you can have all your important documents at hand, but they won't be scattered all over your desktop! 
22. Wall-stand Riser for Monitor by DeskStand
If you want to turn your regular table into a standing desk, this monitor riser is all you need! 
In addition to keeping your laptop or screen at eye level, promising more comfort while you work, this amazing mini shelf for a desk increases available storage space for better organization! 
23. Adjustable Floating Desk Riser by TechOrbits
Do you think finding a monitor riser with storage solutions is a good idea? If so, another product you should check out is this stand made by TechOrbits. 
It has a modern design that not only adds a luxurious touch to workspaces but also offers many modern features. 
This riser monitor takes your computer to a level where you can maintain a healthy posture and a second level to place your keyboard. 
24. 2-Tier Stainless Steel Shelf
This small desk shelf is anything but traditional, as it must be installed on the wall instead of standing on the tabletop. 
However, that doesn't mean it's not a good option. This floating desk shelf is ideal if you want more space to put your physical calendar, plants, or decorative items! 
25. Expandable Wood Desktop Organizer by DL Furniture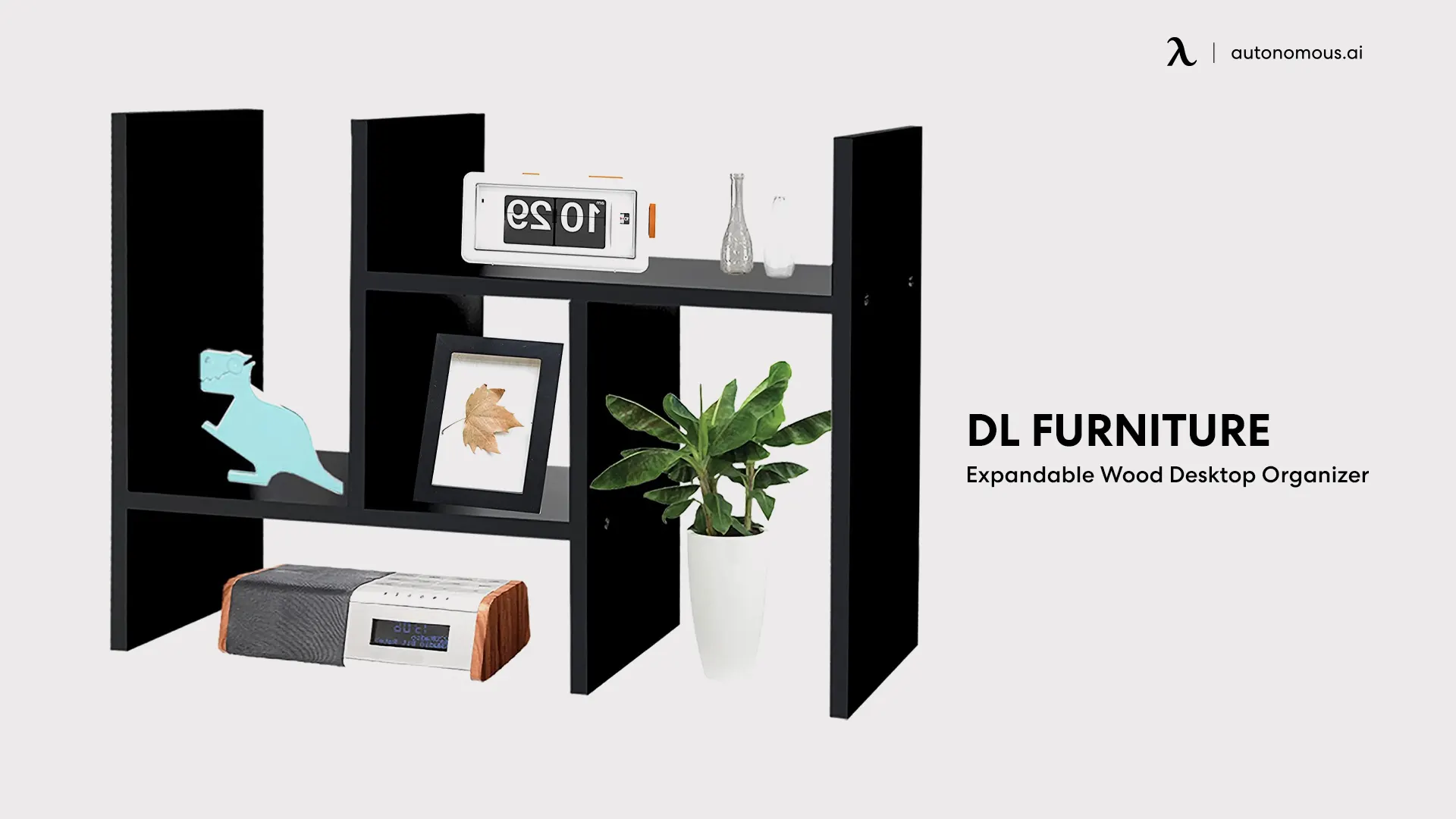 Do you have books and office stationery taking up your entire desktop? Here's a potential solution: get a wood organizer made by DL Furniture. 
This expandable model is perfect for modern offices and has enough space for you to fit any sized books, documents, pencil holders, and more! 
Final Thoughts
As you can see, there are many office storage & organization solutions for your office or home workspace! 
If you do a good search, you can find many options that help you keep your desk accessories organized and at hand! 
Remember that a small desk shelf may be all you need to have a comfortable workstation that increases productivity. Therefore, you must take enough time to find the right one!
Keep up with Autonomous news
Stay informed, stay inspired with our new blogs.
WRITTEN BYAutonomous
We build office products to help you work smarter.