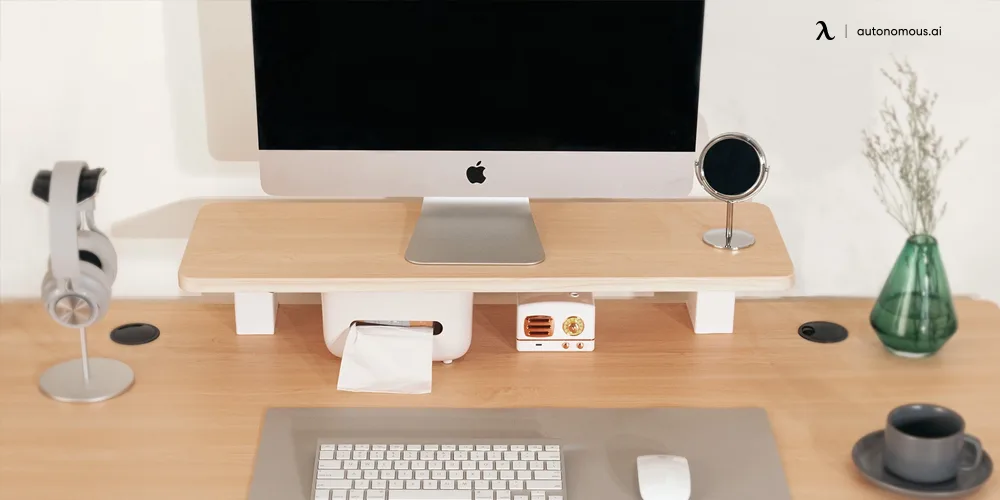 Smart Products
10 Best Desk Shelf Monitor Stands in 2022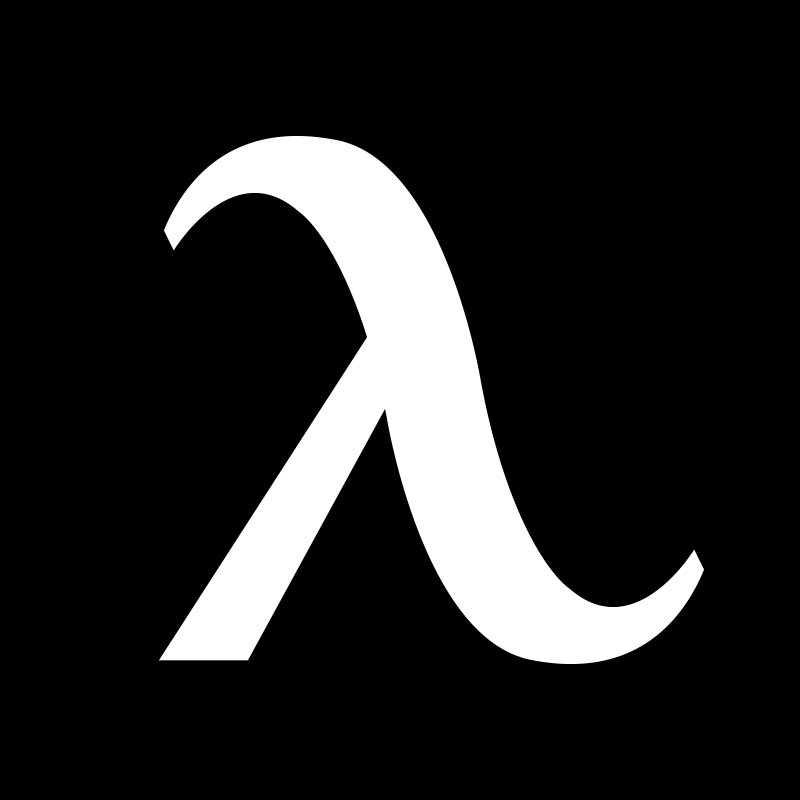 Autonomous
 | 
May 29, 2022
Majority of the people love the work-from-home routine and wish to continue to have their home offices be their permanent workplace. Working from home has tons of perks with control over work times, flexibility, managing work from large distances, saving time from commuting, and many others.
But one challenge that employees face is the unavailability of the right type of work from home equipment. From limitations in furniture to lack of office essentials, everything while working from home can become a halt to productivity. After all, the need for a proper work desk cannot be ignored. Thus amongst the many options, a versatile pick is to opt for a desk shelf monitor stand. Unlike a huge desk, a small desk shelf isn't such a big investment, and with a desk shelf stand, you can make do with your already existing office desk.

The benefits of a wood desk shelf are numerous, amongst the top one being the ability to set up your workstation anywhere, even if you are on the go. Another big advantage of a desk shelf monitor stand is that it is more affordable than many other options. You can easily build a DIY desk shelf riser or purchase one through employee purchase program. Here are our top picks for an ergonomic monitor stand.
1. FinerCrafts Desk Shelf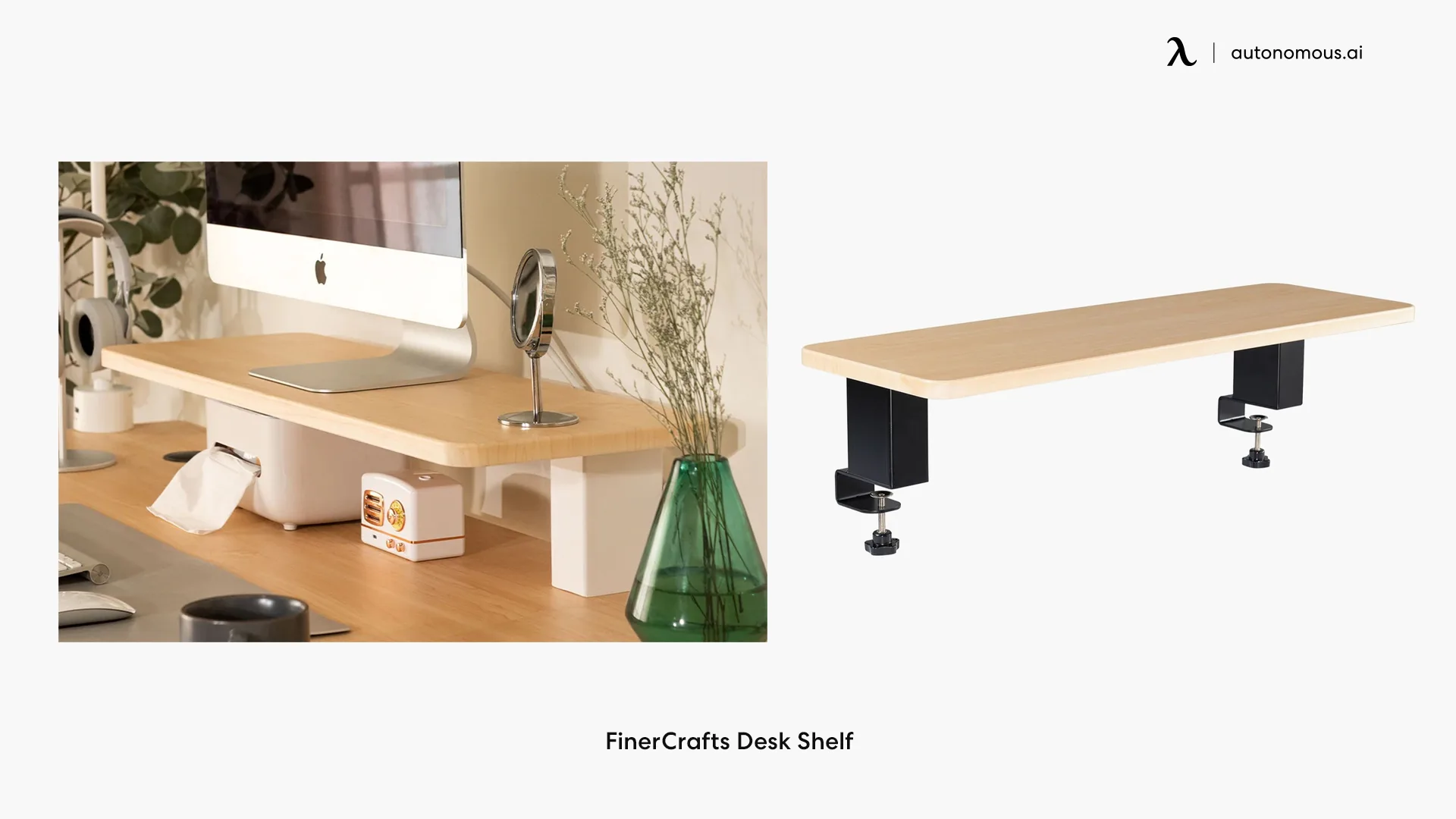 If you complain about poor posture and the natural urge to slouch while working, your desk height is the culprit. While we are all aware of standing desks and height-adjustable desk benefits, not all of us can afford one. This FinerCrafts desk shelf allows the best upright posture for office workers who need a little investment yet maximum benefits.
The desk provides you with an extra, attractive, and spacious platform to work on, but it also frees up the space on your desk. It is available in two tabletop colors with two frame colors, so you can choose the one that fits and matches your desk theme. The desk shelf has a simple assembly and comes with a 10-year warranty.
2. Birchwood Monitor Stand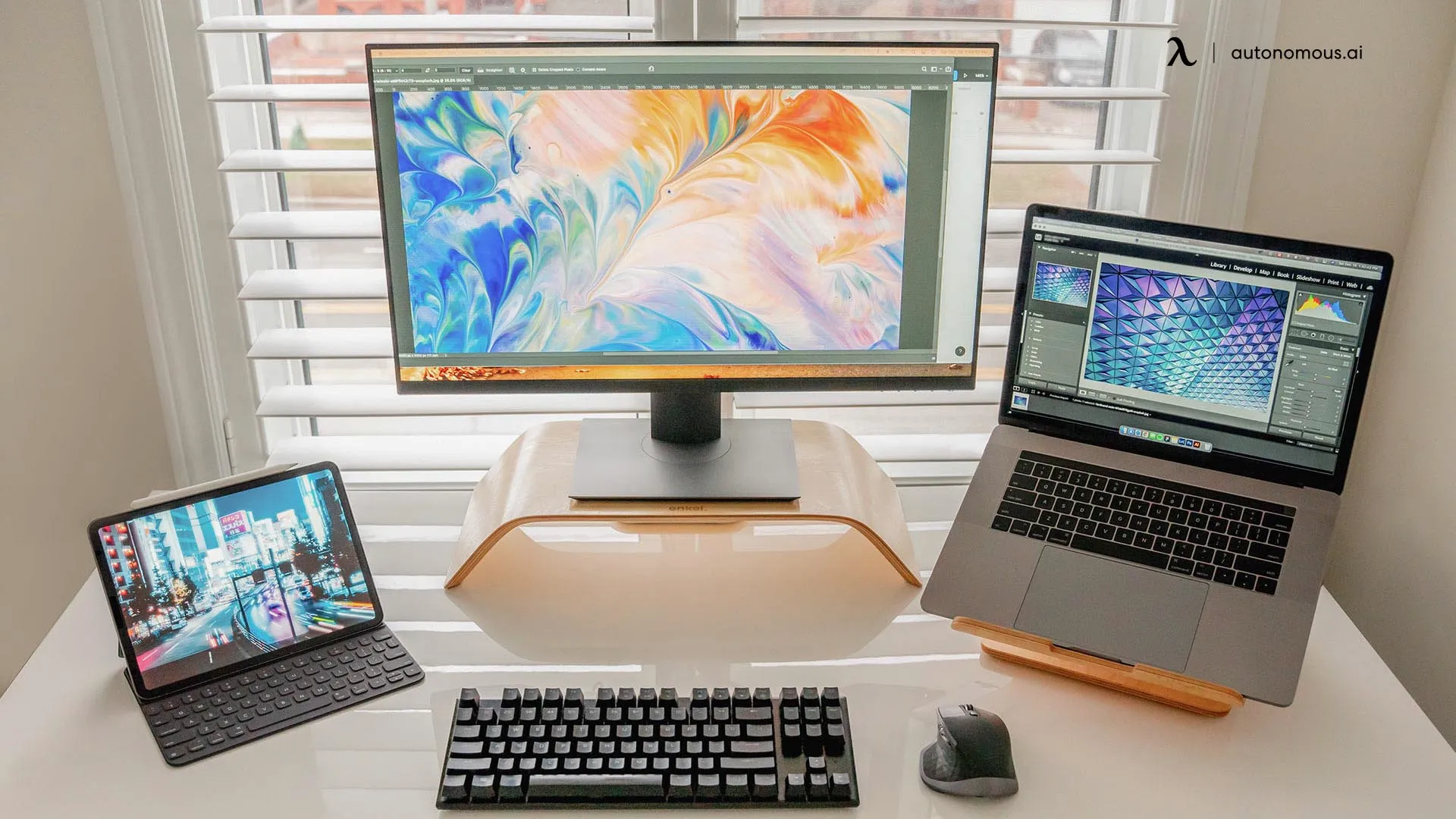 Whether you are out to build a desk shelf or buy one, Birchwood is a perfect material to build most office desks because of its strength and its perfect looks and versatility. This ergonomic Birch Wood monitor stand allows screen height elevation for an ergonomic posture. The monitor stand gives a proper spinal alignment to prevent neck and shoulder strain and keeps the lower back safe from stress. It is made from 100% natural birch wood and scent-free oils, so there are zero toxicity and environmentally hazardous products involved in the process.
3. Dual Monitor Stand
If you think that office desks for dual monitors are hard to find and cost you a lot, this dual computer monitor stand from The Office Oasis will change your mind. The strong metal legs ensure maximum weight capacity to support and provide a smooth and sturdy interface between your desk and the platform.
Other than a spacious and wide work area, the monitor stand also offers vacant space underneath where you can keep your keyboard, mouse, and other accessories after use. The desk shelf monitor stand has a weight capacity of 100 pounds, and its dimensions are compatible with the majority of the office desks.
4. Oakwood Monitor Stand
We all know how people who are fascinated with Apple products are more than attentive to looks, and the same is the story with this Oakwood desk shelf monitor stand for your work from adventures. This pick has a strong visual appeal and longevity because it is handcrafted from real, high quality sturdy oak wood which gives its own glamor. But to add an additional touch of aesthetics the surface is polished with waxes and oils to preserve the desks' shine and original color. Although it was created especially for the Macintosh line of computers, you can be sure that it will benefit other brands just as much.
5. Satechi Monitor Stand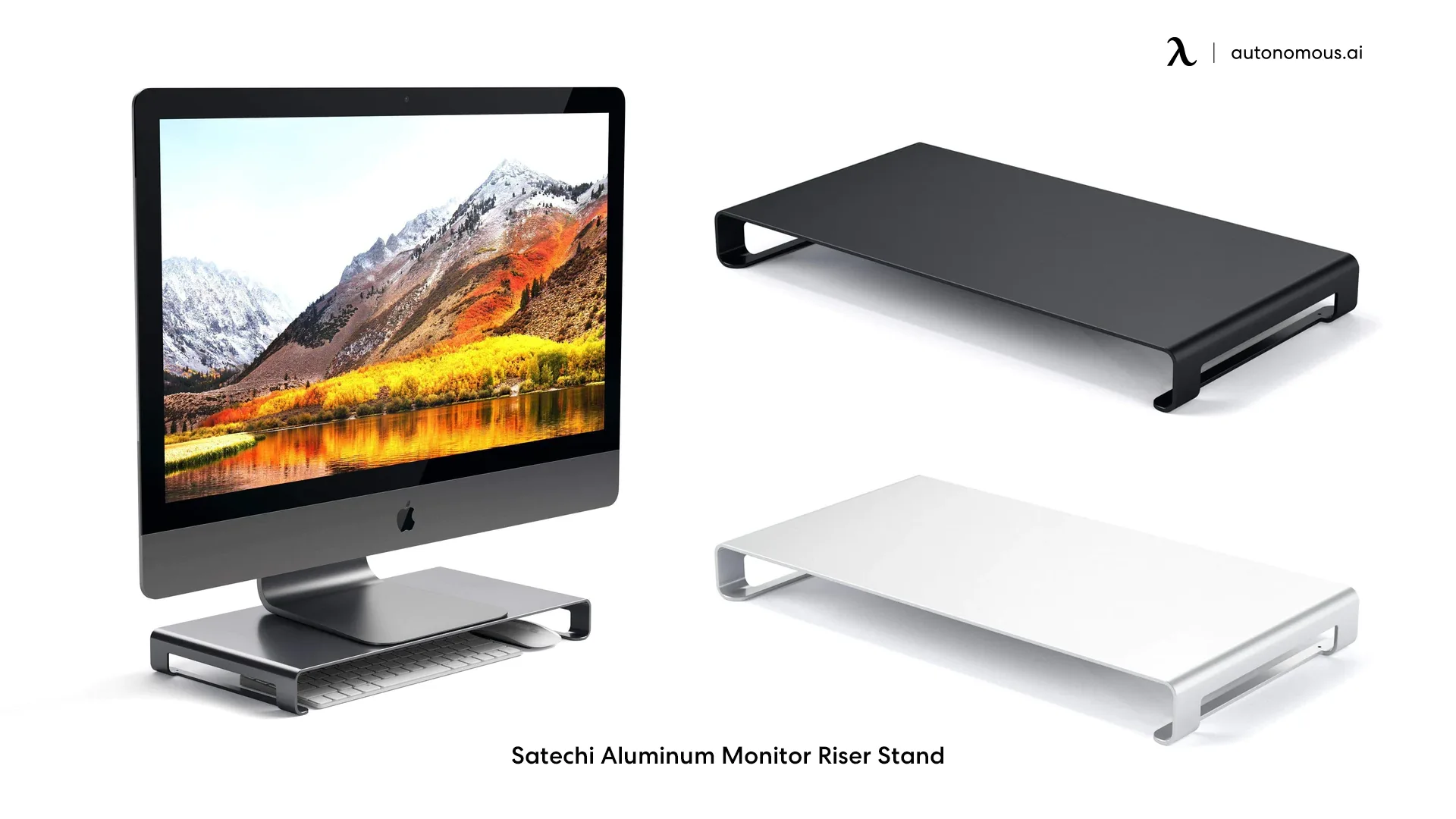 The Aluminum Monitor Stand Hub from Satechi will raise your monitor and allow you to connect more electronic items to your computer neat.
The desk shelf monitor stand is composed of metal, which matches Apple's Mac series in appearance. Although the stand is not particularly tall, it has a built-in USB hub, a headphone jack, and both full-sized and Micro SD slots. It is ideal if you require a short monitor stand to improve the functionality of your computer.
6. Simple Houseware Monitor Stand
Simple things are always in style, and this monitor stand is a perfect example of that. It weighs less than four pounds which means it is cost-effective too. It has several ergonomic features with an elevated height for a safe eye level, a sliding drawer to keep your essentials, and side caddies for tiny stationery items. It falls below the $50, so probably the cheapest yet best bet.
7. Bamboo Computer Monitor Stand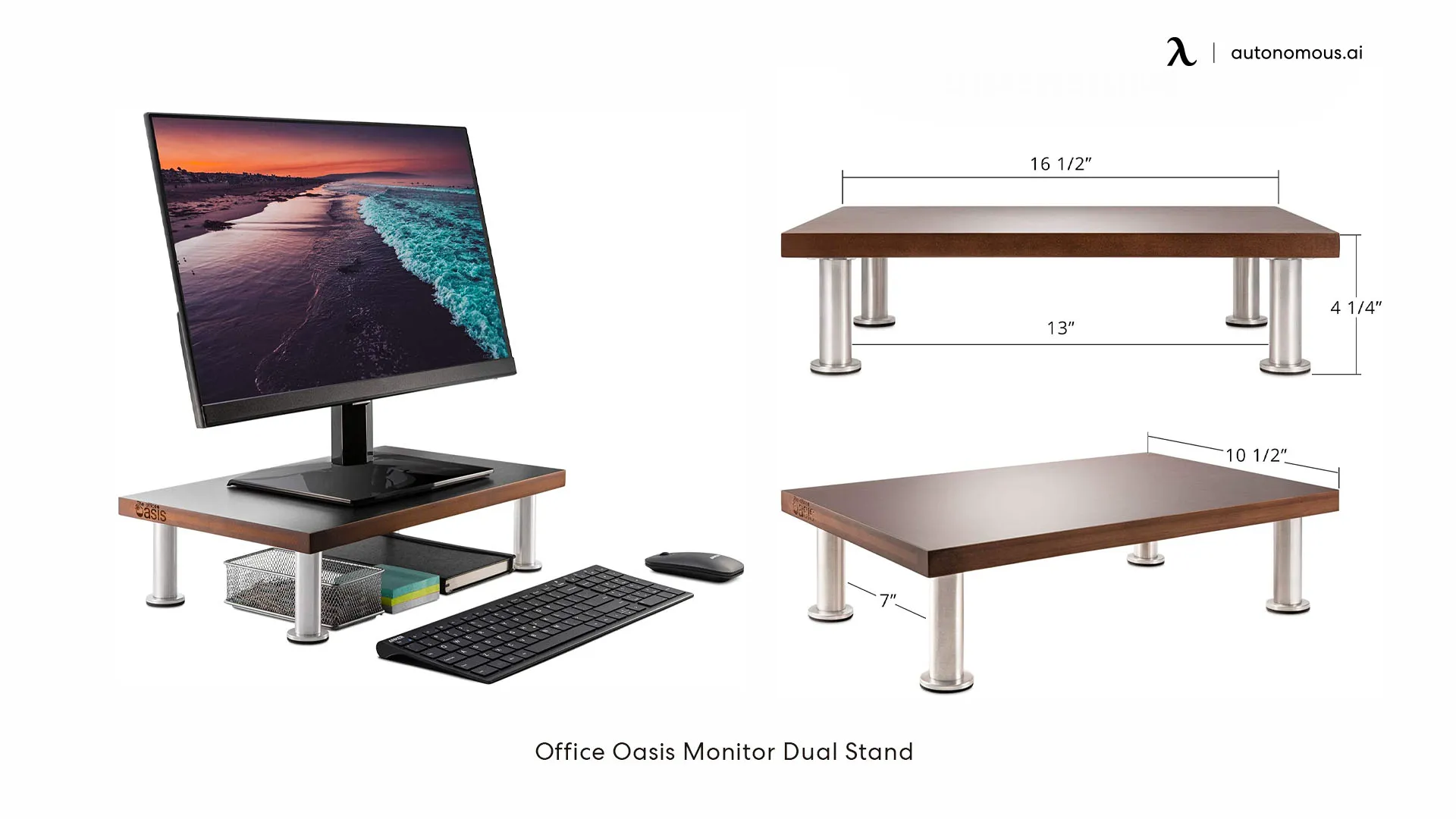 Bamboo wood has been long used for office furniture because of its durability, aesthetics, strength, and environmental friendliness. This bamboo computer monitor stand is one of the best on our lists and is loaded with amazing ergonomic features. First, it lifts your monitor screen to an ergonomic level so you won't be tilting your neck or head in any uneasy direction.
Other than that, it has a weight capacity of 100 pounds. You can purchase the natural bamboo color and choose between the black and brown, which both present the finest look of natural wood. There is storage space for your keyboard and mouse underneath the raised platform. Even though furniture made from natural wood costs a dime, you can purchase this one through the Autonomous employee purchase program.
8. Grovemade Dual Monitor Stand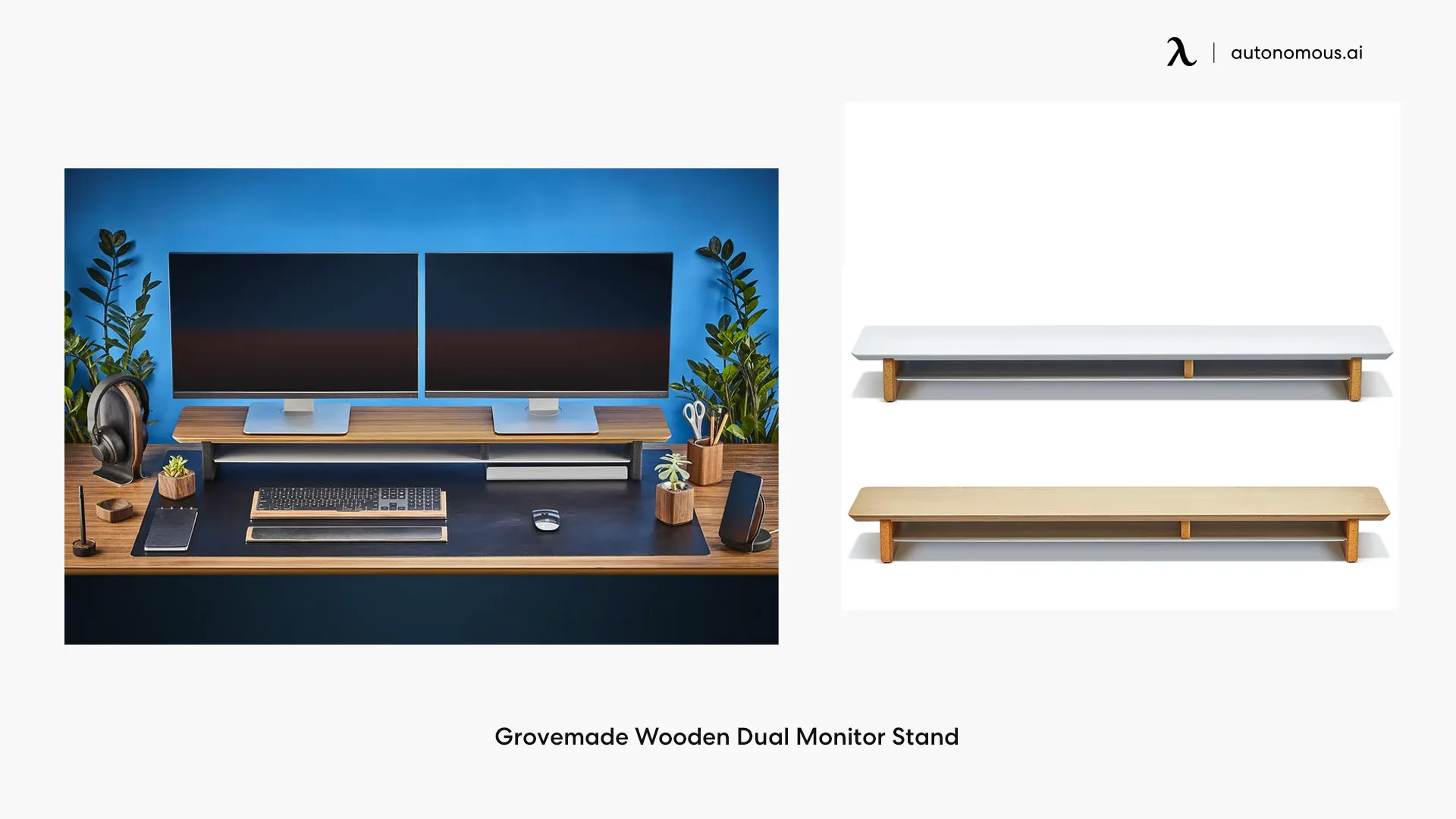 The Grovemade unit raises your displays, making them easier to see and creating a more ergonomic workplace atmosphere. It also provides additional room beneath the monitors. It includes a 46-inch broad aluminum shelf that can carry laptops, documents, or books, supporting up to 100 pounds of weight.
9. AmazonBasics Adjustable Monitor Stand
Sometimes basic things are amazing, too, and the same is true with this amazon basics adjustable monitor stand. It is one of the simplest designs you will find on this list, so if you are looking for a product about looks, you might wish to pass on this one. With its simple design, it is light on the wallet, too and one of the best features of this monitor stand is that it is height adjustable. So you might want to let go of the looks and count on functionality for this one.
10. Huanuo Monitor Stand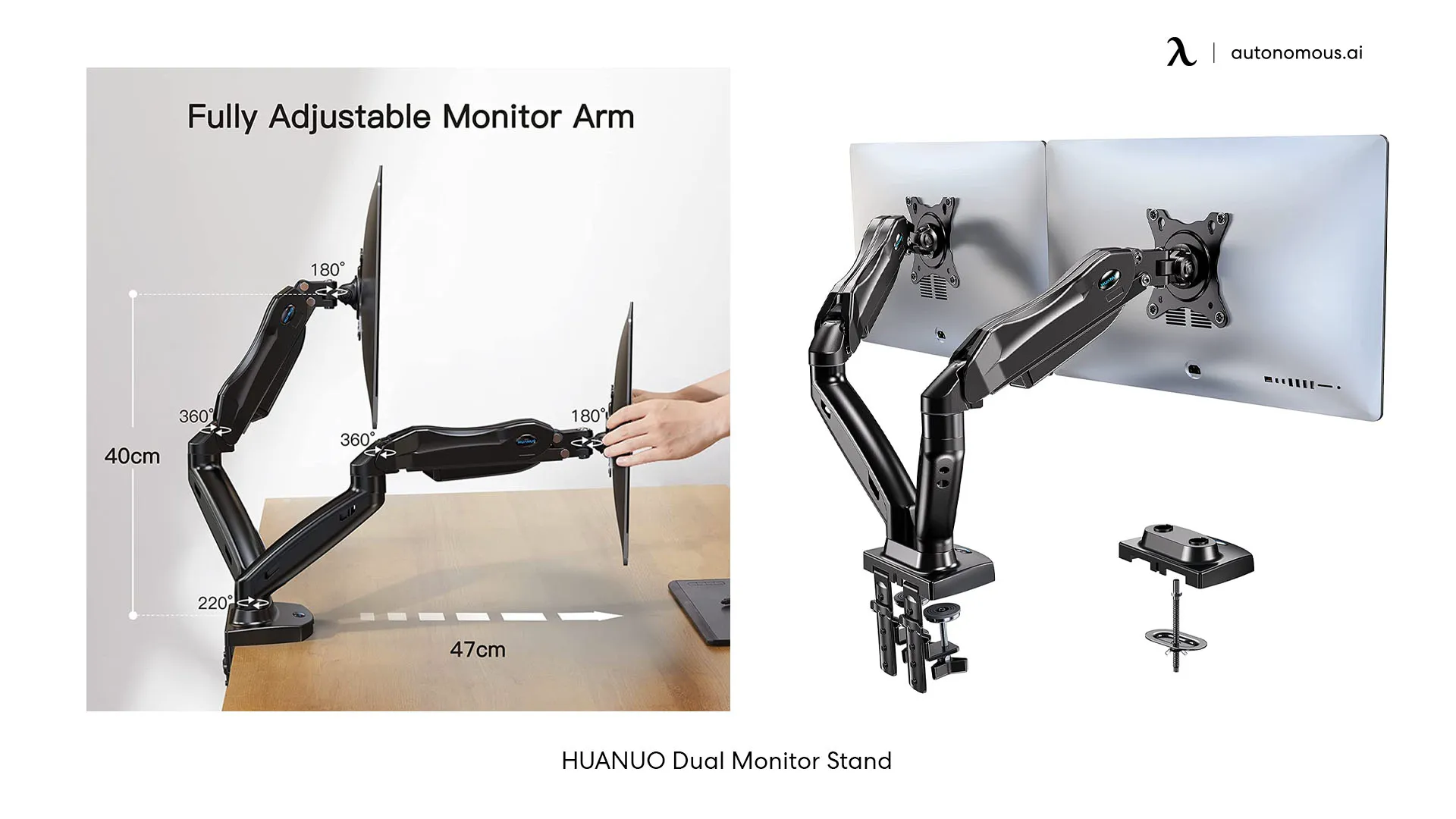 This Monitor Riser is for you if you want basic yet useful products. This selection is for anyone who wants to maximize a restricted workplace since it has plenty of storage space and two drawers for all of your belongings. It's an added plus that you won't have to construct it. Moreover, the mesh design allows your storage items to be safe, organized, yet visible so that you won't be searching for stationery items in an opaque drawer anymore.
Hey, you have special pricing through your company.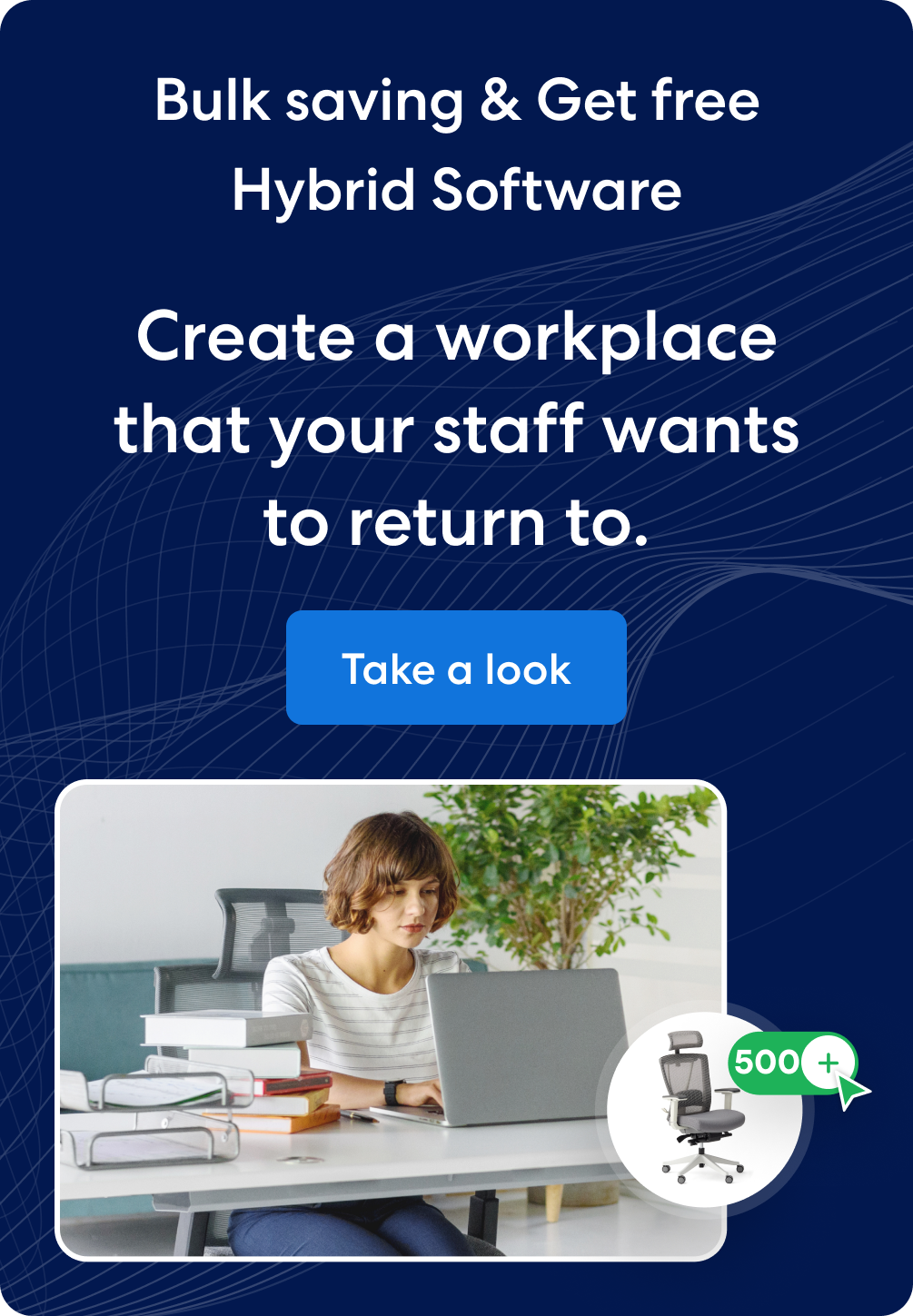 Get exclusive rewards
for your first Autonomous blog subscription.
WRITTEN BYAutonomous
We build office products to help you work smarter.
Coming at You Live from Autonomous' Social Media!