If you're a student or have a job requiring you to spend a lot of time sitting as you work away, you are likely very familiar with the concept of standing desks. The way we use our desks is changing, and standing desks have become the better, efficient, and upgraded option to sitting desks.
Why, do you ask? That's because the standing desks provide you with benefits that a sitting desk would never be able to. Sedentary behaviours acquired due to sitting for long hours can cause you various health issues, not to forget, body pain all over.
When you alternate between sitting and standing using a standing desk like a pro, then that interrupts the cycle of inactivity. It then leads you to acquire better posture and relieves pressure from your muscle and joints, relieving you from accumulating pain and ache in your body.
You can get yourself a standing desk, or you could even convert your existing desk into a standing one. You can achieve this using electric standing desk base frames and DIY standing desk kits in Canada. Let's check out the best standing desk legs in Canada to jumpstart your standing desk journey.
Why Choose Standing Desks?
Sitting desks promote inactivity and lethargy and can ruin your posture. All these factors can lead to several health issues that can even include problems like high blood pressure, diabetes, obesity, anxiety, knee pain, and more.
Standing desks have proved to be successful at improving productivity, focus and motivation while working. They are also beneficial at helping you combat the illnesses and health issues you would have acquired due to a sedentary lifestyle.
Standing desks also have options to adjust how tall or short you want them to be according to your height. This way, you can change it up depending on if you're sitting or standing. Standing desks are considerably expensive than regular desks, but that's because they are an investment for a better and healthier lifestyle.
If you're looking for the best standing desk options in Canada instead of desk legs or frames, then there are some good ones around as well.
You can easily customize and make your standing desk workstation using the standing desk frame in Canada or standing desk base in Canada options. There are also various DIY standing desk kits in Canada available to customize your desk according to your preferences and taste.
Here are some of the best standing desk frames in Canada to help you choose the right standing desk base frame for maximum efficiency.
1. Autonomous SmartDesk DIY Frame Kit
This SmartDesk DIY frame kit from autonomous comes with the standing base of the desk. The Autonomous SmartDesk Frame kit provides you with the tools to customize an optimal and attractive standing desk to fit your preferences. It is one of the best standing desk legs in Canada.
You can customize the colours, accessories to your taste and adjust them according to your height. The standing desk frame comes with dual motors with a high lift capacity and can effortlessly transform your standing desk into a sitting one. You can pair the desk with an ergonomic chair for maximum comfort and productivity.
The desk frame and use are also incredibly sturdy and durable and can hold a capacity of 300 lbs while also allowing you a frame that can accommodate a spacious desktop. This way, you can easily expand your workstation and not worry about cluttering the table.
The autonomous desk frame is also approved for global safety standards with safety certifications from UL, EMC and BIFMA.
 Pros
High Weight Capacity of 300 lbs
Includes safety certification from EMC, BIFMA and UL
Value for money
 Cons:
Slightly expensive, even with price cuts

Doesn't come with a desktop 

2. Ikea IDÅSEN Sit/Stand Underframe
If you're looking for a simplistic but premium design for your desk legs and desk frame, then this is truly an exceptional option. Although a little on the pricey side due to Scandinavian manufacturing, this IDÅSEN underframe can help you transform your workspace to give it a sophisticated and luxurious feel.
This standing desk frame in Canada comes with a Bluetooth hand controller, and you can easily control the height adjustments with your smartphones. The material for his desk frame is also very durable and strong.
However, the weight capacity is slightly on the lower side as the desk frame is equipped to deal with a maximum load of 165 lbs.
Pros:
Strong and durable material
Ten-year warranty
Bluetooth controller
Cons:
Can't hold a load of more than 165 lbs

3. Mount-It! Electric Standing Desk Frame
This adjustable desk base in Canada can have a large desktop installed on it. The deks can then support multiple monitors and create a spacious workstation.
It is also incredibly easy to assemble and comes with appropriate height adjustment ranges. The flexibility of the table's height can provide you with a desk that you can lift from 28.7 inches to up to 48.4 inches.
Pros:
It can hold a spacious desktop
Robust and strong construction
Easy to set up
Cons:
The motor and electrical components can use some improvements.

4. VIVO Electric Stand Up Desk Frame
The Vivo desk frame has solid steel construction and can withstand over 175 lbs. The motor runs efficiently and makes it easy for you to transition between a standing desk and a sitting desk smoothly. It is a good option for standing desk legs in Canada.
There is a sleek and modem touchscreen controller that comes with the frame, and the system allows you to save your preferred desk height. This way, you won't have to constantly keep adjusting and directly go to your preferred height settings.
Although the cord storage area's location can prove to be a little messy, overall, the Vivo desk proves to be quite affordable while also providing quality service.
Pros:
Affordable
Easy transition from a sitting to a standing desk
Cons:
Poor location of cord storage area
Final Thoughts
Working on a standing desk can be beneficial not only for your health but also for your overall productivity and motivation.
Adjustable workstations have proven to be beneficial and efficient. While there are several great options available for standing desks, if you wish to keep your desktop, then using an adjustable standing desk base can be a smart alternative. This way, you can customize the desk as you wish while also enjoying the benefits of a standing desk.
Video ads for product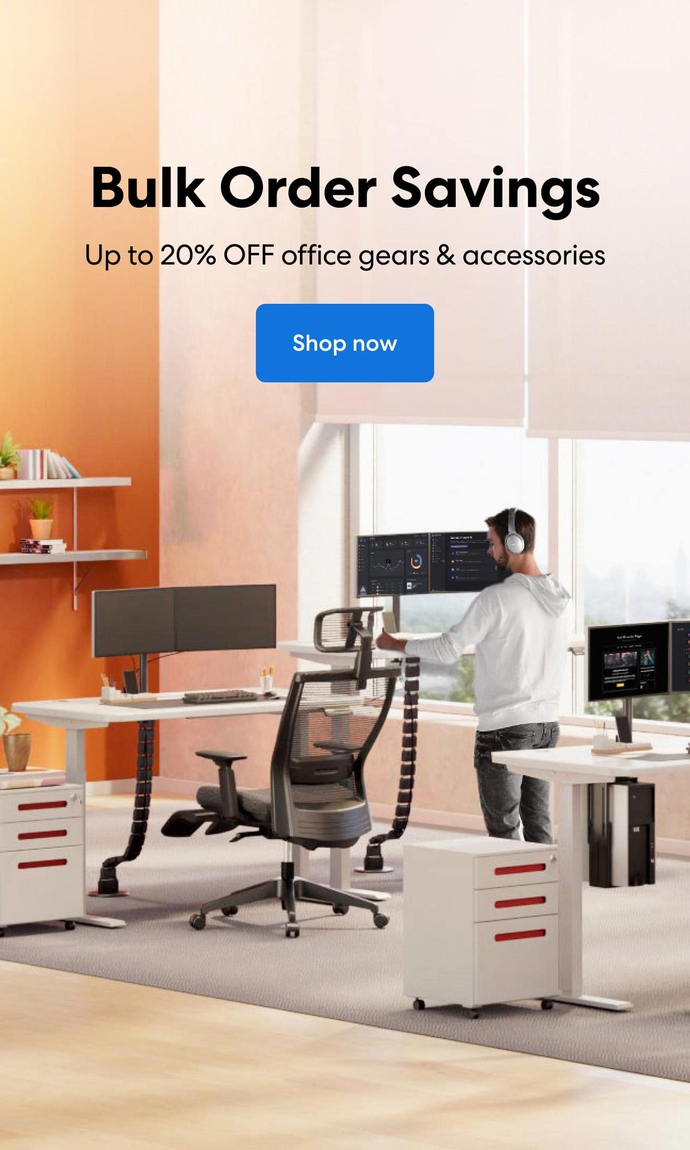 Subcribe newsletter and get $100 OFF.
Receive product updates, special offers, ergo tips, and inspiration form our team.