Latest Updates
Score Big on Under-Desk Treadmill Deals this Black Friday 2023

Autonomous
|
Oct 23, 2023
1,309 Views
Office workers suffer from the biggest dilemma of maintaining a proper work-life balance in their daily routine. They suffer from a shortage of time and bundles of tasks to complete each day, and in the end, they get frustrated for not doing enough every day. This constant frustration of not being able to do everything yet working all day impacts their health both mentally and physically. While mental health is related to physical health in more than one way, working on one has a significant impact on the other, too.
Fortunately, with advancements in science and technology, there is a lot of multitasking possible to transform your daily routine. One such thing is under desk treadmills. Under-desk treadmills or a standing desk with treadmill are office-friendly workout machines that help you burn some calories while taking up important meetings, too. With their popularity, under-desk treadmill Black Friday deals are going to be on the rise this year. In this article, you can find many cheap under-desk treadmill offers suited for your type of office workout.
Best Under-Desk Treadmill Deals Black Friday
With an under-desk treadmill, we recommend you avoid cheap models as they can have an impact on your safety, wellness, and the office environment. This is why Black Friday under desk treadmill deals are the golden time to score a deal without worrying about breaking the bank. Below are our top favorites from the Black Friday under-desk treadmill collection.
1. Lifespan Under Desk Treadmill
One of the high-budget treadmills, but for all the genuine reasons. The specifications and cool features justify the price of this product. It is one of the top under-desk treadmills in the market, with a speed of 4mph and a console that displays your entire workout details for you. It is noise-free, smooth, and has features like an automatic stop function to prevent any hazards.
2. Sunny Health & Fitness Under Desk Treadmill Slim Work Office Treadmill
The sunny health tread pad has a fully assembled design with a top speed of 4mph. The digital console displays all the metrics, and you will enjoy walking on this soft yet stable treadmill while keeping track of your wonderful progress. People rate this treadmill as one of the comfiest in the market. It comes fully assembled and is easy to operate, too. With the help of a remote, you can control the speed and all other features, so the treadmill is always under your control.
3. InMovement Unsit Under Desk Treadmill
The Unsit treadmill was created especially for usage in offices. The size and form of the treadmill are only two of the distinctive features of the Unit. The Unit features a shorter, broader frame than the conventional long, narrow frame of a normal treadmill.
The Unit is incredibly silent and has a suitable top speed of 2.0 mph, making it perfect for office settings. You don't have to worry about spoiling your formal workplace day because this treadmill can be used with numerous types of shoes. The padding helps to muffle walking sounds.
4. Walkingpad Foldable Walking Treadmill A1 PRO
Remember when you preferred a treadmill that does the job but doesn't take up the entire room? Well, the walking pad heard you. This treadmill has a compact design that can be folded away when not in use. The treadmill is suitable for short spaces, offices, or homes and has an easy-to-use remote control function. It has a foot-sensing speed control system and can be used both automatically and manually, depending on your comfort level. The motor operation is fairly quiet, too, making it a wonderful pick for offices.
5. GoPlus Walking Treadmill
Due to its 12 built-in programs, the GoPlus 1HP Walking Treadmill is excellent for those wishing to exert a bit more effort when walking. As you walk on the treadmill for more than 30 minutes, these programs alter the speed automatically, encouraging you to walk faster as you work out. The front of the GoPlus 1HP Walking Treadmill features an easy-to-read LED touchscreen that shows time, speed, distance traveled, and calories burnt during use. It also comes fully built.
How to Choose the Right Under-Desk Treadmill for You?
An under-desk treadmill is a pricey purchase, even more so than an ordinary treadmill, which is why many people don't opt for this product. While the Black Friday affordable under-desk treadmill hosts a lot of products, you need to purchase the right one so you don't end up regretting your decision. Below are some factors to help you pick out the best under-desk treadmill for you.
Treadmill Size
An under-desk treadmill comes as a mini treadmill and other foldable compact structures, too. This is because under-desk treadmills are designed with the idea of compactness in mind. Because they have to fit under the desk without making the surrounding area uncomfortable to walk, these treadmills are shorter in both length and width. When it comes to size, make sure you pick a lightweight and foldable treadmill that can be kept safely at the end of the day.
Power
The power of an under-desk treadmill might not require the motor to work as fast as a fully functional running treadmill, as these treadmills are designed for light to moderate use. But if you wish to use it other than just work, then you must look for higher-power motors. Secondly, the motor should give a noise-free operation without disrupting the peace of the surroundings.
Weight Capacity
The treadmill must be 10 or 20 pounds higher in terms of the weight capacity of your body. This is to ensure that it doesn't compromise the stability and safety of the user. Because of the small size, some under-desk treadmills may not offer enough weight capacity. But you can find options up to 400 pounds easily.
Safety Features
Especially if it is to be used in an office space, the safety features need to be top-par. As the majority of under desk treadmills don't offer the safety and support level of side rails, there are other additions to make the machine safe. These include shock absorptivity and automatic stop function.
Speed Range
The treadmill's speed range should accommodate your preferred walking pace. While a little slower than full-size treadmills, the majority of under-desk treadmills have speeds between 0.5 and 3.5 miles per hour, which is quick enough to encourage movement without taking your attention away from the activity at hand.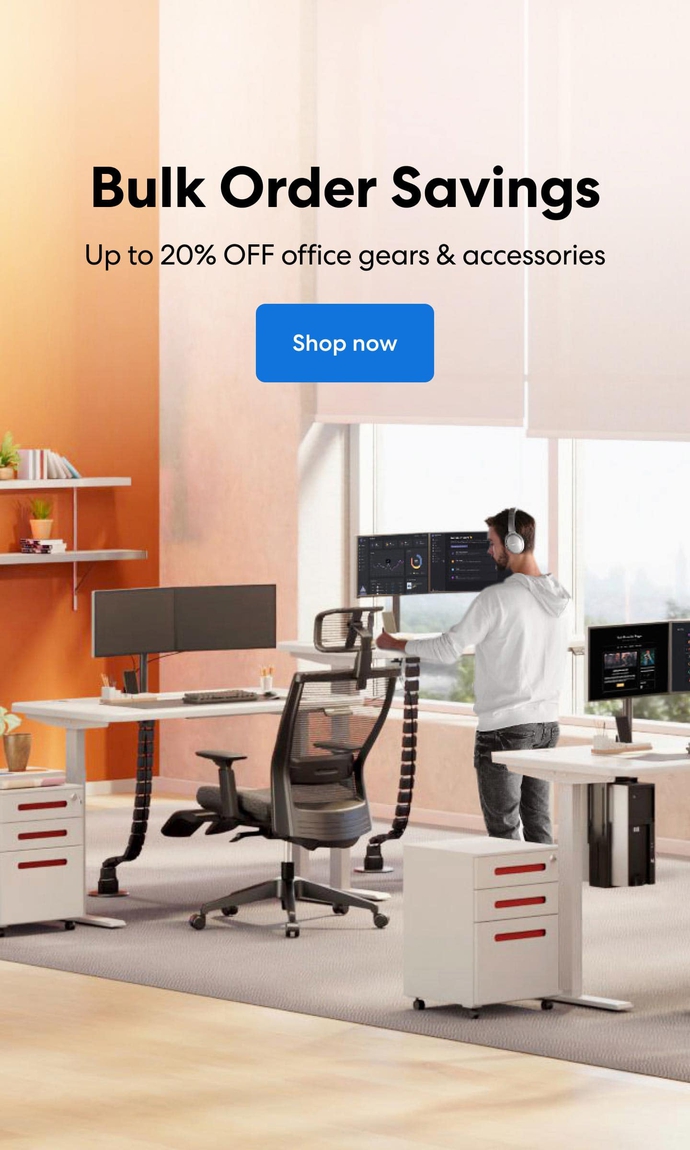 Subcribe newsletter and get $100 OFF.
Receive product updates, special offers, ergo tips, and inspiration form our team.