Latest Updates
Black Friday Webcam Brands to Expect to See
565 Views
The always ignored webcam on the top of our laptop screen came in handy when the pandemic hit. With zoom and google meet calls becoming weekly, one truly realized the importance of a proper video streaming tool along with other computer accessories. This is especially crucial for remote workers who have to attend video meetings with their prospects and clients from miles apart and cannot compromise on the impression.
While each laptop has a built-in webcam, the quality, resolution, and image clarity are unsuitable for professional meetings. Hence you will need a proper webcam solution so you look fresh and can create a good impression with your confident look. While there are many alternatives to the built-in camera on your laptop screen, the Black Friday webcam deal is a good time to purchase.
During the Black Friday webcam deals, you can save on modern multi-functional webcams and get them at the price of a simple basic webcam. This will help you make your video conferencing experience much better and positively impact the client's impression. This article will list the best Black Friday webcam deals and offers expected during 2022 Black Friday sales.
1. MEE audio C11Z
Some computer microphones and recorders come with an all-in-one solution that covers webcam needs. This does not mean the quality of the camera or microphone is compromised, but the MEE audio C11Z is a clear example of that. The audio microphone with a webcam delivers ultra-HD picture quality with an unmatched sound experience.
Besides being a good high-definition camera, you also get a dedicated zoom button to zoom in on important details during the meeting. The camera and microphone give real-time experience with a wide-angle lens and 90 degrees field of view. You will also enjoy an automatic low light correction feature which ensures you always look fresh during meetings. The small mountable microphone and camera have an adjustable monitor clip that not only stays on your screen but also offers 360 degrees of rotation.
It has a plug-and-play operation, so no software downloading or subscription is required. One of the best Black Friday webcam sales, this camera plus microphone makes a great partner for your desk accessories.
2. Movo WebMic
This is another good option of Black Friday webcam for you. If you plan your desk setup around compact and tiny-sized computer desk accessories, this versatile video camera and video light (two in one) solution will work for you. Not only perfect for work-related calls but the high-quality camera resolution and ring light makes it suitable for online classes, video recording, vlogging, streaming, and even some fancy TikTok actions.
The ultimate streaming Movo webcam does not compromise on the quality of the audio, video, or lighting, all thanks to the HD feature and the personal condenser, which delivers real-time audio. The pro condenser microphone waves off all the possibilities of poor noise transmission and actively cancels the unwanted noise from the rest.
Next, if we talk about the camera, the HD camera is 1080p and can capture videos at 30 frames per second which means you will get a real-time – in-person meeting kind of experience. The integrated ring light makes you look fresh and can hide the sleep marks from your face. Moreover, the ring light is also adjustable with 3 different brightness settings. It also offers a 1-year warranty for both the LED ring light and the WebMic.
3. Movo WebMic HD
When making a list of must-have PC gaming accessories, don't forget to add the Movo WebMic HD camera because it will take your whole experience to a new level. With real-time audio and video transmission, you can elevate your online battles and form entire gaming clans with your buddies, even if they are miles apart. Other than just gaming purposes, you may stream or use this webcam and condenser microphone together to get clear video and audio of broadcast quality.
Using this Black Friday webcam, Instantly upgrade to HD video and studio-quality audio with a cutting-edge camera and a professional condenser microphone in one handy device. Whether you're streaming, participating in a video conference, or filming a presentation, the WebMic Pro has an ability to capture 30 frames per second and its 1080p resolution gives a crystal-clear image and high-definition video.
The WebMic-HD offers universal USB communication with your Mac or PC and a highly directional microphone capsule that provides broadcast-quality audio with brilliant noise suppression; no other hardware or software is required.
4. ALC 2K Wireless Web Camera
Here is your all-in-one webcam solution from ALC for security purposes or work, gaming, or streaming. ALC webcam offers plug-and-play features, which are compatible with every device and all software. It offers 2L high-resolution video, making it a desirable product for home security uses. The wide angle of 80 degrees view makes it best for conference calls and entire room team meetings where the large angle covers multiple audiences at once.
It also has a built-in microphone with a 20m radius to catch multiple attendants giving their best in meetings. The super-efficient video streaming is designed for YouTubers or streamers but also benefits office workers. While you worry about attaining the right camera angle, this one comes with a mini tripod to mount your camera and capture the perfect confident working angle.
5. ALC Full HD 1080p Webcam
The brand-new Full HD, 1080p Web Camera from ALC has 80 degrees viewing angle and a built-in microphone and is the ideal tool for both work and enjoyment. All you need to do is plug into a free USB port on your computer. It does not require any software and is easy to use, which makes it a great tool for working while traveling. The camera also has a built-in microphone and comes with a 1-year warranty.
6. C920S Pro by Logitech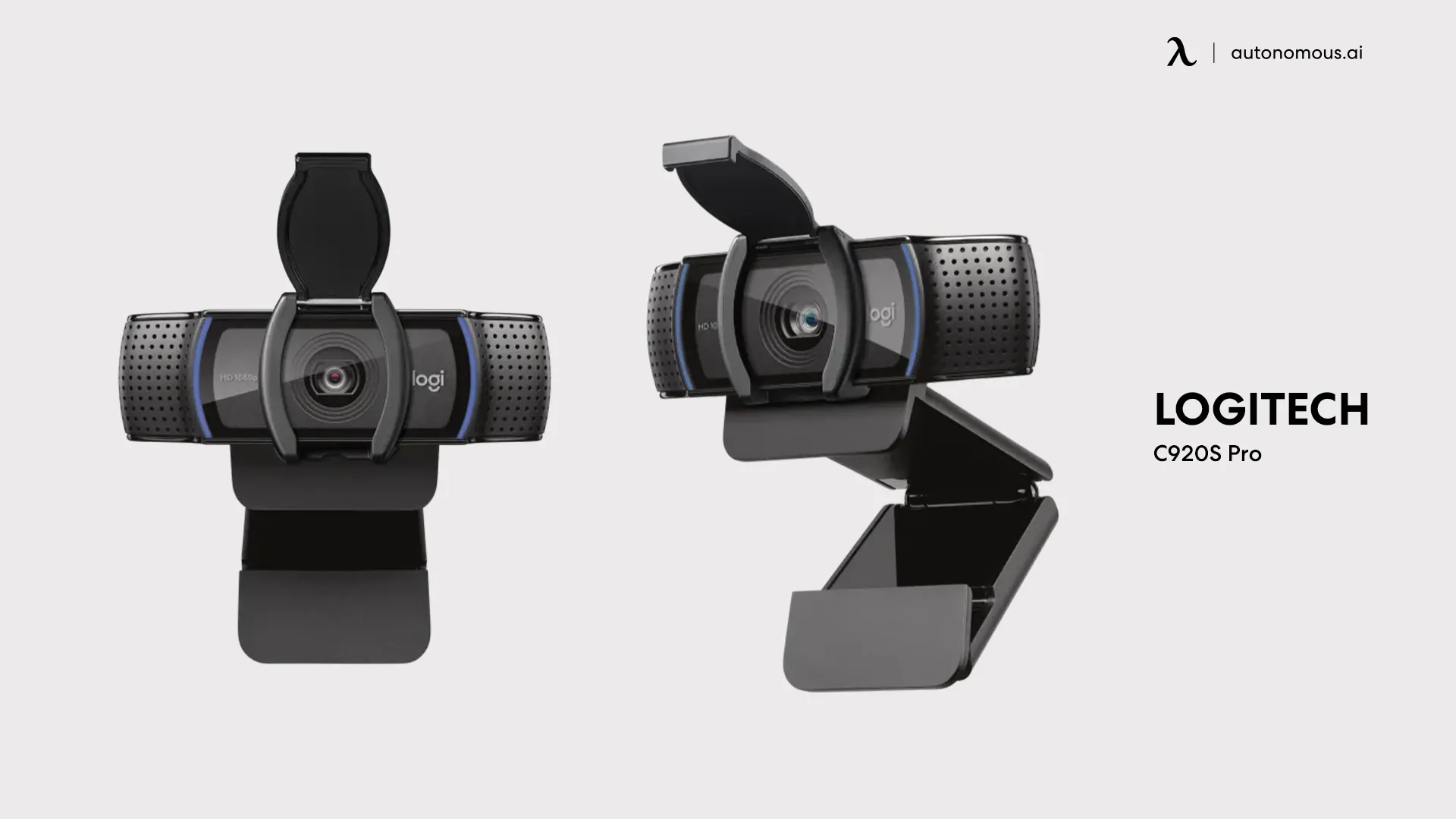 This is definitely a perfect Black Friday webcam deal for everyone. Images in 1080p HD are clear and detailed, thanks to the C920S Pro HD Webcam. Its 78-degree field of view makes it simple to fit multiple people into the frame.
7. MeetUp Logitech
For a conference room, do you need high-quality video conferencing equipment? Meetup includes a 120-degree ultra-wide field of view, 4K UHD clarity, and specially tuned speakers along with beam-forming mics.
Keep up with Autonomous news
Stay informed, stay inspired with our new blogs.
WRITTEN BYAutonomous
We build office products to help you work smarter.