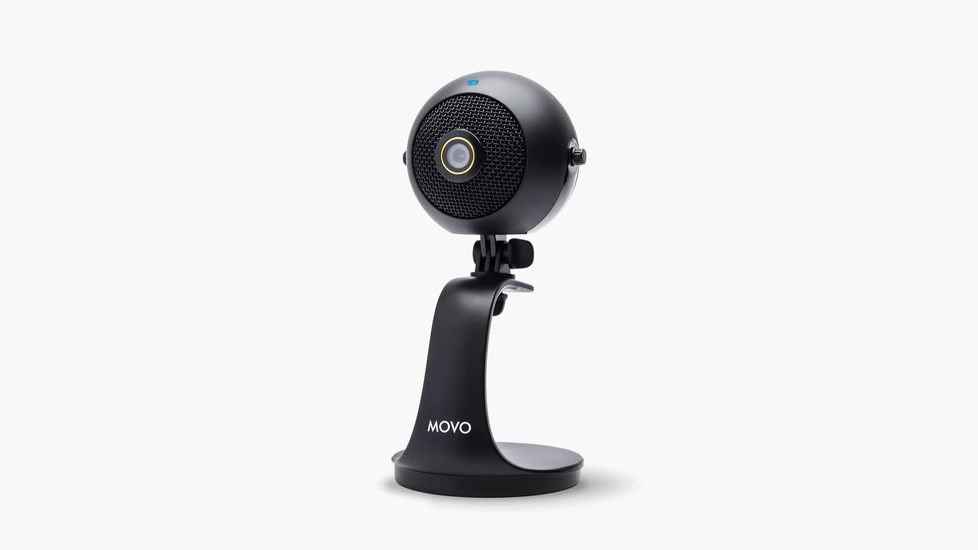 Movo WebMic HD - USB Condenser Microphone with HD Webcam
Buy now
Add to cart
FREE shipping May 31 - Jun 02. FREE 30-day returns.
Bought by 1 Turing Video employee
Sold and shipped by Movo.
• BEST OF BOTH WORLD: Instantly upgrade to HD video and professional-grade audio with Movo's WebMic-HD, featuring an advanced camera and pro condenser microphone in one convenient device • HD VIDEO CAMERA: The WebMic Pro HD's 1080p webcam captures video at 30 frame per second, giving you crystal clear, high definition video, whether you're streaming, video conferencing, or recording a presentation • PRO CONDENSER MICROPHONE: Say goodbye to poor-quality streaming audio. The WebMic-HD features a highly directional cardioid microphone capsule that gives you broadcast-quality audio with excellent noise reduction • UNIVERSAL CONNECTIVITY: Instantly connect via USB with your Mac, PC, no external hardware or additional software needed 1-YEAR WARRANTY: We've got your back! Our products are designed to ease your technical woes, not add to them. Our friendly US-Based support is here to help
• 1-year warranty
This all-in-one condenser microphone and webcam will give you clear video for streaming or conferencing, and broadcast-quality audio.
Deep dive into specs
The Movo WebMic-HD Camera integrates a variety of features into a single, easy-to-use webcam. The gadget has a condenser mic, HD web camera, and LED ring light, and may be used for meetings, online education, or vlogging. The Movo WebMic-HD with USB condenser microphone resembles an old-fashioned radio microphone and is one of the best smart devices. With its stand, it's simple to carry and looks great. A monitor mount is supplied for those who don't wish to use the stand. Streaming is becoming more and more popular, and it may be time to shed your low-resolution camera and muddled microphone. It might also be that you'd want to improve your performance in those unending meetings, quiz evenings with pals, or family get-togethers. This desktop condenser mic stand accomplishes that goal to a large extent. Additionally, it has useful features like an audio output monitor and a tactile gain control knob. Here are 20 amazing desk gadgets on Autonomous.
Why Go For Movo WebMic-HD
While it's undoubtedly huge, and particularly difficult if you want to place it on your display, it is definitely unique—in fact, it appears like a gigantic luminous eye. A voice/video equipment manufacturer established in Los Angeles, this best webcam with a microphone for desktop provides professional-grade gear to amateur and amateur-level creatives alike. The Movo WebMic HD with USB condenser microphone, which includes a camera, microphone, and LED ring light, is an all-rounder. WebMic's physical look is appealing. The white LED ring light surrounds the condenser microphone, which takes up the majority of the front view. The camera is in the center. A gold-colored rim completes the contemporary and intriguing look of this piece. It is without a doubt the best webcam with a microphone for a laptop. However, here are 25 essential home office desk accessories if you are looking for some guidance.
The Functionality of Movo WebMic-HD
There are two levers to release the screws for horizontal and vertical movement. It's far from perfect. Because the Movo WebMic HD with USB condenser microphone is strong enough to retain its place, you may leave the vertical screw loose enough to allow you to easily tilt the webcam up and down. However, while utilizing the desktop mount, unscrewing the screws beneath the camera to swivel it horizontally can be a pain. Despite the fact that it's composed mostly of plastic, it seems strong and designed to endure. However, it's a bit of a pain to carry about. When mounted to the desk, it isn't something you can just toss in your suitcase and take with you wherever you go. When mounted to your monitor, its massiveness is made all the more apparent since it looks down on you and seems to judge you.
Some Tips
Unlike many projects of Kickstarter, this one's design is both striking and appealing. In other words, the Movo WebMic HD with USB condenser microphone is an attempt to fix that by taking your desktop retractable microphone and shoving it right in the midst of a full HD camera (or 4K for those who are willing to spend extra). Built-in LED lights surround the front of the gadget, making it easier to see. When held in hand, the stand is designed to function as a gimbal, ensuring a stable shot. All-in-one solutions have their advantages, but they also have their downsides, most of which have to do with camera angles. When you put your camera into that desktop microphone, such as a Blue Yeti or similar condenser microphone, implies that you're will likely have some nose cam on, if you only set it on your desk. In order to circumvent this, you may either use the camera's gimbal or the provided monitor mount. However, despite promises to the contrary, using a gimbal will still result in shakycam. It's going to take a toll on your body, too.
FAQs
Don't see the answer to your question?