Workplace Inspiration
Build a Private Office Space in Your Home Backyard

Autonomous
|
Jun 1, 2023
304 Views
Are you tired of trying to work from your kitchen table or couch? Do you wish you could have your own private office space without having to leave your home? 
Well, don't worry because building a private office space in your home backyard may be the perfect solution for you! Gone are the days of having to squeeze a desk into your already cramped living room.  
Having a private workspace in your backyard gives you the opportunity to work alone. You get your own personal space where you can avoid interruptions and focus on your work entirely.
Say goodbye to the never-ending distractions that come with working in a shared space and hello to your very own private working space! 
The Importance of Building a Private Space to Work at Home
Working from home has become the new normal for many of us. While it may sound appealing at first, the reality is that it can create disruptions and distractions that make it difficult to focus. That's why creating an individual office space in your home is essential. 
Improved Concentration
If you're anything like us, COVID-19 has forced you to transition from working in an office to working from home.  
Also, let's be honest; working productively from the comfort of your home can be challenging without a dedicated private space. 
However, a private office space can improve your productivity and focus. When you're working in a shared space, distractions are inevitable. Whether it's loud chatter from your family members or roommates, or even just the temptation to make a snack in the kitchen, it's easy to lose focus.  
Having a private working space can help you maintain concentration and prevent you from procrastinating. 
Balance
Secondly, having a personal office space can improve your work-life balance. When you have a designated place to work, you can separate your career from your personal life. This ensures that you're not bringing work stress into your home and vice versa. 
You can invest in an office privacy pod. It's a portable workspace that you can install indoors or outdoors, allowing users to work where they want. 
An outdoor home office is perfect if you want to enjoy a beautiful view while you complete tasks. On the other hand, you can also opt for an indoor home office pod for extra silence and comfort.
Why You Should Work from Your Backyard in an ADU?
Not everyone has the luxury of having a dedicated space in their home to use as a personal office. This is where a prefab accessory dwelling unit (ADU) comes in. 
If you're not familiar with the term, an ADU (Accessory Dwelling Unit) is also known as a "backyard cottage."
This is simply a small, detached dwelling that is located on the same property as a single-family home.  
If you're looking for a private office space that's located just a few steps away from the main house, then an ADU might be just what you need. Such a small private office space can be your own individual nook that you can personalize and work in without any interruptions.  
The Benefits of Having an ADU for a Home Office
Having a designated personal office space is crucial for improved productivity and efficiency. With an ADU, you can have all the privacy and focus you need to achieve your work goals. 
Quick Installation
One great aspect of an ADU is that it is a prebuilt studio that is quick and easy to install. You won't have to go through the hassle of constructing a new building from scratch. 
Instead, you can order an affordable prefab ADU that can be built off-site and transported to your property. 
If you're looking for some inspiration for a portable office, there are plenty of backyard office plans available online.  
You can find everything from a cozy pod to a larger outdoor office that can accommodate a team of employees. Whatever your needs are, there's sure to be a backyard office design that will work for you.
Productivity Boost
If you're someone who values spending time in nature or loves the outdoors in general, then an ADU can be the perfect solution.  
You can build a tiny house in your backyard where you can bask in natural light and fresh air, promoting your productivity and creativity. With a backyard ADU, you can have the best of both worlds!  
Customizable
An ADU can serve you with a private workspace. Often, open-concept home offices can be distracting and noisy.  
With an ADU, however, you can work in peace without any interruptions or distractions. You'll have the freedom to design your personal office space however you like and create an environment that works for you.
Affordable
On top of that, a prefab unit is a cost-effective solution to having a private workspace. You won't have to worry about the high cost of renting out individual office spaces in commercial buildings, saving you money in the long run.  
Additionally, having a personal office space can increase your work output and generate more income. 
Convenience
Having a private workspace in your backyard is incredibly convenient. You don't have to worry about a long commute to work, and you can enjoy the benefits of working from home without any drawbacks.  
Additionally, you don't have to worry about disturbing your family members when you are working late or on weekends.
Increase Property Value
Installing an office privacy pod in your backyard can significantly increase the value of your property. This is particularly true in areas where there is a high demand for prebuilt studios or outdoor home offices. You can even rent out your ADU as an additional source of income. 
The Best Prefab ADUs for Home Offices
Are you looking for a place to call your own in a busy home? Tired of battling for space with your spouse or children while you try to work?  
Prefab ADUs are a unique and customizable way to create a private workspace on your property.  
There are a variety of great options on the market, but we've narrowed it down to the top three: StudioPod, WorkPod, and WorkPod Lite. These three models are all part of Autonomous' newest ADU line. 
1. Autonomous StudioPod
First up is StudioPod, a weatherproof and heat-resistant unit that's perfect for your backyard. With it, you'll be able to work comfortably, even in extreme weather conditions.  
The ventilation system ensures a bright and airy environment, and the windows let in plenty of natural light.  
You'll even have a lockable door to keep your space secure from any unwanted visitors. This pre-assembled pod comes with built-in shelves, including one for a TV. You also get a foldable desk and electric cabinet for the Wi-Fi router and other equipment.  
The StudioPod has different light modes, as well as a climate control board where you can adjust the internal temperature.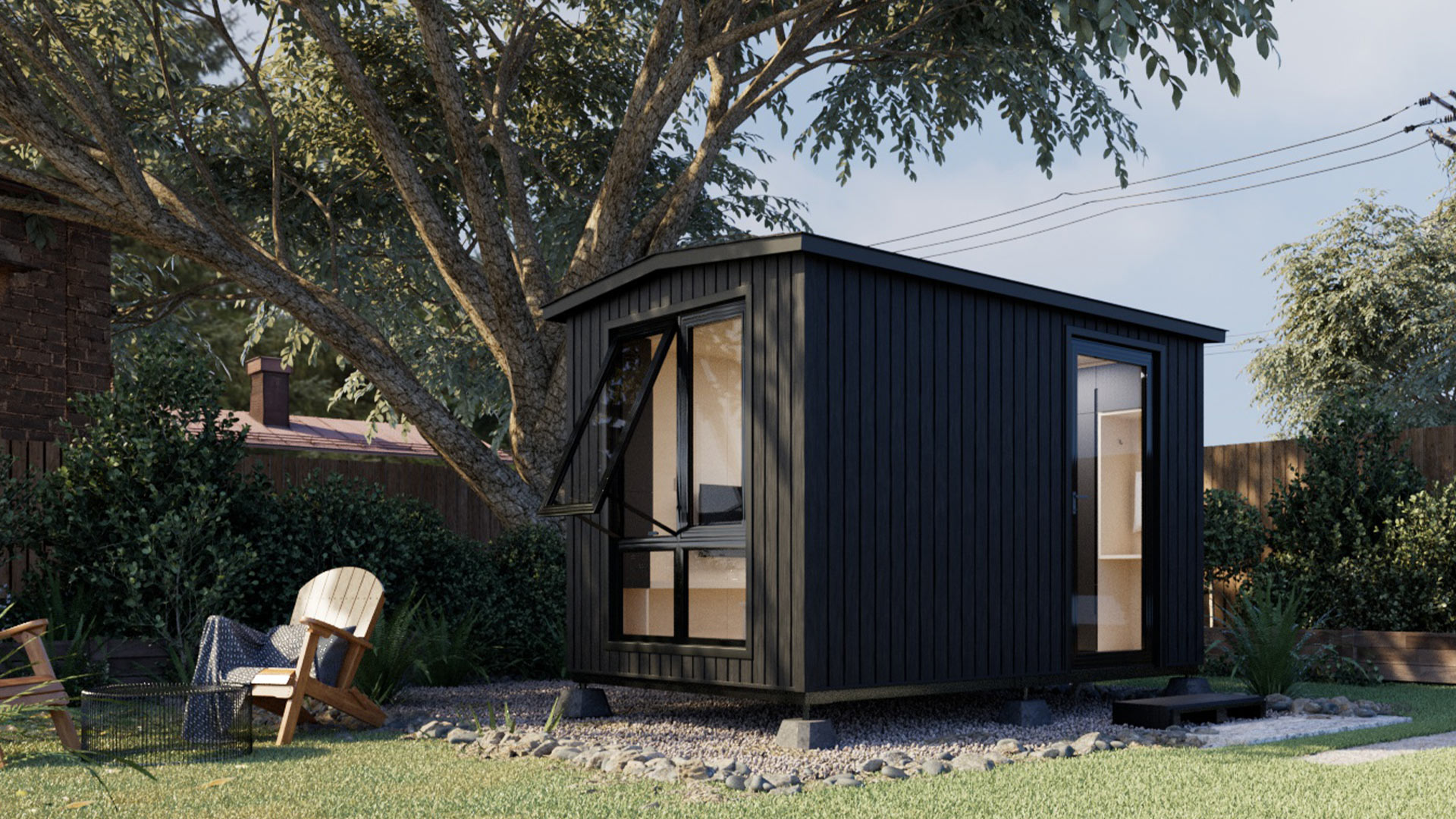 Dimension
8'4"W x 12'6"L x 9'10"H
Floorspace
105 square feet
Ceiling height
7'3"
Weight capacity
2.9 tons
Pedestal
18"W x 43"L x 7"
Window & door material
Powder-coated aluminum,  5/16" tempered glass
Material
Siding: plywood 1/2", steel frame, honeycomb paper, plywood 3/8", bitume, housewrap, vinyl siding
Roof: roof shingles
Floor: plywood
Pedestal: steel frame & wood plastic composite
Electrical devices
RCB, Wall outlet, Ceiling light switch, Ceiling light, Ventilator switch, Ventilator, Ethernet wall port, 66ft power cable with 2 connectors
Include
Optional: Cabinet, Desk, Small & Big Bookshelf, TV Shelf, Foldable Sofa Table, Convertible Sofa Bed. Always included: Electrical Cabinet
Power input
Maximum voltage : 110V AC (US standard)
Maximum current : 25A
Maximum power dissipation : 2750W
2. Autonomous WorkPod
This pod features sound-insulated glass doors, floor-to-ceiling windows that let in plenty of natural light, and warm and bright lighting to keep you focused and alert throughout the day.  
Additionally, the WorkPod is pre-wired with outlets, so you can plug in your gadgets and get to work right away. 
On top of that, this private office pod is also durable and long-lasting, thanks to its weatherproof and heat-resistant materials. 
This makes it a strong and convenient option for those looking for an outdoor home office. The pod is leveled, providing a stable working surface, even on uneven ground. It's also lightweight and portable, allowing you to move it quickly from one location to another. 
Dimension
8'6''W x  11'9''L x 11'H
Ceiling height
6'10'' to 9'4''
Window material
Wooden frame, 5/16" tempered glass
Door material
Anodized aluminum frame,  5/16" tempered glass
Material
Siding: bitumen, housewrap, vinyl silding
Roof: bitumen, housewrap, shingles roof
Floor: plywood
Balcony: composite wood
Include
Optional: SmartDesk Connect, ErgoChair Pro+, Dual Monitor Arm, Cable Tray, Steel Cabinet, Anti-Fatigue Mat. Always included: Electrical Cabinet & Bookshelf
Floorspace
98 square feet
Capacity
2.9 tons
3. Autonomous WorkPod Lite
This new budget-friendly, minimalist workstation is the perfect solution for anyone who needs a private and convenient space to work, play games, or hold meetings. 
Let's start with the design of the WorkPod Lite. It is made from a combination of steel and plywood, so it is both durable and strong. The exterior is coated with bitumen, which makes it waterproof and resistant to the elements.  
One of the best things about this personal office space is how durable and strong it is. Its sturdy design means you can confidently work, sleep, or entertain clients inside it without worrying about its structural integrity.  
Speaking of which, the minimalist design of this workspace is just so elegant and functional that you'll find the compact space easy to navigate and work in.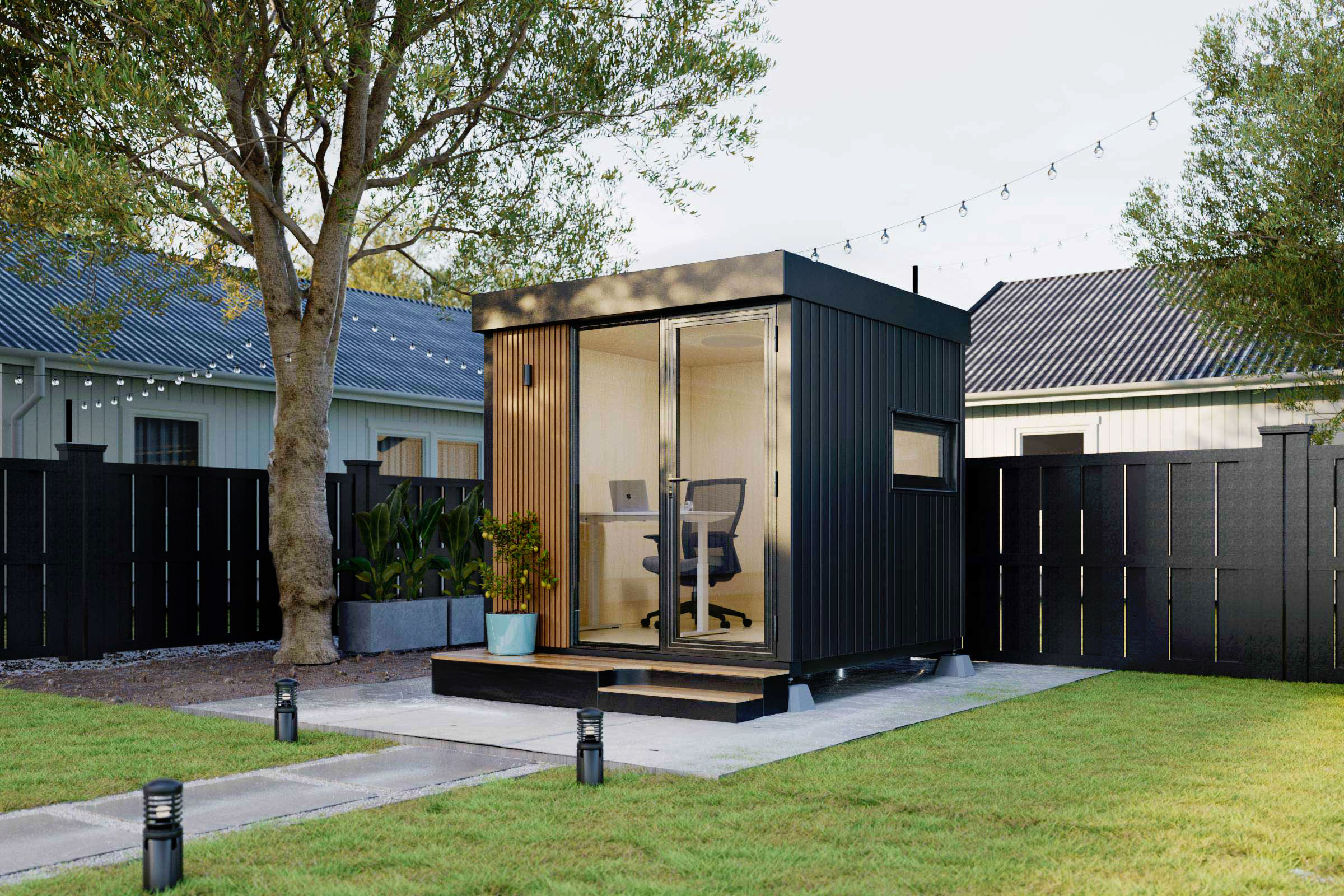 Dimension
8.7"W x 8.12"L x 9.3"H
Material
Window and door: powder-coated aluminum, 5/16-inch tempered glass
Siding: plywood 1/2-inch, steel frame, honeycomb paper, plywood 3/8-inch, bitume, housewrap, vinyl siding
Roof: metal roofing
Floor: plywood
Balcony and Pedestal: steel frame and wood plastic composite
Pedestal
24"W x 103"L x 9"H
Electrical devices
RCB, Wall outlet, Ceiling light switch, Ceiling light, Wall light, Ethernet wall port, 66ft power cable with 2 connectors
Weight capacity
2.3 tons (including Pod body)
Floorspace
80 square feet
Ceiling height
7.3-inch
Things to Consider When Investing in Prefab Studios
These nifty little structures are excellent for anyone looking to add extra square footage to their property without breaking the bank.  
In fact, prefabricated ADUs can be up to 10%-20% cheaper than traditional construction methods, with Autonomous product prices starting at just $12,000. 
One of the best things about prefabricated ADUs is that they come in a wide variety of sizes and styles. Whether you need a small unit as an outdoor home office or a larger unit for a growing family, there's an ADU out there that will fit your needs. 
Materials
In terms of construction, prefab studios are typically made from high-quality materials such as steel, concrete, and wood. This means that they're built to last and can withstand even the harshest weather conditions. 
Of course, the design complexity and extra features you choose will affect the overall cost of your prefabricated ADU. 
Style
You should consider a few things before investing in such a private office space. Firstly, you have to assess your needs, as well as your budget. You need to know the size and style you want, as well as your preferred building materials.  
Additionally, you should decide if you want to opt for extra features, such as a garage, a deck, or a similar addition. 
Usage and Size
The size of your ADU will ultimately depend on its intended use. Some homeowners, for example, may opt for a smaller ADU as a home office or guest cottage, whereas others may want a larger unit as a secondary residence. 
In short, the style of your ADU will vary and can include anything from a modern, minimalist design to a more rustic, cabin-like feel.
Are Portable Home Offices Worth It?
Today, more and more people are looking for alternative solutions to workspace problems. With remote work becoming more of the norm, home offices are quickly becoming a necessity for many homeowners and office-goers alike. 
However, what if you don't have the space or resources to build a permanent office on your property? Enter portable home offices. 
Affordable, practical, and customizable, a prefab studio can provide you with the workspace you need to get your work done without breaking the bank - but is it really worth it?
The answer is a resounding yes for us. Here's why: 
Distraction-free
First off, a portable home office can be the perfect solution for those who work from home but don't have a designated workspace. 
Instead of working at the kitchen table or on the bed, a prefab ADU provides a distraction-free environment where you can focus on your work without interruptions.  
Space-saving
Secondly, a private home office can be an excellent option for those who are short on space. Instead of building a permanent structure on your property – which can take up valuable real estate – a portable home office can be easily moved and installed wherever you need it.
Personalization
With a range of features, sizes, styles, and building materials to choose from, you can create a workspace that's perfectly suited to your needs. Whether you need plenty of storage space, natural lighting, or extra insulation for cold weather, your prefab unit can be built to your exact specifications. 
Portable home offices do have their limitations – for one; they may not be as sturdy or long-lasting as a permanent structure.  
Also, depending on the features and complexity of the design, they may not be as comfortable or convenient as a more traditional workspace for some people. Overall, though, we believe that the benefits of owning an ADU far outweigh the drawbacks. 
Final Words
Working from home can have various perks. However, it can also be challenging trying to maintain productivity when there are so many distractions around.  
In this case, a private home office is an efficient and concentration-boosting workspace. This setup helps you focus on your work and make the most of your time. It is an affordable alternative to traditional office spaces while also being customizable to your needs.  
With the rise of remote work and the need for dedicated workspaces, an individual office space can significantly improve your work-life balance and overall well-being.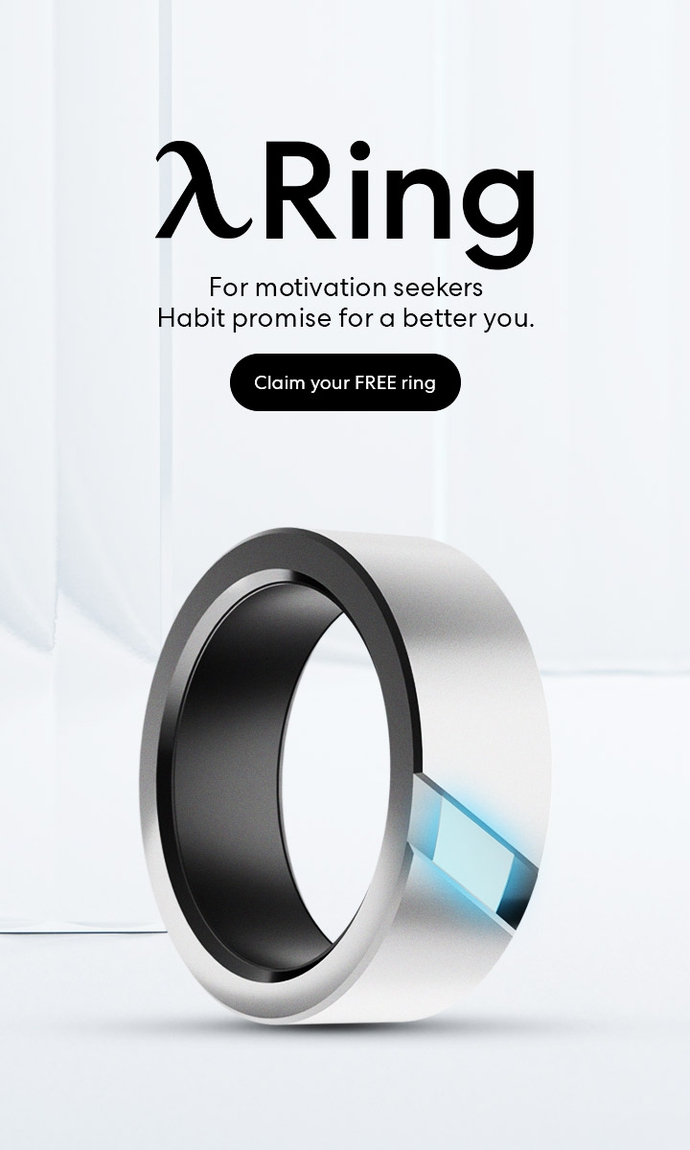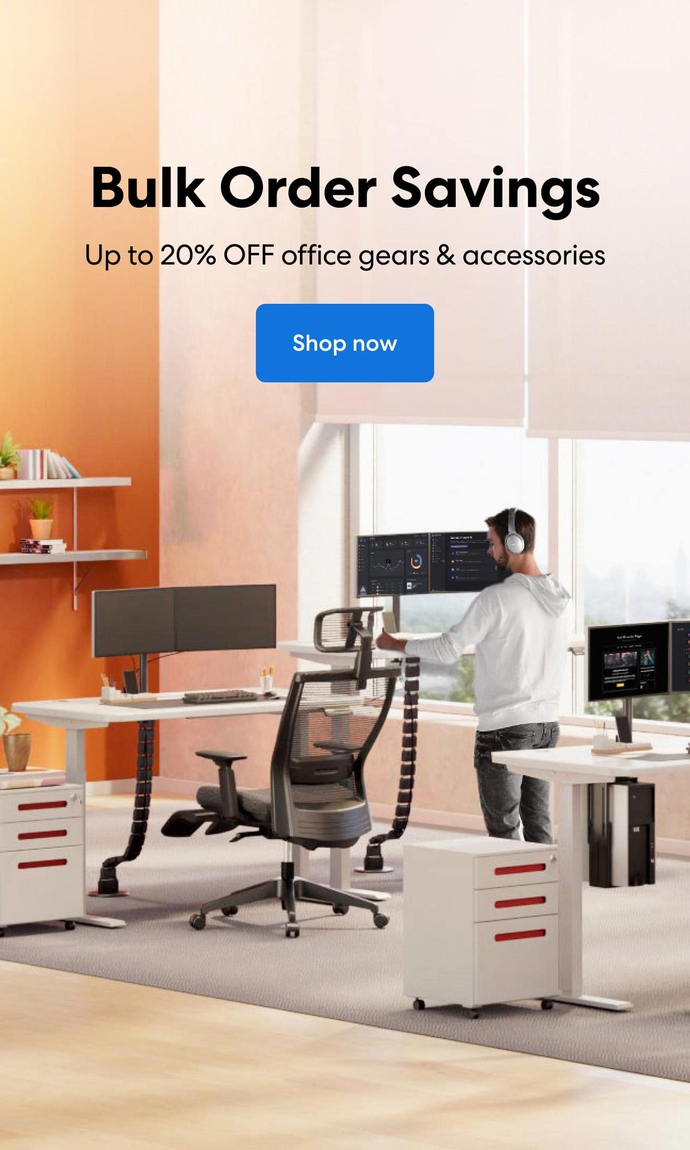 Subcribe newsletter and get $100 OFF.
Receive product updates, special offers, ergo tips, and inspiration form our team.