Smart Products
Buy Standing Gaming Desk Online on Ecommerce Platform

Autonomous
|
Jul 10, 2021
1,591 Views
You can increase your winning chances by including a standing gaming desk in the battle station. Earlier, gaming was an activity for pastimes. However, the rise in high-tech online games has taken it to the level of a profession. Therefore, it has become equally important to get your hands on a standing gaming height adjustable desk.
Gaming desks operate by providing you the right amount of comfort and support. You will be able to enhance your performance ten times more than the regular desk. We have listed below all the things that you need to consider while buying the best standing gaming desk for your convenience.
Things to consider while buying a standing gaming desk
Material
Before buying a standing gaming desk, it is essential to note the material. This is because the material determines the look, cost, and weight of the standing desk. The fragment board desks are economical nowadays.
Some wood-standing desks affect the overall purpose and visual appearance of the gaming desk. For example, a specialist requires a streamlined wood desk. On the other hand, a lightweight electric standing gaming desk is suitable for a teenager. 
Ergonomics
The best way of determining whether a standing gaming desk can serve your purpose will be to look at its ergonomics. Its ergonomics will enable you to check its comfort designs before you select it. You will also need to pay attention to the raised rack and pull-out trays for ergonomic keyboards. A standing gaming desk with round corners can save you from sudden bruises.
Ready-to-Assemble or Pre-Assembled
You can find standing gaming desks in two forms. Some come pre-assembled, while others have systems that are ready-to-assemble. In the present times, online purchases are increasing with the rise in the number of cities. For ease of shipping, consumers go for ready-to-assemble systems as pre-assembled desks are more costly.
Dimension
A standing gaming computer desk comes in different kinds of sizes. You have to consider the dimension in accordance with the position of your workstation. Our recommendation for you is that you have to look at your laptop/computer dimension. This will enable you to know how much space you require.
Desk height
The height of your standing gaming desk is very important while buying a standing gaming desk. You have to look for an adjustable stand or sitting desk. In addition, the limitation of ergonomics will be due to your standing gaming desk setup.
The best place to buy a standing desk will enable you to choose from different height variations for your standing gaming desk. The only thing that you need to do is input your preferable height requirement. It will provide you a rough idea of how high your gaming desk and chair need to be for promoting good posture.
Size
Before you buy a standing desk online, you have to measure the space in your room. You need to do this in the area you want to keep your standing gaming desk. In addition, you have to leave out some space for your chair after measuring the desk area.
Desk chairs for standing gaming desks need around 5 square feet. This will help you to map out the requirements for your standing gaming desk size. Therefore, doing this will enable you to make optimum use of the available space.
Cable Management
Cable management is one of the most important factors in our standing gaming desk buying guide. A standing gaming desk, which has in-built features to hide cables is quite efficient. For instance, some have cable nets, cable trays, slots, holes, and grommets. This will enable you to hide and manage your cables. 
Best standing gaming desks
1. SmartDesk Core
The SmartDesk Core is an adjustable gaming desk in terms of its height between 29.4 to 48 inches. You can choose between XL and regular desktop options. Besides, it has a solid steel frame.
This motorized gaming desk comes with a dual electric motor. Moreover, it has a five-year warranty. You will get free shipping with 30-day returns. 
2. SmartDesk Corner
If you have more space requirements, you can go for the Autonomous SmartDesk Corner. This standing gaming desk will enhance your overall gaming experience. As a corner standing desk, it does not compromise on the quality of the desk and its performance. This L-shaped standing gaming desk is perfectly motorized as it provides additional space. You can use this gaming desk to break the space up in your studio apartment. Also, you can position your computer in the corner of this gaming desk. This will enable you to store your gaming accessories and eliminate the need for more furniture.
3. SmartDeskPro
The SmartDesk Pro has more power and range. If, as a gamer, you want to be a witness to the gaming desk revolution, then this is the one for you. It has height adjustability to upgrade the quality of your gaming experience.
Moreover, it is the best versatile standing gaming desk. The dual-motor function will enhance your creativity, focus, as well as productivity. Besides, it is a robust and sturdy desk to suit your specific preferences and requirements. The desk has a durable framework of steel which ensures its strength.
Conclusion
Gaming desks make your gaming experience more enjoyable. However, you need to consider some factors before buying a standing gaming desk. These factors include the material, desk height, size, and dimension. Ergonomics also plays an important role in determining the support and comfort design of the standing gaming desk. 
SmartDesk Pro and SmartDesk Core are the best standing gaming desks that you can choose from. They both come with solid steel frameworks. And they provide the best gaming experience. So, what are you waiting for? Place your order now!
Video ads for product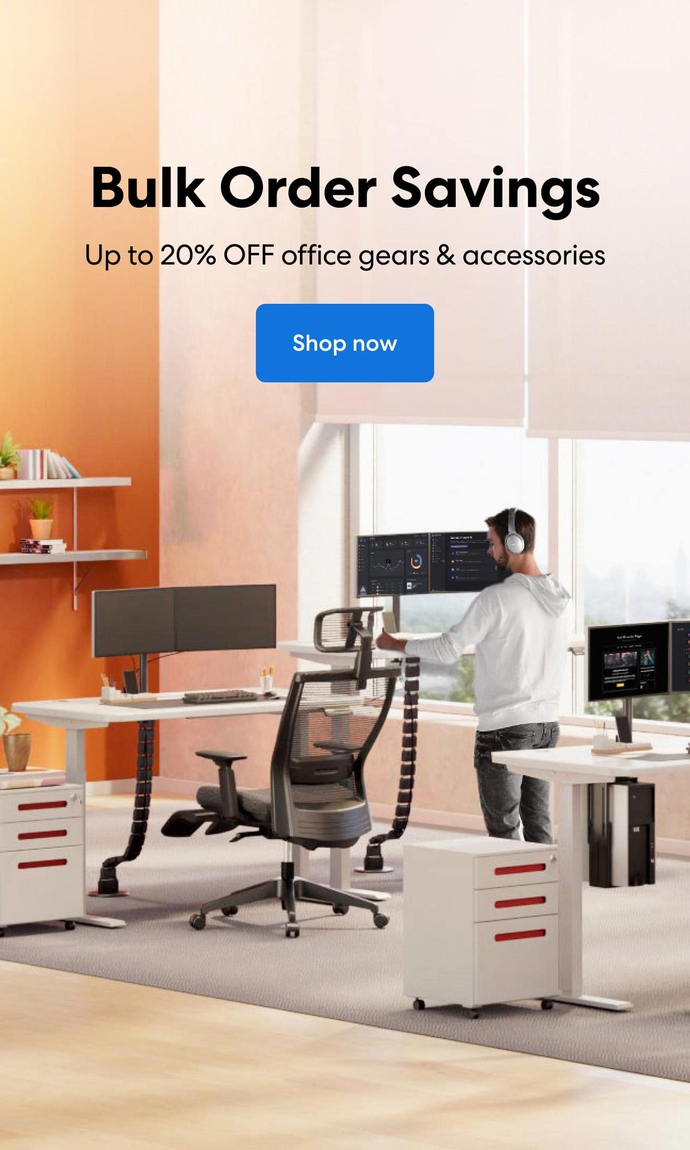 Subcribe newsletter and get $100 OFF.
Receive product updates, special offers, ergo tips, and inspiration form our team.