Workplace Inspiration
Prefab Cottages: Embrace Efficiency and Charm in Modern Living

Autonomous
|
Jul 3, 2023
320 Views
A prefab cottage could be the structure your property needed for you to live a happier, more fulfilled, and relaxed life. These houses are ideal for many purposes, so you need to explore the best alternatives and choose the perfect one for you. Read on to find out everything you must know on the matter. 
What Is a Prefab Cottage?
Prefabricated cottages, also known as prefab cottages, ADUs, or manufactured cottages, are housing structures that experts build in a factory and they deliver to your property. 
In many cases, prefabricated vacation cottages also take the name of modular homes because experts build them in modules or sections and then put them together in your house. 
What Are the Benefits of a Prefab Cottage?
You'll get numerous benefits if you purchase small prefab cottages. Firstly, since experts mostly rely on inexpensive and standardized materials to build them, you could save a lot of money.
Professionals only build ADUs in specific, controlled environments. Therefore, you'll always get high-quality results, and there are fewer chances of experiencing delays due to external factors, for example, the weather. 
In addition, compared to traditional construction methods, it's much more advantageous to buy a prefab ADU. The modules will be ready when they arrive at your doorstep, and professionals will only have to spend time assembling them until you're happy with the results. 
You can work with the manufacturer to get a different aesthetic depending on what you want. Therefore, your cottage could be made of concrete, wood, and various materials according to your needs and preferences. 
Furthermore, there are numerous options when it comes to prefab cottages. You can choose single-story houses or multi-floor structures. 
While some prefab ADU models might be ideal for you to go and live in, others may be the perfect addition to your property so that you can welcome guests when you want or work there if you wish to separate your remote job from your leisure and rest time.
In addition, another benefit of a modular guest house is that you can get numerous amenities. You could turn one of its rooms into a studio, use it as an entertainment module, or simply arrange some sofas for you to rest when you want to disconnect from the hassle of your daily life. 
Overall, the best aspect of this type of housing is that it's very versatile. You can turn it into different things depending on what you want. Plus, it's an affordable alternative, so it could be the ideal option if you don't want to spend so much on a vacation property. 
How Long Does It Take to Build a Prefab Cottage?
A prefab cottage will generally take less time to be ready compared to a traditional property. Even so, a few factors can influence the process. If the design you choose is complex, for instance, and the manufacturer is already very busy, it could take longer than usual. 
Once the manufactured cottage is ready, professionals will arrive at your property and might spend from a few days to several weeks to put the modules together. Each section will already be constructed, but they'll have to assemble them on-site and guarantee they're safe to use. 
In most cases, if you're factoring in the time you'll need to get a modern summer house, you'll have to consider how long you take to negotiate with the contractor, choose the design, make the necessary payments, and so on. 
How Much Does a Prefab Cottage Home Cost?
There is no specific answer to this because it will depend on the type of manufactured cottage you get, the materials, transportation, and permits you'll have to pay for when installing it on your property. 
Some cottages will be more affordable and can cost around $10,000 to $15,000. However, if you add numerous amenities and different rooms or want multi-dwelling housing, the price can go up quickly. 
A positive aspect of getting modular homes is that there are many shed house ideas to explore and try when it comes to decorations. Therefore, you don't necessarily need to buy the most expensive option - you could get a more affordable one and customize it on the inside to guarantee it fits your needs. 
Can a Prefab Cottage Be Customized to Your Needs and Preferences?
You can absolutely change the inside of a prefab ADU, so it fits your preferences, individual wants, and long-term goals. Plus, if you work with the correct contractor, you'll also be able to choose from different options or personalize several aspects of your house.
One of the primary advantages of getting a prefab home is the versatility of the construction process. In most cases, you can talk to your contractor and choose between different options. 
You could, for example, ask them if the house can follow a specific floor plan or be energy-efficient. It's all about talking to the team you're working with and identifying if they can offer the alternatives you're looking for. 
Autonomous ADUs Might Be What You Were Looking for
There are numerous companies out there, but Autonomous stands out from the crowd when it comes to offering top-quality ADUs. 
At Autonomous, professionals focus on giving you customizable alternatives and different housing options to explore. Furthermore, you'll always get a high-quality result, so your ADU will be by your side for years. 
What Is an Autonomous ADU?
Also known as prefabricated cottages, ADUs are structures that Autonomous offers for you to be able to organize your work life, enjoy your leisure time, or completely disconnect from stressful days. 
Affordable and customizable, the ADUs that Autonomous offers are different from others you'll find if you work with a different contractor. Therefore, you should consider them if you're looking for top quality, durability, and customizable alternatives.
Why You Should Buy Autonomous ADUs
Autonomous has gained fame for providing people with top-notch alternatives when it comes to office chairs and desks. However, the company has expanded what it offers you, so now it also gives you the opportunity to buy ADUs. 
The professionals behind Autonomous always have people's needs in mind. Therefore, everything they do contemplates how you'll feel when you get the end results. 
Autonomous ADUs are affordable compared to other options, but most importantly, they're beautiful and long-lasting. Professionals working with the brand want to guarantee that all clients are happy with what they get, so you can always contact them if you have any issues, questions, or special requests. 
The website is intuitive, so navigating through your options will be straightforward even if you're unsure of what to buy at first. Consequently, Autonomous is the ideal brand to trust when you're considering various alternatives and want to find the best ADU for the long run. 
Three Top-notch Options
There are so many alternatives when it comes to small prefab cottages that it might be challenging for you to narrow down your options. However, at Autonomous, you'll find three top-notch ADUs you should consider. Take a look: 
Autonomous StudioPod
It's a multi-purpose prefab cottage, so you can decide how you'll take advantage of it. Some turn it into a workspace while others prefer using it as an entertainment room. 
There's plenty of space for you to arrange different furniture pieces. At the same time, since the structure is sturdy, you can perform your favorite activities (for example, playing games) without disturbing your family or other people. 
You don't have to worry about renovations if you get Autonomous' prefab studio because it has the ideal size for your backyard. Therefore, all you must do is pay for it and wait for professionals to arrive at your property and install it. 
Even though you can always get other prefab home additions, the studio includes a few furniture pieces, for instance, a TV shelf, a desk, an electric cabinet, and a sofa.
Since it's so flexible, you get to control how you use it. Some people choose to rent it as an Airbnb when they don't need it, while others rely on it to keep their work-life separated from the rest of their endeavors. 
With this prefab cottage, you won't need to get any sockets because it includes them all. It also has three different color modes, so you can choose between them depending on your mood. 
Overall, this manufactured cottage is a versatile option for different needs. Whether you want a gaming room or an office to work remotely, it could be the right fit for you.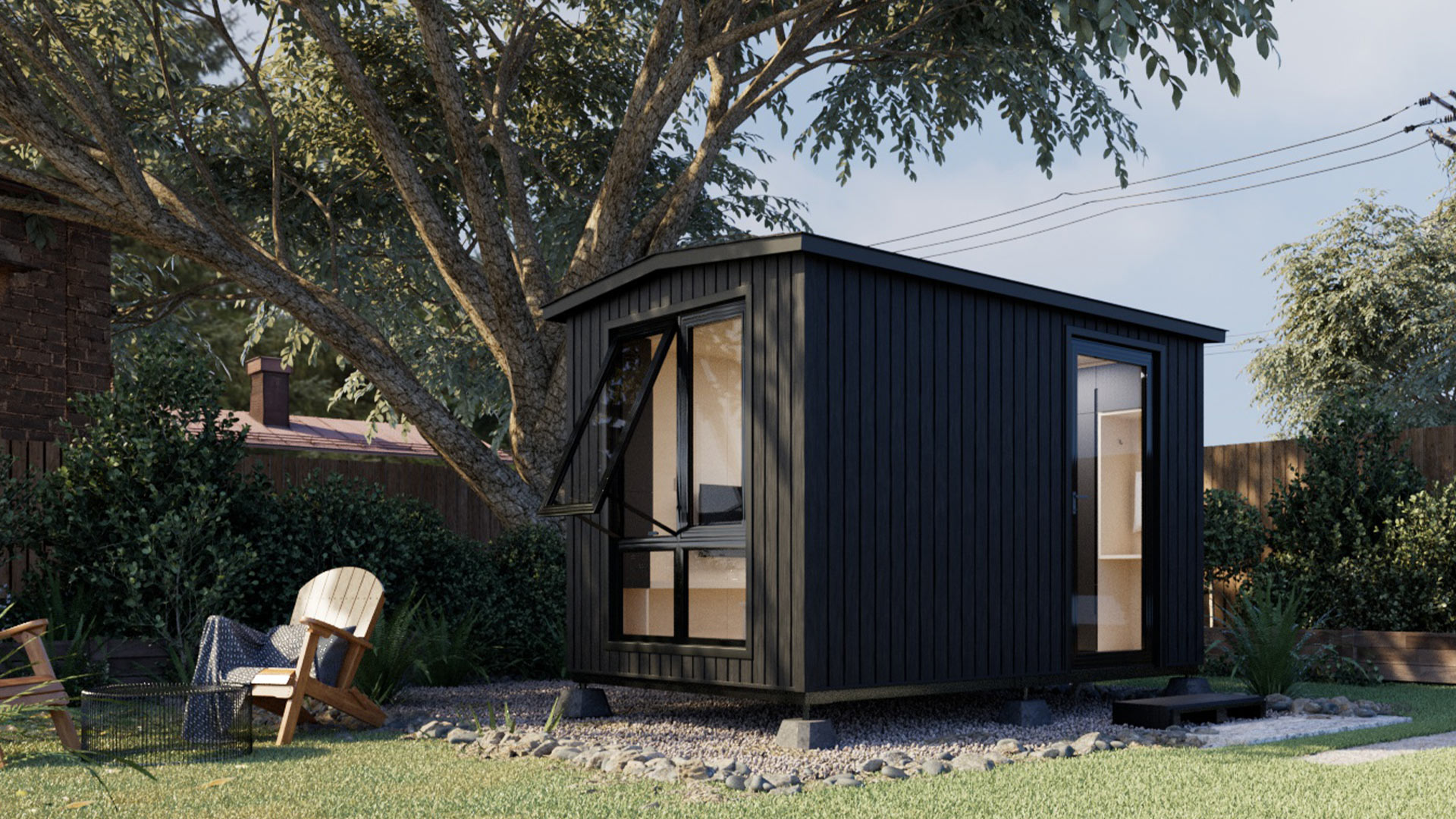 Dimension
8'4"W x 12'6"L x 9'10"H
Floorspace
105 square feet
Ceiling height
7'3"
Weight capacity
2.9 tons
Pedestal
18"W x 43"L x 7"
Window & door material
Powder-coated aluminum,  5/16" tempered glass
Material
Siding: plywood 1/2", steel frame, honeycomb paper, plywood 3/8", bitume, housewrap, vinyl siding
Roof: roof shingles
Floor: plywood
Pedestal: steel frame & wood plastic composite
Electrical devices
RCB, Wall outlet, Ceiling light switch, Ceiling light, Ventilator switch, Ventilator, Ethernet wall port, 66ft power cable with 2 connectors
Include
Optional: Cabinet, Desk, Small & Big Bookshelf, TV Shelf, Foldable Sofa Table, Convertible Sofa Bed. Always included: Electrical Cabinet
Power input
Maximum voltage : 110V AC (US standard)
Maximum current : 25A
Maximum power dissipation : 2750W
Autonomous WorkPod
Another option you could get from Autonomous is the WorkPod, which is the ideal manufactured cottage to buy if you want to close the door on all distractions and focus while you're working. 
If you look through different office pods for sale, you'll notice many of them are very expensive and offer very few customizable options. However, things are not like that with the WorkPod since it allows you to enjoy nature without getting distracted from your to-dos. 
Although many people use it as a workspace, it's much more than that. You can turn it into an entertainment unit, a reading nook, or even an area to do yoga and relax when you need to disconnect. 
One of the best aspects of the WorkPod is that it includes everything you need to turn your life around and enjoy it more. It comes with an ErgoChair Plus, a SmartDesk Connect, a cabinet, an anti-fatigue mat, a bookshelf, and more. 
Just like other Autonomous small prefab cottages, the WorkPod includes outlets for you to plug in all your appliances, warm lighting, and more. To start enjoying it, you just need to connect it to a power source. 
Professionals at Autonomous take their jobs very seriously, so they have tested the WorkPod to exceed standards. Therefore, it will last a long time and you'll be able to take advantage of it however you choose to. 
If you're looking for a dedicated workspace that's distraction-free, the WorkPod might be the perfect ADU to buy. Unlike other pods, you'll be able to customize it and immerse yourself in the beauties of nature around you without losing focus on your to-dos. 
Overall, it's a fantastic alternative if you want to boost your productivity. Since it's versatile, you can always use it for different purposes depending on your needs. 
Dimension
8'6''W x  11'9''L x 11'H
Ceiling height
6'10'' to 9'4''
Window material
Wooden frame, 5/16" tempered glass
Door material
Anodized aluminum frame,  5/16" tempered glass
Material
Siding: bitumen, housewrap, vinyl silding
Roof: bitumen, housewrap, shingles roof
Floor: plywood
Balcony: composite wood
Include
Optional: SmartDesk Connect, ErgoChair Pro+, Dual Monitor Arm, Cable Tray, Steel Cabinet, Anti-Fatigue Mat. Always included: Electrical Cabinet & Bookshelf
Floorspace
98 square feet
Capacity
2.9 tons
Autonomous WorkPod Lite
The last alternative from Autonomous is the most affordable prefab ADU you'll find on this list, but it's by no means a low-quality option. 
Professionals behind Autonomous understand that some people want the benefits of a work ADU but don't have enough money to afford a high-end alternative. Therefore, they've created the WorkPod Lite, which combines the best of both worlds: a high-quality structure and an affordable price. 
Embracing minimalism is key if you don't have a big budget to buy a prefab cottage. The WorkPod Lite offers less space than other alternatives, but it's enough for you to turn it into a studio, office, gaming room, or reading nook. 
It's pre-wired, so you won't have to worry about organizing cables and outlets. Just plug it into a power source and start enjoying everything it offers! 
Although it's compact, its materials can withstand challenging weather conditions. At Autonomous, experts have tested the ADU and they've determined that it's long-lasting and durable, so it's a high-quality alternative. 
You won't need any permits to install the WorkPod Lite, and experts will only have to spend a couple of days on your property when assembling it. Therefore, it's an ideal alternative if you want a more affordable option that still offers customizable features and versatility.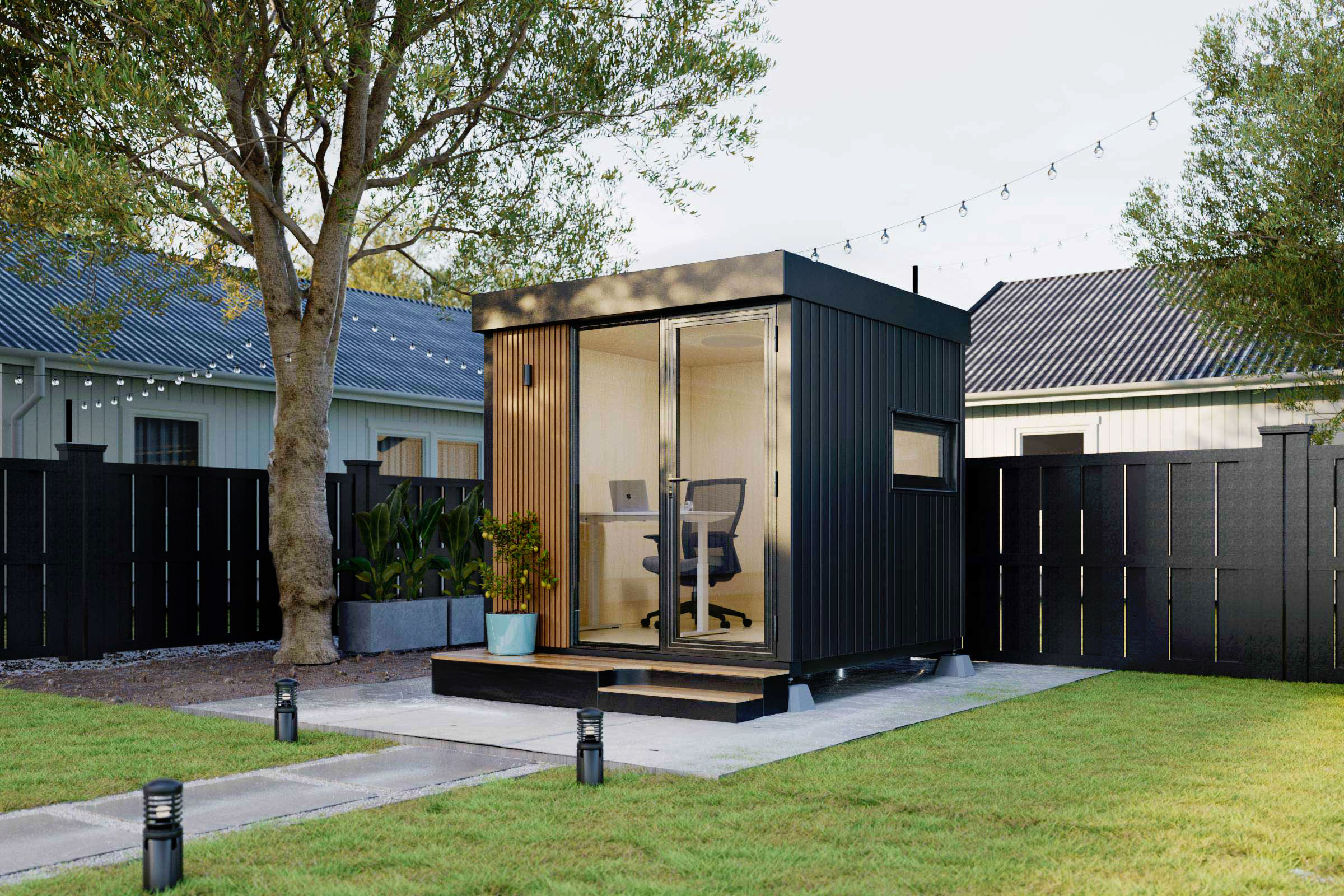 Dimension
8.7"W x 8.12"L x 9.3"H
Material
Window and door: powder-coated aluminum, 5/16-inch tempered glass
Siding: plywood 1/2-inch, steel frame, honeycomb paper, plywood 3/8-inch, bitume, housewrap, vinyl siding
Roof: metal roofing
Floor: plywood
Balcony and Pedestal: steel frame and wood plastic composite
Pedestal
24"W x 103"L x 9"H
Electrical devices
RCB, Wall outlet, Ceiling light switch, Ceiling light, Wall light, Ethernet wall port, 66ft power cable with 2 connectors
Weight capacity
2.3 tons (including Pod body)
Floorspace
80 square feet
Ceiling height
7.3-inch
Final Thoughts
Getting a prefab ADU is a fantastic alternative if you need extra space to work, play, relax, or study. Although you'll have to go through different options before choosing the one that fits all your needs, now that you have a few models by Autonomous, picking one will be much more straightforward. Have fun and customize your cottage however you want!
Video ads for product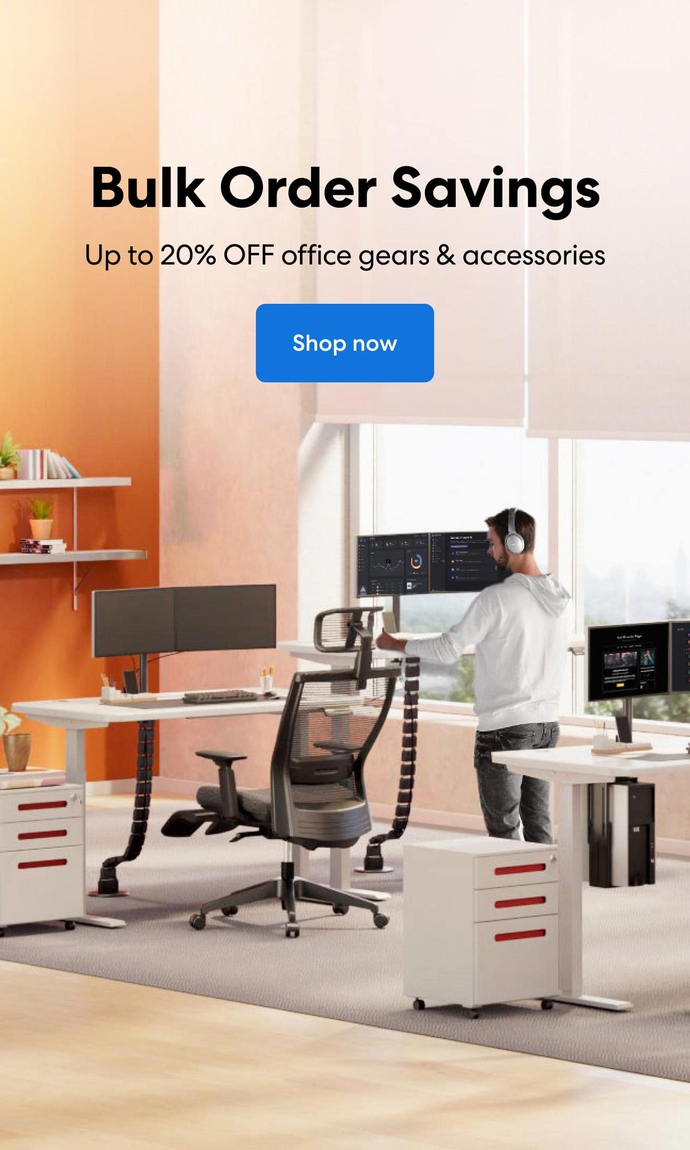 Subcribe newsletter and get $100 OFF.
Receive product updates, special offers, ergo tips, and inspiration form our team.