Smart Products
Choose One of These Top 15 Space-Saving Desks for in 2023
834 Views
Getting office space in a prime location has never been easy, especially in large busy cities. The available buildings are usually so expensive that you will end up settling for as little space as possible, meaning you have to get creative in terms of office furniture, and perhaps go for a space-saving desk. 
While there are a lot of desks available on the market, not all of them pay attention to size, and so they would probably end up being too big to be considered a space-efficient desk. However, with more and more attention turning to minimalist design styles, finding a space-saving office desk should become easier. 
At Autonomous, you will find a wide range of small office furniture, including a space saver desk, which would suit any office, regardless of size. In this review, we will look at 15 great options that you can choose from. 
5 Factors to Consider When Buying an Office Desk
Just because you are looking for a good desk for small-space offices, doesn't mean you have to forget all the other important qualities of an office desk. A small office desk not only has to fit inside your office, but it also has to allow you to do all the work that is required easily and comfortably.
That means it has to have the following five essential qualities: 
1. Available Space
If you are already reading this article, it means that space is a scarce resource, so this is probably one area you should pay most attention to. There are other ways to make sure that your desk fits into the available space besides simply buying a space saver desk, such as: 
Shape
A lot of space can be saved if you consider buying a small L-shaped desk for your office. One of the best ways to free up space in an otherwise cramped office is to tuck away your space-saving desk in one of the corners. 
Folding Function
Even a tiny desk for small-space offices can end up being in the way if, for example, it is placed near the entrance. The solution here is not to look for a smaller desk, but rather invest in a foldable alternative, such as the Aesthic folding desk. That way, when not in use, your desk can be folded and stored out of the way.
2. Adjustability
Never underestimate the importance of a height-adjustable desk when it comes to working comfortably for long stretches. When shopping for your space-efficient desk, keep in mind that it has to be ergonomic as well as small. You can go for a small standing desk from Autonomous as a good option. 
3. Storage
The amount of work done in your office is not determined by the size of your desk, so even a tiny workstation can generate a lot of paperwork that needs to be stored somewhere. Try to find a space-saving office desk that comes with a few drawers or at the very least has enough space underneath to fit a sliding cabinet, or something similar.
4. Quality
There should be no compromise in terms of quality, regardless of the size of the desk. In fact, all your office furniture should be made of high-quality, long-lasting material, and your space-saving desk is no exception. The better the quality, the less likely you are to need a replacement any time soon. 
5. Surface Area
This is a difficult one to manage because since you are looking for a space-saving office desk, working space is obviously going to be sacrificed. However, there has to be a limit, because the too little surface area will mean that you cannot even use the desk properly, which defeats the purpose. Get a desk that is at least big enough to carry your PC, and allow you to do some work. 
Three Things to Remember When Setting Up Your Office Desk
The way you set up and arrange your desk is very important, especially if you have to find ways to make use of very limited space. Here are some important things to keep in mind: 
Health Is Important
On any size desk, sitting for too long in the wrong posture is not healthy. You will risk some long-term, negative consequences by choosing to ignore our advice on buying a standing desk. Nothing should be more important than the good health of you and your fellow workers. 
Pay Attention To Ergonomics
Make sure that all the important things, such as the keyboard, filing cabinet, file racks, and stationery drawers, are arranged in an easy-to-reach configuration. This should not be difficult on a space saver desk. 
Personalize Your Workspace
One of the keys to being able to work for long hours comfortably, and productively, is to personalize your work area by adding a few mood-enhancing accessories. A popular theme in many offices these days is to have a flower or two on your desk. There are some great small office flowers to choose from that will fit perfectly on your space-efficient desk. 
Try One of These 15 Great Space Saving Desks
Now that you are armed with all the important knowledge regarding small desks, take a look at these great options: 
1. SmartDesk Core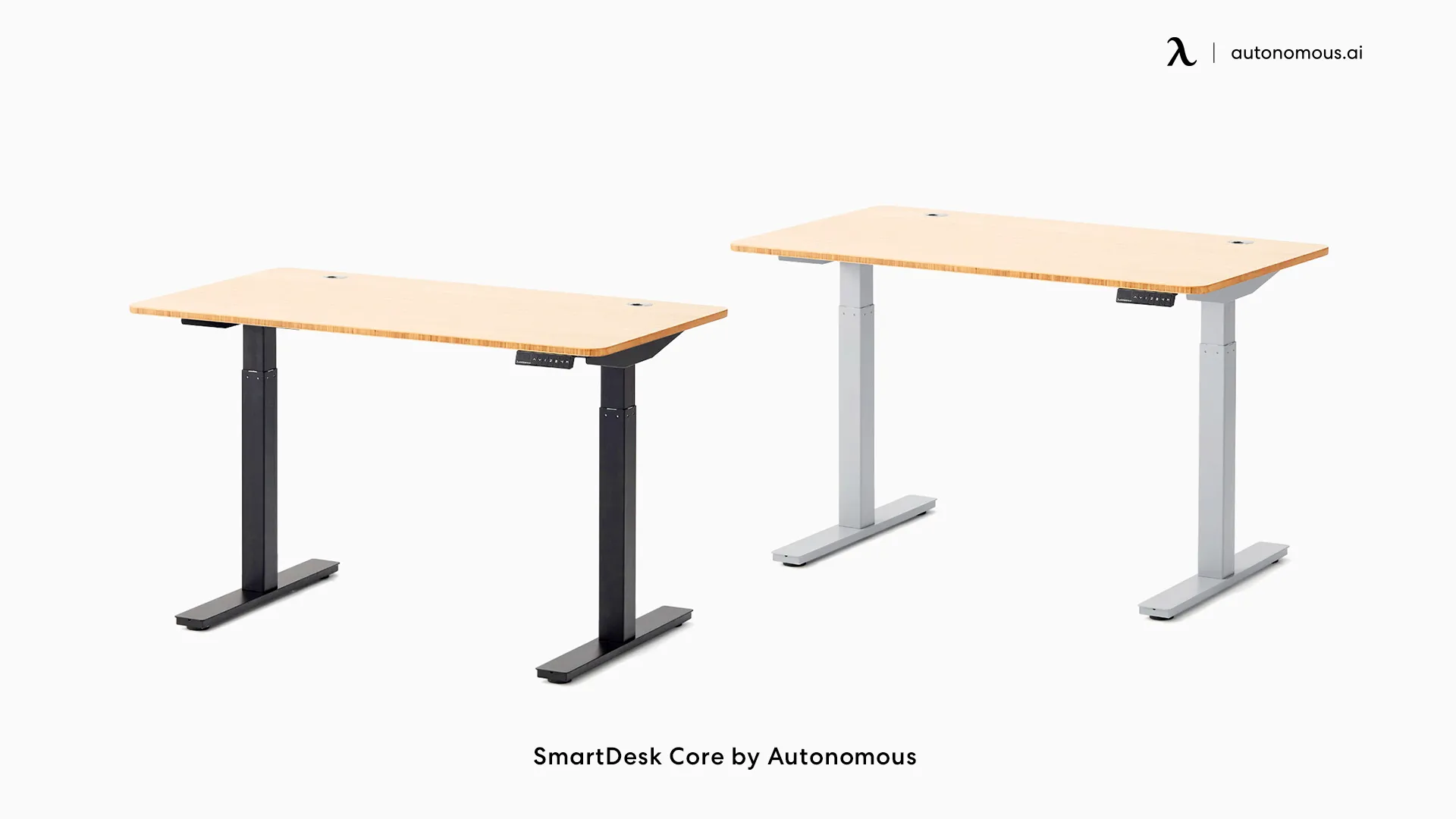 Small, light-weight, and with a solid steel frame, the SmartDesk Core from Autonomous is everything you need in a space-saver desk, and more. With the latest in advanced technology, this desk offers users the chance to enjoy features that are usually found on larger, more robust-looking desks. It has easy height adjustability, making it a healthy option, as well as a space-saving one.
2. The Office Oasis Small Computer Desk
These days, with a good computer on your desk, you need very little else to get the job done. This improves the appeal of small desks, such as The Office Oasis small computer desk, which are specifically designed to carry a PC and not much more. With very little extra space available, this compact computer desk is not suitable if you deal with a lot of paperwork. It is, however, a good-quality desk, thanks to the anti-scratch and waterproof surface.
3. Aesthic Folding Computer Desk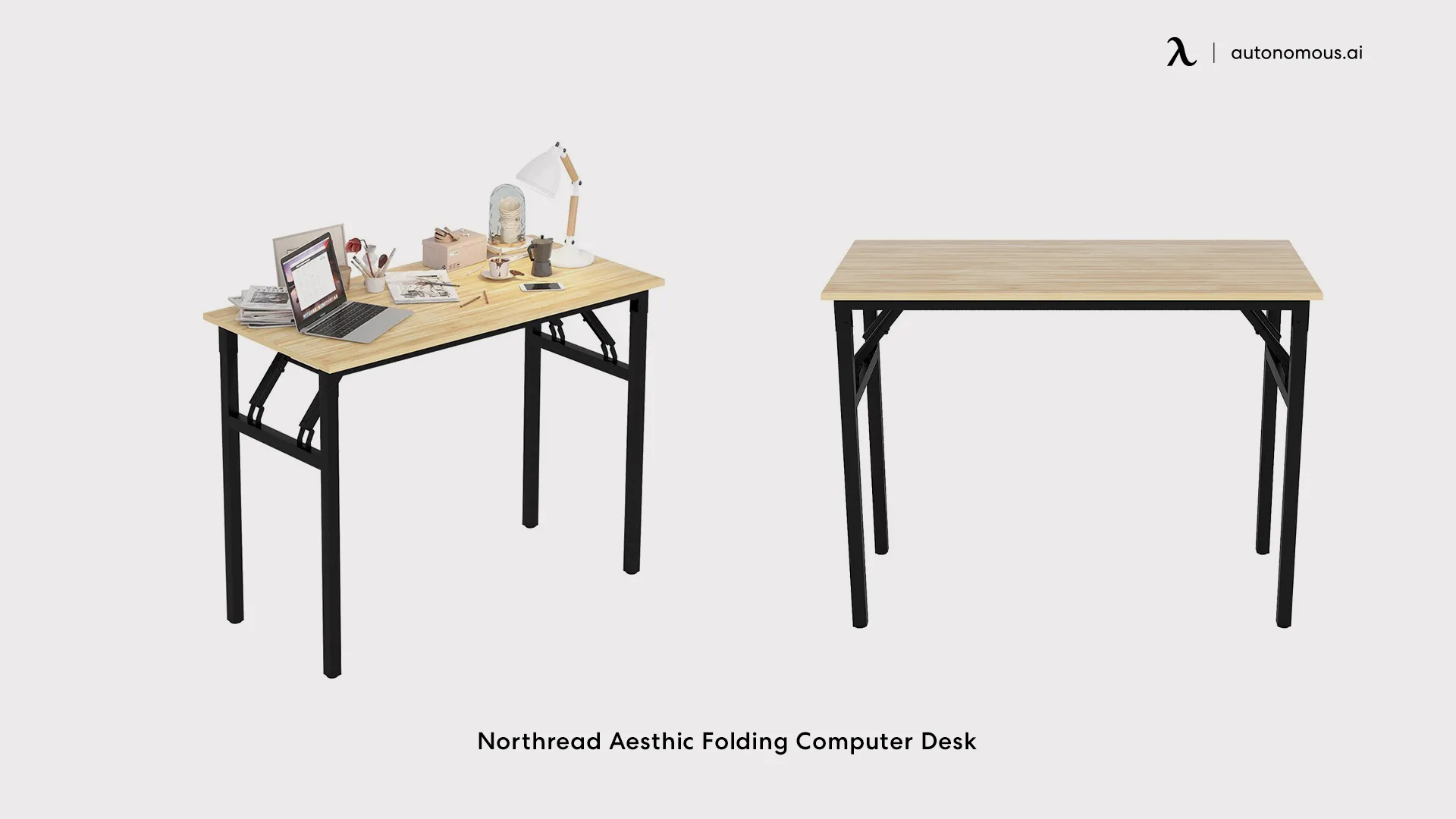 Made specifically for office spaces where the desk needs to be folded and put away, the Aesthic Folding Computer Desk is a great space-saving office desk. It has rubber leg rings that prevent slipping or scratching the floor as it is being moved around. Fitted with strong supporting brackets, this desk can support huge weight capacities.
4. Wistopht Compact Desk: Touch screen Control & Wireless Charge Pad
Perhaps the most technologically advanced space-saving desk on this list, the Wistopht Compact Desk with wireless charger is a small workstation that is packed with a host of great features. Chief among them are the touch screen controls, which put this desk head and shoulders above its competition. 
Adjusting the height, or scheduling sitting and standing periods, is very easy. It also comes with a wireless charge pad, which is very useful for keeping all your gadgets fully charged, in case you need to be mobile.
5. L-shaped Standing Desk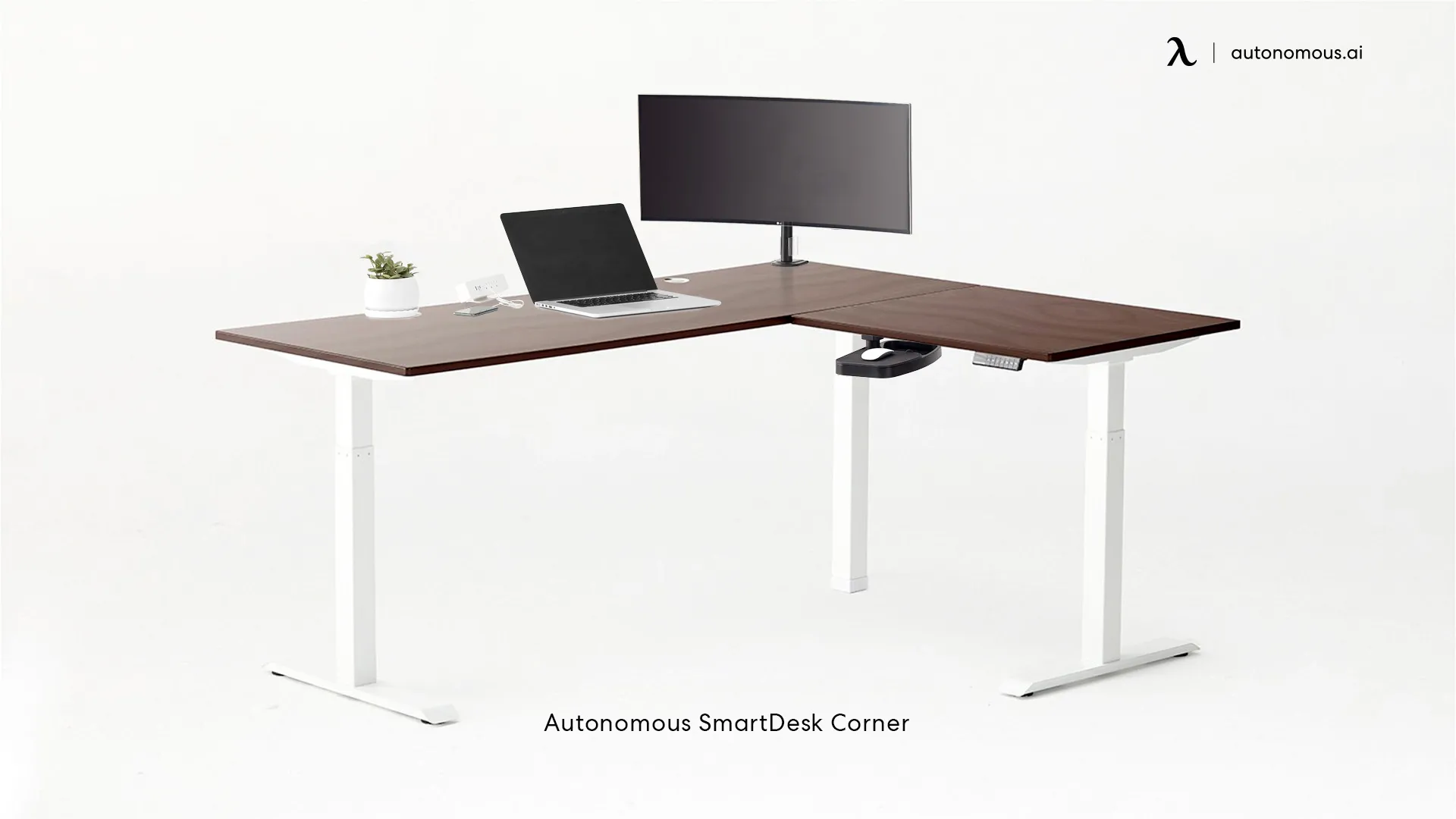 Are you looking for the perfect balance between space saving and health? Then look no further than the SmartDesk Corner. Shaped to snuggly fit into any corner, this desk also features height-adjustability to make those long office hours a bit easier on your body. All the regular smart features such as an electric motor, and solid steel frame, come as standard with this desk. 
6. L-shape Desk by Furinno Abbott
The second corner desk on our list is the L-shape Desk by Furinno Abbott. Much like other similar space-saving desks, it is made to fit in corners of crowded rooms. However, instead of being height adjustable, this desk offers alternative features, such as having a lot of storage underneath, thanks to the open-face shelves and cabinets. The shelves make an ideal bookcase, keeping all the books visible and easy to reach.
7. Vari Electric Standing Desk 48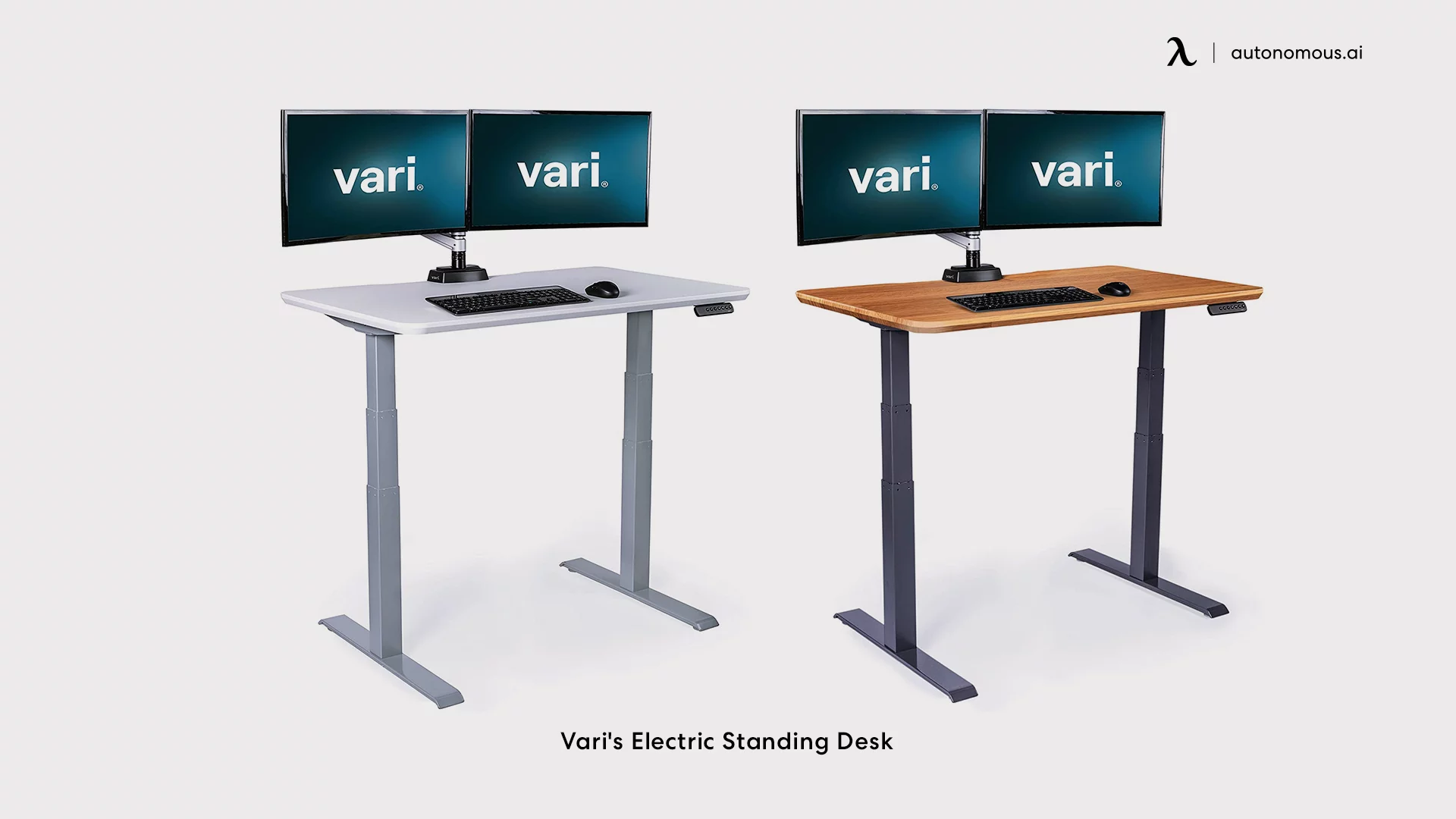 With the Vari Electric Standing Desk 48, you get the best of both worlds by having a desk that is small enough to fit in tiny offices, while somehow providing ample surface area to work on. The electric motor that controls the height adjustment is highly efficient and works very quietly, meaning you can quickly switch from sitting to standing without disturbing your fellow workers. It is made from high-quality, durable, and environmentally-friendly material, so it is likely to last you a very long time.
8. IKEA Bekant Sit-stand Desk
A very small, height-adjustable, space-saving desk is exactly what you will get when you order the IKEA Bekant Sit-stand Desk.  It is very easy to assemble and just a few minutes from opening it, you can be ready to get to work on your new desk. The height adjusting mechanism is very smooth and quick thanks to the dual electric motor that powers it. IKEA has kept everything nice and simple to provide you with an affordable option. 
9. Symple Stuff Grattan Standing Desk
The number one feature of the Symple Stuff Grattan Standing Desk that everyone loves is the very expensive-looking design. Although not the cheapest option on this list, this space-saving office desk is still quite affordable considering the quality material. It would look equally at home in the most luxurious of offices, or in a very modest home workstation. The downside is that it only carries a maximum of 100 lbs. 
10. Alfa Furnituring  Standing Desk
This is another good option for a desk for small spaces. If you have limited space, but your work requires you to have two computer monitors, then the Alfa Furnituring Standing Desk could be the ideal solution. Still small enough to be considered a good desk for small-space offices, it comes with enough surface area for your two monitors, as well as a few extra computer accessories.
11. Upper Square Albin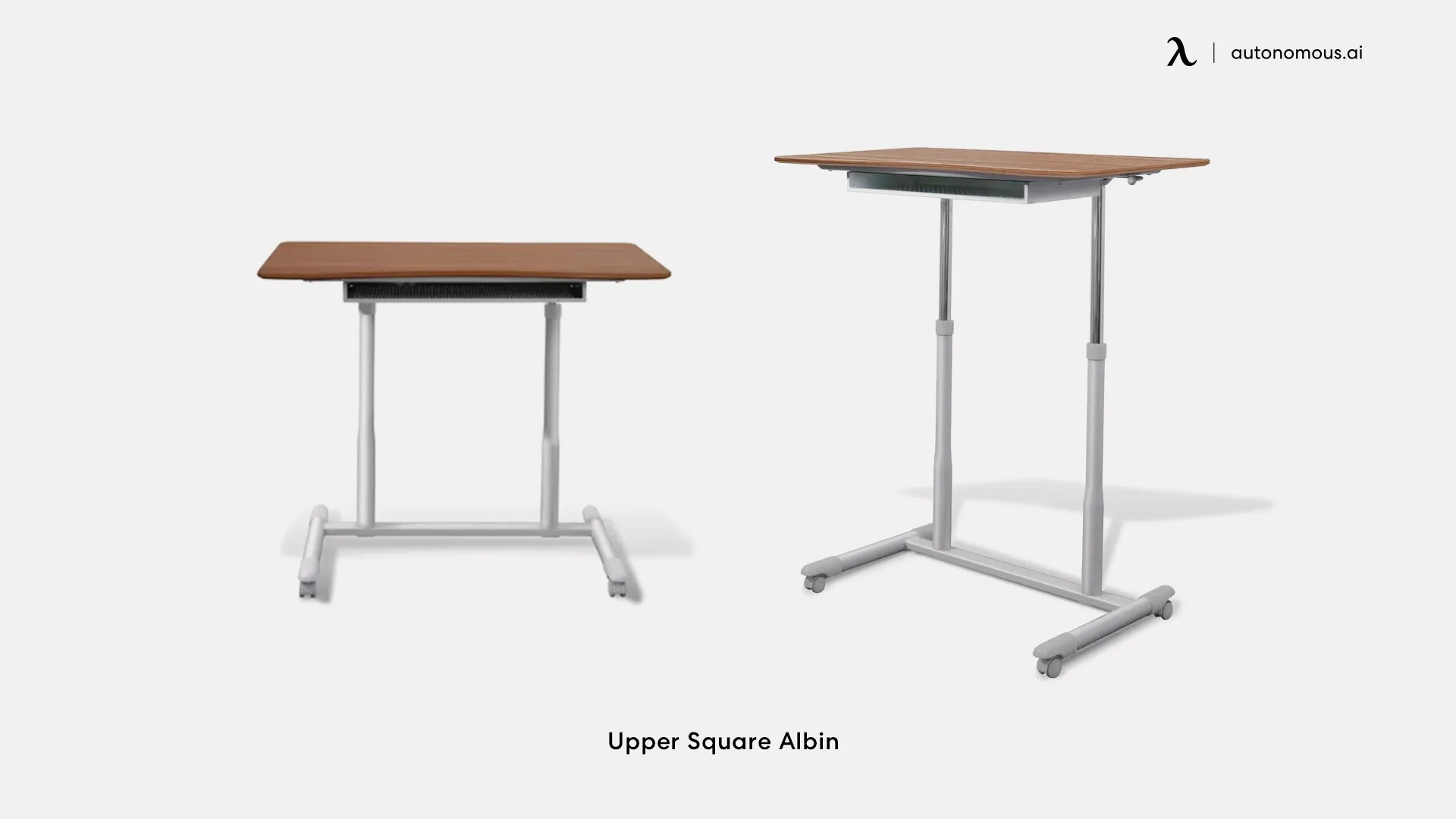 One way to save money is by doing away with the electric height adjustment motor and choosing a manual setup instead. Although not as efficient as other standing desks in this category, the Upper Square Albin desk is very affordable and would be ideal for anyone who is on a tight budget.  You still get the same health benefits, although you will have to work a bit extra when switching from sitting to standing, or vice versa. 
12. Bell'O CD8855 Computer Desk With Keyboard Tray
Quality meets minimalist design in the Bell'O CD8855 Computer Desk. The glass top and shelves give this desk a very expensive look, while it is very small and compact. It comes with convenient wheels that allow easy relocation around different parts of the office when necessary. The tabletop and shelves are made of very strong glass as well, for added durability. 
13. Whallen Newport Wood and Glass L-desk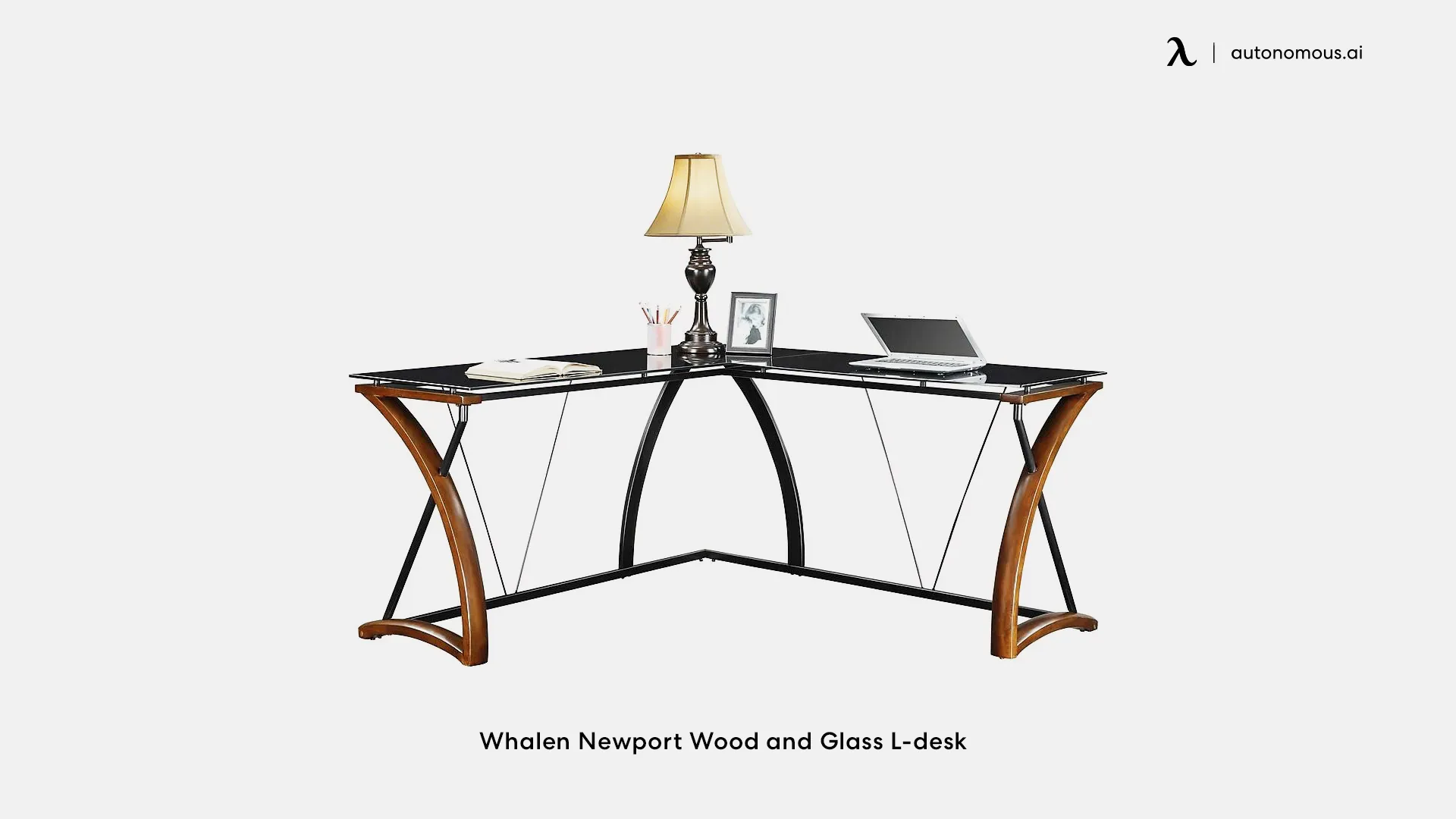 If you want a desk that just screams "quality," then the Whallen Newport Wood and Glass L-desk is the one for you. Looking at it you can be sure it belongs in a very modern office environment, but luckily, it is affordable enough to fit into most budgets. The blend of steel, glass, and wood gives this desk a certain quality that would improve any office space. 
14. Leather Bound Office Desk
Those looking for a very unique and different look should consider the Leather Bound Office Desk. It is a small space-saving desk that is leather-bound to produce a high-quality finish. The surface is water and dust-resistant, and easy to clean by just wiping with a cloth. 
15. Multi-purpose Home Table Shelf
Last, but not least, is the Multi-purpose Home Table Shelf, a small desk that sacrifices look for functionality. When not in use, it can be easily converted to a bookshelf or a place to display your flowers. It is also made of strong and durable material.

Conclusion
Of the many space-saving desks that are available on the market, the ones listed in this article will guarantee that you not only get all the functions you need in a desk but also take care of your health while working.
Keep up with Autonomous news
Stay informed, stay inspired with our new blogs.
WRITTEN BYAutonomous
We build office products to help you work smarter.