Smart Products
20 Best Small L-Shaped Desk Ideas for Any Office Layout

Autonomous
|
Apr 18, 2022
6,864 Views
Working in the correct office environment is key if you want to keep your productivity rate as high as possible during the day. If you're an office worker, you're likely sitting for most of the day, which can become dull if you don't like where you're working. 
Keep in mind that not only is a dull office layout not visually pleasing, but it can also greatly affect how you work and perceive your job in general. Thankfully, there are many ideas to consider if you want to achieve your dream office. 
One of the latest trends for office equipment is the L-shaped desk or corner desk. These desks offer the user the space and flexibility some people need to get everything done. While L-shaped desks weren't as common in traditional office environments, many people are buying them to make their offices more appealing to them. 
Even if your office isn't too large to accommodate a regular L-shaped desk, you can still purchase a small L-shaped desk and still get most of its benefits.  
While having the right desk for you is key if you want to become more productive at work, it's not the only thing you have to consider for your office. Many factors influence our work productivity rate, and we're going to take a look at some of them in this article. 
What comes to your mind whenever you think of an L-shaped desk? – The L-shaped Desk is a versatile office workstation that works well in small and big areas. The private office area, in particular, has a distinct personality. Because it often contains critical files and stuff that must be neatly organized.
Small L-shaped desks are excellent investments because they can provide plenty of areas for writing and organization and because of their space-saving design. These are intended not just to fit nicely in nooks by taking up less floor area but also to give ample area for gaming and multitasking.
So, even if you're putting up a homework desk or a gameplay station, if you only have a tiny area but need an entire desk, L-shaped PC desks are the way to go.
Overall, we're going to provide you with an overview of 20 ideas you can currently consider for creating the perfect working space with a small L-shaped computer desk. This post will also show you 20 of the greatest L-shaped desks for small places, which you can purchase to finalize your compact workstation, gaming room, or home office setup.
List of the 20 Best L-shaped Desks for Small Offices
The greatest L-shaped workstation for you is determined by whether it suits your office, whether you require a sturdy desk, the number of wires you have had for your system and gadgets, the appearance of your workplace, and the amount of work or gaming area you require. Here are our L-shaped desk ideas for small offices:
1. SmartDesk Corner from Autonomous
Additional desk space may make a great difference which can only be executed via corner desks for small spaces, particularly if you're working in a small location, and a worktop like this L-shaped work desk makes it easy to work. With the monitor rack, this Autonomous L-shaped worktop provides more workspace.
This small L-shaped desk with an intelligent design from Autonomous offers twice the space while silently sitting in the corner. The SmartDesk Corner works with whisper-quiet triple motor action and lifts/lowers height with an easy touch control keypad. The electric standing desk has a weight capacity of 400 pounds and is built with a solid steel frame to last the test of time. The modular segment makes a perfect fit and ensures smooth movement with each second. You will love the smart desk corner due to its elegant aesthetics, reliable design, and features like a built-in cable tray.
2. EUREKA L60 L-shaped Standing Desk: Programmable Keypad, Right-handed
Gamers need to have a spacious gaming setup that looks cool and versatile. Thanks to the Eureka L60 small L desk with a clever design. Despite its compact footprint, the desk is designed to meet all the standards of a multi-monitor gaming setup. This L-shaped standing desk is designed for right-handed users, has a programmable keypad, and is 60 inches wide. It is powered by dual electric motors, which give it the strong lift to move up and down flawlessly. The desk operates smoothly and quietly thanks to the whisper-quiet motor operation. You will also enjoy the large mouse pad, which is a treat for gamers, and the desk comes with a 5-year warranty.
3. Eureka L-shaped TechDesk: Monitor Stand & Dual Headphone Hook
Everyone desires a small L-shaped desk with drawers, but would you need a drawer if you already have plenty of space on the desk? The Eureka L-shaped TechDesk is one of our favorite small home office desks because of its edge corner shape and slim legs. You can move the desk easily as the weight is smartly distributed and always keeps the desk mobile.
The wide surface has enough weight capacity and dimensions for even a triple monitor setup, and the desk moves up and down with the help of electrically controlled motors. Eureka Desk is a modern world gaming desk, and it is specifically designed for call of duty fans as the aesthetics live up to the theme. You will also get accessories like a rotatable dual headphone hook and a cable management solution for effective gaming.
4. Eureka Ergonomic Eureka L-shaped Desk Additional Mousepad
This small L-shaped computer desk by Eureka has a carbon fiber top textured surface with a sturdy frame. The Eureka L-shaped desk is a 60 inches wide carbon-made desktop with features like a cable management box and a separate tray for other accessories. This is a great desk to suffice as a full gaming setup because you get features like a large mouse pad, a headphone hook, and a built-in cable management system. This small L-shaped desk offers a weight capacity of 180 kg and a 5-year warranty.
5. EUREKA ERGONOMIC 60" L Shape Glass Gaming Desk: Music Sync RGB
6. SHW Compact L-shaped Desk
If you intend to create a decent homework desk in an area of the house or office, this small standing desk is the ideal workstation for you. It comes with huge shelves.
7. 58.1-inch L-shaped Gamer Desk from GreenForest
If you intend to establish a contemporary little office at home, this compact L-shaped corner worktop might be the right workspace for you. The small L-shaped desk will provide an airy aspect to your downtown office aesthetics.
8. Walker Edison Corner Desk
Planning to revamp a cozy small studio apartment? Get your hands on this walker Edison corner desk especially designed for small spaces. The desk holds multiple monitors and while it is not a height adjustable desk, the design is ergonomic and gives a healthy experience to the user. The design is intended to save space and you get additional features like a CPU stand, and a sliding keyboard tray. Made up of steel and glass the desk measures 51 inches long and comes with a 2-year warranty.
9. Tribesigns L-shaped Desk
A small home office desk needs to be carefully planned in order to prevent mess and minimize the clutter. This Tribesigns l-shaped desk with a smart design takes the lead as one of the best corner desks on our list. Not a height adjustable desk but that doesn't stop it from being ergonomic and pleasant to work with. The desk has a small L-shaped design, which fits into the corners and you can effectively make the best of small spaces. The desk is equipped with features like side shelves for better storage options and also features like a monitor stand where you can place your screen and several work accessories.
10. L-shaped Residential Office Desk SZXKT
If you're searching for the finest L-shaped work desk with shelving, this tiny L-shaped workstation is great. The desk includes a storage bag with two open bookshelves along either side to assist in maintaining the workstation clutter-free by storing various desk items, office needs, and gaming gear.
11. Cotublar L-shaped Desk with Computer Stand
The desk measures 50 inches wide and is a wonderful smart desk for modern workspaces. The desk is rated as a multi-functional light and easy assembly desk thanks to the smartly engineered design you will find in the Cotublar. The spacious working area gives you plenty of room for accessories, a multi monitor setup and also some room to spare. Though it is not height adjustable, features like a monitor stand help you achieve an ergonomic screen level effortlessly. It is ideal for gamers, students or anyone who is looking for a smart desk on a budget.
12. TBfit L-shaped Desk with Storage
Not all L desks have storage, but these do, and it includes built-in shelves for storing items you need to keep close at hand. It is ideal for a multiple-monitor configuration because it also includes an integrated power strip with four connectors and two USB connections.
You can choose the ideal design for your office space from three different colors. With its simplistic style, it ought to blend well with a variety of settings.
13. CubiCubi L-shaped Desk, 59.1-Inch
This small L-shaped desk may be worth considering if you're looking for an L-shaped desk with such a storage unit. This contemporary desk features a pull-out drawer for storing office essentials, including vital documents, postcards, as well as other light items.
14. Teraves Reversible L-shaped Desk
Wonderfully adaptable, the Teraves Reversible L-Shaped Desk is a great buy. Because of its reversible design, you may arrange it to fit your studio's arrangement. It also has two open shelves that you can use for storage.
The desk is available in dark teak or black oak, and it can support up to 110 lbs., which should be more than enough for all of your equipment.
15. Cabot L-shaped PC Desk from Bush Furniture
Improve your little home office with an L-shaped computer workstation that you may alter to meet your specific needs. The edge desk will offer your office space a more traditional style and transform it into a pleasant workspace with conventional storage drawers and smart capabilities.
16. L-Shape Desk by Furinno Abbott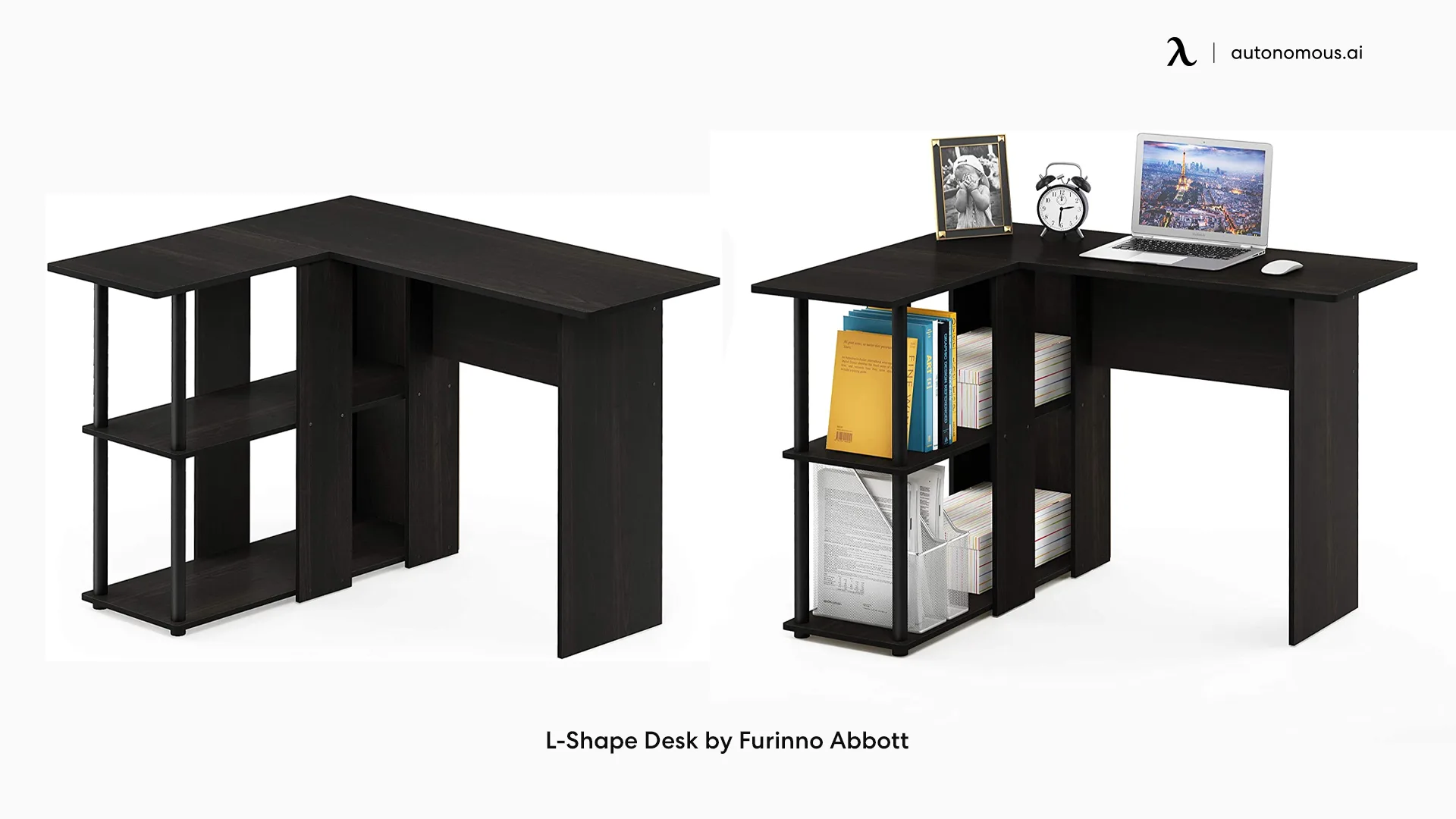 A tiny house, office, or flat might benefit from a small L-shaped desk with a bookcase, such as this computer desk. You may store crucial office documents, files, notebooks, folders, and your favorite books on these concrete pavers when you have free time.
17. Teraves L-shaped Contemporary Desk
If you intend to establish a modern and stylish type of small office, an L-shaped worktop may be a terrific complement. The workstation has a sleek and basic frame foundation that makes it a perfect partner for giving your office a modern aesthetic.
18. GreenForest L-shaped Table, 58-Inch
When it concerns L-shaped workstations for tiny areas, these tables are the greatest option, offering outstanding quality and a variety of useful features. This 58-inch rotatable small L-shaped desk is an example of a tiny workspace for corner space that you can find on the marketplace for a reasonable price.
19. L-shaped Gaming Desk by Casaottima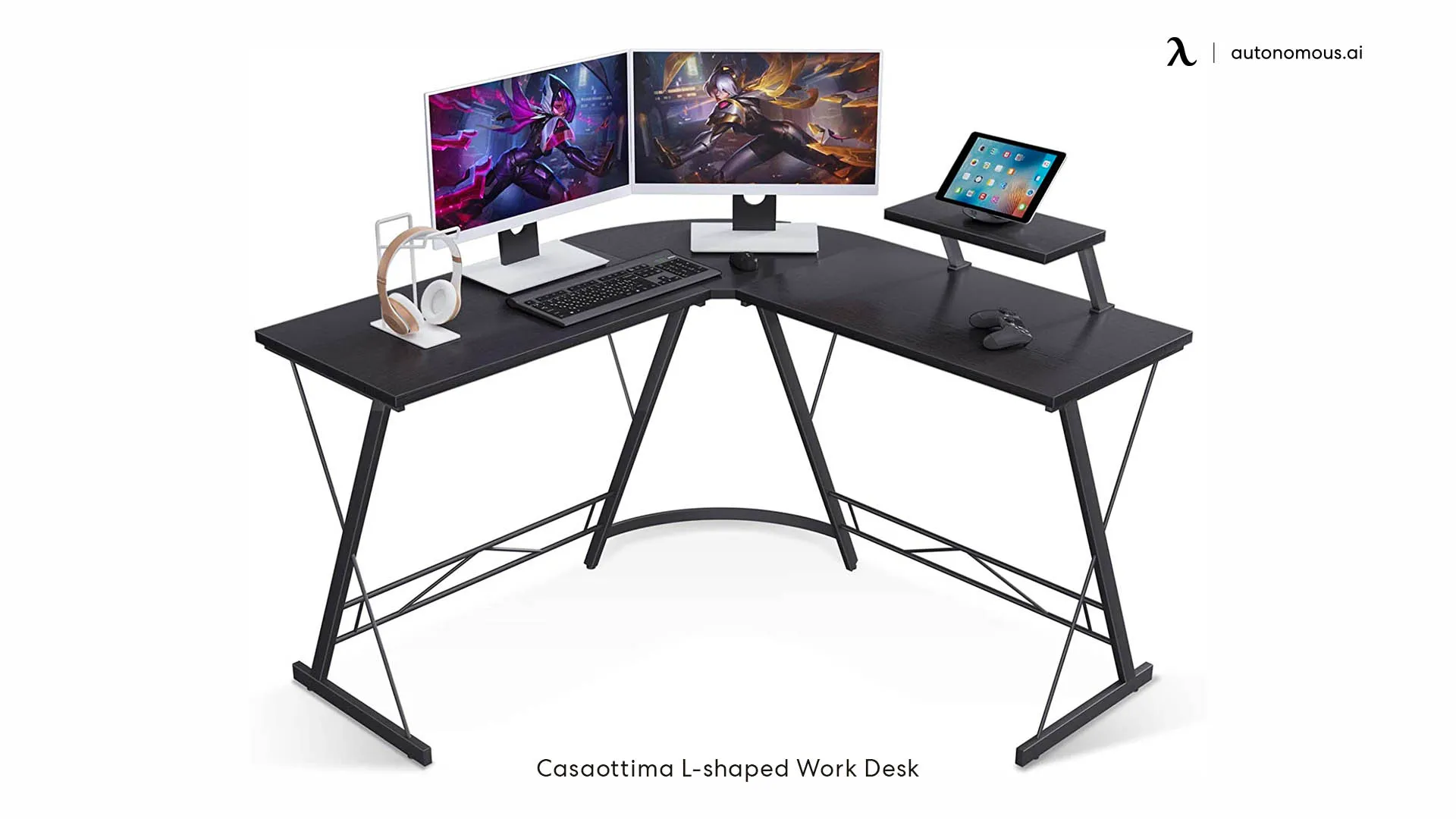 Casaottima makes yet another excellent small corner desk. The table has a simple style, but it has a sturdy MDF board surface and steel structure that provides the performance and toughness to support big gaming systems. The desk's "L" shape allows it to fit nicely in corners without taking up too much square footage, and it makes use of a tiny corner area for gaming console setup.
20. Greenforest Corner Desk
The best L-shaped desk for small office that also suffices as a gaming desk, this compact desk with a corner shape design is smartly engineered. The desk has a contemporary style and ideally built for small rooms. It has three pieces which are joined side by side to give a sturdy built. The desk is made up of an eco-friendly material and is scratch and water resistant. It also has a CPU holder underneath and the slim legs makes it easy to slide in a filing cabinet or two while working.
What Is an L-Shaped Desk?
As the name implies, this is a desk with an "L" shape. As opposed to traditional desks, which don't offer much more space, an L-shape desk can give you much more room to multitask, more space for your personal items or other objects, and more reach in general. 
It's important to note that small L-shaped desks wrap around you, meaning you're going to be able to see your office equipment at all times, which is excellent news for those who are looking for something with more accessibility. 
One of the best features of an L-shaped desk for small offices is that there are dozens of options you can consider today, and they're easily customizable. If you want to achieve a beautiful and productive corner desk setup, there are many ways to go around it. 
A remarkable feature about L-shaped desks is that while they often take up more space than a traditional desk, they can help you take much less office space; this is because you can use your desk to fit most of your office equipment, leaving the rest of the office free for you to get creative with it. 
Additionally, L-shaped desks are perfect for people with short arms since they provide much more reachability for users than other desks. If you can make the investment, an L-shaped desk is one of the best pieces of office equipment you can currently purchase. 
Finally, you can even use a small L-shaped desk to share working space with someone else. If you're working in a small office, having two separate desks can take up a lot of space unnecessarily. However, if you get an L-shaped desk for small office, one person can take one side of the desk and the other can take the other one. 
Not all L-shaped desk and small corner desk models may be able to fit multiple people at once, but it's still interesting to consider. 
Should You Go for a Small or Large Desk?
It mostly depends on what you need. If you're working with a lot of office equipment, you may be better off with a big desk. Unfortunately, not all office environments are able to fit such large desks, which is why we suggest going for a small L-shaped desk. 
Don't let the "small" part deceive you. Even if you're going for a smaller version of the L-shaped desk, you're still going to get plenty of space to fit most of your things. If you're looking for a desk for multiple monitors, some products can easily accommodate those without any problems. 
A small L desk also allows you to be minimalistic with your setup. If you want to enjoy the benefits of having more space in your office without cramping your desk with objects, a small, minimalist desk can do the job. 
In case you want to take things one step further, you can also go for an adjustable standing desk. These desks can make your work experience feel much lighter since you're able to change from sitting to standing.  
Considering how large L-shaped desks tend to be, having a sit-stand feature can make everything much better. Additionally, if you're not convinced about the sizing of your desk, you can create one yourself. There are many DIY standing desk ideas floating over the internet; it's all a matter of choosing what's right for you. 
In the case of L-shaped desks, you can get a desk frame and design the top to be the right size for your office. If you have the time, patience, and money to do it, we highly suggest you do it since it allows you to be creative with your equipment. 
What Are the Pros and Cons of an L-Shaped Desk for a Small Office?
Pros:
Promotes more flexibility while working.
Promotes creativity.
There are many ways to customize the desk.
Cons: 
They're a bit more expensive than other desk types on the market.
If you don't have a window nearby, you're likely to be facing a wall at all times since these products were designed to go on your office's corner.
Understanding the Dimensions of L-shaped Desks
The right small L-shaped computer desk will look great in your workplace and provide you with productive work. If you need numerous computer displays or more room, a big desk is a good purchase. One end of the table may be used as a workstation, while the other can be used as a meeting spot or a platform for peripherals like a computer printer. This guide will assist you in determining which sort of modern L-shaped desk better meets your requirements and affordability.
An L-shaped workstation is 30% larger in general than a regular desk. Evaluate your office area before buying a large corner desk to make sure that would work; you may leave around 3 feet from your workstation and other office supplies. These workstations are built with a greater surface area, so you may stretch out if you need additional work space. A home office desk is another alternative if you don't require much space.
Most individuals find that a standard desk elevation of 29–30 inches above the ground is appropriate. A large L-shaped desk with uneven sides is usually 60-72 inches wide on the side lines, 48-58 inches long on the slim side, and at least 20 inches deep. The average stretch of each side of a desk with two equal sides is Fifty inches.
Certain desk designs are adaptable, and you may arrange a right-handed comeback or a left-handed comeback during assembly. This is the end on which the long half of the desk should be positioned. Numerous different designs are not adaptable, and therefore when you purchase, you'll have to specify which layout you want.
Best 20 Small L-Shaped Computer Desk Ideas for Your Office
1. Go for an L-Shaped Standing Desk
An L-shaped sit-stand desk can be a great idea if you want to optimize ergonomics in your office. As you may already know, ergonomics is the best way you can ensure your physical and mental comfort while you're working. 
Having the right desk is the most important ergonomic equipment to consider (right alongside the chair), so if you're looking for the best of both worlds, make sure to go for a small L-shaped desk with this feature. 
Autonomous's SmartDesk Corner is one of the most powerful L-shaped desk models you can currently find on the market. Not only is its size friendly enough to fit most office environments, but it comes with amazing features that make it one of a kind.
Remember that the key, in this case, is to make everything as comfortable as possible for you. If you tend to sit for most of the day, you're likely experiencing physical pain, bad mood, low energy levels, and more. However, if you get a corner standing desk, you can change from sitting to standing, which can make your body and mind feel better in the long run. 
2. Get the Right Chair
As mentioned before in this article, the desk is only step one of the processes of achieving your dream office. If you truly want to be comfortable with what you're working with, having an ergonomic chair is essential. 
Ergonomic chairs often come with several features you can use to maximize comfort while working, such as adjustable height, armrests, headrests, and more. Whether you're working with a sit-stand desk or not, make sure to include a good chair in the process. 
3. Switch Things Up with a Reversible L-Shaped Desk
In some cases, having a static L-shaped desk is not the best idea to promote a better work environment since you're going to be stuck with a single setup. However, reversible L-shaped desks allow you to reverse the two sides, allowing you to decide whether you want a particular extension of the desktop on your right or left. 
If you haven't settled on your current office setup or want to have something that can easily adapt to any circumstances, having a reverse small L-shaped desk can be the best choice to consider. 
4. Consider Having Storage
One of the most remarkable features of the small L-shaped desk is that it offers a lot of space for you to place your equipment. However, some people don't want to place all the things they have in their office on their desk. In some cases, having everything on your desk can make the environment feel cluttered, which affects your overall performance.
Some desks come with extra storage options, so keep that in mind before making your purchase. 
5. Go for Modern Desks
In case your goal is to achieve an aesthetically pleasing space, having a modern L-shaped desk for small offices can be a much more viable option than a traditional-looking one. 
6. Use Mid-Century Furniture
Although modern desks are more common today, mid-century styles work perfectly for narrow L desks in small offices since the visuals aren't too distracting. 
7. Install a Floating Drawer
If your small L-shaped computer desk doesn't come with additional storage, you may consider installing a floating drawer to place some of your unimportant furniture.
8. Consider Your Color Choice
Colors have a significant psychological effect on you, so make sure your office setup has colors you like and promotes productivity. 
9. Find a Corner with a Window
As mentioned before, small corner desks or small L-shaped desks may leave you facing the wall at all times, so if you don't want your office to look dull, try to find an area with a window nearby. 
10. Get the Right Décor
Your office should have your personality and style in it. Keep your preferences in mind at the time of purchasing your décor so that you end up with a style you like. 
 11. Use Decorative Plants
Plants are a great way to promote a better mood while working. Consider purchasing a small plant to accompany the rest of your small L-shaped desk ideas. 
12. Get a Filing Cabinet
A filing cabinet is the best product to get if you don't want to get all your documents on top of your desk. 
13. Consider a Gaming Desk
Gaming desks often come with many features to accommodate furniture, so if you're one of those with a lot of office equipment, consider this desk type. 
14. Go for Monochromatic Styles
Sometimes having too many colors can be distracting, so if you work in something that requires too much focus, try a monochromatic style with your small L-shaped desk. 
15. Place Some Art in Your Office
On the other hand, placing some art around your office can make it more appealing, so consider doing it as long as it doesn't affect your working performance. 
16. Go for a Wooden Desktop
Wooden small L-shaped desk ideas are one of the most beautiful desk types on the market. If you're free to select any style for your desk, this is a highly attractive choice to consider. 
17. Go for a Vintage Desk
Vintage desks are as popular as modern desks, and it's because they have a particular style that fits most office environments. 
18. Go for a Floating Window Desk
If you prefer working while standing up, a floating window L-shaped desk can be a minimalistic choice that looks incredible in every case. 
19. Use Your Alcove (If You Have One)
If your office is way too small, you must make the most out of every inch of it. Thankfully, some small L-shaped desk ideas can fit alcove-like areas, so remember to choose something that fits your needs.  
20. Use a Wire Organizer
Working in an office mostly involves having a lot of cables lying around. If this is your case, get a wire/cable organizer so that your narrow L desks and office looks clean and uncluttered. 
Bottom Line 
Now that you have all these ideas for your small L-shaped desk, make sure to use them to create something amazing and reliable for you!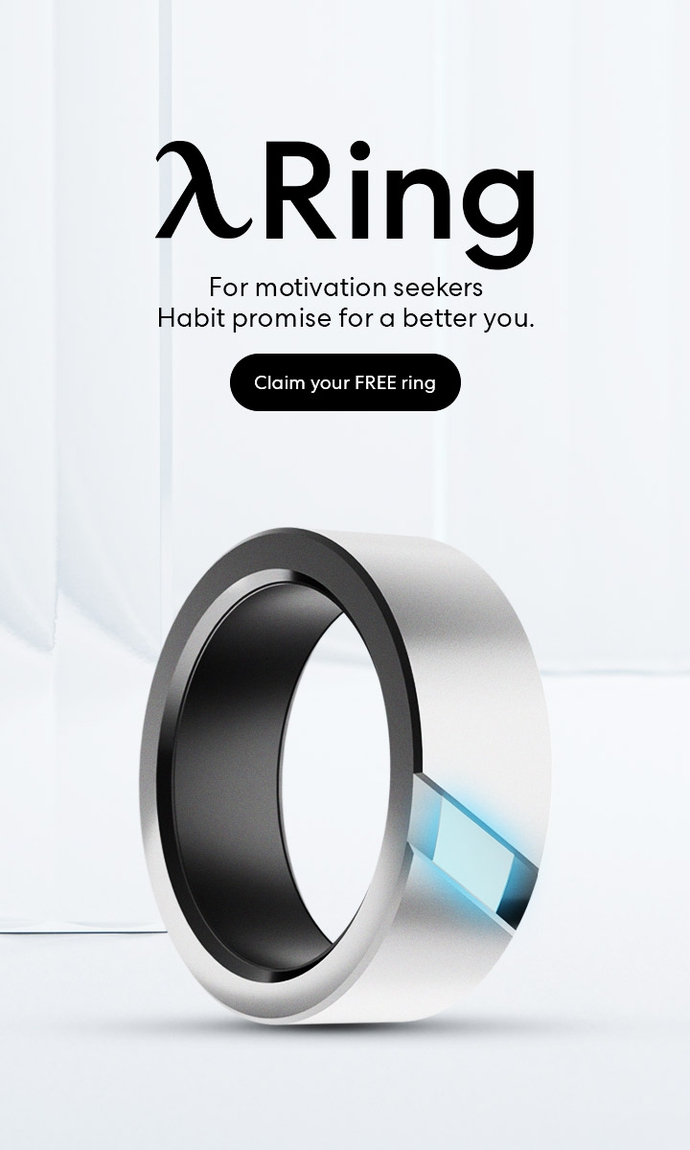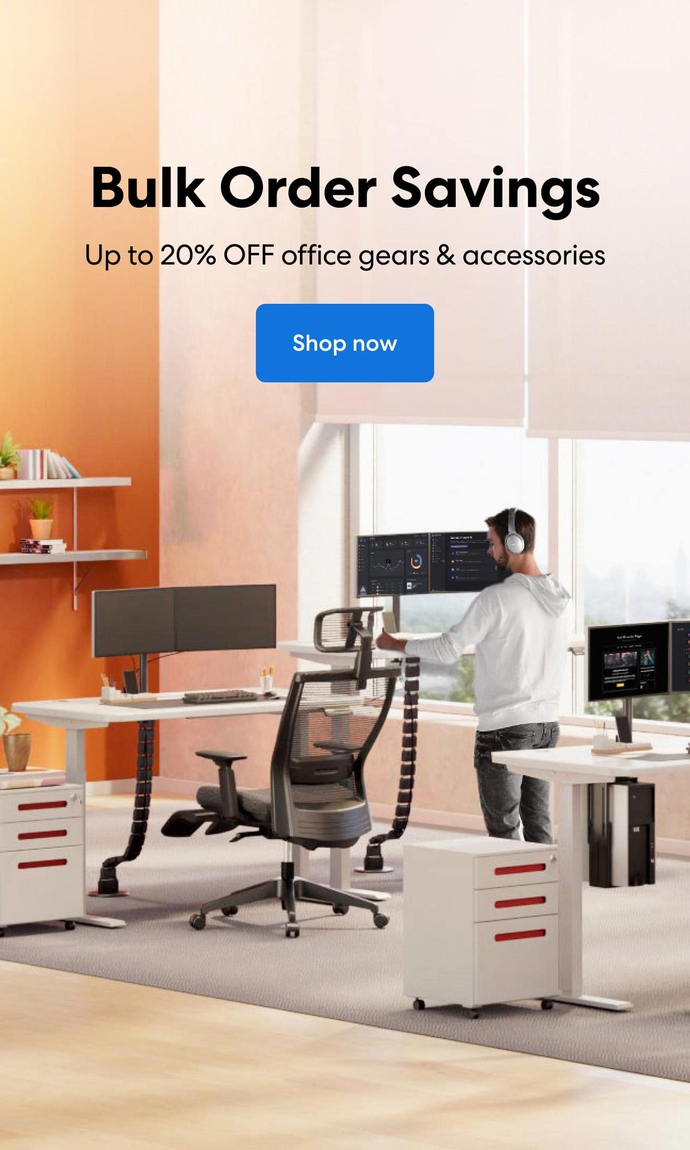 Subcribe newsletter and get $100 OFF.
Receive product updates, special offers, ergo tips, and inspiration form our team.