Smart Products
22 Large L-Shaped Desks for Expanding Workspace 2023
2,748 Views
If you are looking to add an ergonomic touch to your gaming area or de-clutter your workspace, an L-shaped standing desk may be the perfect option for you. An L-shaped table has two sides that offer a larger surface area and are connected right. Office workers worldwide love this style desk for its vast range of adjustability options.  
It lets you place office supplies, mouse, keyboard, and even two or three monitors if you wish to do so. This type of desk has a flexible design that can fit into any corner in the traditional or remote workspace. Another great thing about L-shaped desks is that most models can provide additional storage options if you require a lot of peripherals during your day at work.  
With all the added extras, it may be a good idea to include a desk of this nature in your office if you are a writer, graphics designer, or avid gamer. 
In today's article, we have compiled a list of the most loved L-shaped desks and highlighted their features so you can make an informed decision when purchasing one. We wanted to make it easy for you to understand the benefits of these desks without having to ask a store clerk for advice. 
Without further ado, let's explore the top 22 large L-shaped desks for expanding workspaces in 2022!
22 Large L-Shaped Desks for Your Expanding Workspace
1. Autonomous SmartDesk Corner
The SmartDesk Corner is an Autonomous product that offers maximum work area and electronic height adjustment. What's great about this desk is that it is modular, meaning that you can turn it into a single desk if you have a smaller office area. 
This L-shaped standing desk measures 50.8 inches long and has plenty of surface space to hold your mouse and keyboard comfortably. There are adjustable leg pads at the bottom of the X-shaped legs, providing support no matter where the large L-shaped desk is.  
Top dimension
Full: 77"L x 64"W x 1"H
Large Top: 77"L x 29"W x 1"H
Small Top: 29"L x 35"W x 1"H
Frame dimension
27.5"W x 42" - 71"L
Height range
With top: 29.4" - 48"
Without top: 28.4" - 47"
Materials
Top: Warp-proof MDF wood
Frame: SPCC steel
Colors
Top: White, Black
Frame: White, Black
Weight capacity
400 lbs
Warranty
5 years for frame
1 year for top
2. Autonomous SmartDesk Core
Autonomous is a brand known for a quality ergonomic standing desk that not only looks futuristic but fits in no matter where it's placed in the office. The SmartDesk Core is no exception and is an entry-level standing desk from the Autonomous range.  
You can combine two of these desks to get a large L-shaped workstation. It has four programmable buttons that can be set with relevant height settings so that you can raise the desk at the press of a button. What's great about this product is a five-year warranty and a 30-day return policy if you are unhappy with the product. 
Top dimension
Small Top: 43"L x 24"W x 1"H
Classic Top: 53"L x 29"W x 1"H
XL Top: 70.5"L x 30"W x 1"H
Frame dimension
27.5"W x 40" - 73"L
Height range
With top: 29.4" - 48"
Without top: 28.4" - 47"
Materials
Top: Warp-proof, MDF wood, natural Bamboo
Frame: SPCC steel
Colors
Top: White, Black, Walnut, White Oak, Bamboo
Frame: White, Black, Grey
Weight capacity
265 lbs
Warranty
5 years for frame
1 year for top
3. Autonomous SmartDesk Pro
The SmartDesk Pro is the epitome of ergonomic excellence and comfort. If you want something that can fit into any office space and has electronic height adjustment, this may be the solution for you. This desk is the same as the Core version but more premium. If you desire for a large L-shaped workspace, let's set it up with two of them.
When this desk arrives, it comes pre assembled, meaning that it may only take you a few minutes to assemble with the help of a friend. It is held up by a solid steel frame and is covered in rust-resistant paint that can last you for years.
Overall dimension
55" x 29.2 x 4 (3" hollow)
Drawers dimension
18" x 7.4" x 2"
Height range (without top)
23.6" - 49.2"
Materials
Top: MDF and white PU paint
Frame: SPCC steel
Colors
Top: White
Frame: White, Black, Grey
Weight capacity
310 lbs
Warranty
7 years for frame
1 year for top
4. EUREKA ERGONOMIC AED 72" Large Standing with Desk Keyboard Tray
This large corner desk is one of our top choices.  The large legroom is ideal for stretching your legs or storing file cabinets. A water-resistant mouse pad is included with this home office desk. It is thick, smooth, incredibly precise, and easily fits into smaller spaces.
| | |
| --- | --- |
| Top dimension | 72"L x 30"W |
| Frame dimension | 25.8" W x 29.5" - 48"H |
| Materials | High-quality MDF wood and steel |
| Colors | Black |
| Weight capacity | 400 lbs |
| Warranty | 3 years |
5. EUREKA L60 L-shaped Standing Desk: Programmable Keypad, Right-handed
With this height-adjustable large L-shaped desk, you can preset four commonly used heights, whether you're standing or sitting, a child or an adult; you can also switch to height preferable to you with a click; the table height is adjustable from 30" to 48". 
Powered by electric motors, the big corner standing two-person desk can be raised smoothly and quietly with powerful strength; Smart Anti-Collision Technology with AI CONTROL and HALL SENSOR (Built-in), which detects obstacles and blackouts instantaneously to avert accidents. 
To avoid formaldehyde exposure, the desk is made from CARB PhraseII, which can be lifted in seconds to allow you to stand upright for calorie burning and relaxation.
| | |
| --- | --- |
| Dimension | 61.02"L x 43.7"W x 29.5" - 48"H |
| Materials | EPA, TSCA Title VI and CARB PhraseⅡ certified particle board, custom grade carbon steel |
| Colors | Black |
| Weight capacity | 220 lbs |
| Included | Mouse pad |
| Warranty | 5 years |
6. EUREKA ERGONOMIC Gaming Desk with Hutch: Keyboard Tray
With a 72"x30" desktop, the AED 72 Studio Desk is a great option for gaming, streaming, home offices, and creative setups. One of the most impressive aspects is the Wing Shape Design, which provides a central seating position, so everything is always within reach. There is a steel frame with a weight capacity of 400 lbs that can support even the heaviest setups confidently, making the frame sturdy enough to support dual monitors and accessories. Controllable RGB Lighting in multiple colors and lighting modes creates an immersive environment and features an ergonomic keyboard tray and a full-surface mouse pad.
| | |
| --- | --- |
| Dimension | 72"L x 30"W x 30"H |
| Materials | Steel, Particle board |
| Colors | Black |
| Weight capacity | 400 lbs |
| Light modes | Solid Color, Cycle, and Pulse |
| Warranty | 5 years |
7. EUREKA ERGONOMIC L60 Computer Desk: Left Side, Pink
With the convenience of convenient functionality, this computer large L desk is perfect for avid computer gamers. You can fit a gaming monitor, gaming keyboard, and other gaming equipment on the desktop of the PC desk. With a surface area of 60" x 43" and sturdy steel construction, the desk can hold up to 150 pounds. It is made from EPA-certified particle board and commercial-grade steel.
The installation process is simple; you will receive a detailed user guide, a screwdriver, and other necessary tools. Cords can be kept neatly organized with two cable grommets and a power strip storage box integrated into the Eureka L60 Gaming long corner desk.
| | |
| --- | --- |
| Dimension | 61.18"L x 43.3"W x 30"H |
| Materials | EPA TSCA Title VI and CARB Phrase Ⅱ certified eco-friendly material |
| Colors | Pink |
| Weight capacity | 550 lbs |
| Warranty | 5 years |
8. EUREKA ERGONOMIC 60" L Shape Glass Gaming Desk: Music Sync RGB
Featuring Music Sync RGB LED Lighting Effects and a Cool Glass Desktop, the GTG-L60 offers a real spectacle when you use the desk with the light features activated. The LED light system can even be programmed to match your music as well. The GTG L60 gaming desk from the Eureka Ergonomic store is a revolutionary design that offers the ultimate gaming experience. 
Synced RGB lighting can be integrated into your gaming experience through the 27 music sync modes. As well as a multicolor static mode, a 10-spectrum cycle mode, and a sleep mode, you can also choose from a multicolor static mode. You can adjust the sensitivity of the music, the speed of the color changing, and the intensity of the light for a comfortable visual experience. There is a smart app control feature and a simple button control feature. 
The desktop is made of 6mm thick, deep-tempered glass that is both heat-resistant and waterproof. It ensures sturdy & durable performance.
Dimension
60"W - 23.6''D - 30"H
Material
Glass
Weight capacity
330 lbs
Feature
27 music sync modes & RGB lights with Bluetooth app control
Dual headset hook, rotatable cupholder, power strip holder, and adhesive cable ties for optimal organization.
Warranty
5 years
9. Techni Mobili Warrior L-Shaped Gaming Desk
The best part about this large L-shaped desk is that you can utilize less floor space while multitasking. Depending on your preference, you can mount it either on the right or the left side of the small L-shaped desk. It has two cup holders and a headphone holder. MDF panels, with a carbon fiber-like texture, are used on the top surface in addition to the two elevated detachable shelves. A powder-coated steel frame makes up its frame, complete with a rich color. You can easily manage daily tasks with this wide L-shaped desk, whether you're gaming or simply managing daily work.  
Featuring two cup holders and a headphone holder, it can be mounted on either the desk's left or right side, depending on your preference. It is made of MDF panels with a carbon-fiber texture on the top surface and two elevated, removable, durable shelves. With this desk for the bedroom, you can easily manage your daily tasks, from gaming to managing your computer. 
Dimension
63''L x 59''W x 35.25''H
Material
Desk top and shelves: MDF panel, rich carbon fiber like texture
Base: Powder-coated steel
Color

Black top
Matte silver legs

Weight capacity
130 lbs
Warranty
5 years
10. EUREKA ERGONOMIC Eureka L Shaped Standing Desk: Call of Duty Licensed
The patent-pending dual-motor height adjustment system provides quiet, smooth, and reliable height adjustment to accommodate weights up to 220 pounds. The height adjustment range of 29" to 48" (without a monitor riser) allows you to maintain a healthy and comfortable posture, which helps you stay focused and energized. 
You can set two memory presets for your sitting and standing height and charge your devices with two USB ports on the controller. Featuring a soft cushion seat, sturdy arms, and headrests, it is made from high-quality materials and can support up to 250 pounds. 
The mouse pad comes with a large Call of Duty theme. Despite the fiercest gameplay, your mouse tracks consistently and accurately thanks to smooth, high-precision material. With its 61.06" x 39.10" L-shaped design and carbon fiber surface, this desktop makes the most of your corner space. Despite its size, it provides plenty of space for your setup. 
In addition to facilitating single or double monitor setups, the 38.6" ergonomic monitor riser promotes healthy posture and frees up big L-shaped desk space by raising your monitors to eye level. 
11. GreenForest L-Shaped Modern Computer Desk
This long L-shaped desk has a three-piece moldable design that is contemporary in style and perfect for long nights gaming or working. It's crafted from moisture and scratch-resistant P2 particleboard that is also eco-friendly. 
Besides being simple to maintain, the GreenForest is also sturdy and stable due to its heavy-duty metal frame plus adjustable legs. An L-shaped bracket underneath the desk makes the table durable and firm on uneven surfaces or carpets.  
There is ample legroom because it's of its 29.1 inches height, and there is even a handy storage space for your CPU to stand on. 
12. Walker Edison L-Shaped Modern Desk
It is fabricated from durable powder-coated steel and thick tempered safety glass; the Walker Edison large L-shaped desk is minimalistic and elegant. Some of the features included with the table are a CPU stand to offer maximum space and a sliding keyboard tray that can be mounted to either side of the huge L-shaped desk.  
It measures 51 inches long and has a weight-bearing capacity of 50 lbs on each work surface, which means that it can accommodate accessories, gaming consoles, and monitors. The desk's total height is 28.25 inches, and it stands on X-shaped legs that do not obstruct the underneath space.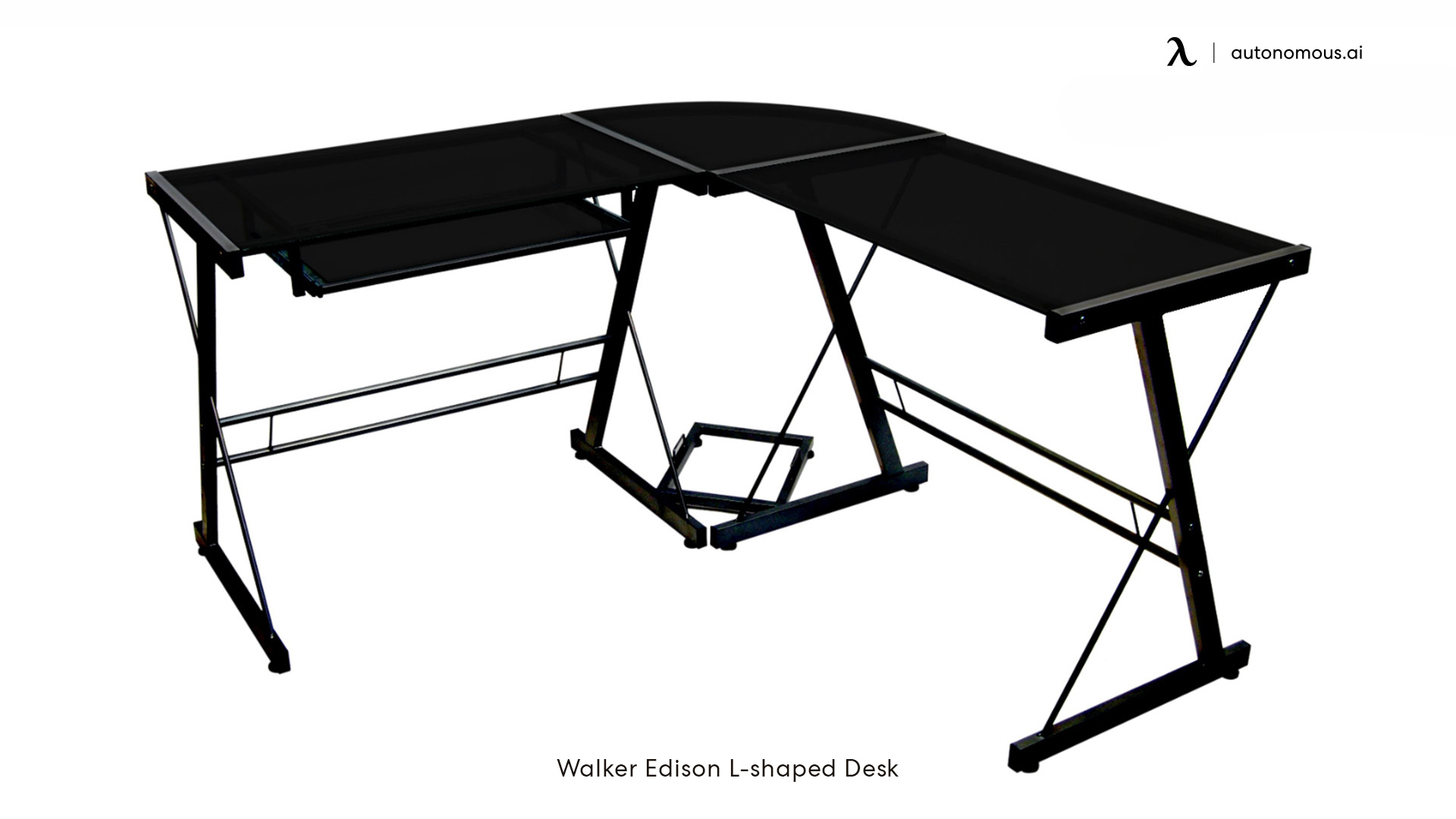 13. SHW L-Shaped Home Office Wood Corner Desk
This L-shaped gaming desk is covered in a stylish espresso finish wrapped around eco-friendly particleboard. It can easily withstand chipping and scratching, so do not stress concerning the kids damaging it if you have a home office. 
A convenient two-tier shelf allows you to store all your office supplies, binders, and files. Did we mention that this table is super easy to assemble? Two people can put it together within minutes, and it even includes two grommets for practical cable or wire organization.  
14. Vasagle L-shaped Corner Desk
This static model wooden desk comes in a rustic brown finish that can add elegance and charm to any office environment. It measures 54.3 inches on both sides, plus includes two shelves that offer space to keep your books and files.  
The top shelf can be removed to accommodate your CPU tower, and there is a unique cut-off back corner that is perfect for storing your cords and cables neatly. This extra wide L-shaped desk has minimal parts, making assembly effortless and efficient, while its adjustable feet keep the desk sturdy plus stable.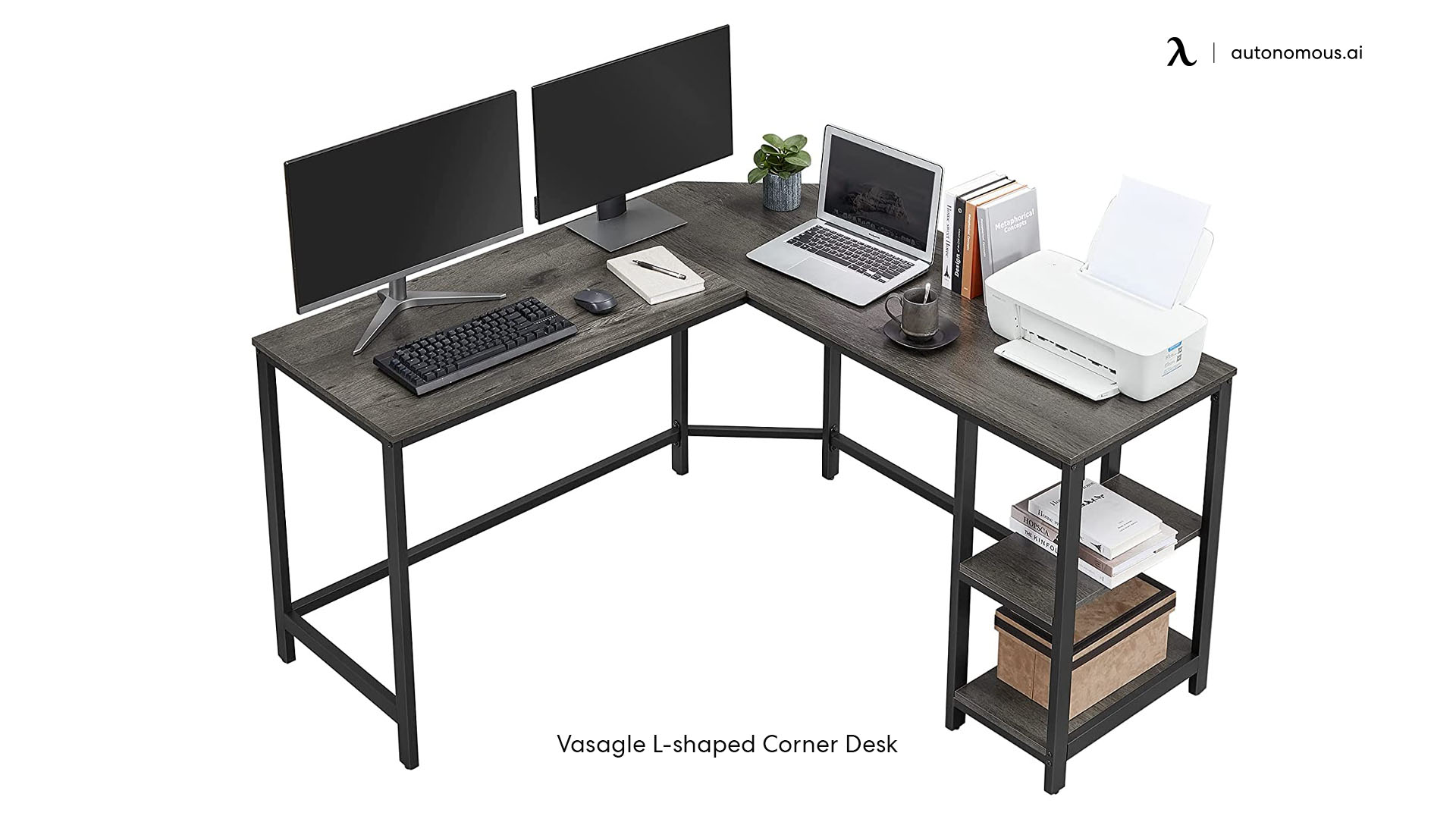 15. Bestier Modern Adjustable Corner Desk
If you are looking for an affordable and reliable brand, the Bestier black corner standing desk may be the perfect option for you. It comes equipped with adjustable storage shelves fitted on the middle, left, and right. 
The big L-shaped desk can also accommodate a computer tower by removing the middle tier shelf to free up space underneath the desk. It has an X-shaped metal frame that holds the solid wood worktop stable and high load-bearing capacity to store all your items. 
Each desk-side measures 59.45 and can be adjusted to make one long desk or a two-person workspace. 
16. CubiCubi L-Shaped Corner Desk
This large L-shaped desk provides extra space on the worktop while raising the height of the LCD to eye level. It is a black L-shaped standing desk with a slim storage drawer, supported by a solid metal frame, and includes a sturdy particleboard top. 
There are triangle struts that provide stability and full support on uneven or carpet floors, so you can rest assured the table is always firmly mounted. The convenient hook on the side of the large corner desk gives you an excellent place to hang your headphones safely when you are not using them. 
Its stylish and scratch-resistant finish is easy to clean and adds a modern touch to any workspace.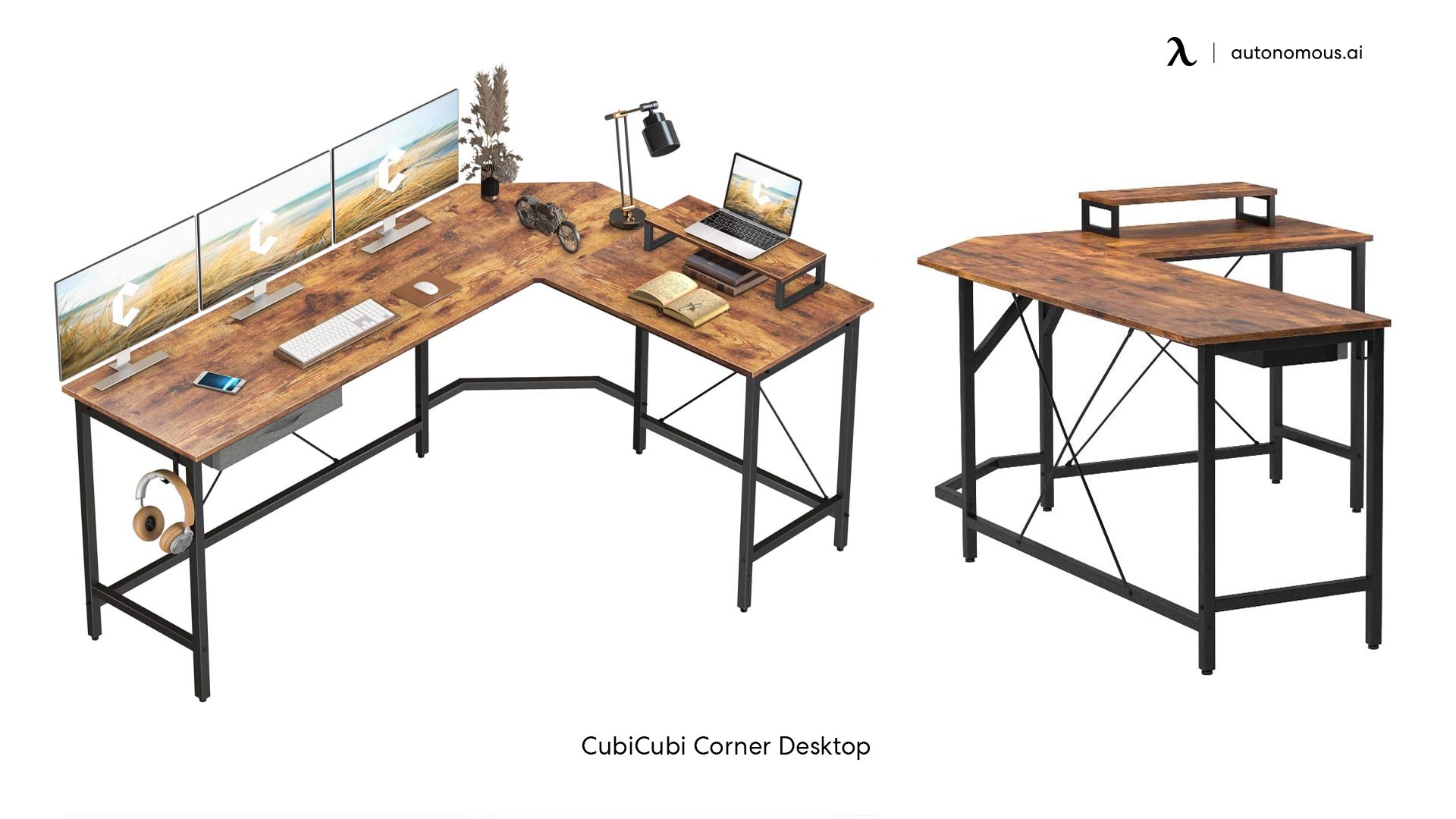 17. Cubiker Modern L-Shaped Desk
The Cubiker white L-shaped corner desk is a 51-inch eco-friendly desk manufactured from a premium grade MDF board that is scratch-resistant and waterproof. Its powder-coated steel frame offers superior support for three or four monitors, while the tables' adjustable leg pads ensure stability. 
There is a sizable movable storage shelf that you can place on either side to clear up space on the desktop or accommodate your laptop. This large L-shaped desk gives you the freedom to put it in any central area or corner due to its flexible minimalistic design.
18. Homfio L-Shaped Desk
The Homfio large L-shaped desk is equipped with a reversible design that provides flexibility to adapt the sides of the desktop to fit into any corner. Its 58 inches worktop is made from premium P2 MDF board and can hold up to 450 lbs due to its sturdy metal frame. 
The large surface area can accommodate up to three monitors while still leaving a sufficient amount of space for your plants or folders. A removable storage bag is attached to the table, and underneath it, you can find a convenient CPU tower stand. It even has adjustable footpads, so it always remains stable no matter where it's placed.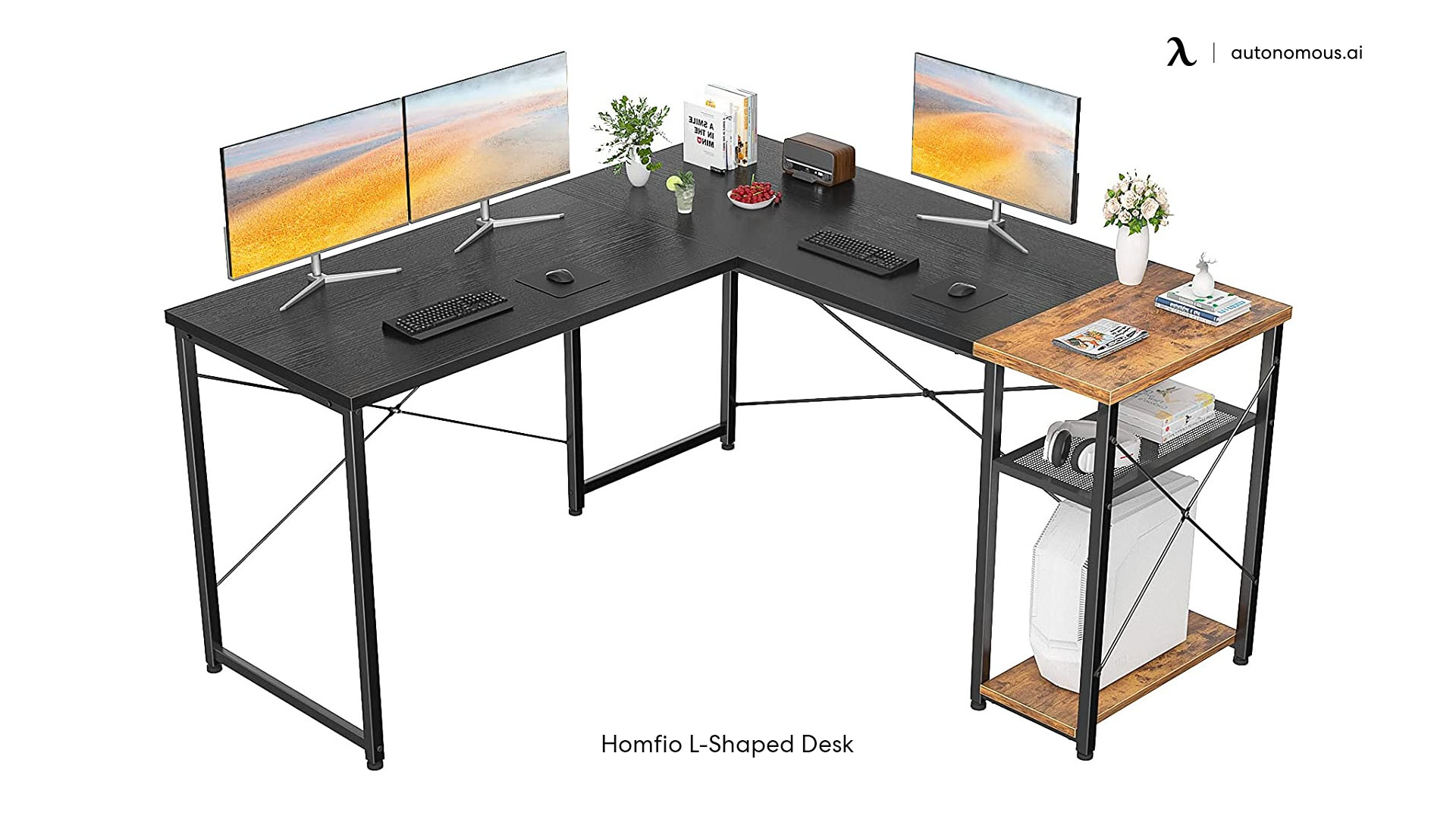 19. Viewwee L-Shaped Computer Desk
Instead of using metal clips, the Viewwee corner desk uses cork connectors to offer an easy installation for whoever is using it. This spacious and long L-shaped desk measures 50,4 inches and has legs shaped in a rectangle to provide additional stability to the table's structure.  
The added convenience of a footrest is ideal if you spend hours at the desk and require some additional support for your legs. It is manufactured from environmentally friendly materials and has powerful suction cups under the legs to keep the table still at all times. 
20. Bon Augure L-Shaped Computer Desk
The Bon Augure large L-shaped desk has a minimalistic contemporary design constructed from a premium grade MDF board built to last. X-shaped legs underneath the table include a support bar and a bottom shelf for additional stability. 
It's easy to keep the desk clutter-free because one desktop sits on top of the other at a right angle, opening up more space for your work. The work surface of this huge L-shaped desk measures 59 inches and includes multiple storage shelves for a CPU tower or your office supplies. 
All the hardware required for assembly comes with this table, and it even has anti-skid pads to prevent scratching or slipping on your flooring.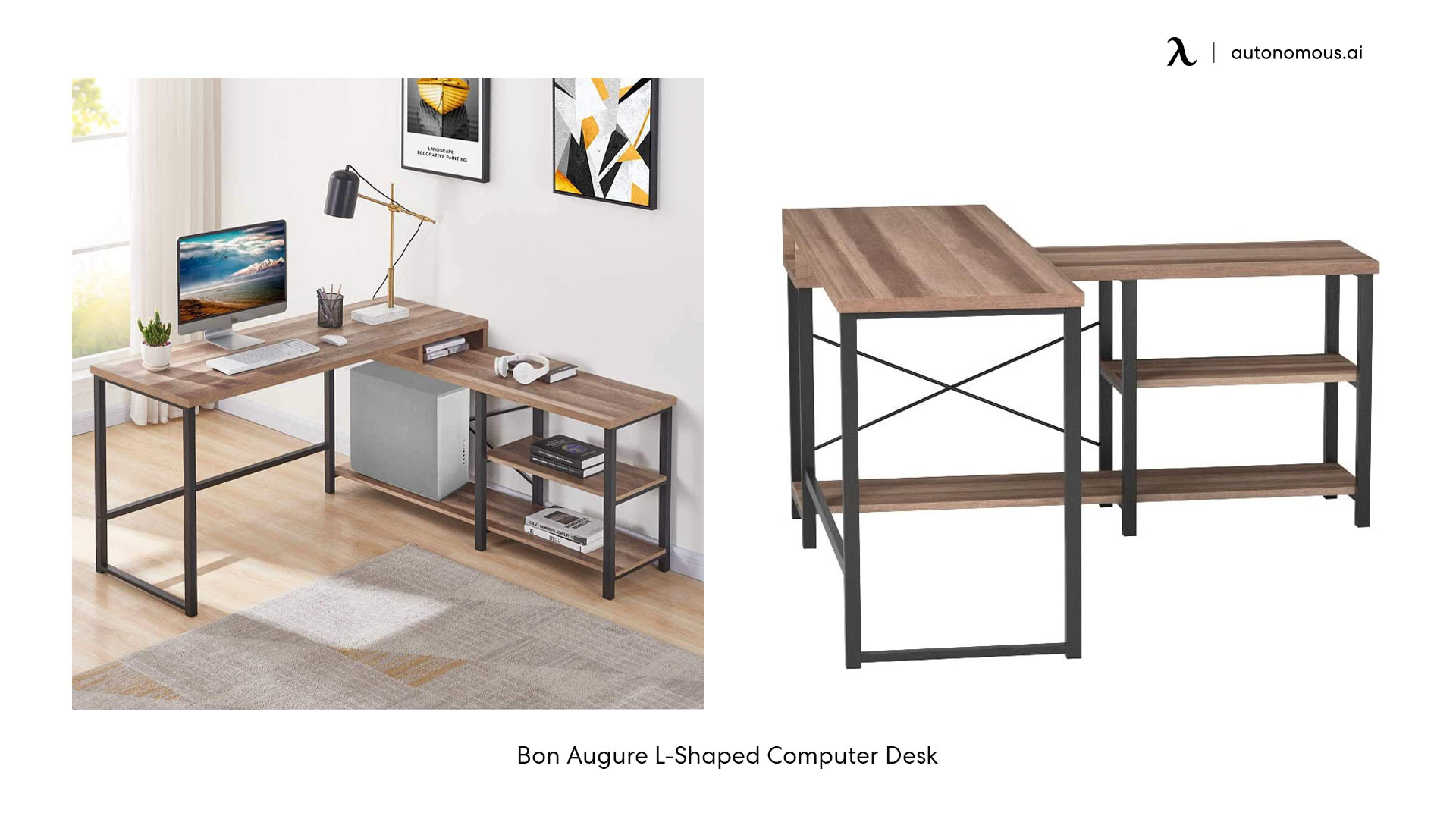 21. Chadior L-Shaped Corner Desk
The Chadior L-shaped desk can be used as a single table or transformed into a spacious two-person desk no matter your requirements. Its right-angle orientation measures 60 inches long and is manufactured from an eco-friendly board that is waterproof, scratch-resistant, and does not release any harmful smells.  
A strong metal frame provides stability, while the foot pads can be set to keep the table firmly no matter the surface area it is placed on. This extra wide L-shaped desk can organize your cords and cables because it has three-wire grommets for convenience. The height is around 28 inches making it great for -people who need ample storage space and legroom underneath the unit. 
22. Sauder Edge L-Shaped Desk
If you are looking for something manufactured from eco-friendly wood, the Sauder Edge L-shaped desk is the perfect solution. It comes with space-saving features, such as an additional storage drawer plus a CPU stand to hold your tower.  
There is also a lower bookshelf for convenient placement of papers or books, plus a small metal drawer with runners to store your files and documents. The big L-shaped desk is finished in a chalked chestnut that adds a contemporary European look to any workplace it is situated in. 
After an excellent cable support system, people appreciate this desk because of its well-placed grommets. These grommets allow for simplistic cable and cord management no matter how much wiring you have around the desk. 
What's great about the Sauder Edgelarge corner desk is that it's easy to assemble and can be segmented, so you have easy placement in any remote or traditional office.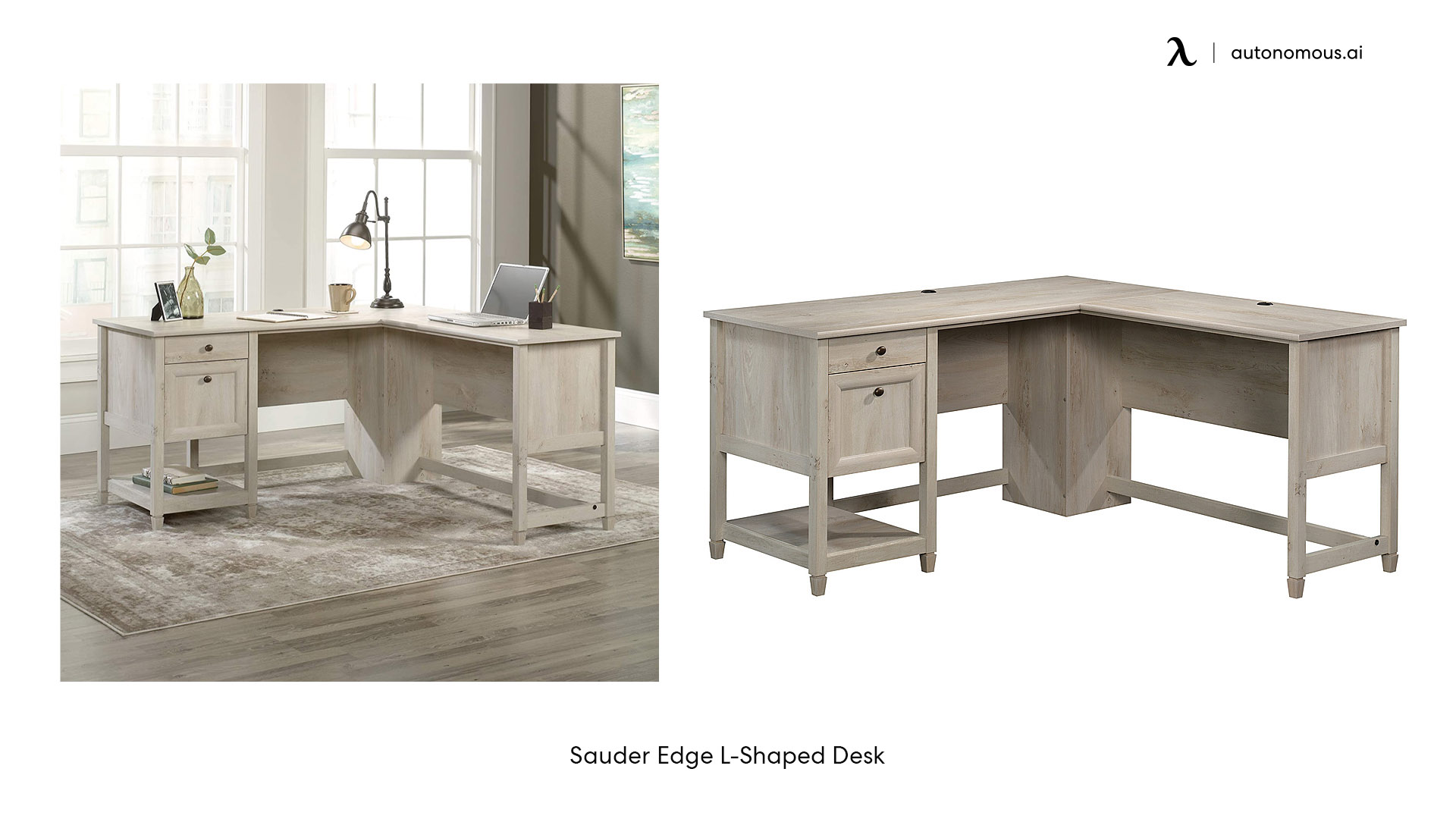 A Guide on L-shaped Desk Dimension
The L-shaped management workstation has evolved from a cubicle into a private room where managerial employees can be more private and independent. The L-shaped desk is straightforward, spacious, and easily arranged in the overall office plan with its square modular configuration. 
When comparing the two, there is a 30 percent difference in size between an L-shaped desk and a straight desk. Measuring your office space before purchasing an L-shaped desk; you should keep about 3 feet of space between your small corner desk and other office furniture. With these desks, you can spread out if you need more space to work if you need a larger surface area. You might also consider a home office desk if you don't need much space. 
Most people find 29 to 30 inches of desk height sufficient, which is 29 to 30 inches from the floor. For an L-shaped white desk with unequal sides, the long side should be 60 to 72 inches long, the short side 48 to 58 inches long, and the depth should be at least 20 inches (similar to the width). It is common for desks with two identical sides to have an average length of 50 inches on each side. 
There are some long computer desk designs that can be configured as a right-handed return or left-handed return during assembly. This is what determines the side where the long part of the desk is positioned. Other designs can't be customized, so you'll have to choose which configuration you want when you order.
What Are the Benefits of L-Shaped Desks?
If you require two or more monitors for your work, an L-shaped desk may be the best solution for you. These large L-shaped desks offer maneuverability and a sense of comfort, plus superior ergonomics.  
It provides you with more space to accommodate peripherals, such as plants, office supplies, two monitors, and a printer. If you are after an ergonomic workspace with a chair swivel area and enough legroom, purchasing an long L-shaped desk is the ideal option.  
Another great thing about using an L-shaped desk in your home or traditional office is that two people can use it simultaneously. It can easily fit in any office corner while maximizing the worktop's surface area. 
The contemporary style of these desks can brighten up any office space and may even boost productivity among your employees. Most desks are supplied modularly and can be segmented to fit the space requirements of your small or traditional office space. 
If you have sufficient space in the office and need a sustainable work surface, one of these desks may be the perfect solution to your problem. 
Conclusion
An L-shaped desk is an ideal solution for anyone looking for a spacious worktop that allows you to store multiple monitors or segment the unit to use as two individual desks. 
All the tables mentioned on this list fit the above criteria and can fill any office corner you like. It is time to enjoy superior comfort and get the workspace you or your employees require.
Subcribe newsletter and get $100 OFF.
Receive product updates, special offers, ergo tips, and inspiration form our team.
WRITTEN BYAutonomous
We build office products to help you work smarter.