The back and shoulder pain you experience after spending almost all day at your desk may seem inevitable. Studies have hinted at a connection between sitting a lot and many health problems. These issues are prominent in people who often work seated in comparison to those who don't.
Workplaces are turning to the adjustable standing desk with drawers to reduce the health risks identified with long hours of sitting. It also prevents the development of bad posture by encouraging you to stand, pace, or walk. Many advantages come with using one, even though the full extent of its benefit is not known. 
Standing Desk with Drawers vs. No Drawers
It is not common for a standing desk to have drawers because of the weight they add to it. The heaviness, in turn, places a strain on the lifting columns. Storage drawers also create an unbalanced load situation, stressing the legs of the desk. All these increase the probability of ending up with a broken piece of furniture. 
Nevertheless, there has been an increased demand for storage capabilities as standing desks grow in popularity. In response to this need, manufacturers have been including drawers and file cabinets in their new designs. 
Best Standing Desks With Drawers and Storage for 2023
Thanks to the evolution of office furniture into more ergonomic designs, having a standing desk with drawers has become the norm. Office employees now appreciate the benefits of using a stand-up desk with drawers in terms of their health and productivity.
However, not every adjustable desk with drawers is the right choice for your needs. Some manufacturers do not design desks with the aim of helping the consumers. As such, you have to know how to choose the right desk from among the many available options.
This can be challenging, which is why we decided to make life easier for you by reviewing some of the best options in 2023. While testing them, we focused on the following attributes:
Motor
Frame
Design
Tabletop
Material
Features
Adjustability
Storage
These parameters helped us to identify six awesome desks that would be great additions to any modern office in 2023. Without further delay, if you are looking for the perfect sit-stand desk with drawers, consider the following options:
1. Comhar Standing Desk With Drawers
Our search for the perfect stand-up desk with drawers began with a review of a desk that comes loaded with many features. The Comhar Standing Desk with Drawers first grabbed our attention because of its modern looks, so we decided to look deeper at what this desk has to offer.
Detailed Review
No matter how many features it may have, the most important things for an electric standing desk with drawers to have are height adjustability and storage. This desk has a single electric motor that is ideal for the job while also being lightweight. The standing desk frame is made of robust metal, while chipboard was used for the tabletop. You are free to choose either glass or bamboo if you want a top that is a bit different.
We were a little disappointed in its storage capacity. Even though this desk comes with an embedded drawer, it is far too small for anything other than a few papers, files, and stationery. This is because of the desk's slim design that looks modern but is let down when it comes to storage space.
However, the designers redeemed themselves by installing an easy-to-use keypad that allows you to store up to four different preset heights. As a bonus, there is a USB port that can be used to charge your phone or tablet. The desk is easy to assemble and comes with a child lock function to increase its safety.
Why You Need This Desk
If you are looking for a simple adjustable standing desk with drawers whose main objective is to help you stay healthy, you need this desk in your office. It is small and lightweight while being strong enough to support up to 110 lbs.
2. Comhar Pro Standing Desk Q8
Another similar yet slightly improved standing desk with storage is the Comhar Pro Standing Desk Q8. Like its predecessor, it has a slim profile that is in line with modern office design. However, it also has a few additional features that we instantly loved.
Detailed Review
Unfortunately, this standing desk with drawers also did not impress us when it came to drawers. The designers decided to stick to the small embedded drawer as the only form of storage available.
This stand-up desk with drawers comes with a dual motor, though, which is a great improvement on the first option. It allows the desk to easily handle up to 220 lbs., even when the lift mechanism is activated. This is more than enough for any regular office needs.
If you are worried about cable management, this desk has the ultimate solution for you. It has a hidden cable tray attached to the frame and located just underneath the tabletop. This will allow you to keep all your cables out of sight no matter how many monitors or other accessories you have.
Speaking of the tabletop, this version comes with an elegant and eco-friendly bamboo top. It has a built-in wireless charger just below the surface, taking your cable management game to the next level. If your device is not compatible with this charging system, you have two USB ports (Type A and Type C) to choose from.
Why You Need This Desk
This sit-stand desk with drawers has many great features that make it an awesome choice for your needs. However, the highlight is the bamboo tabletop that has a built-in wireless charger. It's the ideal combination of technology and sustainability that makes this desk stand out from the crowd.
3. FEZIBO Standing Desk With Double Drawer
FEZIBO is well-known for making high-quality furniture, and this standing desk with drawers is another good example of expert craftsmanship. The FEZIBO Standing Desk with Double Drawer is a great piece of office furniture that will vastly improve your décor.
Detailed Review
An electric standing desk with drawers is designed mainly to allow easy height adjustment while working in an office environment. The FEZIBO comes with three preset buttons to make it easy to switch from sitting to standing at the touch of a button.
Its combination of a wooden tabletop and iron frame means it can easily carry up to 155 lbs. The stand-up desk with drawers also looks and feels sturdy, which is something we appreciate. In terms of storage, it comes with two wooden drawers that are spacious enough to provide a comfortable and clutter-free work environment.
Finally, if you need to move your desk around, you will be pleased with the lockable casters that can swivel up to 360 degrees. This will allow you to push it anywhere around the office, which is ideal for open-plan workspaces.
Why You Need This Desk
This latest addition from FEZIBO is one of the best desks we have reviewed in a while. If you are looking for a reliable and great-looking standing desk with drawers that come with ample storage, get your hands on this awesome choice.
4. FEZIBO Height Adjustable Electric Standing Desk With 4 Drawers
What is better than a stand-up desk with two drawers? Well, according to FEZIBO, the answer is a desk with four drawers. At least that seems to have been the philosophy when they designed the FEZIBO Height Adjustable Electric Standing Desk with 4 Drawers.
Detailed Review
You rarely find an adjustable-height desk with drawers that pays so much attention to storage. This desk comes with a spacious monitor stand that is so large that it even has room for two extra drawer compartments. With one stroke, the designers have provided you with extra storage and an ergonomic solution for your computer monitor.
The desk has a high-quality wood top that sits on a strong iron frame. Just one look at it, and you will know that this is a desk that was built to last. Carrying a weight of 176 lbs. is nothing for a desk of this caliber. Adjusting the height is very easy thanks to the powerful electric motor that is controlled by an easy-access keypad.
We loved the spacious work area that this desk provided. With all your accessories and paperwork safely tucked away in the drawers, you will have a lot of room to work without having to deal with any clutter. This is great for comfort and productivity.
Why You Need This Desk
With so much storage and such an elegant design, this adjustable desk with drawers is a must-have for office workers who are not willing to settle for anything but the best. The designers understood the needs of the modern-day office worker very well and set out to create the ultimate desk for 2023.
5. SHW Claire 40-inch Height Adjustable Electric Standing Desk With Drawer
Having a standing desk with storage is a fairly modern concept, and this is usually reflected in the design of most of these furniture items. The sleek and modern look of the SHW Claire 40-inch Height Adjustable Electric Standing Desk with Drawer is a great example.
Detailed Review
When shopping for a standing desk with drawers, the two most important things to look at are the size of the drawers and the type of lift mechanism. This particular desk uses a combination of a sliding drawer and an open shelf to take care of your storage needs. We particularly loved the addition of the shelf because it provides easy access to frequently used accessories.
Adjusting the height of the desk is easy thanks to the top-tier electric lift system. With just the touch of a button, you can adjust the desk from 28 to 45 inches. It has very strong legs and telescopic height adjustment that allows you to effortlessly transition from sitting to standing in a matter of seconds.
In terms of material, you can rest assured that nothing but the highest quality was used for this desk. Its powder coat finish gives the white standing desk a modern look that will blend in very well with any office setting.
Why You Need This Desk
If you want a combination of ample storage and easy accessibility, you will need this adjustable standing desk with drawers. Also, you can keep all the regularly used items, such as stationery, on the open shelf, while files and folders can be safely tucked away in the drawer.
6. Claiks Standing Desk With Drawers
Are you looking for the ultimate standing desk with drawers that will add a classic touch to your office? Consider the Claiks Standing Desk with Drawers next time you go shopping.
Detailed Review
Right off the bat, it is clear that this desk was designed for office workers who love having a lot of storage. This sit-stand desk with drawers comes with more than enough space for your needs. It has two drawers and an open shelf sitting right underneath the computer stand.
The two-tier monitor stand has enough room to fit up to three computer monitors, so if you are an avid gamer, it's time to sit up and take a look. You can easily adjust the height of the desk until the monitors are at the perfect height for your needs.
Its legs are made of solid steel, while the tabletop is engineered wood. This means it will last a very long time before you need to worry about replacing or repairing the desk.
Adjusting the height requires just the touch of a button, and you can smoothly transition from sitting to standing in a few seconds. With a height range of 28.35 to 46.46 inches, you will easily be able to find the perfect working position for your needs.
The assembly process is very easy as long as you follow the detailed instructions that come enclosed in the package. As for additional office accessories, this awesome desk comes with a hook, drawers, and a felt fence.
Why You Need This Desk
The right adjustable height desk with drawers can solve all your office problems in terms of storage and maintaining your good health. This particular desk was made with such issues in mind and comes loaded with accessories to make life a lot easier for you.
The Top Pick for 2023
With so many great options to consider, it was very difficult to pick an overall winner. Each standing desk with drawers in this review would do a commendable job in a modern office setting.
However, after a bit of debate, we concluded that the FEZIBO Height Adjustable Electric Standing Desk with 4 Drawers was the overall winner. It was the combination of flawless design, awesome features, and ample storage that finally won us over. As such, if you are looking for the best standing desk with drawers for 2023, you will not go wrong with FEZIBO.
Affordable Standing Desks with Drawers
Here are some of the best standing desks with drawers on budget currently on the market. 
1. Mount-It! Standing Desk: Sustainable Melamine
A sustainable melamine standing desk with drawer is an environmentally friendly option, as it is made from renewable materials and can be recycled at the end of its life. Choosing sustainable options can help reduce your carbon footprint and support sustainable manufacturing practices. Melamine is a durable and long-lasting material, meaning your standing desk is likely to remain in good condition for many years. This can help reduce waste and save you money in the long run.
2. Uncaged Ergonomics Rise Up Glass Standing Desk: Electric
It is a contemporary adjustable desk with drawers that comes in a variety of attractive designs. The black standing desk's modern design will offer your workstation a luxurious impression. With its integrated 3 USB charging connections and 2 AC outlets, it also makes it simple for you to power and charge your gadgets. It will be simple to store your items close at hand thanks to the storage drawer's easy-glide design. 
3. EUREKA ERGONOMIC Standing Desk: Double Drawers and Hutch
One of the greatest adjustable desks with drawers is this desk because it contains two roomy drawers. In addition to having a lot of office storage space, the desk has an ergonomic monitor stand that supports up to two screens and lessens eye strain from staring at a computer all day. To maintain a good posture while working, you may easily adjust the table's height to suit your requirements. 
4. ApexDesk CompactDesk: Touchscreen Control & USB Charging Port
The ApexDesk Standing Desk was created especially for people who want the stability of an electric standing desk with the beauty of a tempered-glass surface. With more than enough space for all of your office supplies and a laptop or desktop computer, it is sturdy enough to handle up to 130 lbs. You can also get a CPU holder if you have a PC system. 
5. Mount-It! Height Adjustable Rolling Stand up Desk
This sophisticated mobile height adjustable desk is constructed with a solid steel frame and spacious shelves to accommodate many displays, input devices, a computer tower, and an output device. If you have a monitor stand, this tall desk with storage will make your workspace much more comfortable to work in. 
6. Uncaged Ergonomics Essential SmartDesk: Drawer
7. AITERMINAL Electric Standing Desk with Drawers & USB Ports
8. FENGE Fenge Ultrawide CompactDesk: Drawer and Bag Hook
9. EUREKA ERGONOMIC L60 L-shaped Standing Desk: Keyboard tray
10. Kowo K3041 Standing Desk: Pegboard & Drawer
FAQs
1. What Is a Standing Desk?
A standing desk, also known as a stand-up desk, is designed to be used while trying to stand up or seated on a high stool to write, read, or sketch. However, if you need space get an adjustable standing desk with drawers.
2. Why Use a Smart Adjustable Desk?
It is crucial to have a contemporary adjustable desk with drawers. Desks are still a requirement in the office despite the constantly changing technologies. You can decide that the focal point of your modern workstation should be a modern desk when you assemble it. You wouldn't be the first, but if you lack the proper direction, your workstation selections may not be the best. 
3. How Is a Desk With Space Better?
Actually, a desk with storage is preferable since it can be used to keep office supplies, tools, and stationery organized. This article might aid you if you're looking for contemporary office desks having drawers and need some advice or guidance.
Benefits of Having Drawers on Your Desk
Protects Your Important Documents
Important paperwork and financial documents must be kept safe in a typical home office setting and a drawer is the best place for them.
You have a large quantity of storage space in your electric standing desk with a drawer for your crucial papers.
An electric standing desk with a drawer offers a safe spot for you to store your documents so they won't be lost or ruined.
Additionally, it improves the structure and organization of your file. 
Protects Additional Office Supplies
Along with files, your home office desk holds a number of other office necessities.
They may keep storage devices, hardware parts, and even standard office supplies in their desk drawer.
Your necessities may be neatly stored in the desk drawer.
Utilizing a desk drawer lowers the risk of losing any previous business data preserved in printed format as well as tiny hardware components of your home office.
What You Should Look for When Buying a Standing Desk with Drawers
Consider many factors when you are getting a desk for your working space. The following are a few of them that will help you get the best furniture available.
Location
Where you plan to put your desk is important when choosing which type of product to buy. The amount of space available influences the size of furniture you can purchase. You don't want to get one that is bigger than the place you wish to put it. 
There is also the situation where you pass up on a desk you can accommodate just because you underestimated the location. Compared to the one you end up buying, the other one may have given you better value.
How Customizable Is the Desk?
To take proper advantage of an adjustable standing desk with drawers, you should get an adjustable one. The best one to go for will be one that can be customized enough to become a sitting desk. You can also consider features like a keyboard tray and enough space to accommodate an add-on drawer if necessary.
Design
Ignoring the role appearance plays when selecting a desk is a mistake you should avoid. Things like the color and other visual elements should blend well where you will put the furniture. If you are going to create a working space, there's no harm in making sure your interior decoration is aesthetically pleasing.
Stability
Consider how sturdy the adjustable standing desk with drawers you want to get is because of the general height of such office equipment. 
A wobbly work surface is terrible especially if it supports something fragile like a computer monitor. Typing or writing on it can also be an unpleasant experience. Ensure that the desk you get is steady and safe by extending it to its full height. You can then assess how solid it is when standing.
Ergonomics
The associated health benefits have influenced the switch to this type of desk. It is also focused on preventing the development of bad posture in the same way. 
You should allow these ideas to guide you in ensuring that the standing desk is well oriented to you. The height should not make you strain your neck and back when staring at a screen it supports. It should also allow your hands to be in a natural position while you work.
Material
Think about the material used to make the electric standing desk with drawers that you select. It doesn't only play an aesthetic role but affects your surroundings. Ensure that it is durable and friendly to the environment. 
Conclusion
A standing desk does not only give your office a trendy look but offers many advantages too. With added drawers, you now get all the features of a usual desk and chair set. 
You may now support your working computer and store your files while enjoying the health benefits associated with them. Some also come with spaces to help you manage your wires and USB ports so you can charge your devices. 
The products we have reviewed in this article should guide you in finding the best electric standing desk with drawers for a healthier office lifestyle.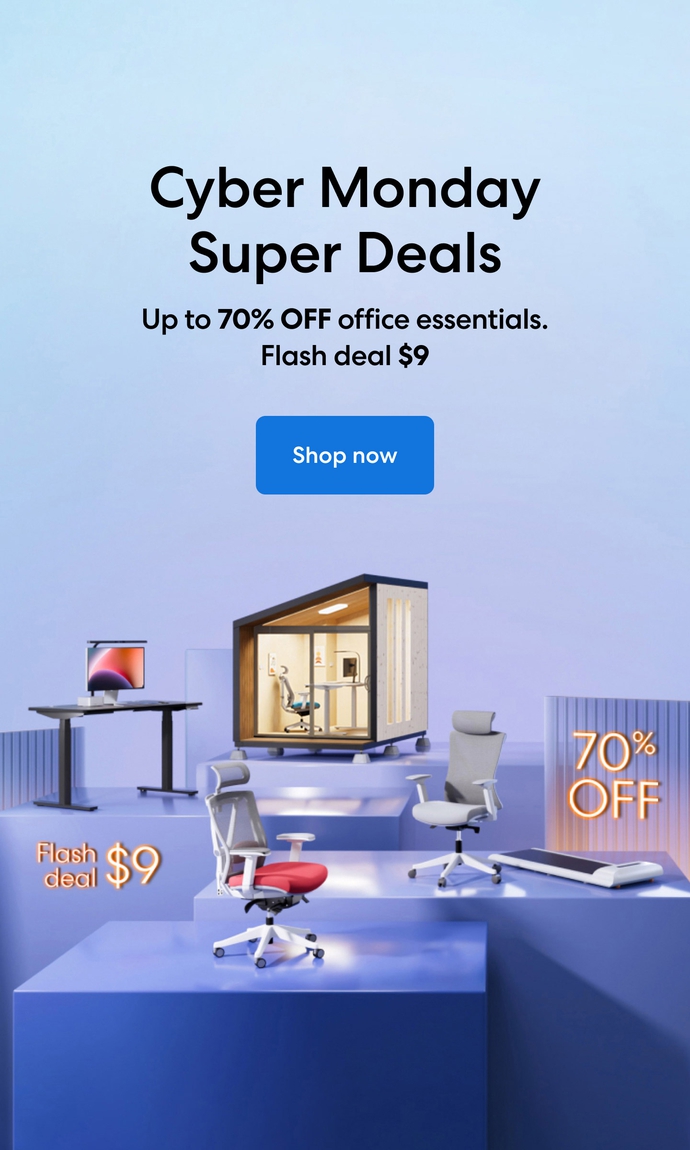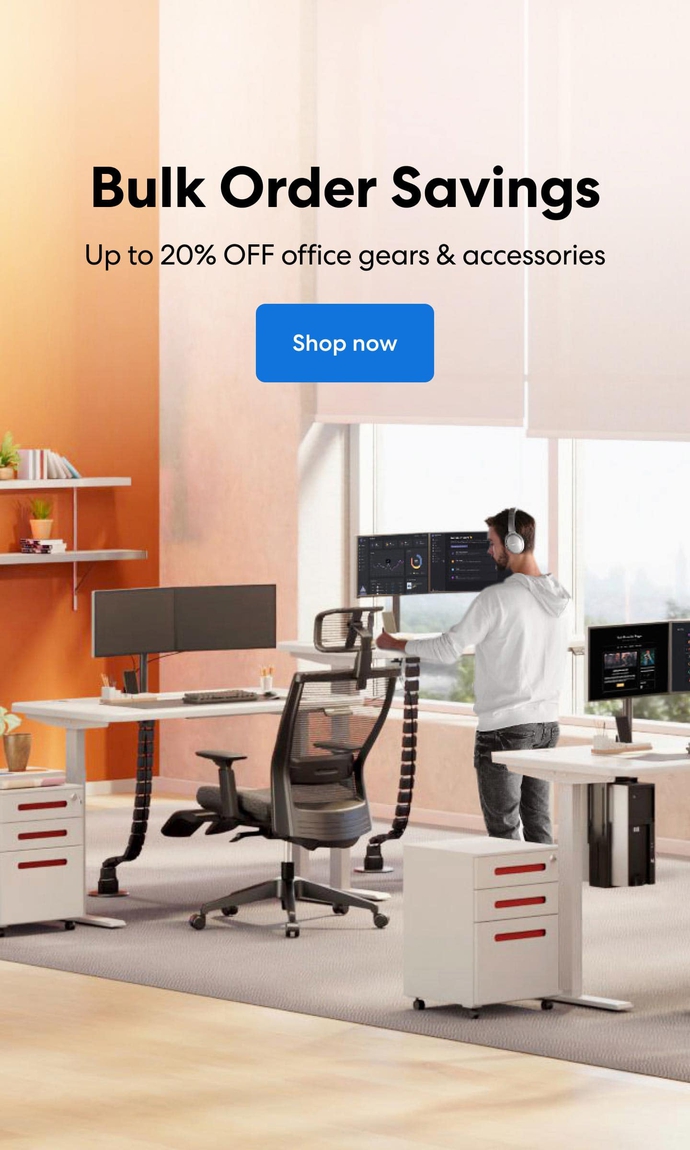 Subcribe newsletter and get $100 OFF.
Receive product updates, special offers, ergo tips, and inspiration form our team.