Smart Products
Cyber Monday Office Chair Autonomous: Which One To Choose

Autonomous
|
Oct 29, 2022
8,388 Views
Cyber Monday approaches at the end of November. Now is a good time to start your shopping early. If you are a remote worker who needs comfort and support, you should consider the brand Autonomous when you purchase an office chair on Cyber Monday.
With Cyber Monday approaching, people are all ears about the Cyber Monday deals. Home offices are a popular category of interest this year, thanks to the work from home routine, which is the new normal now. Remote workers need a proper home office setup to maximize their productive energy and get an upsurge of motivation while working remotely. Though setting up a home office is no child's play considering there are a lot of expenses to meet, office chairs Cyber Monday deals and discounts on all the items is your golden chance.
The ergonomic benefits of a chair should prove useful to your work conditions, as a comfortable position leaves you less likely to complain. There are so many Cyber Monday deals on office chairs going on; it may be difficult to choose the right one. First, you need to figure out what makes a good ergonomic chair. Once you do, you can use this knowledge to confirm your decision before you buy anything this Cyber Monday. Autonomous is a proven brand with special discounts tailored to your needs.
With ergonomic chair Cyber Monday deals, you are in for some big offers that will be light on your pocket and wave that back pain one final goodbye. Keep reading to find the best Cyber Monday computer chair deals for your home office or even a bulk purchase.
Autonomous - Healthiness and Happiness
Autonomous understands the importance of good ergonomic chairs. They provide a wide selection of office chair, which has an affordable price for Cyber Monday. They offer monthly payments so you can maintain your budget. The premium materials they use are of high quality, so they ensure your ergonomic office chair is built to last.
Below is a list of their ergonomic chairs for Cyber Monday. Autonomous offers five office chairs with all the health and work benefits of a productive household. The list includes a description of the product, in addition to the pros and cons of each one. Most of them have price cuts for your convenience. Keep these in mind when you look for an ergonomic chair sale that is right for you.
1. ErgoChair Pro
When you look for a Cyber Monday computer chair, the ErgoChair Pro is a great choice. It is a fully customizable ergonomic chair, which offers several levels of resistance. The ErgoChair Pro is highly flexible due to its height adjustments, movable headrest, and armrests. It is also made of world-class materials. You can select up to six colors - all black, cool gray, evergreen, black and white, red apple, and baby blue. The ErgoChair is one of the most dependable Autonomous products for any Cyber Monday chair.
Pros:
Provides back support and reduces the risk of pain
Flexible lumbar system allows you as much control as you want
Backrest perfectly aligns your spine for good posture
Headrest prevents chronic neck pain
Breathable support through a stretchable mesh
Height adjustment allows you comfort and control
Monthly payments are affordable
Cons:
It is somewhat pricey if you pay upfront the entire cost
2. ErgoChair Plus
The ErgoChair Plus corrects your sitting posture with the fishbone design of the backrest. You can sit comfortably in this Cyber Monday chair, as the price is currently down from the original. It has a sleek modern design for your office space. Upholstery is also magnetically designed to maintain a good look for your chair. All the materials are recyclable for eco-friendliness. The frames only have two colors in black and white, while the seat colors are available in black and gray. At least one option has a blue mesh panel.
Pros:
Natural lumbar support alleviates back problems
You have freedom of movement and range of motion
TPE material forms to each body type for comfort
Eco-friendly chair provides odor resistance
Spring seat is durable with 360-degree rotation
Affordable monthly payments
Variety of color choices
Cons:
It is one of the more expensive chairs, even with price cuts
3. ErgoChair Recline
If you need a Cyber Monday desk chair, the ErgoChair Recline is one of the most reliable. Fully adjustable, you have the option of buying a ErgoChair Recline with or without a headrest and leg rest. The Cyber Monday computer chair is crafted with the finest materials for breathability and back support. You can easily recline since the chair tilts backward in a smooth manner. As a Cyber Monday chair, it is one of the most affordable. You can choose either a black or cool gray color for the chair.
Pros:
Adjustable headrest alongside an extendable footrest
Breathable mesh backseat allows back support
Free range of movement due to ergonomic design
Chair reclines all the way back so you can relax
Lumbar support can move up or down for different heights
Simple classic design gives you home office a sleek look
Affordable price range, especially with monthly payments
Cons:
4. AvoChair
The AvoChair is an eco-friendly choice. It is an affordable Cyber Monday office chair with its accessible price. Its clean, minimalist look is directly inspired by nature, with its flowing lines across the backseat. Since the mesh back is elastomeric, it offers comfort with breathability. Thanks to its organic materials, the Cyber Monday desk chair is friendly to the environment. You have the option of choosing between four color schemes including evergreen, baby blue, all black, and suntan.
Pros:
Promotes healthy posture with spinal support
Offers a sturdy foundation for your reclining experience
Customizability allows you to control seat height, arm position, and tension
Design concept avoids any hard edges on the chair
Gives your workspace a sharp modern look
Environmentally friendly with organic materials
Affordable price range
Cons:
Armrests are somewhat short
5. ErgoStool
The ErgoStool is a major proponent of active sitting. As a Cyber Monday chair, it is easily the most accessible in its affordability. It allows you to stay active due to its ergonomic design. You can strengthen your core while you work. The cushion itself is comfortable, while the base provides traction to keep it in place. The ErgoStool complements any standing desk due to its compact design. Color options include all black, cool gray, evergreen, and navy blue.
Pros:
Encourages blood circulation with a free range of movement
Height adjustability with a stable foundation
Promotes healthy activities such as exercise and dance
Accompanies standing desks quite well
Lightweight, small, and easy to carry around
Soft cushion provides comfort with polyester fabric
Considerably affordable
Cons:
Shorter customers might have problems with height adjustment
Lacks a backrest for spinal support
6. ErgoChair Core
7. Logicfox Ergonomic Office Chair: Double Lumbar Support
Logicfox Ergonomic Office Chair: Double Lumbar Support will give your space a fun and minimal look while keeping it professional! You can use the chair's multi-color selection and space-saving properties to keep your office lively and neat. The chair is extremely comfortable because of the thick cushion and breathable and elastic tensile mesh used to make the product.  
8. Logicfox Ergonomic Office Chair: Saddle-shaped Sponge Seat
If you prioritize comfort, look at the Logicfox Ergonomic Office Chair: Saddle-shaped Sponge Seat this office chair Cyber Monday. The ergonomic saddle-shaped cushion made using a dense sponge will ensure minimum leg pressure, the adjustable and arced headrest will rid you of the neck and head pressure, while the reclinable back will give your entire body a relaxed feel.   
9. KERDOM Ergonomic Chair: Advanced Contoured Seat
Want to breeze across the office? Take a look at the KERDOM Ergonomic Chair: Advanced Contoured Seat. The chair's polyurethane chair casters and precision ball bearings let you easily move across your office without damaging the floor or carpet. The KERDOM ergonomic chair's design will also help you prevent sedentary fatigue. 
10. KERDOM Comfy Swivel Task Chair
Feel relaxed working in a small space with the KERDOM Comfy Swivel Task Chair. It's one of our favorite computer chairs this Cyber Monday when we talk about comfy office chairs because it can fit in offices as small as 1m2! The chair provides all the comfort you need to get through work while saving space in an office with limited room.
11. KERDOM Office Chair: Flip-up Arms
KERDOM Office Chair: Flip-up Arms is quite interesting. Its design will make your home office look more professional and make a full-fledged office feel homey. The space-saving chair has a sleek frame that adds a formal touch, while its soft edges and simple design make it look more welcoming. 
12. KERDOM Office Chair: Waterfall Seat Edge
KERDOM Office Chair: Waterfall Seat Edge is a chair that can do it all. It has space-saving properties, given its arms that flip up, while still delivering comfort through its ergonomic design and reclinable and breathable back, that take care of your health.
13. KERDOM Office Chair: Adjustable Armrests
The KERDOM Office Chair: Adjustable Armrests with sponge lumbar support will help you maintain a comfortable position while working. The seat is designed to disperse muscle pressure, which helps relieve muscle fatigue, making it a great chair for those who spend a long time sitting. 
14. KERDOM Ergonomic Chair: Breathable Mesh Cushion
Want your office chair to be fine-tuned to your comfort needs? The KERDOM Ergonomic Chair: Breathable Mesh Cushion allows you to do just that. The adjustable footrest, headrest, armrests, seat height, and back recline will help you feel at home in your big and tall office chair.
15. KERDOM Ergonomic Chair: Additional Footrest
KERDOM Ergonomic Chair: Additional Footrest offers you five different support points, a retractable footrest, and sturdy lumbar support to keep your body comfortable and healthy as you work away. The seat will help you release leg pressure, while the adjustable headrest and armrests let you customize the chair to suit your comfort needs.     
16. KERDOM Ergonomic Chair: Double Lumbar Support
KERDOM Ergonomic Chair: Double Lumbar Support supports most body weights, body types, and heights while going the extra mile on comfort, making it an ideal conference room chair. The chair's design, material, and features make it a great choice for your skeletal, muscular, and skin health. 
17. KERDOM Office Chair: Adjustable Armrests & Headrest
KERDOM Office Chair: Adjustable Armrests & Headrest is one of our favorites because it integrates health and comfort in the workspace. The chair's ergonomic design will fit your body perfectly and help you sit more healthily. The seat will also help you maintain a good posture while dispersing pressure and relieving muscle fatigue. This chair is an amazing office chair deal that you should not miss out on this Cyber Monday.
18. KERDOM FelixKing Office Chair: Elastic Mesh & Adjustable Backrest
This is one of the Cyber Monday deals for office chairs. KERDOM FelixKing Office Chair: Elastic Mesh & Adjustable Backrest is a great reclining office chair for people who work from home. The chair's design and adjustable features will take care of your comfort while also helping you save space.   
19. KERDOM Ergonomic Chair: for Wooden Floor
KERDOM Ergonomic Chair: for Wooden Floor will take care of you and your office floor! The chair will support you at 4 different points and provide you with lumbar support and adjustability. On the other hand, its PU mute wheels will let you quietly glide across your wooden floor without damaging it.   
20. Northread Ergonomic Swivel Mesh Desk Chair: Lumbar Support
Want a solution for backaches while working? Northread Ergonomic Swivel Mesh Desk Chair: Lumbar Support is what you're looking for. This minimal-looking Cyber Monday chair's ergonomic design will help you relieve back pressure and pain while adding a tasteful touch to your office.
21. Northread Ergonomic Mid Back Swivel Black Mesh Desk Chair
Merge work and play together, and you get one of our favorite computer chairs this Cyber Monday, the Northread Ergonomic Mid Back Swivel Black Mesh Desk Chair! Features like lumbar support, adjustable seat depth, contoured seat, adjustable arms, and recline tension adjustment make this chair a great pick for both situations, long working hours, and intense gaming sessions.       
22. FinerCrafts The Office Chair: Headrest & Legrest
FinerCrafts The Office Chair: Headrest & Legrest can be considered a fun project that results in one of the best ergonomic office chairs. This desk chair on Cyber Monday needs to be assembled by you and is suitable for people who aren't so handy at construction. Once put together, the chair is up to any task, and its ergonomic design will provide comfort and support by reducing muscle strain.
23. Logicfox Ergonomic Office Chair: Saddle-shaped Mesh Seat
This is a great office chair. The chair's tensile rigidity, thigh and hip support, and backrest that can recline up to 40 degrees will take away the pain of a long working day. The Logicfox ergonomic office chair has 3 lockable positions to give your body the best adjustment.   
What Makes a Good Ergonomic Chair?
When you look for an ergonomic chair sale, consider the design of the product you buy. A good ergonomic chair is suitable for several hours of computer usage. Material needs to be durable, so the chair lasts a long time, especially if you work long shifts. Look for a chair that provides both health benefits for your body and improvement in your work productivity. It includes height adjustment, lumbar support for your back, comfortable cushions, and rest positions for your neck, arms, and legs. On a side note, look out for price cuts when you shop online with Autonomous. They usually offer special deals on their ergonomic furniture, especially if you buy chairs in conjunction with desks.
1. Health Benefits of Ergonomic Chairs
If you work at home and feel constant back pain, it means that your chair doesn't align your spine, properly. Sitting a long time can also cause stiff neck, back, and shoulder problems. Your chair should support your posture, which goes a long way to reduce these health risks. Ergonomics is a key scientific practice that allows your daily routines to be healthier for your body. When you sit in a chair that corrects your sitting posture, you should have a straight back with your feet planted firmly on the floor. It allows for better blood circulation and oxygen flow.
Comfortable seats also reduce the amount of pressure on your hips. Most chairs have a hard surface, which can hurt your hip. A good ergonomic chair should have a comfortable seat cushion that conforms to your body weight. It should be well-padded, not only on the seat itself but also on the backrest. Ergonomic chairs with headrests, armrests, and leg rests are recommended so you can freely recline.
2. Adjustability and Customization
One of the most critical functions of an ergonomic chair is how adjustable it is to you. Everybody has their specific measurements. A good ergonomic chair allows you to adjust the seat height to work at your desk level. Make sure your seat prevents knee pressure, so adjust the height accordingly. You also want armrests and leg rests you can adapt. Seat tilt lets your pelvis maintain a neutral position so you can sit up straight.
Consider the customizability of your ergonomic chair, specifically how it looks. If you work at home, you can inspire creativity with the right colors. Ergonomic chairs have modern designs and a color variety so you can mix and match them with any work desk. Everybody perceives colors differently, so go with one that fits your preference. Warm colors offer more excitement, while cool colors are calmer. Neutral colors like black and white allow your ergonomic chair to fit anywhere in the workspace.
3. Improvement of Work Productivity
Another important factor in an ergonomic chair is how it increases your work productivity. Long work hours often lead to stress and body pain. If an ergonomic chair removes these negative factors, you can focus on your work and finish projects on time. Otherwise, you might focus more on how uncomfortable your chair is. The more comfortable you feel, the more likely you are less distracted or want to do something else to pass the time.
With comfort in mind, your work should be easier as your newfound energy makes you more productive. Now you need to find the right office chair in Cyber Monday. There are plenty of good ergonomic chair Cyber Monday deals out there to entice remote workers, but no other company does it better than Autonomous Smart Office. They are the industry leaders in ergonomic design and comfort.
How to Find the Best Cyber Monday Computer Chair Deals?
Office chair deals will be a popular pick this season, and all thanks to Cyber Monday, which has now its priority straight. The home office supplies and office chair accessories will be an area of interest for the buyers this year because the world has now shifted to remote working for most of the part.
People have also realized how an improper chair can ruin their posture and put a deadly consequence on their health; hence buying ergonomic chairs is their topmost priority. And lucky for you, Cyber Monday deals on office chairs are right around the corner.
Even though you can find anything this Cyber Monday, here are some ways to locate the best Cyber Monday desk chair deals. There will be a great assortment of chairs in all price levels, and some will be even cheaper than Black Friday rates. Though the products have limited quantities, the opportunity to buy a cheap office chair is going out! Hence, hurry!
As we've seen excellent bargains from prominent office chair brands and shops in previous years. Make sure to look into stores such as:
Autonomous
Autonomous is going to put on a huge sale for Cyber Monday occasion. You can find a complete range of home office stock from the right chairs, tables, desk accessories, and other home office essentials. Autonomous home office furniture is based on the principle of ergonomics; hence you can be worry-free about not finding a chair right for your body's strength and comfort level.
Amazon
Amazon is going to be your big discount store starting a lot before black Friday. You can expect great deals on Amazon. And the best part is that Amazon has offers from multiple stores, so you can enjoy a comparison and contrast without having to switch too many tabs. And we think amazon's shipping policy is also a savior.
John Lewis
John Lewis is your single-stop shop for many needs. John Lewis will put up a huge sale, and thankfully, office furniture is going to be in the category too. You can find everything from professional office items to home office setup right in your budget.
Wayfair
Wayfair puts up the best deals on events like Black Friday and Cyber Monday. With a popular name in furniture, Wayfair can provide you with the best of both home and office furniture. Wayfair is also going to set up a unique work from home office essentials section.
Cyber Monday Saving and Shopping Tips
A No to a wrong chair brings you one step closer to the right chair. The thing about having so many options to choose from is that you get confused and overwhelmed. This could especially be true if you have your mindset on shopping with desk chair Cyber Monday deals. Office chairs all look the same somewhat, but there are some things to know when making the right choice.
The proper office chair can make your efficiency better and also elevate the work experience. Here are some ways to save yourself some time and effort and shop for the best ergonomic chair with Cyber Mondaydeals.
Budget
Knowing your budget does you a lot better than you can imagine. Even if there is a big sale coming up, one must know how much they will spend on a product. Office chairs are expensive, which is why Cyber Monday is your chance to buy them.
The right approach is to set a limited budget and then filter out options in your price range. It is also wise to compare multiple sellers for a product and buy the cheapest option.
Warranty
A product without a warranty is a clear risk you are taking. Without a warranty, you can suffer a lot of damage and also lose your money. There is no guarantee about the product, and even if something happens along the way, there could be no refund or exchange. Make sure to choose an office chair that comes with a return or refund warranty.
Type of Chair
There are hundreds of options and types of office chairs you can get online. Though all of them fit a certain crowd, you must be clear about your needs. Everything needs to be considered, from knowing the right office chair dimensions to selecting the color to match your office theme.
You can also filter out the options, such as an office chair for a large person or even a chair for organizational needs.
Ergonomic Features
While you won't find adjustable lumbar support on a Cyber Monday office chair, you should look for it in a midrange or higher office chair. It's an optional extra on some seats, but it is well worth the extra money.
Because proper back placement is critical for a comfortable seat, the option to adjust the backrest to accommodate your lower back better is a feature that should be considered if at all possible. Some of the other ergonomic features to look for in your chair are:
The tilt of the backrest

Support for the lower back

Armrests and a seat that may be adjusted

Headrests that can be adjusted in height
Customer Reviews
Customer reviews are the genuine way to learn about a product and its performance. Make sure before making a purchase you are all aware of the past experiences of the customers. An ideal way is to read the reviews for multiple brands and then make up your mind.
Autonomous Give You Cyber Monday Office Chair Deals
Autonomous provides ergonomic chairs that can improve your work productivity and overall health. 2021 has been a stressful year for many, which is why remote workers need ergonomic furniture to work efficiently. A good Cyber Monday ergonomic chair deal should be within an affordable price range, which is why Autonomous offers great sales and monthly payment options. They also give you a 30-day trial with a full-year warranty. Whether you try out a new ErgoChair Pro or an ErgoStool, you get a great deal in savings. You can enjoy the health benefits of an ergonomically designed chair with Autonomous.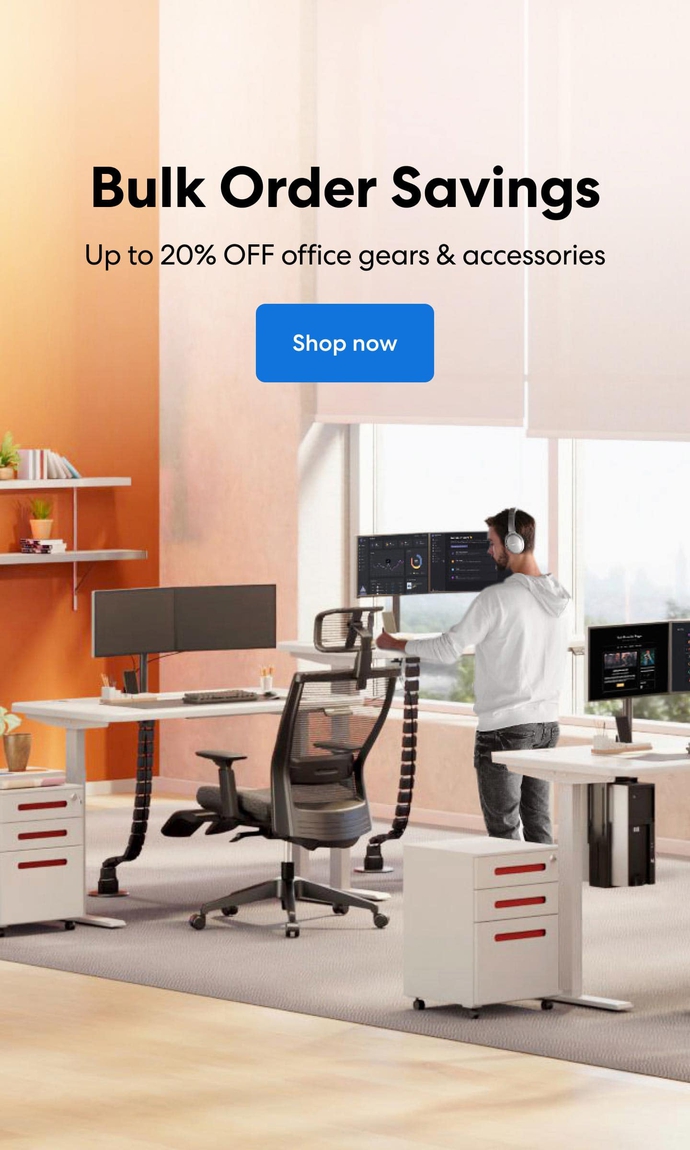 Subcribe newsletter and get $100 OFF.
Receive product updates, special offers, ergo tips, and inspiration form our team.