Workplace Inspiration
6 DIY Home Office Ideas to Make Your Stylish & Modern Workplace

Autonomous
|
Apr 26, 2021
2,170 Views
Having a home office is a great way to segregate work from play. However, it's important to have the right equipment and make it your own. Most people don't want to spend thousands of dollars decorating, but there are few things you're going to need for your DIY home office. Let's get started!
1. Create a Focus Area
The first home office idea centers on finding a focus area for the room. Decide what activities you're going to do here. This often requires having a desk, and you can choose a DIY office desk for small space areas.
It can be nice to have separate focus areas to complete different tasks. You may have a main workspace and then use additional seating to meet with clients or have discussions. The DIY home office design you choose should be easy to use and maneuver, even if it's small.
2. Incorporate Storage
Another great and essential DIY home office idea is to incorporate storage throughout the space. This is where most people struggle, especially if you seem to bury your office standing desk in paperwork all the time.
Therefore, your DIY home office should have plenty of storage solutions. If the space is available, cabinets are ideal for storing bit items. Open shelves are also great to mix DIY office décor with functionality.
3. Choose a Neutral Color Base
Every DIY home office design should come with a range of colors. Paint is usually inexpensive, so you can really go to town and paint the room the way you want it.
DIY office décor is simple when you focus on a neutral color base. That way, everything flows together, including the ergonomic chair.
Color theory focuses on what can impact your mood. Blue is often shown as soothing, and yellow can bring anxiety to your mind.
Your DIY home office is a place where you're going to be working all the time. Therefore, you should choose a neutral color. Then, play with others to add more flair to the room. For example, you may paint the walls beige and have bright blue curtains. Bring on some green and a bit of purple to the desk, and you're golden.
4. Accent the Area with Personal Items
Your DIY office décor should also include personal items. You have to focus while you're working, but you also want to feel happy spending so much time there. Don't forget to add a few décor elements, such as wall art. Though you need a cohesive design, there are ways to do this easily. For example, let the personal items determine the accent colors you choose. While you don't have to be perfect, try to match the hue of the personal items and use them sparingly throughout your DIY home office.
Another DIY home office idea (along the same lines) is to choose homier accessories. That can add comfort to the space and make it feel more relaxing to be in there. They don't have to be expensive either!
You can pick a mug to hold your pens and pencils, fun notepads and sticky notes, or a decorative trash can. If you're really creative, you can think about wrapping a bulletin board in fabric, hiding the shelves behind curtains, and so much more!
5. Bring in the Outside
Research has shown that natural light can have a positive impact on morale and productivity. If companies can use it to help employees, you can in your own house. However, it may be hard to open the curtains if your office faces the wrong way. You don't want to have a glare on the computer or have it too bright.
Consider a space with a window, and then choose appropriate blinds or curtains. That way, you can open them when there's less direct sunlight so that you can still work comfortably.
It may also be beneficial to align the desk right below the windowsill. That way, you can glance out at the sunshine and what's going on outside. However, some people find that this isn't good for them. They spend more time viewing everything around them instead of working in their DIY home office. If that's the case, some blinds can help you shut out the commotion outside while still bringing in the sunshine.
Other natural elements can be added to your DIY home office design, too. Add some flowers to the desk or a potted plant. That way, you add color, greenery, and improve your mood.
6. Build Your Desk
Most people focus more on the spacing and "fun" things, but one DIY home office idea you shouldn't neglect is building your own DIY stand up desk. That way, you can have whatever top you want. If you've already got one, that's fantastic. Otherwise, you can find gorgeous wooden ones and so many others.
However, the one caveat here is with choosing a standing desk frame. It's got to be strong enough to handle the top you choose. Generally, the descriptions of the products tell you how much weight the frame holds. From there, you can ensure that you've got the right tabletop.
You should also note that you can find various frames, such as those for regular tabletops and L-shaped ones. Decide on the best option for your DIY home office before you start shopping. That way, you know how much room you have for the desk and if the home office idea you've come up with is going to work.
Conclusion
Knowing that you want to create a DIY home office is the first step. Now, you've got to figure out how to pull it all together. These ideas should give you what you need to get going. However, you may have your own DIY home office idea. There's no reason why you can't add various DIY home office design elements to the mix. Just try to keep everything similar in color so that the space doesn't get too "busy." Otherwise, you may have problems focusing on the task at hand!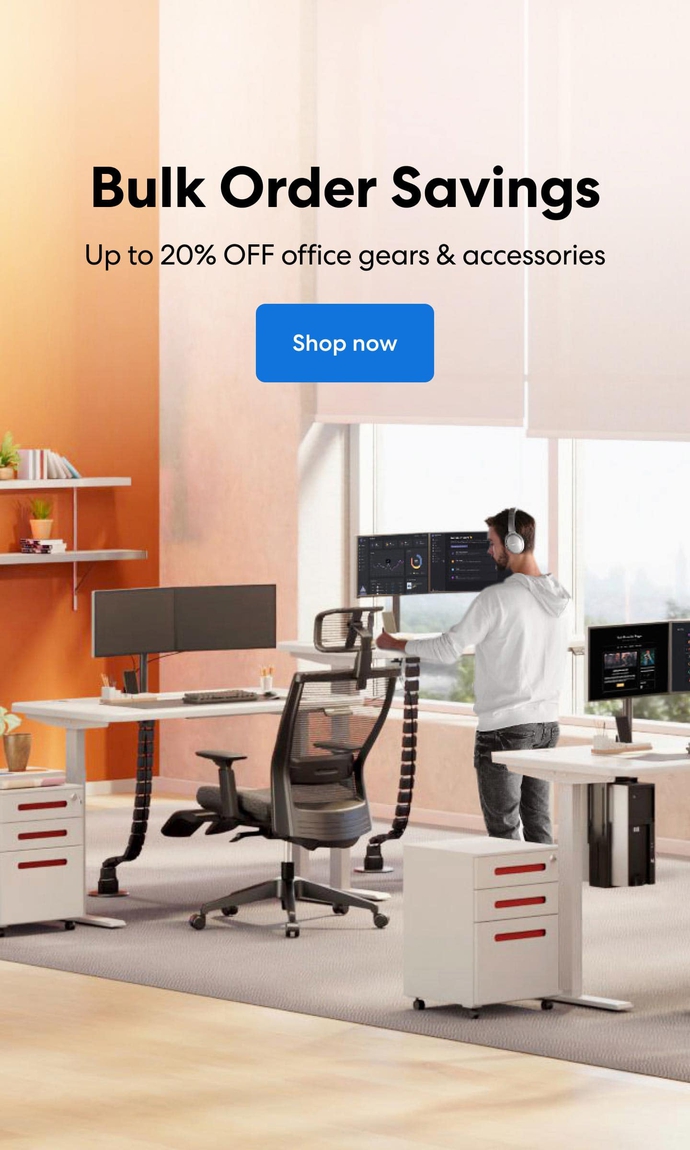 Subcribe newsletter and get $100 OFF.
Receive product updates, special offers, ergo tips, and inspiration form our team.