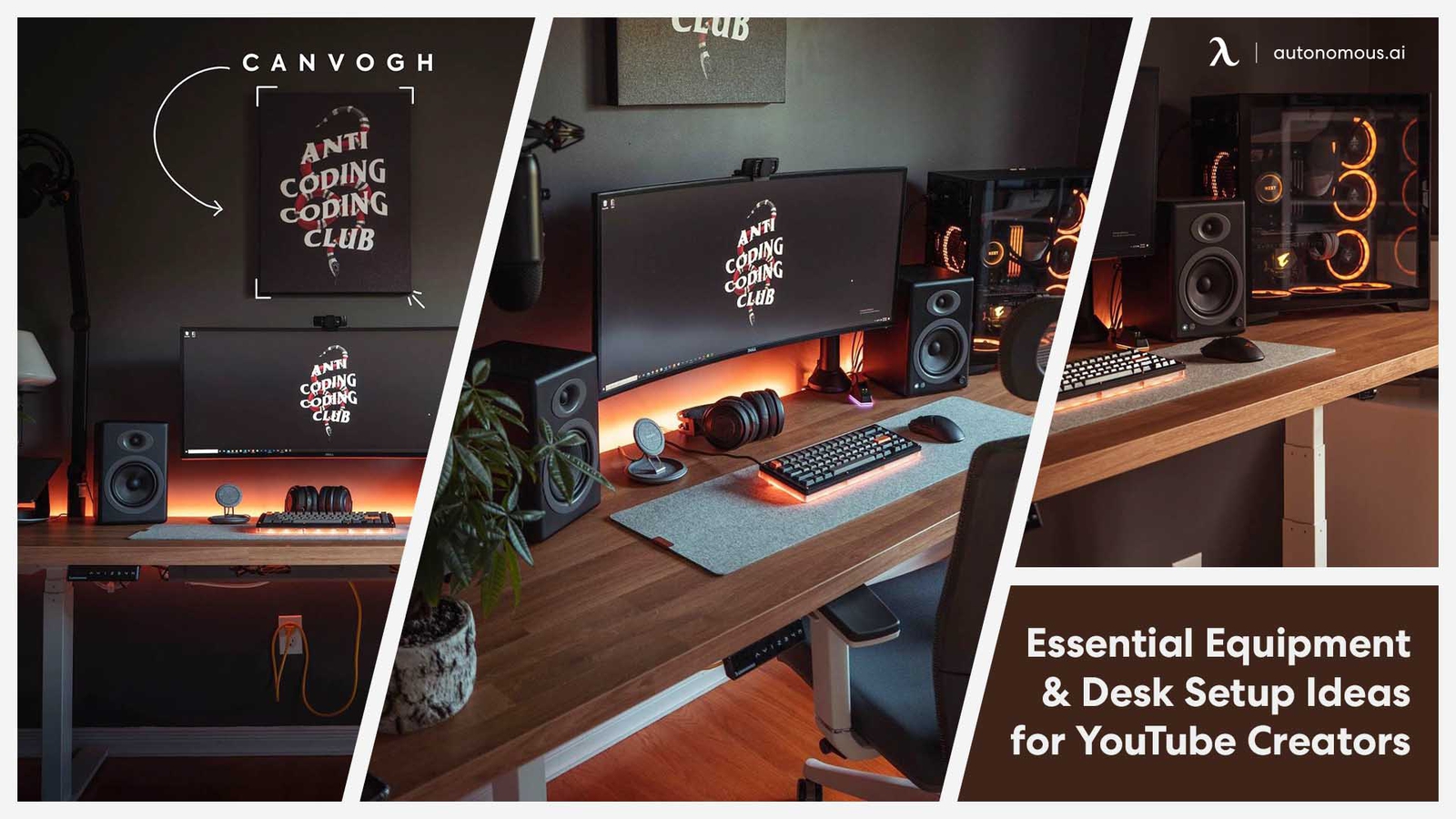 Workplace Inspiration
Essential Equipment and Desk Setup Ideas for YouTube Creators

Autonomous
|
Aug 31, 2020
16,418 Views
If you're anything like me, you spend way too much time on the daily watching your favorite personalities on YouTube. And I wouldn't have it any other way. YouTube is freaking awesome! There's literally a YouTube video about anything and everything you could ever imagine. From recipe ideas and dance tutorials, to travel vlogs, cute pets, meditation, and a review for everything under the sun. There really is something for everyone. As the biggest and most popular online platform for sharing video content, YouTube is a great avenue for you to express your creativity, maybe make some extra cash, promote your personal brand or business, and with lots of dedication and hard work (and a little luck on your side) perhaps become internet famous YouTube royalty!
Whatever your passion, expertise, or quirk maybe, if you're considering becoming an official YouTuber, you're going to need to deck out your recording and editing studio with the right tech and equipment. Developing, filming, and editing quality videos is not as easy as it looks, but the most important step is to just dive on in and start creating! You've got to start somewhere and the only way to get better is to learn. You don't need to be an expert to start producing captivating content, but the right equipment and tools can definitely help you elevate your YouTube game. Read on for our guide on how to create the best desk setup for YouTubers.
1. Lights setup for Youtuber
image of pin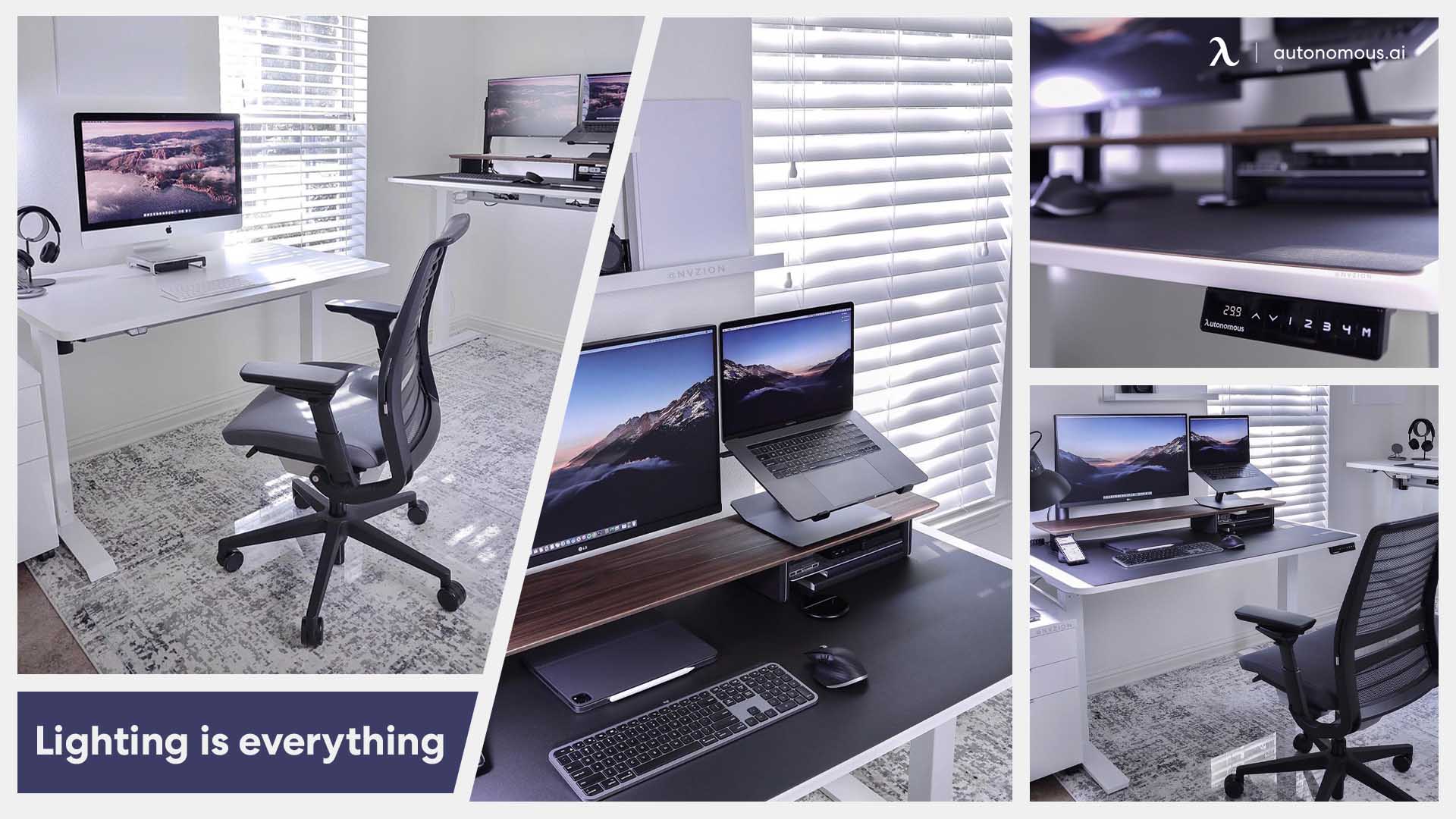 When it comes to any form of video content. Lighting is everything. Sometimes it's enough to just film near some ample sized windows that allow for plenty of natural light, but if you've ever tried to make a video indoors, you probably already know that it's crucial to have additional lighting. Usually, when filming indoors under normal lighting that exists within the room, the end footage tends to look quite dark and grainy, and often has that dull yellow tint that we all cringe away from. To overcome this problem you need to increase the amount of light that you have available when recording. If you're on a budget, use any existing household lamps or lighting fixtures that you may have on hand. But make sure to fit them with white 'daylight' light bulbs instead of orange tungsten light bulbs. This will help you avoid tinting your footage yellow. If you do have a bit more budget to spare, here are some great options for your Youtube desk setup that will help keep your footage hella lit!
1.1. Softbox
Softboxes are an excellent way to emulate the natural, soft lighting that you get from a large window. Any time of day or night. The white diffusion panel of the softbox actively diffuses and decreases the intensity of otherwise harsh, direct lighting. Softboxes are an ideal source of lighting that doesn't produce harsh shadows within the scene or subject at hand. This is particularly popular with reviewers who like to shoot clear cutaway product shots, as it gives a realistic and aesthetically pleasing image of what the item looks like in real life.
The Neewer 1900W Photography Studio Softbox Lighting Kit is one of the best lighting kits for both portrait photography and video recording. The kit includes two 20" x 27" softboxes, 2 x 79" tall light stands, 10 x 45W light bulbs, and 2 x 5-socket light holders. The softboxes provide the perfect even lighting when in use. The 5-socket light holders are made of high-quality plastic and allow you to separately operate each bulb so as to control the intensity of the overall light source. The light stands are made of sturdy metal but are still lightweight and collapsible for easy portability. They can also be used to attach other equipment such as umbrella lights. And the 45W spiral light bulbs have a color temperature of 5500K which is the closest possible match to natural daylight. 
1.2. Ring lit
Also known as ring lamps, ring lights are a circular-shaped light with a large aperture designed to be placed in front of a subject. They're a continuous light source that eliminates shadows and gives you that coveted halo catchlights in the eyes. Quite an affordable form of lighting, super portable, and won't put you out of pocket, ring lights are a favorite among vloggers and those that film themselves a lot for their content creation. The ring light emits a bright light all around the subject and eliminates shadows from every direction. This in turn effectively makes anybody look more attractive in front of the camera. Almost airbrushed. It's for this reason that the ring light is super popular among beauty and makes up gurus, as it allows them to easily and beautifully light up the face and eliminate shadows that tend to highlight annoying blemishes and imperfections. Keep in mind though, as they're so bright, ring lights will not give you 100% color accuracy, but the subject will look fine as hell.
LED ring light specialists AIXPI are dedicated to producing quality beauty ring lights. Available in 6", 6.3", 10" and 18" sizes, we think the 10" version is best for YouTube content creation. All ring lights from AIXPI come with a wide selection of optional extras to make lighting any environment a total breeze. From tripods to keep your filming setup securely standing, mobile clips to get the best recording angle from your smartphone, universal mini ball head mount brackets to screw in your DSLR camera, to spare ring lights, chargers, and Bluetooth remotes. You'll be shooting tasty beauty shots in no time.  
1.3. Ambient Light
Remember, lighting in front of the camera lens is just as important as what's going on behind the scenes. As many tech review channels do, elevate your footage and add a bit of color to the mix with some simple light bars. The Beam kit from LIFX is a convenient way of adding any spectrum of the rainbow to your scene. A dynamic light bar designed to frame the space and add ambient light, each pack comes with 61 customizable zones, 16 million colors and blended white light, two-year limited hardware warranty, and Polychrome technology with custom effects and features that can be controlled via wi-fi. Instantly add an eye-catching, futuristic, space-age, disco feel in whatever hue takes your fancy.
2. Camera
image of pin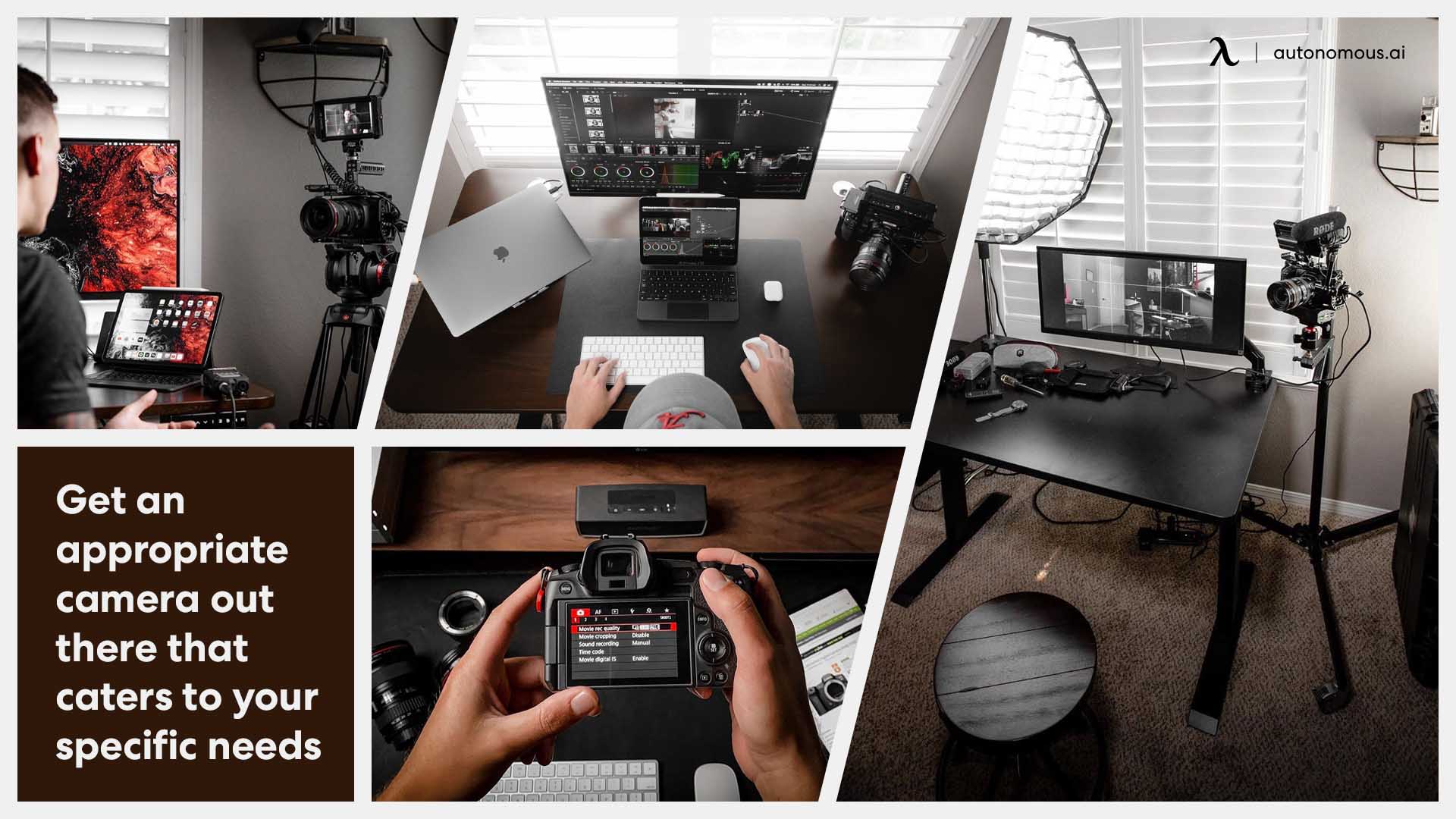 If you're planning to dive headfirst into the world of YouTube, then you're going to need a camera. Obviously. These days, the latest smartphones are pretty impressive recording devices in themselves but are mainly used for on the go vlogging or live streams. If you want some seriously sharp video that doesn't miss a single action, then perhaps consider some of our suggestions below. Whatever category you plan for your YouTube content to fall under, there's an appropriate camera out there that caters to your specific needs. 
2.1. For crispy content
If portability isn't too much of a priority and you plan to do most of your filming in the studio with your recording device fixed to a tripod, then why not get the highest quality image by investing in a mirrorless camera? Mirrorless cameras have become the most popular type of camera for both video creators and photographers due to their capability to shoot like a DSLR, but with a significantly lighter and smaller body. Admittedly quite bulky when compared to "vlogging" cameras, thanks to their manageable weight, you can enjoy the flexibility of taking your mirrorless camera on the go, for whenever the vlogging bug does hit you hard.
There are many fantastic mirrorless cameras on the market, but one that stands out for its stellar performance is the Fujifilm X-T4. However, be warned. This camera is by no means cheap or affordable, but its steep price is reflected in its A+ performance. Suitable for both photography and videography the X-T4's 4th Generation X-Trans CMOS 4 Sensor, X-Processor 4, newly developed in-body compact image stabilization (IBIS) system, new Film Simulation mode (ETERNA Bleach Bypass), and many other features delivers image quality that can satisfy the demands of professional photographers and videographers alike.
The best feature of the X-T4 for us would have to be its crazy fast focus capabilities. Its impressive autofocus works as fast as 0.02 seconds and with a burst shooting mode of up to 15 frames per second using the mechanical shutter, the camera delivers ultra-fast performance and functionality, capturing every split second in the best quality possible. In addition to the Full HD 240P High-speed recording which gives you a maximum of 10x slow-motion effect, the X-T4 features digital image stabilizer (DIS) and IS (Image Stabilization) Boost mode. By combining these two image stabilization modes with the powerful In-body Image Stabilization, you can experience a new level of stabilized video shooting without the need of a gimbal or other 3rd party accessories.
2.2. For vloggers
Of course, many of us don't have a couple of thousand dollars to spare, or perhaps the sheer size and bulky shape of a mirrorless camera is too daunting of a commitment? Thankfully, a more modestly sized (and priced) vlogging camera can do the trick! Sony has fast become a favorite brand amongst YouTubers, providing convenient handheld devices designed especially for content creators and vloggers. The Sony ZV-1 is a super-compact device that captures great-looking video footage with no experience or expertise required and with no tricky setup required.
With lots of specialty settings engineered specifically for content creation, you can shoot great videos wherever you go. The ZV-1 is built to record great footage while you're on the move. With amazing image stabilization, you can shoot smooth video when walking, and as the light of your surrounding environment goes from shadow to sun, or outdoors to in, the automatic exposure (AE) tracks faces and makes sure that they always appear well-lit. The ZV-1's Fast Hybrid AF system lets you simply and quickly switch focus from a face to the background, for more stylistic and watchable videos. And the genius Product Showcase Setting allows you to switch with just a single button to settings that are perfect for product reviews. It widens the angle of view and switches the focus to the object instantly, so you don't need to wait for the focus to shift or place your hand behind the product to shift the focus to it.
The ZV-1 allows you to carry professional-quality video along in your pocket, with stunning 4K HDR detail and powerful exposure tools for content guaranteed to impress. Record immensely detailed 4K HDR video through 1.7x pixel resampling so you can truly capture reality without any compromise.
3. Sound
You've gone to the trouble of making sure your footage is 100% sexy AF. But if your sound is of poor quality, then your audience is more likely to click out of the video and move onto the next. If you want to make it big in the world of YouTube, it's really worth your time and money to invest in some external microphones. To get you started, USB microphones have become a standard pick for YouTubers. They are popular for their ease of use and sound quality, along with their versatility and most importantly, affordability. For those on a budget, the Logitech H390 USB Computer Headset is a perfect entry-level microphone for YouTube content creation as it's super easy to use and provides clear crisp audio. It immediately enables you to start recording after plugging them into your computer. It also has a useful noise-canceling feature that reduces any unnecessary noise in your audio. 
image of pin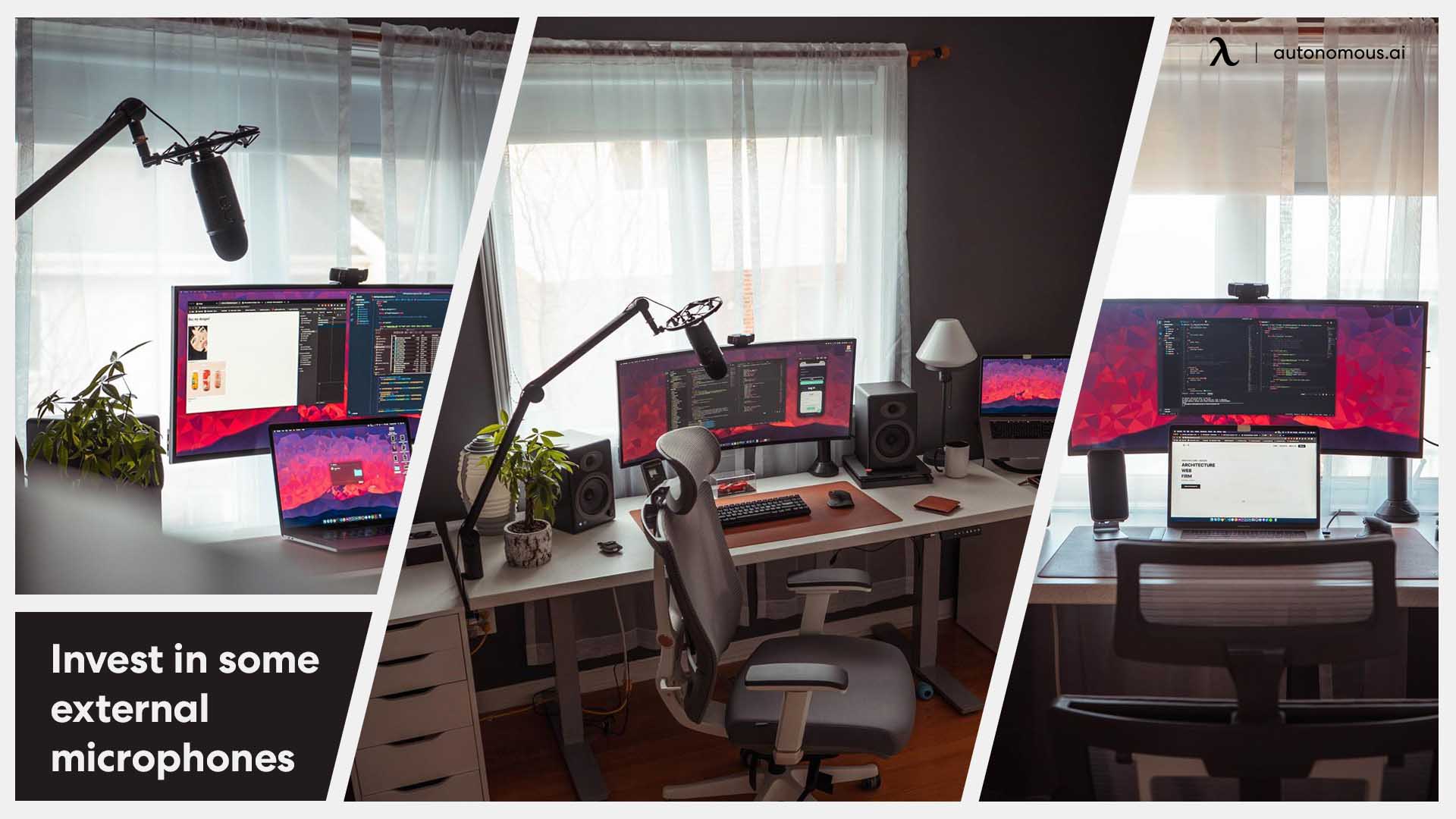 For a more premium option, the AT2020USB+ condenser microphone from Audio-Technica doesn't need any pre-amp and allows self-monitoring through its built-in headphone jack with volume control. It also conveniently offers mix control, allowing you to blend your microphone audio with pre-recorded audio. As with many high-quality condenser microphones, the AT2020USB+ has extended frequency response that makes it a superstar performer when recording crisp clear vocals for podcasting and home recordings.
4. Action!
Hands down, the most difficult part of being a YouTube content creator is having to edit. Now that you've got hours of raw footage and audio to sift through, you need to prepare yourself for the subsequent hours, if not days, editing away at your desk in front of your computer screen. It's so important to invest in an adjustable ergonomic office chair that supports correct posture throughout the day so that editing your awesome YouTube videos remains an absolute joy and doesn't turn into a painful chore.
The ErgoChair Pro from Autonomous provides a fully adjustable seat tilt, seat height, and complete lumbar support that not only provides comfort but also aids greatly to prevent any aches or pains that could otherwise lead to some serious injuries. The super satisfying headrest makes editing those cheeky thumbnails and splicing all of your footage a true ergonomic delight. 
image of pin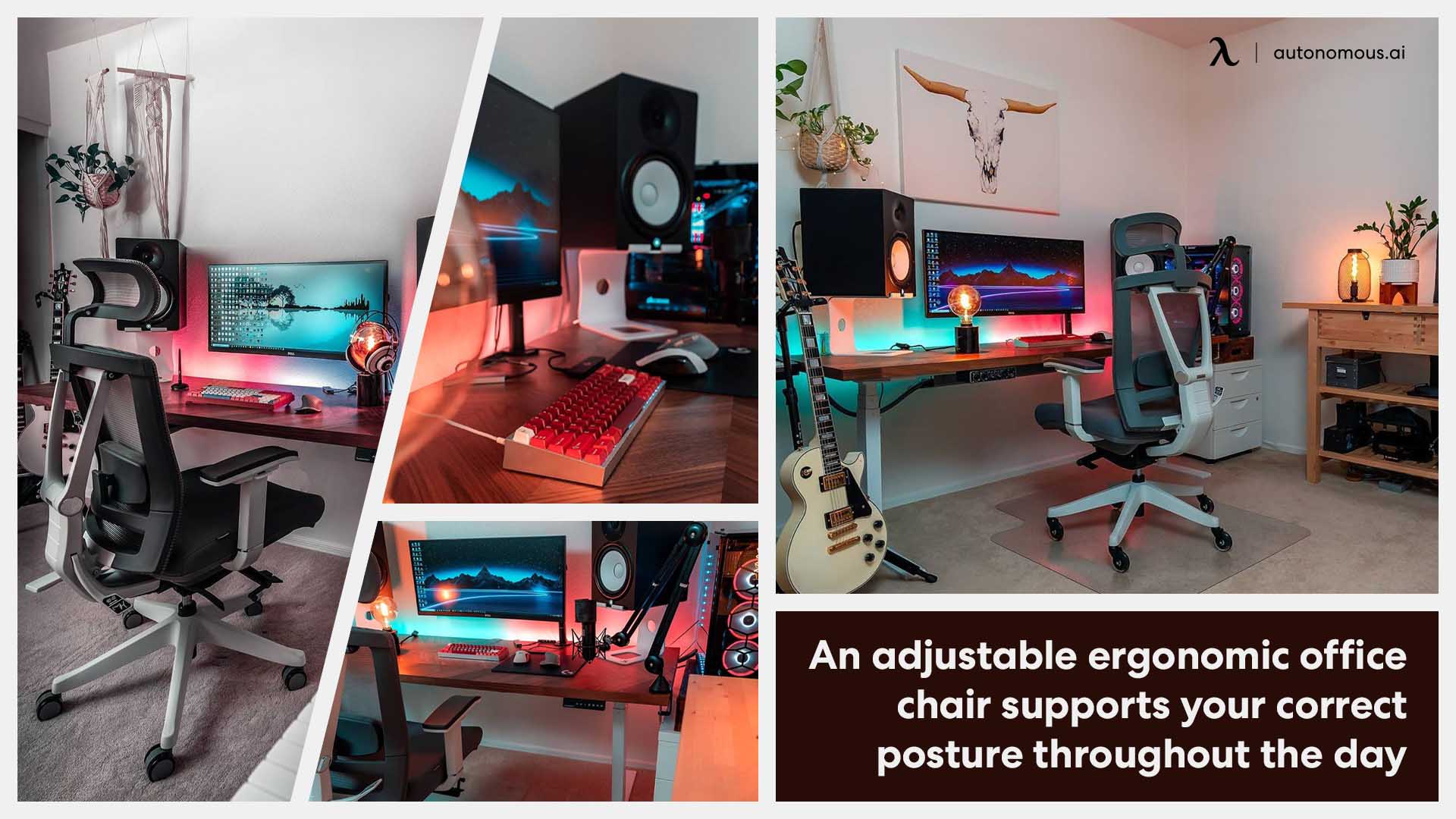 Another handy piece of ergonomic furniture which also doubles as quite a useful YouTuber tool is an adjustable standing desk. If you're a YouTube tech reviewer, a performer, a coach, or any other category that requires talking directly into the camera lens, a lot of the time presenting to the camera just flows so much better when standing. Autonomous provides a diverse range of standing desks to suit any space, but we suggest the XL SmartDesk Core. This beast of a work desk provides more than enough ample tabletop space to house all of your tasty tech and accessories. The sturdy metal leg frame is powered by a dual-motor system that can easily support up to 300 lbs! With four programmable presets, you can adjust your workspace on the fly. With just the touch of a button, you can move your entire YouTube setup from your ideal seated height to your favorite standing height for filming in no time.
image of pin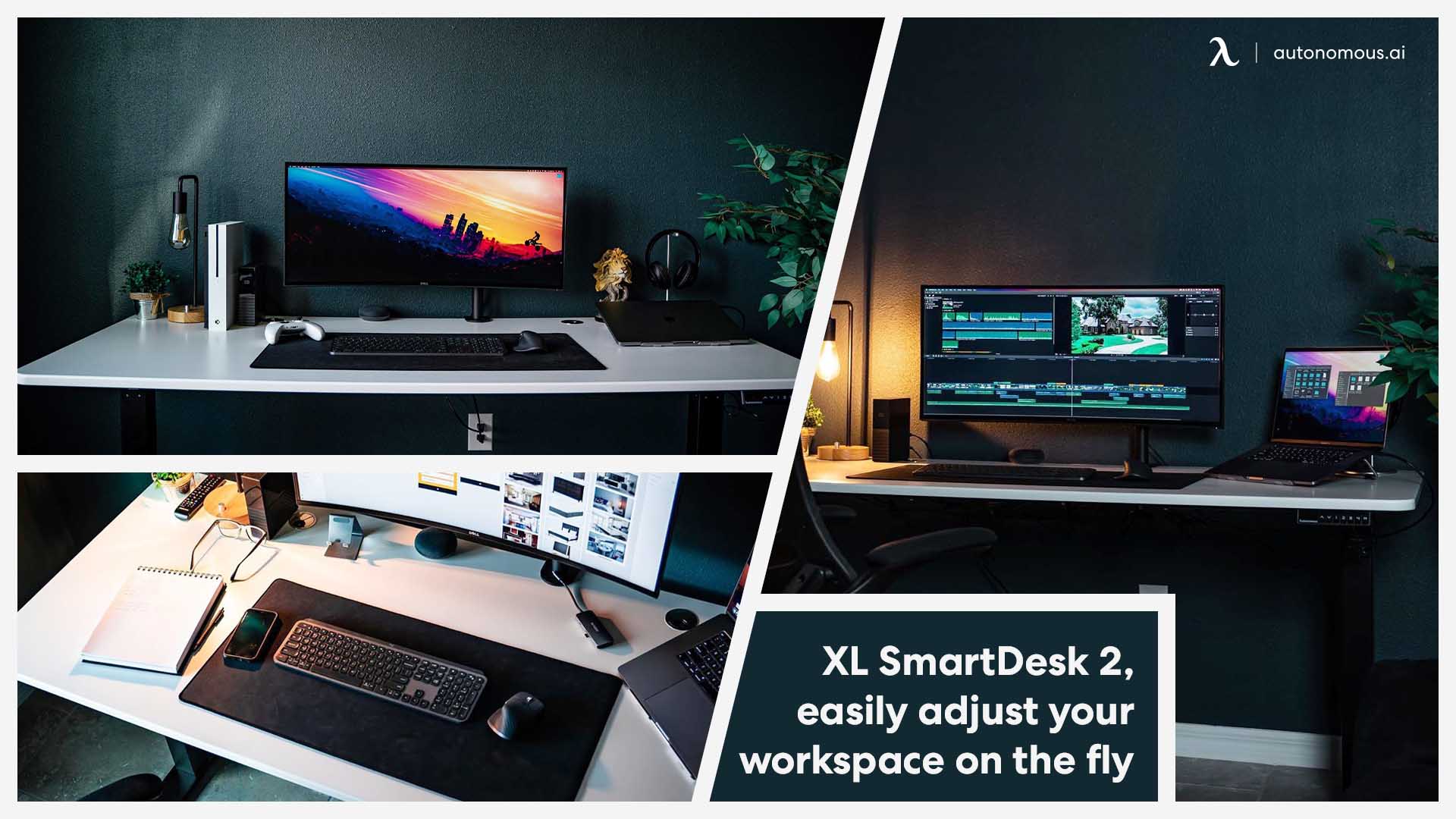 Take a look for yourself. CLICK PLAY below and see how professional filmmaker and content creator Jordan Pulmano utilizes an Autonomous SmartDesk and ErgoChair Pro + to create the perfect desk set up for YouTubers.
FAQs
How do I make a good desk setup as a Youtube streamer?
Actually, setting up a desk for your Youtube workspace is really easy. It only includes a desk and chair like other normal office workers. However, it is better if you invest in a standing desk and an ergonomic chair to prevent back pain and make your workspace more creative.
How do I set up a home studio for YouTube?
In fact, you don't need much to set up an in-home Youtube studio. Basically, it includes only two core components: a space and organization for your recording tools. So, you need only set up a desk and invest in some necessary tools for youtube creators. Moreover, you'll also need to consider your budget for this space to make it reasonable.
What equipment do most YouTubers use?
There are many necessary equipment for Youtubers including Camera, Lighting, Microphone and Video Editing Software. You also need to invest in a high quality desk and chair for long hours streaming. Read more on the blog to get more information!
---
Read more...
Video ads for product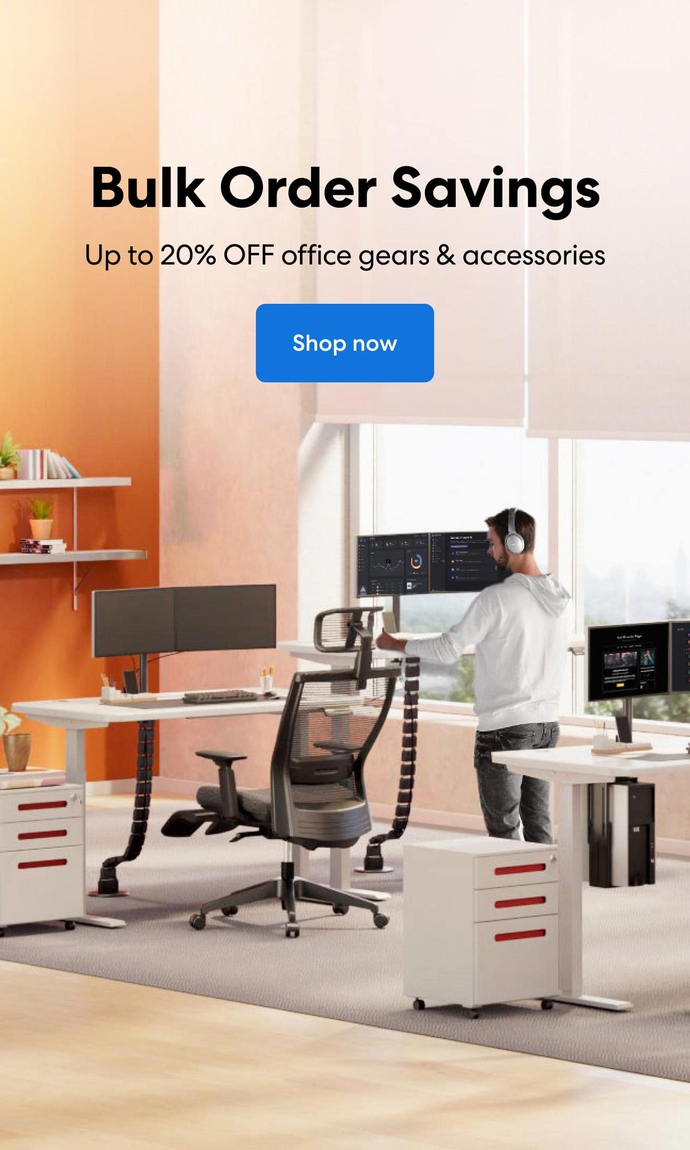 Subcribe newsletter and get $100 OFF.
Receive product updates, special offers, ergo tips, and inspiration form our team.