Work Wellness
Exercise Bike vs. Treadmill: Which Gives You Better Cardio Workout?

Autonomous
|
Feb 17, 2023
1,581 Views
Exercise is crucial for maintaining good health and keeping the body in top condition. Whether you're trying to lose weight, improve cardiovascular health, or simply stay active, choosing the right type of home gym equipment can make all the difference. 
In this article, we will compare and contrast the benefits and drawbacks of using an exercise bike vs. a treadmill for cardio workouts. 
This article aims to help readers decide which is better for their cardio needs, considering factors such as personal preferences, goals, budget, and space. 
With a comprehensive overview of each type of equipment and its functions, such as a treadmill or bike for weight loss, you'll be able to decide which is the best option for you.
Discover the Magic of Treadmills
A treadmill is indoor exercise equipment that lets you mimic walking or running motions. The device features a conveyor belt that moves along its platform, creating a surface that can be adjusted to your desired speed. Furthermore, the handles located on both sides of the platform help you maintain balance while exercising. 
Additionally, for a more intense workout, some treadmills allow you to adjust the incline, simulating the experience of running uphill. There are two types of treadmills: motorized and non-motorized.
Motorized Treadmills
Motorized treadmills have a motor that powers the belt, whereas non-motorized treadmills require users to create the motion themselves. 
Non-motorized Treadmills
According to research, non-motorized treadmills offer a more challenging cardio workout than motorized treadmills. The lack of a motor requires you to work harder to keep the belt moving, making your workout more intense. 
Both types of treadmills, however, can help you train your gait patterns and improve your walking or running skills.
Get Fit with Exercise Bikes
The difference between a treadmill vs. cycling on exercise bikes is the workout level. Bikes feature a seat and pedal that allow you to engage in a low-impact workout that targets various training goals. There are different types of exercise bikes to choose from, each with its own unique features and benefits. 
Spin bikes, for instance, resemble the design of a standard road bike. That makes it easy to transfer the skills you learn from indoor training to outdoor cycling. 
On the other hand, reclining exercise bikes have a more comfortable and wider seat, with the pedals positioned in a more forward position. 
Additionally, this reduces the impact on the joints but can make it challenging to reach high intensities and does not transfer as well to outdoor cycling.
The Ultimate Treadmill Decision: Pros and Cons at a Glance
Treadmills are a common fixture in workout spaces due to their many benefits. However, you should also consider some limitations. 
Pros
Controlled indoor environment: Treadmills allow you to walk and run in a safe and controlled indoor environment.
Adjustable intensity: With adjustable speed and incline, treadmills give you excellent control over the intensity of your workout.
Data tracking: Treadmills are equipped with features that allow you to track your progress and measure your performance.
Digital experiences: Some treadmills allow you to set up digital experiences, such as watching TV, to enhance your workout.
Rehabilitation tool: They can be a helpful tool for rehabilitation, helping you improve your balance and gait-related abilities. 
Cons
Altered movement patterns: The movement patterns required by treadmills may differ from those required by running on regular surfaces.
Safety leash required: You need to use a safety leash to prevent being thrown off the back of the treadmill.
More energy required: It may take more energy to run at the same speed on a treadmill compared to running on normal ground.
No outdoor experience: Treadmills don't offer the experience of being outside and in nature during your workout.
Cycle Your Way to Better Health: The Pros and Cons of Exercise Bikes
When debating over a treadmill vs. stationary bike, a bike offers many benefits when incorporated into your fitness routine, but there are also downsides. 
Here are their advantages and disadvantages:
Pros
They can significantly enhance various fitness metrics

The low-impact and joint-friendly nature of the exercise makes it accessible to a wide range of individuals

It can also improve gait and balance

Not limited by environmental factors like the weather

Easy to track and adjust the intensity
Cons
It doesn't provide the same level of improvement in bone mineral density compared to weight-bearing exercises

May not build substantial muscle mass

Less appealing to those who prefer outdoor activity
Treadmill vs. Stationary Bike: How to Choose the Right One for You?
When optimizing your fitness journey, selecting the right equipment is crucial. However, with a wide variety of options available, how do you choose between a treadmill vs. exercise bike? 
Your training goals will be the most significant factor in determining your best choice. If you simply want to get in a good cardio workout and enjoy the process, then choose the option that appeals to you the most. Additionally, both exercise bikes and treadmills are equally beneficial for overall fitness and health. 
However, if you have more specific fitness goals, consider your competition's primary mode. Incorporating outdoor and indoor running on a treadmill would be most effective if you're preparing for a running event, such as a 5K. 
On the other hand, stationary cycling and outdoor riding on a bike would be the way to go if you're targeting a cycling competition.
The Five Best Treadmills That You Should Have in 2023
With the rise in popularity of home workouts, finding the right treadmill has never been more important. In the battle between a treadmill vs. exercise bike, here are the five best treadmills worth considering for your home gym in 2023 that would win the fight. 
1. WalkingPad Foldable R1 Pro Walk-Run Treadmill
Transform your workout routine with the Genius dual-mode treadmill. It features a conventional running mode, and with the handrails folded down, it transforms into a walking machine. 
The sleek black and chrome design is a beautiful addition to any home or office, and its 180° patented folding technology makes it a space-saving option. This mini-running machine is durable and lightweight, built from a single piece of aluminum alloy. 
Moreover, the non-slip surface keeps your feet firmly in place as you push yourself to the limit, while the smooth layer provides a stable base for frictionless operation. 
Dimensions
Unfolded: 59" L x 28.3" W x 35.4" H
Folded: 38.5" L x 28.3" W x 6.1" H
Walking area: 47.2" L x 17.3" W
Item weight
73 lbs
Color
Silver
Materials
Running board: HDF
Shell cover: IML injection
Layer: EVA cushion
Body build: Aluminum Alloy
Power
918W
Speed range
0.5-10 km/h
Weight capacity
220 lbs
App
Available for both IOS & Android
Warranty
1 year
2. WalkingPad Foldable Walk-Run Treadmill R2
Experience the ultimate in space-saving and convenient fitness with this 2-in-1 folding treadmill. With its easy-to-use hinge design, you can fold it away in under three seconds and store it under your bed or couch. 
The sleek, all-black aluminum alloy frame and minimalist design add a touch of modern style while delivering robust strength. Moreover, the four-layer professional racetrack construction of the running belt provides exceptional durability and shock absorption for a comfortable workout. 
Enjoy the peace and quiet with the powerful yet whisper-quiet brushless motor that produces only 65dB at full speed. 
Dimensions
Unfolded: 57.2" L x 28.3" W x 40.6" H
Folded: 39.4" L x 28.3" W x 6.4" H
Walking area: 47.2" L x 17.3" W
Item weight
79 lbs
Color
Silver
Materials
Running board: HDF
Shell cover: IML injection
Layer: EVA cushion
Body build: Aluminum Alloy
Power
918W
Speed range
0.3 - 6.2mph
Weight capacity
240 lbs
App
Available for both IOS & Android
Warranty
1 year
3. WalkingPad Double-Fold Walk-Run Treadmill
With the Double-Fold Treadmill by WalkingPad, you can have it all in one stylish and compact unit. Ideal for any space, whether the office or home, this treadmill folds away neatly with its double-fold design. It features convenient smartphone connectivity, a spacious running surface, and a digital wheel display for effortless speed control. 
Take your fitness journey to the next level with the additional 90° of compact storage that sets this treadmill apart from its predecessor. Use the KS App to monitor your real-time workout statistics and adjust your speed from 0.5 to 12 km/h using the handrail controls. 
Dimensions
Unfolded: 55.9" L x 28.3" W x 40.2" H
Folded: 30" L x 37.6" W x 8.9" H
Walking area: 47.6" L x 18.1" W
Item weight
81 lbs
Color
Space
Materials
Panel: Acrylic
Layer: EVA cushion
Body build: ABS + Aluminum Alloy
Power
918W
Speed Range
0.6 - 7.5mph
Weight capacity
240 lbs
App
Available for both IOS & Android
Warranty
1 year
4. LifeSpan Fitness Under-desk Treadmill Base TR1200-GlowUp (Omni Hub)
This LifeSpan walking treadmill base is a silent ally in your office, allowing you to keep up your daily steps while remaining considerate to your coworkers. It's compact 4.6" step-up height fits comfortably with your standing desk, maximizing your ergonomic positioning. 
With Intelli-Step technology that counts your steps and its safety feature that ensures only active walking, you can confidently and safely stay active at work.
Dimensions
Belt size: 20"W x 50"L
Treadmill: 63"L x 28.5"W x 7.25"H
Omni sonsole display: 8.1"L x 5.7"W x 3.2"H
Item weight
114 lbs
Color
Black
Power
115V NEMA 5-15 Non GFI Circuit
Speed Range
0.4 - 4.0 MPH
Weight capacity
350 lbs
Warranty
Frame: 10 years
Parts: 2 years
Labor: 1 year
5. InMovement Under Desk UnSit Treadmill
The heavy-duty under-desk treadmill by InMovement is a specialized walking equipment specifically designed for office workspaces. 
Unlike traditional gym treadmills that are simply converted, the UnSit is shorter and wider, providing ample walking room without extending beyond the user and becoming a tripping hazard for others in the workspace. 
Moreover, with its 2.75 horsepower motor, this treadmill operates quietly with a max speed of 2.0mph, perfect for the office environment. 
The Five Best Exercise Bikes That Will Help You Workout More in 2023
Get ready to elevate your fitness game in 2023 with the top five exercise bikes that promise to make your workouts more effective and enjoyable. Say goodbye to boring and repetitive routines and hello to various challenging and fun cycling sessions right in the comfort of your home. 
1. LifeSpan Fitness Under Desk Bike C3-GlowUp: DT3 Console with Bluetooth
The LifeSpan desk bike is the ultimate solution for those seeking to integrate fitness into their daily routine. Its compact design and quiet operation make it perfect for use in the home office or workplace, while its energy-efficient features ensure you stay productive while staying active. 
Furthermore, with its retro console, Bluetooth connectivity, and height adjustability, the C3-GlowUp bike is designed to fit seamlessly into your life, regardless of your fitness level or height.
| | |
| --- | --- |
| Bike dimensions | 27"L x 21"W x 36" - 46.5"H x 94 lbs |
| Console dimensions | 12.5"W x 3.25"D x 2"H |
| Weight capacity | 400 lbs |
| Supports | 5'0" - 6'8" users |
| Warranty | 10 years |
2. LifeSpan Unity Fitness Bike Desk for Adults: Featured in INC.
This unity bike desk is a simple yet effective solution for those looking to incorporate movement into their daily routine, whether it be while working from home or enjoying leisure activities such as watching TV. 
With 11 different seat height adjustments and minimal resistance pedals, it allows for a comfortable and easy way to stay active while sitting. 
Also, the best part? There's no need to worry about charging batteries or tripping over cords - it's cordless and powered by your own movements. 
| | |
| --- | --- |
| Dimensions | 47"L x 31"W x 41"H x 88.2 lbs |
| Desktop surface | Durable Cherry-Grain Laminate |
| Desktop materials | 3/4" Thick HD Composite Board |
| Pedals | Oversized; Bi-Directional (Forward/Backward Pedaling) |
| Weight capacity | 300 lbs |
| Seat adjustment | 7" (11 positions) Fits Users Ranging In Heights From 5'0" to 6'6" |
| Warranty | 10 years |
3. Ovicx Indoor Cycle
If you're debating over treadmill vs. cycling, this stationary home cycle bike can deliver a smooth and silent workout experience thanks to its magnetic control and belt transmission. 
With step-less resistance adjustment from 0 to 100%, it caters to all skill levels. Also, the magnetic design protects your knees by evenly distributing the force during exercise. 
This fully adjustable bike offers 12 height options, ranging from 33.1 inches to 40.6 inches, and seven options for seat positioning. 
Furthermore, the handlebar can also be adjusted to eight different heights, from 47.2 inches to 51.6 inches, allowing for comfortable training in any position. 
Product dimensions
44" L x 22.5" W x 43.5" H
Product weight
82 lbs
Materials
CS Frame
Aluminum cage pedals
Color
Black
Weight capacity
250 lbs
Workout recorded
Time, Distance, Cadence, Output, Resistance, Calories Burned
Seat & handlebar ddjustments
12x seat height adjustments (33.1″ H - 40.6″ H)
7x front rear seat positions
8x handlebar heights (47.2″ H - 51.6″ H)
Warranty
1 year
4. YOSUDA Indoor Cycling Bike
Transform your home workouts with the YOSUDA Indoor Cycling Bike. Experience a smooth and stable ride with the 35 lbs. flywheel and heavy-duty steel frame while the belt-driven system provides a quiet workout environment. 
The exercise bike features a two-way adjustable handlebar and four-way padded seat to accommodate users of different sizes, with a maximum weight capacity of 270 lbs. 
Keep track of your progress with the LCD monitor that displays time, distance, speed, odometer, and calories burned. 
5. BARWING Stationary Exercise Bike
If you're still comparing an exercise bike vs. a treadmill and can't decide, the BARWING workout bike is a versatile and quiet training option, perfect for those looking to get a good workout from the comfort of their home. 
With 16 levels of magnetic resistance and eight height adjustments, it offers a range of customizations for a personalized exercise experience.
Furthermore, the bike is designed to be stable and balanced, with a heavy-duty steel frame that can support up to 300 lbs.
Final Thoughts
Exercise bikes offer a convenient and effective way to stay active and improve your physical fitness. With the advancement in technology and design, many options are available to meet your specific needs and preferences. 
Whether you are looking for a treadmill or bike for weight loss, to help you add activity to your workday, or simply keep your body moving, you can find a bike that meets your needs.
Consider your fitness goals, budget, and space constraints when selecting the best exercise bike for you, and take advantage of the many benefits of this versatile and practical piece of running equipment.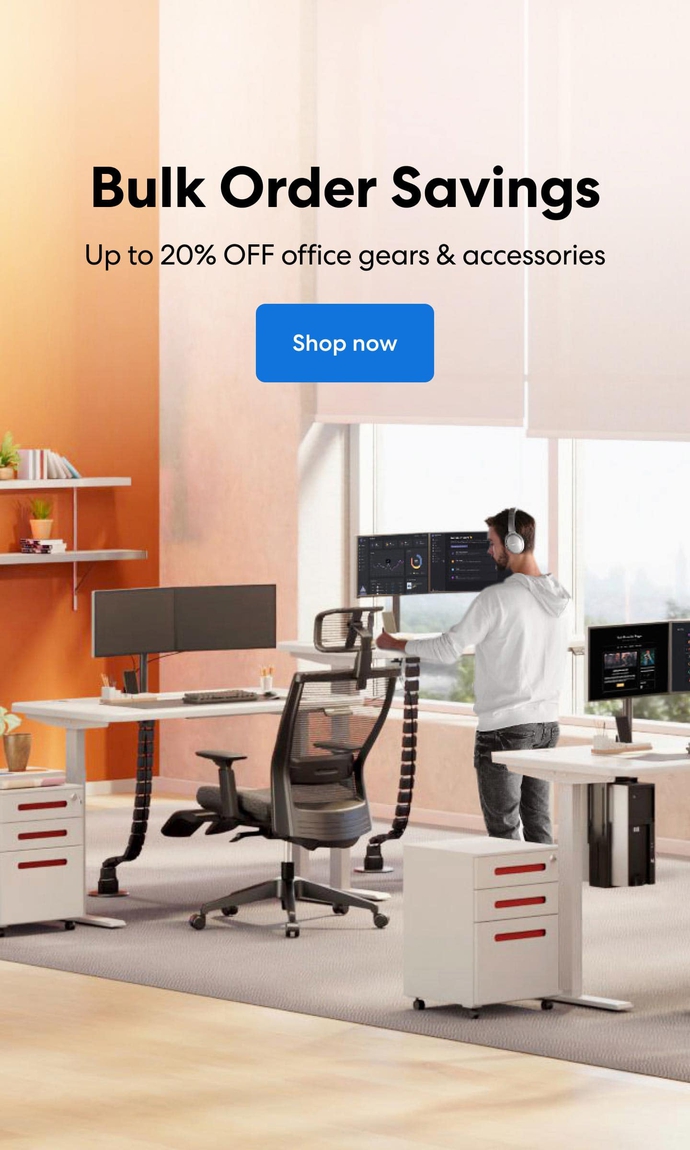 Subcribe newsletter and get $100 OFF.
Receive product updates, special offers, ergo tips, and inspiration form our team.