Workplace Inspiration
Age-Appropriate Desk Ergonomics: How to Set up for Different Life Stages?

Ryan Tanaka
|
Sep 26, 2023
945 Views
When it comes to desk ergonomics, whether it is for the home or office, one of the most important considerations is the age of the user. This determines a lot of factors regarding how the desk will look, its size, and what specialized features it will have. 
The ergonomics for standing desk and chair combos have a huge impact on whether the desk will be able to help the user in the way it is supposed to. If you are planning on buying a desk for a member of your family, or one of your employees, this article will help you determine the most age-appropriate options to consider. 
At Autonomous, you will find a wide range of standing desks to choose from, each with its specialized features. Choosing the most age-appropriate desk should not be difficult. All you need is to know what features to look out for. Read on for more information that will make your decision easier. 
How Desk Ergonomics Vary Based on Age?
Age is one of the most important factors when it comes to ergonomics for a desk. If you get the desk setup wrong, whoever is meant to use it will find it very difficult to do so.
There are three different age groups that have the most diverse needs when it comes to ergonomics. If you are in the market for a great desk, consider the following factors about the person you are buying for: 
Kids
Most people do not realize this, but desk ergonomics is very important even when buying furniture for young kids. It helps them develop an interest in learning from a young age. As such, you should carefully consider the kind of desk you buy for your children. 
With kids, one of the most important things is that the desk be visually stimulating. This is why you often find a wide range of color options in children's furniture and accessories. Also, bear in mind the issue of safety, especially regarding the type of material and paint used on the desk.
Young Professionals
The older people get, the less concerned about colors they become. Among young professionals, ergonomics desk setup is more about having the best desk accessories and features on the market. Convenience and trends will play a big role in your choice here. 
If you are buying a desk for a young professional, consider the latest ergonomic features, such as having an ultra-quiet electric dual motor and a programmable keypad. If colors are important, you usually need to look at modern looks, such as black and white desk options. 
Young people also love their accessories, so you should be prepared to include these when you buy the desk. This can include things such as monitor stands, organizers, and cable trays. If you are buying desks for busy young professionals, getting plenty of storage space, such as drawers and shelves, is also a great move.
Seniors
With senior citizens, ergonomics at a desk becomes more about comfort than anything else. They want a place to work or read in peace, with very few disturbances, and only the bare minimum when it comes to accessories. 
This is why you can go for a minimalist look for your desk setup if you are buying for seniors. Any accessories you buy should be designed to add to the comfort of the user, so you can look at things such as an elbow pad for desk use. 
Accessibility is also a major concern, especially when mobility has been compromised by old age. Carefully consider the height of the desk so that its users will not have a hard time using it.
Tailored Recommendations for Different Age Groups
When it comes to desk ergonomics, there is no one-size-fits-all solution that will be suitable for any user. You have to consider the needs of the different age groups and find ways to enhance their comfort and posture. 
The following are five factors that work hand-in-hand to create the perfect desk for each age group.
Desk Height
If you start by getting the desk height wrong, it will be difficult to do anything else to make it more comfortable or good for the posture of its users. These are some of the different height recommendations for each age group: 
Kids grow quickly, so a desk with adjustable height is a good idea because it will remain suitable as they get taller.
Young professionals are the busiest age group, so they require a standing desk with adjustable height to help them cope with long office hours.
Seniors need to have the perfect height so that they do not strain themselves when working, which includes having enough space for a wheelchair if one is needed. 
Connectivity
Connectivity is a lot more important to young professionals than it is for other age groups, which means you will be looking at things like using an app to control the height of the desk. If it plays a role in the desk you choose for young children, it is usually because it can be used as some kind of learning aid.
Accessibility
Young professionals and kids do not usually have a problem with accessibility because of their more robust physique. This usually becomes a major issue when considering the ergonomics at a desk for older users. 
With age comes a lot of mobility issues, which can even involve the use of wheelchairs or walking sticks. As such, you should make sure that a desk meant for a senior is as easily accessible as possible, with any additional features that may be able to improve their comfort and posture.
Material
Choosing good-quality material is an important factor in the ergonomic desk setup for all age groups. Regardless of who you are buying for, you need a long-lasting product, which means it must be made of the best materials. 
However, some material is more appropriate for one age group than another. Plastic, for example, is easy to clean but looks unprofessional, meaning it is more appropriate for kids than young professionals. Seniors would prefer wood to metal, for example, because a metal desk might be too cold in winter. 
Desk Accessories
Finally, desk accessories also play a major role in desk ergonomics and desk decor. With young professionals, especially, you have to include as many accessories as possible to help them feel more comfortable and improve their productivity. Kids may also benefit from some learning accessories, such as buying a desk with a whiteboard for writing or drawing.
Four Awesome Desks Offered by Autonomous
These days, when buying furniture for the home or office, one of the most important things to consider is the ergonomics of the desk or any other item you are buying. It will determine how your health, productivity, and enjoyment will be impacted.
This is why many people are starting to realize the many standing desk benefits they can enjoy if they make better decisions when buying furniture. If you are in the market for a reliable standing desk, consider these five options from Autonomous: 
1. SmartDesk Core
Of all the features that affect the ergonomics for a standing desk, its lift mechanism is one of the most important. This is why the SmartDesk Core has an ultra-quiet electric dual motor to raise and lower its two-stage frame. 
The desk can be easily adjusted to various heights between 29.4 inches and 48 inches without making any noise that would disturb your colleagues. Both the motor and the frame of the desk are sturdy enough to handle up to 270 pounds with ease, which is more weight capacity than you are ever likely to need in your office or home. 
When you purchase this versatile desk from Autonomous, you will enjoy a massive five-year warranty, which will give you a lot of peace of mind about your desk choice.
2. SmartDesk Pro
If you are a bit taller than average, and you would love a desk that can accommodate your height, the 52-inch maximum standing height of the SmartDesk Pro might be able to do the trick. With a programmable keypad that can store up to four different settings, you will never have to worry about adjusting your desk to the perfect height ever again. 
Its upgraded dual electric motor is at the cutting age of technology, making this a great desk for any modern office. Whether you are buying the desk for young people or senior citizens, they will both appreciate the high-quality material used to construct the SmartDesk Pro. 
The desk is supported by a solid steel frame that is covered by a seven-year warranty. You can buy the SmartDesk Pro right now in either black or white from the Autonomous website.
3. SmartDesk Corner
If you are looking for a great L-shaped standing desk that comes with all the features necessary to make life easier for its users, regardless of age, consider the SmartDesk Corner from Autonomous. 
The desk is available in white, black, or walnut, which gives you some great options depending on the décor of the room you are furnishing. Users of all ages will enjoy having double the amount of workspace on a high-quality desk that is built to last. 
With modular segments to provide the perfect fit, the SmartDesk Corner is a great option if you are looking for a desk that can accommodate two people at once. As a bonus, when you buy the SmartDesk Corner from Autonomous, you will get a free cable tray. However, you need to be sure in which corner you will be placing your desk, because it comes with either a left or right orientation.
4. SmartDesk Connect
In this Age of technology, young people are looking for more than just ergonomics for their standing desk and chair combos. They want connectivity and convenience, which are two things the SmartDesk Connect is designed to provide. The desk's most impressive feature, besides the lift mechanism, is its app, which is designed to give you greater control of your desk.
If you are planning on placing the desk in a crowded office, you will love the anti-collision feature that prevents it from crashing into any nearby objects. The desk can be raised to a maximum height of 49.2 inches, allowing you to stand up straight and give your back a much-needed break now and then. 
A solid steel frame guarantees that the desk will last you a very long time, all the while being able to easily handle loads of up to 350 pounds. If you get the SmartDesk Connect today, you will enjoy more control over your sit/stand sessions through its convenient mobile app.
Get an Age Appropriate Desk Today!
Dealing with desk ergonomics can be quite daunting, even before considering the age of the person/people meant to use the desk. Many different considerations have to be made, such as office desk size, colors, material, and desk accessories. 
That is why it is best to find a supplier that can offer you a wide range of options to choose from. This way, you can easily compare various features and decide which desk is the most age-appropriate choice for your needs. 
At Autonomous, there is a diverse range of SmartDesk products to browse through. You can visit the website, and take a look at the fantastic offers available.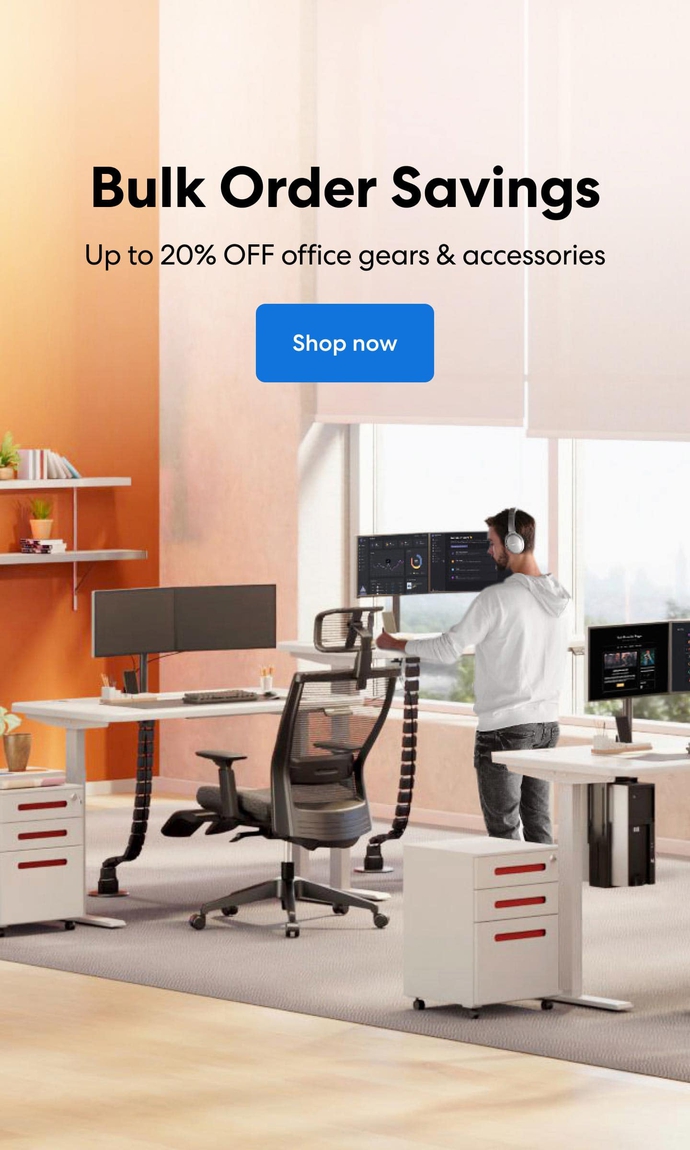 Subcribe newsletter and get $100 OFF.
Receive product updates, special offers, ergo tips, and inspiration form our team.