Smart Products
Exploring 10 Best Monitor Floor Stands: Elevate Your Display

Daniel Anderson
|
Oct 27, 2023
901 Views
Table of Contents
Whether you're a professional seeking ergonomic solutions, a gamer looking to optimize your setup, or simply want to declutter your desk, our carefully curated list has something for everyone. Discover the perfect monitor stand to suit your needs and take your computing experience to the next level
The Best Monitor Floor Stands
1. StarTech Mobile Projector and Laptop Stand
This heavy-duty computer monitor floor stand offers impressive functionality and durability that meet various requirements. The stand provides two shelves, making it a reliable choice for holding projectors and laptops.
Its sturdy base ensures stability, and the lockable wheels confidently make it easy to move from one location to another. The ventilated top shell can be tilted by hand. This flexibility lets you find the perfect angle for your presentations and work tasks.
The flexibility in setup is another advantage of this stand. It's perfect for creating a presentation workstation with a projector and laptop.
2. VEVOR Mobile TV Floor Stand
This monitor floor stand with arm offers a remarkable blend of safety, versatility, and convenience, making it a standout addition to my living space.
Safety and stability are paramount with this stand. The double-pole support design ensures exceptional load-bearing capacity, supporting TVs up to 70 inches and a weight capacity of up to 132 lbs. You no longer worry about wobbling or tipping; this stand is meticulously engineered with safety in mind.
3. AmazonBasics Portable Tripod Stand
This floor mount monitor stand is versatile and practical, catering to the needs of different people. One of the standout features is its ability to hold a wide range of equipment, including laptops and projectors.
The fact that this stand requires no assembly is a significant bonus. It arrives ready to use, saving time and hassle during setup. The sleek black finish adds a touch of sophistication to any meeting room setup style, seamlessly blending with existing décor.
Lastly, the AmazonBasics Adjustable Portable Workstation Laptop Stand is backed by a 1-year limited warranty, assuring the product's quality and durability.
4. Tripp Lite Mobile Workstation Computer Stand
The build quality of this monitor floor stand is exceptional, using alloy steel. The black finish complements a variety of décor styles seamlessly. The maximum tilt angle of 15 degrees enhances ergonomics by allowing you to tilt the monitor to the optimal viewing angle, reducing strain on your neck and eyes during extended use.
In terms of compatibility, this stand accommodates monitors ranging from 17 to 32 inches in size. It's a versatile solution for various monitor cable types, making it suitable for different setups and preferences.
5. Sunter98 Rolling Monitor Low Height Stand
This floor-standing mount offers a unique combination of strength and adjustability, making it an exceptional addition to all kinds of workspaces.
One of the most notable features is its robust construction. It is made from  SPCC cold-rolling steel. It provides a reliable and stable platform for monitors and televisions, accommodating monitor sizes ranging from 32 to 65 inches.
The black finish adds a touch of elegance to the stand, emphasizing a modern and minimalist design.
6. TechOrbits Tripod TV Stand with Mount
The TV compatibility of this stand is remarkable. It is designed for 45 to 65-inch TVs and provides ample support for a wide range of screen sizes. The height adjustment along the 23-inch pole, combined with the 360-degree swivel feature, ensures you can achieve the perfect viewing angle no matter where you are seated.
Crafted from aluminum, high-grade steel, and beech, it's been rigorously tested to support up to 32 kgs. This robust construction will ensure that your TV is securely mounted, whether in a fixed location or moved from room to room.
Including non-slip furniture pads at the bottom of the tripod legs is a thoughtful touch. They prevent scratches and scuffs on the floor and cushion any sound.
7. PERLESMITH Mobile TV Stand
What sets this dual monitor floor stand apart is its ability to improve your viewing experience. It's not just a rolling TV stand but a convenient TV cart offering a 15° upward angle adjustment function. This allows you to customize the angle of your TV to align with your sitting posture, reducing glare and ensuring an optimal viewing experience.
Installation is a breeze with no drilling required, eliminating dust and noise concerns. The package includes all the necessary installation tools, and following the provided manual carefully will ensure a successful setup.
8. FITUEYES Rolling TV Floor Stand
Unlike other TV mounts with fragile glass bases, this stand features a wood-textured base that adds stability and enhances its visual appeal. The unique red and black hooks provide a touch of style to this tall corner TV stand, giving it a sleek and modern appearance.
The swivel mount lets you pivot your TV left or right, providing an optimal viewing angle. The inclusion of four rolling casters not only makes it easy to move around but also saves valuable floor space. This mobility ensures it's a perfect fit for your home office, living room, or school.
Moreover, these four wheels are both mute and lockable, guaranteeing quiet operation and the flexibility to choose between stationary or mobile use.
9. AVF FSL700LESW Lesina TV Floor Stand
This floor-standing mount is an excellent addition to any home entertainment setup. First and foremost, the AVF floor stand is incredibly sturdy and dependable. It supports TVs up to 65 inches in size, with a maximum weight capacity of 88 lbs. The glass-tempered shelves ensure your TV and other devices are securely in place.
The design of this floor stand effortlessly blends with any décor. Combining a white column and a black rectangular shelf adds a modern touch.
One of the standout features is the compatibility. The AVF floor stand supports VESA mounting patterns ranging from 75x75 to 600x400mm, making it suitable for various television sizes.
10. VECELO Industrial TV Stand
This VECELO Monitor Floor Stand in a sophisticated brown color is a versatile addition to your home or office. Its elegant industrial design complements various interior decors, making it suitable for office meetings. Crafted with meticulous attention to detail, this 55-inch TV stand offers both form and function.
With ample storage space, this stand's large dimensions provide room for your entertainment essentials.
Constructed from a high-quality MDF board, it features unique metal mesh shelves on both sides, which ensure effective heat dissipation. Notably, the tabletop can support up to 150 lbs, while each mesh shelf can accommodate up to 60 lbs, making it ideal for various electronic devices and decorative items.
Frequently Asked Questions
How high should floor-mounted equipment be from the floor?
The optimal height for floor-mounted equipment, such as monitors on floor stands, depends on several factors, including the user's height and the equipment's intended use. However, a general guideline is to position the center of the monitor screen at or slightly below eye level when the user is seated and comfortable.
What types of monitors are compatible with floor stands?
Floor stands for monitors are typically designed to be versatile and accommodate a wide range of monitor types and sizes. Compatibility primarily hinges on the VESA (Video Electronics Standards Association) mount pattern, a standard for mounting monitors and TVs.
However, it's essential to check how to connect the monitor to the laptop and the specific weight capacity supported by both the floor stand and the monitor to ensure compatibility. If your monitor has a VESA-compatible mount and falls within the weight capacity specified by the floor stand, it should be compatible.
Can I rotate my monitor on a floor stand from landscape to portrait mode?
Many floor stands offer the flexibility to rotate the monitor between landscape (horizontal) and portrait (vertical) modes. This rotation feature can be particularly useful for tasks like reading documents, coding, or graphic design, where a vertical orientation is preferred.
To confirm whether your floor stand supports rotation, check its specifications and features.
Can I adjust the height and angle of the monitor on a floor stand?
Most monitor floor stands are designed with height and angle adjustment features. Some floor stands may offer additional adjustability options, like swiveling and pivoting, further enhancing flexibility and adaptability to different tasks and preferences.
Always refer to the manufacturer's instructions and specifications for your specific floor stand to understand the extent of its height and angle adjustment capabilities. Some multi-monitor setups are restricted to specific heights.
Conclusion
Upgrade your monitor setup to a triple monitor floor stand or streamline your work or play space with the top-notch monitor stands mentioned in this article. With various options catering to various preferences and requirements, you will surely find the perfect addition to your workspace.
Elevate your screen, improve your ergonomics, and enjoy a clutter-free desk – it's all within reach with the right monitor stand.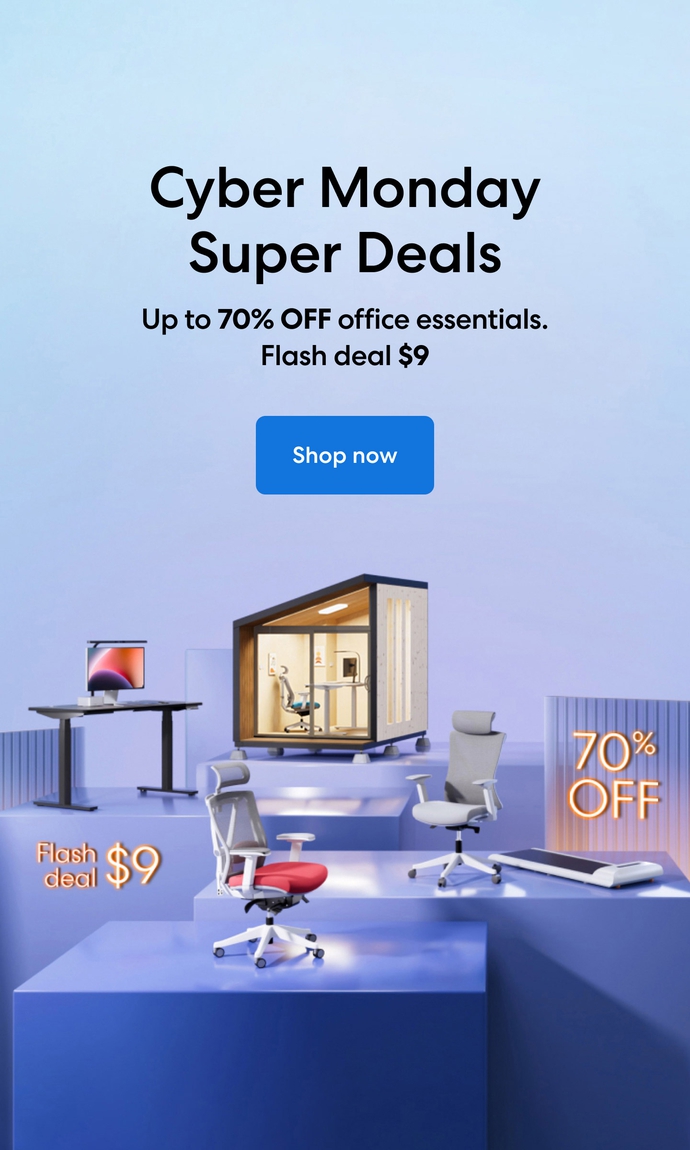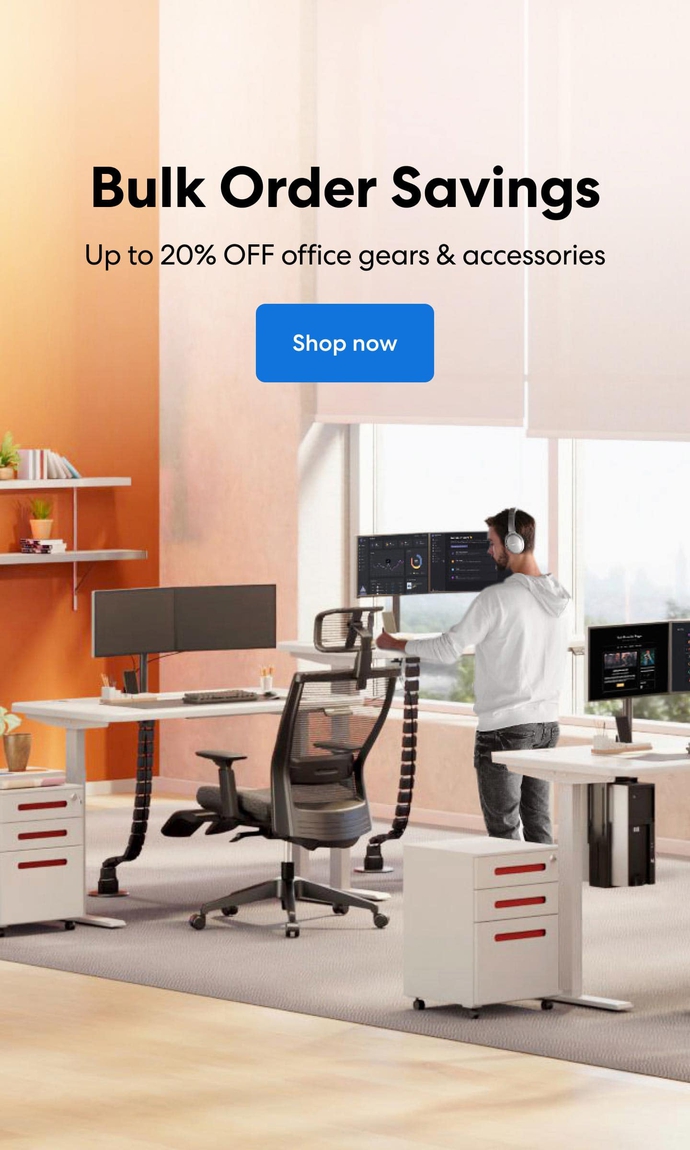 Subcribe newsletter and get $100 OFF.
Receive product updates, special offers, ergo tips, and inspiration form our team.