Table of Contents
Welcome to Columbus, GA, a city where stylish and functional office furniture awaits to transform your workspace. As you embark on the journey to create a productive and inspiring office environment, let us guide you through the top furniture stores in Columbus, GA that cater to your needs. From ergonomic office chairs that embrace both comfort and style to standing desks that promote a healthier work routine, these stores offer an array of options to elevate your office experience.
Get ready to dive into a world of modern home office ideas, explore the allure of mid-century office chairs, and discover the practicality of large standing desks. Join us on this exciting quest to curate the perfect office space that reflects your unique personality and maximizes your productivity.
List of Best Furniture Stores in Columbus, GA
1. Autonomous
Autonomous.ai is an innovative online furniture store that specializes in providing high-quality office furniture. Their commitment to creating ergonomic and stylish workspaces sets them apart from other furniture retailers. With a focus on improving productivity and well-being, Autonomous.ai offers a wide variety of ergonomic office chairs, standing desks, and other office accessories.
Bulk Order Program: Purchasing office furniture in large quantities may be cost-effective with the help of the Bulk Order Program. A 20% discount is available for commercial customers, and they also receive free delivery.
Referral Program: Customers who tell their friends and family about Autonomous.ai may earn prizes via a referral program. Those who recommend a friend and that friend makes a purchase will earn a $25 credit.
Free Office Layout Design Service: This program may help firms design the ideal workplace layout without charging them a dime. Autonomous.ai will dispatch a designer to your place of business to capture dimensions and learn more about your requirements. After that, the designer will make a unique plan for your workplace and suggest items to furnish it with.
In addition to their already competitive prices, most of Autonomous.ai's furniture is covered by a 10-year warranty and comes with a 30-day money-back guarantee.
2. Ashley Furniture HomeStore
Ashley Furniture HomeStore stands as an esteemed furniture chain with a presence in Columbus, GA, and a well-deserved reputation for excellence. Renowned for their vast selection, customers can explore an extensive range of furniture, including sofas, chairs, beds, and dining sets, all under one roof.
What sets Ashley Furniture HomeStore apart is their commitment to customer convenience. They offer flexible financing options, empowering customers to invest in quality furniture without straining their budgets. Furthermore, their reliable delivery services ensure that purchases arrive promptly, enhancing the overall shopping experience for their valued customers.
3. Hinson Galleries
Hinson Galleries, a beloved locally owned and run furniture business, has been around for an astonishing 60 years. Sofas, chairs, beds, and dining sets are just some of the many furniture choices available at this store. Hinson Galleries' dedication to one-on-one attention sets them apart from the competition.
They have a crew full of experts that will go above and beyond to help you select the right pieces of furniture for your home. Hinson Galleries provides financing alternatives and dependable delivery services to simplify the buying process and provide an unmatched degree of convenience for consumers.
4. Home Depot
The Home Depot, a renowned home improvement store, also showcases a wide variety of furniture options, including sofas, chairs, beds, and dining sets. Their expansive collection features diverse styles and price ranges, ensuring something suits every customer's taste and budget.
Home Depot takes pride in offering financing options that empower customers to furnish their homes or offices according to their financial capabilities. Furthermore, their commitment to customer satisfaction is exemplified through their reliable delivery services, ensuring that customers receive their furniture promptly, allowing for seamless enjoyment of their new pieces without any hassle.
Tips For Furniture Searching
When searching for furniture in Columbus, GA, remember these tips to make your shopping experience a breeze.
Focus on specialized stores: Look for stores specializing in office furniture in Columbus GA. They will offer a wide variety of options specifically tailored to meet your professional needs. Additionally, explore stores that provide office supplies in Columbus, GA, as they can offer a one-stop solution for all your office requirements.
Consider a home store: If you're looking to furnish your home, explore a dedicated home store in Columbus GA. These stores offer an extensive range of furniture and decor items designed to enhance your living space. From sofas and beds to dining sets and accent pieces, a home store can cater to your specific taste and style.
Explore nearby options: Don't limit yourself to a single store. Expand your search to furniture stores near Columbus GA. This allows you to compare prices, styles, and availability, ensuring that you find the best deals and the perfect furniture pieces to suit your needs.
By following these tips and considering specialized office furniture stores, office supplies providers, home stores, and nearby furniture options, you can streamline your search and discover the ideal furniture solutions in Columbus, GA. Enjoy the process of transforming your workspace or home into a stylish and functional environment.
FAQ
1. Where can I find office supplies in Columbus GA?
Columbus, GA offers a variety of options for office supplies. You can check local office supply stores or browse online retailers for a wide selection of supplies to meet your needs.
2. What are the benefits of an L-shaped standing desk?
An L-shaped standing desk provides a spacious work surface, optimizing corner space in your office. Its adjustable height feature allows you to switch between sitting and standing positions, promoting better posture, increased energy, and improved well-being.
Conclusion
Finding the perfect furniture for your home or workplace can be challenging, considering factors like style, size, and cost. However, with careful consideration and effort, you can discover the ideal piece that meets your needs without exceeding your budget.
In this article, we have highlighted the top furniture stores in Columbus GA and provided valuable steps to guide your furniture shopping journey. Whether you're searching for a new couch, chair or workstation, we hope our article has been helpful in your quest for the perfect furniture piece.
Video ads for product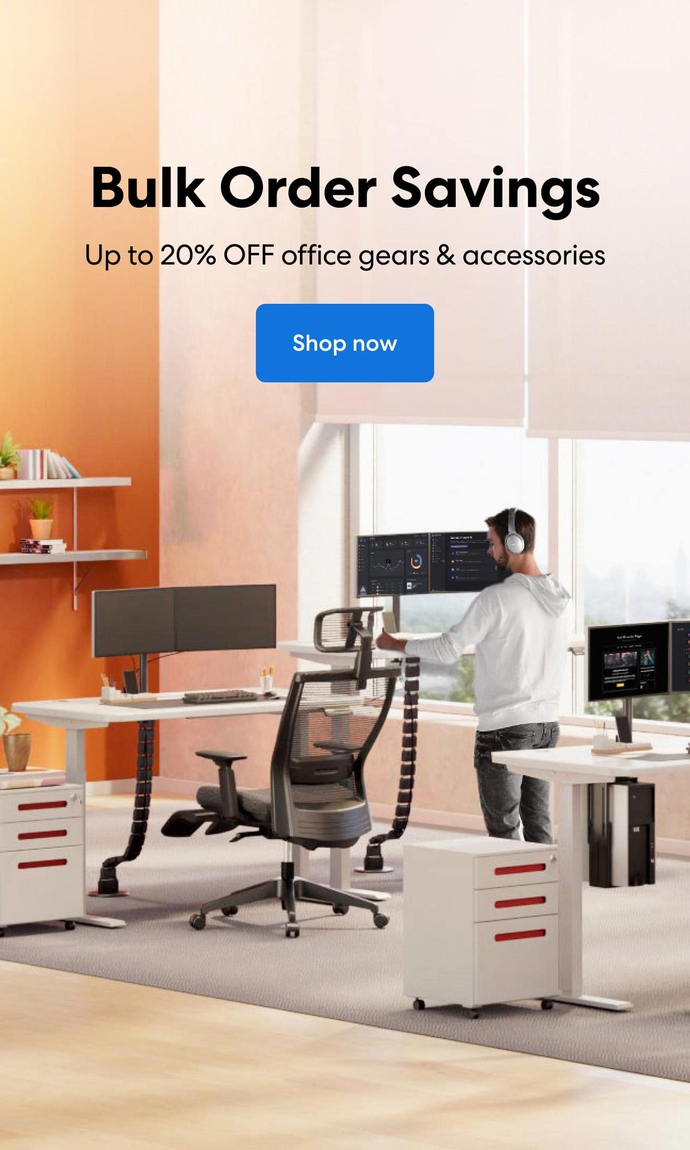 Subcribe newsletter and get $100 OFF.
Receive product updates, special offers, ergo tips, and inspiration form our team.