The best you can do to get the right chair for your workspace is to understand everything that makes your office furniture work. Chair legs, for example, are different depending on the chair design you pick.  
Getting chair leg extenders, chair leg protectors, or any other accessory will change your product's features too.  
Even if you don't notice it, the legs of your chair play an essential part in everything it can do for you. That includes boosting your productivity or making the whole chair more comfortable.  
Here, you can read all the information you need about chair legs. Dive into this page before buying new chairs for your office! 
What Are The Most Common Types of Chair Legs?
There are several different types of chair legs, and all of them offer different things. 
However, not all chair legs are useful for work purposes, so you can't get a random option just because you like its design. 
These are the most common types of chair legs you can get: 
Swivel Legs
If you've bought office chairs in the past, you may already know what swivel legs are. This is the type of leg you want in an ergonomic office chair.  
These legs consist of a single central leg that supports the chair and lets it rotate in the direction the user wants.  
That leg is also the center and support of the other five legs that often have casters. You can put chair leg glides on the chair's casters to protect the floor. 
Fluted Legs
Unlike swivel ones, fluted legs are not often used for heavy-duty office chairs. They don't allow you to move throughout your office, so you will have to stand up to get to move around.  
Fluted chair legs are long and tampered with. People get chairs with this type of leg because of their appeal. That makes them great for home furniture.  
The chair legs often have grooves carved on them.
Trumpet Legs
People who get chairs with trumpet chair legs often get them as house decorations too.  
This type of leg has the shape of a horn. They have the flared end of the chair up and the smaller one on the foot.   
Why Do Office Chairs Have Five Legs with Casters?
Swivel chairs are one of the most common options you can buy for your office, and they are also an optimal one. 
Regardless of that, many people have questions about the design of the chairs. Why are their legs like that? Is there a reason swivel chairs have five wheels with casters? 
The answer is that chair developers have a reason for everything in a chair's design, and that includes their legs.  
Having five legs makes chairs more stable and gives them more balance. The central shaft of the chair carries all its weight, which lets you keep your balance while moving around your office.  
Apart from making the chair stable and balanced, swivel chair legs let office furniture companies come up with all kinds of designs for them.  
That design variety ensures you have plenty of options to choose from for your office.  
Swivel chairs improve your legs' blood flow while maintaining more comfort than other options on the market.  
The main benefit of having a swivel chair is the casters, though. You can save tons of time by using the chair's casters to get to other places in your office. 
You may think it's an exaggeration, but standing up from your chair every time you need to ask something to a workmate takes a lot of time when you analyze how many times you did it throughout the day.  
Moreover, it's difficult for some people to focus again after they get out of their workspace. They feel like they are stopping to work, so they have trouble going back to what they were doing.
­Five Excellent Ergonomic Office Chairs with Swivel Legs
Since chairs with swivel legs are the best option you can get for your workstation, you should start looking for one.  
However, if you are going to invest your money in a new product for your office, make sure to get something that truly makes a difference. You need a chair that boosts your productivity and comfort while working.  
We have five excellent chair recommendations that can do that, so read a brief overview of what they do:  
1. Autonomous ErgoChair Core
If you are looking for a computer desk chair with lumbar support, the Autonomous ErgoChair Core is one of the best options you can buy online. That support makes sure you don't develop back pain regardless of how much time you sit on the chair.  
Users that buy this product say sitting on it is more comfortable than sitting on your couch, which makes your working experience way more enjoyable.  
What makes the chair that comfortable? Its contoured foam seat and lumbar support pad.  
This chair has swivel legs, so it has five different casters. These casters are similar to the ones on most standard products, but you can get rollerblades as an add-on. You can also get a floor protector with your order.  
Apart from that, it's an adjustable chair, so you can change its height, lumbar support, and back recline. You can remove its armrests too.  
Anyone could get this chair regardless of their weight, as it can support up to 250 lbs with ease.  
The chair has a one-year warranty and is available in black and gray.
2. Autonomous ErgoChair Pro
Autonomous is one of the best ergonomics companies out there, and it has that popularity thanks to the quality of its products and the variety it has.  
The Autonomous ErgoChair Pro is one of the flagship products of this company, and it has everything you would need in an ergonomic chair.  
It's fully adjustable, so you can adjust its height to match your desk. Apart from that, you can customize its headrest, backrest, armrest, and seat tilt.  
Taking breaks while working is essential if you don't want to lose focus throughout your work routine. Workers can comfortably take breaks or phone calls on their chairs if they have a recline feature.  
As for the ErgoChair Pro, it has five recline positions.  
The chair's mesh back ensures top-tier airflow and comfort. Since it's an ergonomic chair, it also has flexible lumbar support. 
You will love this chair if you care about the environment, as it is 100% made of eco-friendly materials. If you have any problem with it, you can use its two-year warranty.   
The chair is available in six colors.
3. Autonomous ErgoChair Plus
If you want an appealing chair with a minimalist design, we recommend you buy the Autonomous ErgoChair Plus. This is one of the best ergonomic chairs in 2023.  
Nevertheless, that makes it a bit more expensive than the other options on the list.  
Autonomous focused on making this chair its most dynamic one, so it encourages micro-movements while working. The chair's adaptative spinal support will protect your back regardless of how you sit. 
It's the chair's frameless construction that allows you to move comfortably while sitting on it.  
You won't have to replace the ErgoChair Plus in the long run thanks to its durability. The TPE used for the chair is eco-friendly and ensures its airflow, so you won't sweat while working.  
The chair can support 300 lbs and has a five-year warranty. You can also buy rollerblades with this product.  
4. Autonomous ErgoChair Recline
The Autonomous ErgoChair Recline is the best chair on the list for those who love taking breaks without leaving their office. As its name suggests, this product focuses on making your recline experience more comfortable than ever.  
You can adjust the chair's reclining positions to match your taste, and setting that up only takes a few seconds. Apart from that, you can customize its armrests and lumbar support.  
Similar to the other products on the Autonomous stock, the ErgoChair Recline lets you adjust its height to match your desk. 
One of the things that makes this ergonomic office chair comfortable is its supportive foam seat and lumbar support. The chair can lift 250 lbs. 
This is the best office chair for upper back pain on the list thanks to its lumbar support and recline features.  
If your office has a hardwood floor, Autonomous offers rollerblades as an add-on. You can also get a wrist rest. 
5. Autonomous AvoChair
Getting to the last product on the list, we have the Autonomous AvoChair. This eco-friendly office chair is a compact product fit for small workspaces.  
Its minimalist design is one of the most appealing ones on the list. Apart from that, it's more affordable than other chairs on the Autonomous lineup. 
The chair supports 300 lbs and has a sturdy aluminum alloy base. You can also adjust its height, armrest, and back tilt. 
FAQs
Here's our FAQs section! Read it if you still have some concerns about how chair legs work or what you can do with them.  
How can I secure chair legs?
You can do many things to secure your chair legs and make sure you don't have any problem with them in the short term.  
If the chair has a loose joint, for example, you can make a pocket hole in an unnoticeable part of the chair, put wood glue on its loose parts, and use a pocket screw to lock the joint together.  
Even if the chair doesn't have a loose joint yet, people often do that to keep it from loosening in the future.  
What can I use for uneven chair legs?
Sitting on uneven chairs is annoying. Fortunately, in the evening the chair is not as difficult as people would think it is. If you want to go with the simple way, you can just put chair leg risers on its loose legs. People often use napkins for that matter, but use the risers if you have them. 
You could also cut the other legs of the chair to match the smallest one, but that would take more time and make the chair shorter.  
How long should chair legs be?
The truth is everything depends on your taste and how tall the desk you use to work is. You want the chair to match the desk's height if you want it for office purposes.
Nonetheless, if you want it for an office, we recommend you buy an ergonomic chair. They let you adjust their height in seconds and have special features to relieve back and neck pain. Ergonomic chairs are an excellent fit for standing desks.
Standard chairs for a coffee or dining table are often from 15.5 to 20 inches.
What do you put under chair legs to protect floors?
You can put chair leg glides under your chair's legs to protect the room's floor from it. Although not many people notice it, chair casters are a huge threat to hardwood floors. When they wear out, they damage the floor and make it look worse over time.  
Buying chair leg protectors for your office chair will keep the floor looking neat even if you move around on your chair all day. You won't need to do that if the ergonomic office chair you buy has casters made for hardwood floors or get a desk chair with no wheels.                       
Conclusion
One of the main reasons people return the office chairs they buy online is that they don't pay any attention to the chair's specs.  
Chair legs are an essential part of any kind of chair, so you need to pick the right one to make sure it matches your needs. Regardless of that, make sure to also get chair leg glides for swivel chair casters to keep them from damaging hardwood floors.  
You don't need to worry if your desk is shorter than you thought since you can use chair leg risers to get them to the height you need. However, it's better to get a height-adjustable option.  
The Autonomous website has more blog posts related to office furniture and ergonomics products, so check it out now to read more.
Video ads for product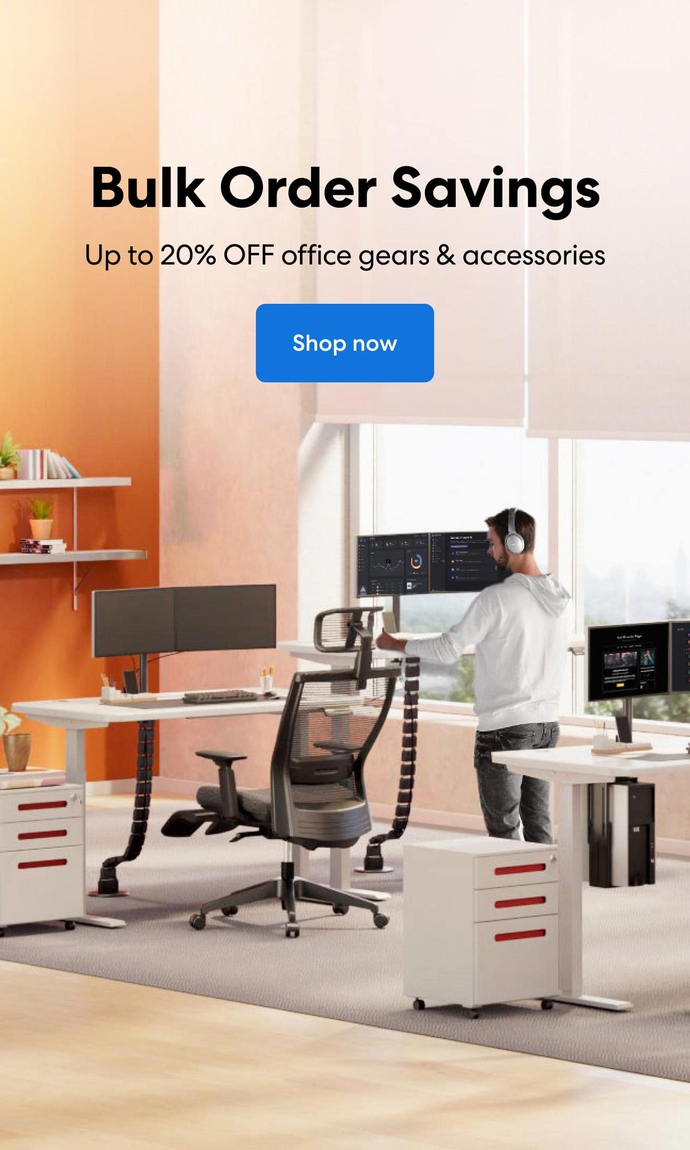 Subcribe newsletter and get $100 OFF.
Receive product updates, special offers, ergo tips, and inspiration form our team.