Workplace Inspiration
How Do Multigenerational Homes Strengthen Family Ties?

Autonomous
|
Jul 31, 2023
106 Views
According to the Pew Research Center, the number of people living in multigenerational homes is about four times larger than 50 years ago. Furthermore, the share of the population residing in this type of housing has more than doubled since the 1970s.
The latest figures showed 59.7 million US residents lived in a multigenerational home in 2021. That's over a million more people than in 2019, a census data analysis by the Pew Research Center revealed. 
In other words, the number of people living with multiple generations under one roof is growing considerably. Many do this for financial reasons, high housing costs, and caregiving. 
However, multigenerational living brings other mental or emotional benefits and is a good idea for many families. Do you want to know more about that? Read on and find all the information you need!
What Is a Multigenerational Home?
Before delving into the benefits of generational homes, you should learn more about this type of housing. 
Essentially, multigenerational homes are households that include two or more generations living together on the same property where adults are 25 years or older. Sometimes, these houses are made up of a skipped generation, which means grandparents and their grandchildren younger than 25 live under one roof. 
In most multigenerational houses, two adult generations live together. These are some examples: 
Parents living in their adult children's home
Young adults living with their parents
A grandparent, an adult child, and a grandchild younger than 25 living in the same house 
Many multigenerational homes also include in-laws, an uncle, an aunt, or a great-grandparent. 
How Do Multigenerational Homes Work?
Most generational homes include families living in separate areas but on the same property. In addition, they often split housework, bills, and caregiving tasks. 
Here's a common example: A couple lives upstairs, but their daughter lives downstairs with her partner and children. However, it's the same property and both areas are separate and have two kitchens or different entrances.
In these cases, parents often buy the properties because they have better credit scores. Therefore, these multigenerational houses are in their names. However, their daughter is responsible for paying electric, gas, and cable bills. 
This arrangement often helps families experience financial wellness, keep up with payments, and afford other basic needs besides housing. Furthermore, if the daughter must care for her parents, this makes the caregiving task easier.
Benefits of Living in a Multigenerational Home
As you can see, multigenerational living offers many benefits to families, from companionship for seniors to financial security for those who struggle to cover their expenses. Here are the main ones: 
Improved financial situation
Enhanced relationships with family members and others
Higher quality care for children
More convenient care for older adults
Better physical health for household members
Enhanced mental and emotional health for family members
Greater opportunities for family members who want to pursue education or training 
Lower Living Expenses
Undoubtedly, living in generational homes makes housing and other basic necessities more affordable. Families that live together under one roof pay less in bills than those who live on their own.
If six people live in a house, the mortgage doesn't rise. Also, gas, cable, and electric bills don't increase significantly if more family members reside on the same property. 
Families living in multigenerational homes also save a lot on groceries if they split the bills. 
Do you remember the example mentioned above? A household where a couple lives with their daughter, her partner, and her children spends around $1,000 a month on groceries and bills. Also, the mortgage is $2,000. 
Since the couple pays off their mortgage, the daughter saves $2,000 a month. She buys groceries and pays bills, so her parents save $1,000 in groceries. 
Each party can use that extra money for their savings, hobbies, debt repayments, and other expenses. That means all family members benefit from the financial stress relief associated with multigenerational living.
Better Mental and Emotional Health
Growing up with other family members creates a sense of social support that highly benefits people's mental health. Each person always has someone to talk to or ask for help when necessary. 
Additionally, being exposed to the knowledge and experiences of a person from another generation has a positive impact on people's lives. In fact, many think that children who grow up in multigenerational homes have higher levels of cognition. 
According to the National Council on Aging (NCOA), evidence has shown that social isolation and loneliness affect older adults' health. Therefore, living in multigenerational houses benefits them by improving their mood and cognitive skills. 
When older adults live in multigenerational homes, they're always exposed to noise and interactions. In addition, they fulfill a role in the household. This helps them avoid cognitive decline, preserve adaptability, and prevent depression or other conditions.
Trustworthy Adult or Childcare
Many working-age people who live in multigenerational houses have young children and must care for their parents as they age. 
Older kids can care for their aged parents or grandparents if they all live together under one roof, which benefits both parties. Sometimes, older adults babysit little children or pick them up from school, helping working-age members complete other tasks.
Multigenerational living often makes it easier to meet family members' care needs while helping them save money.
Adult home care and child care services are expensive. However, caregiving arrangements in multigenerational households save families between $25,000 and $60,000 each year. 
Working-age adults can use those savings to pay for their children's education, progress their careers, purchase other assets, and more. 
Design Considerations for Multigenerational Homes
Multigenerational living can help families save, cover their care needs, afford basic necessities, improve their mental health, and enhance their cognitive skills. However, you should consider different aspects to make this arrangement work. 
These are the most important design considerations for multigenerational homes: 
Create Separate Spaces
Common spaces are key in multigenerational house plans. Families often build an outdoor patio where all their loved ones can gather, cook together, and eat something delicious. 
Other families build big rooms with large-screen TVs or many tables and chairs to watch movies together or play their favorite board games. 
However, that doesn't mean multigenerational households should spend all their savings building these spaces. A shared kitchen or living room can also be a great place to gather and share quality time with other family members. 
Also, while common areas are necessary for social interaction and community development, every family needs a separate space. Privacy is key to healthy relationships and comfort. 
Multigenerational house plans should include private spaces with separate entrances to help make this arrangement work for all members. Some also have a kitchenette for every family. 
It's also important to consider each member's needs. A person working from home may need a separate office away from the larger family.
Soundproof Interior Walls and Floors
As mentioned, privacy is important to all families. However, it's one of the biggest challenges in multigenerational households. 
Fortunately, using soundproof interior walls and floors between living spaces can decrease noise and create a sense of privacy, making each living space more comfortable for each family.
Accessibility
Accessibility is another critical factor to consider if you live with older adults. Houses and interior spaces must be accessible for them, especially if they develop disabilities or mobility problems.
Older adults who use wheelchairs may have trouble getting around the house, entering certain spaces, or leaving the property. In these cases, wheelchair-accessible flooring is essential, for example. 
When designing or renovating a home to make it wheelchair-friendly, families must make adjustments to multigenerational floor plans to make the property more accessible and safe for their loved ones. 
This is what multigenerational floor plans and design ideas should include: 
Location of both interior and exterior walls
Location of doors and windows
Location of any stairs
Stationary fixtures
Best types of flooring for wheelchairs
Wheelchair-friendly floor transitions
Carpeting
Entrance/ramps 
In addition, multigenerational house plans should include the following elements to improve accessibility: 
Doors
Lighting systems
Hallways
Bathrooms, including toilets and showers or tubs
Bedrooms, including the mattress height
Kitchens, including all appliances, cabinetry, and countertops
Furniture, including chairs' and sofas' height and firmness
Yards
Driveways/garages
Decks/porches 
Dual Laundry Rooms
Families with separate and private spaces to take care of their clothing also enjoy greater convenience and comfort when living in multigenerational homes since they don't have to worry about someone else trying to do laundry at the same time.
Adding ADUs for Extra Rooms and Home Additions If There Isn't Enough Space for Family Members
What happens when there isn't enough space for all family members? That's a common challenge for multigenerational households. However, a prebuilt ADU may be the ideal solution. 
ADU stands for "accessory dwelling unit" and describes smaller, independent secondary houses or apartments on the primary home. They're suitable for different styles of houses and so versatile. 
Besides providing additional residential space, these structures are great for creating multi-purpose rooms, such as offices, art studios, game rooms, and more. 
You can even use an ADU as a modular guest house for your loved ones if you want company during the holidays or for tenants if you want to earn extra income. 
Know the Three Best Autonomous ADUs
Do you want to add an extra room to your house but there isn't enough space? Are you looking for cheap prefab homes? Autonomous ADUs are perfect! Find more information about the brand's pods below. 
Autonomous StudioPod
This prefab studio pod is the easiest way to revamp your home to add extra space. It fits right in your backyard and is perfect for those who want to build a bedroom for a loved one or an office for a remote worker. 
If you use an ADU to create an extra living, working, or playing space, you need appliances and furniture, right? Well, Autonomous helps your family save money by offering this StudioPod with everything you need for your new office or room. 
The Autonomous StudioPod includes a closet, desk, bookshelf, foldable coffee table TV stand, and convertible sofa bed.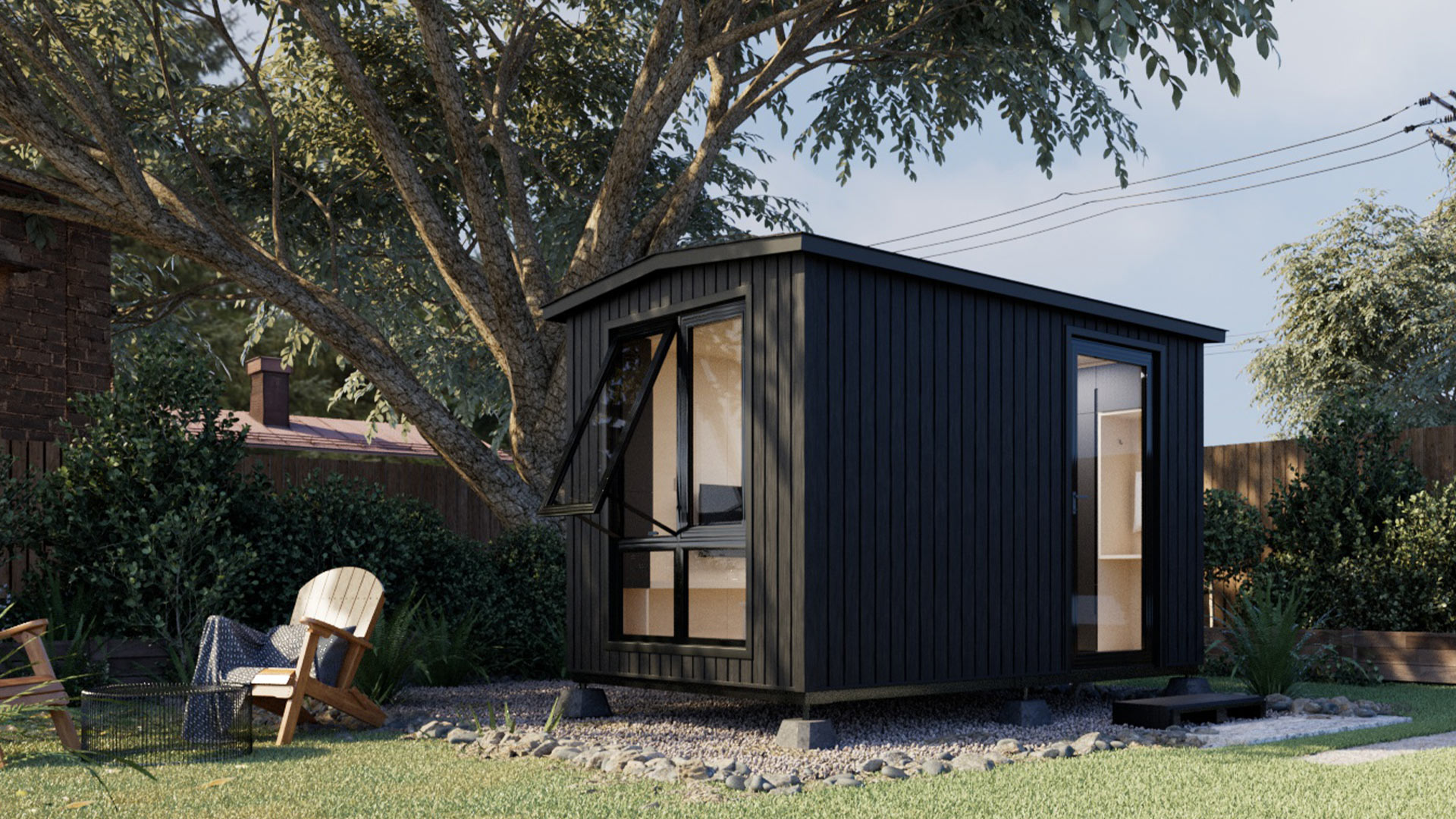 Dimension
8'4"W x 12'6"L x 9'10"H
Floorspace
105 square feet
Ceiling height
7'3"
Weight capacity
2.9 tons
Pedestal
18"W x 43"L x 7"
Window & door material
Powder-coated aluminum,  5/16" tempered glass
Material
Siding: plywood 1/2", steel frame, honeycomb paper, plywood 3/8", bitume, housewrap, vinyl siding
Roof: roof shingles
Floor: plywood
Pedestal: steel frame & wood plastic composite
Electrical devices
RCB, Wall outlet, Ceiling light switch, Ceiling light, Ventilator switch, Ventilator, Ethernet wall port, 66ft power cable with 2 connectors
Include
Optional: Cabinet, Desk, Small & Big Bookshelf, TV Shelf, Foldable Sofa Table, Convertible Sofa Bed. Always included: Electrical Cabinet
Power input
Maximum voltage : 110V AC (US standard)
Maximum current : 25A
Maximum power dissipation : 2750W
Pros

Cons

Everything you need for your new space
High price
All the connections you need for electricity
No assembly services outside of California
Climate control features
Waterproof and weather-resistant design
Sturdy frame that lasts for years
Autonomous WorkPod
Multigenerational homes may also need purpose-built areas. Working-age members may need an office or studio, while children and adolescents would like a private space to study. 
The Autonomous WorkPod may be the ideal solution for them! This structure has been designed to reduce distractions and maximize productivity. However, users will still be able to enjoy their surroundings. 
This is also fully wired and comes with everything you need to create the ideal room, such as a cabinet, bookshelf, anti-fatigue mat, a SmartDesk Connect, and an ErgoChair Plus. These are perfect for those who want an ergonomic and modern workspace setup. 
If you're looking for the best home office pods, the Autonomous WorkPod is one of the best options.
Dimension
8'6''W x  11'9''L x 11'H
Ceiling height
6'10'' to 9'4''
Window material
Wooden frame, 5/16" tempered glass
Door material
Anodized aluminum frame,  5/16" tempered glass
Material
Siding: bitumen, housewrap, vinyl silding
Roof: bitumen, housewrap, shingles roof
Floor: plywood
Balcony: composite wood
Include
Optional: SmartDesk Connect, ErgoChair Pro+, Dual Monitor Arm, Cable Tray, Steel Cabinet, Anti-Fatigue Mat. Always included: Electrical Cabinet & Bookshelf
Floorspace
98 square feet
Capacity
2.9 tons
Pros

Cons

Tested beyond industry standards
High price
Pre-wired and prepped with outlets and warm lighting
Shipping excludes Hawaii and Alaska
Easy and fast installation
Compatibility with any terrain
Modern design
Autonomous WorkPod Lite
If you want to save money and are looking for an affordable backyard ADU, Autonomous has another great option. It's significantly cheaper than the other two pods but is also durable and high-quality. 
Autonomous created the WorkPod Lite to offer users the same sleek and modern design but at a lower cost. As such, it's budget-friendly but benefits multigenerational houses that need additional housing spaces.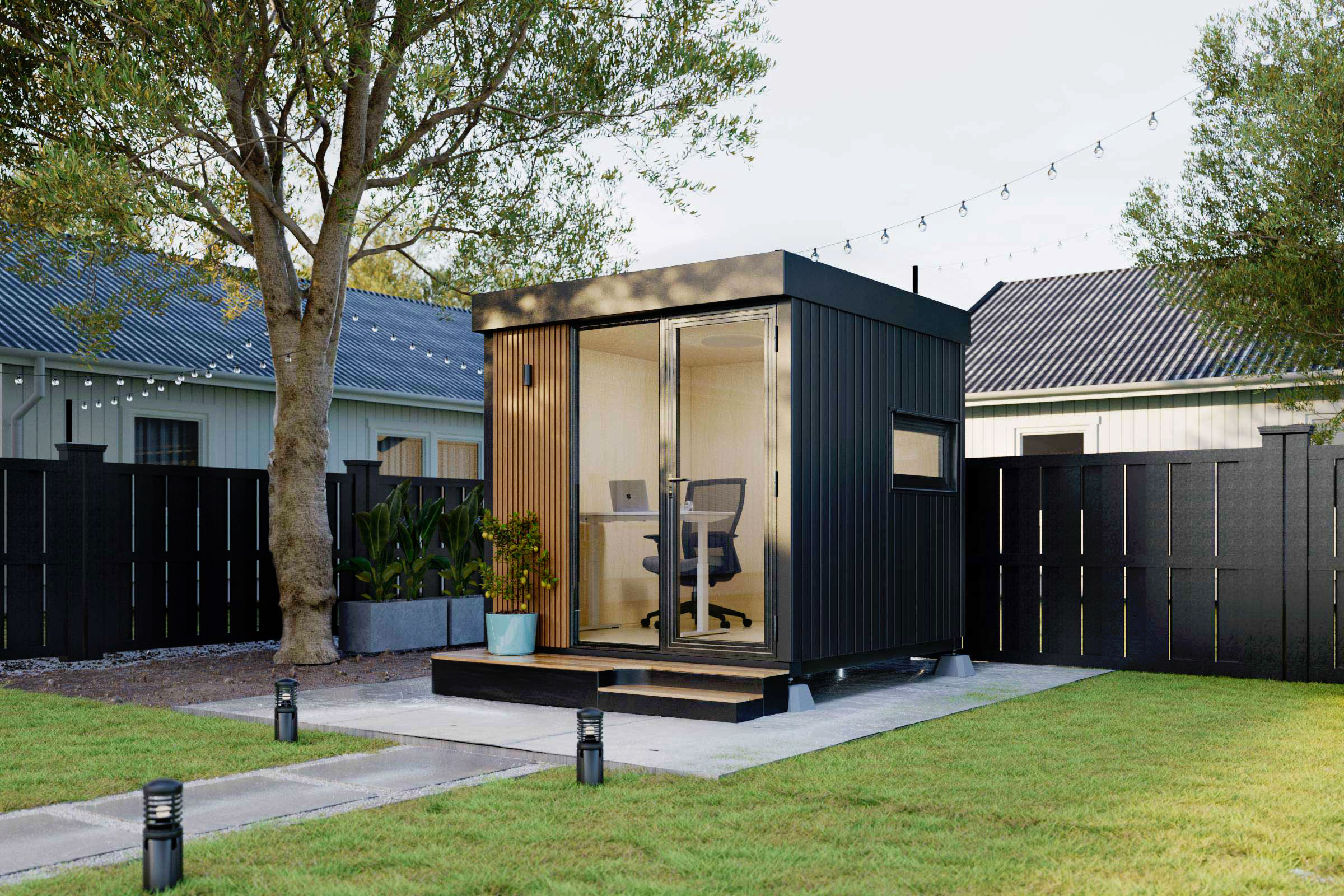 Dimension
8.7"W x 8.12"L x 9.3"H
Material
Window and door: powder-coated aluminum, 5/16-inch tempered glass
Siding: plywood 1/2-inch, steel frame, honeycomb paper, plywood 3/8-inch, bitume, housewrap, vinyl siding
Roof: metal roofing
Floor: plywood
Balcony and Pedestal: steel frame and wood plastic composite
Pedestal
24"W x 103"L x 9"H
Electrical devices
RCB, Wall outlet, Ceiling light switch, Ceiling light, Wall light, Ethernet wall port, 66ft power cable with 2 connectors
Weight capacity
2.3 tons (including Pod body)
Floorspace
80 square feet
Ceiling height
7.3-inch
Pros

Cons

Pre-wired, plug-and-play pod
Only supports basic fixtures
Solid steel framing for improved durability
No assembly support outside of California
Fast setup process with no fuss
No appliances or furniture
Suitable for all terrains
Affordable price
Final Thoughts
Growing up and living in multigenerational homes can significantly benefit children and adults. This arrangement has a positive impact on people's finances, needs, dreams, and mental health. However, many families struggle to add extra space to their houses if they live with other family members. 
Fortunately, Autonomous can help! If you need a workspace without distractions, you can have the perfect garden office pod with the brand's products. 
In addition, Autonomous offers the prefab backyard studio pod you need to create the perfect room to paint, sing, play an instrument, or write a book. 
The brand has revolutionized the concept of multi-purpose spaces and has created the best solutions for those who need extra space in their multigenerational houses.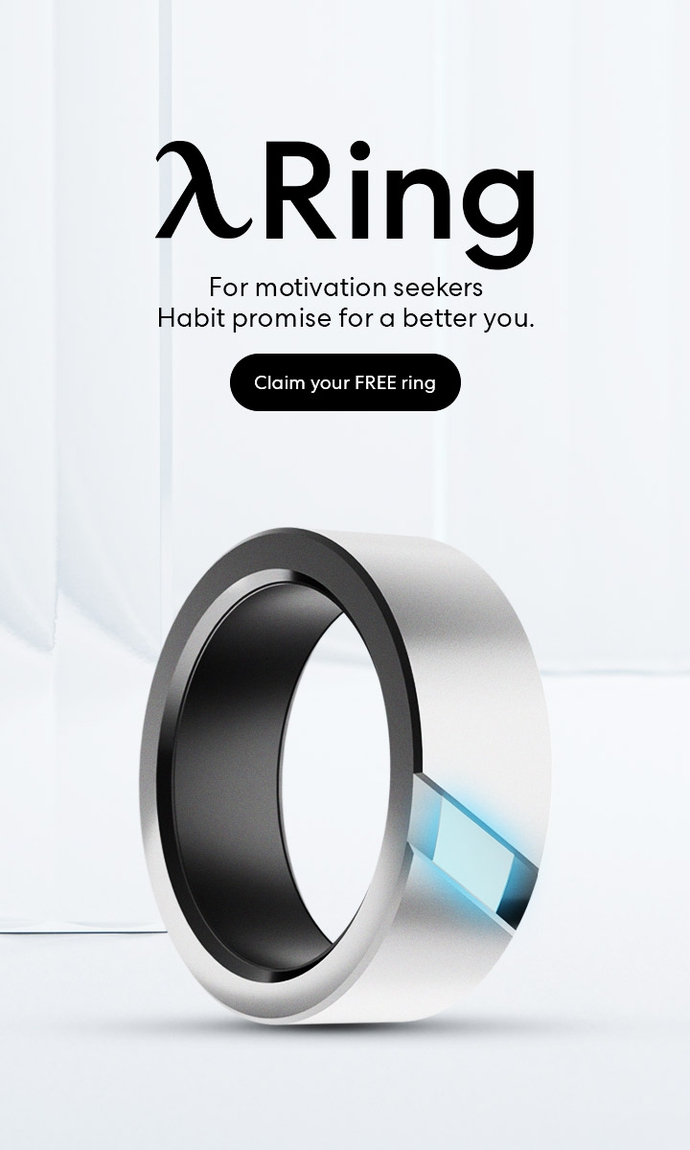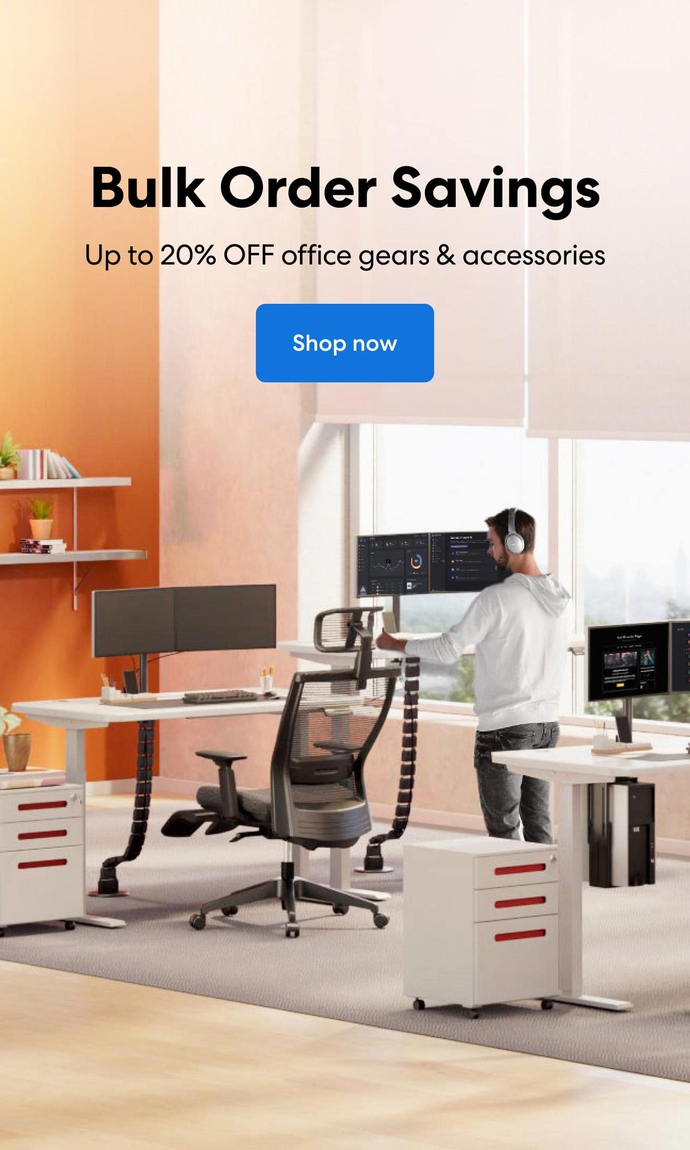 Subcribe newsletter and get $100 OFF.
Receive product updates, special offers, ergo tips, and inspiration form our team.