One of the best ways to create a cozy and warm ambiance in your home is by investing in a tall lamp for the living room. Such a piece can add a unique touch to your house while also providing essential lighting for reading books and watching TV. 
However, you shouldn't purchase a lamp that's too big and takes away the spotlight from other centerpieces. While it does ultimately boil down to your preferences, there are a few things to consider when choosing the right height for your next living room floor lamp.  
The Perfect Dimensions for a Table Lamp
Whether you're searching for a contemporary piece for your living room, a minimalist desk lamp, or something in between, it's important to find the right size to achieve the best reading experience and ambiance for your space.  
When it comes to height, the ideal range for a table lamp is 25 to 35 inches tall. This allows the lampshade to be at eye level when sitting, providing just the right amount of brightness. If you go any smaller than this range, the lamp might look too small compared to the surface it's sitting on. 
Similarly, the diameter of the lamp should be smaller than the surface it's placed on. This prevents it from looking too large or imposing and keeps the focus on the lampshade and the bottom of the piece.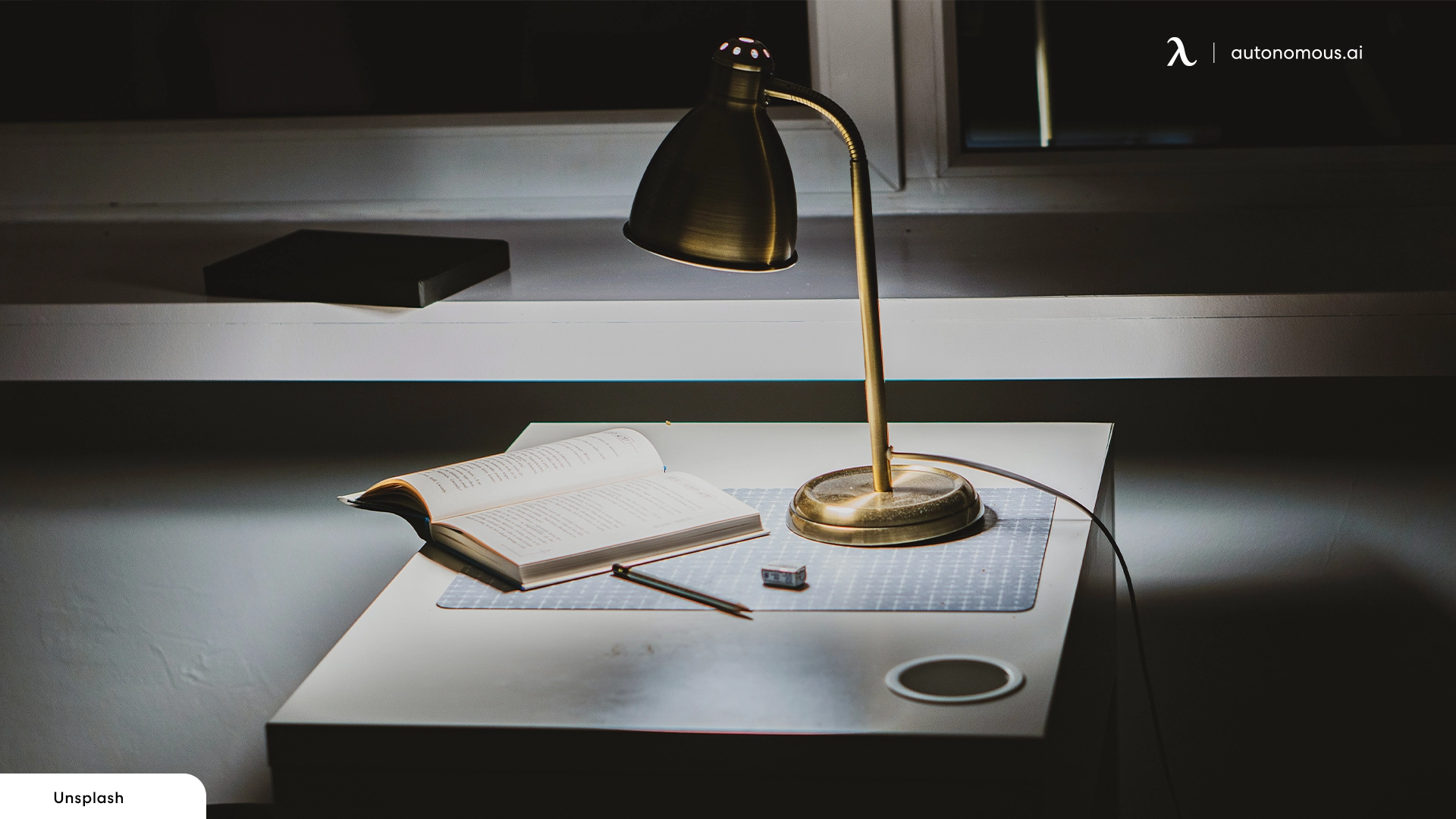 The Best Specs for a Floor Lamp
Floor lamps are a great addition to any living room. Not only do they provide warm lighting, but they also add a touch of style to your space. However, with so many options, choosing the perfect size for your needs can be overwhelming.  
You don't want the lamp to be too short or too tall. Ideally, a floor lamp for the living room should be between 56 to 66 inches tall. This height ensures that the lamp is not too close to the ground and not too high that it doesn't provide enough overhead lighting. 
Another important factor to consider is the bottom of the piece. The wider the surface, the more stable the lamp will be. This is especially important if you have kids or pets in the house, as you don't want the product to be tipped over easily. 
The lampshade is also a crucial part of a floor lamp. It should be wide enough to emit sufficient light to cover a large space. The bottom of the shade should also be higher than eye level when you are sitting down.  
Floor Lamps vs. Table Lamps – Which Are Better?
If you're like us, you're probably searching for the perfect lighting solution to brighten your living space.  
Aside from creating warmth and coziness, lighting plays a significant role in setting the tone of your home. However, with so many options available, the choices can be overwhelming. It's still a challenge to decide between floor lamps and table lamps. 
Floor Lamps
If you're creating a cozy reading nook or want to brighten up a corner of a room, a tall lamp for the living room can do wonders. Standing lamps for the living room can balance functionality and aesthetics.  
Table Lamps
On the other hand, table lamps are ideal for specific purposes like watching movies or as an overhead light. Also, a minimalist desk lamp can create a relaxing environment in your room.  
In short, a carefully chosen table lamp can change the entire appearance of a space.
Additionally, table lamps are ideal choices if you enjoy sitting back and de-stressing with a good book.  
Choosing both types of lamps for your living room decor could result in an impressive appearance that blends practicality with contemporary minimalism.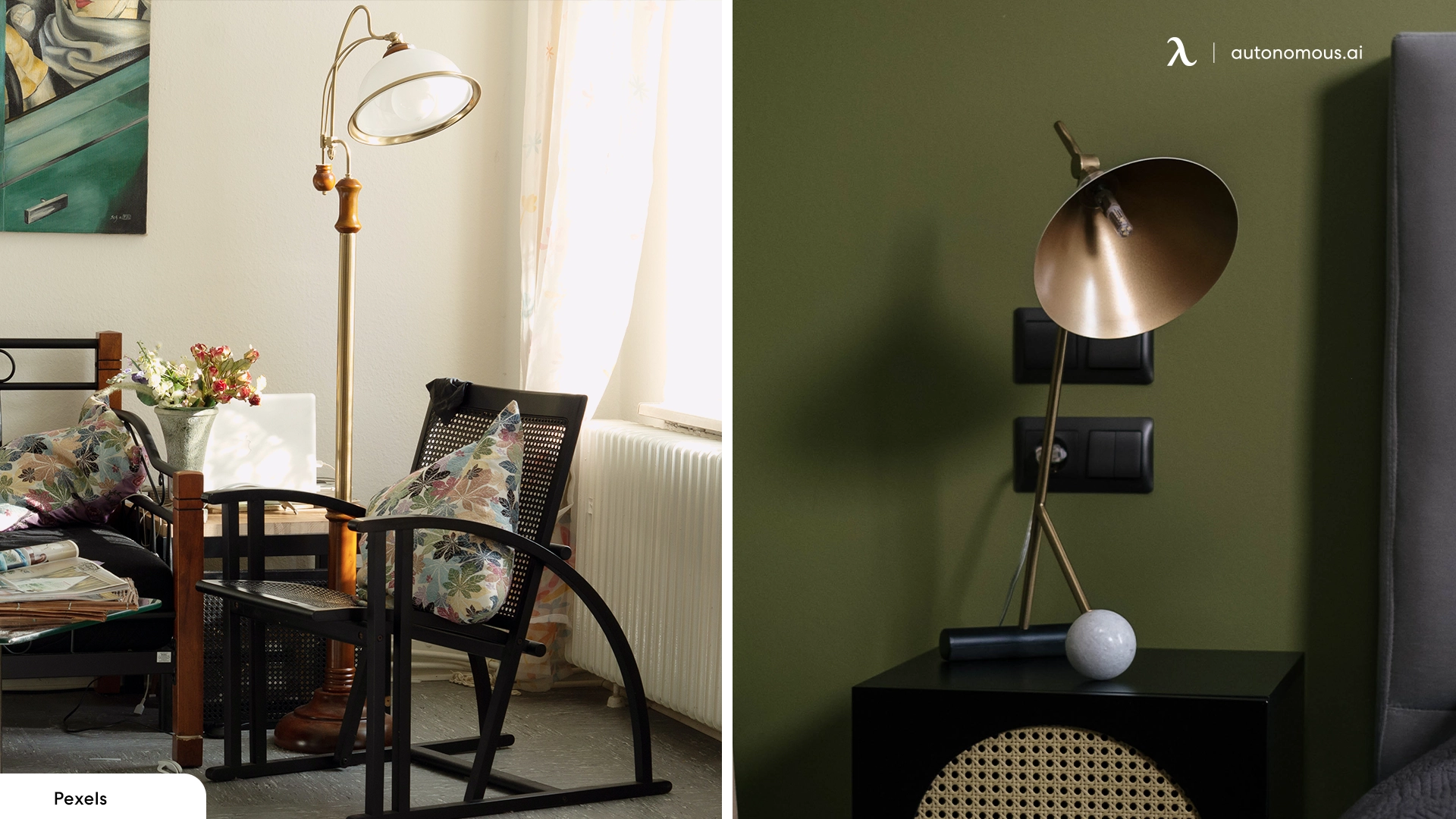 The 10 Best Big Lamps for Your Living Room
Floor lamps are great for adding height and style to your living room. They create a focal point and can complement your furniture while adding a unique touch to the decor. Not sure which one to pick for your home? Check out our top 10 picks below! 
1. Lamp Depot RGBW Modern Curve Lamp
This tall lamp is the perfect addition to any living room needing a little extra lighting and ambiance. Standing lamps for the living room are a must-have, and this model is sure to impress. 
Not only does this RGB floor lamp look great, but it's also incredibly functional. It's perfect for reading, working, or simply relaxing. Plus, its energy-saving LED bulbs mean you won't have to worry about your electricity bill skyrocketing. 
With the ability to adjust both the brightness and color of the illumination to suit your needs, this mood-lighting lamp is perfect for any occasion.
2. Brightech Logan LED Lamp
This living room floor lamp ticks all the boxes when it comes to stylish and functional lighting. Its contemporary design featuring a black/brass metal arc and a marble base will surely complement your decor perfectly.  
Plus, the linen shade adds a touch of warmth to your space and diffuses the light - creating a cozy, inviting atmosphere. 
The Logan floor lamp is energy-efficient, saving you money on your electricity bill, and with its foot-pedal switch, it is easy to turn on and off without fumbling around.
3. Brightech Luna LED Lamp
The Luna LED floor lamp is the perfect addition to any modern home. Its sleek and straight design adds a touch of elegance to any space.  
Also, the 800-lumen bulb provides enough illumination for any activity, from reading to entertaining guests.
The heavyweight base ensures that it won't topple over, even in high-traffic areas. On the other hand, the foot pedal makes it easy to turn on and off. 
However, that's not all - this floor lamp for the living room also has smart home compatibility! Connect it to Alexa, Apple Home, or Google Home, and control it with your voice.  
Lastly, the brass finish and glazed glass bulb globe give this lamp a vintage feel but with all the modern conveniences. It's the perfect balance between classic and contemporary.
4. Brightech Swoop LED Lamp
This asymmetrical beauty is sure to start conversations and add a touch of sophistication with its black and gold accents. 
Crafted with an aluminum metal body, this mood lighting lamp is not only sleek but also durable. Plus, its foot pedal allows for easy on/off access, while its adjustable lamp shade ensures that you can direct the light where you need it most. 
Assembly is required, but don't worry; it's a breeze and well worth the effort once you see how the Swoop lamp elevates the look and feel of your space. Its unique design adds a touch of artistic flare to any room and is sure to become a favorite feature in your home.
5. Benzara Industrial LED Lamp 
This industrial floor lamp packs quite a punch when it comes to brightness, boasting a whopping 960 lumens. 
With its matte-black aluminum body, this lamp adds an edgy touch to any room. One thing to be aware of is that the lamp is prone to tipping over. This is due to its lightweight design, and it's something to consider before purchasing. However, it won't be an issue as long as the lamp is placed on an even surface. 
6. Artiva Full Spectrum LED Lamp
What sets this living room floor lamp apart from the rest is that it features full spectrum lighting, which can help to reduce eye strain and fatigue. You'll appreciate this feature if you're someone who spends long hours reading or working at a desk.
The lamp is full of other cool features - it even has an accessory holder to keep your headphones handy when you're listening to music or taking calls. Also, it's energy-efficient, which means you'll be saving money on your electricity bill.
7. Arnsberg Dessau Floor Lamp
Do you want a beautiful and efficient floor lamp that perfectly blends with any living space decor? Check out this double-headed German-engineered lamp by Arnsberg Lighting. 
The unique design of this tall lamp for the living room features a sleek body that comes in different finishes to match your style. You can choose between satin brass, nickel, bronze, and museum black. 
On top of that, the light heads are dimmable, so you can easily adjust the illumination to your preference.
8. Artiva USA UFO 73''H 5-Arched Floor Lamp: Touch Dimmer
Say hello to the Artiva arched floor lamp! What makes this piece stand out is its five LED bulbs that are integrated into the chrome design of the product. Not only does this give it a sleek and futuristic look, but it also makes it incredibly energy efficient. 
The adjustable arches also make it a joy to use. You can move the arms in any direction. Not only is this functional for when you need a targeted source of light, but it also adds a whimsical touch to your living space.
9. Arnsberg Dessau Swing-arm Lamp
Whether you need to light up your workspace or just want to add a touch of elegance to your room, the Arnsberg swing-arm lamp is the perfect fit. It's modern, unique, and ideal for homeowners who want to make their space look and feel more comfortable. 
The metal and glass combination of the lamp gives it a sleek look, and its slim and lightweight design ensures that it takes up minimal space. Not only is it functional, but it's a unique piece of decor that will add to the aesthetics of your home.
10. Lamp Depot Circular Lamp
This stunning circular floor lamp boasts a sleek aluminum body that looks great in any room, and it's packed with features that make it perfect for homeowners who want to add some mood lighting to their space.
However, that's not all – this lamp is also dimmable and touch-sensitive, so you can fine-tune the illumination to your exact preferences. Whether you need bright light for reading or a soft glow for a cozy atmosphere, this lamp has you covered.
Final Words
No matter what your style or needs are, there's a floor lamp out there for you. Investing in a quality lamp will brighten up your living room and elevate your entire décor. 
We made sure to review some of the best lamps for living room spaces in this post, all boasting impressive features and durable frames. However, you should still remember to consider the style, size, and functionality of the product before purchasing it.  
The living room is the heart of the home, and the right lighting can make all the difference in creating a warm and inviting atmosphere. 
How do you choose the best floor lamp for your living room, anyway? Start by considering the overall style of your space. If you have a modern area, consider a sleek and minimal standing lamp. 
On the other hand, if you have a more traditional living room, a floor lamp with ornate detailing may be more your style. 
When it comes to functionality, consider the type of illumination you're seeking. Do you want a bright reading light or a soft ambient glow? Also, a standing lamp for the living room with a dimmer switch allows you to adjust the brightness and the light intensity based on your needs.  
Additionally, a floor lamp with multiple LED bulbs can provide general illumination and enough lighting for activities like reading or crafting.
Video ads for product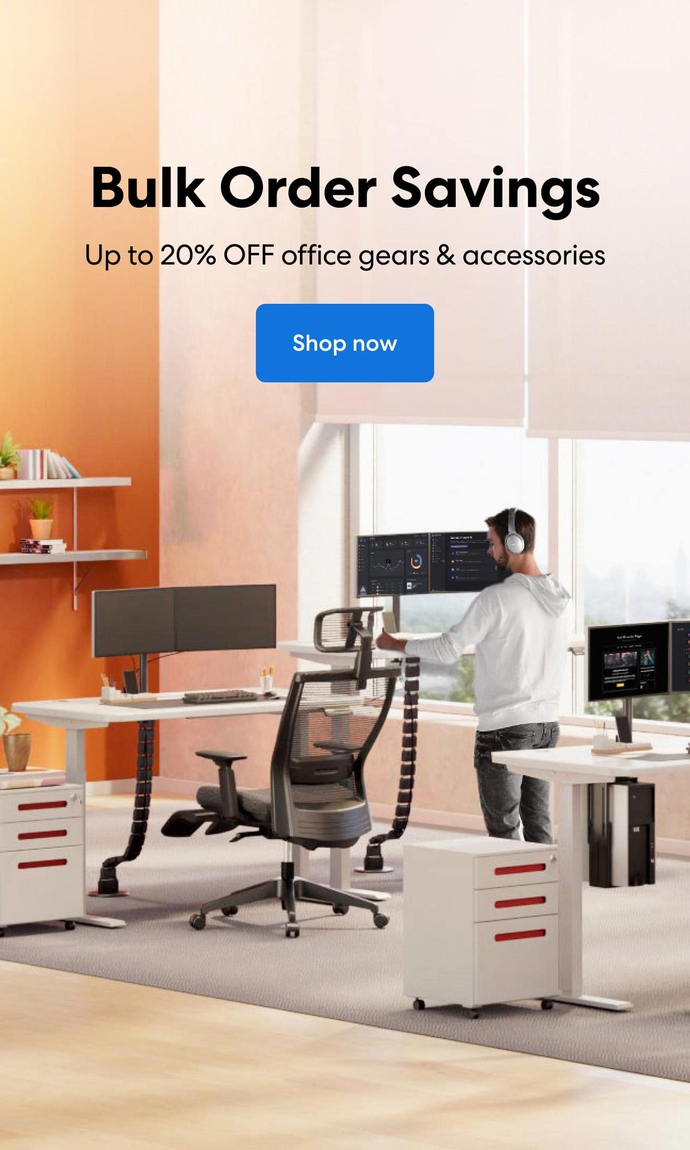 Subcribe newsletter and get $100 OFF.
Receive product updates, special offers, ergo tips, and inspiration form our team.