Workplace Inspiration
How to Build a Desk in a Closet: Step-by-step Instructions

Ethan Johnson
|
Nov 9, 2023
677 Views
If you're on a budget and want to create a space in your home where you can work in peace, you may want to consider building a closet desk. Although it can be time-consuming, you'll have your very own cloffice at the end of the day.
Alternatively, you can invest in a modern executive desk and place it in the closet if you're not big on DIY projects. In this article, we will go over what a cloffice is, how to build a DIY closet desk, and the different themes you can follow to liven up the workspace. 
Keep reading until the end, as we will also go over what you can purchase to set up a home office without the need for any DIY tasks. Let's get started! 
What Is a Cloffice?
A cloffice refers to a nook, corner, or closet space that you can renovate and use as an office workplace. It is an underutilized area in your home that you can turn into a good working environment to help you work from your house. 
An unused closet, an empty corner, a guest bedroom, and open spaces under the stairs are a few examples of places you can use as a cloffice.
Step-by-step Instructions on Building a Desk in a Closet
To make this entire DIY built-in desk-in-a-closet journey manageable, we've divided the instructions into several sections. 
Tools You Need to Build a DIY Desk in Closet
Below are the tools you need to build a DIY closet desk: 
Leveling tool
Miter saw
Table saw
Kreg pocket hole jig
Nail gun
Drill
Supplies You Need to Build a DIY Desk in Closet
The following are the supplies you must have to build a DIY closet desk:
Wood: The amount of wood you'll need to make the built-in closet desk depends on the available space. 

2×2 boards
½-inch plywood
1×3 boards

Three-inch wood screws
2½-inch pocket hole screws
Finishing nails
Wood glue
Sandpaper
Wood stain
Polyurethane
Cord grommet 
Preparing the DIY Desk in Closet
Before you can start building the desk, you must prepare the closet. It's essential that you take the time to determine the height you want your table to be.
Typically, the height of closet desks is around 30 inches. However, you can reduce it by 1½-inch to 28½-inches. 
By using a leveling tool, start marking the wall ½-inch below your preferred height. You can draw a straight line or make small dots. You'll be screwing the wood planks to the wall, so make sure that you identify the studs. 
Drilling screws in the studs instead of just the drywall will ensure maximum support and stability for your DIY closet desk. Start by knocking on the wall to figure out where the stud is.
When you find the studs, start marking the area on the drywall. It's crucial that you do these markings below the line you've drawn using the leveling tool.
Build the Desk Frame
The next step in making the DIY closet desk is to build the table's frame. Pick up the 2×2 boards and start securing them on the sides of the closet. Make sure you cut these wooden planks to your desired desk depth minus ¾-inches. 
Attach the 2×2 boards into the studs behind the drywall using three-inch wood screws. Follow the markings you did earlier to avoid any mistakes.
Now comes the tricky bit. You need to measure the gap between the two 2×2 wooden boards and cut out another 2×2 board to cover the space. Make sure to drill pocket holes at the end of these boards for screwing them into place. 
After you've cut the boards and drilled pocket holes in them, secure them to the wall using the three-inch wood screws. You can drill pocket holes at the top of the frame, as the desk's top will hide them. 
Now, you need to make the front of the closet desk frame, so start by measuring the space between the front of the two side boards. Cut another 2×2 wooden board according to the measurements you just took and drill pocket holes at both ends. 
Attach the wooden board to the two sideboards and use a leveling tool to ensure proper alignment before drilling them into place using the pocket hole screws. 
If you're planning to place heavy equipment on your built-in closet desk, it's best to add a center brace to the frame. Start by measuring the space between the front and back board and cut out another 2×2 wooden board according to the measurements you just took. 
Add pocket holes on both ends of the board and drill it into place using the pocket hole screws. The center brace will provide your desk with additional support so that it doesn't collapse under heavy weight.
Make the Plywood Top
Once your closet desk frame is ready, cut out the plywood. Make sure you cut the wood according to the depth and width of the desk you want minus ¾-inch. When ready, try to place it over the boards to see whether it is the right fit. 
Use a saw to cut the plywood from the sides accordingly if it doesn't fit inside the closet. Attach the top by applying wood glue to the frame before placing the plywood over it to secure it into place. 
You can use finishing nails around the edge and back to secure the plywood to the desk's structure. 
Finish the Closet Desk
It's time to give your DIY closet desk the final touches. You can use any type of stain to bring some life to the table. 
However, we like using our homemade natural wood stain, which we make in glass jars by letting fine-grade steel wool soak into vinegar and coffee. 
Before you start staining the built-in closet desk, you should prepare the surface by wiping it with a damp cloth to open up the wood and wipe off the sawdust. 
Using a soft brush, paint the table's surface with freshly brewed strong coffee before layering it with the vinegar stain. 
Once it dries off, apply three coats of polyurethane to ensure a protective layer. Make sure you sand between the coats for a smooth finish.
After the polyurethane layer dries off, cut a hole at the back of the desk and fill it with a grommet for cable management. 
Your closet desk is ready for use. Additionally, you can add accessories or decorate the closet or the desk according to your needs!
How to Decorate Your Built-in Closet Desk?
Here are a couple of built-in closet desk setup ideas you may want to consider to spruce up your home workplace:
Add Some Shelves
Having shelves is a great way to stay organized in a small closet space. It also provides you with an opportunity to decorate the place by adding decor items on the shelf. 
You can also use wall hooks to hang your essentials or let a couple of plants curl around them for a bit of nature in your workspace.
Purchase a Mirror
If you're a professional who is always attending online meetings, you know how important it is to dress up for a formal meeting. Having a mirror around is essential, as it allows you to check whether you're looking your best. 
Using a screw, hang the mirror on the side of the closet door to use the space effectively.
Place Baskets in the Closet
Your hidden desk may be ready for use, but you may not have drawers or cabinets to keep all of your files in. Fortunately, you don't need to build anything to help you stay organized. 
Simply get a couple of baskets and push them under the desk. You can keep your files and essential documents in it for easy access. 
Add Storage Caddies
Since you don't have drawers in your DIY closet desk, you should consider getting storage caddies. Place them near the corner of the table so that they're out of the way but in plain sight. 
You can use storage caddies to store office accessories, such as chargers, pens, cables, and scissors, among many others.
Invest in a Dry-erase Board
It's essential to stay on top of your work schedule. To help you with that, you should consider buying a dry-erase board. It's a great way to write essential things so that you don't forget them. 
You can consider nailing the dry-erase board to any of the side walls of the closet. That way, it won't take away key spaces that you can use for desk decor items. 
Buy a Charging Station
Your closet may not have enough electrical outlets to charge all of your devices while you work. Don't worry, as there are plenty of good charging docks you can invest in. 
A charging station allows you to charge all of your electrical devices while ensuring they're just an arm's length away. 
Get a Desk Lamp
Working on a closet desk that you just built can be a satisfying experience, but these types of spaces are often devoid of natural sunlight. Even the bulb in your closet may not give you the light you need to work at night. 
Fortunately, there are many desk lamps that can mimic and emit natural light, allowing you to work at night without straining your eyes.
Invest in a Cushion
If you're one of those people who like to work long hours, you may want to invest in a cushion to make your seating solution more comfortable. There are many options to consider, so make sure you do your research before splurging the cash. 
Best Decor Themes for Your Built-in Desk in a Closet Space
Here are a couple of themes you can follow to spruce up your closet desk space: 
Homemade by Carmona 
Make the entire place pop and stand out with this theme. You can paint the desk and the shelves a dark, almost-black peacock color. Hang an artsy chandelier from the roof of the closet for a gorgeous look. 
Don't stop there, as you can add a few decor items, such as artwork and faux magnolia leaves, to improve the aesthetics of the space. 
Contemporary Office Space by Outfits and Outings
You can visit any retailer to buy the shelves or make them at home using the leftover wooden boards. Once you've installed the shelves, you can start decorating around them.
We like to use LED light strips, as it helps create a nice vibe. Make sure you install these in a way that the strips remain hidden from plain sight. 
Add some electrical outlets or hire an electrician to do it for you. This will allow you to keep your electrical devices on the shelves, clearing out the surface of your DIY closet desk for a clean and tidy look!
Closet Makeover by Naptime Decorator
Turn the boring office space in your closet into a gorgeous workplace that gets you excited to work every day. You can remove the closet door and install a barn door to add a bit of elegance. 
Paint the wall behind the desk navy blue and add wooden beams or planks for a shipyard look. Hang some natural plants in a pot from the ceiling, and add some unique decor to spruce up the space. 
Invest in a Standing Desk and Work Anywhere in Your Home!
If you don't have a DIY bone in your body, you may want to stay away from building a DIY closet desk. 
However, don't feel disappointed, as you can still use underutilized spaces in your home, including the closet, by investing in the right equipment. We highly recommend investing in a work desk for home. 
An L-shaped standing desk is a great way to use underutilized corners in your house. You can place this type of workstation in any corner and decorate the space according to the ideas we've mentioned above to create a workplace that's right for you.
Alternatively, you can invest in a small standing desk and place it inside the underutilized closet to transform it into your new workspace.
Final Thoughts
Whether you're looking to build a closet desk or invest in an adjustable desk to use an underutilized space in your home, we hope this article provides you with all the information you need to help you create a cloffice.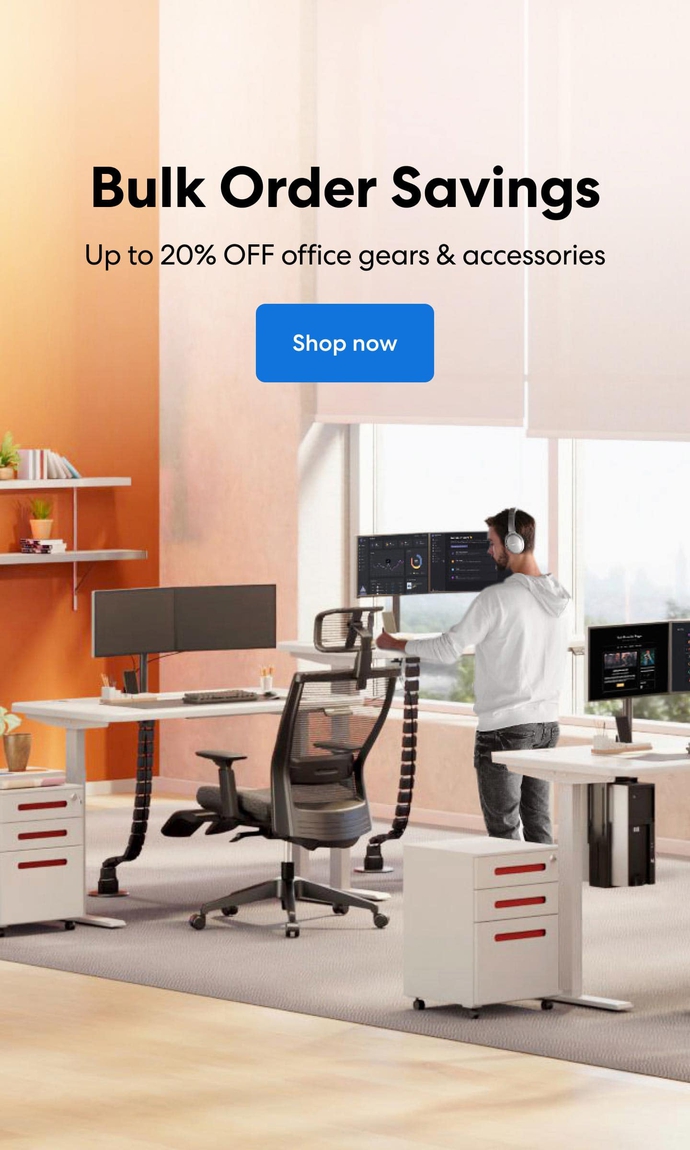 Subcribe newsletter and get $100 OFF.
Receive product updates, special offers, ergo tips, and inspiration form our team.