Workplace Inspiration
19 Hideaway Desk Ideas To Save Your Space
2,360 Views
It is not so pleasing to get reminders of work when you are done with office hours. While your desk and office chair might be a constant part of your home ever since you started working from home, that doesn't mean your workspace should stay with you all day long. Not separating daily home life from work life leads to anxiety and loss of work-life balance, as reported by many employees. This could also lead to resentment towards your work because the zero change in scenery brings frustration and boredom.
Hence you need to be creative with your workspace and search for hidden desk ideas. Yes, folding hideaway desks are a famous modern home office desk because they go away once you are done with work, but they are also very suitable for tiny homes where there is no spare room to build a home office. A hideaway desk with storage can also ensure the outlook and aesthetic of your home won't be compromised in any way, and you can tuck in all of your office gadgets and supplies in a safe space when you are not working.
The Best Hideaway Office Desks
A compact work desk with doors can be the perfect hide away desk if you have a small home. No one wishes to overcrowd their small apartment or house with a large desk hidden inside a cupboard if they are short on space already.
So, it is ideal in such cases to get a compact desk for your home office. Once you are done with your office-related tasks, you can hide the desk behind the doors attached to the desk to use your room space for other purposes.
1. Glass Office Desk
There is more than what a glass office desk does just to the eye. With a glass office desk with a glass surface or lightly colored legs, you can easily create an illusion of a hideaway desk. The light color doesn't take up a lot of space in the room and is also pretty for a minimalist look.
2. A Corner Desk
A hideaway desk doesn't have to vanish when you are done with work, but a smart L-shaped desk can also suffice as a hideaway desk because of two reasons. Firstly it resides in the corner, so it doesn't take up any extra room but smartly utilizes the wasted space. Secondly, the desk can be used for multiple options due to its corner design and L-shape. Once done with work, you can use it to present various decorative items; you can set it up as a kid's study table or even use it as a gaming station.
Due to its vast area, a corner desk is also suitable for a teacher as they have lots of documents and papers to manage. But due to their complex and smart construction, they might be a little heavier on your budget hence you can purchase an l shaped desk through a teacher discount.
3. Desk Behind Sofa
If your office desk size is not rather huge but matches the size of a couch, then use this idea as it is space friendly and user-friendly. Placing your desk behind the sofa will hide the work desk to get the major sight in the room and provide you an extra space to keep your living room essentials and decorative when you are not working. It is also useful to carry out meetings and sit in the spacious living room space where you can feel the most productive due to the maximum flow of natural lighting and fresh air.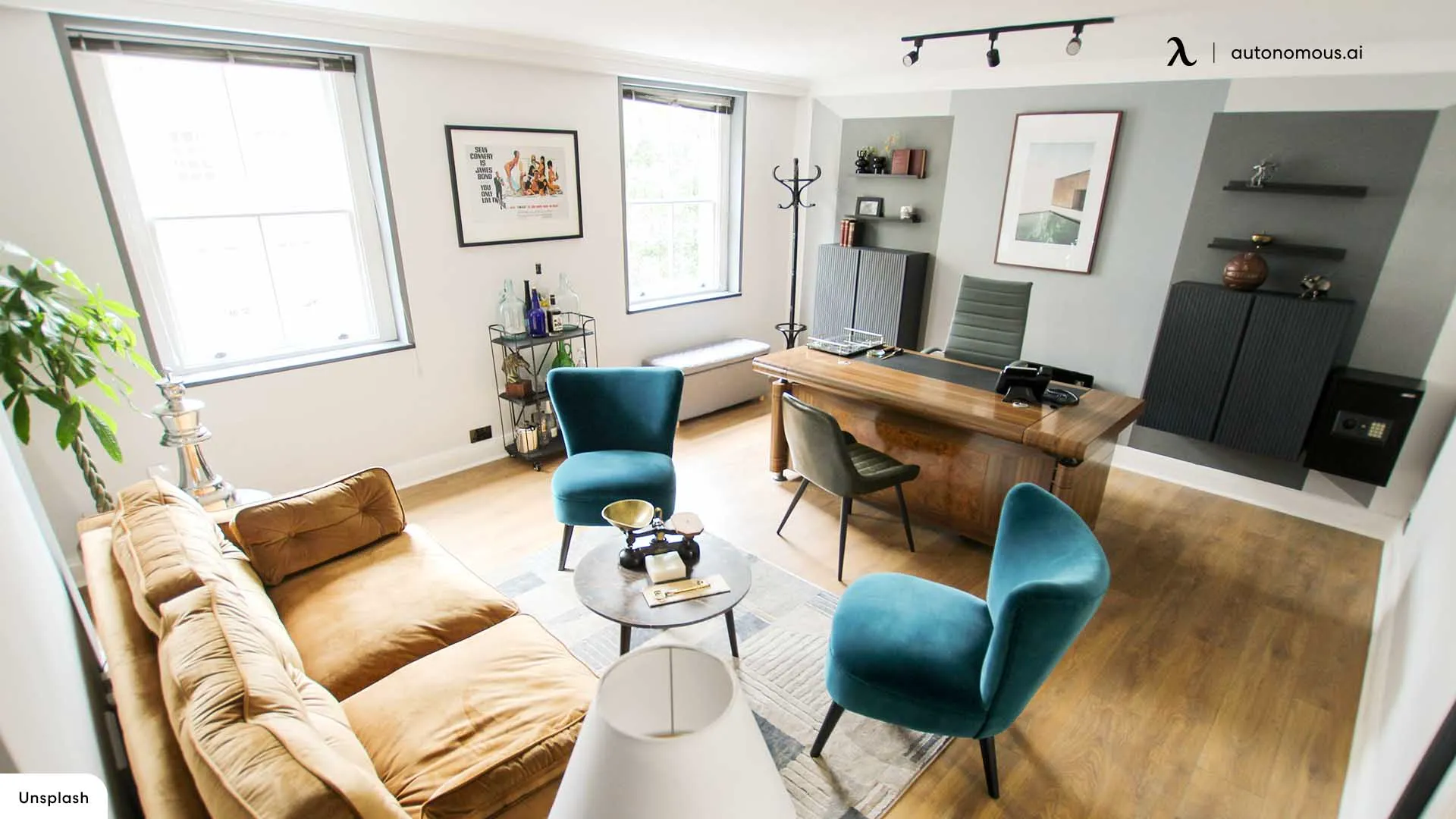 4. Folding Desk
If you want a folding hideaway desk, why not take it too literally? Use a folding desk that comes out when you need it and easily folds away when done. A compact foldable desk is a perfect solution to meet your needs. You can get a folding desk in various sizes and match your needs while not taking up an inch of extra space in your home. 
5. Desk Under Stairs
With the famous Harry Potter inspired theme, we knew we wouldn't see the space under the desk in the same way anymore, and why should you? It is one of the ideal places to set up a home office. The benefit of using space under stairs is that it is secluded, private, useful, and otherwise wasted space. You can build a platform deck and even install tiny storage compartments underneath. Paint the wall under the stairs or paste the wallpaper to get a nice overall look.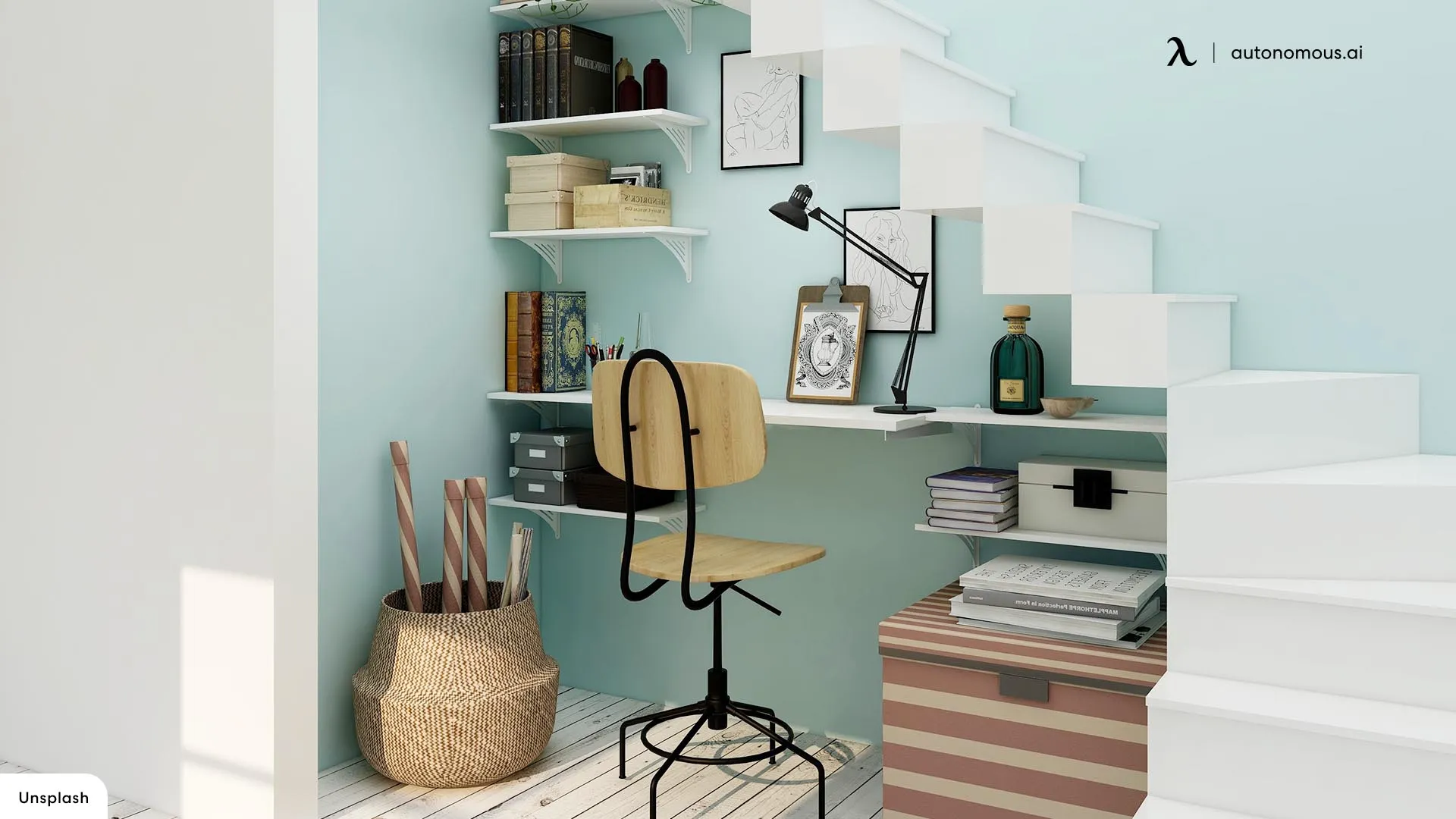 6. Bedroom Alcove Hideaway Desk
This is one of the interesting hidden desk ideas. Hidden workstations — compact office desks suitable for letter writing, laptop work, and quiet time – are ideal for bedroom alcoves. And to make the most of bedroom alcove space and build a boundary for the home office, choosing a focal point, such as a statement office chair, or even a work of art, will draw attention away from the room's purpose and make it feel more like a living room.
7. Divide a Spacious Room
Maybe the contractor had too much love for the living room and made it more than spacious, or maybe the drawing-room tells a similar story. You can easily let all of this work to your advantage by building doors to divide a room. While one corner remains dedicated to living room space where guests eat and greet, the other can be a route to your private, quiet home office.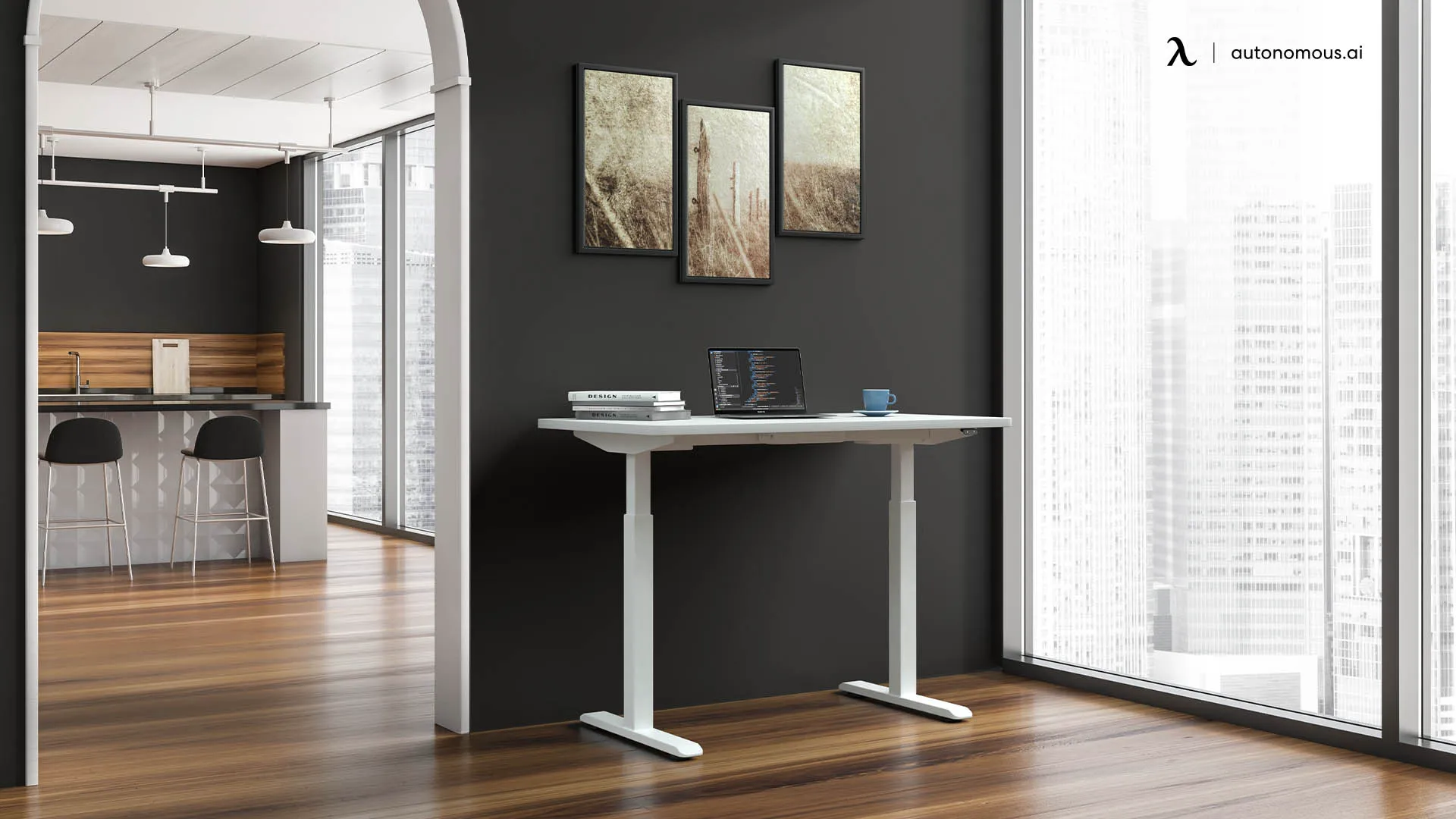 8. Wall Mounted Desk
A desk is more like a shelf. Use this idea to build your work desk anywhere in the home, and you will never complain about the desk taking up a lot of room. Use a floating shelf to mount on any wall and use it as a decorative shelf when work is off.
9. Outdoor Office
You won't need a hideaway desk idea if your desk is not at home. Outdoor office desks have the best advantage of a productive workstation because you get the maximum amount of natural light and fresh air. Use a wooden desk to build an outdoor office setup, and if you have a pool area, there is no better place to work.
10. Desk Inside Wardrobe
Clothes inside wardrobes are too mainstream. Let's build a desk that lives to the perfect definition of the hideaway desk, and this can be something from the DIY project. Use a platform or two to install them within the spacious wardrobe. A two-door empty wardrobe will do the job well. Don't forget to measure the height and consider the storage options.
11. Minimalist Style Furniture
We have been talking about minimalism quite a lot these days as it is the latest trend and looks quite satisfying as well. Choosing the minimalist office desk can help you make your home look more spacious. You must ensure that this minimalist office desk is versatile and can be used for multiple purposes so that when you are not using it as an office desk, you can use it for other tasks.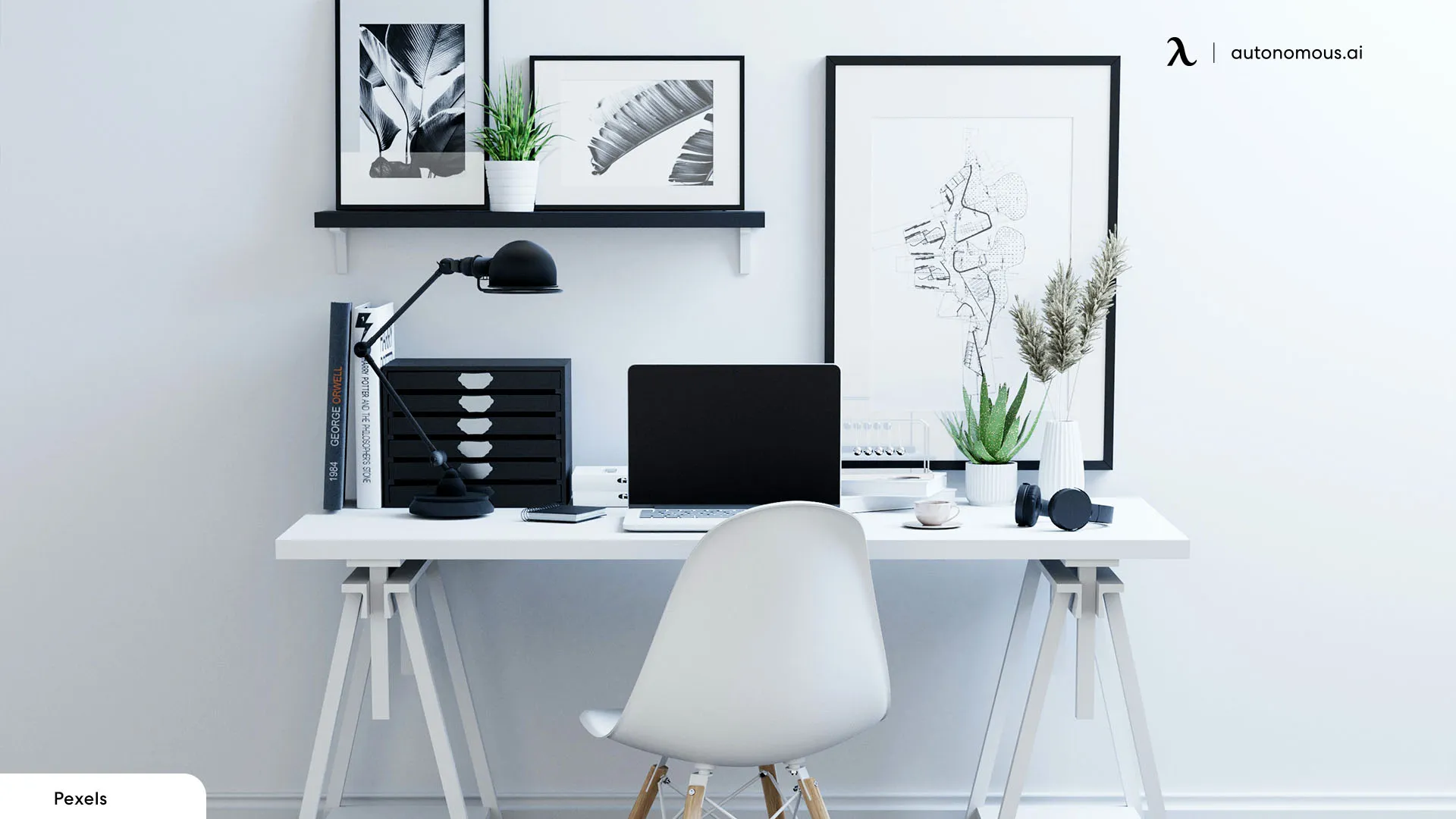 12. Hidden Office Desk with a Pullout System
An office desk with a pullout system can help you easily hide your workstation when you are not working. This desk is ideal for those remote workers who work on a laptop mainly. If you use heavy CPUs and monitors for office work, you will need a CPU holder as well. You can install a pullout system in your cupboard and use it as a work desk whenever required. Since this design looks quite modern, it will add to the aesthetics of your apartment or home. 
13. Farmhouse Hidden Office Desk
If you are short on space, you can use a farmhouse-style hide away office desk with lighter shades. You may take inspiration from the best office storage ideas to use this space flexibly. You may even think of fixing a keyboard tray in this hideaway desk to keep your office tasks out of sight when you are focusing on other chores in this space.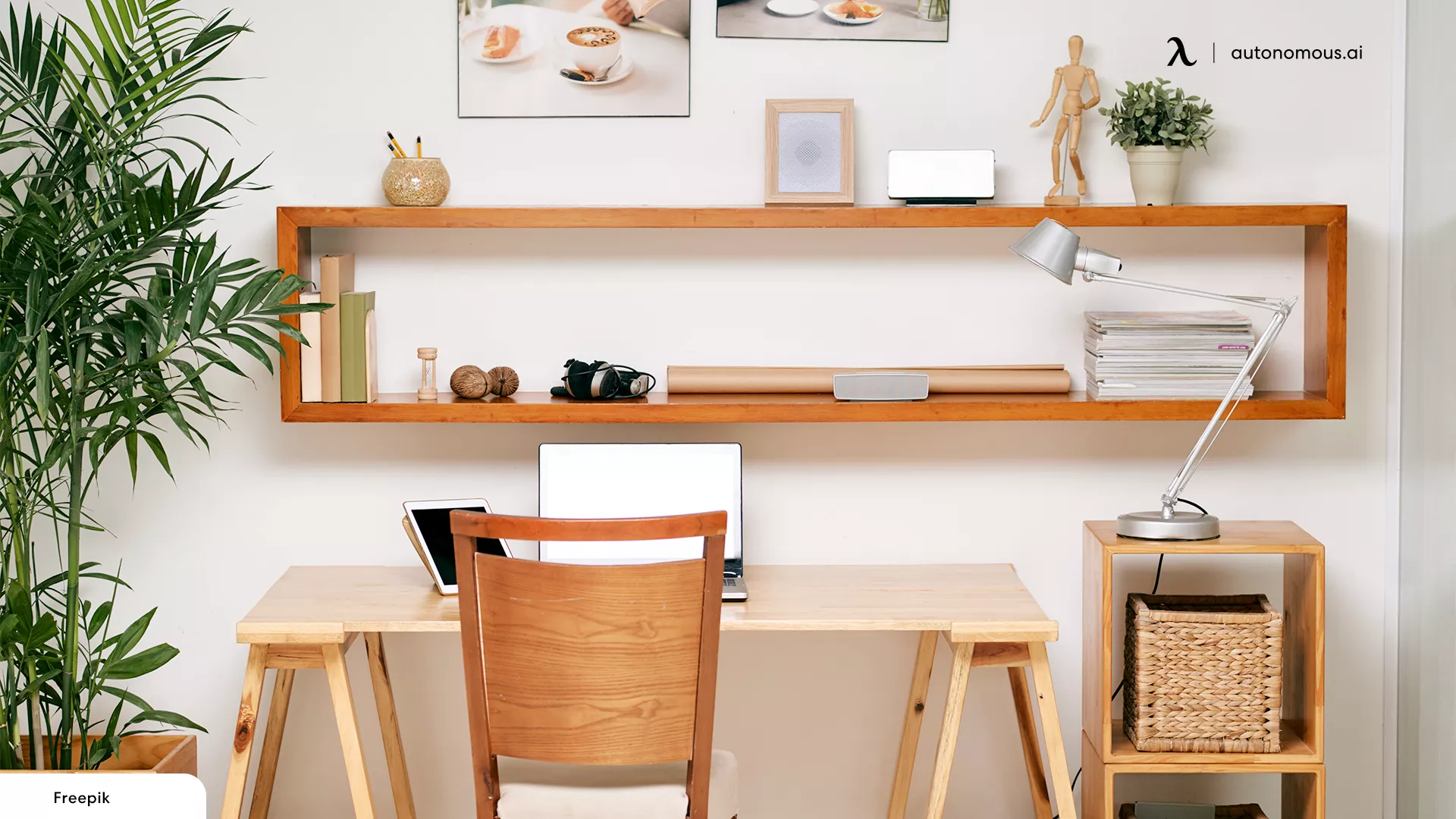 14. Hideaway Desk in a Cabinet
Hiding your office desk in a cabinet can be an ideal way to keep your office chores out of sight and use your workspace for multiple purposes. Most of the hidden desk ideas discuss how you can have a desk inside a cabinet because this is the most popular way to hide your office desk.
You may use this space for office storage and organization and work on your office-related tasks here. Once you are done, close the doors of this cabinet to disconnect yourself from your workspace and enjoy your daily life. 
15. Hideaway Desk with Multiple Shelf Units
A simple way to design hidden desk furniture is to add multiple shelf units to your desk furniture. Shelves help you accommodate multiple items, including your office documents, collectibles, etc. What you can do is get a dark-colored oak desk and install it with multiple shelf units. This will not only let you use this space for multiple tasks but will also give a more aesthetic look to your home.
16. Hideaway Desk in a Cupboard
You can create a hidden office desk by designing a cupboard with desk space and shelves. You may then place this cupboard anywhere in your house. The benefit of having such a hide away office desk is that you can close the cupboard door to hide it and keep your office-related tasks private. This will not only keep your office documents safe but will provide you with a private corner to work on your tasks whenever you want. 
17. All-In-One Desk
Getting different holders for multiple computer peripherals is not recommended when you have a small workspace because it becomes quite difficult to manage them. If you want to gain space efficiency, you must invest in an all-in-one office desk.
Such desks come with small cubicles which are dedicated to computer peripherals. It may have keyboard trays and cabinets for the keyboard, mouse, and CPU, respectively. So, getting one of them can help you manage your workspace efficiently and maximize functionality.
18. Office Desk Hidden Behind Closed Doors
Hiding your office desk behind closed doors gives an impression of an ordinary cupboard in your living room or bedroom. You may use a light color to paint them to make them look more spacious. If your office desk is a compact desk with multiple shelves, you can attach a door to it and make it look like a cupboard. Doing this will help you hide your office desk behind closed doors when you are not actively using it. 
19. Sliding Office Desk
You can add a sliding system to your office desk to make it a hidden office desk. Installing wheels to the desk's legs and a sliding mechanism on the sides is the basic requirement to design the main desk here.
You can then slide it under the main desk, which stays in a fixed position. In this way, you will be able to slide your office desk from underneath whenever you wish to work on your office tasks.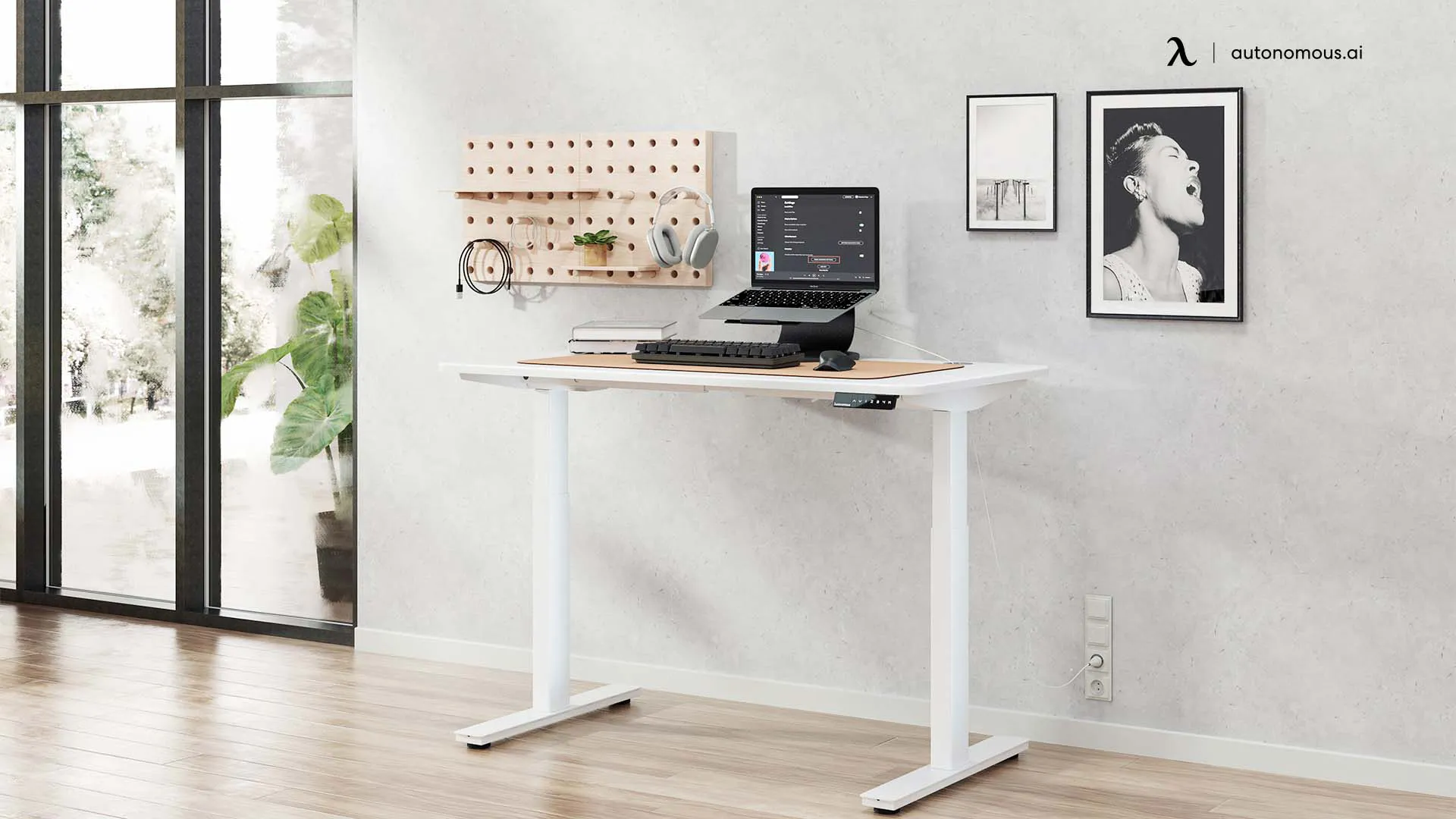 What to Consider When DIY Hidden Office Desk
Once you have plenty of hidden desk ideas, the next question that would pop up in your mind must be about the aspects you need to consider for designing a DIY hideaway office desk. So, here are the details regarding the aspects that you need to consider for a DIY hide away desk. 
Size
You need to decide your desk's dimensions while planning it. You must have a clear idea of how wide you need the tabletop to be because you will have to design it accordingly. It is also critical to know whether the size you are planning to choose can fit in your home or office without making it too noticeable. 
Height
Since it is vital to align your furniture as per ergonomics, you must decide how high you need your desk to be. If you are planning a hidden office desk with a sliding mechanism, like the one we mentioned above, you must consider the height of both the main desk and your hidden office desk while planning it.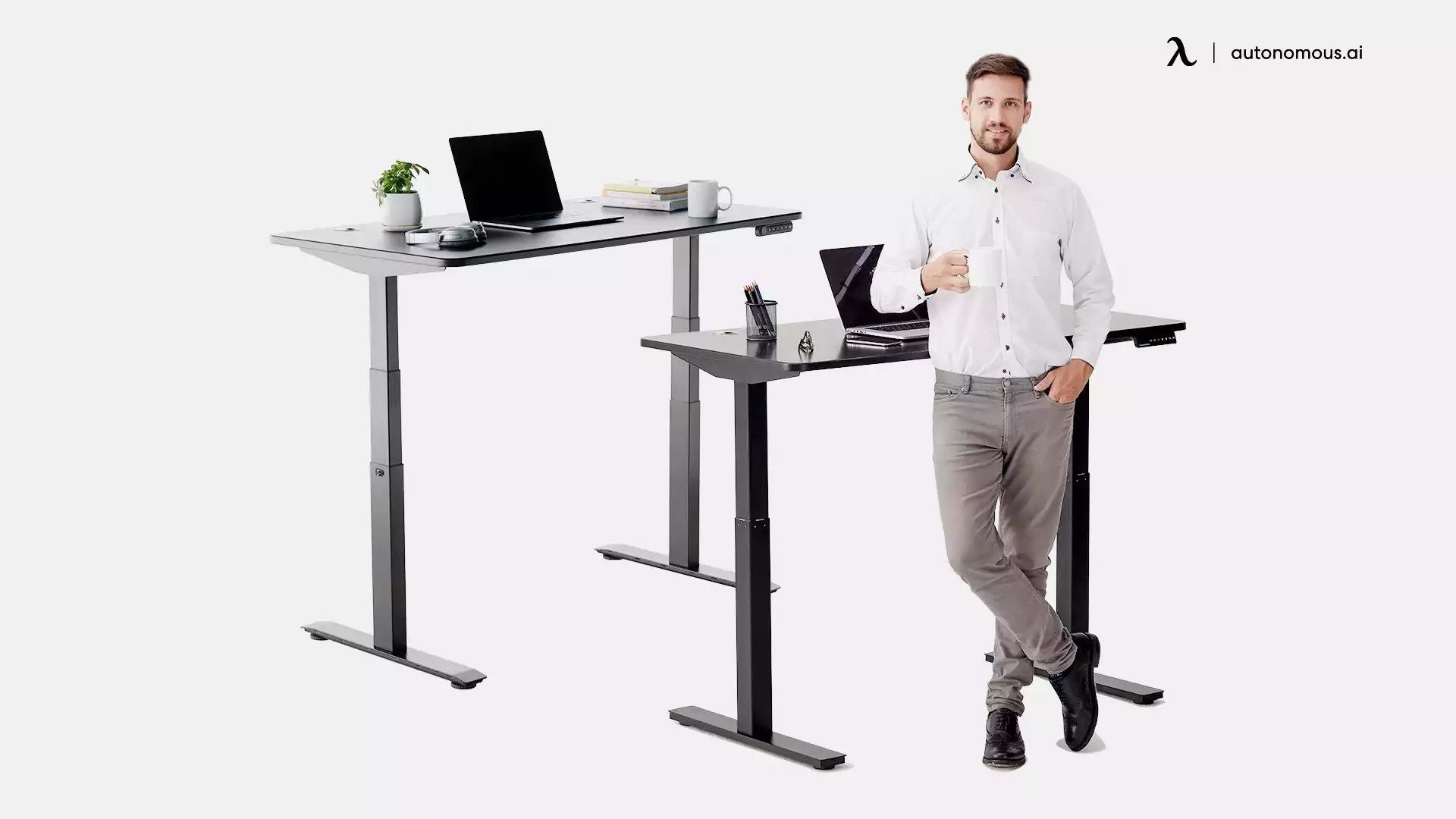 Materials
We recommend that one should use durable materials for making their office furniture. Ideally, oakwood or bamboo is ideal for tabletop. However, people who are planning to create hidden desk furniture can use these durable tabletop wood materials to design the entire furniture instead of just the tabletop. 
Functionality
Lastly, you must be mindful of the functionality of your hidden office desk. Since you need to keep this desk unnoticeable, you must design it in a way that you can use it for multiple purposes. Only then will it be able to serve its purpose well.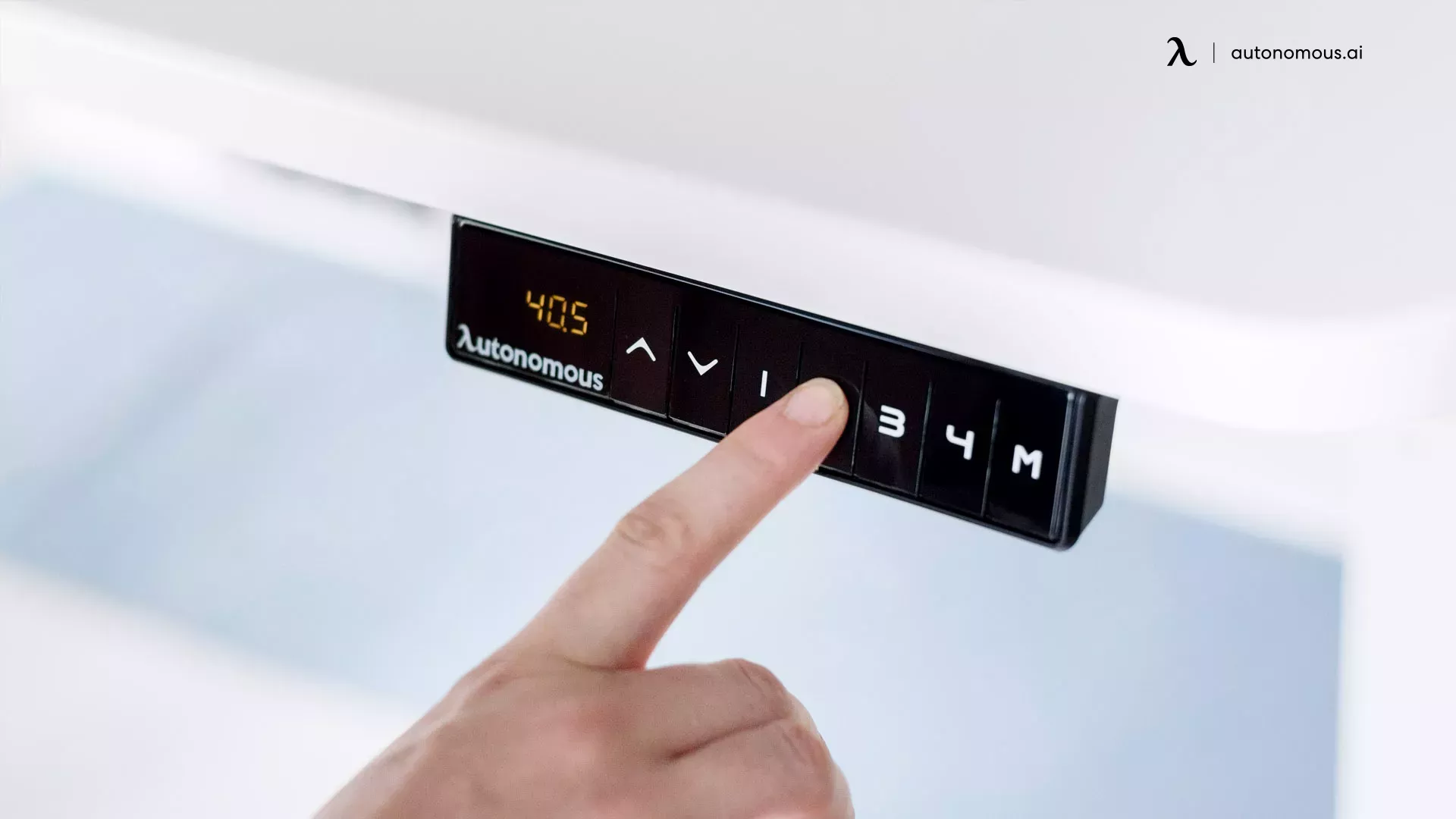 Conclusion
With the popularity of an office setup that hides away, you can search for multiple computer desks with hidden monitors and inexpensive DIY hideaway office desk ideas but purchasing a hideaway desk is also a wise choice. This article lists the top hidden office desk ideas that you can easily buy for your home office setup. To make your home office setup even breezier, use the programmer purchase program or government purchase program to get special discounts on all office products. Let's start now!
Subcribe newsletter and get $100 OFF.
Receive product updates, special offers, ergo tips, and inspiration form our team.
WRITTEN BYAutonomous
We build office products to help you work smarter.