Workplace Inspiration
How to Light Up Corners at Your Home? Best Tips
713 Views
People buying new things for their houses or moving out to different places should make sure their property is fully illuminated. Why is this important? Because properly illuminated places create a warm vibe that makes everyone feel comfortable. However, it's often difficult to light up corners, and that's when a corner light comes in handy.  
You don't want your house to have any dark spaces that make people uncomfortable, but since general lighting is not always enough to cover corners, people leave them as they are. Not everyone sees the benefits of getting corner LED lights, but buying them can even improve your health.  
Did reading encourage you to get a new room lamp to light up corners? We are here to give you some ideas on how to do it! Read this page to learn how to fill those dark corners in your house with light! You can also find the 15 best corner lamps online on this page.  
What Should I Do to Light up Corners at My Home?
Even if you know all the reasons to improve the lighting in your house, it's difficult to achieve that if you don't know the right way to do it. Some methods may help you, but you will only jeopardize your home's aesthetic if you do things the wrong way.  
Here are some of the best ways to light up corners at your home:
Get Some Floor Lamps
Buying floor lamps is the most common and effective way to make sure all parts of your house are fully illuminated. Since there are many different floor lamp models available on the market, you can get one with the correct size to fit your home layout.
When you put a corner standing lamp or corner room light in your house, you balance the brightness of wall-mounted and ceiling lights. On top of that, purchasing floor lamps can help you fill in empty spots in your house that need some decoration.  
Due to all the floor lamps available out there, you can spend hours looking for one with the best features, price, design, and materials. If you don't want to invest that much time into that, you can just pick one of the products listed on this page. 
Try Table Lamps in Your Bedroom
People often get floor lamps for living rooms since that's the place guests spend their time when they visit you. Nonetheless, poor illumination is something that can affect all rooms in your house, and that includes your bedroom. 
It's common for house owners to forget about getting a decent corner lamp for their bedroom if they know no one but them will go there. However, doing that can worsen your mood. 
You need your room to be a comfortable place since it's the place where you sleep and focus time on yourself. How can you achieve that? Get a table lamp! 
Although table lamps are not that useful when it comes to kitchens or living rooms, they are ideal for bedrooms since they don't stand out from other decoration pieces in the room. You can place your table lamp by your nightstand, which allows you to turn it on or off anytime you feel like it.  
Buying table lamps can also help you get back on track with hobbies you had in the past, such as reading.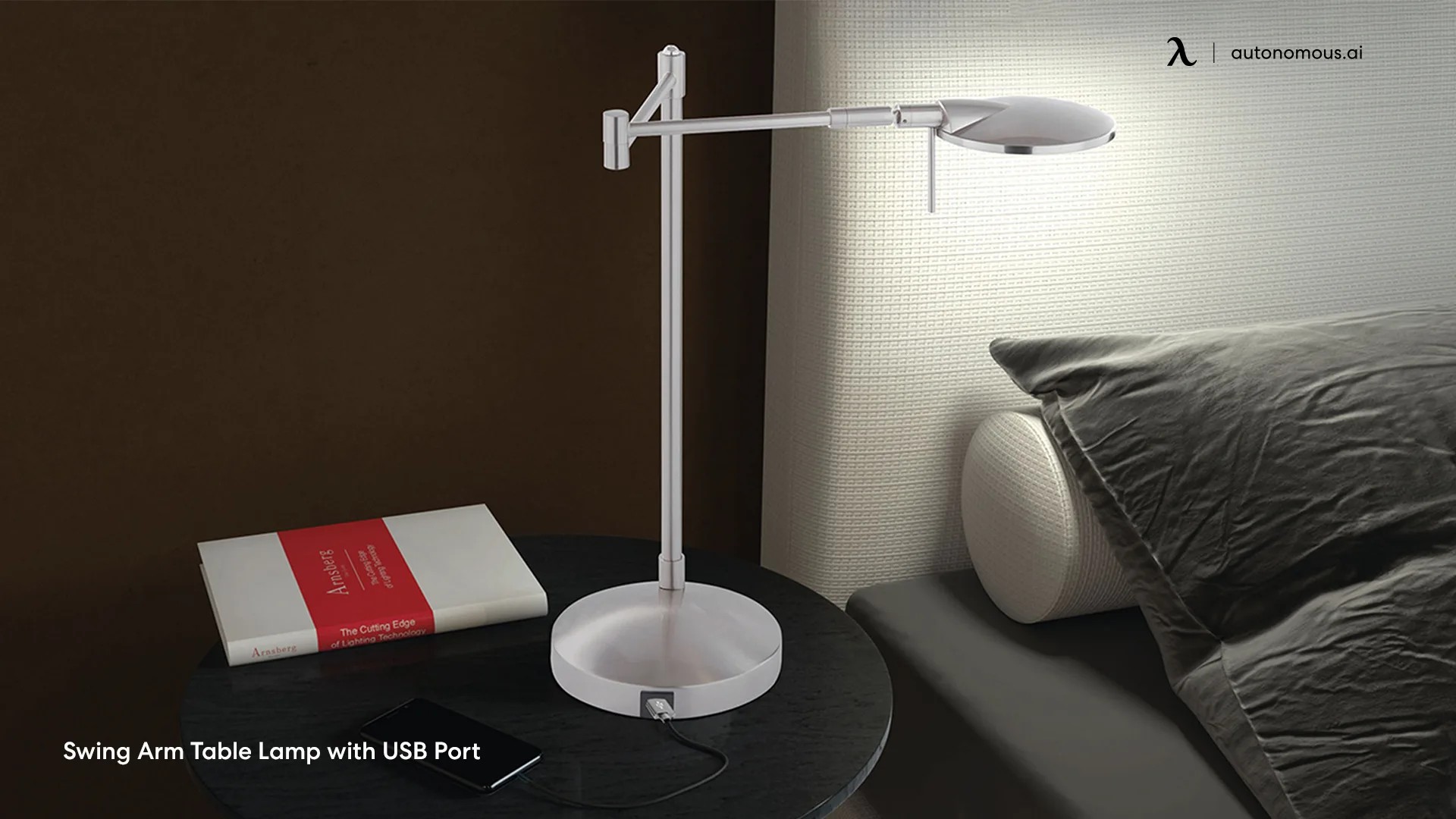 See What Wall-Mounted Lights Offer
Wall-mounted lights are not as popular as table or floor ones, but they are some of the most stylish products you can find out there. Regardless of its looks, we recommend you start looking for a wall-mounted light if you lack the space to get regular corner LED lights or a corner lamp.  
Since wall-mounted alternatives are attached to your wall, you don't need to worry about them taking up the space you would use for other office furniture. 
Installing wall-mounted lights is not difficult at all, and you don't have to worry about them blowing out or washing away the colors in your room like fluorescents or other types of corner lights.  
Install Pendant Lights
Pendant lights are trendy, so it's not difficult to find others using these products as decorations for their living rooms. You can place these lights whenever you want in your house, which helps you if there's any other light-related issue in other areas in your house that need some extra lights to become more appealing. 
Almost all pendant lights come with unique features that help you benefit even more from what this product can offer you. Pendant lights, for example, are customizable, so you can start adjusting their features to fit your house needs and taste.  
Installing pendant lights is not difficult at all, and they can even reduce eye strain.  
Many people think all pendant lights are outrageously expensive due to how sophisticated and elegant they look. The truth is that there is a huge range of prices available for you to pick the one that fits your budget.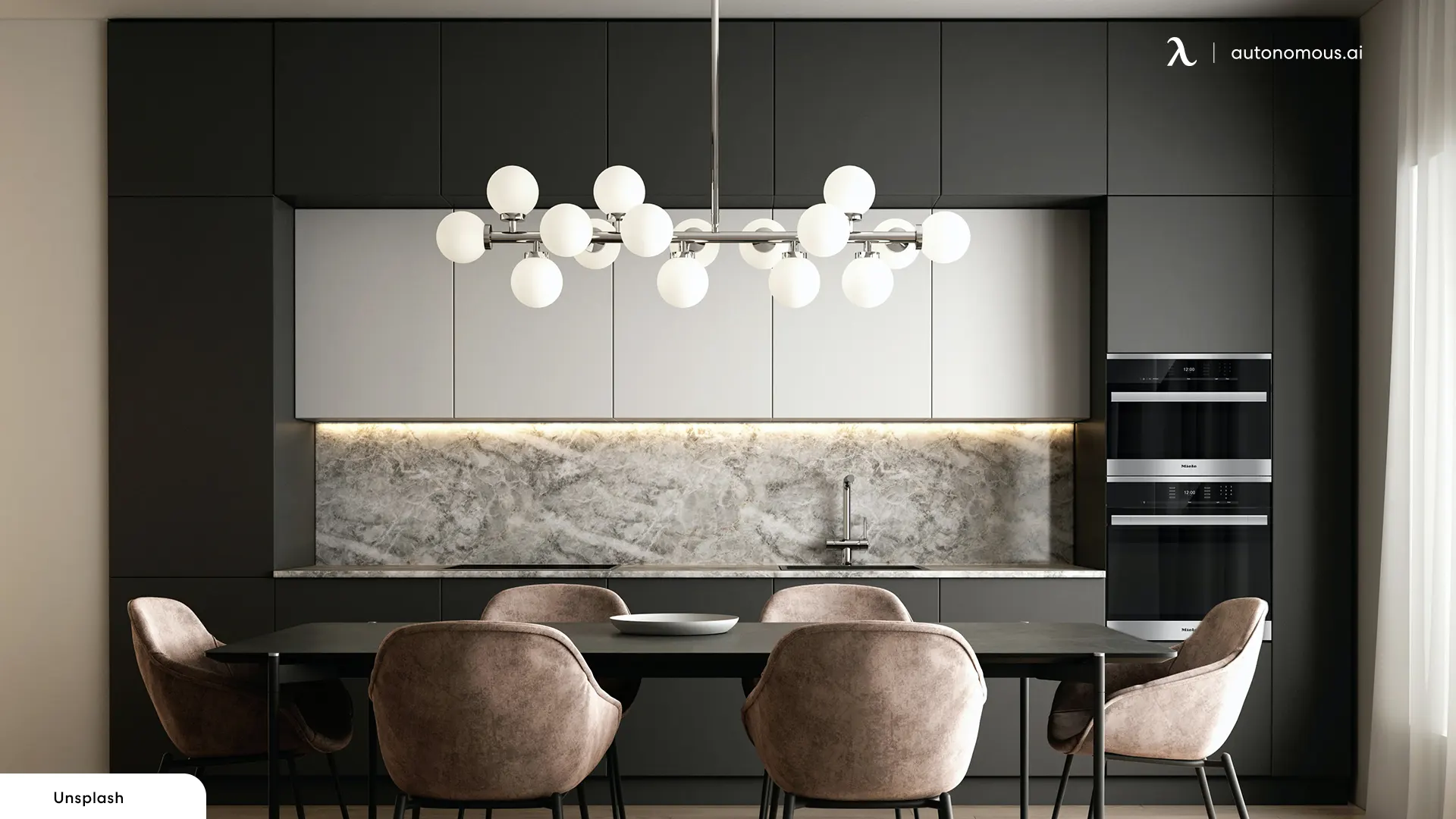 What Are the 15 Best Corner Lamps?
You can't try any of the tips we gave you on this page if you can't find the right lamp for your office. However, we can keep you from going through the hassle of browsing for a corner light online by showing you a list of the 15 best corner lamps on the market! 
This article focuses on corner lights, so we will mainly talk about floor lamps since they are the most common way to light up your house's corners.   
1. Lamp Depot RGB Corner Lamp: Remote Control
Lamp Depot offers some of its best products on the Autonomous website, so you will find some of them there. The Lamp Depot RGB Corner Lamp allows you to show more than 300 multi-color effects. You can also use its remote control to manage all its settings without standing up from the couch or your chair.  
Space saving won't be an issue with this corner lamp since it's made to fit even in places that don't have that much space. As for its construction, it's made of a high-quality metal that will stay with you for years, so don't worry about changing it or repairing it in the short term. 
Dimensions
55" L x 16" W x 16" H x 3.3 lbs
Color
Black
Materials
Aluminum, Acrylic
Bulb
LED/50,000 hours
1+ million colors
300+ multi-color effects
Lumens
1512-1680LM
Voltage/Wattage
12V/20W
Warranty
1 year
2. Lamp Depot Triangle Floor Lamp
As its name suggests, this lamp has the shape of a triangle, which allows it to offer a different way of lighting up your house that normally-shaped lamps can't offer.  
This Lamp Depot product also works with a mobile app and a remote control. Regardless of that, this triangle floor lamp offers many unique features, such as a music sync mode, 10 dynamic light modes, and a decent range of adjustments.  
| | |
| --- | --- |
| Dimensions | 41.3"L x 1"W x 41.3"H x 3.3 lbs |
| Materials | Aluminum |
| Colors | Black |
| Wattage / Voltage | 36W / 110-220V |
| Lumens | 3624~4228LM |
| Color options | White, Red, Green, Blue, Yellow, Orange, Navy, Purple |
| Warranty | 1 year |
3. Brightech Sphere Floor Lamp
Brightech also offers some of its products on the Autonomous website. The Brightech Sphere Floor Lamp has a modern yet minimalist design that won't make you stand out from others, so it's the one for you if you want other decoration pieces to shine.  
This sphere floor lamp uses frosted glass bulbs and has a brass finish that makes it more appealing than others on the market. Apart from that, using this corner lamp helps you save money in the long run due to how energy-efficient it is.  
Dimensions
Body: 65"
Globe: ø 8"W
Base: ø 11"
Weight: 14.3 lbs
Color
Brass
Materials
Glass globe, Metal base
Color temperature
Warm light
Bulb
2 x 9.5 W, 800 Lm, 3000K LED bulbs
Wattage
60W
Warranty
5 years
4. Brightech Luna LED Floor Lamp
The Brightech Luna LED Floor Lamp has an elegant and sophisticated design that will make your house look more professional and fit for business celebrations. Adding up to that, this corner lamp allows you to save 90% on energy bills due to the optimized LED bulb that comes with the product.   
| | |
| --- | --- |
| Overall dimensions | 9.5"L x 9.5"W x 65"H x 12.27 lbs |
| Base width | ø 9.5'' |
| Bulb | 9.5W 800 Lumen LED bulb |
| Materials | Glazed glass globe, Metal |
| Color temperature | 3000K |
| Smart home compatible | Alexa, Google, Apple |
| Warranty | 3 years |
5. Lamp Depot RGBW Modern Curve Lamp
While lighting up your room by yourself is good, the way you do it is also fundamental to get the benefits of it. This curve lamp knows that, so it focuses on improving your whole lighting-up experience by showing you all the colors it can use and offering top-tier settings.  
| | |
| --- | --- |
| Dimensions | 47.3"L x 12.6"W x 66.9"H |
| Product weight | 11.5 lbs |
| Materials | Metal, aluminum |
| Color | Black |
| Light | 16 million color options, 358 light effects |
| Warranty | 1 year |
6. Brightech Swoop LED Floor Lamp
If you want a Brightech floor lamp with a beautiful design that allows you to adjust its lampshade, the Brightech Swoop LED Floor Lamp is the one for you. Setting aside its footswitch and the three-year warranty this lamp offers, it can save you some money on energy bills due to its cost-effectiveness.   
| | |
| --- | --- |
| Assembled height | 68" |
| Lamp width | Φ 19.5" |
| Base width | Φ 10" x 1" H |
| Item weight | 10.5 lbs |
| Colors | Black base, Gold finish |
| Materials | Metal |
| Lumen | 800 lm |
| Bulb type | LED 3000K |
| Input voltage & wattage | 110-220V / 9.5W |
| Warranty | 3 years |
7. Brightech Logan LED Floor Lamp
Lamps are fragile, so getting durable products is the best thing you can do to avoid buying more of them in the future. However, you don't have to worry about that issue with the Brightech Logan floor lamp since it's made of a solid marble base. You can also adjust this lamp's arm length in seconds.  
| | |
| --- | --- |
| Assembled height | 76" |
| Lamp width | Φ 17" x 10" H |
| Base dimensions | 14"L x 11"W x 1.5"H |
| Item weight | 128.2 lbs |
| Colors | Black, Brass |
| Materials | Metal & Marble & Fabric |
| Lumen | 800 lm |
| Bulb type | LED 3000K |
| Input voltage & wattage | 110-220V / 60W |
| Warranty | 3 years |
8. Artiva USA UFO Arched Floor Lamp: Touch Dimmer
Investing in a lamp with a unique design can help your living room look the most stylish it has ever looked. This Artiva floor lamp has five super bright lights with touch dimming.  
| | |
| --- | --- |
| Dimensions | 73"H x 36"W x 36"D |
| Color | Satin Nickel, Chrome |
| Color temperature | 3000K |
| Lumens | 2500 lumens |
| LED wattage | 25W |
| Warranty | 6 months |
9. IKEA Ranarp
The IKEA Ranarp is excellent for people working on a budget, and it's also perfect for readers or people studying something. You can adjust the lamp's arm at all times.  
10. Lepower Wood Tripod Floor Lamp
If you are looking forward to buying a lamp that works as decoration, you should go for the Lepower Wood Tripod Floor Lamp. This lamp is optimized to use more space since its legs angle outward. While some lamps have an aggressive display of light, this one diffuses the light into a warm glow that will keep your corners looking bright.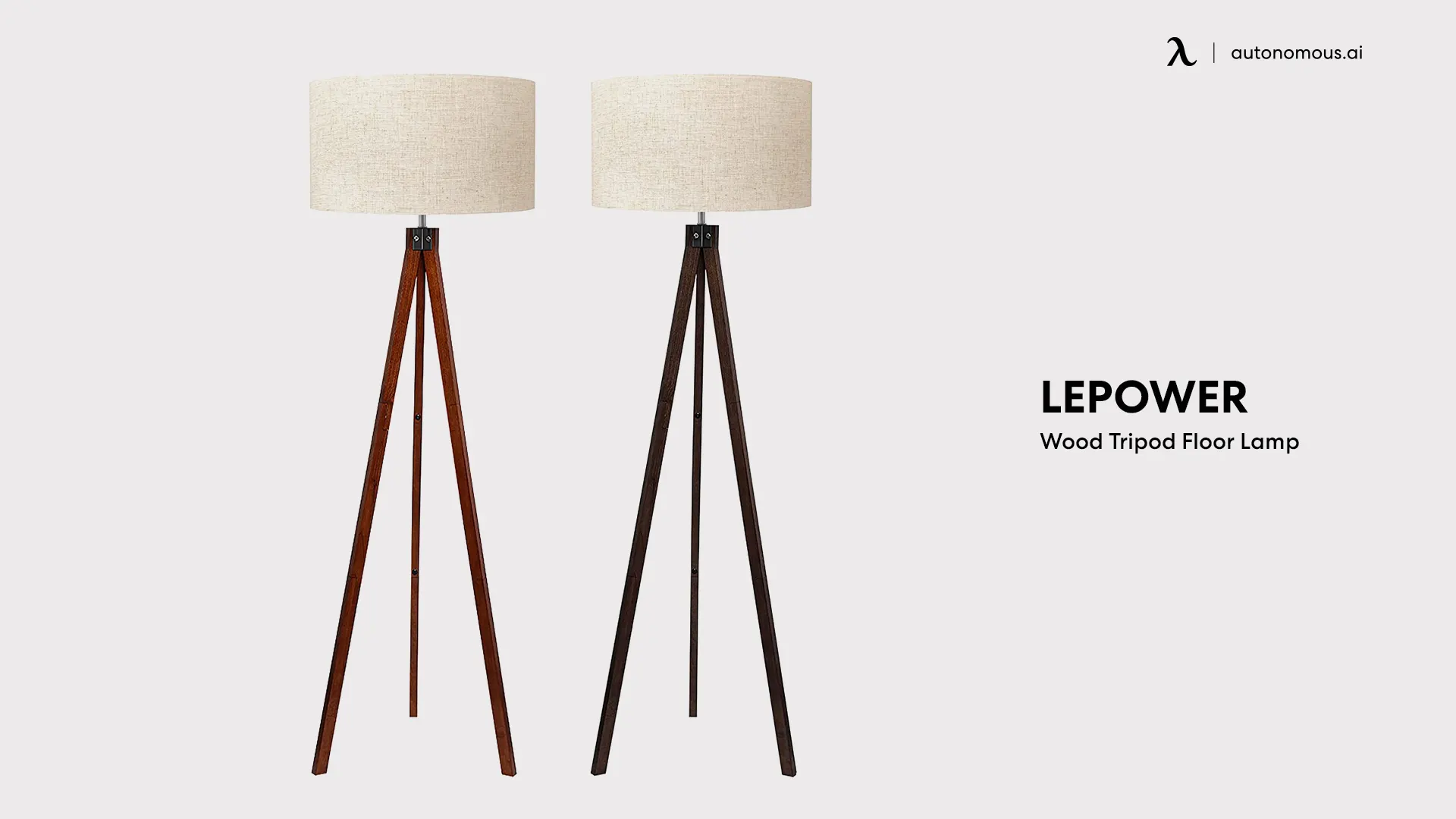 11. Basque Arc Floor Lamp
This corner light is made of a white marble base and has a white finish interior that makes it more appealing than many alternatives on this list.  
12. Adesso Oslo Floor Lamp  
Not everyone likes to buy a heavy corner standing lamp because it's challenging to move it to other places in your house. However, being heavier also means it's more resistant, so get this one if you think your lamp is at risk of getting broken.  
13. CB2 Trio Floor Lamp
The CB2 Trio Floor Lamp may be one of the most expensive products on the list, but paying that price gives you a multipurpose lamp that will work in wide and smaller spaces. Get this light stand for your living room if you want a corner standing lamp with a heavy base.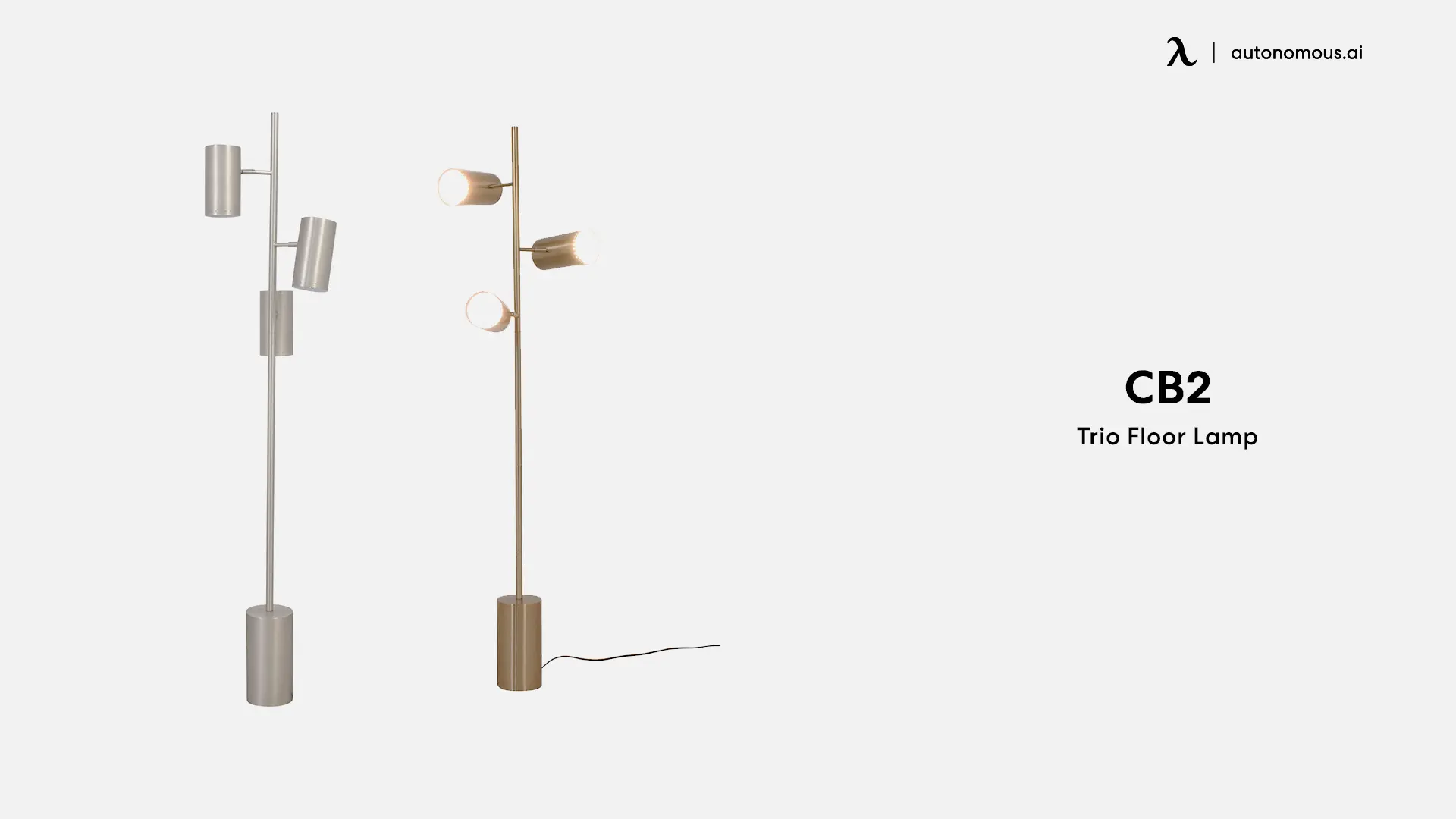 14. Adesso Felix LED Wall Washer
Some corner lights were made to be placed in specific positions, and the Adesso Felix LED Wall Washer proves that. Lamp designers made this lamp to be placed against a wall or in a corner, and while it can be in any position and work ideally, it's best if you use it that way. 
15. Globe Electric Torchiere Floor Lamp
This corner light offers two lights in one, and you can turn them off and on through different switches. This corner room light also has modern features, such as letting you choose between low, medium, and high settings. Thanks to this chair's traditional design, you can place it wherever you see fit.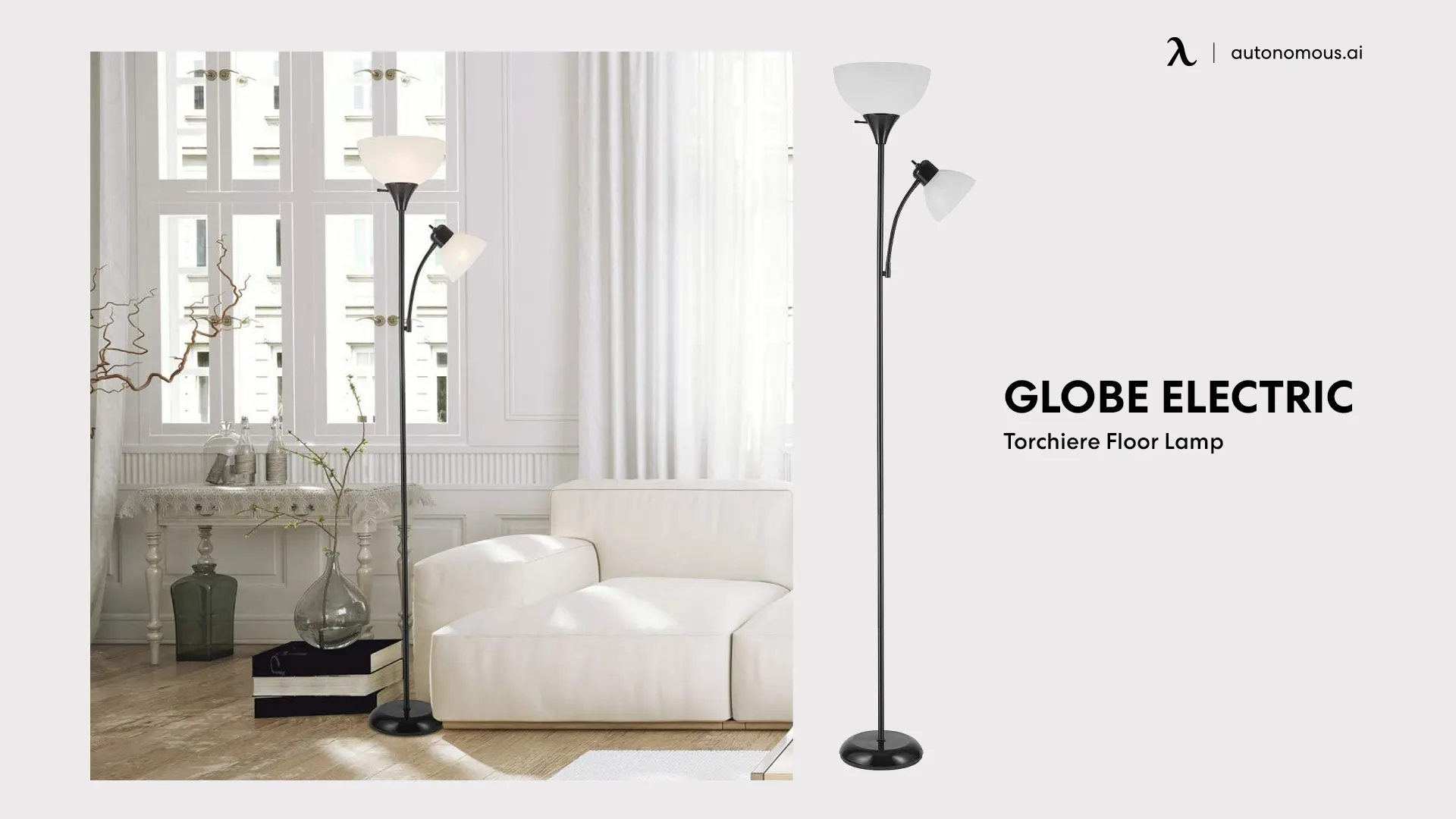 Wrapping Up
If you light up your house's corners and wait a week, you will be able to enjoy all the benefits we mentioned on this page. Try any of the things you read here, and see if your mood improves! 
You can learn about more things related to house furniture and topics such as yellow lights vs. white lights or ergonomics on our website, so make sure to check everything available for you anytime you can!
Subcribe newsletter and get $100 OFF.
Receive product updates, special offers, ergo tips, and inspiration form our team.
WRITTEN BYAutonomous
We build office products to help you work smarter.