Remote work has been a trend for a while, with no physical need to be present at the office. Remote offices are usually entirely virtual or follow a hybrid mode of working. There are many benefits of choosing a remote team over a physical in-house team. And since remote work is all about acquiring the right opportunities, motivating remote employees is also as essential as possible.
To keep a team motivated working from home is a big challenge, and not many organizations can keep up with that. From taking care of employee emotional intelligence to making flexibility an important incentive, remote employee motivation ideas range from a simple hold on schedule to many other things.
This also means to motivate a work from home team requires a lot of thinking and planning as each employee, let alone team, might be different from the other, and there has to be proper attention to interests of all.
This article will cover some of the key points that will help in motivating gen Z employees who work from home.
How to Motivate your Team Remotely
If you own a business, no matter big or small, you must be wondering to find out ways on how to motivate your team remotely. Remote team culture differs from a physical team in many ways. For starters, it has a lot of physical barriers, and if your employees are based in different parts of the world, you may also suffer from social and cultural barriers. In addition, people working from different time zones also experience a lot of tough times in managing a team.
This means you need the right motivation ideas to make the most of your remote team effortlessly.
Keep them Connected
Keep them connected with you, so they feel an integral part of an organization. Checking in with your employees is not always hoovering where you are finding out whether or not they are efficient, but it means you consider them an essential tool for the organization. You can consider carrying out weekly meetings on zoom to check in on the progress, listen to their concerns, and project some of the plans. But make sure to draw a line between checking in and intrusion.
Develop Trust
Not everyone is made out for working from home. However, those who choose to work from home do so because it allows them to be more flexible. So go ahead and give it to them.
This isn't the same as being entirely hands-off. You must still clearly clarify roles, expectations, and deadlines and check in on them regularly. But there's no need to micromanage them beyond that. Allow them to do their thing without interfering.
It's a straightforward technique to keep employees interested and motivated. Another approach to demonstrate your trust in your team is by focusing on what is produced rather than when and how much is produced.
Introducing Various Programs
As the pandemic rose, so did the solutions to counteract the problems raised because of it. Many organizations came up with new ways to encourage and achieve employee engagement objectives through various employee motivation programs. This means you can carry out various activities, such as online video chat conferences, coffee sessions, brainstorming sessions, discussions as teams, and other activities to form a strongly connected web team.
To keep the team motivated working from home, it is important to make them feel like a part of a bigger organization rather than just a bunch of individuals serving their 9 to 5 jobs.
Encourage Communication
Employees need to get the freedom of speech to feel valued and understood. However, especially for remote employees, you cannot predict the type of work and the home environment. For example, some might have children as their responsibility, while some might be taking care of older parents. Therefore, it is important to provide your employees with a proper communication channel to speak up and put their concerns forward.   
Providing the Right Tools
Offices are equipped with the proper tools to make things work, but remote workers often suffer from inefficient tools and facilities. This has been one of the biggest challenges to occur while working from home. Employers must understand that the lack of technical tools also causes the employee's workflow to be disrupted. When an employee works remotely and does not have access to the IT staff, communication challenges become even more serious.
To execute their jobs efficiently, remote workers require email, a good internet connection, time tracking tools, remote communication tools, video conferencing tools, project management tools, a direct messaging platform, and a mechanism to exchange and download information.
Focusing on Growth
Growth is an integral part of an organization, and it is important to create and develop a culture centered on growth. Unfortunately, remote workers often don't see their growth because they are not treated as an important part of an organization. This gives rise to a toxic work culture as employees feel that they are not heard and recognized.
Instilling growth mindset ideas in your remote workforce encourages them to seek new training programs and offers new personal and professional options.
This is extremely motivating, especially for a remote workforce, because it focuses on their performance goals and personal growth, which helps to improve the business culture.
Invest in Them
The more you invest in your employees, the more they are going to value you. It is one of the worthy investments on motivating remote employees. Therefore, organizations must take growth and employee retention seriously; hence they must ensure that employees feel like they are headed somewhere. This is possible with many training programs and certifications, so the chances of growth in the future are visible.
Keep the Score
Healthy competition is a part of every successful organization, and it encourages employees to perform better. Even if your team communicates frequently and has a culture of accountability, they'll need a mechanism to track common objectives. Creating a progress visualization stimulates competing personnel and highlights critical performance metrics and priorities for the entire team.
Choose a consistent manner that is easy to comprehend for your entire team, such as creating a spreadsheet that monitors progress over time or producing a PDF representing quarterly targets. You might also hold weekly or monthly meetings to update the scoreboard and realign it so that the data you measure accurately matches your company's goals.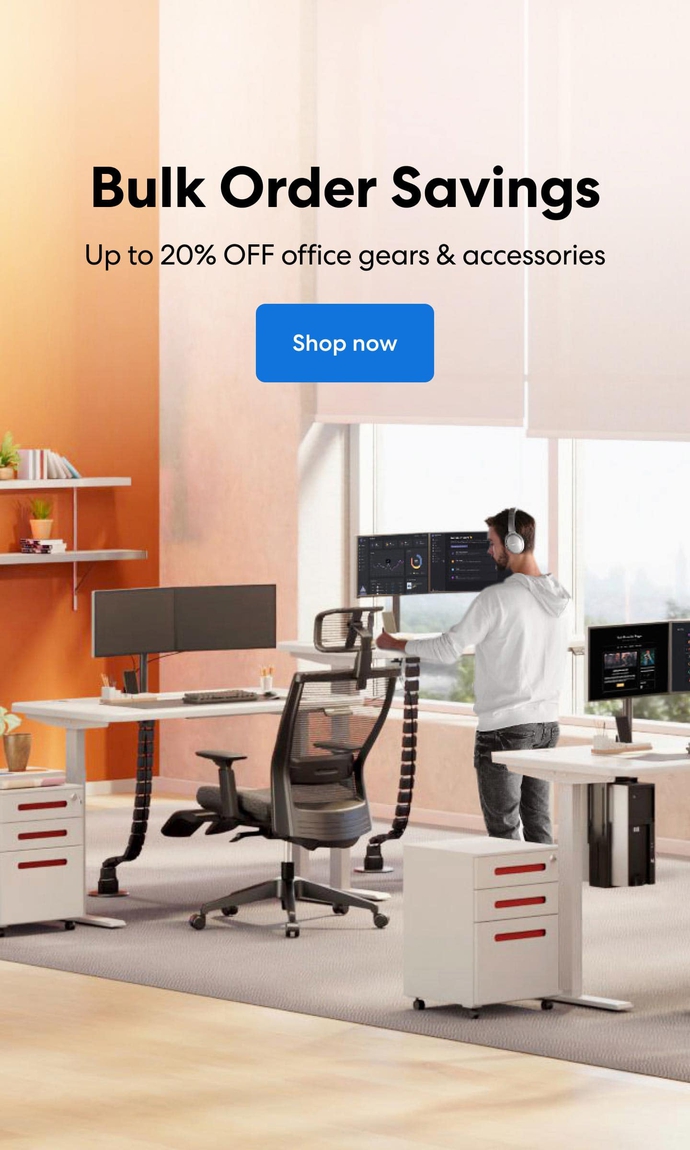 Subcribe newsletter and get $100 OFF.
Receive product updates, special offers, ergo tips, and inspiration form our team.