Whether it's a collection of new clothes or those tall chairs in the bar, standing desk or standing desk converters, short people often are sadly ignored in the crowd. Office furniture for short people rarely makes the top of the list, and many height-adjustable desks and chairs don't have the height range to satisfy the petite crowd.
Hence office ergonomics came up with a solution to cover the needs of all kinds of people with different body types. A mid-back computer chair is a great solution for short people who often complain about back pain. An ergonomic chair that isn't made with the right support can give rise to long term back issues and poor posture problems. Hence, this article will cover the best mid-back desk chairs for a shorter crowd.
Top Mid-Back Computer Chairs for Short Person
1. ErgoChair Core
Thanks to the wide back, the chair is not only best for shorter people, but it is also a great choice for wider users. One of the best-rated computer ergonomic chairs, the ErgoChair Core has a meshed back that keeps the user feeling cool and relaxed while working. The chair provides complete adjustability in adjustable height, seat rest, armrest and tilt tension.
ErgoChair Core is also available in two attractive colors, black and gray, and we love the additional lumbar support it provides for the lower back. One of the best features of this chair is that the lumbar support is adjustable, making it a suitable mid back mesh ergonomic computer chair for taller and shorter people.
2. ErgoChair Recline
A mid-back ergonomic office chair with extra cushioning around the spinal region, the ergo chair recline is suitable for working for long hours. This reclining desk chair is made suitable for people who spend hours at a time in front of the screen, such as programmers and gamers. The ErgoChair Recline comes with wonderful features such as the backrest, adjustable seat tilt, adjustable armrests and a deep seat pan for maximum support against the bottom.
This mid-back computer chair also comes with a movable footrest so you can tilt back and relax at most. With a weight capacity of 250 pounds, the ergo chair recline comfortably carries people belonging to different weight ranges.
3. ErgoChair Plus
If you have been searching for the best ergonomic chair, your search ends here. ErgoChair Plus is simply the most dynamic chair designed for modern workspaces. This chair has a seamless design for effortless movement and a smart design suitable for modern to basic office decors. The ErgoChair Plus is designed with additional support for the back, and we love the combination of TPE mesh with a little bit of cushioning.
ErgoChair Plus is a fully ergonomic chair with many adjustable points. You will get adjustable seat height, seat tilt, armrests, and adjustable spinal support. The chair is also made with 300 pounds weight capacity to suit a shorter to the taller and heavier crowd.
4. AvoChair
Since short people don't take up too much space, the idea of a compact chair does well for them. Hence our pick for the best eco-friendly office chair. This eco-friendly office chair from Autonomous is made from 100% recycled material, so you get the benefit of an environmentally responsible office worker.
This mid-back computer chair is made in four different combinations with a unique theme. This will ensure everyone can get something for their work desk. With a compact design, the chair is also fully adjustable and keeps the user at ease most of the time. The AvoChair also has quick movements, so you remain active while working.
5. Neutral Posture XSM Office Chair
The XSM does a fantastic job at accommodating the needs of short people. Because of its high seat depth adjustment range it has a minimum seat height of 15.75 inches and a maximum seat depth of 15.5 inches. The arms are particularly ideal for tiny individuals.
The heavily padded seat is one feature that sets the XSM different from other chairs. It has 4 inches of premium molded foam. This will provide a soft and comfy sitting experience.
6. Steelcase Leap
A mid-back ergonomic office chair is the best pick for a shorter crowd, hence making this modern and stylish looking Steelcase leap v2 office chair to our list. With a minimum height of 15 inches, this chair can suffice you from childhood to adulthood.
This family chair has fully adjustable features with a softly cushioned comfortable seat pan, a seat rest for maximum support against the back, and an armrest height range of 7 to 11 inches. The Steelcase ergonomic chair ensures an ergonomic posture while working and will help you get rid of those poor sitting habits in front of the screen.
How to Choose the Best Office Chair for Shorter People
Ergonomic office chairs usually end the curiosity and confusion of picking the right product because of the complete adjustability they offer. But when we talk about shorter or extra taller people, not all chairs can do the job well. Hence here are some factors to look at before buying the best chair for shorter people.
Seat Height
An ordinary office chair's seat height can be adjusted from 18" to 22". Look for a chair that can be lowered to 18" or even lower if you're short. The good news is that seat height isn't nearly as crucial as seat depth for short people because you can always use a footrest if the chair doesn't go low enough.
Lumbar Support
A chair without lumbar support will keep your back under tiny constant pressure, which only gets worse with time. Especially for shorter people, the mid-back computer chair should have adjustable lumbar support instead of a basic one. This will help them get lumbar support to the right region and avoid unnecessary stresses.
Back Rest
The backrest should be height-adjustable to match your needs. It should ideally be able to tilt forward as well, so you don't have to perch precariously on the edge of your seat, putting strain on your lower back.
Seat Depth
Because your legs will be dangling off the floor and providing undue pressure to the delicate underside of your thighs, if a chair's seat pan is too deep, it might cause circulation problems for short persons.
We propose a seat depth of 18" or less for shorter persons. It should also be depth adjustable so that it may be customized further.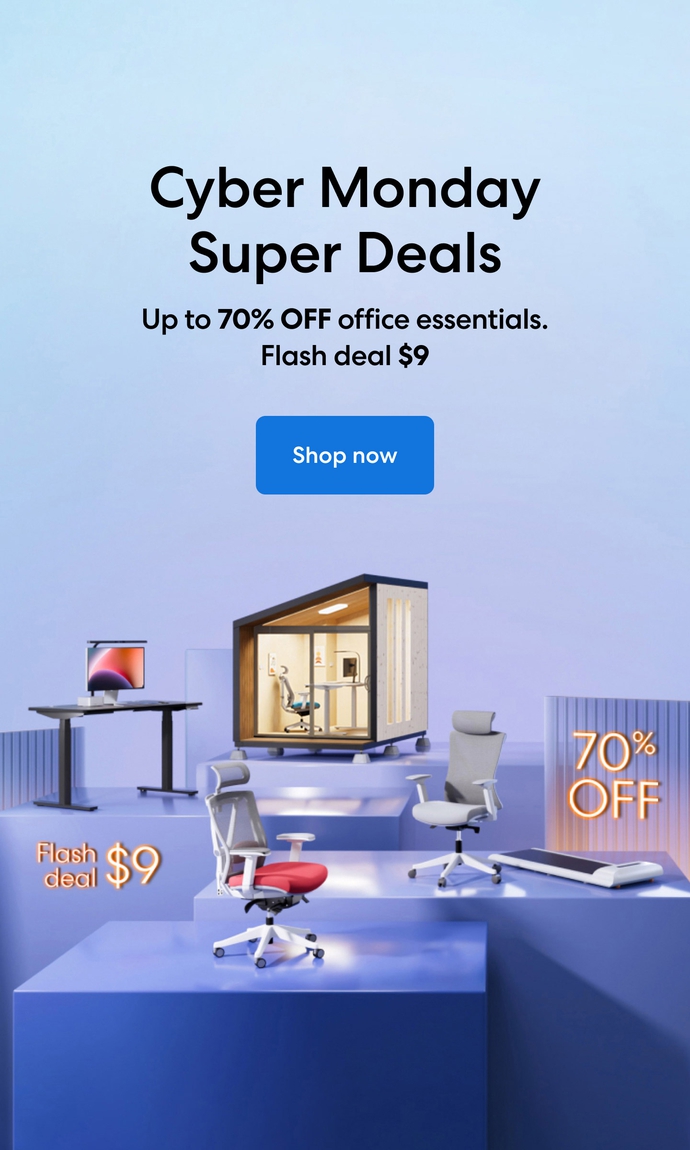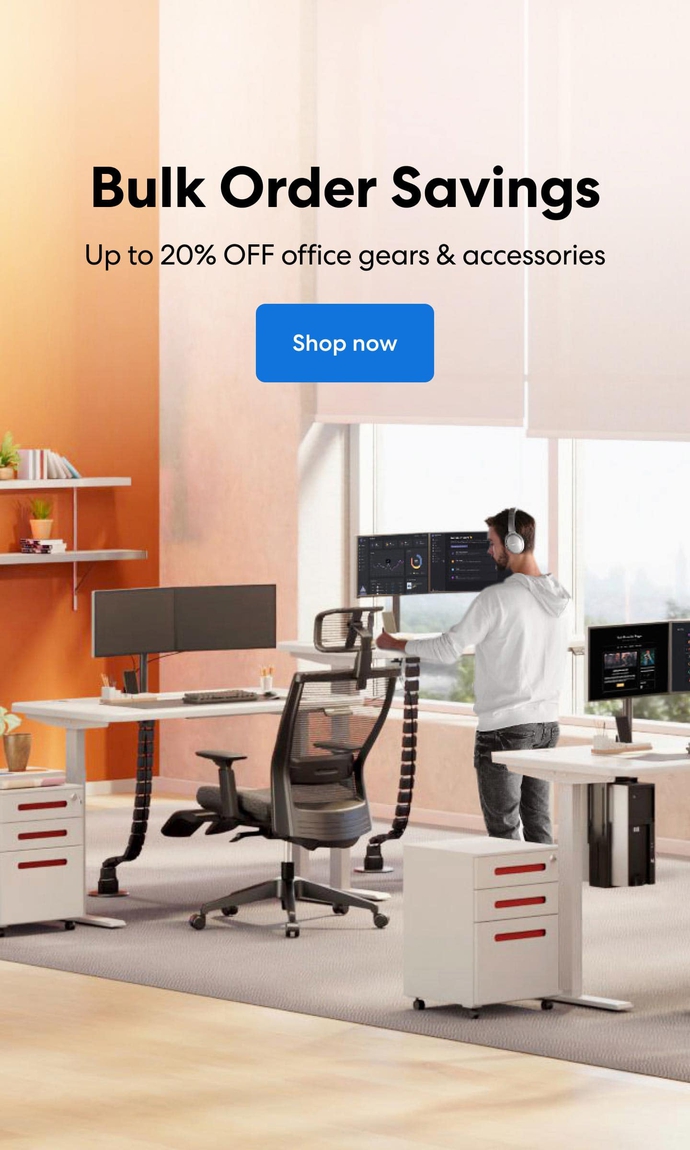 Subcribe newsletter and get $100 OFF.
Receive product updates, special offers, ergo tips, and inspiration form our team.