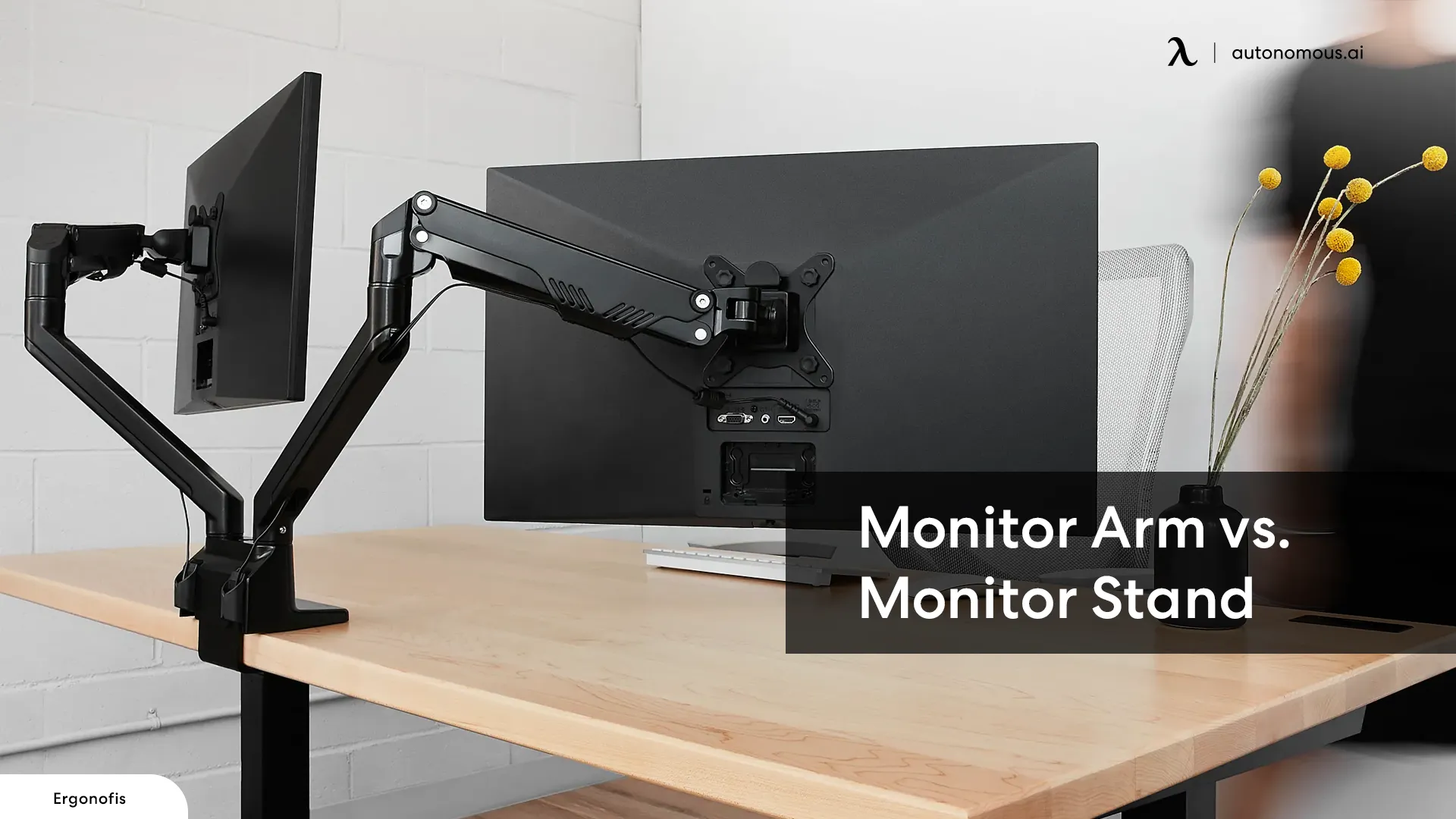 Workplace Inspiration
Monitor Arm vs. Stand – Which One Reigns Supreme?

Autonomous
|
Aug 16, 2023
793 Views
Welcome to our comprehensive article on the age-old debate: Monitor Arm vs Stand. If you're searching for the perfect dual monitor setup, you've come to the right place. In this article, we will delve into the pros and cons of monitor arm vs. stand, allowing you to make an informed decision based on your specific needs and preferences.
Whether you're a professional seeking optimal ergonomics or a casual user aiming for flexibility and space-saving solutions, this article will provide valuable insights to help you choose between the two. Get ready to unravel the secrets of monitor stand vs. arm and discover which one reigns supreme for your multiple monitor setup.
Monitor Arm vs. Monitor Stand: Factors to Consider
Ergonomics and Comfort
Ergonomics plays a crucial role in maintaining a healthy and comfortable workspace. Monitor arms excel in this area by offering extensive adjustability. You can effortlessly raise, lower, tilt, and swivel your monitor to achieve optimal viewing angles, reducing strain on your neck, shoulders, and eyes.
On the other hand, between monitor arm vs. stand, while some monitor stands provide basic height adjustment, they may offer a different level of flexibility and customization than monitor arms, potentially compromising your comfort during extended periods of use.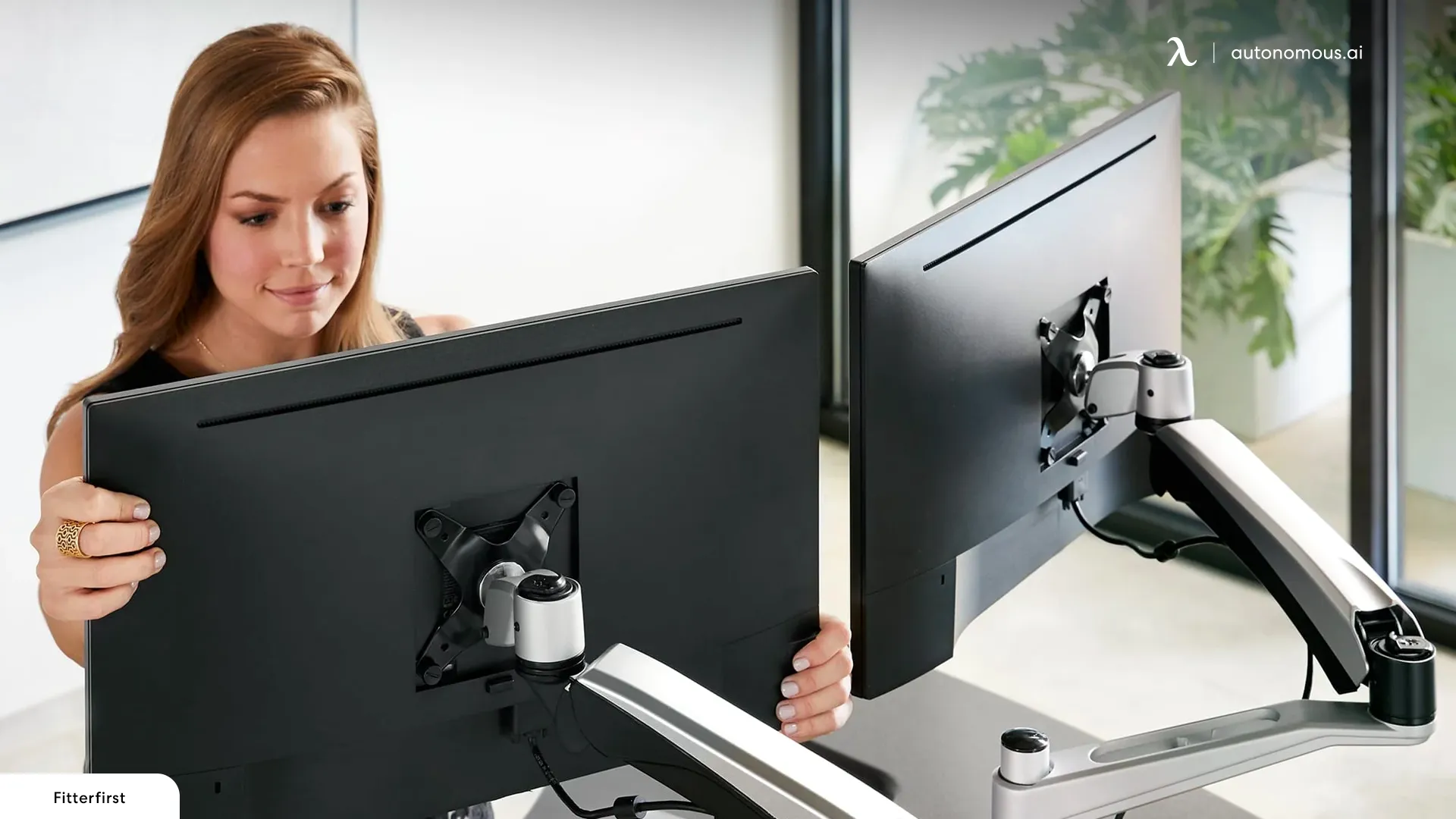 Installation and Setup
Monitor arms typically require installation, which involves attaching the arm to the desk or mounting it on a wall. This process may require some tools and basic DIY skills. On the other hand, monitor stands usually come pre-assembled and can be easily placed on the desk, making them more convenient for those who prefer a hassle-free setup.
Flexibility and Workspace Optimization
Flexibility and workspace optimization are important considerations between monitor arm vs. stand, especially if you require multi-monitor setups or need to switch between landscape and portrait orientations. Monitor arms provide unparalleled flexibility, allowing you to reposition and rotate your monitors to accommodate your workflow effortlessly. This adaptability is particularly beneficial for design, programming, or content creation professionals.
Monitor stands, although offering stability and basic height adjustment, may provide a different level of customization and versatility, limiting your ability to create an efficient and adaptable workspace.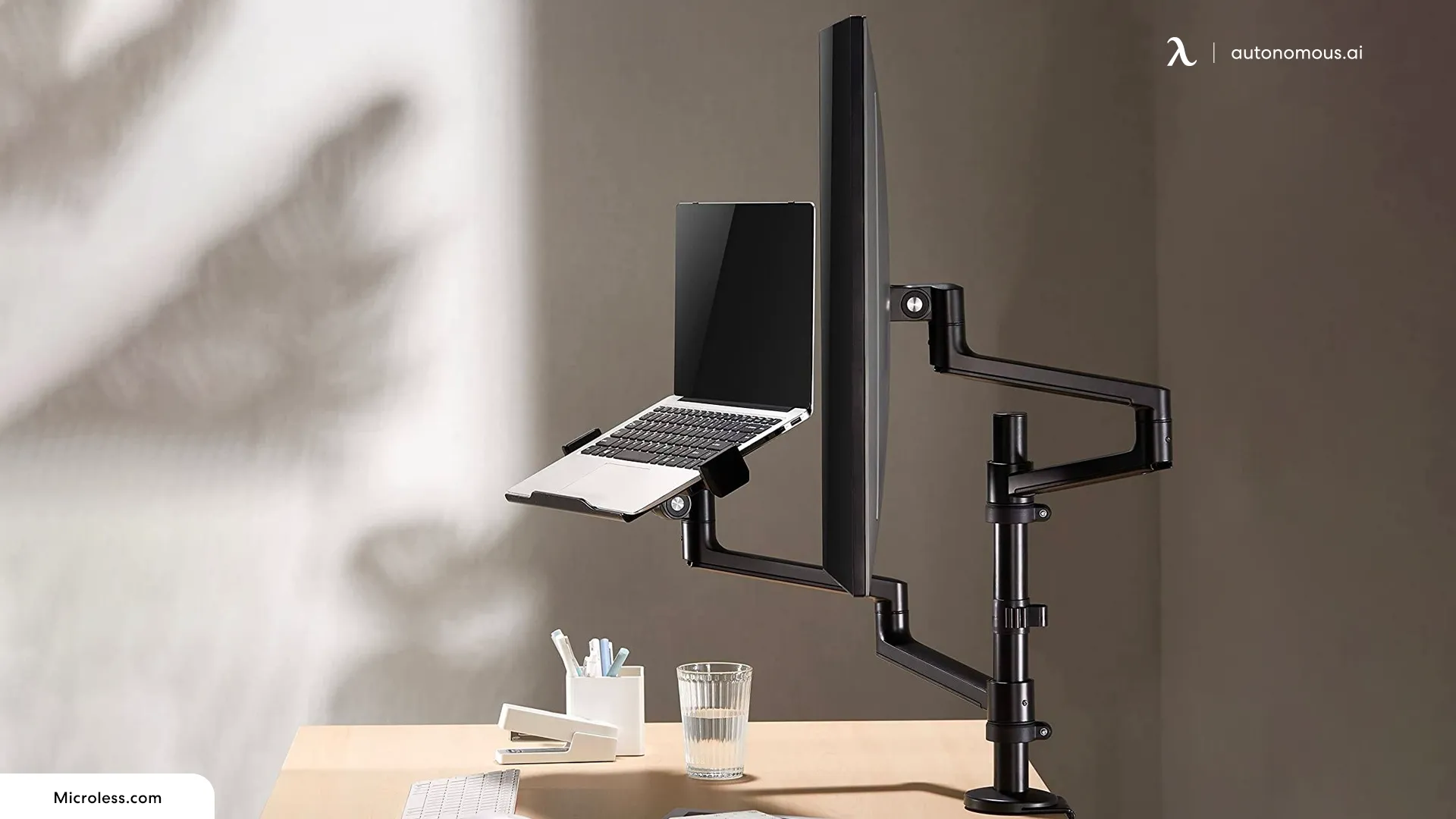 Design and Aesthetics
Monitor arms often offer sleek and minimalistic designs that enhance the overall aesthetics of your workspace. They create a clean and modern look by reducing clutter and allowing for a floating monitor effect. Monitor stands come in various designs but may have a more traditional or bulkier appearance due to their base.
Space Efficiency and Organization
Efficiently utilizing desk space is essential, particularly in compact work environments. Monitor arms excel in this area by elevating the monitor off the desk surface. By doing so, they free up valuable workspace, allowing you to declutter and organize your desk.
Managing different monitor cable types features of monitor arms further contributes to a clean and tidy setup. On the other hand, while providing elevation, monitor stands may occupy valuable desk space, limiting your available working area and potentially hindering your productivity.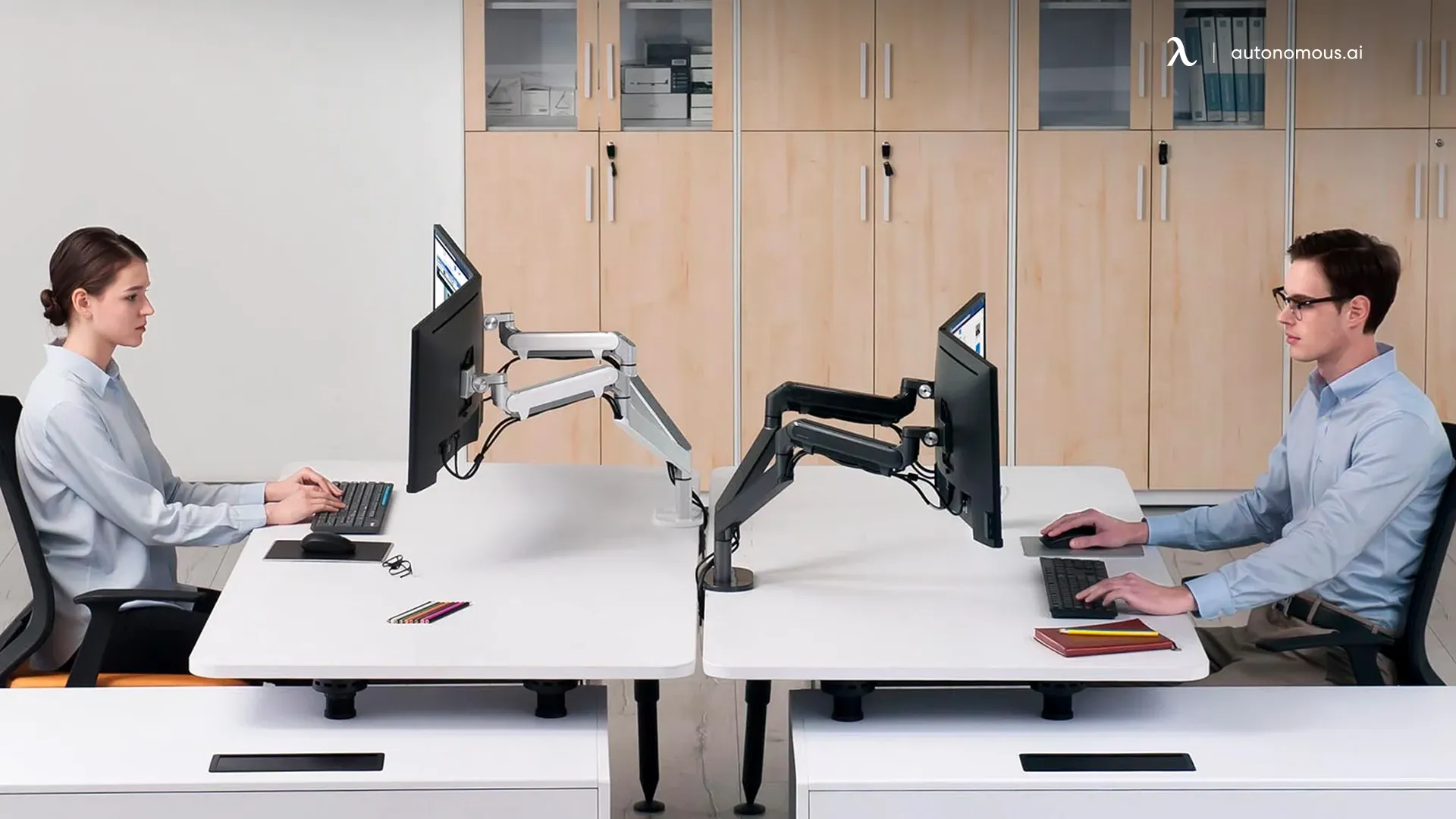 Pricing and Value
Monitor arms generally have a higher upfront cost compared to monitor stands. However, they offer long-term value by providing ergonomic benefits, flexibility, and improved workspace organization. Monitor stands, on the other hand, tend to be more budget-friendly but may have limited adjustability and features.
The Best Monitor Arms vs. Stands on the Market
1. Autonomous Monitor Arm
The Autonomous monitor arm is a great way to upgrade your workspace. It provides a smooth and comfortable option for your office or gaming setup. This desk arm is made of strong materials and has many useful features. It lets you make the most of your office and provides a comfortable watching experience.
Highlights
With a single or dual monitor setup, you can get more done and make better use of your workroom.
Arms with a full range of motion - 360° rotation and 20" vertical range - make it easy to switch between portrait and landscape modes.
For long-term peace of mind, there is a 2-year guarantee.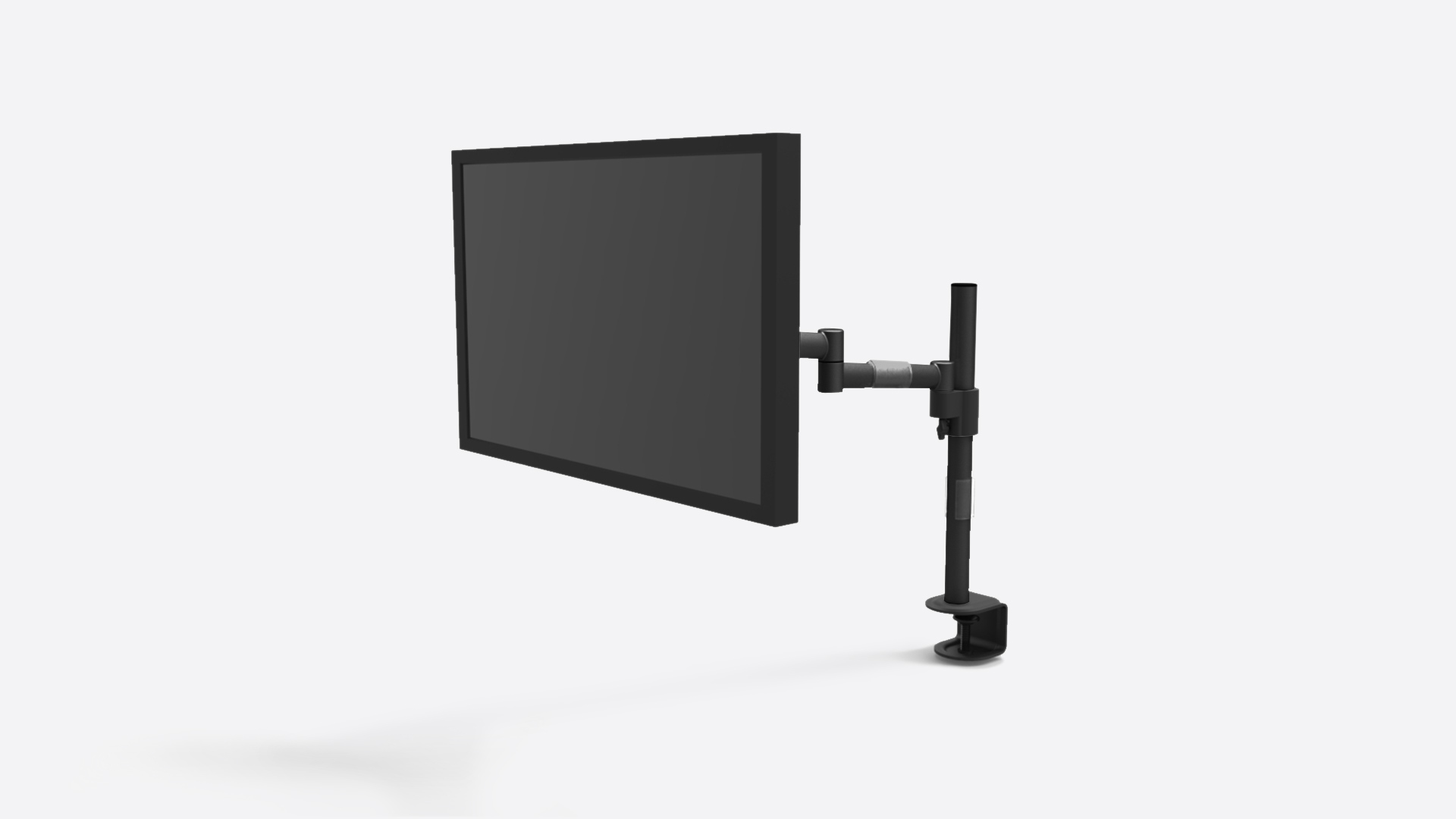 Pros

Cons

With the movable arms, you can get the best viewing angle and lessen neck pain.
The monitor arm can only hold 26 lbs per arm.
LCD size range of 18"- 28" and tidy cable management.
2. Mount-It! Laptop and Monitor Stand
This all-in-one desk mount is the pinnacle of efficiency and ergonomic design. With this ingenious solution, you can easily raise your laptop and secondary display to comfortable working heights, freeing up crucial desk space in the process. Its flexible design allows it to meet your requirements while maintaining efficiency.
Highlights
This desk mount effectively frees up your desk space, providing a clutter-free and organized work area.
With the help of this mount, you can easily customize the position of your laptop and secondary display for maximum comfort and productivity.
It can support laptops up to 17" in size, and VESA monitors up to 27", making it suitable for a wide range of devices and setups.
It has a 10-year warranty.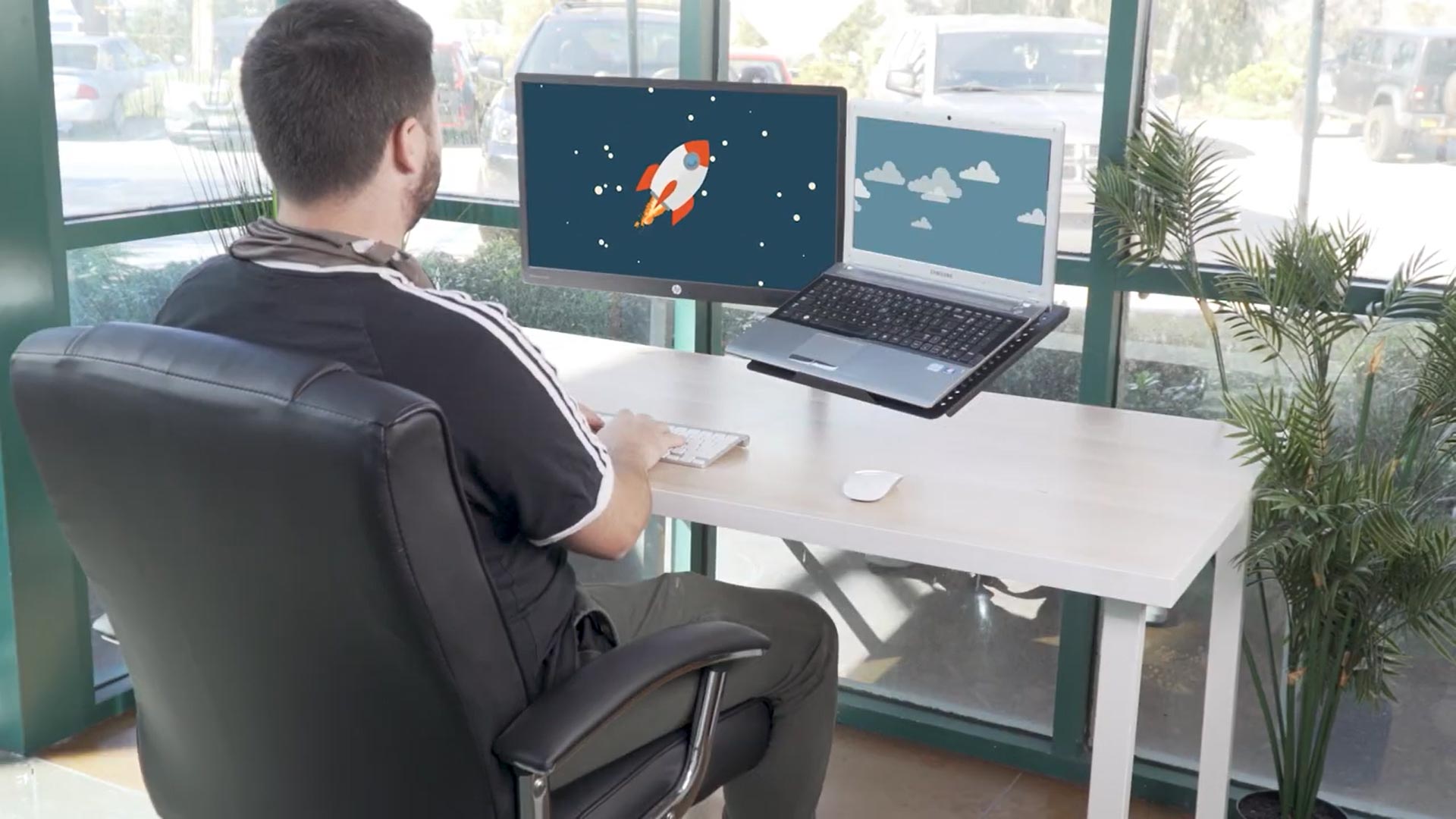 Mount-It! Laptop and Monitor Stand
Pros

Cons

It promotes proper posture and reduces strain on your neck and back during long work hours.
Requires careful consideration during installation.
The laptop ventilation feature prevents overheating.
It has a weight limit.
The adjustable features of this monitor stand boost your overall efficiency and focus.
3. Enkel Studios Laptop Stand: Solid Birchwood
The Enkel Studios Laptop Stand in solid birchwood is a game-changer for any workspace. Crafted with precision, the natural beauty of the birchwood adds an elegant touch, setting it apart from standard plastic stands. Its ergonomic design raises the laptop to eye level, reducing strain on the neck and wrists during extended work hours.
The stand's solid build provides a stable platform, and its minimalist design complements various workspace styles. Its compact size makes it easily portable when needed. For those seeking a high-quality, stylish laptop stand that combines form and function, the Enkel Studios Laptop Stand in solid birchwood is a top-notch choice, enhancing both the aesthetics and comfort of any workspace.
Highlights
Help raise your laptop screen to the optimal viewing angles for an ergonomic work space.
Made from solid birchwood and finished off with non scented protective oils. Materials are sourced ethically.
Soft wool feet to protect any scratching against surfaces.
Can hold from 10" - 16" laptop.
Can accommodate multiple computer accessories.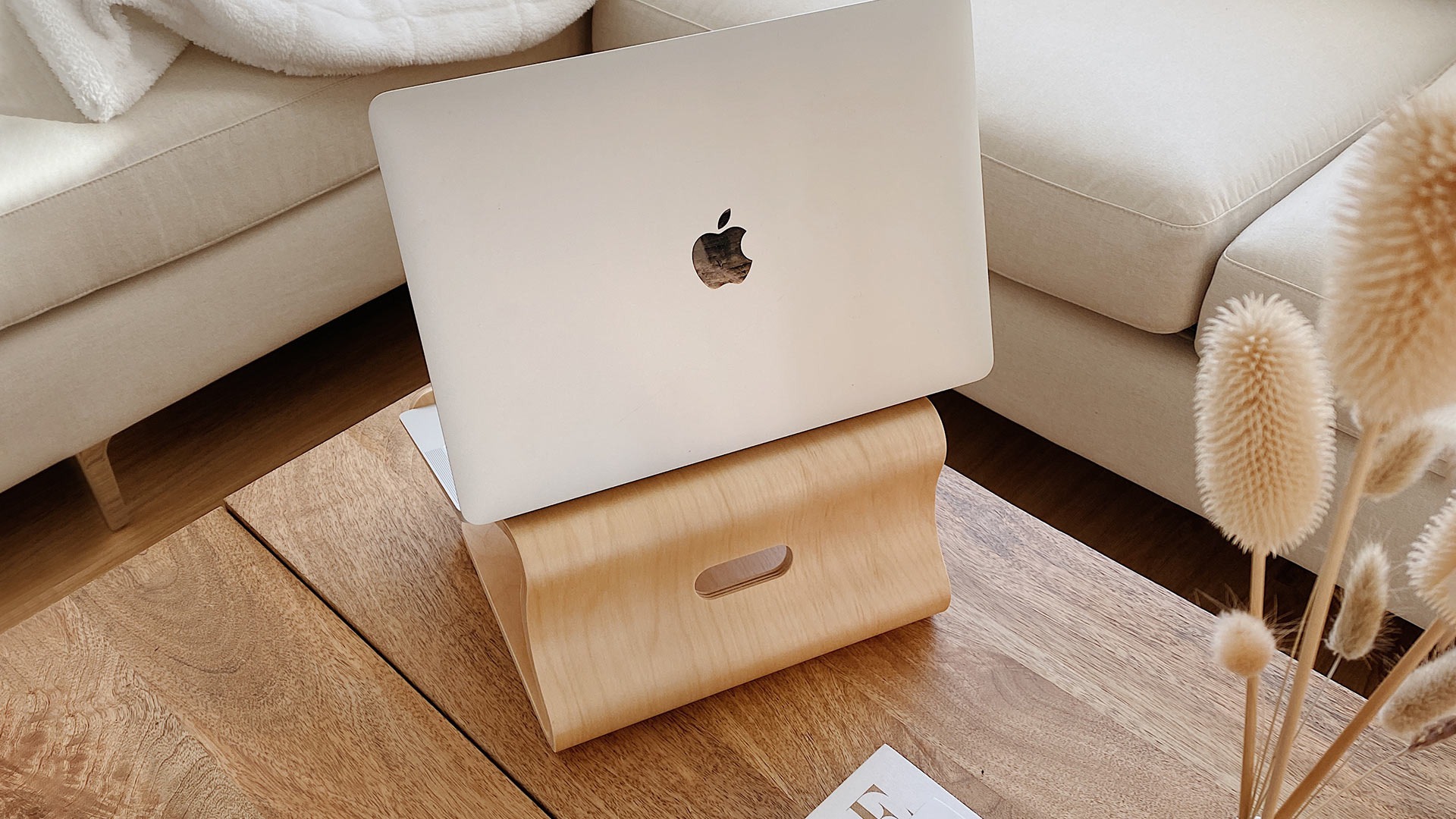 Enkel Studios Laptop Stand: Solid Birchwood
| Pros | Cons |
| --- | --- |
| This laptop riser is designed to accommodate a wide range of laptops. | It can't provide a different level of customization than some other laptop stands. |
| It helps elevate your laptop to a comfortable height and can help reduce strain on your neck. | It doesn't offer tilt and swivel adjustments. |
Conclusion
When it comes to the ongoing debate of monitor arm vs. stand, the decision ultimately depends on your specific requirements and the desired aesthetics of your minimal desk setup. Both options have their unique advantages.
Consider your workflow, the level of customization you need, and the available desk space to make an informed decision.
Video ads for product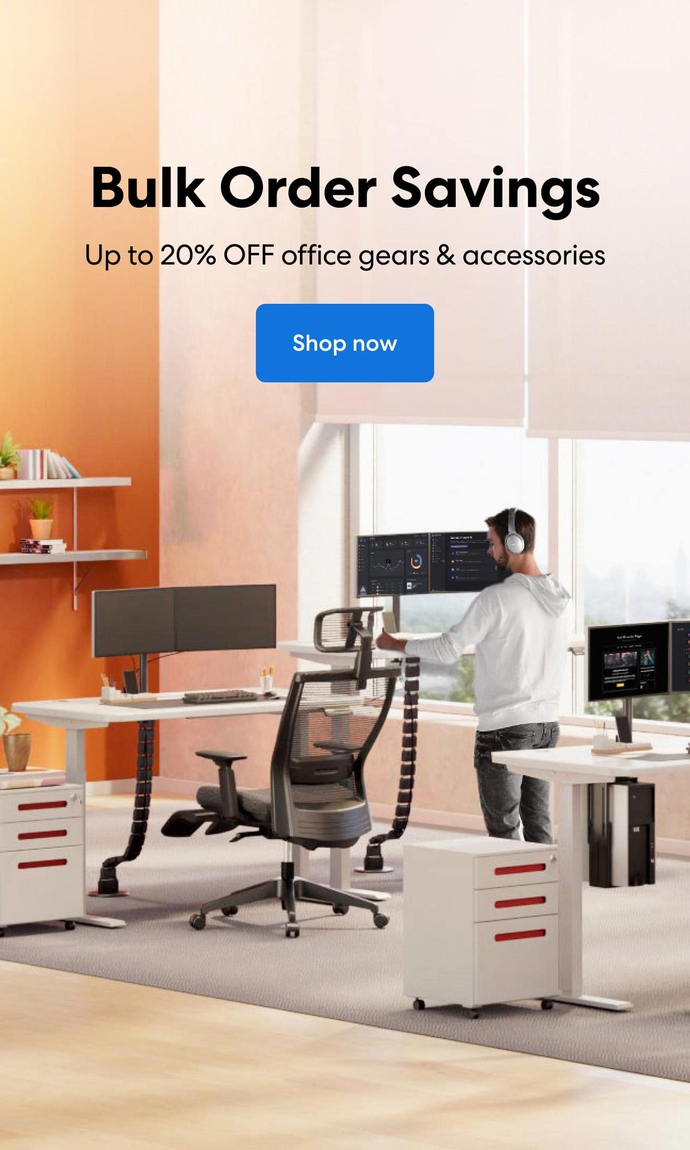 Subcribe newsletter and get $100 OFF.
Receive product updates, special offers, ergo tips, and inspiration form our team.