If you want to save some money, finding top office chair deals might be a good idea. However, you need a list of options to evaluate. Once you have it, you can compare the different alternatives and choose the most convenient one. Read on and get to know the top sitting spots you could buy in 2022!
19 New Office Chair Deals & Clearance for You
1. ErgoChair Pro
Autonomous is known for providing customers with high-quality sitting spots, and the ErgoChair Pro is one of the best office chair options you could find. Workers who want to buy an ergonomic chair should check out this model since it offers unique features at a convenient price. 
Clients who have bought the ErgoChair Pro are often content with the product. This incredible model is fully adjustable, its design is appealing, and it's made for people who need to spend hours sitting down.  
Additionally, using Autonomous promo codes lets you save some money, which might be extremely convenient if you're on a budget. Check out this wonderful model and add it to your list of possible sitting spots – the brand offers one of the best deals on office chairs you could find! 
2. ErgoChair Recline
The last piece of furniture on this list is the ErgoChair Recline, which is another famous sitting spot by Autonomous. With this chair, you can have it all – a beautiful spot to sit in, a modern design, fully adjustable features, and much more. 
Many people choose the ErgoChair Recline because its ergonomic features allow you to comfortably sit for hours without experiencing tension, cramps, or pain. Say goodbye to your discomfort because this chair is made for you.
3. Mesh Office Chair by KaiMeng
KaiMeng's option is one of the cheapest models you can find out there. It's the ideal alternative for workers with a very low budget. 
This discount office chair is not even $100, which means you don't get as many ergonomic and adjustable features. However, it's made of breathable mesh, includes a comfortable backrest, and the cushioning on its seat is very convenient. 
While some office chair deals might offer you expensive options, in other cases (like KaiMeng's Mesh Office Chair), the computer chair sale fits the needs of someone with less money to spend. Thus, simply examine all alternatives and then choose the one that fits your goals!
4. Professional AirGrid by Space Seating
Office workers often look for Cyber Monday office chair deals to save money. However, finding adjustable sitting spots can be challenging, and you might want a customizable piece of furniture with ergonomic features. 
The Professional AirGrid is a fantastic option, and you can find this model in computer chair sale alternatives in many different stores. It costs less than $200, and you can adjust a lot of its features. 
Buying the Professional AirGrid means you get a chair with a mesh back, so you can get all the ventilation you need even on hot days. Lastly, even though it's not fully adjustable, you can change enough features and feel completely comfortable while you're sitting down. 
5. Classic Office Chair by AmazonBasics
Amazon is one of the most famous stores to offer office chair deals you can't miss. Visiting the website might quickly give you many options, including their own Classic Office Chair. 
Finding a convenient desk chair sale that fits your needs might not be easy, but AmazonBasics has a chair model that could be just what you're looking for. The Classic Office chair is affordable, simple, comfortable, and fully supports your body. 
Some office chairs for sale require you to pay a fortune, or they don't offer everything you wish. Nonetheless, with AmazonBasics' choice, you can get a decent sitting spot for no more than $120.  
6. Mesh Chair with Armrest by Furmax Office
Working in an office requires you to have a comfortable sitting spot with ergonomic features. You have to spend hours in front of your computer, after all, so you need to ensure your back and neck are in perfect health. 
Furmax's alternative could be a fantastic option for you, especially if you don't have much money to spend. It offers you a padded seat, wonderful lumbar support, and adjustable features – you can change several aspects of the chair! 
Additionally, this mesh executive chair rests on five casters, which means you can easily move it around your workspace. Overall, the Furmax Mesh Chair is one of the cheapest models you can find and offers practical features you might want to consider. 
7. X-chair X2 Office Chair
Being an office worker doesn't mean you can't relax from time to time while you're completing your daily to-dos. On the contrary – one of the most important aspects of having a comfortable chair is ensuring that you never experience tension. 
If you spend some extra money on the X-chair, you can get a heating and massage pad. Thus, if you've always wanted a chair that's both comfortable and relaxing, this model might be for you. 
Even though the X-chair seems like a relaxing sitting spot, it's firm and sturdy, so it's a trustworthy seat you can rely on to keep your back and neck healthy while you work. 
8. Leap Chair by Steelcase
Steelcase is a famous brand, and it's behind some of the most-loved office chairs for sale. The designers care about customer experience, which is why they have created wonderful sitting spots for workers like you. 
The Leap Chair is a fantastic model you can buy, especially if you already suffer from back and neck pain. It has a feature no other sitting spot can offer you: it shifts each time you move since its design is supposed to adjust to any position you're in. 
9. Task Stool by Hon Volt
Everyone has different requirements when looking for the best office chair deals. It may surprise some, but many workers prefer chairs without armrests. If that's your case, Hon Volt has the perfect option for you: The Task Stool. 
Both the chair's seat and back are made of leather, but you can choose a fabric version if that's what you want. The Task Stool is also known as a drafting chair, and it encourages you to move your body. 
10. High-back Executive Chair by Gates
On many occasions, office chairs for sale might not be very appealing. If you care about the look of your workspace and its style, you might want a sitting spot that makes a statement. 
Nonetheless, the High-back Chair by Gates is an impressive model that could catch your eye. It's extremely beautiful, luxurious, and elegant, and buying it might make you look like a businessperson! 
Even though the High-back Chair is very appealing, it doesn't offer many adjustable features, so you might want to take a look at other discount office chair options and make sure you buy the best one. 
11. Standing-desk Executive Chair
You need a place to sit, even if you have a standing desk, so finding a top discount computer chair is essential. 
The Songmics Pro is a fantastic standing desk chair without armrests or back, and you can rotate it or tilt it as you're sitting on it. 
Unfortunately, this model is not suitable for everyone. Some workers don't enjoy sitting on stools, and it's not designed for heavy users. 
12. Mesh Task Chair by Union & Scale Essentials
Union & Scale Essentials is one of the most popular stores out there. Scrolling through the website can be a very fun process since you could find some of the best deals on office chairs. 
The Mesh Task Chair is a sturdy sitting spot. Nonetheless, it's also immensely comfortable. Its design looks modern and appealing, so you might want to include it in your workspace. 
Long working hours can be challenging, especially if you don't have a proper piece of furniture to sit on. However, you can turn things around with the Mesh Task Chair – it's breathable and even has rollers, so you can quickly move around your workstation if you need it. 
13. Kelburne Luxura Faux Leather Chair by Staples
Faux Leather is many workers' favorite material when they're looking for office chair deals. It looks incredibly beautiful, luxurious, and can completely change the style of your workstation. 
Staples' Kelburne is a wonderful faux leather sitting spot because its design lets you be comfortable for hours. Therefore, if you need to stay relaxed for a long time, this might be what you've always wanted. 
14. Office Chair by Hbada
Even though Hbada is not as popular as Autonomous or Herman Miller, it's still a brand you should consider when you're chair-hunting. Some desk chair sale options might be convenient for you, but evaluating all available alternatives allows you to make better choices. 
Thus, Hbada offers an Office Chair that many workers choose due to a simple reason: it has a classic, sleek design that includes convenient features. The first time you sit down on it, you might quickly notice that it's immensely comfortable, and has firm armrests. 
15. Street Task Chair by Wrought Studio Wall
Unfortunately, not all chairs are comfortable. If you're looking for the best deals on office chairs, you should make sure the sitting spot you're buying offers all the features you need. 
Purchasing the Street Task Chair could be the ideal option for you. It's one of the most comfortable pieces of furniture you could buy because it includes CaressoftPlus Cushions. Additionally, it doesn't have any armrests, which is a feature some workers love even more. 
16. Black Leather Task Chair by BDI
If you don't want a fancy chair that costs a lot of money, you should definitely check out this discount office chair. BDI's model is cheap but has top-of-the-notch ergonomic features. 
The Black Leather Task Chair has a design that keeps your comfort as its priority. With a leather seat, a mesh back, and a comfortable headrest, you can sit down for hours and complete all your tasks without suffering from pain in your neck or back. 
17. Branch Ergonomic Chair
There are many office chairs for sale, but sometimes you might not be looking for something too flashy. If that's your case, the Branch Ergonomic may be a convenient alternative. 
Office workers need the best deals on office chairs since you probably need to buy other things as well. Fortunately, the Branch Ergonomic is affordable and immensely comfortable. Once you sit on it, you might forget you're working at all. 
Additionally, the Branch Ergonomic offers several adjustable features. Therefore, it's not only a discount office chair, but also a fantastic seating spot with customizable features. 
18. Aeron by Herman Miller
Many people believe Herman Miller's Aeron is one of the best sitting spots you could buy if you're looking for an office chair discount. It's a classic model with remarkable features, and it's immensely popular. 
Buying the Aeron is a fantastic decision. Hundreds of people have done it and are now enjoying the features of the chair, which include fully adjustable features, lumbar support, angle-tilt, and much more. 
In some cases, office workers believe the Aeron is expensive compared to other deals you can find out there, especially if you're searching through Black Friday office chair deals. Nonetheless, you're buying your sitting spot to spend long hours working, so you should get a high-quality item. 
19. Hon's Exposure Chair
Suppose that your budget is tight and that you simply need a chair that gets the job done. Fear not because the Hon Exposure is here for you – it's simple, it has a classic design, and it's many people's favorite affordable option. 
Even though the Exposure is not the most beautiful chair, it's comfortable and firm, so you should definitely look into it if you don't have much money. 
Keynote Takeaways
Office workers need to get the best chairs for their workspace. However, if you're low on budget, you probably need to find convenient deals to buy your items at a lower price. 
Now, you have a list of different office chair deals options you can examine. Take a look at all the available deals, compare pros and cons, and purchase the most convenient one!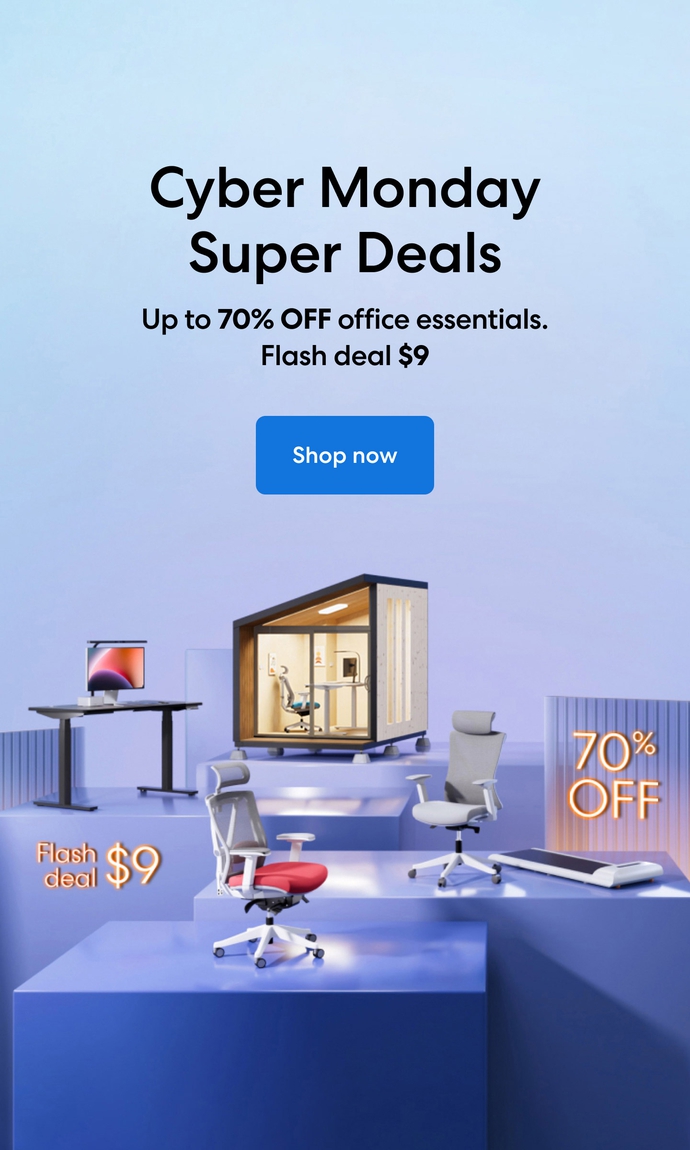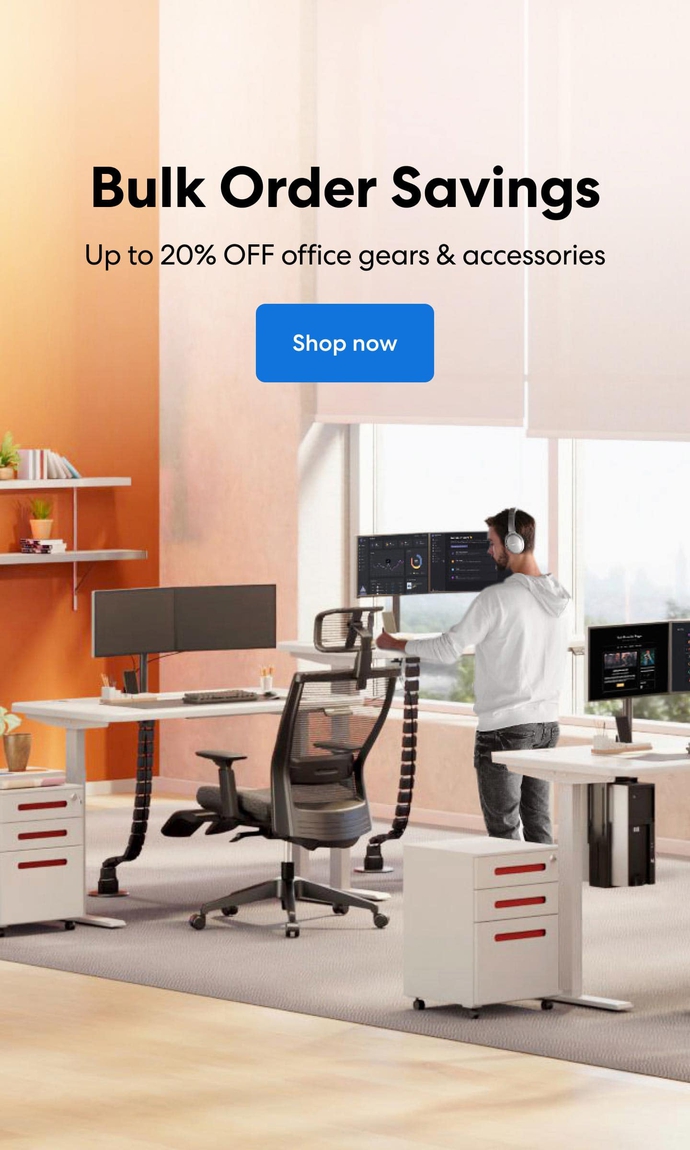 Subcribe newsletter and get $100 OFF.
Receive product updates, special offers, ergo tips, and inspiration form our team.