Workplace Inspiration
Prefab Housing: Why Is It Important for a Sustainable Future?

Autonomous
|
Jan 15, 2023
672 Views
When you're in the market for a new home, you have two main options: purchasing an existing property or building your own. Both have their advantages, but building allows for more customization. One option to consider is prefab housing, which involves partially or fully constructing a home in a climate-controlled factory before delivering it to the site. 
This process can save time and money, and modern prefab housing can range from cozy under 1,000 square feet to spacious multi-room dwellings. 
Whether you're looking for a small and efficient space or a roomy and luxurious home, prefabricated housing may be worth exploring. That is why we made this list of the 20 best prefab housing and prefab housing kits to make your decision easier. 
Why Is Prefab Housing a Key to a Sustainable Future?
Modern prefab housing offers a range of benefits that contribute to a sustainable future, including cost savings, environmental friendliness, durability, and energy efficiency. 
One of the most significant advantages of this construction model is its eco-friendly assembly process, which minimizes waste and utilizes standard timber lengths to reduce material usage and carbon emissions. 
By choosing a modular home, you can play a part in building a more sustainable model for large-scale homebuilding, while enjoying the benefits of a durable, energy-efficient home. 
List of the 20 Best Prefab Housing and Prefab Housing Kits
In this guide, we provided you with a list of the 20 best prefab housing and prefab housing kits.
1. Autonomous WorkPod
The WorkPod is designed to provide a comfortable and functional workspace with everything you need to be productive. It comes equipped with warm lighting, outlets for all your devices, and a SmartDesk Connect & ErgoChair Plus for an ergonomic setup. 
Additionally, the work pod anti-fatigue mat helps prevent foot cramping while standing, and the cable tray, filing cabinet, and dual monitor arm add extra convenience and flexibility. Connect the WorkPod to a power source, and you're ready to get to work or have some fun. 
Dimension
103"W x 142.5"L x 92" - 125.5"H
Material
Exterior: Composite wood
Interior: Plywood wooden frame
Frame: Steel, M300 cement
Include
SmartDesk Pro, ErgoChair Plus, Cable tray, Filing Cabinet, Dual Monitor Arm, Anti-fatigue Mat
Minimum wattage
100W
Weight capacity
2.9 tons
Color
Black, White
Warranty
1 year
2. Autonomous Pod
This Pod is an innovative solution for those looking to add extra space to their home without breaking the bank. Moreover, this flexible and affordable prefabricated ADU can be set up and ready to use in just one day, making it an excellent choice for those who need additional space quickly. 
With this privacy pod, you can create a dedicated area for workouts, yoga, or even virtual fitness classes without the hassle and expense of home renovations. Pod is a simple and convenient way to add the extra space you need to live your best life. 
Dimension
103"W x 142.5"L x 92" - 125.5"H
Material
Exterior: Composite wood
Interior: Plywood wooden frame
Frame: Steel, M300 cement
Weight capacity
2.9 tons
Minimum wattage
100W
Color
Black, White
Warranty
1 year
3. Autonomous StudioPod
The StudioPod is the perfect addition to your backyard, providing a private space without the hassle and stress of a home renovation. Whether you need a home office, extra living space, or a rental unit on Airbnb, StudioPod covers you. 
It's equipped with all the necessary sockets and connections for climate control and electricity, and mood lighting with three color modes to set the tone for any occasion. Say goodbye to disruptions and hello to a convenient, versatile backyard space with this studio shed. 
Dimension
106" W - 155"L x 106.3"H
Material
Exterior: Vinyl layer
Interior: Eco-friendly honeycomb paper
Frame: Steel
Include
A closet, desk, bookshelf, TV stand, a foldable coffee table and convertible sofa bed
Minimum wattage
150W
Lighting
3 color modes
Warranty
1 year
4. Thinktanks 4 Person Pod
The Thinktank 4-person pod is designed to foster thoughtful brainstorming, uninterrupted creativity, and overall mental wellness. Whether you need real face time or complete privacy, this pod has got you covered. Assembly is required, but the pod comes with furniture and various features to make your experience as comfortable and productive as possible. 
These features include soundproofing, a light switch socket, a 12V-USB power supply, natural light color temperature LED lighting, a ventilation system, and a three-year warranty. Take your brainstorming sessions to the next level with the Thinktank four-person pod. 
| | |
| --- | --- |
| Dimension | 87"W x 61"D x 91"H |
| Product weight | 860 lbs |
| Power supply | 1100-240V/50 - 60HZ |
| Natural lighting system | 4000K/421LM |
| Color | Black, White |
| Warranty | 3 years |
5. Thinktanks Personal Pod
The Thinktanks Personal Pod is the ultimate solution for focused, distraction-free outdoor collaboration. Fully assembled and equipped with all the essentials you need to work, including outlets and USB chargers, this pod is designed with your productivity in mind. 
Its high-quality acoustic sound panels provide soundproofing to keep noise inside the pod, making it perfect for meetings, phone calls, and video conferencing. With a three-year warranty included, you can feel confident in your investment. Get ready to take your collaboration to the next level! 
Dimension
External size: 40"W x 37"D x 91"H
Internal size: 33"W x 35"D x 84"H
Product weight
Gross weight: 279kg
Net weight: 235kg
Power supply
100-240V/50 - 60HZ
Natural lighting system
4000K/421LM
Color
Black, White
Include
Motion sensor and switch control
Multiple region electric sockets
Emergency safety hammer
Furniture as shown in pictures
Warranty
3 years
6. Thinktanks Compact Office Pod
The Compact Office Pod is designed to be placed wherever you or your team needs it most, whether that's indoors or outdoors. It provides instant privacy and a comfortable, functional space for a desk and chair setup, a bookcase, and even plants to keep things green and fresh. 
With built-in ventilation and climate control, you don't have to worry about installing a fan or AC. Set up your Pod in your backyard or office and enjoy its convenience and versatility. 
| | |
| --- | --- |
| Dimension | 7 x 7 x 7.5 ft |
| Material | Double laminated tempered glass, R200 aluminum |
| Color | Black, Green |
| Interior | Washable PET Felt |
| Standard outlet | 110-220V |
| Lighting | LED 140W |
| Warranty | 3 years |
7. EcoSpace WorkPod
This EcoSpace soundproof office pod offers a private, isolated workspace for a single individual. Its sleek and modern design is visually appealing and ergonomically optimized, making it an ideal choice for remote workers needing a dedicated space to work throughout the year.
The pod is customizable with various workstations and storage options and provides an affordable, all-in-one solution for professionals seeking a comfortable and functional workspace. 
8. The Pillar Booth
Looking for a compact and convenient place to focus or take private calls? This office privacy pod, available in black or white, may be just what you need. Quick and easy to assemble with two people in just 30 minutes, this booth boasts a minimalist design that is both stylish and functional. 
Escape the distractions of your open office and enjoy some solitude in this small, personal space. 
9. Glass Office Shed
This modern and spacious office studio shed is perfect for those who appreciate aesthetics and functionality. 
It is visually appealing and has plenty of room to host meetings and store all your necessary office and personal items. If you want to work in a bright and open environment, this pod is a must-have. 
10. Key Studio
Suppose you're searching for an affordable outdoor prefab cabin. In that case, the Key Studio is a fantastic choice. Its sleek design features thermo-wood and a roofline, creating a modern and visually striking appearance. With a variety of doors and windows, you have the flexibility to customize the interior layout to suit your needs. 
11. Modern Backyard Studio
Those who work from home can enjoy a modern backyard studio. Using a studio cabin kit, you can provide a much-needed separation between your personal and professional life. 
Creating a dedicated workspace in a separate structure allows you to enjoy the benefits of a more structured and focused work environment without feeling the tension of work spilling over into your leisure time. 
12. English Pub Vibe
Why limit the fun to daylight hours when you can come up with so many shed house ideas for the whole day? With a bit of creativity, you can transform your home office backyard shed into a bar shed as well! 
A wall desk with hinges allows you to easily tuck away your workstation and make room for steel-tip darts with family and friends. Whether you want to relax after a long day or host a weekend gathering, your backyard shed can serve as a versatile space for work and play. 
13. Garden Room
If you need extra space and small house extension ideas but don't have room to add an extension to your home, consider building a garden room as a unique and practical solution. Whether you envision it as a home office, theater room, gym, hobby area, or playroom for the kids, a garden room can provide the extra space you need for all kinds of activities. 
14. Affinity Small Prefab House
This is an excellent choice if you're willing to splurge a bit on a high-quality small modular cabin. With its stunning larch cladding and charming front porch, this garden office will to make a statement in your backyard. Moreover, the warm tones and sleek black frame create a striking contrast that is sure to turn heads. 
15. Koto Abodu
The Koto Abodu prefab green housing shed seamlessly blends the laid-back vibes of California with the award-winning design expertise of Koto. Inside, you'll find high-end Scandinavian furniture from Wolf and Fisher & Paykel, creating a minimalist yet timelessly elegant atmosphere. 
16. Evolve Garden Pod
While it may be a bit pricier than some options, the Evolve garden pod still offers excellent value for its price. Its classic proportions and strong, simple lines make it stand out from the crowd, while painted vertical paneling in 16 colors and an overhanging front canopy give it a bold and stylish look. 
17. Room Phone Booth
The Room Phone Booth is an excellent solution when you need a quiet and private place to focus on work. Equipped with a range of modern features, this pod offers everything you need to escape distractions and stay productive. 
A motion sensor activates the light as you enter, illuminating the space and making it easy to find your way. Moreover, a built-in desk provides a stable and comfortable workspace, and multiple Ethernet, USB, and power outlets give you the connectivity and charging options you need. 
Whether you need a quiet place to take calls, concentrate on a project, or simply escape the world's distractions, the Room Phone Booth has you covered. Its convenient and comfortable design makes it the perfect choice for busy professionals seeking a dedicated workspace. 
18. Farmhouse Garden Shed
As you plan and design your home shed, don't be afraid to draw inspiration from the natural surroundings. This wooden garden pod is a perfect example, blending rustic wood and classic cottage-style architecture to create a harmonious connection with the surrounding landscape. 
The towering trees and winding stone pathways are echoed in the pod's design, creating a sense of unity and balance. Whether you want a peaceful retreat or a functional workspace, this garden shed will feel like a natural extension of your surroundings. 
19. Recover Shed
This office pod design really has a charming vintage feel because of its barn-board cladding and salvaged skylights. The dome on top and the framing of the exterior transform what could've been a simple storage shed into a magical garden hideaway. 
Don't be afraid to add some color to your backyard shed for extra charm. Since sheds are generally smaller than garages and houses, bold hues like red can stand out without overwhelming the space. Go ahead and add a splash of personality to your outdoor office with a striking paint color. 
20. Backyard Shed House
Having a prefab house that is convenient and easily accessible right outside your front door can bring numerous benefits. That's why many people are choosing to invest in a backyard studio or shed house. 
These structures provide an additional space to call your own, and with a sleek and modern design, they are on trend and sure to impress. 
Whether you need a home office, gym, hobby area, or just a place to relax, a backyard studio or prefab green housing can be a valuable addition to your home. 
Takeaway
As concerns about the environment and sustainability continue to grow, the construction industry has been exploring ways to minimize its impact and create more sustainable building practices. 
One promising solution is prefab housing and kits that come in a wide range of benefits and involve partially or fully building a home in a factory before delivering it to the site. This method offers a range of benefits that make it an important consideration for a sustainable future.
Video ads for product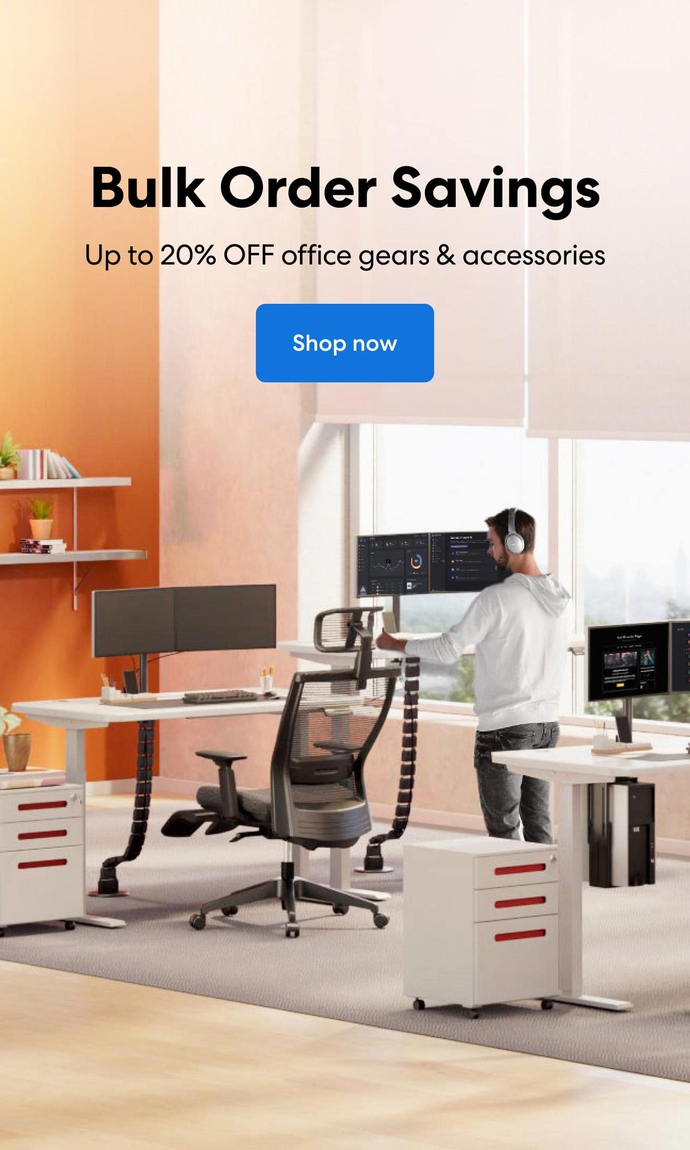 Subcribe newsletter and get $100 OFF.
Receive product updates, special offers, ergo tips, and inspiration form our team.