Work Wellness
Explore the Psychological Impact of an Ergonomic Desk Setup

Autonomous
|
Jul 15, 2023
493 Views
The importance of an ergonomic work environment is something a lot of working professionals are taking seriously these days. A lot of the focus is on the obvious physical benefits that it brings in terms of health and well-being, but there is a lot more to an ergonomic desk setup than that. 
An ergonomic workstation setup has been linked to a wide range of benefits to employees, and as a business, it would be a great idea to see how you, too, can start implementing these principles into your workplace. 
Creating an ergonomic office desk setup is simple if you know the right place to go to get the office furniture and accessories you need. You can make an office supplies list and head over to Autonomous and take a look at the wide range of ergonomic office items available. 
If you create the right ergonomic standing desk setup for your employees, it will not be long until you start to see a positive change in the workplace environment. The extra cost of buying ergonomic office accessories is worth it when you consider the good it does for your business. 
Psychological Benefits of an Ergonomic Desk Setup Beyond Physical Comfort
When considering the importance of having an ergonomic setup for desk accessories and your entire workstation, it is important to look at more than just the physical side. Yes, a standing desk is great for alleviating back pain and helping you maintain a good posture, but it also does a lot more than that. 
Research has shown that having an ergonomic standing desk setup in your office can lead to the following benefits: 
Increased Productivity and Focus
One of the biggest problems that most businesses face is how to keep workers focused and working productively throughout the day. Office employees are particularly vulnerable to getting distracted as the day goes by. 
Of the many different approaches that have been tried, providing each employee with an ergonomic desk and chair combo has been very effective. Sitting comfortably and regularly working on your feet when you need to has been shown to keep you focused on the task at hand, allowing you to deliver higher levels of productivity.
Reduced Stress and Anxiety
A lot of the stress and anxiety that many adults face daily has been linked to their workplace. If, as a business, you can do something to alleviate the stress levels in your employees, it will go a long way to creating an optimum work environment.
One of the easiest ways for you to do this is simply to provide an ergonomic office desk setup for each employee. Exercise, no matter how limited, has a positive impact on the body. It has been regularly recommended by doctors to patients suffering from stress and anxiety. 
Did you know that you can combine your standing desk with a treadmill to create the ultimate ergonomic workstation setup? Imagine being able to work while doing some high-intensity workouts! You will finally be able to say goodbye to stress and anxiety for good. 
Better Morale, Mood, and Energy Levels
If you walk into any office, it is not difficult to get a feel of the place ad see whether the employees are happy or not. As an employer, it is important to always come up with ways to boost the morale of your workers so that they can maintain high energy levels throughout the day. 
This is especially important if you regularly meet clients in your offices because the last thing you want is for them to experience a low-energy office environment where the employees have poor morale and lack motivation. 
Something as simple as an ergonomic desk setup can go a long way to keeping your employees happy. You can even add a few standing desk accessories as well if you feel like going the extra mile.
Reduced Absenteeism
Absenteeism is responsible for the loss of many work hours that could have been vital in increasing your business' productivity. Employees who are not happy in their work environment are more likely to call in sick and ask for time off than satisfied workers. 
While other issues, such as salaries, may be contributing to employee dissatisfaction, you can do a bit to create a better work atmosphere by investing in an ergonomic workstation setup.
Guidelines on Setting up an Ergonomic Desk
If you are going to enjoy the full benefits of an ergonomic office desk setup, the first step is to buy the right furniture. A lot of people worry about the added costs of investing in ergonomic furniture and accessories, but if you buy wholesale office furniture, you can make great savings. 
The following are some of the office furniture and accessories that you can consider as part of your ergonomic desk setup: 
1. Autonomous SmartDesk
The very first thing you need to consider buying is a SmartDesk from Autonomous. This will be the focal point for all your ergonomic office furniture and other accessories. There are many desks to choose from, but you should aim for a good balance between cost and ergonomics. 
At Autonomous, you can choose from a wide range of smart desk options, such as: 
SmartDesk Pro
SmartDesk Core
SmartDesk Connect
SmartDesk Corner
SmartDesk Chunky Oak 
When choosing between these desks, be sure to carefully consider the needs of your employees because the desks come with different features. The SmartDesk Connect, for example, is more advanced in terms of technology, while the Chunky Oak offers a unique look and style. 
2. Autonomous ErgoChair
No ergonomic standing desk setup would be complete without the right ergonomic chair to go along with it. This is where you are going to spend most of your time sitting at work, so you have to choose carefully. 
One of the most important considerations when choosing an ergonomic chair is lumbar support. Chronic back pain is a huge problem in the workplace, and one of the best ways to combat it is by using an office or home standing desk combined with a chair that offers exceptional lumbar support. 
Other important features that are necessary to provide complete comfort are breathable material during hot days, leg, arm, and neck rests, as well as having a tilt function. Not many chairs can tick all the right boxes, but at Autonomous, you can consider the following great options:
ErgoChair Pro
ErgoChair Core
ErgoChair Plus
ErgoStool 
Each of these chairs is made of high-quality material and comes with an awesome warranty. When buying your ErgoChair, try to make sure that it goes well with the desk. Autonomous has lots of great suggestions for you to consider. 
3. Autonomous Monitor Arm
Many office workers spend hours sitting in the wrong posture because of the position of their computer monitor. You can have the best ergonomic desk and chair combo, but without a good monitor arm to hold your screen at the right height and angle, you will continue to suffer from back problems and reduced productivity. 
At Autonomous, you can choose from a wide range of single, double, or even triple-arm monitors to use on your smart desk. Having more than one monitor is very popular these days among programmers and gamers. Get yourself one of these great monitor arms from Autonomous and take your ergonomic game to the next level. 
4. Autonomous Light Bar
Poor lighting in the workplace has been linked to fatigue, reduced productivity, and even damaged eyesight in extreme cases. When sharing an open-plan office with other employees, it is not easy to find the right amount of light for everyone. What is just right for one worker may be too much or too little for another. 
A great solution to this problem is to get an Autonomous Light Bar for each workstation to allow employees to adjust their light intensity according to their needs. It comes with four different temperatures and five brightness levels so that you are always guaranteed the perfect amount of light each time. 
5. Autonomous Anti-Fatigue Mat
Having an anti-fatigue mat encourages you to continuously move your feet while you are sitting or standing at your desk. Having this accessory as part of your ergonomic desk setup improves productivity and focus and helps prevent pain, strain, or stiffness in the leg muscles. 
The Autonomous anti-fatigue mat has a two-inch incline and a weight capacity of 330 pounds, making it the ideal choice for any office worker. It also has a one-year warranty, which you are not likely to need because of the great quality, tear-resistant material it is made of. 
6. Mount-it! Ergonomic Footrest - Adjustable Height & Angle
Having a place to rest your feet goes a long way to reducing leg and back pain, which is why this ergonomic footrest from Mount-it! is one of the most important standing desk accessories you need to have as part of your ergonomic workstation setup. 
This footrest is small enough to fit perfectly under your desk without taking up a lot of space. There are three different height settings that you can easily adjust to suit your sitting or standing position. 
7. Other Ergonomic Accessories
There are so many other ergonomic accessories that you can include as part of your ergonomic standing desk setup. The more ergonomic your desk is, the better productivity you will experience. 
It's important to ensure that your arms, wrists, feet, and other parts of your body are positioned correctly to reduce the chances of injuries related to work-related strain. 
Consider the following accessories next time you go shopping: 
Ergonomic keyboard

Folding office treadmill

Wrist rest

Ergonomic mouse

Height-adjustable mouse and keyboard tray

Ergonomic drawer and filing cabinet 
Tips on Incorporating Elements of Mindfulness and Stress Reduction Into the Workspace
Once you have completed your ergonomic desk setup, half the job will be done. The only thing left will be to make adjustments to your habits so that you can remain mindful of the importance of ergonomics at work. Mindfulness will lead to stress reduction, which will result in better productivity. 
The following tips will help you incorporate mindfulness into your daily work activities: 
Get a Morning Routine
Having a regular morning routine that you engage in every day before you begin working is a great way to get yourself in the right frame of mind and ready to tackle the day ahead. It does not even have to be a complicated routine. 
Short-term meditation and a few yoga stretches are all that is needed to help you become more mindful and stress-free. Also, you can consider having a healthy breakfast to give you the boost of energy you need to sustain you throughout the day.
Take Regular Breaks
There is only so much the mind and body can endure before you need a break. You should always include regular breaks as part of your daily routine. It does not mean you will have to get up for a cup of coffee every couple of hours. A break can be as simple as tilting your chair back and relaxing for a few minutes. 
Mindful Communication
Poor communication between colleagues is a big issue in the workplace. It can lead to misinterpretation and conflicts or result in some important tasks not being done. All this will increase your stress levels, so you should always be mindful of how you communicate. 
There are a few tips that you can use to help improve your communication skills, such as focusing on what is being said, not interrupting, responding with empathy, and asking the right kind of questions.
Final Word
If you manage to create the perfect ergonomic desk setup for your office, the benefits will be enormous. At Autonomous, you will find a wide range of great products that will allow you to explore the psychological impact of a good ergonomic desk setup. Visit the website right now and take a look at the awesome ergonomic office furniture on sale.
Video ads for product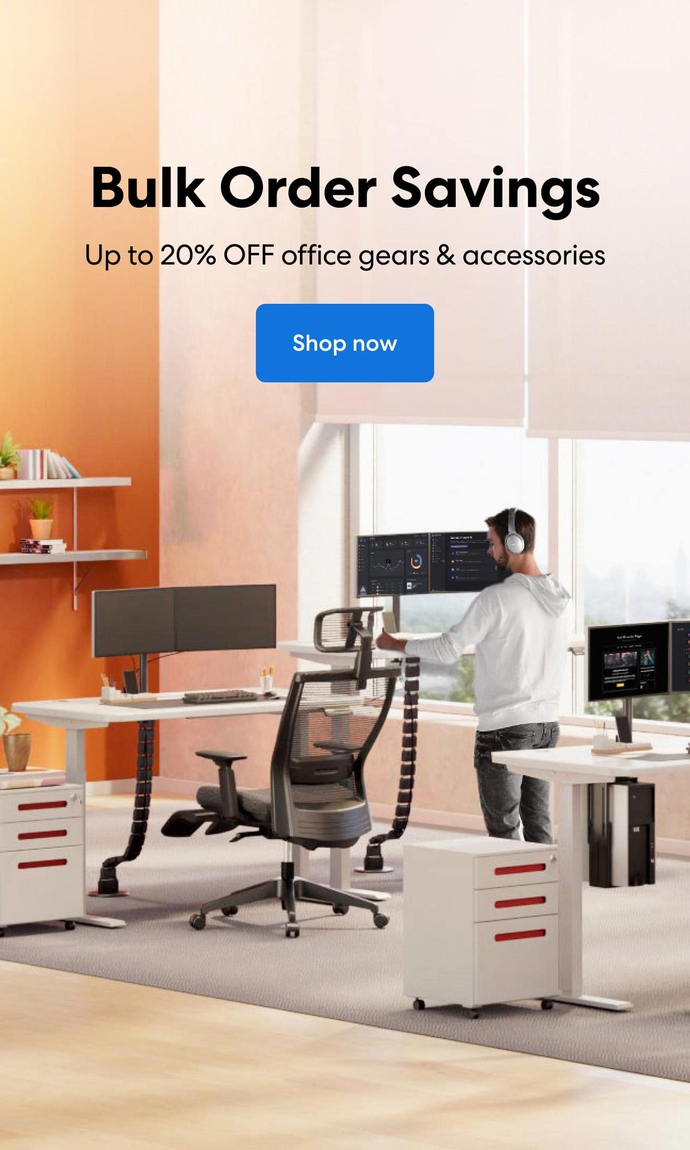 Subcribe newsletter and get $100 OFF.
Receive product updates, special offers, ergo tips, and inspiration form our team.