Smart Products
What Is PU Leather? Leather Fabric In Office Furniture

Autonomous
|
May 25, 2022
1,453 Views
PU leather fabric is often used for sofa and chair covers. The reason offices worldwide use imitation leather is that it is more durable, cheaper, and longer-lasting than genuine leather. PU leather should be cleaned with a PU leather cleaner to maintain its condition. PU leather furniture offers several benefits and answers to the question of 'How long will PU leather last?' and others. Want to know what is PU leather? Read on to find out. 
What is PU Leather? Uses of It
PU leather is created when split leather (the leftover part of the hide after making real leather) is applied to upholstery and coated with polyurethane or PU material. A thermoplastic polymer such as polyurethane is used to make PU leather. The commonly used material on PU leather furniture and shoes is PU (polyurethane), vegan and animal-free.
A polyurethane coating is applied to vinyl leather after it is pressed.

Although chemicals are used in

PU leather office chair production, PU leather is not toxic.
PU leather can be created using leather products mixed with resins from different companies. Until we know what is in PU products, it is impossible to know how long they will last. Some car manufacturers make seat fabrics from them due to their improvement in the past few years.
Fake leather made of polyurethane feels as soft and durable as real leather and looks like real leather. Polyvinyl chloride fabrics (vinyl) have been the most popular material for a synthetic affordable ergonomic chair for a long time. It is generally observed that polyurethane is better suited for office use.
How to Distinguish Real Leather?
Genuine leather is more expensive than PU leather office chairs with adjustable lumbar support, so it's best to look at the price tag to determine whether it's PU leather. Genuine leather typically costs more. Because a PU leather ergonomic chair is easier to produce, its price is lower.
A leather's smell can also identify it as PU leather. PU leather normally smells chemical or plastic when it is brand new. PU leather will also appear slightly different from genuine leather, so it may seem fake. PU leather will also be almost flawless in pattern and texture. As well as being cooler than real leather, PU leather will also last longer.
If a product is fake, it is usually made of cheap PU leather and priced very cheaply. While most scammers online charge the same for PU leather, real retailers and manufacturers charge less. Unlike animal leather, PU leather cannot withstand water. Water soaks into animal leather very quickly. Compared to animal leather, Pu leather does not absorb water. For this reason, PU leather is stronger.
Pros of PU Leather
Resistant to water and easy to clean

It's a great deal! Genuine leather is more expensive

100% PU leather is vegan-friendly

Plenty of styles and colors to choose from

PU leather will not dry out or crack over time, unlike leather.

Less resource-intensive to manufacture than genuine leather
Cons of PU Leather
It may look fake or synthetic; you may want to shop around

Some are smelly when new but will fade quickly

It lasts up to five years, but not as long as genuine leather

It cannot breathe but is still easy to clean, as a damp cloth can be used to wipe it down.
What is The Average Lifespan of a PU Leather Chair?
It typically takes three to five years for PU leather furniture to wear out. Rather than the durability of the products, it depends on how often you use them and how well they are cared for. The right amount of care will make PU leather chairs last about five years if you buy a good quality chair and clean it every three to six months.
How to Care for PU Leather
Even though it's less expensive than genuine leather, PU leather is less durable and requires more care.

PU leather shouldn't be treated with products made for genuine leather, as these are likely to be wax or oil-based and can damage the coating of the leather.

PU leather can be cleaned with a dry cloth or slightly dampened fabric, or you can use a color protector solution specifically designed for this material.

Every three to six months, it's recommended to clean your PU leather.

A hairdryer can gently heat the surface of your PU leather to remove scratches and abrasions.

In most cases, scratched PU leather will disappear almost entirely after heating, as its coating responds to heat.
Introducing Autonomous EPP Specials
Employee Purchase Program
A special employee purchase program is now available to our employees. In addition to our SmartDesk and ErgoChair collections, we offer a variety of accessories. Prices are lower, huge discounts are available, and new products and special promotions are available in the Autonomous employee purchase program.
EPP for Developer/ Programmer
You can code comfortably if you are equipped with the right equipment. A programmer special includes an ergonomic chair with a footrest, standing desks, and many other discounts. We offer corporate discounts when you order in bulk and in groups.
EPP for Government
Therefore, we made it easy to browse carefully curated selections of products, handpicked to support better workflows, instead of spending hours sourcing them. Also, we're budget-friendly so that you can keep your company within budget with discounts on storewide orders & further savings on office chairs with adjustable lumbar support volume purchases.
EPP for Educator/ Teacher
Need a better way to plan lessons and grade assignments? Check out our special offers for teachers. Don't worry about budgets - unlock storewide educator discounts on products you want & need. Perhaps a fellow faculty member would appreciate a more ergonomic work setup? Tell them about Autonomous! Up to $1500 can be earned for every purchase made through your referral.
Student Discounts
Autonomous offers a wide range of educational products at education prices and additional discounts for volume orders. Guess what? For every successful referral, you can earn up to $1500 as an Autonomous Student Ambassador.
EPP for Gamer/Streamer
We offer incredible deals on new gamer/streamer desks and chairs for gamers and streamers alike through the Gamer Purchase Program. Bonus points in this game include storewide discounts, customer game stations, and accessories!
Video ads for product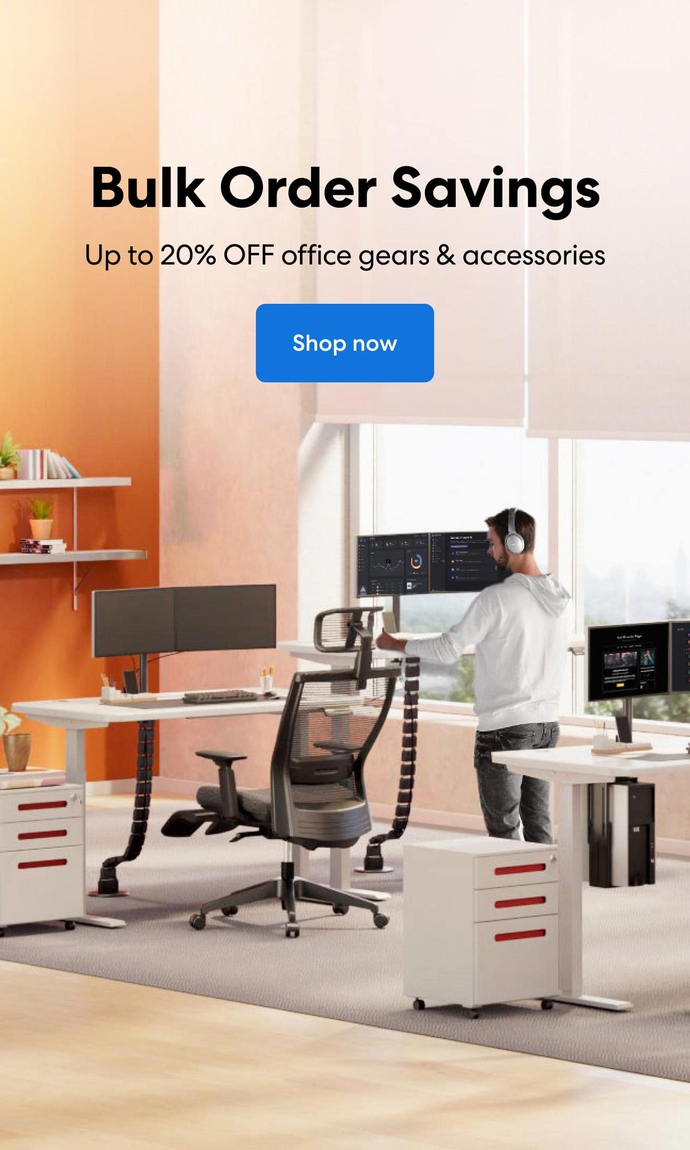 Subcribe newsletter and get $100 OFF.
Receive product updates, special offers, ergo tips, and inspiration form our team.