Workplace Inspiration
Ultimate Red and Black Themed Gaming Setup Desk Tour

Autonomous
|
Dec 13, 2021
4,971 Views
Gaming rooms have quickly become popular in the home, from a dusty corner of a bedroom or living room to a fully-fledged and stylish setup. As a result of social restrictions brought about by 2020, gaming has moved beyond being just for kids, and virtual recreation platforms are now popular for all ages. Here are some red and black gaming setup design ideas to help you upgrade your aesthetic gaming setup to something comfortable, themed, custom lit, and immersive. Discover themed desk spaces, minimalist gaming rooms, cool headphones stand, and acoustic red and black gaming setup solutions.
Ideas for Red and Black Gaming Setup
The color red is also used extensively in racing games, and it is always a good idea to use red and black colors when theming a racing game. As well as being neutral, black adds a sense of sophistication to any room.
Red and black are also appropriate colors for rooms with a space theme. Science fiction movies such as Star Wars and Star Trek often use red and black as their backdrop.
Red and black are great choices for game rooms themed around action games, such as those around Assassin's Creed or Call of Duty.
In the case of a red wall and black lampshade, the contrast will be striking.
You might also want to include some cool collectibles and figurines. If you prefer, you can place them right next to your gaming setup to be easily accessible. Your figures will become more attractive if you add some red and black collectibles.
If you want even more realism in your themed room, you can also hang red and black curtains. The more atmospheric the room looks and feels, the easier it will be to imagine yourself in the game! 
Star Wars looks excellent in red and black, thanks to the color scheme. The walls and floors are also black, and red specks are visible here and there, however. Lightsabers can look good in other rooms since they are designed to match the room's theme.
You can also use the idea you are about to share for your room if you enjoy playing racing games! When using black and red to create an aesthetic gaming room, this is a good thing. Red paired with black won't work if there's too much black in it. Otherwise, it'll look gloomy and dark.
You can even experiment with game posters as an alternative to the red glass vase as the table's centerpiece. Plan your layout so that it includes red carpets, black curtains with gold floral motifs, black throw pillows, as well as black wall decor. Depending on your budget, it would be a great idea to consider completing this look with either a black table lamp or a couch, sofa set and other gaming furniture in black or red.
You'll want to enhance your gaming room decor with some interesting and fun pieces. The ceiling hook looks like a collectible from your favorite game so that you can hang it there!
We recommend checking out some official art first, so you can know in advance what it should look like. If you have awesome photos of a popular game, this is a great room idea for you.
The white leather furniture you might be thinking of using in your home is quite hard to clean!
If you wish, you can easily create your black and red gaming room.
Gaming Furniture & Accessories
In order to ensure that your gaming experience is comfortable and ergonomic, if you spend most of your time in your red and black pc setup, you must have the right gaming desk. No matter what kind of standing desk you choose, we strongly recommend you invest in one.
You get drained of energy after sitting for long hours if you don't stand up periodically throughout the hour. Some video games don't let you enjoy them fully unless you stand up and perform these crazy actions.
It would help if you had a black gaming desk with changeable settings and the right height. Ideally, it should allow you to maintain a comfortable eye level as well as good posture while using the screen. You will find a lot of creative and stylish computer desks available for a black and red gaming setup.
It's important to select monitor stands, which are both practical and visually pleasing for your red and black gaming room. In gaming setups with multiple displays, there are guaranteed to be many cables.
The cables in your room can cause a cluttered look and be a bit overwhelming if left unorganized. An unorganized cable management system will make the gaming setup look awful. A variety of cable management products are available.
Setup Ideas and Decoration
Accessories
Choose a nice mouse pad and keyboard to start with your red and black gaming setup. There are two types of pads: separate ones for each or large pads that keep both. It is necessary to have glow-in-the-dark keyboard keys to work or play video games in the dark. You can also buy keyboards with integrated LED lights, which are becoming increasingly popular in recent years.
Don't let huge headphones clutter up your small desk gaming setup by lying all over it. Get a headphone stand instead. Not only is it practical, but it makes your esports setup look cool. If you cannot easily reach the monitor, install a USB hub under the desk.
Lights
For a nice luminosity in the red and black gaming setup, install a LED strip (single-colored) behind your desk. It can range from blue to orange and green to yellow to purple. In order to create a rainbow effect in your room, you can install a multi-colored LED strip.
White lamps look good in any gaming room if you want a simple approach. It is easy to add elegance to an existing setup with black desk lamps, and they blend easily with any setup.
You can also have light bars slits illuminating the room if you don't want to use lamps or lighting strips. Add some flair to your home with colorful fans that change their color with the beat and rhythm of the music.
Decor
Creating a gaming black desk setup that looks great doesn't need to be difficult. Put your favorite anime character, superhero, or villain on the desk to show off your love and affection for movies and games. Adding small plants to your gaming zone may seem a bit odd, but it can add a lot of character. Plants can be a nice addition to any home and will not look bad in a gaming room.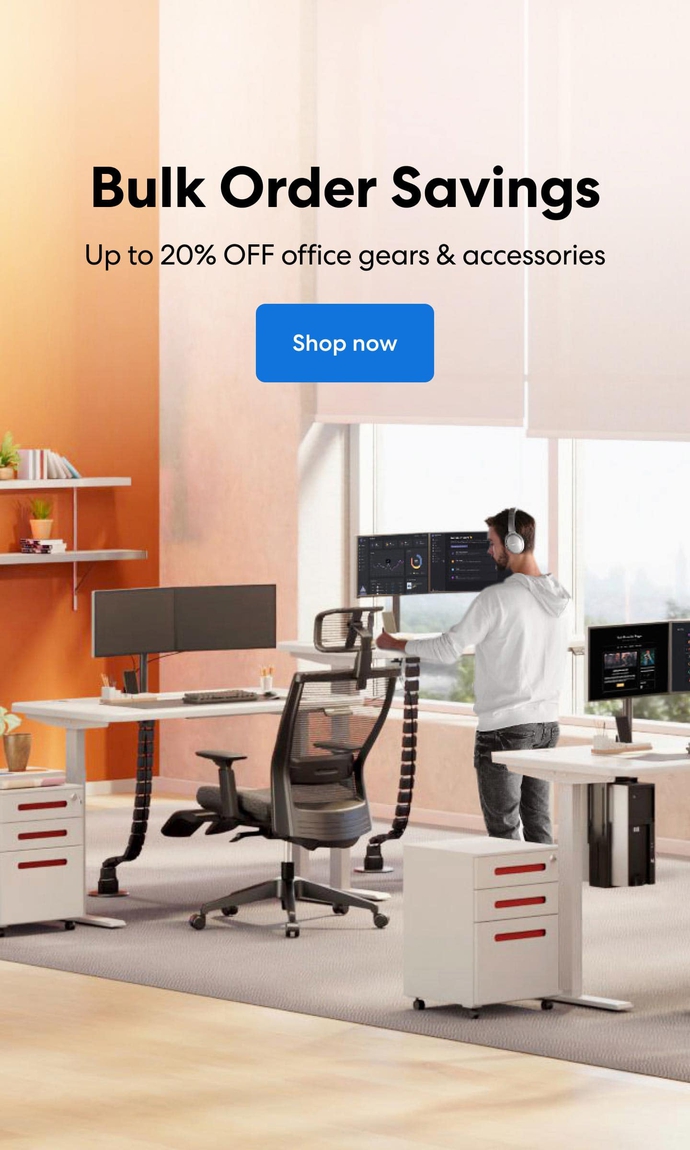 Subcribe newsletter and get $100 OFF.
Receive product updates, special offers, ergo tips, and inspiration form our team.