Each day, many offices and home office employees sit on their chairs for long periods of time. Even the tiniest annoyances might become frustrating and irritating as a result of this. That irritating creak when you lean forward, broken wheels that make getting up from your desk difficult, or even the constant sinking of your seat when you sit down. 
You just have to say, "I've had enough!" along with having your office chair repaired. 
Fortunately, many of the most frequent office chair problems may be resolved with a little elbow grease, a home tool kit, and some office chair replacement components. Continue reading to learn how to identify and fix an office chair. 
How to Do Office Chair Repair
Sinking Office Chairs
Faulty or old office chair gas lifts are the most common cause of sinking office chairs. Although high-quality office chair gas lifts prolong the life of the chair, they may eventually need to be repaired or replaced. 
Defective seals are the most typical cause of a gas lift causing your office chair to not stay up. Damage from improper use or a malfunctioning sub-par part could be more of the serious causes. 
While you may discover some quick sinking office chair repair solutions online, such as utilizing a PVC pipe or a hose clamp, these short-term fixes are likely to cause more problems in the long run. 
To fix a sinking office chair, you should purchase a new office chair gas lift and either install it yourself or have it installed by a local office chair retailer. 
Squeaky Office Chairs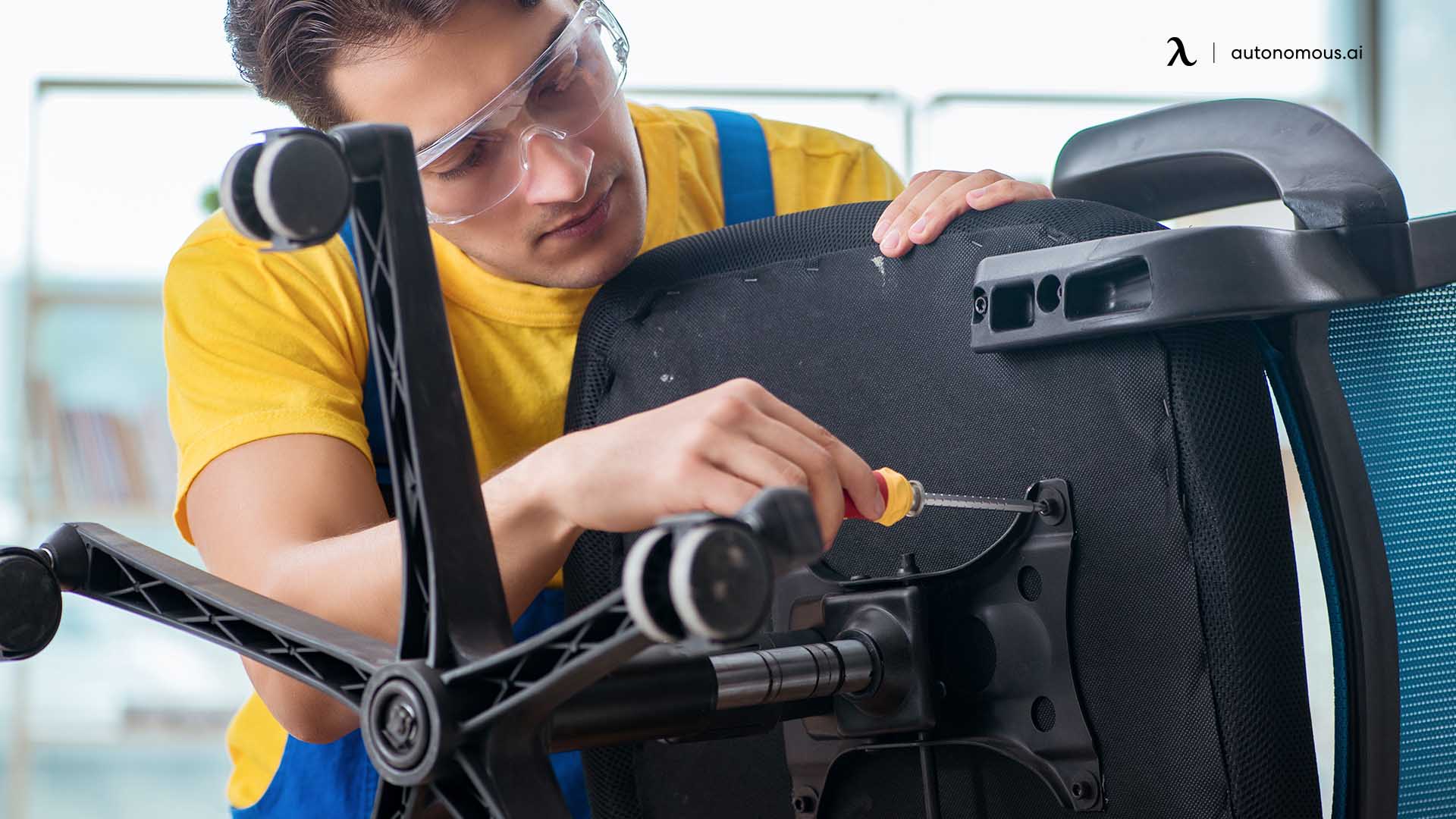 Squeaking from your desk chair could be triggered by a range of factors, so you'd have to figure out what's causing it before getting it fixed. 
Your chair mechanism or your chair gas lifts are the most usual components that cause squeaking in your office chair. Purchase some basic oil lubrication and apply it to the problem regions of your office chair to minimize and fix the squeaking. You may also notice creaking in the castors of your office chair, which may be rectified with a little oil. 
After applying the oil to the problem regions, move and work your office chair repair to ensure that the oil is evenly distributed throughout the component. Wait a few hours for the problem to be fixed. 
Broken Office Chair Base
Whether the legs of your office chair have cracked or broken, it's time to replace them with a brand new one. Using other methods to repair cracks or broken chair bases, such as adhesive or brackets, might weaken the office chair and, if they fail, inflict severe harm. 
If your office chair base is in fine shape but you're having mobility problems, it's most likely due to a damaged or defective office chair castor. 
Examine the factors of your office chair repair by turning it over. If you see a build-up of filth, string, wool, or other debris, try to remove it by hand. 
Alternatively, if a few of the wheels seem to be beyond office chair repair, you could replace them, or you could connect glides and make it into an office chair without wheels. 
Wobbly Office Chair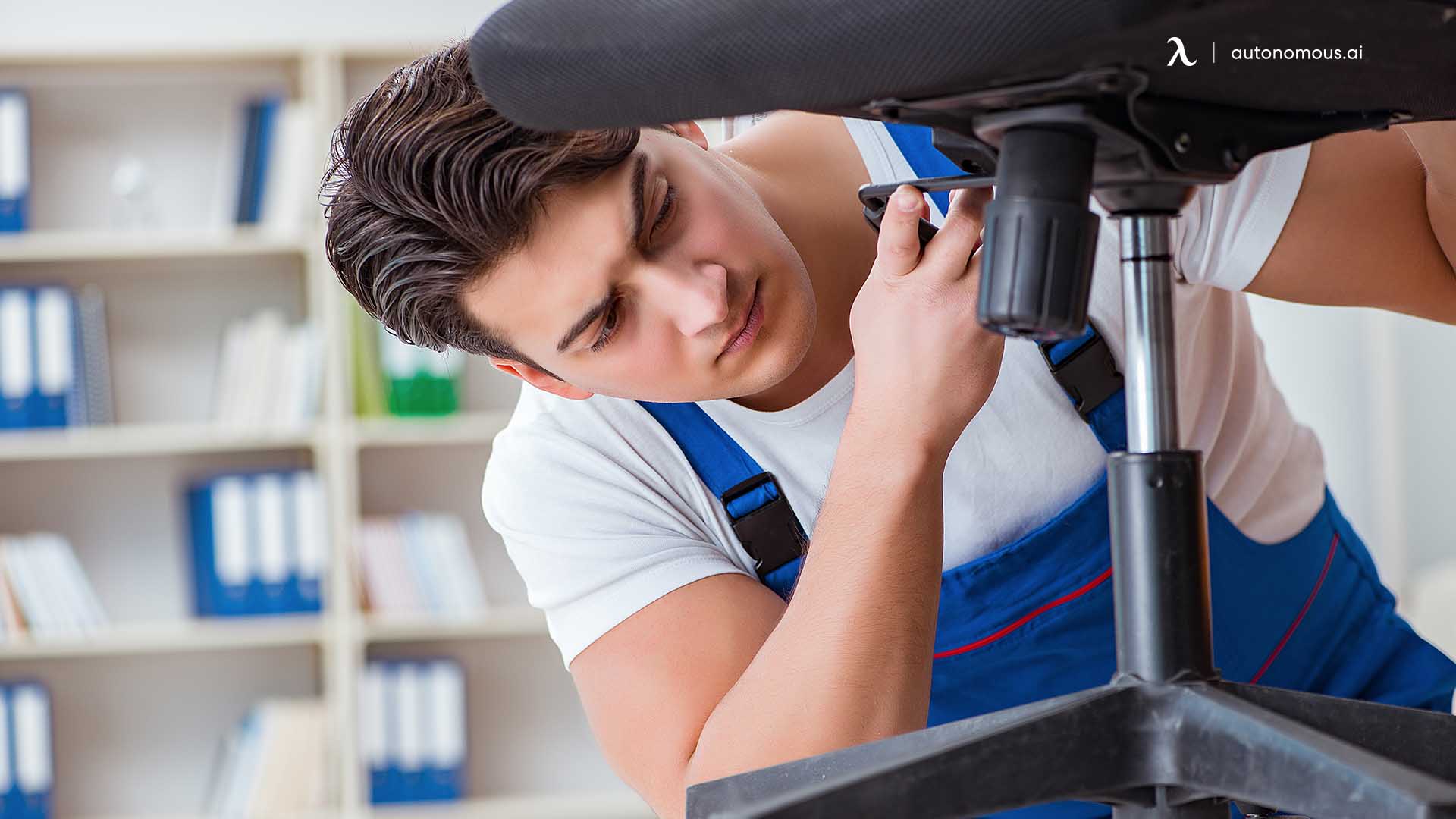 The longer you leave your wobbly office chairs, the more they can cause discomfort and become a hassle. Fortunately, this may be resolved by analyzing the mechanics and seat of your office chair to see what is causing the problem. 
Fixing a wobbly office chair may simply entail tightening the chair mechanism to create a firmer seat. Alternatively, you may only need to tighten the bolts connecting the chair mechanism and the seat. 
If you're still having trouble, contact your local office chair suppliers, who can inspect, analyze, and fix your broken office chair. 
Broken Office Chair Arm
Office chair arms that are constructed of hard plastic and have broken or snapped off, may need replacing. 
If your adjustable chair arms aren't operating properly, you might be able to fix the problem yourself. Examine the adjustable arm mechanism for any dust or dirt build-up and try to remove it. Then lubricate the mechanism with oil, move your desk chair repair around to coat it, and try the process again. 
Furthermore, if this still doesn't allow your adjustable chair arms to function properly, it's time to get some new office chair arms. 
Damaged Fabric on Office Chair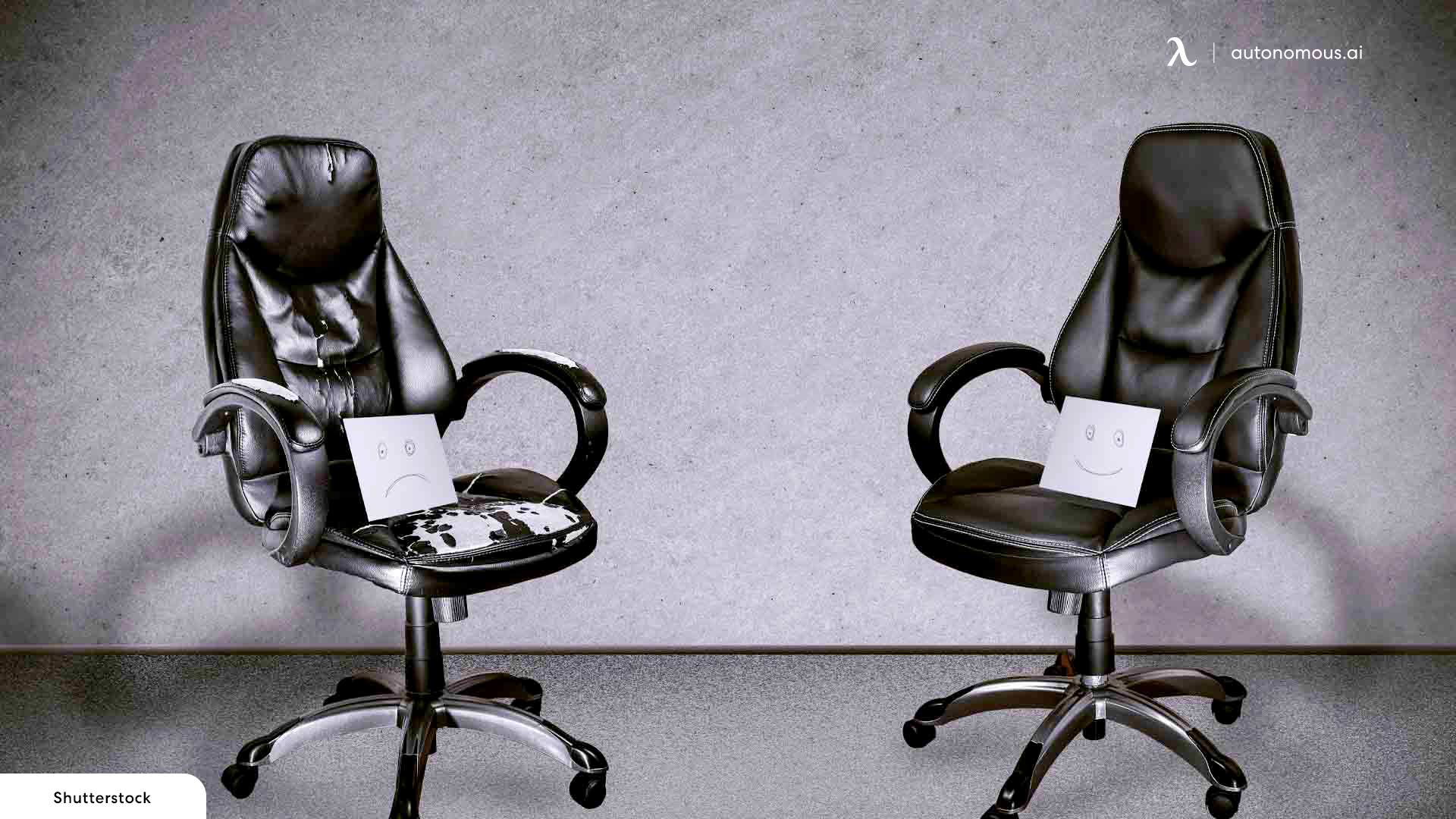 Have you noticed any rips or damage in the fabric of your office chair? 
You might buy some materials from your local manufacturer and try to reskin the office chair if you're handy with reupholstery. Because your office chair repair can be used for long periods of time, choose textiles that are both high-quality and sturdy. 
Nevertheless, you can hand the job to the experts and have your local office chair store refurbish the chair for you, using the highest-grade chair fabric obtainable. Most reliable merchants can also provide a variety of fabrics and colors to choose from. 
It's critical to maintain and wash your office chair with top fabric care solutions after you repair or refurbish any faults with the fabrics. 
When Should You Buy a New Office Chair?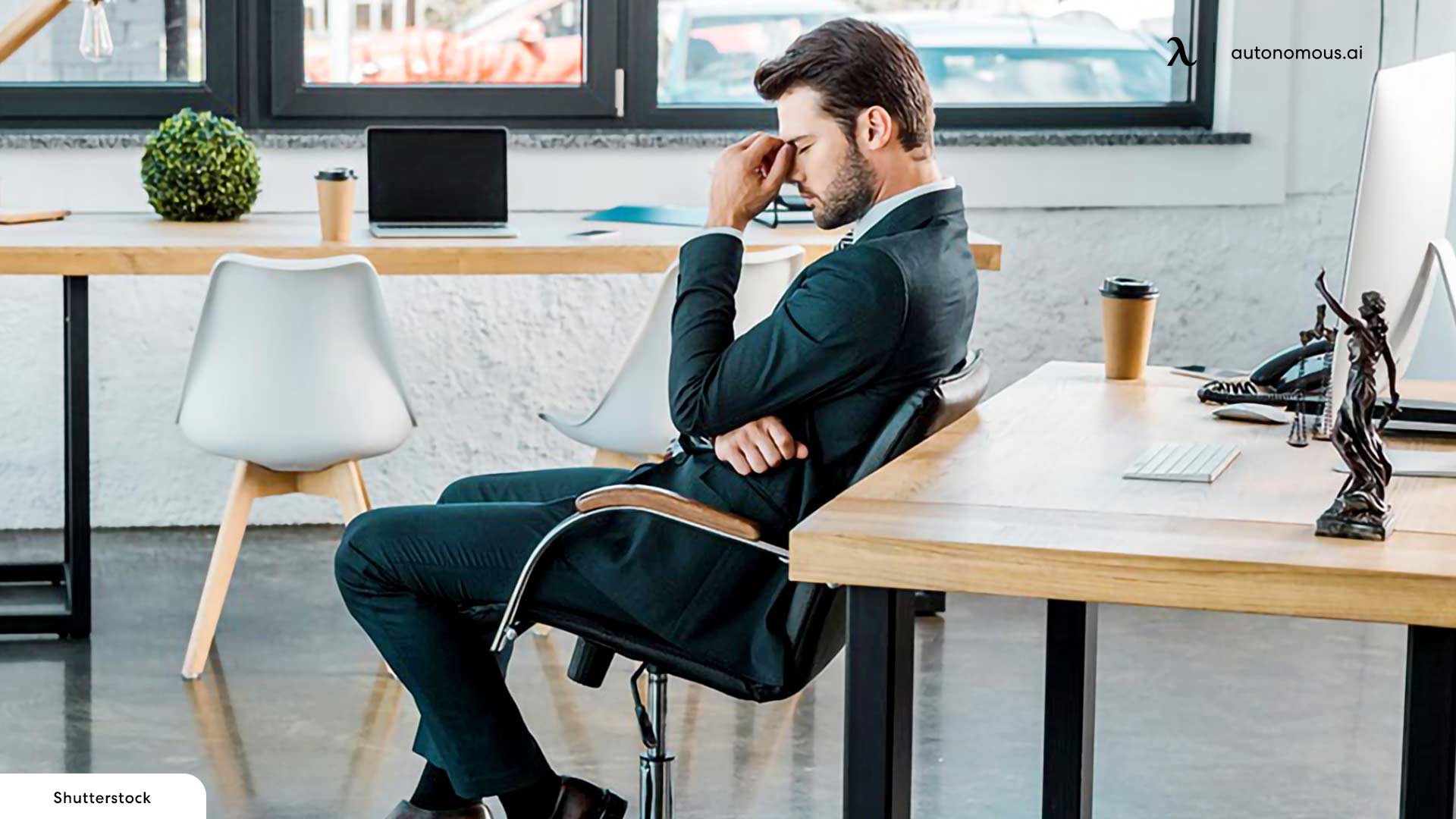 When your old armchair is no longer as comfy as it once was, that's one of the best signs that it's time for a new one. This is a gradual process that sneaks up on you without your knowledge. You may notice that you aren't as productive as you should be and that you begin to lose focus, especially in the afternoon. 
Do Minor Aches and Pains Get Worse as the Day Goes on?
If you've always experienced aches and pains in your desk chair repair, chances are you didn't start with a high-quality chair. In any case, it's probably time to assess the situation of your chair and determine whether it's time to part ways with it. 
What Does It Look Like and How Does It Feel?
The foam cushioning should be checked if you feel uncomfortable and your work is suffering. Is the seat truly firm and has it lost its springiness? After only a few months of use, cheap chair foams lose their ability to remain bouncy and become rigid and stiff. 
Consider how much time you spend sitting on this chair each day. People spend a lot of money on mattresses because they sleep on them for so long; picking the perfect chair is just as crucial because you could spend almost as much time sitting on it. 
For instance, a chair that is completely ergonomic for one person may not be suitable for another. You might not like your present chair, but there's no obvious reason to replace it. 
Is It an Ill-fitting Task Chair?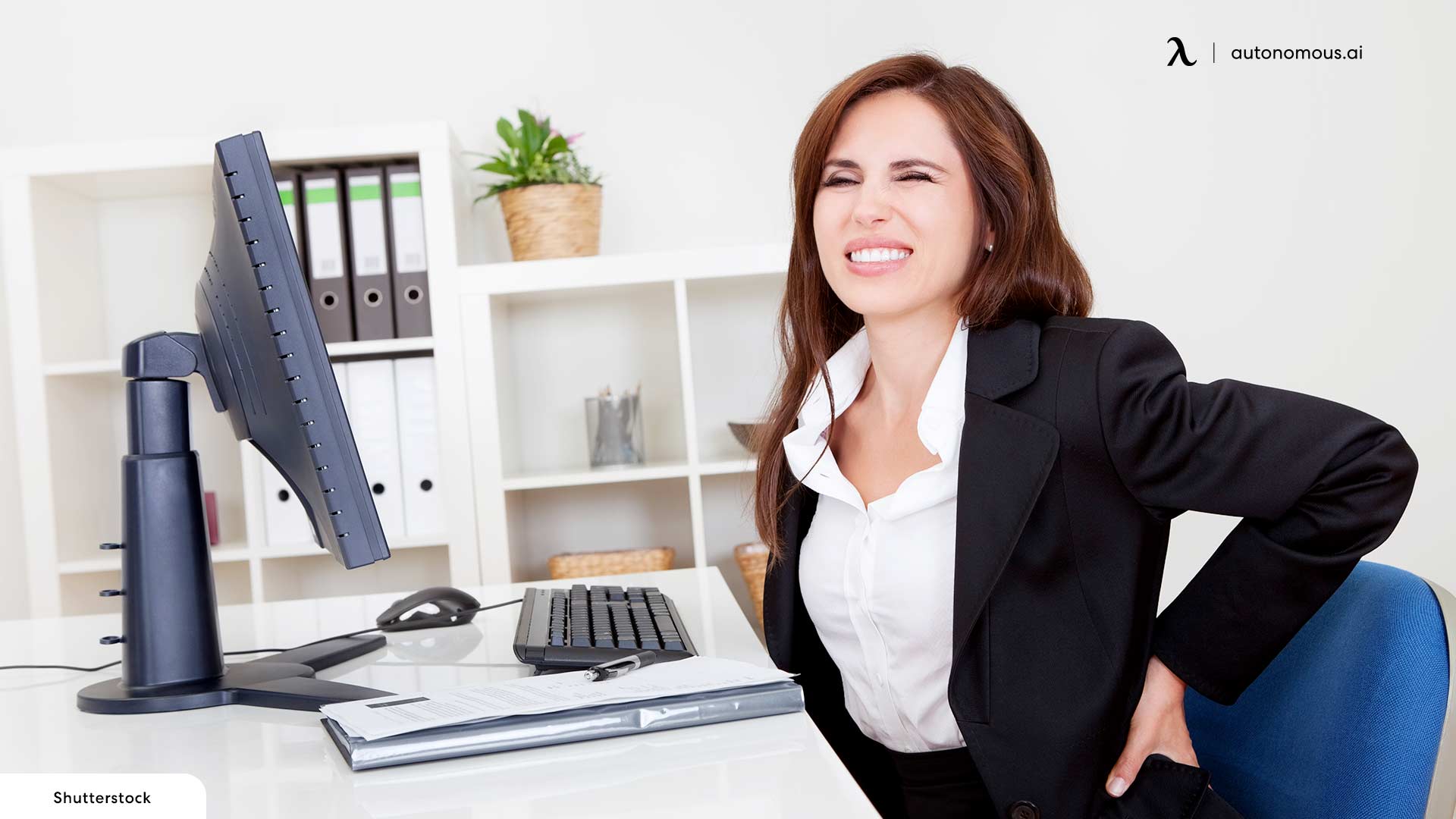 It's possible that your chair was never the ideal fit for you. This is particularly true for people who have taken over a previously equipped office space. 
Some chairs have armrests that are too wide apart and can't be moved inward far enough to fit your body. Other chairs may have backrests designed for people who are shorter or taller than you. 
If you spend a lot of time in your task chair, it can be worth it to upgrade from a chair that isn't tailored to your specific needs. This can be beneficial to your body. 
Do You Have a Flattened Seat Cushion?
The padding in your seat cushion may compress and flatten over time. One of the most significant aspects of your chair is the seat cushion, which helps to avoid back and body problems. 
When your seat cushion contracts, your body weight is less supported. Your lower back is put under a lot of strain as a result of this. Anyone who has experienced chronic back pain understands that it can affect many aspects of your life in addition to the work you do in your chair. 
Replace your chair when your seat cushion loses its ability to do its work to show your behind and back muscles some care. 
Our Picks for New Office Chairs
1. ErgoChair from Autonomous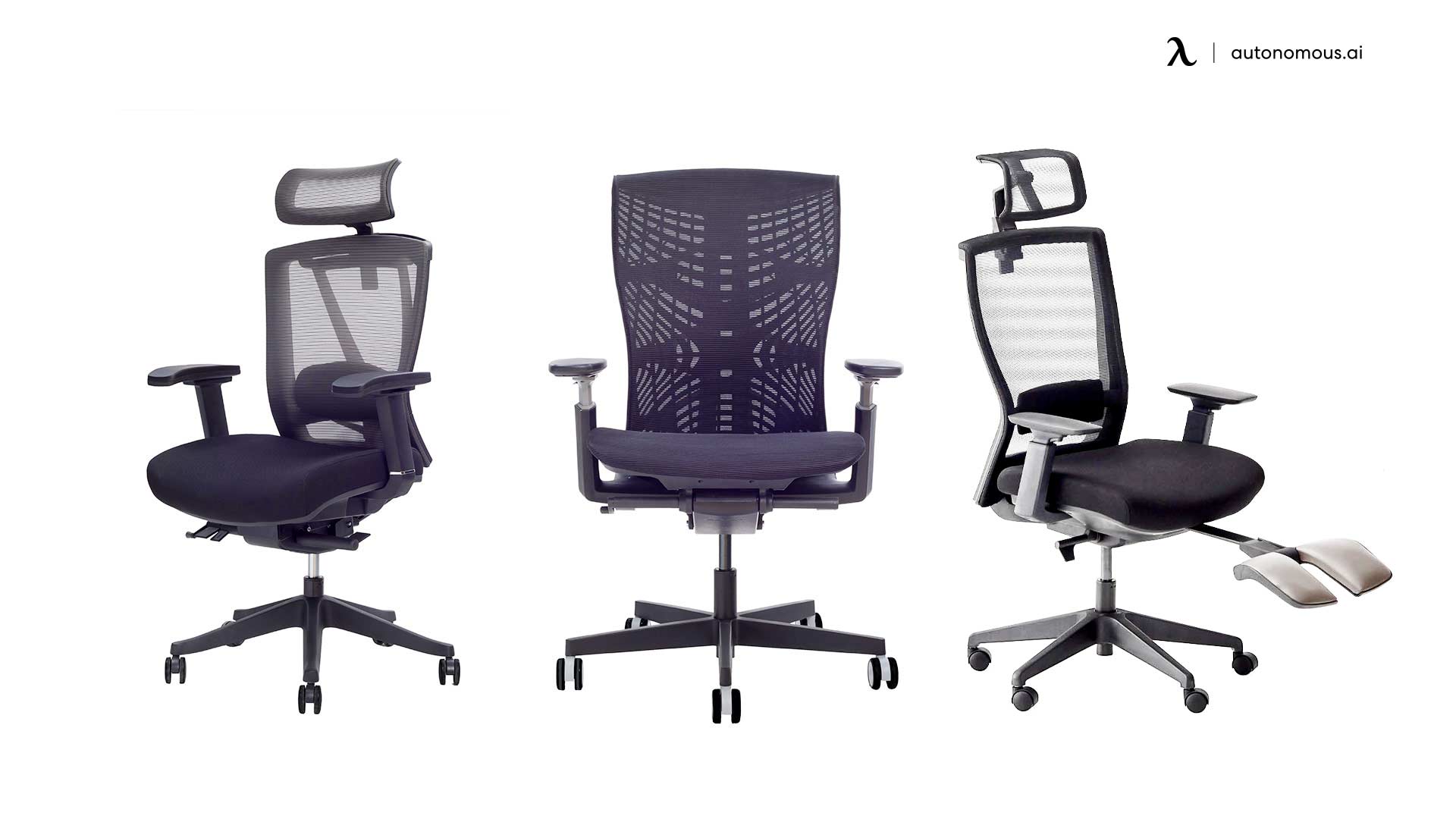 By its very nature, the Autonomous ErgoChair is a flexible seat. Several elements of the chair must shift to accommodate your body in order to create optimal ergonomics. To that aim, the ErgoChair includes a seat with tilt, depth, and height settings. The backrest may be adjusted in angle and reclines. Height, front-to-back, side-to-side, and angle adjustments are also available on the armrests (collectively known as 4D adjustment). Finally, there's back support and an adjustable headrest, both of which may move vertically and accommodate slightly varying angles. 
The ErgoChair gives off the idea that it was designed with ergonomics in mind. This is largely due to the backrest's mechanical features. Aside from that, the ergonomic chair is available in enough color combinations to serve as a basic office chair in all black, white, and grey, or as a statement piece with the brighter red, emerald, or blue seat cushions. Autonomous also offers an employee purchase program so that you can get a discount when purchasing a chair with your firm.
2. Aeron from Herman Miller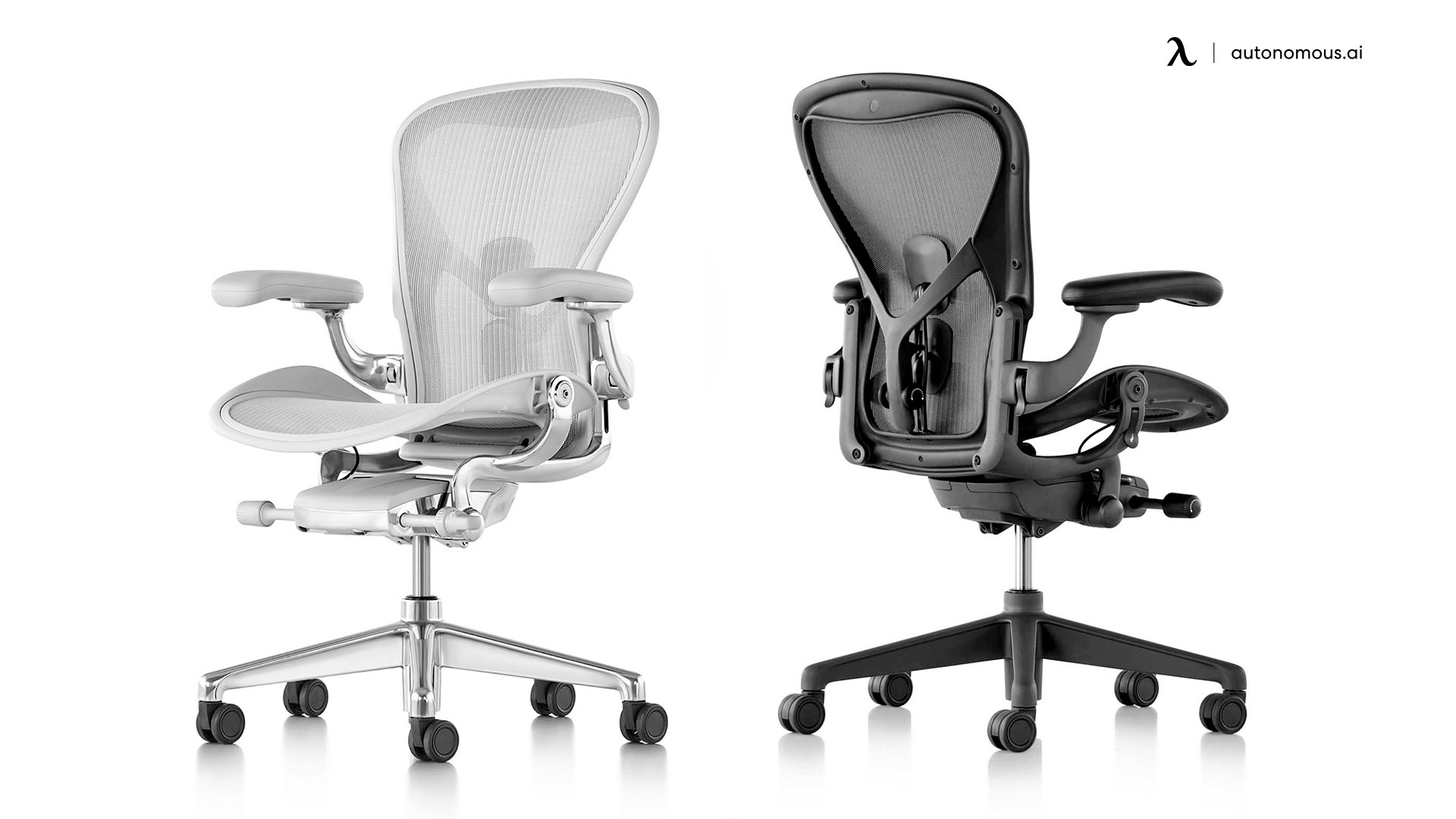 The Aeron was created by combining a thorough understanding of human-centered design with cutting-edge, never-before-seen technology to create a chair unlike any other. It has been upgraded for today's work and workers, with an 8Z Pellicle for better weight distribution and suspension, and adjustable PostureFit SL that cushions both the tailbone and lumbar to better foster the spine's original S-shape. 
3. Mirra 2 from Herman Miller
Mirra 2 is a light-scaled, extremely sensitive performance chair that can handle more work than standard task seating. Its highly adaptable butterfly back and frame form allows users to seamlessly switch from focused solitary work to interactive group activities while maintaining a high level of comfort. Mirra 2 comes in a wide range of bright surface material options, making it stand out, not just functionally but also visually from other chairs on the market. 
4. Amplify from SitOnIt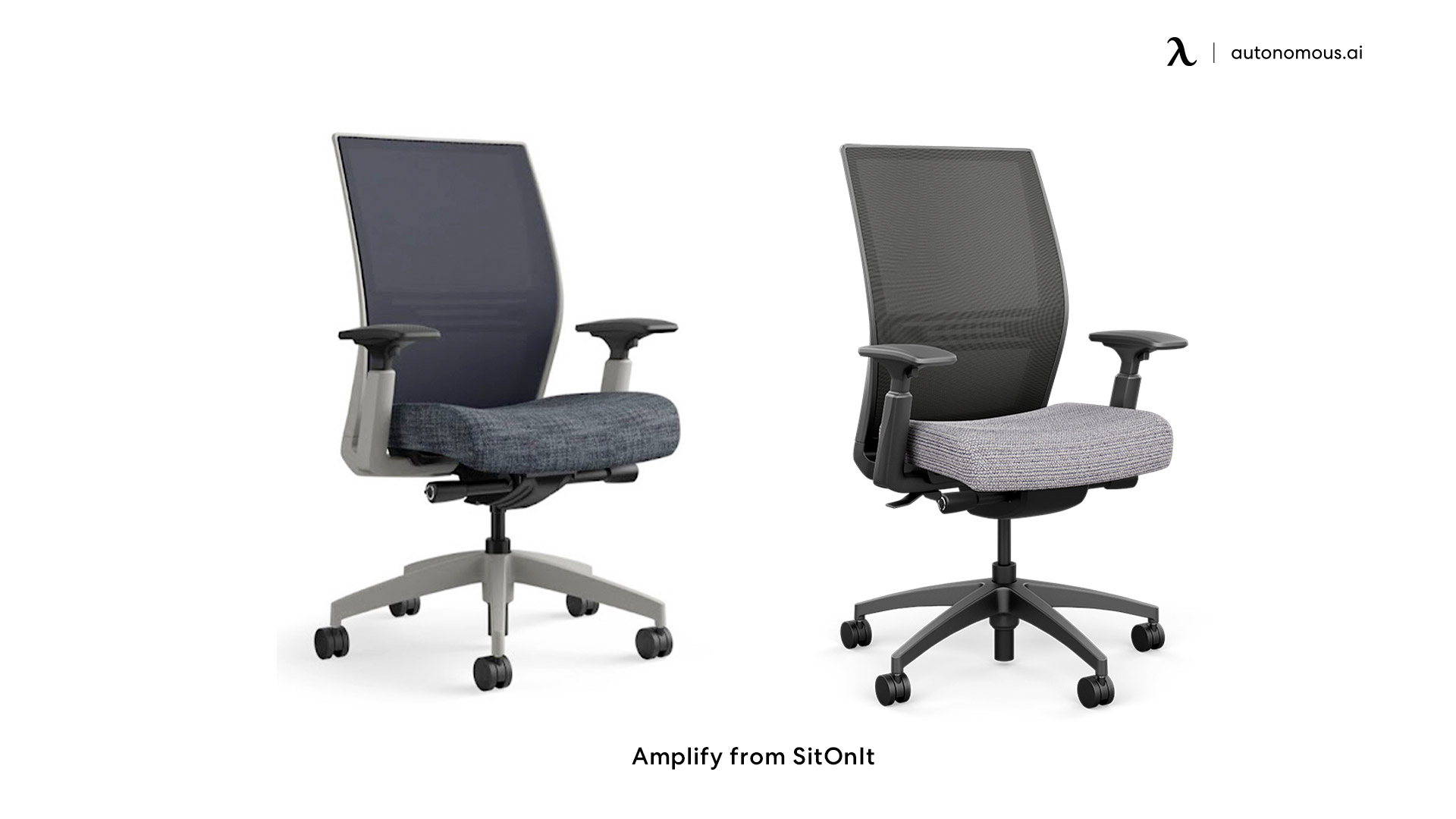 Amplify comes equipped with more features than any other chair in its category, including increased synchro, height-adjustable arms, and adjustable back support. This chair has a curved form and a wide range of choices, making it both stylish and functional. Mesh and leather mid back and high back chairs are available in a variety of frame, arm, and base colors. 
5. Embody from Herman Miller
There are very few substitutes for Embody when it comes to the most advanced ergonomic comfort offered in an office chair. Embody's design includes a feature called Pixelated Support, which provides personalized support to a wide spectrum of consumers. Its extensive range of adjustments may be fine-tuned to each unique user, allowing for a lot of flexibility in the seat and back. 
6. Genus from Highmark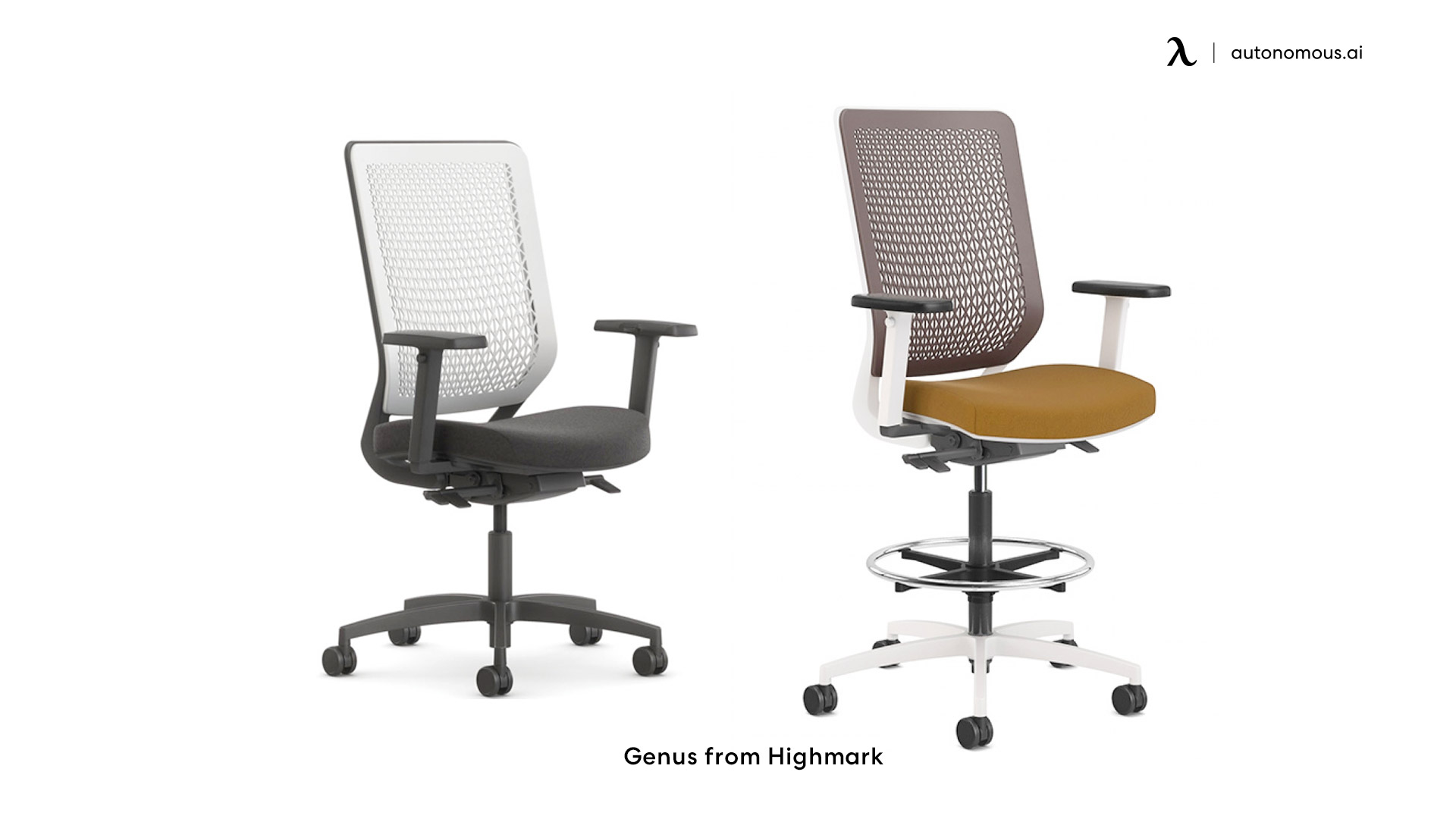 Whether in a collaborative, open floor plan setting or an executive suite, this series is expected to cater to the growing workplace. Genus can intelligently, conveniently, and ergonomically respond to a range of working needs in real-time. Engage with the next generation of furniture with the Genus series, which features a black or white frame, seven different mesh variants, and fully leather variants. 
Standing Desk
A standing desk, often known as a stand-up desk, is a desk that enables people to work while standing up comfortably. Many current models are adjustable, allowing you to modify the desk's height and alternate between sitting and standing. Height-adjustable workstations, or sit-stand desks, are what they're called. 
Although studies are still in their early stages, it appears that using a standing workstation can provide significant health benefits. It has the potential to boost performance. At the absolute least, employing this style of desk can reduce the negative effects of excessive sitting. Autonomous, iMovR, FlexiSpot, EvoDesk, and other well-known brands are among the most popular. 
You may have the best of both worlds with a height-adjustable desk and a high-quality ergonomic office chair. 
A height-adjustable desk comes with a spacious work area with enough room for your laptop and other office desk accessories. However, a converter, on the other hand, may take up additional desk space and require you to use the monitor and keyboard on separate tiers.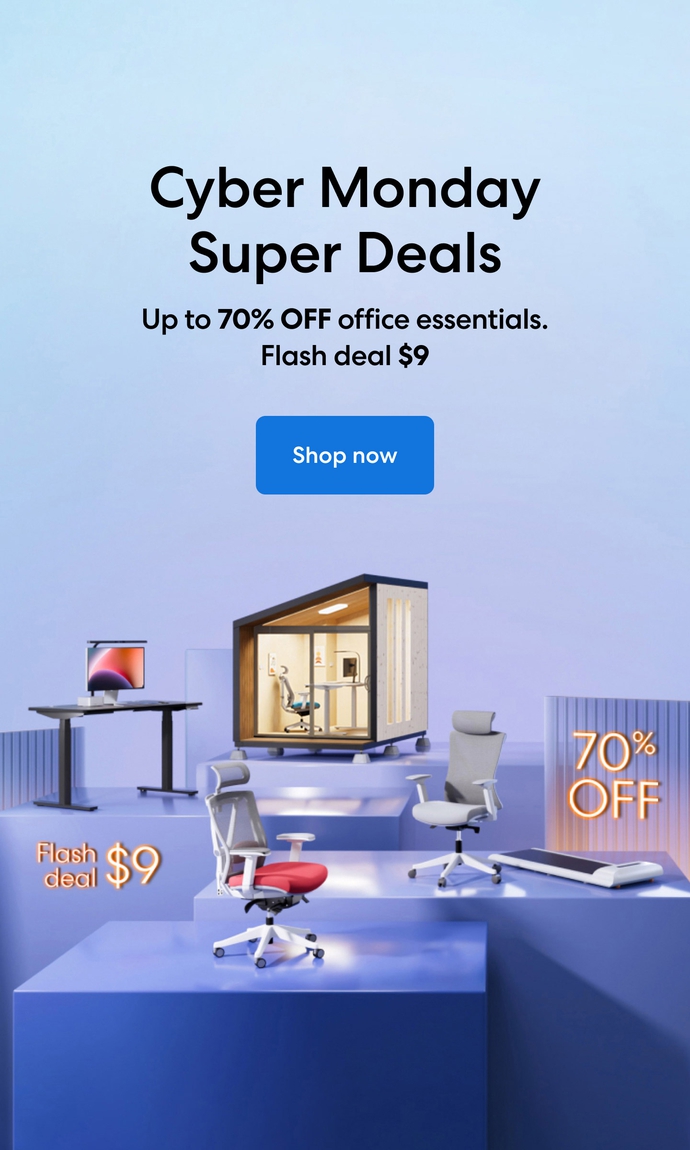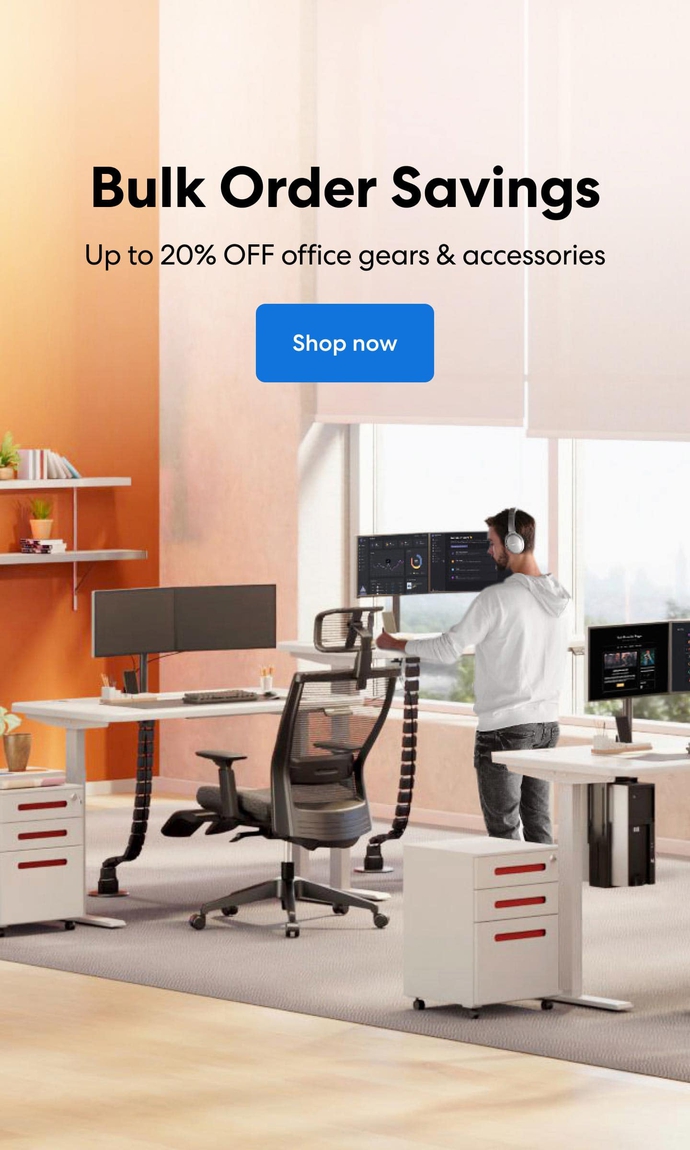 Subcribe newsletter and get $100 OFF.
Receive product updates, special offers, ergo tips, and inspiration form our team.