Gaming Setup
10 Comfortable Office Chairs for Gaming: A Comprehensive Review

Jake Wilson
|
Sep 28, 2023
1,822 Views
Table of Contents
Our in-depth research on gaming chairs will take you to a new dimension of relaxation and support. Whether you're searching for an office chair with footrest that strikes the perfect balance between form and function, seeking the immersive experience of a floor gaming chair, or aiming to alleviate discomfort with the best chair for back pain, we've got you covered. Come with us as we explore a range of options, from desk chairs with no wheels to models designed for superior office chair back support.
Discover your ideal fit that will rock your world, whether you're a dedicated gamer or need a big and tall office chair. It's time to transform your gaming setup with our carefully curated selections.
Top 10 Most Comfortable Office Gaming Chair Picks
1. Autonomous ErgoChair Pro
The Autonomous ErgoChair Pro offers a range of features that make it a comfortable and versatile choice for both office work and gaming. It excels in adjustability, allowing users to fine-tune their seating position for optimal comfort. It offers height adjustment, adjustable armrests, a headrest, backrest, and seat tilt adjustments. This level of customization ensures that users of varying heights and body types can find a comfortable setting.
With a weight capacity of up to 300 lbs, this comfortable office gaming chair accommodates a wide range of users, ensuring stability and support for most individuals. Moreover, the use of 100% earth-friendly materials is a commendable aspect of this chair. It aligns with sustainability concerns and eco-consciousness, which is increasingly important to consumers.
2. EUREKA ERGONOMIC GX5 Series Gaming Chair
The EUREKA ERGONOMIC GX5 Series Gaming Chair has arrived, and it's beautiful, with its Class 4 gas lift, diamond-patterned leatherette upholstery, and 180-degree recline. It's adjustable for your comfort, with a diamond-shaped backrest and armrests. High-density foam delivers a comfortable sitting experience, while a Carbon Fiber Headrest assures proper neck support.
This ESports chair's ergonomic waist curve designs and high weight capacity make it a top pick. The perfect chair may transform your workspace into a luxurious haven for gaming and work.
3. Secretlab Titan Evo
The Secretlab Titan Evo is a gaming chair that also doubles as a comfortable office chair, making it a versatile option for those who need a chair that can serve both purposes. The Titan Evo boasts a highly ergonomic design that provides excellent support for your back and neck.
It features adjustable lumbar support and a memory foam headrest, which can be crucial for long gaming or work sessions. The multiple adjustment options, such as the recline function and 4D armrests, allow you to customize the chair to your liking, ensuring optimal comfort during extended periods of use.
4. Corsair TC100 Relaxed
The Corsair TC100, with its focus on comfort, gaming-inspired design, and various features, is a noteworthy option for those seeking a comfortable office chair suitable for gaming.
The TC100 boasts a racing-inspired design with relaxed bolstering, which offers a spacious 375mm seat width. This design approach is ideal for gamers who prefer a bit more room to move around while maintaining ergonomic support. The chair's ergonomic full-body support ensures that you can comfortably sit for extended periods, whether for work or gaming.
The use of faux leather, nylon, polyurethane, and an alloy steel frame in the construction of the TC100 indicates a commitment to quality. Faux leather not only provides a luxurious appearance but is also easy to clean and maintain, making it suitable for office use. The combination of these materials should contribute to both durability and comfort.
5. Herman Miller Embody Chair
The Herman Miller Embody, known for its ergonomic design and exceptional comfort, can certainly be a comfortable office chair for gaming. The chair offers a seat height maximum of 20½ inches, allowing users to find their preferred sitting height. It also provides a seat depth ranging from 15 to 18 inches, catering to various body types. The four-layer seat design, with elastic suspension and support coils that move independently, contributes to comfort and ergonomic support. This is crucial for users who spend long hours sitting while gaming or working.
While the Embody is designed as an office chair, its ergonomic qualities and comfort make it suitable for gaming as well. The addition of gaming-specific features, such as the cooling foam technology and extra layer of foam in the seat, enhances its suitability for gaming.
6. Razer Enki
The Razer Enki gaming chair offers a combination of comfort, adjustability, and Razer's signature gaming aesthetics. The Razer Enki is designed to accommodate users with a recommended weight of under 136 kg (299 lbs) and a recommended height range of 166.5 cm - 204 cm (5'5" - 6'8"). These specifications ensure that a wide range of users can find a comfortable fit.
The chair features an EPU synthetic leather cover in the classic Black and Green Razer color scheme. The synthetic leather not only looks stylish but is also durable and easy to clean, making it suitable for both gaming and office use.
The chair is equipped with 4D adjustable armrests, allowing users to customize their arm support to their liking. The 60 mm PU coated casters provide smooth mobility, making it easy to move around in your gaming setup or office.
The chair's Black and Green color scheme is iconic for Razer and will likely appeal to gamers who are fans of the brand. The design exudes a gaming vibe that can fit seamlessly into gaming setups.
7. Skyline Decor X30 Gaming Chair: Slide-Out Footrest
With its convenient slide-out footrest, the Skyline Decor X30 Gaming Chair offers the utmost gaming comfort. This contemporary swivel video game chair features height-adjustable arms, an adjustable headrest and lumbar pillows, and a back lever that reclines from 87° to 145°. The superior softness and durability of the LeatherSoft upholstery improve the ergonomic experience.
The adjustable backrest and tilt-lock mechanism of this comfortable office chair for gaming provide individualized support, and the five-star nylon base's red rubberized grip casters roll easily.
8. Vertagear Gaming Chair SL4000
The Vertagear SL4000 Gaming Chair is a dynamic combination of form and function for serious gamers. This racing-themed chair has a removable lumbar support and neck pillow for optimal ergonomics and spinal health. The locking mechanism and class-4 gas lift simplify adjusting the tilt tension, and the steel frame and aluminum alloy base ensure it will last a long time. It has an adjustable height from 47.25" to 51.27" and a wide range of recline (80 to 140 degrees).
9. Karnox Suede Gaming Chair
The Karnox Suede Gaming Chair combines two of our favorite things: gaming and comfort. Elevate your gaming experience with the plush combination of Karnox PU Leather and suede-like fabric. This chair has a fourth-dimensional armrest, an adjustable height and tilt mechanism, and a pillow for your neck and back. The chair's back can be adjusted from 90 to 155 degrees for maximum comfort.
10. Techni Mobili High Back Gaming Chair
The Techni Mobili High Back Gaming Chair brings together two of our favorite things: comfort and adaptability. This chair provides a personalized experience with its memory foam seat, armrests, and back (which reclines to a super comfortable 150 degrees). The headrest pillow and lumbar cushion are removable and offer extra comfort and support.
This gaming chair is the pinnacle of ergonomic design and synthetic TechniFlex upholstery to provide you with the best possible gaming experience.
Conclusion
Comfort and style reign supreme in gaming chairs, and the selection we've explored embodies these qualities to the fullest. From the EUREKA ERGONOMIC Typhon's cutting-edge mesh design to the Trio Supply House's sleek leather look, each chair offers a unique blend of functionality and aesthetics.
Whether immersing yourself in virtual worlds or conquering work tasks, these chairs are more than just furniture – they're tools for elevating your experience.
With ergonomic features, premium materials, and innovative designs, these gaming chairs are the ultimate companions on your journey to comfort and success. Choose your throne wisely and enhance every moment you spend in front of the screen using the most comfortable office chair for gaming.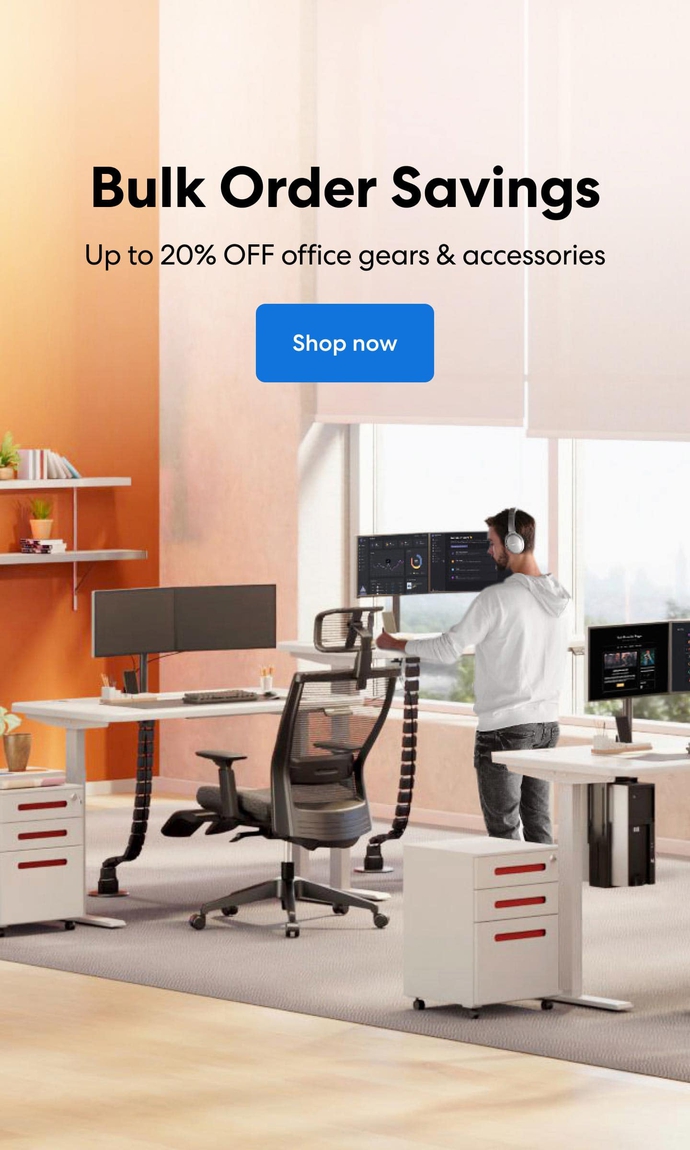 Subcribe newsletter and get $100 OFF.
Receive product updates, special offers, ergo tips, and inspiration form our team.