Tall people should have big aspirations, so why settle for a small chair? To reach your goals at work, you need a seat that can help improve your overall productivity. That is why a big and tall computer chair can be instrumental to your future success. The chairs on today's markets have grown with improvements in technology, so some people have difficulty discerning which one is worth getting and which one should be avoided at all costs. Fortunately, this guide should dictate the top 28 best heavy-duty office chairs for you.
A comfortable office chair can be hard to find if you're a large individual. In addition, sitting in an uncomfortable chair for long hours can result in spinal problems and poor posture. On the other hand, a big and tall computer chair could provide a comfortable sitting position for large people.
There are several categories worth discussing when it comes to the pros and cons of a big and tall computer chair. Some factors to include are price, durability, comfort, adjustability, and customizability. Naturally, some seats excel in ratings, so that's considered as well. Nonetheless, all of these chairs are a solid option for tall and heavy workers seeking something to improve their day-to-day work.
Top Big & High Office Chair for Tall People
Are you tired of uncomfortable office chairs that don't fit your body type? Did you know that bad office chairs can lead to spine problems and lower back stress? Well, there is nothing to worry about now.
We've researched and tested the top-rated options to ensure you'll have a comfortable and supportive workspace. From adjustable seat height to breathable mesh backrests, these chairs offer a range of features to suit all body types. Say goodbye to discomfort and hello to productivity with the best big and tall office chairs.
1. Autonomous ErgoChair Pro
The ErgoChair Pro is a classic on any list in relation to Autonomous. Unsurprisingly, this ergonomic chair is one of the highest-rated on the Internet, as its excellent performance helps people of all statuses. Predictably, the ErgoChair Pro is one of the best best big and tall executive chairs in 2023 for tall and heavy workers. It's not a traditional XL office chair, yet its amazingly sturdy frame makes it highly durable and perfect for tall and heavy workers.
It is the best big and tall computer chair that is affordable and well designed. Modern working demands require updated chairs for ergonomic sitting posture, and the ErgoChair Pro does just that. It's better adjustment, materials, controls, and ample support for the spine offer a healthier fit. There are mesh headrests, backs, and cushions on the ErgoChair Pro. Under the seat is a lever that controls the seat height as well as back and forth.
One of the main draws to the ErgoChair Pro is its unbeatable adjustability. Very few chairs have the customization options that the ErgoChair Pro can offer, and even fewer can match up with it in the ergonomic department. This key feature allows it to help alleviate back problems while preventing new ones from arising. Considering office chair 350 lbs can help support up to 350 lbs, this big man's office chair seat is easily one of the best options for heavy individuals in need of a reliable chair.
The ErgoChair Pro is sometimes cited as the best ergonomic chair for a tall person, hence it isn't surprising to see it on this list. The cushioning is soft, and the back support is sturdy yet comfortable. If you need a chair that focuses on maximizing energy, the ErgoChair Pro may be the perfect one for you. Its height adjustment features make it ideal for tall people, as it can help people well over six feet tall work without a problem.
2. Autonomous ErgoChair Plus
When it comes to adjustable chairs focusing on comfort, only a few chairs can match up to the ErgoChair Plus's level. 2023 or not, this seat is practically timeless. Its sleek fishbone design makes airflow more naturally, which is highly beneficial for those who work in hot climates. Tall and heavy people tend to sweat more easily, as their body requires more energy than their smaller counterparts. Hence, this feature is one of the many reasons why the ErgoChair Plus is highly regarded in 2023.
ErgoChair Plus ergonomic chairs for scoliosis are easy to assemble and can be quickly assembled. There is no foam or mesh in the seat or backrest, and some cushions are needed for additional softness. This design is meant to be modern and slick, which is perfect for smaller spaces. A fishbone frame on the backrest of this chair enhances back support and provides a very sturdy construction. For greater comfort, the seat has springs underneath, despite being made entirely of TPE.
There are several colors to choose from, which can make this big and tall ergonomic office chair seem highly personable. When one considers the high level of adjustability in tandem with its customization options, it's undeniably one of the most solid options for those more concerned about aesthetics in 2023. It's a fairly big man's office chair, yet its size isn't so gruesome that it can be an eyesore like some other choices on the market.
One more thing worth noting is the 30-day free trial and a five-year warranty bundled together if you purchase the ErgoChair Plus. Sometimes, big office chairs break for no fault of your own. Autonomous's quick shipping and warranty process can make your life a lot more efficient and worry-free when this happens. Naturally, it's sturdy framework should make it highly invulnerable, but it is nice to have a backup plan if things go south.
3. Autonomous ErgoChair Core
Are you buying a scoliosis chair? Here's what you need! At the moment, it is affordable and on sale to get a better deal on it. Fabric covers the seat of the ErgoChair Recline so that it retains its shape. People with scoliosis can easily adjust the height of the foam armrests, so they are easier to use. There is better airflow with the mesh so that they won't get too hot. A lever can control the rocking motion.
Not the basic design for a big and tall executive chair, but the ErgoChair Recline is our favorite for many reasons. This chair has a wide meshed back, so it is ideal for people who want complete cushioning for their back. It keeps your shoulders well rested, and despite not having a headrest, the chair keeps your lower neck supported, thus facilitating a great posture.
It is also one of the modern-looking conference room chairs and comes in a selection of black or gray colors. The chair has an additional lumbar support pad to deal with those long meeting hours. Moreover, this chair offers a weight capacity of 250 pounds and a 1-year warranty.
4. Logicfox Ergonomic Office Chair: Saddle-shaped Mesh Seat
Second on our list of the best big and tall office chairs, the Logicfox ergonomic office chair is a saddle-shaped mesh chair. The saddle shape makes this chair boast a unique design, and the mesh body keeps you ventilated during hotter months. The chair is made to prevent slouching and shrugging and provides an upright sitting posture with the help of 8 different points of adjustment. It has high elastic tensile mesh and also offers a 30-day trial.
5. Duramont Ergonomic Office Chair: Adjustable Desk Chair
Duramont, a popular leather chair manufacturer, has also come up with its take on a mesh big and tall office chair. For people who prefer more breathability in a reclining office chair, the Duramont ergonomic chair is the best option. It has an adjustable headrest and a wide and tall back for maximum support and gives full adjustability. The chair comes with an easy assembly process with easy-to-follow instructions. It offers a 5-year warranty and is made up of high-quality, durable materials.
6. Logicfox Ergonomic Office Chair: Double Lumbar Support
The Logicfox ergonomic chair with double lumbar support is designed to cover all the pressure points in a person's back. This chair ensures your entire spine, lower back muscles, shoulders, and arms are well rested. The double lumbar pad makes 8+ hours of work pleasant, and this chair is also a great pick for gaming. It is designed to cover a diverse range of people and has a weight capacity of 330 pounds.
With a wide height adjustment, people from 5 ft to 6 ft can sit on the chair and adjust it to their ergonomic position easily. It comes with a 3 years warranty, and for the features it offers, you will find the Logicfox ergonomic chair to be one of the most affordable options.
7. Logicfox Ergonomic Chair with Sponge Seat
Foam seats are common, but a sponge seat can set your comfort game apart. This Logicfox sponge chair has a saddle-shaped design which is suitable for most workstations. The chair is designed for long work hours; hence it fits the best for gamers and programmers. The saddle shape design is closest to the natural body curvature, which is why you will find the chair to support a proper sitting posture. Like other Logicfox ergonomic chairs on our list, this one also offers 8 different adjustment points.
8. US Office Elements Ergonomic Office Chair: Head Rest
The users of this US Office Elements ergonomic office chair with a high back and adjustable headrest will experience the highest level of comfort possible. It provides complete control, good lumbar support, breathable mesh to keep you cool, and height adjustment. The chair is among the top options for an executive in terms of design, dependability, aesthetics, and features.
Other than looking great, it offers a curved armrest design for natural arm placement and a chrome base that adds a nice metallic finish and durability for years to come. The chair has a 360 degrees swivel action and a tilt tension control mechanism. The chair also comes with a breathable mesh design.
9. Serta Air Health Chair
The Serta brand is a respected one among chair enthusiasts, so it's no surprise to see the Serta Air Health Chair make it on the list of best big and tall computer chairs in 2023. It's available in most parts of the world, and its multitude of colors can help complement an office aesthetic quite nicely. One of the main drawbacks of this XL office chair is its high price in some regions, so keep that in mind if you're looking for big and tall desk chairs.
10. Intimate WM Heart
Many gaming chairs look identical to one another, so one of them was bound to show up on this review. Still, the Intimate WM Heart has a pleasing aesthetic to it. Considering gaming chairs are meant to help support a person sitting for several hours, it's easily usable in a home office or in a real office. The additional support on this big man's office chair should also help tall people who cope with back and neck issues.
11. Zipcode Design Hirst Mesh Drafting Chair
This ergonomic drafting chair primarily focuses on tall workers as opposed to overall heavy folk. The Zipcode Design Hirst Mesh Drafting Chair mainly focuses on one niche, but it does it really well. It isn't the most ergonomic, but it has enough ergonomic features to make a person work comfortably without paying too much. It's easily one of the cheapest big and tall desk chair options on this list, but don't be fooled into thinking it breaks easily. While not as sturdy as some of the previous options, it should still last for several months to years if maintained properly.
12. Inbox Zero Executive Chair
If you're a tall individual who prefers style over function, the Inbox Zero Executive Chair is an excellent option. It doesn't have the functionality that the Autonomous chairs have (as far as ergonomics go), but its simplistic design might make it more relatable for some people. Like some other best big and tall computer chairs on this list, it's better suited towards tall people than short, heavy ones.
13. Hbada Office Chair
Office chairs should primarily focus on relieving a person of unnecessary pressure. It should come across as no surprise that the Hbada Office Chair is an XL office chair capable of making your day-to-day work seem like a breeze. Its ergonomic features make it able to compete with some of the best ergonomic executive chairs in the market, which is complemented by its low price.
14. KERDOM Ergonomic Primy Office Chair: Adjustable Lumbar Support
The KERDOM ergonomic office chair is a great executive seating option for your workplace. The chair allows you to sit comfortably for long hours since it provides the ultimate lumbar support. Its ergonomic design offers complete spine and back support that alleviates physical pain.
Moreover, no need to worry about sweat streaks as this chair comes equipped with a breathable material that keeps you cool even in hot weather.
15. Logicfox Ergonomic Office Chair: Adjustable Breathable Mesh Seat Depth
The LogicFox ergonomic office chair seems to have been teleported right from the future. The modern ergonomic chair encourages the ideal posture with up to 10 adjustment points. It also features an adjustable 2D headrest and seat height according to your comfort. The chair is suitable for bodies of all sizes and can withstand a weight of 300 pounds.
16. EUREKA ERGONOMIC GE300 Breathable Ergonomic Gaming Chair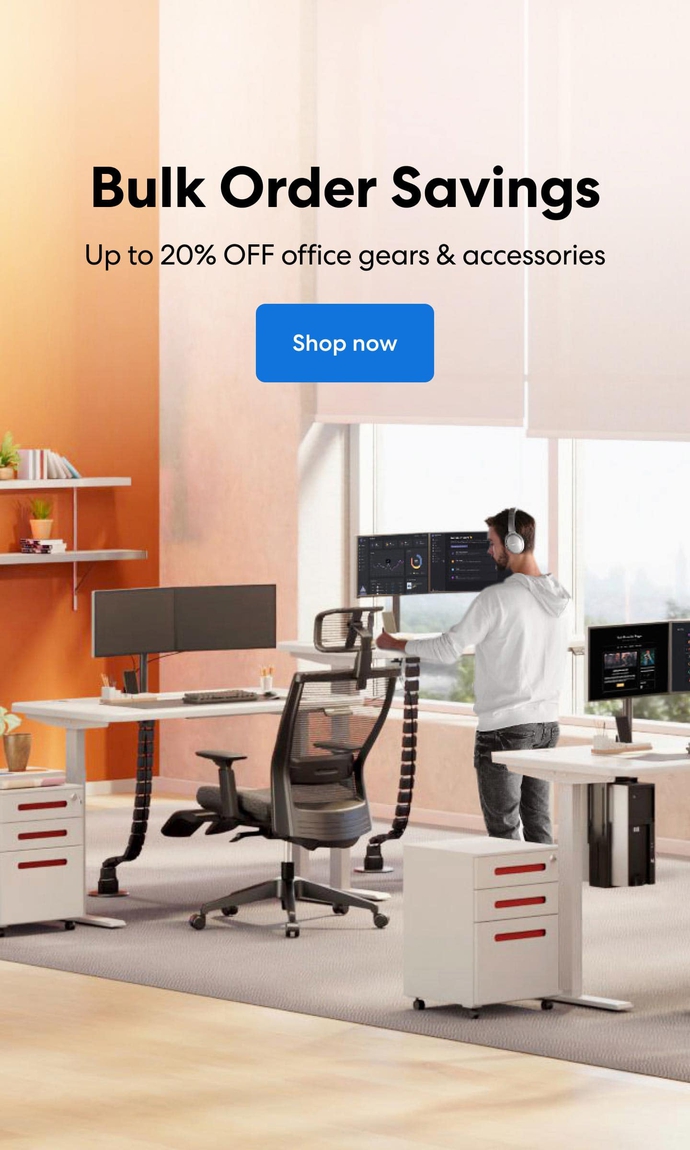 Subcribe newsletter and get $100 OFF.
Receive product updates, special offers, ergo tips, and inspiration form our team.